Birding Tour Cuba: Endemics and Culture in Paradise
Go to: Cuba Birding Tours | Birding Tours in the Neotropics | All our birding tours
Download Itinerary
Birding Tour Cuba: Endemics and Culture in Paradise
March 2024
The smallest bird on the planet, Bee Hummingbird, a myriad Cuban Todies and Cuban Trogons in every patch of scrub, and a host of other endemics and regional specials – all on an idyllic island paradise that is full of history and culture! Combining this 12-day Cuba tour with our Jamaica birdwatching tour provides opportunities to see almost 60 single-island endemics spread across two islands: Cuba, the largest of the Greater Antilles, and Jamaica, the smallest of the main islands in the group. Then you can also combine these tours with our Dominican Republic birding tour to see an endemic family (Palmchat) and further suite of endemics of another large (second only to Cuba in size) Caribbean Island, Hispaniola. In addition, on this Cuba birding holiday, we will have chances to find a number of multi-island endemics and regional specialties, some of which may, in the future, be upgraded in their taxonomic status.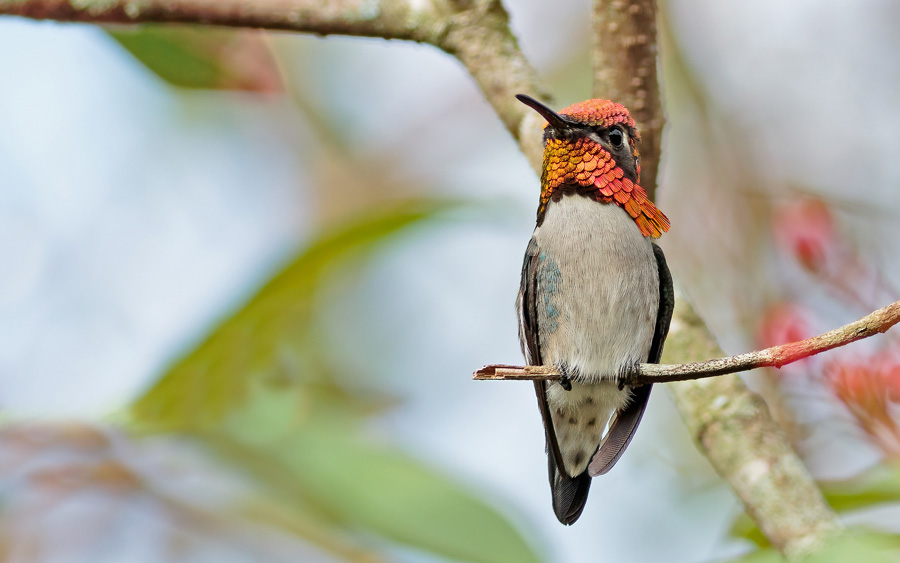 Bee Hummingbird; the world's smallest bird species (photo Daniel Orozco)!
This is a tour in which we aim to find all of Cuba's realistic avian endemics, a host of wider Caribbean endemics, and finally a bunch of north American migrants (like a stack of brightly colored wood warblers), while also having time to snorkel during the heat of the day when not birding, to see the amazing architecture not only of Cuba's capital but also of Camagüey and other towns, and of course to enjoy the old American cars and the general atmosphere of this tropical paradise. It's quite an easy tour, in which we find the birds we need without too much trouble (except for a couple of them, such as the quail-doves, which can require persistence).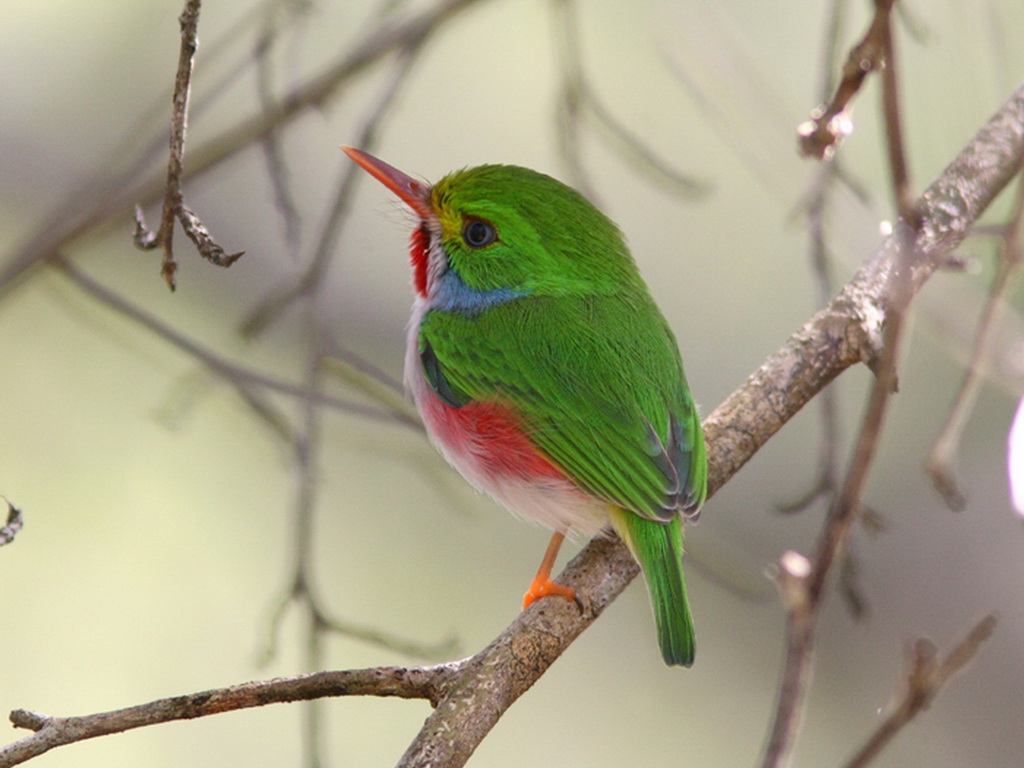 Cuban Trogon is one of the island's many endemics (photo William Price).
We arrive in the charismatic city of Havana and overnight here, getting a great taste of Cuban architecture, culture, vibe – and getting acquainted with some of the more common birds of the West Indies. We then head to the picturesquely mountainous and very bird-rich La Güira National Park. Here, we search the caves where Che Guevara hid during the Cuban missile crisis, looking for our first of many endemics, Cuban Solitaire.
With much anticipation, we then proceed to Cuba's famous Zapata Swamp, one of the richest single sites throughout the West Indies, which continues across much of the western two thirds of this island, which is widely regarded as the last bastion of communism in the world but is now gradually becoming slightly more liberalized. We will have good chances of finding all of Cuba's endemics, with the exception of the near-mythical Zapata Rail which requires a trip of near-expedition proportions for any chance of seeing it, and the rare Cuban Kite in the far east of the island.
We then proceed to a chain of islands connected to the mainland by a 17-mile/27-kilometers-long causeway, seeking Bahama Mockingbird, some Cuban endemics reaching the western limit of their range here, Mangrove Cuckoo, and more. Eventually we clean up on the birding at Sierra de Najasa and then drive back to Havana where we have a bit of time to enjoy the city before your international flights depart the next day.
This trip can easily be combined with our following Complete Dominican Republic tour and, following that, with our The Best of Complete Jamaica tour for a very comprehensive birding experience in the Caribbean.
Itinerary (12 days/11 nights)
Day 1. Arrival in Cuba and enjoy Havana
This is a travel day and you can arrive any time. You'll be met at the airport and transferred to your hotel in the historic old town part of Havana. You can explore on foot, either on your own or with our guide, whatever you prefer.
Overnight: Hotel Inglaterra, Havana (Old City)
Roseate Spoonbill
is usually seen on our Caribbean, Texas and Florida birding tours. This video is actually of a vagrant bird in Ohio though!
Day 2. Transfer to La Güira National Park
Today we transfer the 80 miles/129 kilometers to La Güira National Park at the west end of the island. This highland region is still well-forested and is consequently excellent for endemics. However, our principal targets will be the endemic Cuban Solitaire and the near-endemic Olive-capped Warbler, both of which are usually readily found. Finally, we will check a different area for the now very localized Cuban Grassquit. Although still common in the eastern third of the island, finding one in Cuba has become rather difficult in recent years due to the fact that many have been trapped by cage bird enthusiasts.
Overnight: Hotel Islazul Mirador, La Güira
Day 3. Transfer to Zapata Swamp
After much anticipation, we will make the long (at least half a day) transfer to Playa Larga in the Bay of Pigs for a four-night stay on the Zapata Peninsula (encompassing the Zapata Swamp), one of the richest areas for birds in the entire West Indies region, with over 200 species having been recorded here. We should soon be seeing some of Cuba's best birds. Cuban Blackbird, Cuban Oriole (recently elevated to full species status), Cuban Emerald, Cuban Crow and Tawny-shouldered Blackbird are usually easy to find but kindly read on for some of the even more exciting birds!
Overnight: Playa Larga, Zapata Peninsula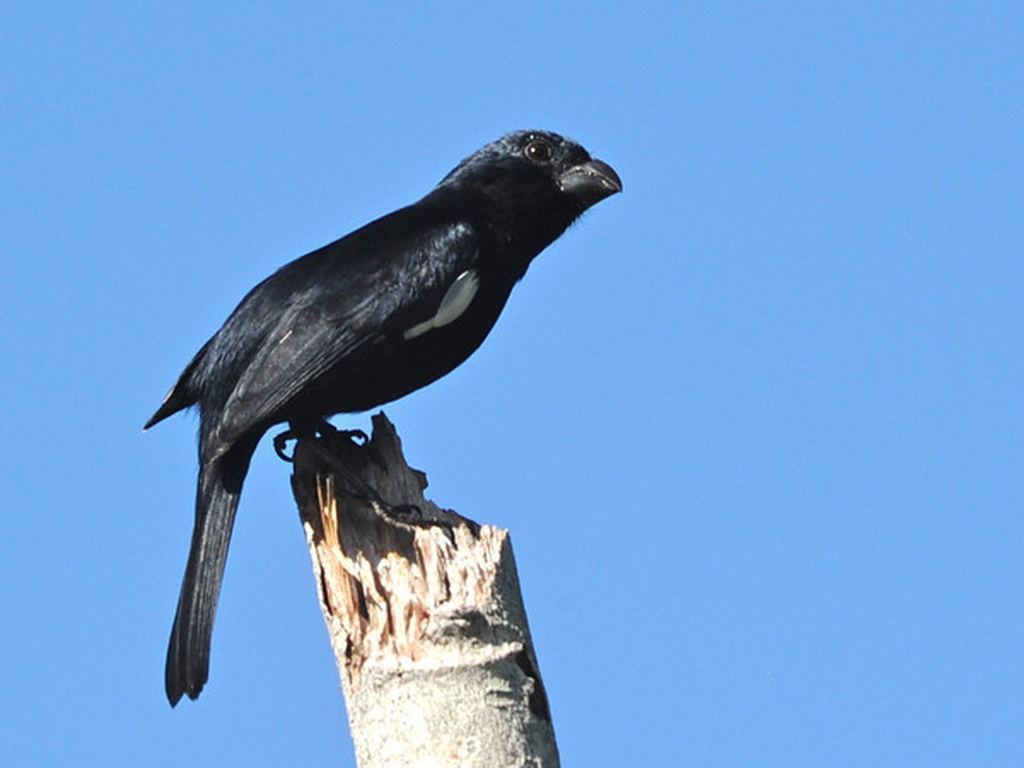 Cuban Bullfinch is widespread around the island (photo Alan van Norman).
Days 4 – 6. Birding the Zapata Peninsula
Some of our main targets in this area will be the quail-doves, of which four species occur on the island. The spectacular Blue-headed Quail-Dove, which belongs to a monotypic genus, is the most difficult, while Ruddy Quail-Dove is widespread throughout much of the Neotropics, but Key West Quail-Dove is restricted to the Greater Antilles and the Florida Keys, and the globally threatened Grey-fronted Quail-Dove is confined to Cuba. Time and patience are always prerequisites in the quest for these birds. Woodpeckers are another feature of the region: Yellow-bellied Sapsucker is a common winter migrant, while the regional endemic West Indian Woodpecker and the Cuban endemic Cuban Green Woodpecker are both reasonably common residents. Most prized, however, is the rare and declining Cuban endemic Fernandina's Flicker, which is known from several sites in the area. The Bermejas Forest Reserve will be one of our most frequently visited sites: Cuban Amazon (also known as Rose-throated or Cuban Parrot), Cuban Parakeet, and Bare-legged Owl are all regular there, in addition to the quail-doves and woodpeckers. We will search mixed flocks for the endemic Yellow-headed Warbler, Cuban Vireo, and Cuban Bullfinch, and be ever alert for the short, rattling call of a Cuban Tody. The beautiful Cuban Trogon (Cuba's national bird) and the rather dowdier but still impressive Great Lizard Cuckoo are regular sights and sounds. We will keep a sharp watch for any signs of panic among the small birds, which may indicate the presence of the rare endemic Gundlach's Hawk.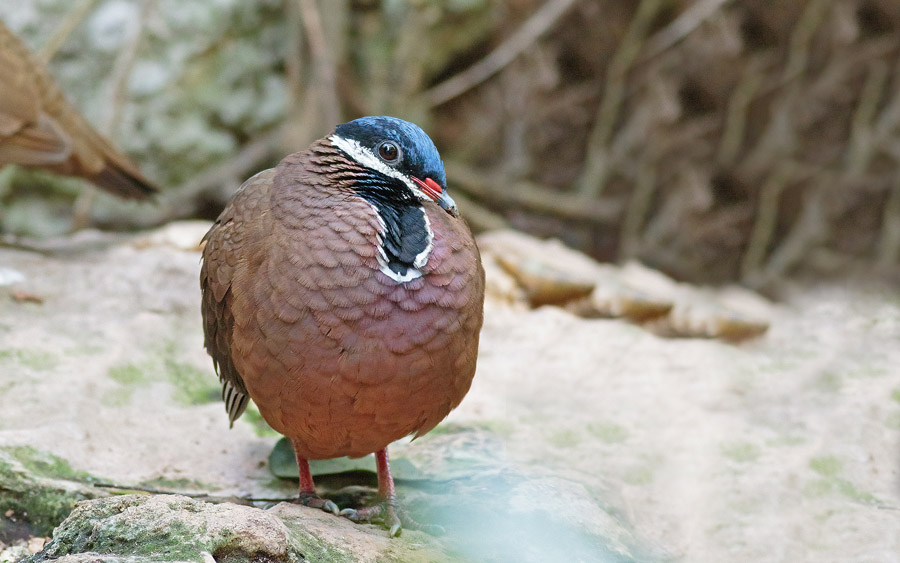 Blue-headed Quail-Dove will be targeted on the Zapata Peninsula (photo Daniel Orozco).
One morning we will make an earlier-than-usual start for a locality within the famous Zapata Swamp. The open woodland around the swamp will afford chances for Northern and Louisiana Waterthrushes as well as three island endemics, Cuban Pygmy Owl, Zapata Sparrow, and Red-shouldered Blackbird. Our principal target, however, will be the extremely localized Zapata Wren, which is currently being seen at a site that does not require getting wet feet (unlike in the 1990s). This place is also home to Spotted and King Rails, Sora, and a range of common marsh birds, including various herons, Belted Kingfisher and Northern Harrier, but chances of the ultra-rare and highly secretive Zapata Rail are effectively nil.
Another species synonymous with Cuba is the smallest bird in the world, Bee Hummingbird. We will visit several of its known haunts during our time in Zapata, affording us fine chances to catch up with one of Cuba's most desired bird species. We will also make a couple of early-evening excursions, one to find the endemic Cuban Nightjar (now classified as distinct from the form in Hispaniola), while, on the other hand, a pair of Stygian Owls is a regular feature of our hotel's grounds.
Each day will follow a similar pattern: After an early breakfast we will head to an adjacent area and bird until late morning before returning to the hotel for lunch and a short siesta, thereafter returning to the field in the midafternoon. During the mid-day rests you can either actually sleep, lounge on the beach at the hotel, or we can take you to some of the best snorkeling sites on earth (the reefs are extremely easily accessible without a boat). We can also make a visit to the museum at Playa Giron.
Overnight: Playa Larga, Zapata Peninsula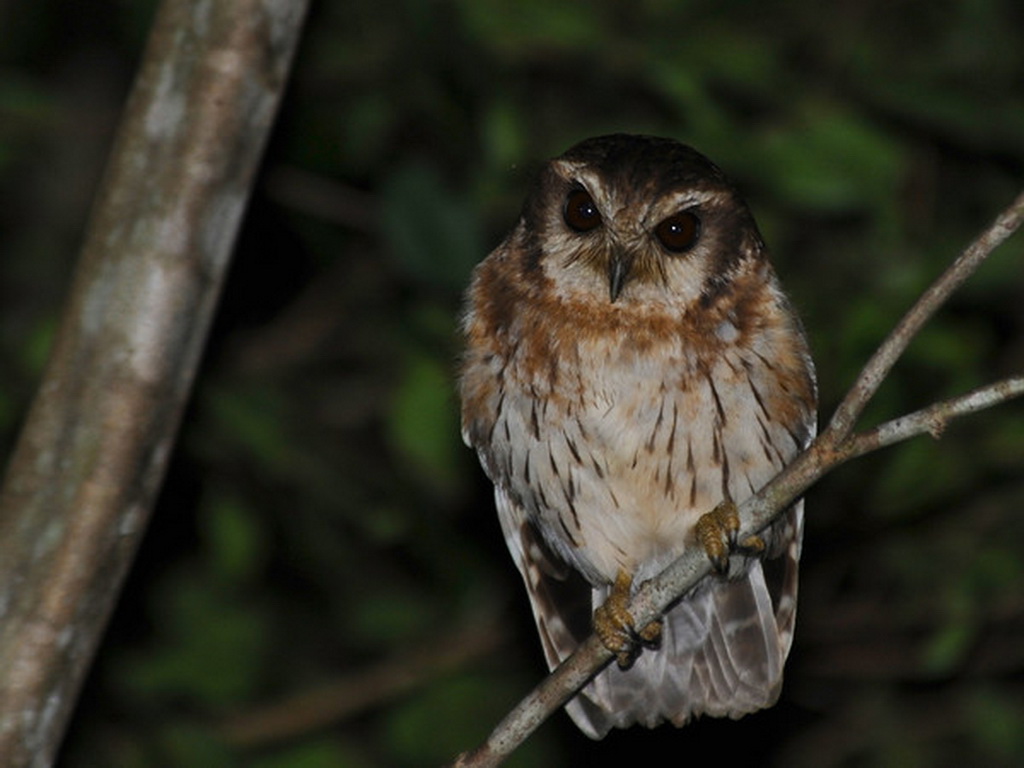 Bare-legged Owl may be seen on a night-time excursion in Bermejas Forest Reserve (photo Alan van Norman).
Days 7 – 8. Transfer to Cayo Coco, birding Cayo Coco and surrounds
We make the long (250 miles/405 kilometers) transfer to Cayo Coco. The last 17 miles/27 kilometers is on an amazing causeway that links Cayo Coco with "mainland" Cuba. Just before doing this final little stretch, we often look for Mangrove Cuckoo at our stakeout. Then we'll proceed north to the island of Cayo Coco, where we will spend two paradisical nights.
Before the causeway was built, Cayo Coco was a wilderness known only to fishermen (including Ernest Hemingway). Nowadays the region has been extensively developed for tourism, but especially during migration this is an exciting place to be, with a long list of rarities having been recorded. However, we will be mainly concentrating on finding the breeding specialties: an endemic subspecies of Thick-billed Vireo is found only here, while the attractive Cuban Gnatcatcher and Oriente Warbler are close to the westernmost limits of their ranges, and Mangrove Cuckoo and Bahama Mockingbird are, in Cuba, largely or wholly restricted to this area. Should we have missed it earlier, there is another chance for Key West Quail-Dove, while a different subspecies of Zapata Sparrow is much easier to see than in Zapata. Numbers of terns and gulls can be seen offshore, and the causeway is the best place in the West Indies to see Red-breasted Merganser as well as being the regular haunt of a large flock of American Flamingos and many waders and herons.
Overnight: Cayo Coco
Day 9. Transfer to Camagüey, birding en route, city tour
Transfer (125 miles/200 kilometers) to Camagüey, the third-largest (and oldest) city in Cuba. We will bird on the way, and after arriving in the city we will make the short trip to the city's cathedral to search for the endemic breeder, Cuban Martin, should we not have already encountered it in Zapata. This species, which is very similar to Purple Martin (which migrates through Cuba), is unknown anywhere else in the world but is absent from the island between autumn and late January. We'll also do a tour of the city and then have lunch there. Even the most hardened birder usually likes to spend an odd hour or two looking at other things in Cuba, especially on a tour like this, in which we typically find all the avian endemics, regional specials, and migrants anyway (subject to some amount of luck, of course!).
In the afternoon we'll drive to our accommodation to arrive in time for a short birding walk.
Overnight: Finca La Belén, Sierra del Chorrillo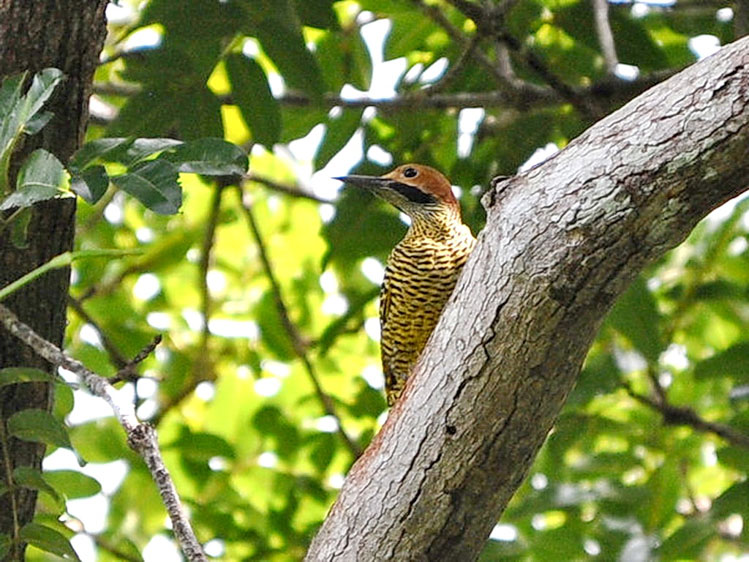 Fernandina's Flicker may be found in the Sierra de Najasa (photo Alan van Norman).
Day 10. Birding the Sierra de Najasa
Today we'll make an early morning visit to the Sierra de Najasa, south of the city, where we will search for a range of highly specialized species, including the Near-threatened (IUCN) Plain Pigeon as well as both Cuban Crow and Cuban Palm Crow (facilitating an appreciation of the differences between these two all-black species). Also here is Eastern Meadowlark as well as another globally threatened bird, now endemic to Cuba, Giant Kingbird. Furthermore we will also have additional chances for Cuban Parakeet, Fernandina's Flicker, Gundlach's Hawk, and yet more wintering North American warblers. We will also check a nearby lake for West Indian Whistling Duck.
Overnight: Finca La Belén, Sierra del Chorrillo
Day 11. Transfer to Havana
We'll have a long journey back to Havana
Overnight: Inglaterra, Havana (Old City)
Day 12. Enjoying Havana and flight home or onwards to Dominican Republic
The previous afternoon and today, you have time to enjoy Havana on foot before flying onwards to our next Caribbean birding tour (Dominican Republic, which can also then be followed by Jamaica!) or home.
Please note that the itinerary cannot be guaranteed as it is only a rough guide and can be changed (usually slightly) due to factors such as availability of accommodation, updated information on the state of accommodation, roads, or birding sites, the discretion of the guides and other factors. In addition, we sometimes have to use a different international guide from the one advertised due to tour scheduling.
Download Itinerary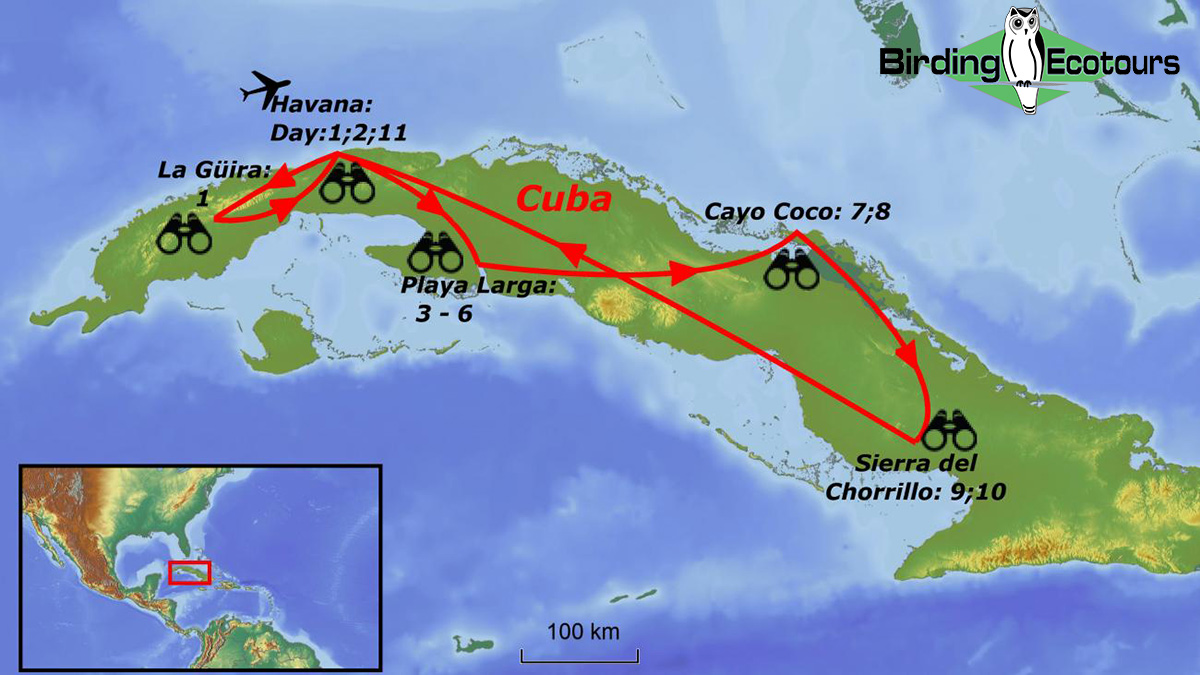 Cuba Birding Tour Trip Report, March 2017
1 – 13 MARCH 2017
DOWNLOAD TRIP REPORT

Overview
This was another fantastic Cuban birding tour with a wonderful group of participants. We found all the Cuban and regional endemics we were targeting, except for Gundlach's Hawk, and we also saw a truly excellent number of North American migrants, such as a plethora of colorful wood warblers. The smallest bird in the world, Bee Hummingbird, numerous Cuban Trogon and Cuban Tody sightings, and brilliant views of Blue-headed Quail-Dove, Grey-fronted Quail-Dove and Key West Quail-Dove were some of the many avian highlights.

Detailed Report
Day 1, 1 March 2017. Arrival in Havana
All nine of us arrived early before the tour was to officially begin tomorrow. From our comfortable base near Havana airport we already started getting nicely acquainted with some of the single-island and regional endemics. There was a Cuban Emerald nest right outside the back door of the place we stayed and Red-legged Thrush was very much in evidence (as it always is throughout Cuba, even in the middle of cities). Antillean Palm Swift winged its way overhead, and Cuban Pewee showed very well and gave its characteristic call. Cuban Blackbird and Greater Antillean Grackle put in their first appearances. More widespread species such as Smooth-billed Ani, Yellow-breasted Sapsucker, Grey Catbird, and various North American wood warblers entertained us.
Day 2, 2 March 2017. Westwards to La Güira National Park
After a superb breakfast with our very attentive and helpful hosts at the B&B we headed westwards, bound for the wooded hills of La Güira National Park. We arrived at our hotel, had a leisurely lunch (with Antillean Palm Swift swooping over our heads) and a bit of a rest during the hottest hours of the day before heading to our Cuban Grassquit site. We had fantastic views of our target species, along with the ever-abundant Yellow-faced Grassquit and several other good birds. Everyone was excited to see our first (of many) prehistoric-looking Great Lizard Cuckoo. Heading into the park proper we made some stops for almost any birds we saw while driving (noting that, right at the start of the trip, most birds are new and exciting!). Cuban Bullfinch and the stunningly-colored Western Spindalis were two such highlights.
We eventually arrived at the cave complex called Cueva de los Portales, where Che Guevara hid during the Cuban missile crisis. This is the best place to find the rather dull-looking Cuban Solitaire, whose beautiful, ventriloquial call certainly compensates for its disappointing appearance. This time the solitaire worked us hard, but we were eventually rewarded with good views after trying to follow the call of a couple of individuals.
Around these caves, we also located and scoped a fabulous little Cuban Pygmy Owl as well as a magnificent Cuban Trogon in front of a cliff face right near Che Guevara's cave. And we were all ecstatic to get our first views of the tiny, unbelievably-colored Cuban Tody (a bird we were to see a lot more of throughout the trip). West Indian Woodpecker and the unusual, beautiful Cuban Green Woodpecker put in noisy appearances. A magnificent, orange-blossomed tree full of the regional endemic Tawny-shouldered Blackbird and Cuban Blackbird kept everyone well entertained. We were also glad to find two regional endemic warblers, Olive-capped Warbler (which is highly localized because of its strict habitat – pine trees – requirement) and Yellow-headed Warbler. As always, migrant North American warblers, such as Louisiana Waterthrush to name but one of them, were much in evidence. Vireos were also out in force, and we saw Cuban Vireo, White-eyed Vireo, and Yellow-throated Vireo today.
We also spent a little time looking at Brazilian free-tailed bat and Jamaican fruit-eating bat in the caves near Che's living quarters.
We also managed to fit in a quick late afternoon session at Hacienda Cortina, where we saw Scaly-naped Pigeon (sadly not seen well by everyone), the Endangered (IUCN) Cuban endemic Giant Kingbird, and the more common and widespread Loggerhead Kingbird, then also La Sagra's Flycatcher and other nice birds.
Day 3, 3 March 2017. La Güira and long transfer to the Zapata Peninsula
An early morning visit to Hacienda Cortina again generated brilliant views of the Vulnerable (IUCN) Cuban endemic Fernandina's Flicker – a pair at the nest – along with a lot of other birds, such as our first Cuban Oriole, before embarking on our long drive to Playa Larga on the Bay of Pigs at the Zapata Peninsula. We punctuated our long drive by stopping at some water bodies, adding several widespread waterbirds to our list, such as Ruddy Duck, Lesser Scaup, Snail Kite, Neotropic and Double-crested Cormorants, and various others. After spending a large part of the day traveling, in the late afternoon we were rewarded with a flock of beautiful Cuban Amazons right at our hotel, as well as Cuban Crow with its delightful repertoire of weird calls, also within the hotel gardens.
Day 4, 4 March 2017. Our first full day in the famed Zapata Swamp area
We made an early start, early enough to be rewarded with spotlight views of Cuban Nightjar along the road. The idea was that we wanted to get to an area of the Zapata Swamp (Santo Tomás) around dawn to try and find the tricky, Endangered (IUCN) Zapata Wren (which is in its own genus and hence is unique/has no very close relatives). A boat trip rewarded us with excellent views of the wren, followed by saturation views of the colorful, nicely-marked Zapata Sparrow (we also found a different, more "washed-out" subspecies of this sparrow later in the trip, at Cayo Coco). A pair of Sandhill Cranes flew over the swamp, and Limpkin stumbled away from us into the forest as we approached it. We saw White-crowned Pigeon in good numbers here and in other parts of the island. Our first Northern Crested Caracara also put in an appearance.
After a great morning we ate a much-deserved lunch and then rested for a while (birding tours to Cuba are not all that difficult!) before heading off on an extremely exciting afternoon birding session at Soplillar. During this birding session we managed to locate several more absolutely superb species, such as a day-roosting, giant Stygian Owl and the much smaller Bare-legged Owl (frustratingly, we never managed to see this bird's legs – I've never seen them once, in fact, even though this is not the first Cuban birding tour I have guided – I always just see the top half of the bird poking out of a nest/roost hole!). Compensation, though, came in the form of Cuban Parakeet, Cuban Martin, and eleven wood warbler species for the day. As if this were not enough, we stopped at the home of someone who feeds hummingbirds, and here we observed our first Bee Hummingbird, Planet Earth's smallest bird! There were many other birds using the feeders here, including Cuba's other regionally-endemic hummingbird, Cuban Emerald, and also Cuban Oriole and lots of nice warblers. And we admired several hutias (bizarre-looking giant rodents), unfortunately in cages, but nevertheless interesting to see.
Day 5, 5 March 2017. Quail-Doves and mangrove birds
A Cuban birding trip is not complete without quail-doves. So we started the day at Bermejas (after driving along the beautiful shoreline and beaches beyond Playa Girón), where we were rewarded with excellent views of the Endangered (IUCN) Cuban endemic Blue-headed Quail-Dove and the Vulnerable (IUCN), recently split and therefore now endemic to Cuba Grey-fronted Quail-Dove. Both of these are remarkably beautiful birds. Kieran, Pattie, and I also almost stood on some extremely tame Blue-headed Quail-Doves the following day as well, at Cueva de los Peces after some nearby snorkeling.
We then continued to our nearby site (La Cuchilla) for Red-shouldered Blackbird (a regional endemic resembling Red-winged Blackbird in looks and voice) and Eastern Meadowlark, but it was so crazily windy that we only managed to get poor views of each of these species. We did, however, return the next morning, when the weather was better, and we were rewarded with brilliant views of both.
After our routine lunch and "heat-of-the-day" rest we visited the mangroves of Las Salinas. Here we saw many new trip birds (as it was a completely new habitat), including Cuban Black Hawk, Western Osprey, Northern Harrier, American Flamingo, Wood Stork, Roseate Spoonbill, eight heron species, American White Pelican, Brown Pelican, Clapper Rail, many shorebird species, Gull-billed Tern, Caspian Tern, and Blue-grey Gnatcatcher.
Day 6, 6 March 2017. Bermejas again and other sites around Zapata
After properly seeing Red-shouldered Blackbird and Eastern Meadowlark (and stumbling across a Fernandina's Flicker on the ground) back a La Cuchilla, we returned to Bermejas to a brilliant site deep within the forest, where all kinds of warblers as well as quail-doves come to drink at a small waterhole (at least during the dry season, when our tours are timed). We managed to add two new Quail-Doves, the widespread Ruddy and the regional-endemic Key West to our list, thus completing a clean sweep of all the quail-doves possible in Cuba. We wanted to see Bee Hummingbird away from feeders, so we also went to another stakeout for this bird right near Bermejas. Cuban Bullfinch and a messy-looking (molting into summer plumage) Indigo Bunting are also worth mentioning.
Our pace was becoming increasingly relaxed, because a feature of this tour was that we were always seemingly ahead of ourselves, except when it came to Gundlach's Hawk, which we were already now starting to get worried about, as it had not yet appeared.
Day 7, 7 March 2017. Zapata to Camagüey
This was a very long travel day, but we did briefly stop at a crocodile farm to admire Cape May Warbler, Black-throated Blue Warbler, and several other nice birds. And we arrived in time to do an informative bicitaxi tour of the old city (established in 1528).
Day 8, 8 March 2017. Birding Sierra de Najasa/La Belén
We made another early start for this working ranch (La Belén), where we rather quickly found our main targets, except for one of them (please see below). Cuban Palm Crow (along with the comic Cuban Crow with its funny calls) and the rather uninspiring (although it's a Near-threatened [IUCN] regional endemic) Plain Pigeon were the targets we found easily. Woodpeckers abound here, and we once again stumbled across Fernandina's Flicker along with the much more common Cuban Green Woodpecker and West Indian Woodpecker. We were glad to catch up with some old "friends" (I'm not sure if they liked us back, though) we had not seen for a few days, such as Giant Kingbird and others. Getting increasingly worried about Gundlach's Hawk, we did a six-hour wait for it, but to no avail. That was probably not such a good move, although we would have thought differently if the species had actually flown by. Perhaps it's just a variant of Cooper's Hawk after all! (I'm just trying to make us feel better about missing it).
Day 9, 9 March 2017. Transfer from Camagüey to Cayo Coco
This was an interesting travel day, culminating in a scenic drive across the long causeway to the Jardines del Rey chain of islands, Cayo Coco (where we were to spend two nights) being one of the islands. Just before the causeway we stopped at our stakeout for Mangrove Cuckoo, obtaining excellent views of it, and also belatedly adding Northern Flicker to our growing list, along with Anhinga. The causeway itself was, as always, very productive, allowing sightings of vast stands of pink American Flamingos, a few Roseate Spoonbills, Red-breasted Merganser, Magnificent Frigatebird, Royal Tern, Cabot's Tern, Caspian Tern, Laughing Gull, and others.
After lunch at our hotel we went to our site for Cuban Gnatcatcher and got spectacular views of this beautifully-marked little thing. We stopped at a beach where we found Piping Plover, Sanderling, and Ruddy Turnstone.
We then went to La Cueva del Jabali, which is a nightclub set in a cave! The staff now feed and provide water for the birds at two spots near the nightclub, and it is thus one of the easiest places for getting good views of Key West Quail-Dove and a myriad of warblers that come to drink – these included the endemic Oriente Warbler as well as a host of North American migrants (including Hooded Warbler, which we saw the next afternoon at this site, not today).
Day 10, 10 March 2017. A whole day at Cayo Coco and nearby cays
We had only one target species left for Cuba! Apart, of course, from Gundlach's Hawk, which was becoming our bogey bird, although that's not surprising as its missed on a great many Cuban birding trips, especially in years like this in which no known active nest sites are around. The last "realistic" target was Bahama Mockingbird, which we got to within a couple of yards at Cayo Paredón near the lighthouse (after being distracted by three or four of the very common Northern Mockingbird) and later on Cayo Coco. We also had nice looks at Thick-billed Vireo. The rest of the day was spent doing relaxed birding, looking at species we had already seen previously as well as a couple of new ones, which were, however, not endemics/targets (e.g., American Oystercatcher and Hooded Warbler).
Day 11, 11 March 2017. Transfer to Havana
This was a long travel day. We tried a site en route (also our lunch stop) where Gundlach's Hawk had nested last year, but to no avail. However, we did find Red-legged Honeycreeper and a couple of other nice birds here.
Day 12, 12 March 2017. Havana city tour
The group did a bus/walking tour of various landmarks around Havana, including the Old City.
Please see the downloadable PDF above with the full species lists included. This is a sample trip report. Please email us ([email protected]) for more trip reports from this destination.
Passports and visa
Your passport must be valid for at least six months beyond departure. A tourist visa is compulsory for entry into Cuba. This is valid for 30 days from the day of arrival. Clients staying for a longer duration may extend these locally via the Cuban embassy. If you are traveling to another country from Cuba and then returning, you will need another tourist visa in order to re-enter the country. Please ensure you have your tourist visa correctly completed before check-in at the airport, as it will be requested with your ticket and passport at check-in. While you are in Cuba you must retain the tear-off part of the visa given to you by customs, as it will be required on departure.
Tourist card
A tourist card needs to be completed when visiting Cuba.
Health requirements
There are no compulsory vaccinations required for Cuba, but the following are sometimes recommended: Tetanus, Polio, Hepatitis A, and Typhoid. Please check with your doctor for the most up-to-date information. We strongly advise you to read the Center for Disease Control advice on Cuba, at https://wwwnc.cdc.gov/travel/destinations/traveler/none/cuba.
Your health while in Cuba
Cuba's health facilities are good, and some of the larger hotels have their own doctor on site. International clinics can be found in all the main resorts as well as in Havana, Trinidad, Santiago de Cuba, and Cienfuegos. Mosquitoes can be a problem. Use plenty of repellent and keep covered in the evenings, especially at sundown. Many medicines are not commonly available (e.g. Imodium, TCP, Piriton, sanitary protection) and we strongly recommend you take your own supply. Although tab water is considered safe we recommend bottled water, which is widely available. Should you have to visit a doctor in Cuba, ensure you keep receipts for doctors' fees or medicine paid for in Cuba, as these will be required for any insurance claim on your return.
Currency and credit cards
There are two currencies in circulation in Cuba: the peso (CUP), which you will not use, and the Cuban Convertible Peso (CUC). The value of the CUC is on a par with the US Dollar rate of exchange. CUCs are of no use outside of Cuba and must be changed before leaving the country. Visitors will be given the CUC when they exchange money on arrival in Cuba. Take cash in British Pounds (GBP) or Euros (EUR), which then can be exchanged locally for the convertible peso on arrival in Cuba – do NOT take US dollars because a premium of 11% is charged to exchange these! Damaged or defaced notes are often refused.
Cash can be changed in the main hotels and also in exchange houses called CADECA (Casa de Cambio) across the country. Please note that Maestro and Solo are not widely accepted in Cuba.
In these days with an increasing number of credit cards with individual names it is very important to check that your card has not been issued by an American bank; the parent company may well be of US origin. Non-American-issued credit cards are acceptable.
Please note: Some hotels/restaurants will charge a 3% credit card surcharge.
National Bank regulations apply to the import and export of foreign currency. It is prohibited to import or export local Cuban currency.
Exchange offices and duty-free shops overseas are not familiar with Scottish or Ulster banknotes and therefore do not always accept them.
Cash can be easily drawn against Visa debit or credit cards at the Banco Financiero. They are open from 8.30 a.m. to 3.30 p.m., but note that your transaction can only be made when your home country bank is open!
ATM machines are available in Havana and other major cities – and they are starting to appear in smaller towns (such as Viñales) as well. There can be long queues at times, especially in Havana.
Personal security
Cuba is on the whole very safe. However, as at home take care and do not flaunt expensive possessions or jewelry in a public place. Large amounts of cash should always be left in the safety box at the hotel.
Electricity
Most of the sockets in the hotels are of the American two-pin, flat type (ITA Type A), although more modern hotels have the round-pin (European) variety (ITA Type C). The normal voltage is 110 V, although some of the more modern hotels have 220 V.
Local time
Cuba is GMT -5.
Post and communications
Post can be very unreliable and slow, so it is rare for a postcard to reach home before you do, or at all! Some hotels now offer Internet access at a charge, and connection may be slow. International telephone calls are very expensive, and we therefore recommend you purchase phone cards to call internationally from pay phones. Text messages/SMSs from your own cell phone (which you need to make sure is on international roaming before leaving your country) are inexpensive, and we recommend this in the unlikely event that you need to contact family back home (or vice versa).
Tipping
This is a much-appreciated source of income. Plenty of small notes and coins are advisable for tipping purposes to porters at hotels and airports, guides, and drivers.
Food
The most popular food in Cuba is their traditional pork, chicken, and rice dishes. In suburban areas the variety is limited and more traditional Cuban food is offered. In all-inclusive hotels there is a wide range of international cuisines. The higher-category hotels will provide more choice and a better selection of food and beverages. Outside of the main resorts choices are limited due to the general restrictions within Cuba. Vegetarians/vegans may struggle with the choice available to them and may find meals to be repetitive.
Food also tends to arrive slowly compared to the speedy service you might be used to at home. However, the vast majority of Cuban food is cooked to order, which inevitably takes longer.
 Climate
Peak holiday months for visits to Cuba range from November through April, although July and August are popular with Canadians and Europeans. The quietest months are June, September, and October; it can be very humid indeed between May and October. The east, particularly in the Santiago province, is much hotter than the west around Havana.
In July and August temperatures average 30 °C (90 °F), with 10 hours of sunshine a day. Hurricane season for Cuba runs between May and November, and there is a high chance of a short shower or thunderstorms during the afternoon when the humidity has built up. Most hotels, offices, and restaurants have air conditioning, which at times can be turned up to the extent that it is uncomfortably cold. We therefore recommend a shawl or light jacket for eating out.
Water temperatures can range from 24 °C (75 °F) in February and March to 28 °C (82 °F) between July and October. The sea temperature in the north-eastern province is cooler than on the western end of the island.
Communications
Wi-Fi is very patchy in Cuba and you should probably not expect to have such access anywhere. Some hotels have an internet connection – ask at reception and expect quite a high cost.
Mobile phones will work in Cuba, and coverage is good in all but the most remote areas. Charges for your own network (roaming) will vary but generally text (SMS) messages are free to receive and very cheap to send. Call charges can be quite high. It is possible to buy a Cuban SIM card for your phone, which will make it cheaper.
What to bring
Cuba specifically: We recommend bringing snorkeling gear, as there is often time for this during the heat of the day. The guide will have a spotting scope on this tour, but you might consider bringing your own as well (although certainly not critical).