Mammal and Birding Cruise Norway: Svalbard (Spitsbergen) — Polar Bears and Seabirds
Go to: Norway Birding Tours | Other Cruises | Mammal Tours | Birding Tours in Europe | All our birding tours
Dates and Costs
02 – 09 June 2022
These cabins are currently available:
Twin porthole:  (1 Full cabin and 1 Male berth)
sharing US$5,300, single US$9,010
Triple porthole:  (1 Male berth)
sharing US$4,750
Twin window: (1 Full cabin)
sharing US$5,750, single US$9,775

Superior (double bed): (1 Full cabin)
sharing US$6,900, single US$11,730

Junior suite (double bed): (5 Full cabins)
sharing US$7,400, single US$12,580
                                                
Grand suite (double bed): (3 Full cabins)
sharing US$8,550, single US$14,535
                                               

All cabins contain private shower and toilet, flat screen TV, telephone and internet connections, hair dryer, and ample storage space.
16 – 23 June 2023
Quadruple porthole – sharing US$4,000
Triple porthole – sharing US$5,600
Twin porthole – sharing US$5,600, single US$9,520
Twin window – sharing US$6,050, single US$10,285
Twin deluxe – sharing US$6,400, single US$10,880
Superior (double bed) – sharing US$7,300, single US$12,410     
---
(Please also read our blogs about recommended field guides for the seven continents here)
---
Tour Details
Duration: 8 days
Group Size: The group sizes of cruises are a function of the capacity of the ship, so our usual small group size policy naturally can't apply here.
Tour Start: Longyearbyen, Norway
Tour End: Longyearbyen, Norway
---
Price includes:
All meals throughout the voyage aboard the ship, including snacks, coffee, and tea
All shore excursions and activities throughout the voyage by Zodiac
Program of lectures by noted naturalists and leadership by experienced expedition staff
Free use of rubber boots and snowshoes
Transfers and baggage handling between the airport, hotels and ship only for those passengers on the group flights to and from Longyearbyen
All miscellaneous service taxes and port charges throughout the program
Comprehensive pre-departure material
Price excludes:
Any airfare, whether on scheduled or charter flights
Pre- and post-tour land arrangements
Passport and visa expenses
Government arrival and departure taxes
Meals ashore
Baggage, cancellation, and personal insurance (which is mandatory)
Excess baggage charges and all items of a personal nature, such as laundry, bar, beverage charges, and telecommunication charges
The customary gratuity at the end of the voyage for stewards and other service personnel aboard (guidelines will be provided)
---
Featured Guide:
Dominic Rollinson
Download Itinerary
Mammal and Birding Cruise Norway: Svalbard (Spitsbergen) — Polar Bears and Seabirds
June 2022/2023
You arrive in the world's northernmost town, historic Longyearbyen (previously known as "Long Year City"), deep within the Arctic Circle, and we have time to explore this small city of about 2,000 human inhabitants. We then depart on our cruise for the northern parts of the beautiful, remote Svalbard Archipelago (previously known as Spitsbergen). While one of our main targets will be Polar Bear (and other High Arctic mammals), our guide is first and foremost a birding guide, so he'll certainly be constantly watching for all the special birds. We plan to visit a breeding colony of Ivory Gulls, we should see Rock Ptarmigan, and we'll also of course try for all the sea ducks and all other desirables. The scenery in the 'land of the midnight sun' is truly spectacular, with all the glaciers, fjords, jagged peaks, and myriads of small islands.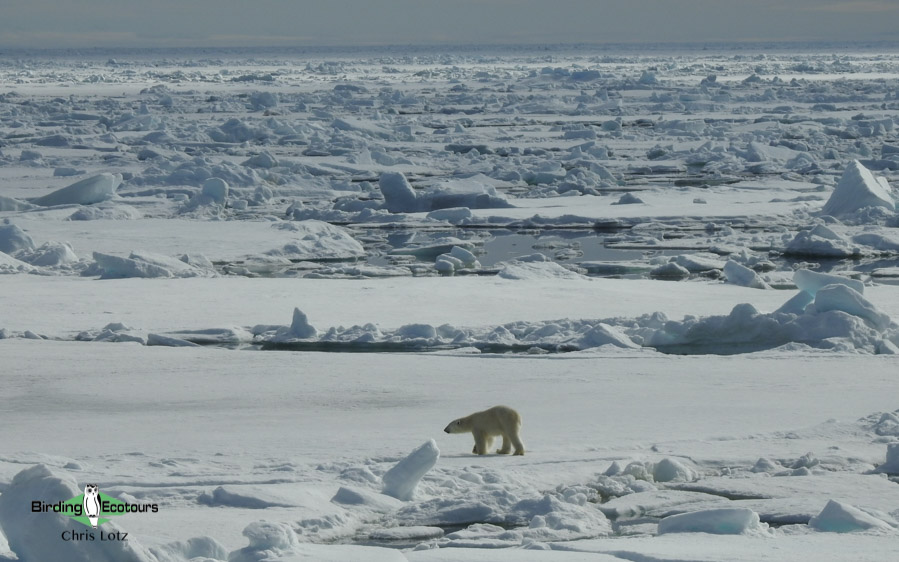 Polar Bear is one of our targets on this trip.
Itinerary (8 days/7 nights)
Day 1. Birding Longyearbyen/Svalbard island, then cruise ship departs
Arrival in Longyearbyen, the capital of Svalbard, Norway, the world's northernmost city.  Before the early evening departure we will explore this old mining town in search of Barnacle Goose, Common Ringed Plover, Rock Ptarmigan, Purple Sandpiper, and Snow Bunting. Upon setting sail out of Isfjorden, the second-longest fjord in the Svalbard Archipelago, we may see our first Red-throated Loon and Common Minke Whale. Our voyage will be on board 300–350-foot polar vessels which accommodate up to 170 passengers.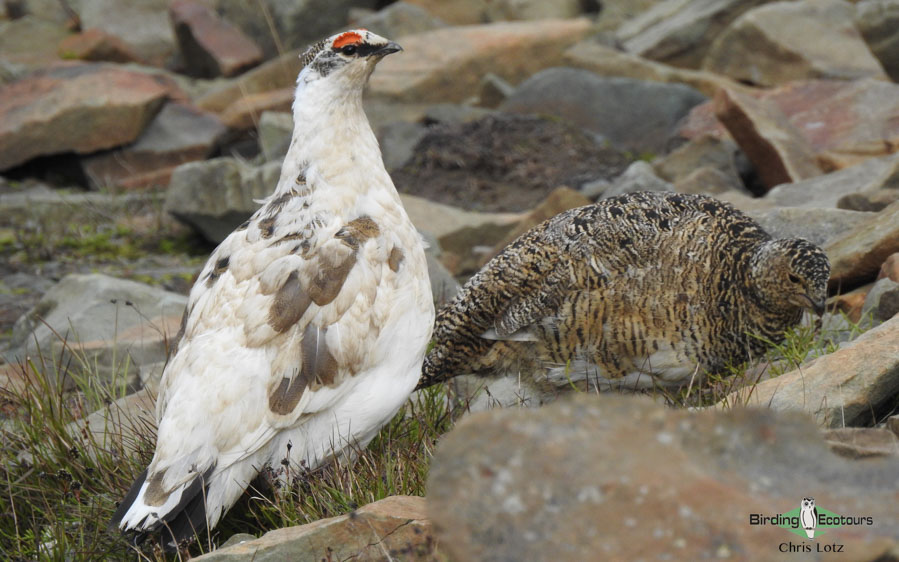 Rock Ptarmigan can be quite common and confiding.
Day 2. The northern coast of West Svalbard
Along the northern coast of west Svalbard we will cruise alongside beautiful glaciers. Polar Bear is commonly seen here in addition to Bearded and Ringed Seals. The shoreline cliffs in Raudfjorden are home to colonies of seabirds, including Thick-billed Murre and Black Guillemot. Lush vegetation flourishes in areas protected from the weather.
Day 3. Liefdefjorden
Weather dependent, we will sail along the three-mile long face of Monaco Glacier, heading into Liefdefjorden. These waters harbor a favorite food source for Black-legged Kittiwake, offering spectacular views of thousands of birds. Polar Bear also frequents the glacier, providing photo opportunities.
Day 4. Hinlopen Strait
Navigation into the Hinlopen Strait will prove to be rich in Arctic wildlife. Today we will have opportunities to see thousands of Thick-billed Murres, Polar Bear, Ringed and Bearded Seals, and if we're lucky Blue Whale – the largest animal known to have ever existed. In our zodiacs we will cruise through the sea ice floes of Lomfjordshalvøya and will visit a huge colony of Thick-billed Murres (Brünnich's Guillemots) at the cliffs of Alkefjellet. We will also attempt to land at Palanderbukta on the island of Nordaustlandet, where Ivory Gull nests in addition to Pink-footed Goose, and Svalbard Reindeer (the smallest subspecies of Reindeer) and Walrus might be seen.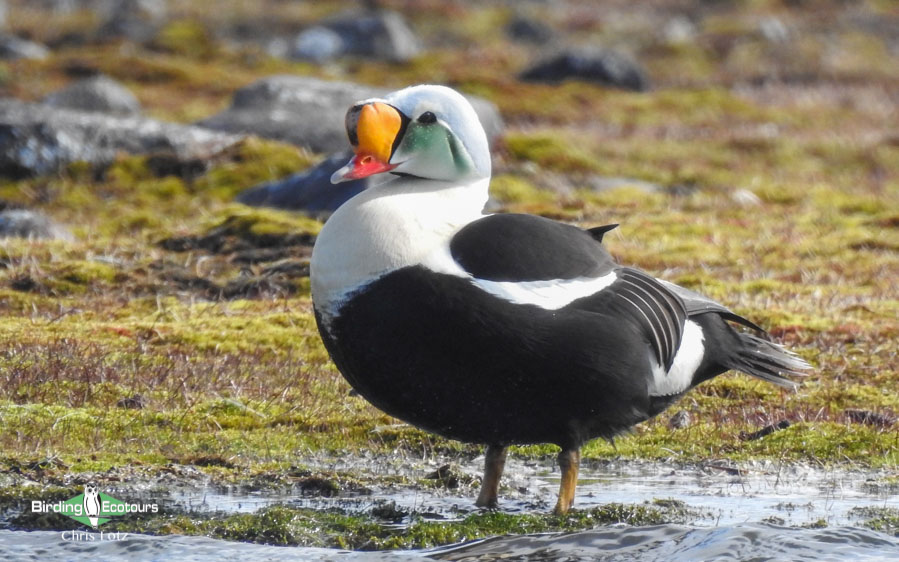 King Eider can be seen alongside Common Eider.
Day 5. Phippsøya
Today we will attempt to reach the island of Phippsøya, which is the northernmost point of our journey. Located in the Seven Islands, we will be less than 550 miles (885 kilometers) from the geographic North Pole! Polar Bear and Ivory Gull are inhabitants of this region. Our ship may remain in the ice pack for several hours before navigating west.
Day 6. At sea
We will return westward and continue our voyage alongside the pack ice. While watching for Polar Bear we will hope for a glimpse of the elusive Bowhead Whale. As we cruise alongside the continental shelf west of Svalbard we will pass through the foraging waters of Fin Whale and have decent chances of spotting Common Minke Whale.
Day 7. Varying destinations depending on weather conditions
Weather dependent, we will either sail into Forlandsundet, where we might encounter Walrus, or alternatively into St. Johns Fjord or to Isfjorden and possibly landing on Alkhornet, where along the cliffs we will look for nesting seabirds and along the base of the cliffs Arctic Fox may be seen foraging for fallen chicks or eggs. We may see Svalbard Reindeer grazing before making a nighttime arrival back in Longyearbyen.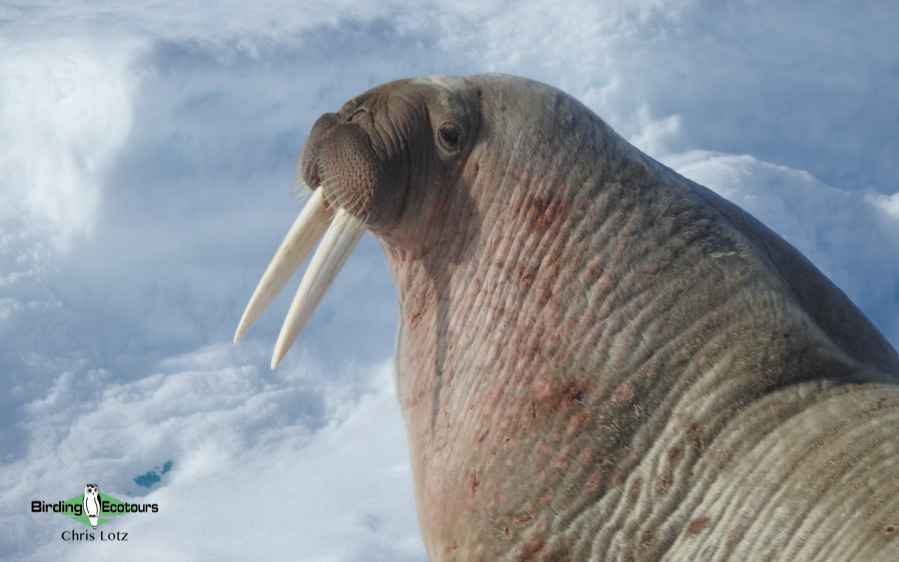 Walrus are usually encountered on this cruise.
Day 8. Departure
We will come ashore in Longyearbyen on this last day of our journey for flights south to Oslo and from there to our home destinations.
PLEASE NOTE: A typical itinerary to the northern Svalbard Archipelago is illustrated above. This itinerary is for guidance only. Depending on local ice and weather conditions, the availability of landing sites, and opportunities to see wildlife, the program may vary. The Expedition Leader on board will determine the final itinerary. Flexibility is paramount for expedition cruises. Average cruising speed for the vessel is 10.5 knots. 
Download Itinerary
Svalbard (Spitsbergen) Arctic Cruise Set Departure Trip Report
21st – 28th JUNE 2019
DOWNLOAD TRIP REPORT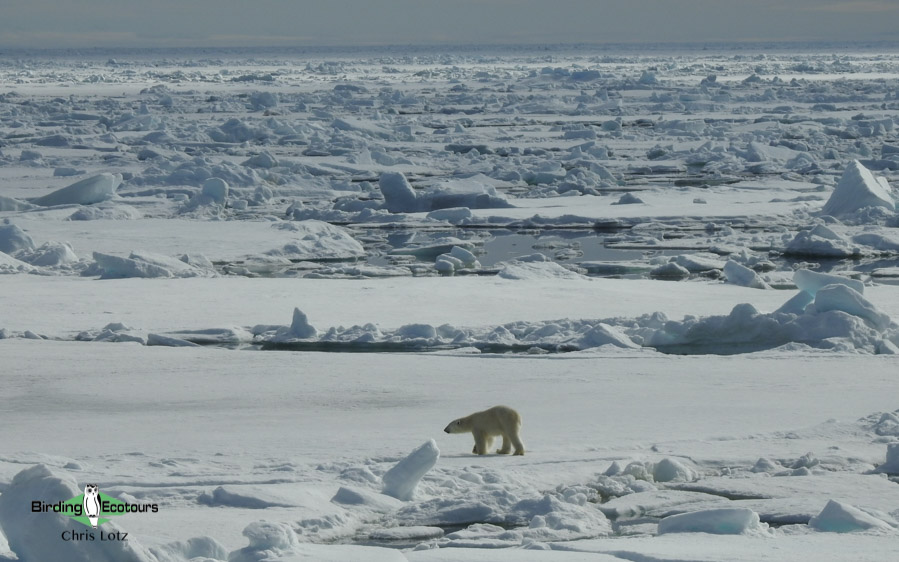 The vast landscape of the Arctic, with a Polar Bear for scale.
Overview
Svalbard (previously known as Spitsbergen), is a pristine Arctic wilderness about midway between continental Norway (of which it is politically a part) and the North Pole. This stunningly scenic archipelago, with its jagged peaks, breathtaking fjords, and abundant glaciers is one of the most popular places to go and find Polar Bears. But there are many other attractions, such as Walrus, whales including Blue and Beluga Whales, Arctic Fox, Ivory Gull, Little Auk (Dovekie), Atlantic Puffin, Thick-billed Murre (Brunnich's Guillemot), Black Guillemot, King Eider, breeding-plumaged Red (Grey) Phalarope, breeding-plumaged Red-throated Loon (Diver) and more. We started and ended our week-long cruise in Longyearbyen, a truly fascinating town of just over 2,000 human inhabitants and the northernmost town in the world. The pack ice map dictated our route more than any prior planning could have done, and in fact we were forced to take a completely different route than the one that had been planned. What an amazing adventure it turned out to be, and we were pleased to find all our targets. What follows below is a brief trip diary mentioning the main wildlife we managed to locate. If you want the detailed ship log, which gives sea temperatures, GPS co-ordinates, and a lot of other information for each day of the trip, please e-mail [email protected]. This current report serves mainly to show you what to expect mammal- and birdwise on our annual Svalbard cruise – details of next year's cruise can be found here.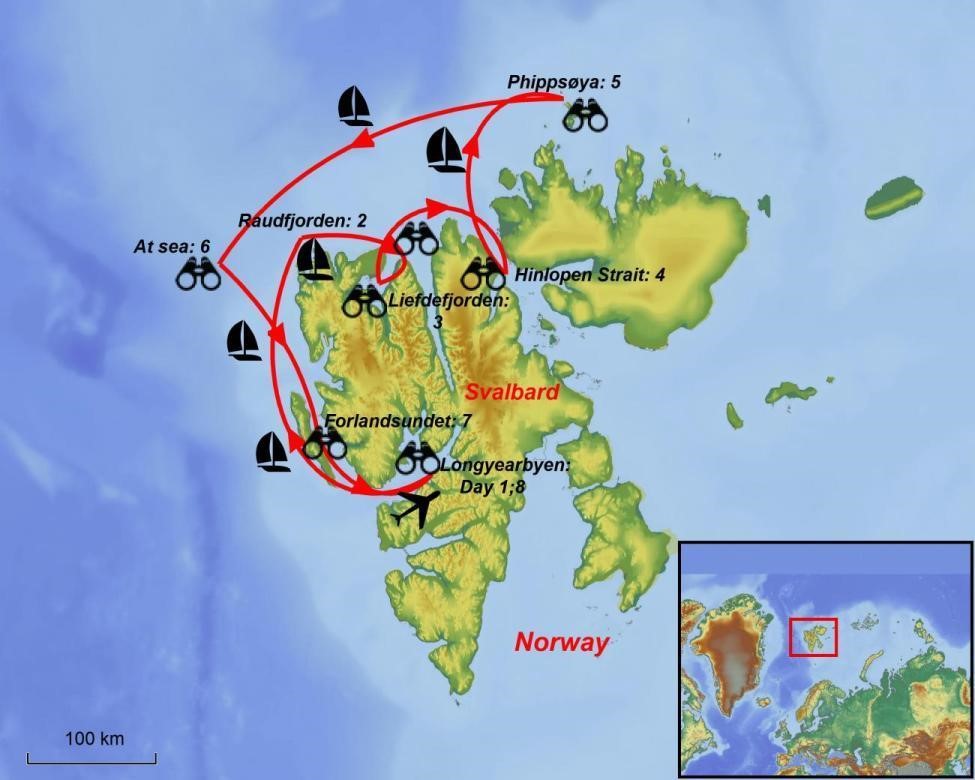 The route we wanted to sail (above) didn't happen because of pack ice, but we still saw all our targets.
Detailed Report
Day 1, 21st June 2019. Embarkation and sailing Isfjorden and then southward
Tim and Kay had arrived a couple of days early and had already joined a whale-watching and a birding tour around Longyearbyen. They'd found King Eider, Pink-footed Goose, the hrota subspecies of Brant (Pale-bellied Brent) Goose, breeding-plumaged Red (Grey) Phalarope, Rock Ptarmigan (aka "Roof Ptarmigan", as it was actually sitting on someone's roof), Arctic Fox, Svalbard Reindeer (an endemic subspecies), and last but not least Blue Whale among other goodies.
The ship cast off around 6.30 p.m. and sailed through the beautiful Isfjorden (one of Svalbard's longest fjords, within which Longyearbyen lies). Because of the current pack ice map we knew that we'd be unable to take our expected route along the western side of Spitsbergen (the biggest island of the Svalbard Archipelago, and also the previous name of the entire archipelago when it was controlled by the Dutch rather than the Norwegians). So we decided to head south then east, to avoid the impenetrable pack ice. While traversing the fjord and also when we reached the open sea we found Common Eider, stacks of graceful Northern Fulmars, Black-legged Kittiwake, Atlantic Puffin, Thick-billed Murre (Brunnich's Guillemot), Black Guillemot, Little Auk (Dovekie), and Parasitic Jaeger.
By morning we had made it as far as Hornsund, Spitsbergen's southernmost fjord.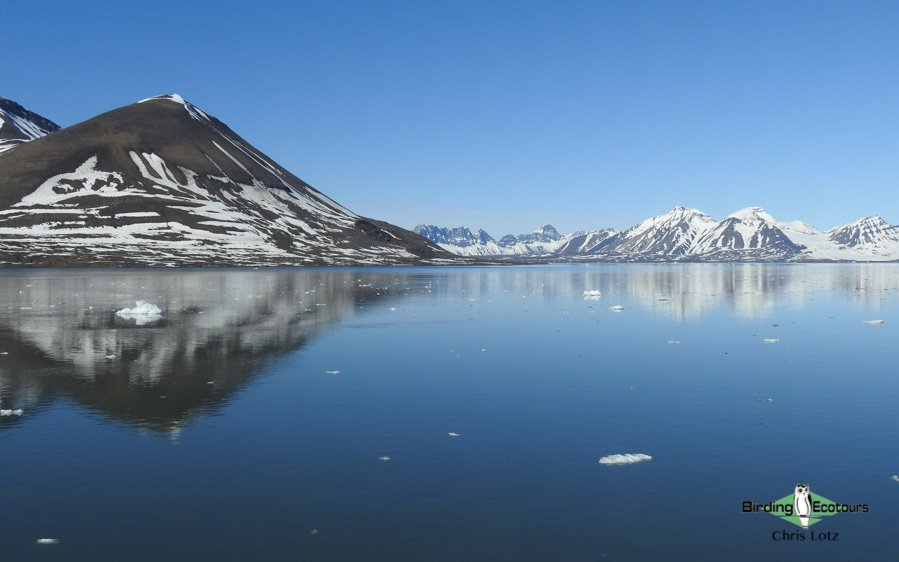 Fabulous Arctic scenery: Svalbard is awesome!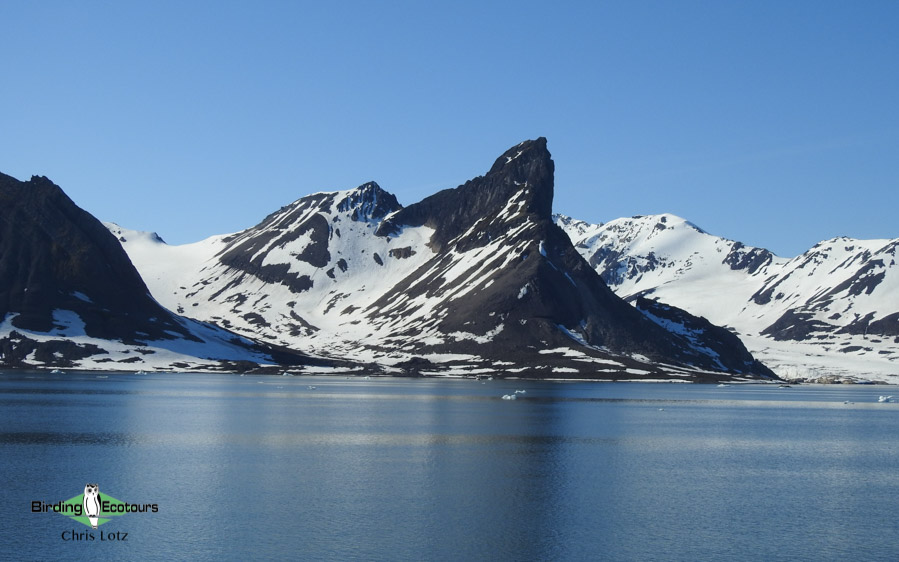 More fabulous Svalbard scenery.
Day 2, 22nd June 2019. Polar Bear number one
During breakfast the call was made that our first Polar Bear had been sighted from the ship's bridge and had just entered the water and was swimming. Everyone rushed out of the dining room to enjoy this amazing mammal as it slowly swam, unfortunately always at some distance from the ship. The bear briefly alighted on a small iceberg and then continued swimming before getting out onto a beach at Burgerbukta (a side fjord off the northern part of Hornsund).
After lunch we took zodiac cruises to try to get closer to the Polar Bear, but it had walked quite far up a hill by then. After spending a bit of time with the (fairly distant) Polar Bear we went in zodiacs to the base of one of the amazing glaciers in the area. While cruising around we were pleased to get some closer encounters with some of the birds we'd already seen the previous day, along with the humongous Glaucous Gull, a very close-up Ivory Gull which we were immensely pleased with, Arctic Tern, and other goodies.
Once we were back on the ship and had started sailing toward the open ocean we encountered a pod of perhaps 50 white Beluga Whales – incredible! We enjoyed spending time out on deck enjoying these bizarre mammals. A Bearded Seal also put in a welcome appearance.
This is the land of the midnight sun, where the sun literally does not set in the summer months, and we had to use a lot of discipline to force ourselves to go to bed at a "reasonable" hour (e.g. 11 p.m.!) rather than staying up the whole night watching wildlife. During the night, however, it did get misty, so wildlife viewing was a bit trickier anyway.
 Day 3, 23rd June 2019. Walruses and more
We awoke to find misty conditions resulting in bad visibility, but after breakfast we did manage to do a successful zodiac cruise to view and photograph Walrus. This was at Kapp Lee (also known as Dolerittneset), which is a well-known "haul-out" site for Walruses, which come and lie on the beach here. We were enjoying a close-knit group of about 20 of these amazing creatures, when we suddenly saw another one swimming toward us, giving fantastic views and photographic opportunities. This is an interesting site, as there is some tundra here (Svalbard doesn't have much plant cover – only 10 percent of the land is vegetated), and it is also a cultural site for the Russian Pomor people. Whale bones are scattered on the beach. We briefly saw a Purple Sandpiper, and a few other birds and even a brief Arctic Fox put in appearances for some.
In the afternoon we sailed around a humungous glacier, Negribreen, but sadly the visibility was almost non-existent. We did enjoy the floating ice, though. And, believe you me, we saw a lot of other glaciers during the trip, so not all was lost. On poor-visibility days like this we enjoyed brilliant lectures offered by experts in various fields (today they were about glaciers and Polar Bears, respectively).
We had a really exciting night as we negotiated an area with 70 percent sea ice through a narrow straight (Freemansundet), which separates the islands of Edgeøya and Barentsøya. Throughout the night we listened to the sound of cracking ice. We were very lucky to get through this straight, as the ice charts showed a "plug" (of 100 percent sea ice) that had been there for a couple of days, but which had moved away just in time for us to (barely) make it through. We were heading toward the second-largest island (after Spitsbergen) of the Svalbard Archipelago, Nordaustlandet, which we couldn't have done if the "plug" of ice had still been present. Wildlife-wise we saw a couple of Bearded Seals on floating ice as we navigated the straight.
Day 4, 24th June 2019. Incredible views of Polar Bear – hooray!
The weather improved greatly today, and we once again enjoyed grand vistas. After breakfast the guides at the bridge spotted a distant Polar Bear that we then slowly approached and eventually got very close to! The captain (Alex Nazarov) did a fine job of slowly approaching the bear without disturbing it. What an incredible time we spent with this young male!
Walruses on blocks of floating ice entertained us later after we'd spent a lot of time with the Polar Bear. At one point, an adult Walrus with a baby waddled off the ice and went for a swim. Apart from these amazing animals, today was similar to most days of the cruise, with certain bird species abounding. Thick-billed Murre (Brunnich's Guillemot) and Black-legged Kittiwake were the most prolific species daily, with Black Guillemot, showing off its lovely white wings and pink legs in flight, and Little Auk (Dovekie) also being rather common. Parasitic Jaeger was less numerous, and downright rare around here were Long-tailed Jaeger, Pomarine Jaeger, and Great Skua, but we did see one or two of each during the cruise as a whole. Common Eider and the beautiful Ivory Gull (arguably the most important avian special of the trip) would occasionally put in appearances. We also saw some other good birds when we landed by zodiac on the land – more about those later.
One of the main aims of today was to see pack ice. It was fantastic observing the imposing wall of ice where the ice cap meets the sea and from which icebergs form. Putting binoculars onto the blue vertical stripes on this wall of ice revealed beautiful waterfalls. The large island of Nordaustlandet is mainly covered by a massive ice cap, and that's where we were heading to.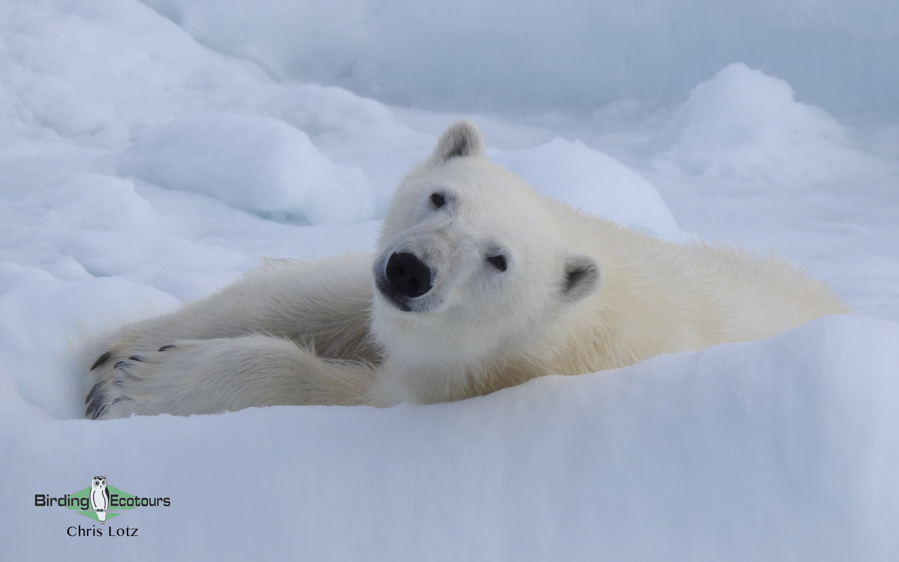 Today's friendly Polar Bear.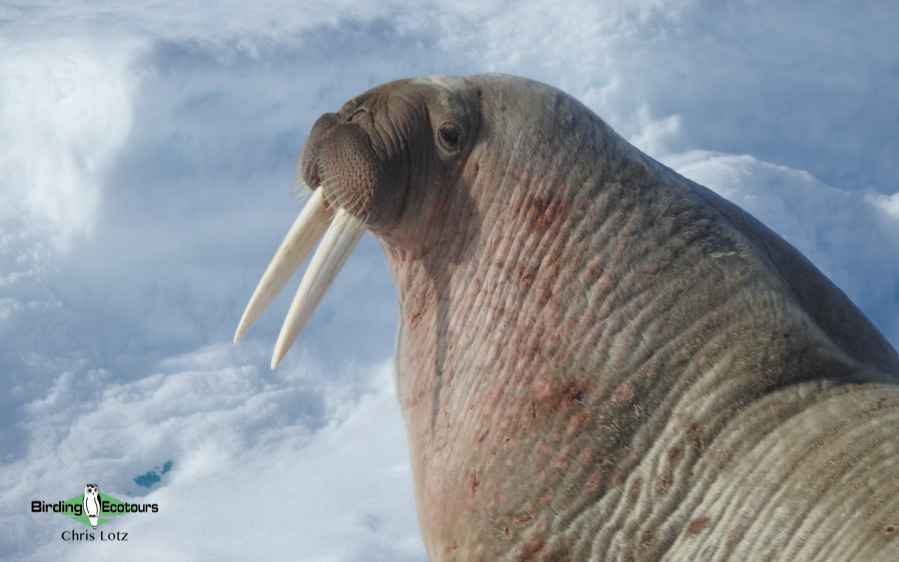 A bizarre Walrus.
Day 5, 25th June 2019. The Arctic Desert
In the morning we did a zodiac trip to a desert area that was largely sterile but interesting from a geological point of view. We did see a few blooming flowers and even some insects.
In the afternoon we again went in zodiacs and alighted on some sea ice for 25 minutes, followed by a zodiac cruise through some beautifully shaped pieces of ice, many of them a spectacular blue color. We saw many of the same birds as we'd seen previously, but in the afternoon we did enjoy a really productive half hour with some new birds. These were Common Eider, a breeding-plumaged female Red (Grey) Phalarope (the females are much more dazzling than the males, which is the reverse of the norm in birds) that flew straight past the ship, a Long-tailed Jaeger, and two Parasitic Jaegers. An Ivory Gull spent some time foraging above the sea ice just in front of the ship.
We needed to start getting back towards Longyearbyen, as we only had two full days of cruising left, so we navigated the narrow Freemansundet again on our journey south-westward.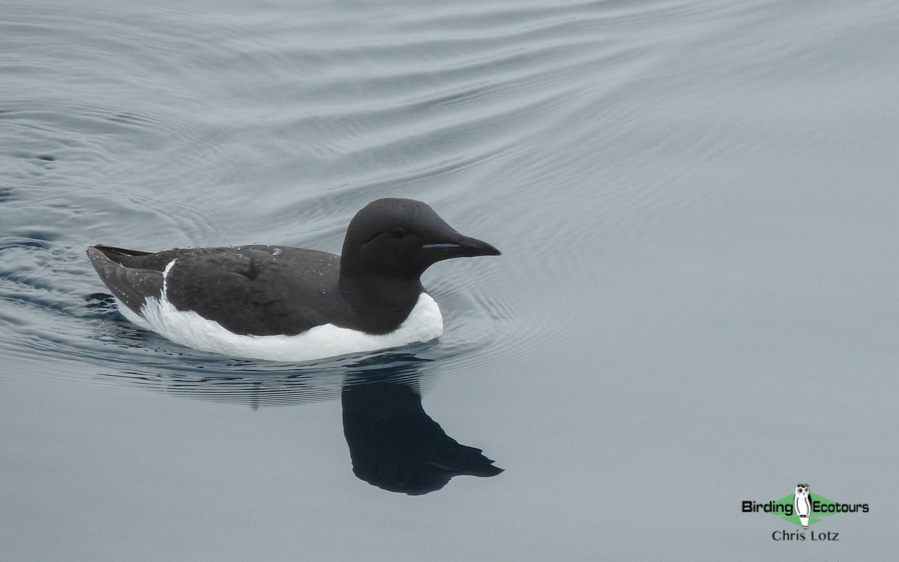 The calm sea allowed us to photograph Thick-billed Murres (Brunnich's Guillemots) and other birds reflecting in the water.
Day 6, 26th June 2019. Sundneset
This morning we found ourselves in Sundneset (Barents Island), an amazing place for a zodiac landing, as there is some extensive tundra here, which provides food for all manner of wildlife, not to mention a couple of nice lakes. The walk here this morning was arguably the best birding session of the entire trip, and some folks also saw Arctic Fox. There were a good number of the attractive Svalbard Reindeer in the area. Beautiful Red (Grey) Phalaropes swirled around in one of the lakes. A good number of Purple Sandpipers foraged. A couple of Common Ringed Plovers displayed above us. A lone European Golden Plover stood a head higher than the other shorebirds. A male Rock Ptarmigan (the Svalbard and Franz Josef Land endemic hyperborea subspecies) put on quite a show, as did numerous Snow Buntings that were displaying and singing like crazy. We also were close to several King Eiders and Long-tailed Ducks.
After lunch we continued sailing southward toward the southern tip of Spitsbergen. One or two people saw a Pomarine Jaeger, the only new bird for the trip.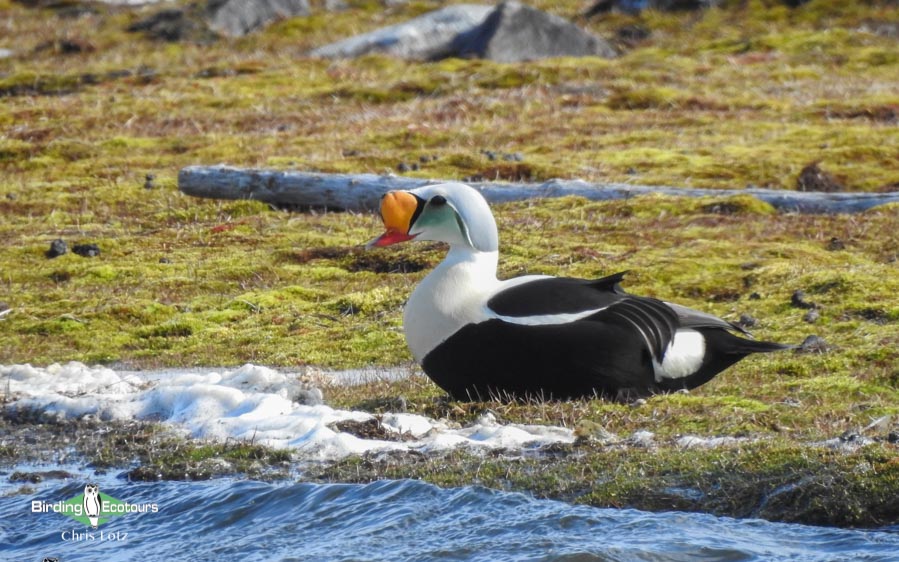 A beautiful male King Eider.
Day 7, 27th June 2019. Blue Whale
Good views of Blue Whale were enjoyed by those who opted to get out of bed when the call came through in the middle of the night (but of course the sun was up, as this is indeed the land of the midnight sun!).
After breakfast we landed at the historic Camp Millar, an old gold mining venue. Here there were colonies of various seabirds, the most accessible being Little Auk (Dovekie), flocks of which sometimes flew low over us on their way from their foraging trips at sea to their breeding/roosting sites. Thick-billed Murres (Brunnich's Guillemots) and Black-legged Kittiwakes were also much in evidence. Ghostly white Glaucous Gulls and a summer-coat Arctic Fox surveyed the base of the Little Auk breeding site in the hopes of finding a meal (for example a fallen chick or an egg). A nesting Parasitic Jaeger (Arctic Skua) did a fascinating distraction display as we walked past. We also got quite close to a pair of Glaucous Gulls with two cute chicks. Next to these was a pair of striking Barnacle Geese. Some camouflaged Purple Sandpipers foraged on the beach. Several Svalbard Reindeer, one with antlers (most lack them at this time of the year), gave closer views than previously.
In the afternoon we traversed the short distance to Fagerbukta, where some crazy folks did a "polar plunge", swimming in the icy water where a beach met a picturesque glacier.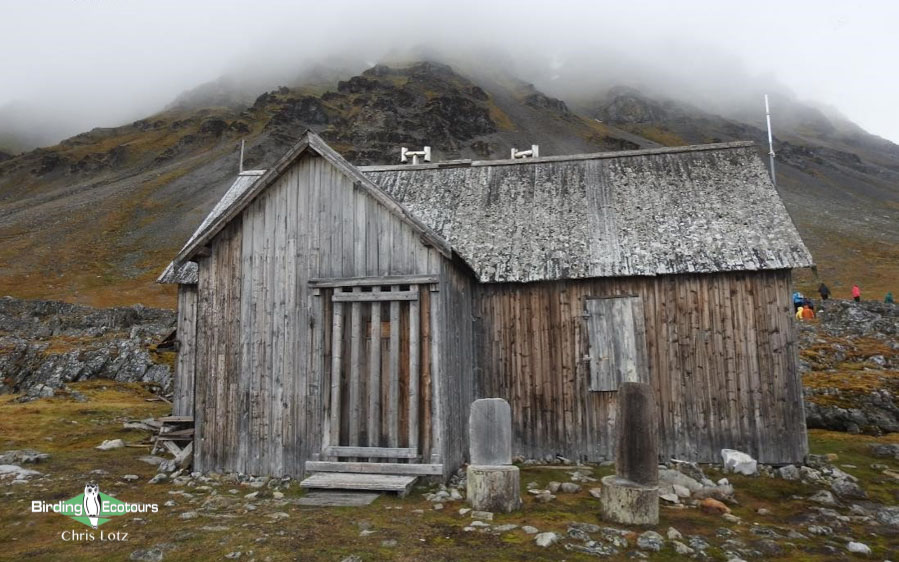 Camp Millar on an atmospheric day.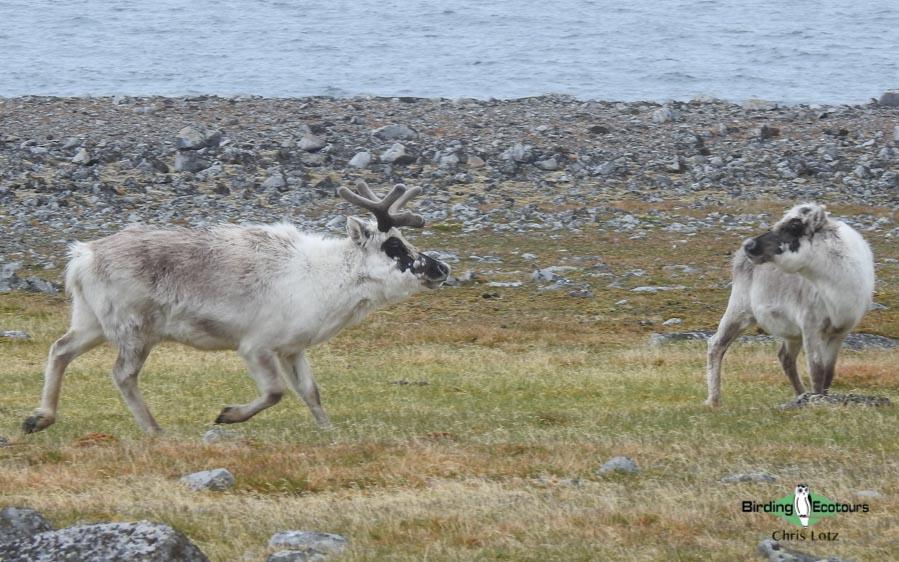 The Svalbard subspecies of Reindeer.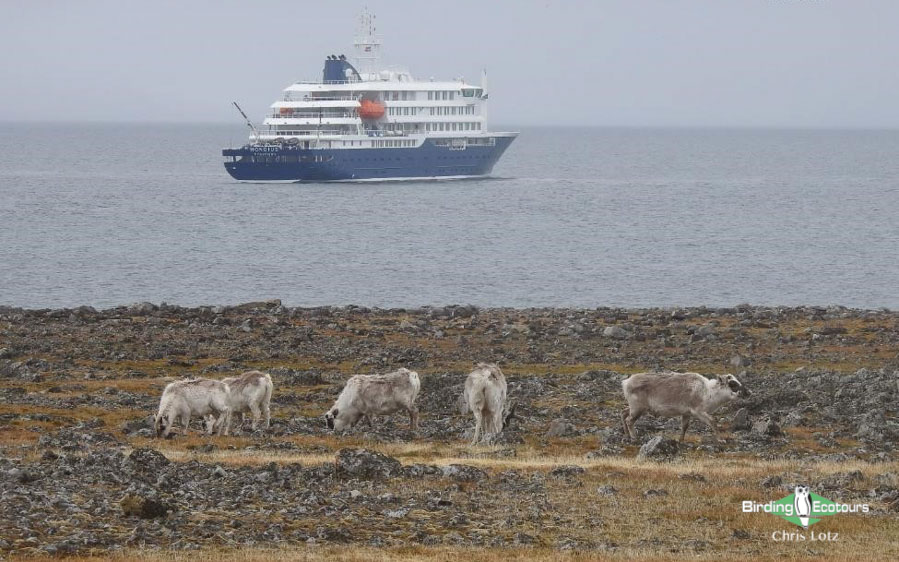 (Svalbard) Reindeer with our vessel in the background.
Day 8, 28th June 2019. Birding Longyearbyen
We disembarked the ship just after 9 a.m. and went birding in Longyearbyen until 2 p.m. We enjoyed good views of an Arctic Fox molting out of its white winter coat and looking scruffy but cute. Svalbard Reindeer were much in evidence on the outskirts of the town. Snow Buntings were everywhere, singing and displaying. Common and King Eiders, a beautiful Long-tailed Duck, many Barnacle Geese, and a handful of Pink-footed Geese all showed very well. Stunning breeding-plumaged Red (Grey) Phalaropes whirled around foraging. Other shorebirds included ridiculously close-up Purple Sandpipers and a lone Dunlin. Breeding-plumaged Red-throated Loons (Divers) sat on their nests extremely close up.  We also got amazingly close to a beautiful pair of Rock Ptarmigans, the male white and the female brown. All in all it was a great end to the trip.
We celebrated with a combined late lunch/early dinner and then had a few hours of sleep before our early flights home. What a fantastic trip, and it was superb company traveling with Tim and Kay.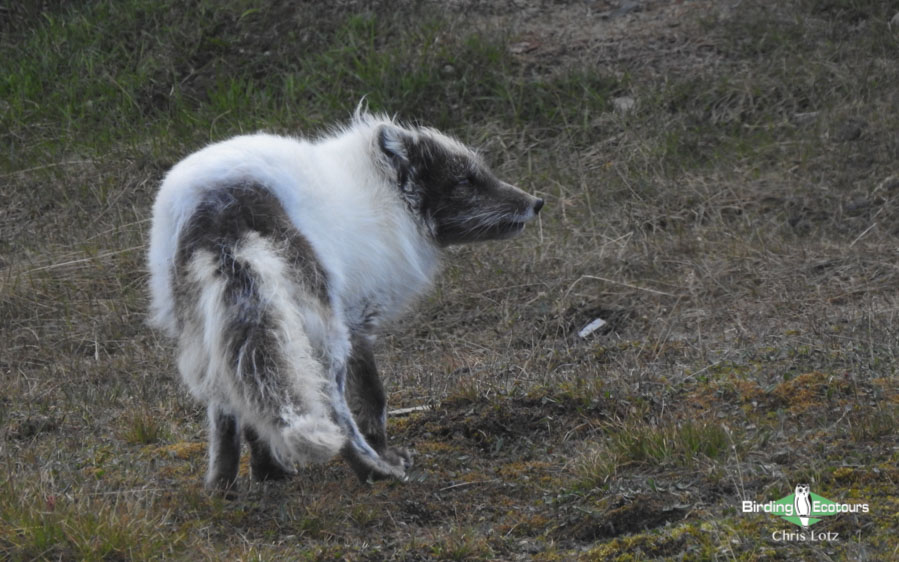 Our scruffy-looking but cute Arctic Fox.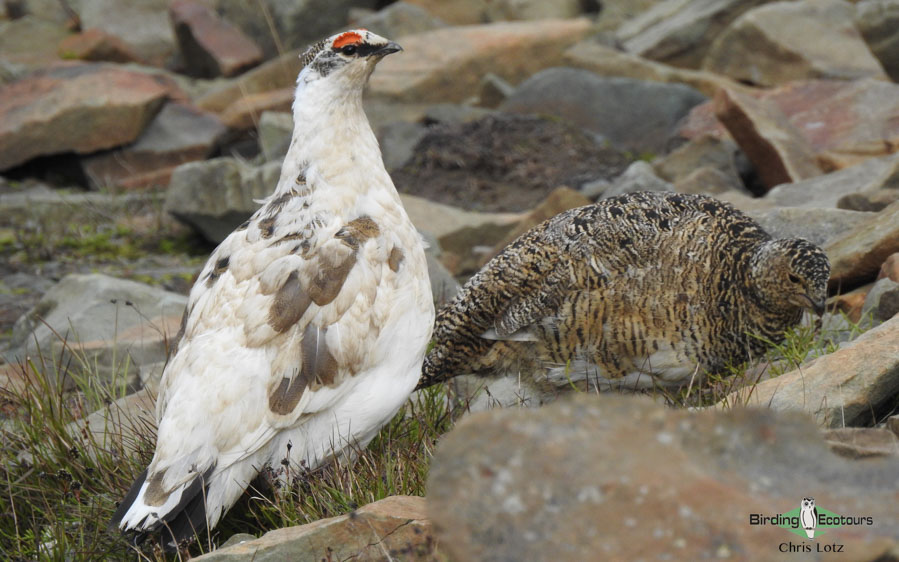 A nice pair of Rock Ptarmigans on the outskirts of Longyearbyen.
DOWNLOAD TRIP REPORT
Please see the downloadable PDF with the full species lists included. This is a sample trip report. Please email us ([email protected]) for more trip reports from this destination.