5 – 11 OCTOBER 2023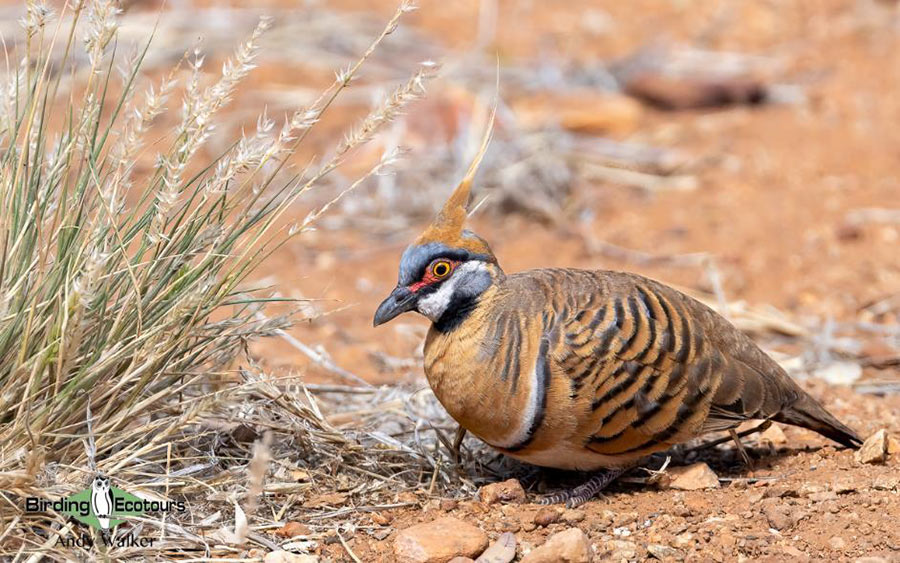 Spinifex Pigeon gave incredible prolonged and close views while we were birding in Alice Springs – what a stunner!­

Overview

This Alice Springs birding tour started in Alice Springs on the 6th of October 2023 and ended back there on the 11th of October 2023. This short bird tour focused on birding around Alice Springs but ventured further afield to Uluru-Kata Tjuta National Park; this area is included on the UNESCO World Heritage List for its natural and cultural values. We visited the spectacular Uluru (formerly known as Ayers Rock) as well as Erldunda, the geographical center of Australia!
We recorded 90 bird species on this Alice Springs bird tour, and all species were seen. Plenty of specials of the "red center" were found, including Spinifex Pigeon, Diamond Dove, Spinifexbird, Rufous Grasswren, Dusky Grasswren, Banded Whiteface, Southern Whiteface, Crested Bellbird, Western Bowerbird, Black-breasted Buzzard, Wedge-tailed Eagle, Red-backed Kingfisher, Rainbow Bee-eater, Grey-headed Honeyeater, Pied Honeyeater, Crimson Chat, White-backed Swallow, Chiming Wedgebill, Cinnamon Quail-thrush, Hooded Robin, Little Crow, Australian Raven, Purple-backed Fairywren, Splendid Fairywren, White-winged Fairywren, Red-browed Pardalote, and Australian Zebra Finch.
It was a big parrot year, with loads of Budgerigars seen, which was an incredible sight wherever we went. We also saw Mulga Parrot, Australian Ringneck, Red-tailed Black Cockatoo, Pink Cockatoo (formerly Major Mitchell's Cockatoo), Galah, Little Corella, and Cockatiel, but best of all (and a massive surprise), a small flock of the rare, localized, and nomadic Princess Parrot.
Our dawn and dusk visits to Uluru were another huge highlight of the tour, seeing this world-famous landmark in the changing light of the sun rising and setting will live long in the memory.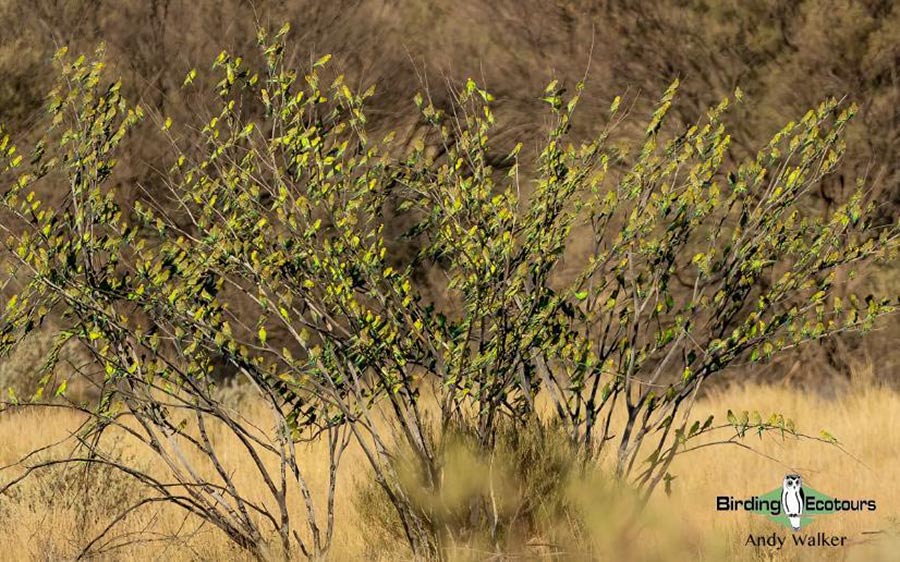 Part of a flock of over 3,000 Budgerigars that we enjoyed watching ahead of sunset at Uluru.

Detailed Report
Day 1, 6th October 2023. Arrival in Alice Springs
We arrived in Alice Springs in the late afternoon and had a group welcome meal in the evening, discussing the plans for the coming week of birding in the arid Alice Springs and Uluru (Ayers Rock) areas.
Day 2, 7th October 2023. Birding the Alice Springs area
For our first birding in Alice Springs, we visited the Alice Springs Desert Park, and it was a great introduction to a suite of birds found in the arid center of Australia. Before leaving the hotel, right outside our rooms, we had Little Crow, Pied Butcherbird, Galah, and Yellow-throated Miner. As we made our way to the park, we added Australian Magpie, Magpie-lark, and Australian Ringneck.
On arrival at the Alice Springs Desert Park, we found Black Kite, Whistling Kite, Singing Honeyeater, Grey-headed Honeyeater, Spiny-cheeked Honeyeater, White-plumed Honeyeater, Brown Honeyeater, Rufous Whistler, Black-faced Cuckooshrike, Purple-backed Fairywren, and Splendid Fairywren, all before we reached the car park!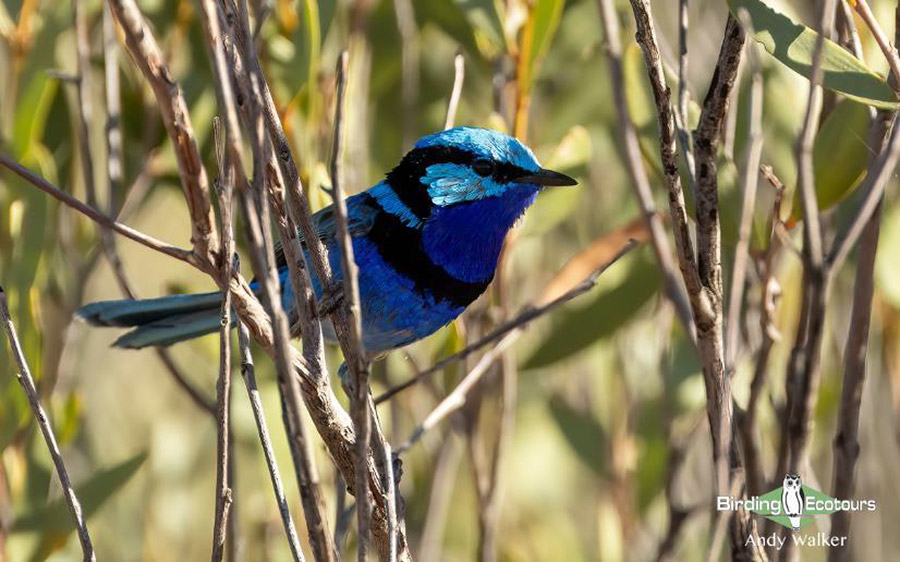 Splendid Fairywren is a gorgeous bird and we saw plenty during the Alice Springs bird tour.
We spent the morning walking around the trail system in the park. At first it was quite quiet, but a flock of Australian Zebra Finches soon spiced things up, as did a flock of Crested Pigeons and a couple of Peaceful Doves. Unfortunately, several flocks of Budgerigars sped across the site but didn't land in view. A Nankeen Kestrel and Wedge-tailed Eagle were noted above a nearby ridgeline, and then we hit an area that was very busy with birds. An area of low vegetation gave us our first Diamond Doves and then the star attraction, Spinifex Pigeon. It was playing hide-and-seek for a while, but then came out into a better position and gave us some absolutely incredible views. Prolonged and very close, see the cover image! While we were waiting for the pigeon to show better, we noted several other species, including Crested Bellbird, Grey Shrikethrush, White-browed Babbler, Hooded Robin, more Australian Zebra Finches, and several of the honeyeater species already mentioned.
As we continued on our walk, we found Western Bowerbird, Grey-crowned Babbler, Brown Goshawk, Collared Sparrowhawk, Brown Falcon, Australian Ringneck, lots of Splendid Fairywrens, Mistletoebird, and Fairy Martin. It was a thoroughly enjoyable morning, and we also appreciated seeing the different habitats and landscapes that really added to the experience, with so many beautiful wildflowers and butterflies on show too.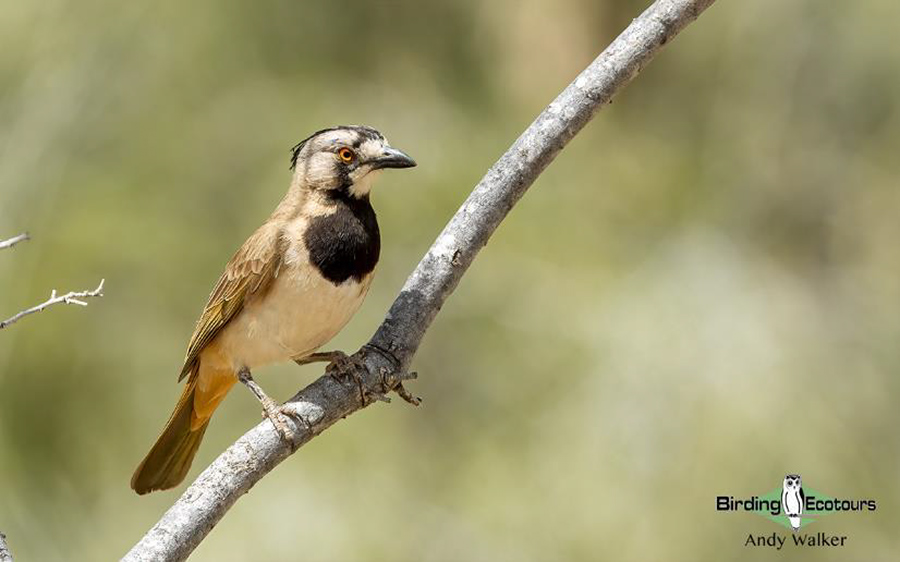 Crested Bellbird gave some great views. It was more interested in finding food for its young, rather than worrying about us watching it.
After a break for lunch during the middle of the day, we took a walk at the Alice Springs Telegraph Station Historical Reserve, where we found our main target, Red-browed Pardalote, as well as the closely related Striated Pardalote. Both pardalotes showed well, which was appreciated. Walking around the grounds, we picked up some nesting Rainbow Bee-eaters, which showed nicely, and we also noted Australian Magpie, Pied Butcherbird, Little Crow, Yellow-throated Miner, White-plumed Honeyeater, Black-faced Woodswallow, Weebill, Crested Pigeon, and Spotted Dove. We also found a Black-tailed Monitor sunning itself on a rock.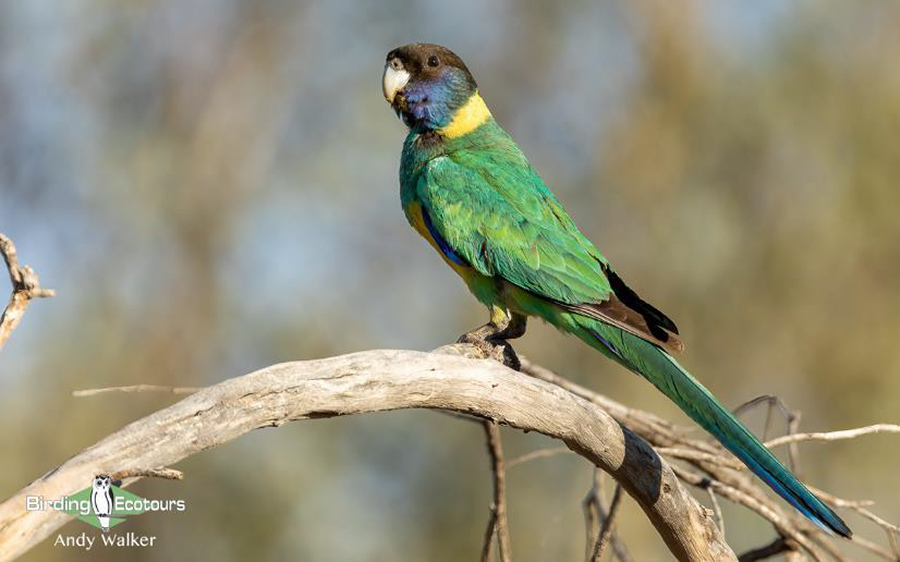 Australian Ringneck was a common, but rather attractive sight around parks and gardens in Alice Springs. This subspecies is also sometimes known as the "Port Lincoln Parrot".
Day 3, 8th October 2023. Birding the Alice Springs area
We spent the morning birding in some arid open areas to the southeast of Alice Springs, where we found lots of new and exciting species.
As we drove along the dry and dusty dirt road, we made several stops in different vegetation types, and during these various stops, we found lots of target birds, including Budgerigar (great perched views rather than the flyover views had the previous day), Mulga Parrot, Australian Ringneck, Red-tailed Black Cockatoo, Banded Whiteface, Southern Whiteface, Cinnamon Quail-thrush, White-backed Swallow, Red-backed Kingfisher, Brown Songlark, Rufous Songlark, Australian Pipit, White-winged Fairywren, Splendid Fairywren, Inland Thornbill, Chestnut-rumped Thornbill, Grey Butcherbird, Crested Bellbird, Hooded Robin, Australian Zebra Finch, Little Buttonquail, Black-shouldered Kite, Wedge-tailed Eagle, Brown Falcon, and Nankeen Kestrel.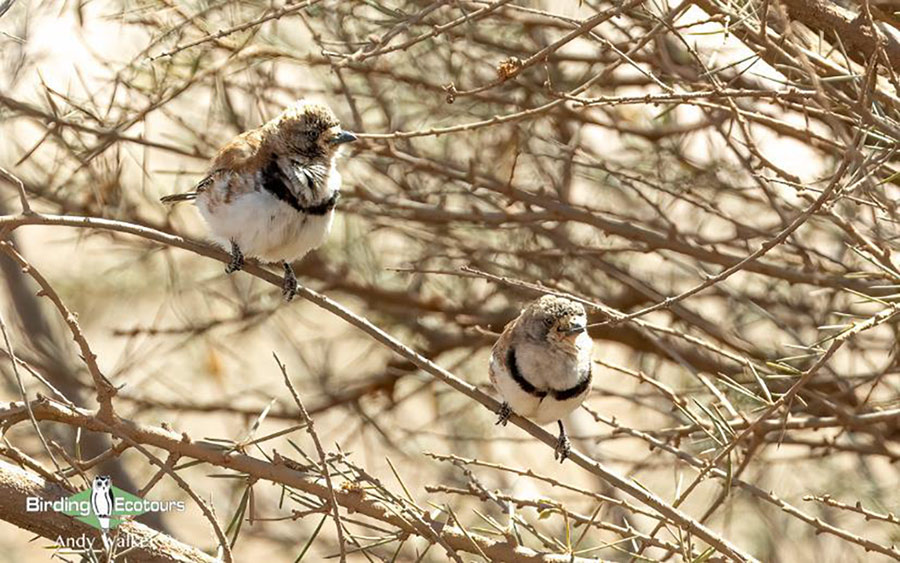 A pair of Banded Whiteface were seeking some shelter in a bush where they showed nicely.
After a break for lunch and a siesta during the hottest part of the day, we ventured back out along the same road that we'd explored during the morning but called in at some different spots. Here, we found two family groups of Purple-backed Fairywrens, the males giving some excellent views. Other species seen here included Red-backed Kingfisher, Western Bowerbird, Black-faced Cuckooshrike, and Black-faced Woodswallow. A brief stop at a small waterbody resulted in us finding a pair of Common Bronzewings coming in for a drink at dusk, with a pair of gorgeous Mulga Parrots nearby. On the drive back into Alice Springs, we saw Red Kangaroo and Common Wallaroo, and earlier we saw a Central Bearded Dragon.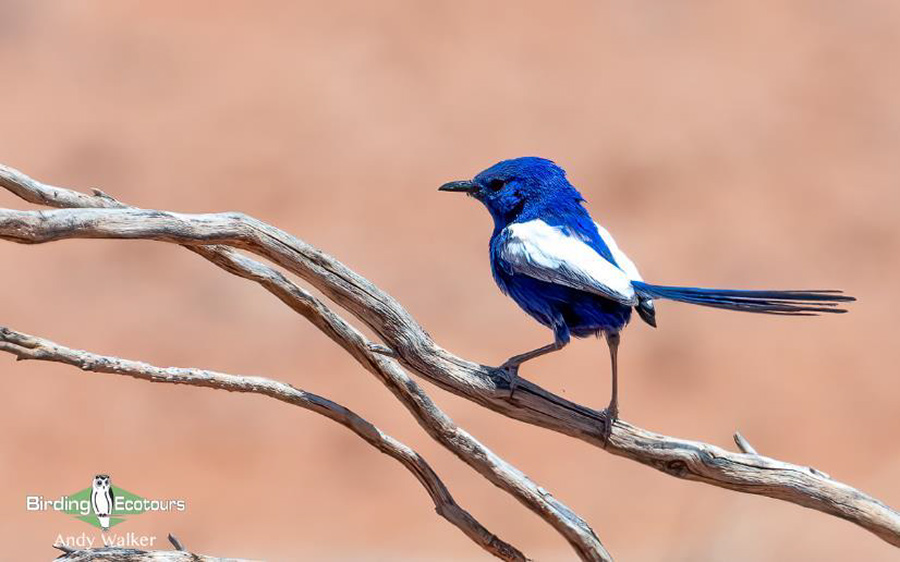 A stunning male White-winged Fairywren gave us some excellent views.
Day 4, 9th October 2023. Alice Springs to Erldunda                                       
We spent the early morning birding along a dirt road southeast of Alice Springs, and after carefully walking our way through a stand of spinifex (a very sharp Triodia grass), we found ourselves watching the tough and secretive Spinifexbird, one of the main targets of the trip. Spinifexbird is a warbler-like bird that is part of the Grassbirds and allies family (Locustellidae). It took some pinning down, but once we got it, we had some good views. While looking for the Spinifexbird, we also saw Budgerigar, White-winged Fairywren, Little Buttonquail, Brown Songlark, Australian Zebra Finch, Black-faced Woodswallow, and Crimson Chat.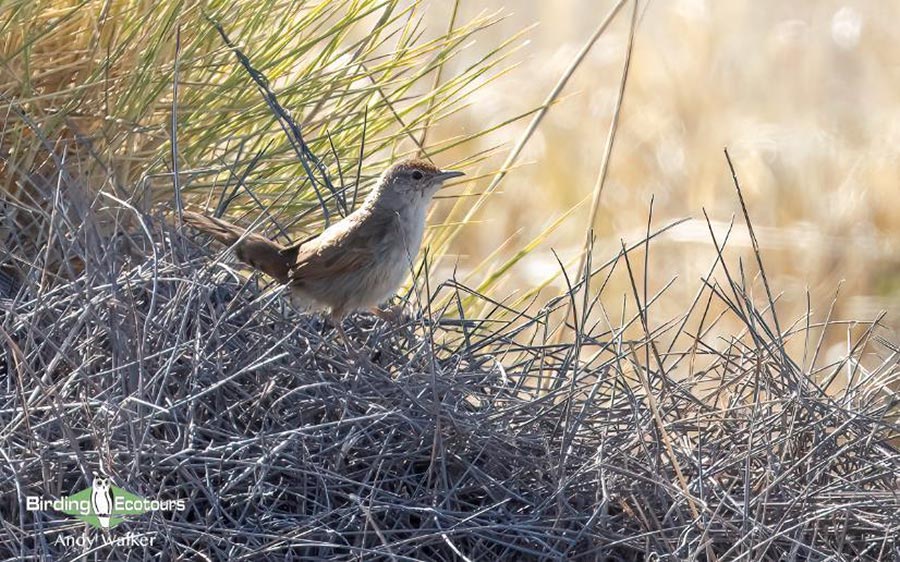 A grassbird of the desert! Spinifexbird was at home in a dense stand of impenetrable spinifex. Luckily, it eventually came out into view, allowing us all to get great views of this top tour target.
We moved locations and found some rocky outcrops to look over. Once we were in the correct habitat, it didn't take too long to find our main target from the site, Dusky Grasswren. We found two family groups, though the first group was getting some hassle from a Willie Wagtail and, as such, were a bit skittish. A second family group showed a little better. While in this area, we also saw Purple-backed Fairywren, Australian Zebra Finch, Red-backed Kingfisher, Rainbow Bee-eater, Brown Falcon, and Nankeen Kestrel.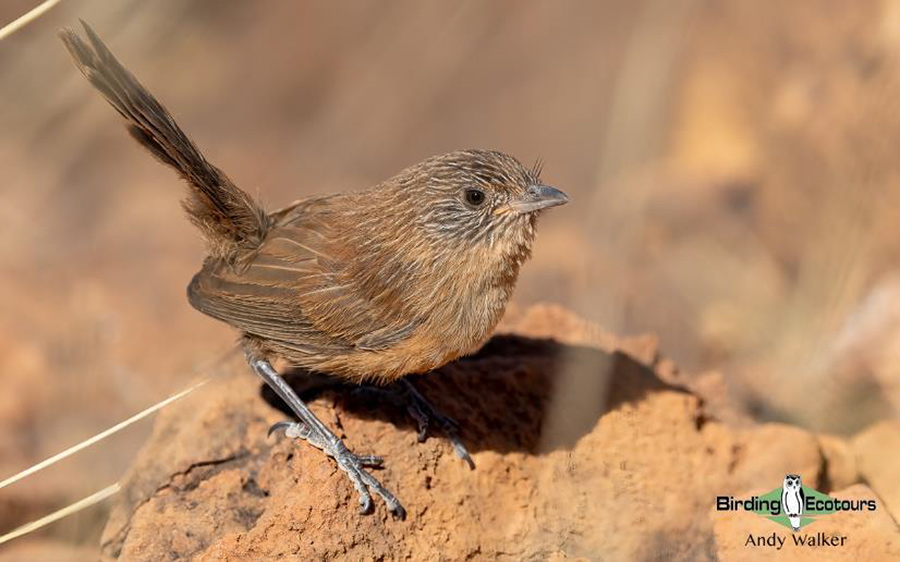 A Dusky Grasswren showed rather nicely.
After enjoying lunch in the Olive Pink Botanic Garden in Alice Springs, we commenced our journey south to Erldunda, our overnight stop as we ultimately made our way to Uluru (Ayers Rock). We made a couple of stops along the way. The first stop, at a waterhole, gave us sightings of White-necked Heron, Black-fronted Dotterel, Masked Lapwing, Maned Duck, Grey Teal, Red-backed Kingfisher, Little Corella, Australian Hobby, and multiple honeyeaters we had become very familiar with over recent days. An ice cream stop resulted in a sighting of Pink Cockatoo (formerly, and until very recently, known as Major Mitchell's Cockatoo) and an uncovered water source on a station (farm) a little further along the road provided sightings of Budgerigar, Galah, Little Corella, Australian Ringneck, Fairy Martin, White-winged Triller, White-plumed Honeyeater, Yellow-throated Miner, and Australian Raven. After sunset, a Whiskered Tern was noted flying around the hotel car park.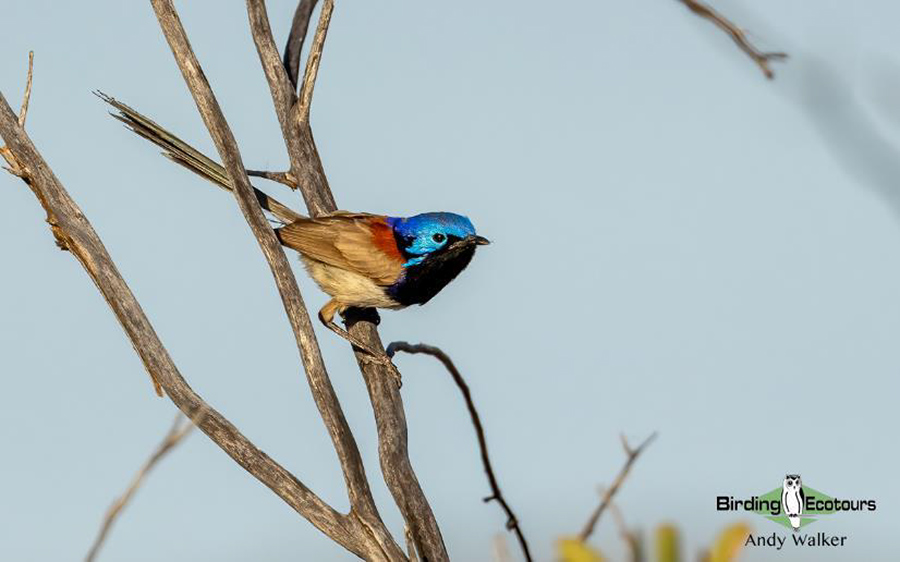 Purple-backed Fairywren was one of three species of fairywrens seen on this Alice Springs birding tour.
Day 5, 10th October 2023. Erldunda to Uluru (Ayers Rock)
We did some early morning birding near Erldunda, where we found our main target, Chiming Wedgebill, and also found a flock of over 40 Crimson Chats. It was a great start to the day, and we enjoyed watching family groups of White-winged Fairywren, Purple-backed Fairywren, and Splendid Fairywren. Other species noted included Cinnamon Quail-thrush, Southern Whiteface, Singing Honeyeater, White-backed Swallow, Mulga Parrot, Brown Falcon, and Nankeen Kestrel.
After checking out of our accommodation, we made our journey west to Yulara, our base for the night, to explore the nearby Uluru-Kata Tjuta National Park. We spent the afternoon watching a flock of over 3,000 Budgerigars swirling around in a stunning murmuration in front of Uluru (Ayers Rock) as they moved between feeding and resting areas. We also stayed to watch the sunset at Uluru, a really impressive sight.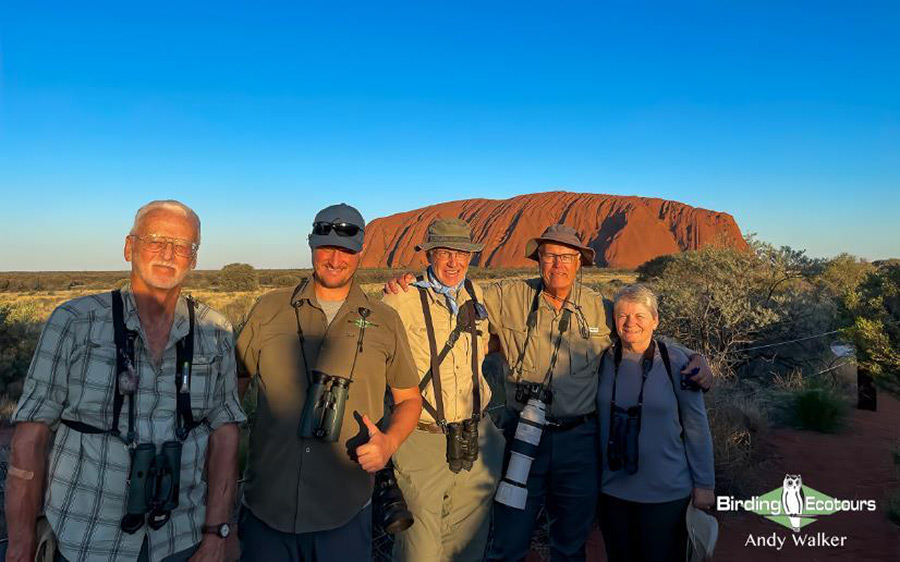 Our group watched Uluru change colors during the late afternoon.
Day 6, 11th October 2023. Uluru (Ayers Rock) to Alice Springs
We made an early morning visit to Uluru (Ayers Rock) to watch the sunrise, and wow, what a sight it was, possibly more beautiful even than the previous night's sunset! There were fewer birds around during the dawn period, mainly just a few Singing Honeyeaters, a Nankeen Kestrel, and a small flock of Budgerigars, but we were really here for the view, and it was very impressive.
We moved locations and started birding along a pretty sand dune system. We found several new birds, such as Masked Woodswallow, Horsfield's Bronze Cuckoo, White-fronted Honeyeater, and Pied Honeyeater. After a fair bit of searching, we located the rare and localized Rufous Grasswren, which showed well and proved to be a tour highlight. We also had excellent views of thousands of Budgerigars flying over the dunes, some of them landing close by. Crimson Chats were breeding and showing very well too, the males looking glorious in the early morning sunlight.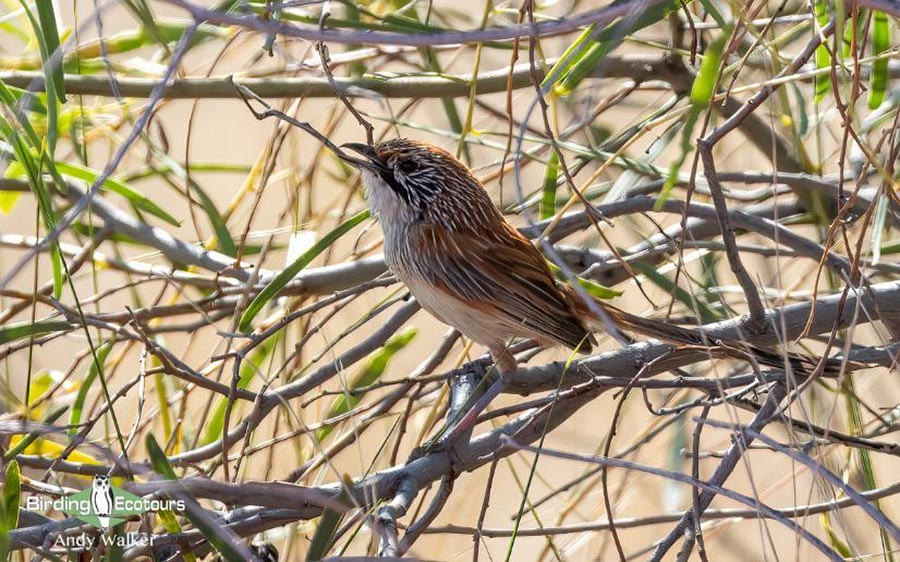 The top prize in the sand dunes near Uluru was this localized Rufous Grasswren, which showed well.
While wandering around the dune system looking for the Rufous Grasswrens, we were having a constant stream of Budgerigars flying over, some right over our head and within arm's reach! A few small flocks of Cockatiels were also noted flying over too, but then the surprise of the tour happened. We were alerted to an unusual parrot call and looked up to see a small flock (five birds) of the rare, nomadic, and seldom-seen Princess Parrot flying through – a remarkable sight. 
There were thousands of Budgerigars flying around, with birds occasionally landing close to us.
After our morning birding, we left the Uluru area and commenced the journey back to Alice Springs, where we arrived in the middle of the afternoon. The journey was uneventful, and we noted Black-breasted Buzzard, Wedge-tailed Eagle, and other common roadside raptors along the way.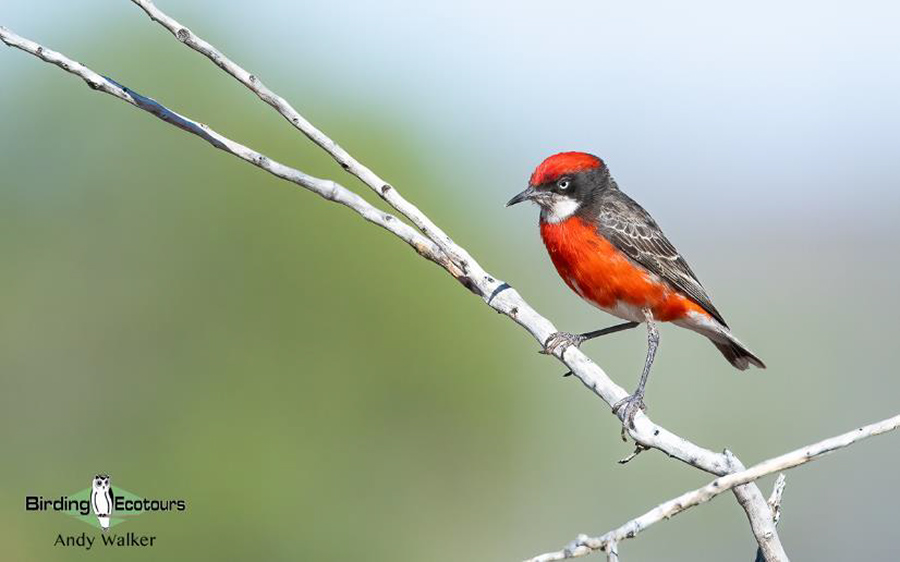 It was a bumper season for Crimson Chats breeding in the sand dune systems around Uluru, and they gave great views.
We had a final group dinner together and chatted about the many highlights we had over the previous week of birding the Alice Springs and Uluru area (and longer because everyone on this tour had also joined our Top End bird tour that ran prior to this tour). Some of the top highlights from this trip were Spinifexbird, Rufous Grasswren, Budgerigar, Spinifex Pigeon, Crimson Chat, Purple-backed Fairywren, and Princess Parrot.

Bird List – Following IOC (13.2)
All species were seen. The following notation after species names is used to show conservation status following BirdLife International: VU = Vulnerable.
Common Name
Scientific Name
Ducks, Geese, Swans (Anatidae)
Maned Duck
Chenonetta jubata
Grey Teal
Anas gracilis
Cuckoos (Cuculidae)
Horsfield's Bronze Cuckoo
Chrysococcyx basalis
Pigeons, Doves (Columbidae)
Spotted Dove
Spilopelia chinensis
Common Bronzewing
Phaps chalcoptera
Crested Pigeon
Ocyphaps lophotes
Spinifex Pigeon
Geophaps plumifera
Diamond Dove
Geopelia cuneata
Peaceful Dove
Geopelia placida
Grebes (Podicipedidae)
Australasian Grebe
Tachybaptus novaehollandiae
Buttonquail (Turnicidae)
Little Buttonquail
Turnix velox
Plovers (Charadriidae)
Masked Lapwing
Vanellus miles
Black-fronted Dotterel
Elseyornis melanops
Gulls, Terns, Skimmers (Laridae)
Whiskered Tern
Chlidonias hybrida
Herons, Bitterns (Ardeidae)
White-necked Heron
Ardea pacifica
Kites, Hawks, Eagles (Accipitridae)
Black-shouldered Kite
Elanus axillaris
Black-breasted Buzzard
Hamirostra melanosternon
Little Eagle
Hieraaetus morphnoides
Wedge-tailed Eagle
Aquila audax
Brown Goshawk
Accipiter fasciatus
Collared Sparrowhawk
Accipiter cirrocephalus
Black Kite
Milvus migrans
Whistling Kite
Haliastur sphenurus
Kingfishers (Alcedinidae)
Red-backed Kingfisher
Todiramphus pyrrhopygius
Bee-eaters (Meropidae)
Rainbow Bee-eater
Merops ornatus
Caracaras, Falcons (Falconidae)
Nankeen Kestrel
Falco cenchroides
Australian Hobby
Falco longipennis
Brown Falcon
Falco berigora
Cockatoos (Cacatuidae)
Cockatiel
Nymphicus hollandicus
Red-tailed Black Cockatoo
Calyptorhynchus banksii
Galah
Eolophus roseicapilla
Pink Cockatoo
Cacatua leadbeateri
Little Corella
Cacatua sanguinea
Old World Parrots (Psittaculidae)
Princess Parrot
Polytelis alexandrae
Mulga Parrot
Psephotellus varius
Australian Ringneck
Barnardius zonarius
Budgerigar
Melopsittacus undulatus
Bowerbirds (Ptilonorhynchidae)
Western Bowerbird
Chlamydera guttata
Australasian Wrens (Maluridae)
Purple-backed Fairywren
Malurus assimilis
Splendid Fairywren
Malurus splendens
White-winged Fairywren
Malurus leucopterus
Rufous Grasswren
Amytornis whitei
Dusky Grasswren
Amytornis purnelli
Honeyeaters (Meliphagidae)
Crimson Chat
Epthianura tricolor
Pied Honeyeater
Certhionyx variegatus
Brown Honeyeater
Lichmera indistincta
White-fronted Honeyeater
Purnella albifrons
Singing Honeyeater
Gavicalis virescens
Grey-headed Honeyeater
Ptilotula keartlandi
White-plumed Honeyeater
Ptilotula penicillata
Spiny-cheeked Honeyeater
Acanthagenys rufogularis
Yellow-throated Miner
Manorina flavigula
Pardalotes (Pardalotidae)
Red-browed Pardalote
Pardalotus rubricatus
Striated Pardalote
Pardalotus striatus
Australasian Warblers (Acanthizidae)
Weebill
Smicrornis brevirostris
Western Gerygone
Gerygone fusca
Inland Thornbill
Acanthiza apicalis
Chestnut-rumped Thornbill
Acanthiza uropygialis
Southern Whiteface – VU
Aphelocephala leucopsis
Banded Whiteface
Aphelocephala nigricincta
Australasian Babblers (Pomatostomidae)
Grey-crowned Babbler
Pomatostomus temporalis
White-browed Babbler
Pomatostomus superciliosus
Whipbirds (Psophodidae)
Chiming Wedgebill
Psophodes occidentalis
Jewel-babblers, Quail-thrushes (Cinclosomatidae)
Cinnamon Quail-thrush
Cinclosoma cinnamomeum
Woodswallows, Butcherbirds & Allies (Artamidae)
Masked Woodswallow
Artamus personatus
White-browed Woodswallow
Artamus superciliosus
Black-faced Woodswallow
Artamus cinereus
Little Woodswallow
Artamus minor
Australian Magpie
Gymnorhina tibicen
Grey Butcherbird
Cracticus torquatus
Pied Butcherbird
Cracticus nigrogularis
Cuckooshrikes (Campephagidae)
Black-faced Cuckooshrike
Coracina novaehollandiae
White-winged Triller
Lalage tricolor
Australo-Papuan Bellbirds (Oreoicidae)
Crested Bellbird
Oreoica gutturalis
Whistlers & Allies (Pachycephalidae)
Rufous Whistler
Pachycephala rufiventris
Grey Shrikethrush
Colluricincla harmonica
Fantails (Rhipiduridae)
Willie Wagtail
Rhipidura leucophrys
Monarchs (Monarchidae)
Magpie-lark
Grallina cyanoleuca
Crows, Jays (Corvidae)
Torresian Crow
Corvus orru
Little Crow
Corvus bennetti
Australian Raven
Corvus coronoides
Australasian Robins (Petroicidae)
Hooded Robin
Melanodryas cucullata
Swallows, Martins (Hirundinidae)
White-backed Swallow
Cheramoeca leucosterna
Fairy Martin
Petrochelidon ariel
Grassbirds & Allies (Locustellidae)
Spinifexbird
Poodytes carteri
Brown Songlark
Cincloramphus cruralis
Rufous Songlark
Cincloramphus mathewsi
Flowerpeckers (Dicaeidae)
Mistletoebird
Dicaeum hirundinaceum
Waxbills, Munias & Allies (Estrildidae)
Australian Zebra Finch
Taeniopygia castanotis
Wagtails, Pipits (Motacillidae)
Australian Pipit
Anthus australis
| | |
| --- | --- |
| Total seen | 90 |
| Total heard only | 0 |
| Total recorded | 90 |
Mammal List
Common Name
Scientific Name
Kangaroos, Wallabies, and Allies (Macropodidae)
Common Wallaroo
Osphranter robustus
Red Kangaroo
Osphranter rufus
Black-flanked Rock Wallaby
Petrogale lateralis
Camelids (Camelidae)
Dromedary Camel
Camelus dromedarius
Canids (Canidae)
Feral Dog (Dingo) (H)
Canis familiaris dingo
Hares and Rabbits (Leporidae)
European Rabbit
Oryctolagus cuniculus
Reptile List
Common Name
Scientific Name
Monitor Lizards (Varanidae)
Black-tailed Monitor
Varanus tristis
Perentie
Varanus giganteus
Dragons (Agamidae)
Central Bearded Dragon
Pogona vitticeps
Long-snouted Lashtail
Lophognathus longirostris
Skinks (Scincidae)
Lively Ctenotus
Ctenotus alacer
Elapid Snakes (Elapidae)
Yellow-faced Whipsnake
Demansia psammophis
This is a sample trip report. Please email us ([email protected]) for more trip reports from this destination.