Go to Spring in the Eastern Himalayas bird tour page | Bhutan bird tours | Asian trip reports |  All our birding tours
DOWNLOAD TRIP REPORT
27 MARCH – 15 APRIL 2019
Overview
"A Kingdom in the clouds", "the land of the Thunder Dragon", there are many names for this incredible place, but there is absolutely nothing like experiencing the kingdom of Bhutan first-hand. The air and water are clean and refreshing, and the people are incredibly friendly and welcoming in all parts of Bhutan. It is a beautifully quiet country with good infrastructure for tourism. The government has a handle on tourism and can be considered "green", as there are many environmental protection laws and regulations for the good of the natural ecosystem in Bhutan.
On this tour we traverse about two thirds of Bhutan, traveling from Paro in the west all the way through to Samdrup Jongkhar in the southeast. From there we entered Assam, India, and catch our flights home out of Guwahati. We experience a massive altitudinal difference on this tour, reaching nearly 4000 meters (14,000 feet) at Chele La Pass and down to only 170 meters (557 feet) above sea level at the town of Samdrup Jonkhar. The capital city Thimphu is one of the highest capital cities in the world at an amazing 2330 meters (7644 feet)!
We recorded 322 bird species (plus an additional 15 that were only heard) within 75 families as well as an amazing assemblage of mammals with 14 species encountered. We did well to pick up many specials on this tour; the west produced Himalayan Monal, Blood Pheasant, Ibisbill, Snow Pigeon, Golden Bush Robin, and a pair of Beautiful Nuthatches, while in the central parts we encountered the unbelievable Satyr Tragopan on multiple days, Wallcreeper, Fire-tailed Myzornis, and eventually the incredibly sought-after Ward's Trogon. The lowland regions were also spectacular; Long-tailed Broadbill, multiple Rufous-necked Hornbills, and a single White-bellied Heron were all highlights.
Detailed Report
Day 1, 27th March 2019. Arrival in Paro, Bhutan.
Well, our first day of this exciting tour had finally arrived! We landed in Paro, from New Delhi, India, at about 10:30 a.m. and decided to head straight out to get our birding under way in the Paro Valley. We started off with a bang and had two Ibisbills within the first thirty seconds of stepping out of the vehicle. Other highlights during our short morning session were Brown Dipper, Common Kestrel, Rosy Pipit, and both Plumbeous Water Redstarts (at least a dozen) and White-capped Redstart. It was really great just spending some time getting to know each other as well as enjoying a few of the more common Bhutanese birds.
A really tasty first Bhutanese lunch and a couple of "logistical stops" preceded our afternoon birding walk at the base of the Tiger's Nest Monastery. Our first White-collared Blackbird, Blue Whistling Thrush, and Green-backed Tit were all trumped by the incredible Black Eagle that came cruising by, with the famous monastery in the background! The construction of this sacred Buddhist monastery started in the 1690s, and it is situated almost 900 meters (2950 feet) higher than the Paro Valley. Its setting is just incredible and warrants a visit on any tour. The birding wasn't too bad either; we picked up our first laughingthrush species in the form of White-throated Laughingthrush as well as a few Rufous-breasted Accentors. We spent a little more time just taking in the setting and some of the bird calls before heading back to our hotel to settle in for dinner and much-needed rest after our long flights.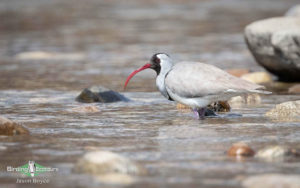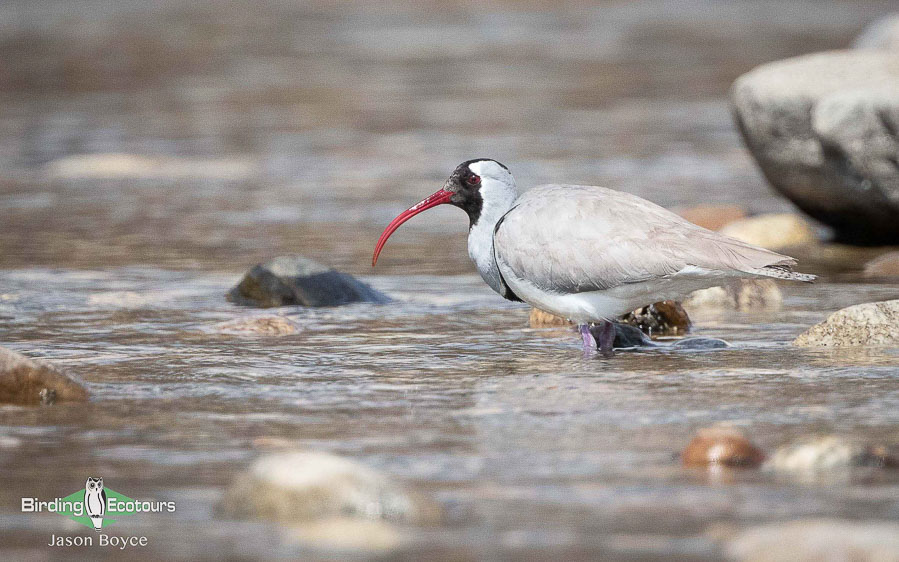 What a treat watching this species up close and personal: the strange-looking Ibisbill!
Day 2, 28th March 2019. Himalayan Monal at Chele La
A day on the Chele La Pass is certainly a day to remember, and snowfall a few nights before made for a magnificent day up the mountain. One of the biggest highlights of the day was simply being in the mountains, enjoying the fresh Himalayan air. The pass reaches an altitude of 3980 meters (13,050 feet), and it was covered in snow. On the way up we started seeing a few higher-altitude species. Blood Pheasant was heard calling, and we managed to get a couple of glimpses of the sought-after Himalayan Monal. Small flocks of very energetic passerines included Himalayan Bluetail and Grey-crested, Coal, and Rufous-vented Tits as well as family groups of White-browed Fulvettas. We added another laughingthrush species to our list, this time a large group of Black-faced Laughingthrushes.
Another cup of tea and some food went down well before we enjoyed a walk over the snowy hillsides, while flocks of Snow Pigeon were spectacular. A great first day getting used to Bhutanese climate, bird species, and altitude!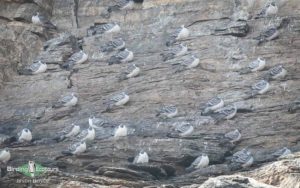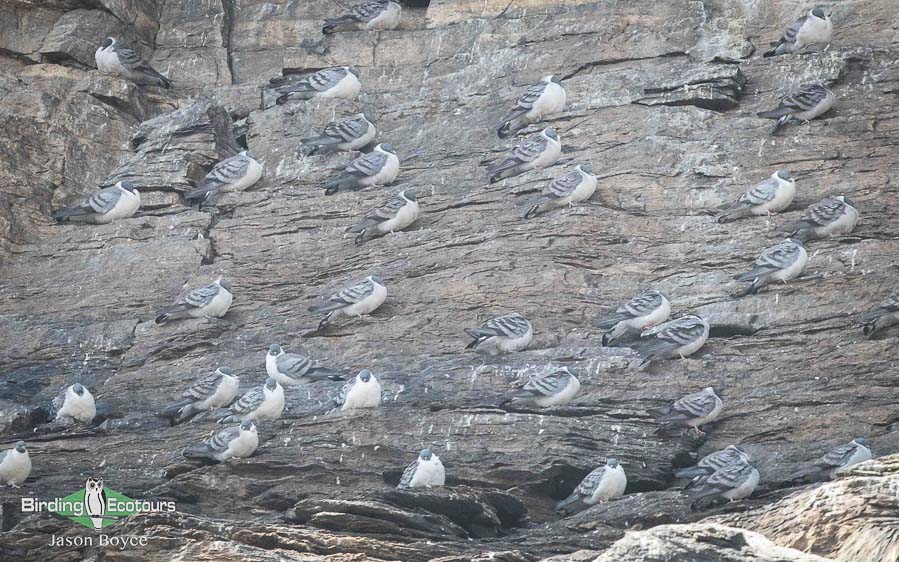 Flocks of Snow Pigeons hanging around on the pass.
Day 3, 29th March 2019. Jigme Dorji National Park and Yellow-rumped Honeyguide
'Kuzu zangpo la' is the traditional greeting in Bhutan's national language, Dzongkha. Today we headed for Thimphu, the capital city of Bhutan, which is quite possibly still the only capital city in the world with not a single traffic light! We arrived at the local water treatment plant on the way into town and picked up the likes of Green and Common Sandpiper, Ruddy Shelduck, and a mysterious Himalayan Buzzard being harassed by a House Crow, as well as a an incredibly confiding Sand Lark.
After breakfast we made our way north for a walk in Jigme Dorji National Park. A few kilometers before the gate we found a couple of active bee hives, and, sure enough, it wasn't long before we saw our first Yellow-rumped Honeyguide. Similar to the African honeyguides in the genus Indicator, this species also primarily feeds on beeswax. Here we also encountered Long-tailed Minivet as well as a small party of Bar-throated Minlas. In the national park itself we picked up Brown Dipper again and found the usual redstart species. It was all too brief, but we did manage to get a glimpse of a Eurasian Hoopoe.
We headed back to Thimphu for a traditional lunch and thereafter spent the afternoon checking out various cultural activities within Thimphu. The textiles and fabrics on display were really unique, and some of the group thoroughly enjoyed being on a 'behind the scenes' tour of these classic Bhutanese products.
Day 4, 30th March 2019. The Dochula Pass and Lampelri Royal Botanical Park
Today we left the capital city of Thimphu for the Dochula Pass, where we arrived and enjoyed a really good breakfast before starting birding nearby. We enjoyed our first species, Yellow-billed Blue Magpie, Eurasian Jay, Black Redstart, and a couple of Russet Sparrows. The Royal Botanical Park is a fantastic spot to take a leisurely walk, knowing that there is going to be some good bird activity around. It wasn't long before we observed a fairly confiding pair of Rufous-bellied Woodpeckers working a large dead tree alongside a large pond. A mixed-species flock a little farther on yielded Brown Parrotbill, Streak-breasted Scimitar Babbler, and White-throated and Striated Laughingthrushes, as well as Black-winged Cuckooshrike and a few Black Bulbuls. We thoroughly enjoyed seeing a pair of Black-tailed Crakes here as well. Our first of many Mountain Hawk-Eagles for the tour also made an appearance. Mixed-species flocks after lunch included Yellow-bellied Fantail, no less than four Ultramarine Flycatchers, Rufous-gorgeted Flycatcher, Grey-chinned and Scarlet Minivets, White-tailed Nuthatch, Rufous-winged Fulvetta, and Black-throated Bushtit.
Day 5, 31st March 2019. Jigme Dorji National Park and the Punakha Dzong
Our fifth day of the tour was a memorable one for many reasons; the only bad one was that we had to contend with rainy conditions for most of the day. That being said, we did really well to record over ninety species for the day. We started our birding in the Jigme Dorji National Park, and our first bird party held Grey-hooded and Yellow-vented Warblers, Bar-winged Flycatcher-shrike, Speckled Piculet, Scarlet and Grey-chinned Minivets, Indian White-eye, Hoary-throated Barwing, and both Whiskered and Rufous-vented Yuhinas. The nearby stream finally (after much searching over the last couple of days) produced our first forktail species; a pair of Slaty-backed Forktails were working their way down the rocky stream, slowly looking for a meal or two. We kept encountering bird parties as we made our way farther into the mountains, and these contained Rufous-capped Babbler, Green-backed Tit, Ashy Drongo, Verditer Flycatcher, Yellow-bellied Fantail, and Blue-winged Minla. We thoroughly enjoyed picking up a little Asian Barred Owlet perched in the open on a dead stump, but the bird looked rather bedraggled after a few rain showers. Slaty-bellied Tesia as well as Spotted Elachura were both extremely vocal along the main forested trail into Jigme Dorji. These species are of course a huge challenge to see, and so the elachura proved too difficult for us on this occasion and had to remain unseen. A visual of Slaty-bellied Tesia really did brighten up our morning, though; this bird certainly is a master skulker! We also encountered some lovely niltava species, namely a really nice close-up sighting of Small Niltava and later some of the group even got their eyes on Large Niltava. One of the highlights that morning was found by another birding group (thanks guys), a Tawny Fish Owl perched on top of an old tree stump on the other side of the river. We witnessed an incredible interaction between this species and a Bay Woodpecker that didn't enjoy the owl's presence on what seemed to be the woodpecker's nesting site.
A visit to the Punakha Dzong started off with a couple of birds as usual, a fly-by Crested Kingfisher and Common Merganser, both over the Mo Chhu River. The word Dzong can be roughly translated to fortress-monastery, which conveys the importance of all Dzong buildings to the Bhutanese. This particular Dzong is one of the largest in Bhutan and was the administrative center and the seat of government in Bhutan until 1955, when the capital city was moved to Thimphu, west of Punakha. It still is the administrative center for the Punakha District, though. The building is beautifully situated between the "male" and "female" rivers of Mo Chhu and Po Chhu, respectively, and the ancient traditional architecture is truly amazing to see up-close.
A walk that evening after a lovely Bhutanese dinner produced the goods: Collared Scops Owl and Grey Nightjar visuals at close range were more than we could have dreamed of!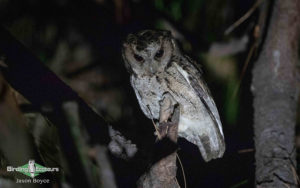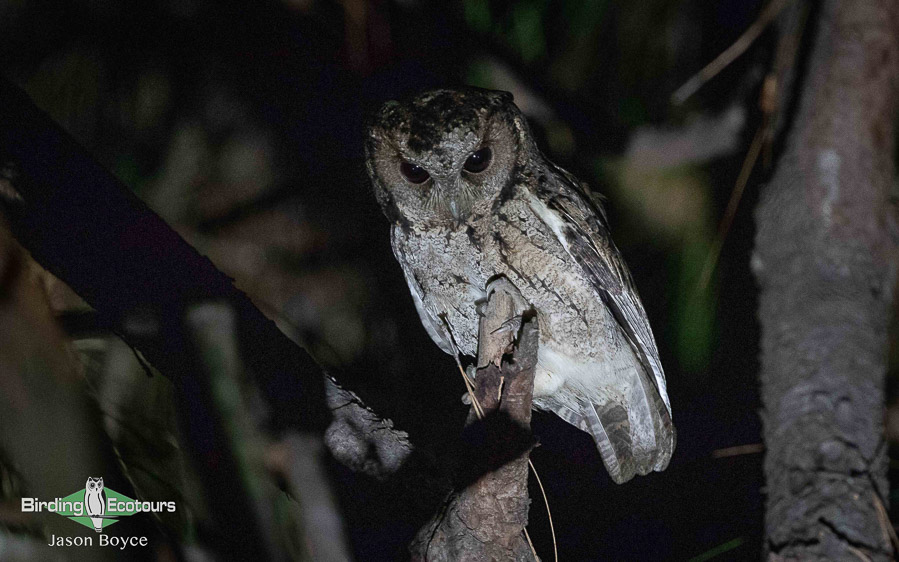 Collared Scops Owl is often fairly elusive, but we managed some fantastic visuals.
Day 6, 1st April 2019. Pele La Pass and transfer to Trongsa
We departed the Punakha area that morning and spent some time birding the scrubby river habitat once again. This habitat produced some interesting sightings, including a good number of Little Buntings, Siberian Stonechat, Grey Bushchat, Citrine Wagtail, Rosy Pipit, and Red-wattled Lapwing. Sadly we were unable to see the migrant Isabelline Wheatear and Bluethroat that some of our group had found here a week prior. The river's sand banks produced a few new species for our trip list, which included Northern Shoveler, Common Greenshank, Common Merganser, Kentish Plover (another Bhutanese scarcity), and Grey-throated Martin. We birded some more forested patches on the way; some were very quiet and others quite active with foraging bird parties. We encountered the likes of Red-headed Bullfinch, Wedge-tailed Green Pigeon, and Black-faced Warbler. We had searched for some time for the Little Forktail with no success, but then we stumbled upon one at a roadside water crossing. Himalayan Buzzard was another species that we picked up while traveling to Trongsa.
Day 7, 2nd April 2019. Birding the spectacular mountain passes of Zhemgang
Trongsa is a really quaint little town, one we wish we could have spent a little more time in. We departed Trongsa and started birding a little way down the road. It wasn't long before the first noisy Laughingthrush parties moved through, they included White-throated and Chestnut-crowned. A few Phylloscopus warblers were also super active, including Lemon-rumped and Chestnut-crowned Warblers. A confiding Greater Yellownape was a special sighting, while Fire-breasted Flowerpecker was really busy moving back and forth at the tops of the trees. Around the next corner we were treated to a large family group of our first Gee's Golden Langurs, the first of three langur species of the trip! They are beautiful and totally unconcerned with human presence. Next a flurry of bird activity provided a few new species including Crimson-breasted Woodpecker, Striated Bulbul, Bhutan Laughingthrush, and the incredibly sought-after Spotted Elachura – which is now classified in its own family. The elachura has a really distinctive, high-pitched, and fairly melodic call – we tracked it down and watched it singing its heart out.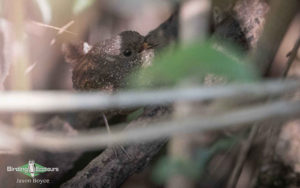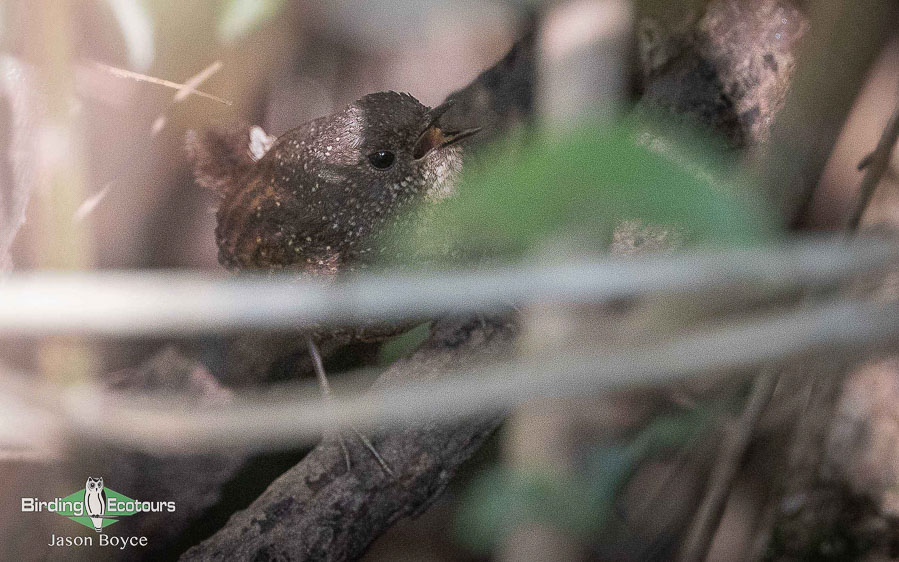 Spotted Elachura used to be called Spotted Wren-Babbler but has recently been moved into a family of its own.
Blue-throated Barbet is most often heard long before it is seen; this was the case for us, but luckily we spotted a pair soon after in a broad-leafed tree. We picked up our first family group of Striated Yuhinas and then added the likes of Blue-throated Blue Flycatcher, Blue-capped Rock Thrush, Orange-bellied Leafbird, Yellow-breasted Greenfinch, and a familiar Eurasian Hoopoe. An incredible Spotted Forktail landed right in front of us on the road as we were crossing a small Himalayan stream; of course we loved this one as much as the many other forktail species seen throughout the trip.
Day 8, 3rd April 2019. Beautiful Nuthatch and transfer to Tingtibi
Our eighth day of the tour saw us target the sought-after Beautiful Nuthatch. We spent some time at a local stakeout, listening carefully, until the bird made an appearance. A small family group of Himalayan Cutia came by, moving through the dead, moss-covered branches above us. Other species at the site included Grey-headed Parrotbill, White-bellied Erpornis, Lesser Racket-tailed Drongo, a pair of Crested Serpent Eagles, Black Eagle, Blue-bearded Bee-eater, and Black Drongo catching bees near a hive on the cliff side. The calls of Large Hawk-Cuckoo had been taunting us for the last few days, and we eventually observed a bird sitting out in the open and not too concerned with our presence. Highlights continued with a small group of Pale-billed Parrotbills, Rusty-fronted Barwing, a female Spot-winged Starling, and about ten White-rumped Munias, all feeding in and around a stand of bamboo. As we continued to drop in altitude we could feel the air temperature rise, a few more insects were about, and we could definitely notice a change in bird species. Plain Flowerpecker and Black-throated Prinia were around, while a single Great Hornbill could only be trumped by a massive flock (25 strong) of Long-tailed Broadbills, a species that I have personally wanted to spent time with for many years. Cheers to this brilliant flock of amazingly colored broadbills! Our camping in Tingtibi was really fantastic; we had a site with a great view of the (warm) valley, and there was constant bird activity. We stayed here for the next two nights.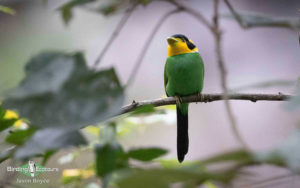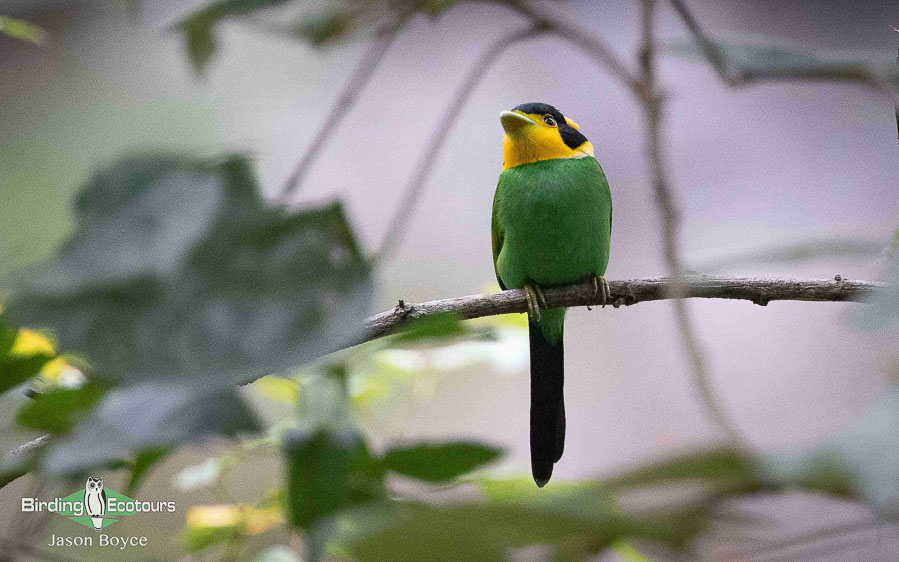 The Long-tailed Broadbills of Tingtibi put on a real show for us.
Day 9, 4th April 2019. White-bellied Heron in Tingtibi
After another night's camping we woke up in our nifty "A-frame" tents and headed south near the town of Tingtibi to try for one of Bhutan's most range-restricted and rare species, the White-bellied Heron. We tried our first site but came up empty-handed. Our second site, however, was the trump card, and, sure enough, a single White-bellied Heron was perched on a large rock down below us in the river. We watched this bird for some time as it started to wade through quiet pools of water on the hunt. It was obviously incredibly exciting to find this Critically Endangered (IUCN) species and to spend some time with it; we also spent time deliberating the reasons behind its rarity.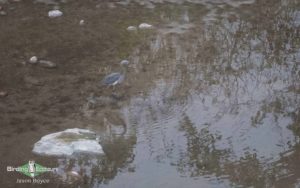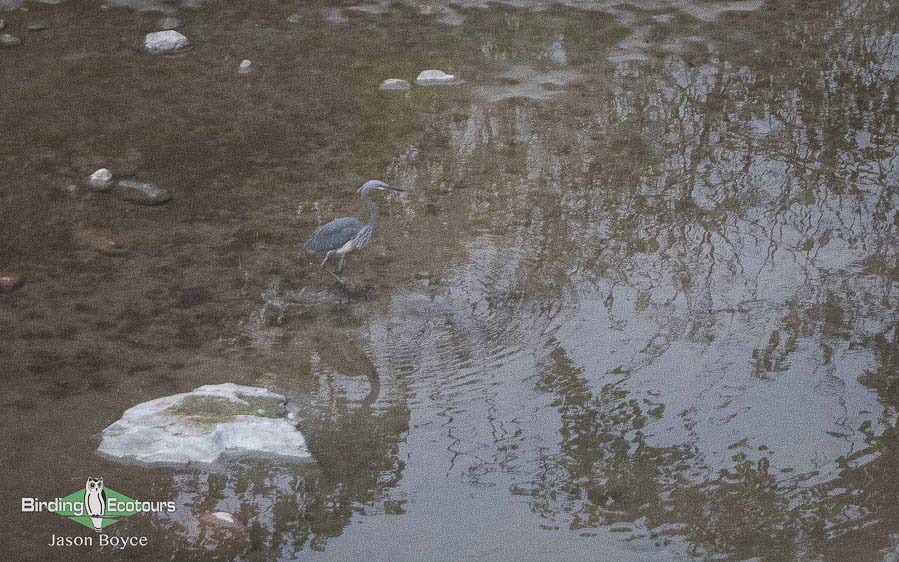 A record shot of the range-restricted and Critically Endangered (IUCN) White-bellied Heron.
We had a phenomenal sighting of a Mountain Hawk-Eagle in a full dive, only to pull up at the last minute and snatch a Great Barbet from a nearby flowering tree. Then a pocket of activity produced a small group of Lesser Necklaced Laughingthrushes, Black-chinned Yuhina, White-browed Scimitar Babbler, and the noisy White-crested Laughingthrush. Another highlight of the morning was a single Sultan Tit. This handsome-looking black-and-yellow tit joined a small mixed-species flock that also included Grey Treepie, Blue-capped Rock Thrush, Maroon Oriole, Striated Yuhina, and many Grey-hooded and Yellow-vented Warblers. As if today hadn't produced enough already, the eastern Himalayan special Rufous-necked Hornbill then put on a show. We witnessed two male birds and then a female, high on the side of mature-forested hillsides. A little farther down we saw our first Streaked Spiderhunter, Crimson Sunbird, Golden Babbler, Grey-throated Babbler, Blyth's Shrike-babbler, and two squirrel species, Himalayan Striped Squirrel and Hoary-bellied Squirrel.
Day 10, 5th April 2019. Tingtibi to Trongsa
After only hearing the Common Green Magpie the day before we were incredibly pleased to get a good visual of this phenomenal-looking bird. We had a quiet morning, but before another brilliant camping-style breakfast we managed to connect with Lesser Necklaced Laughingthrush as well as Striated and Black-chinned Yuhinas. At breakfast we were treated to a flyover of Rufous-bellied Eagle – the bird soared above us for some time before moving off over the ridge line.
Today was mainly a travel day, as we made our way back to Trongsa. Along the new 'short-cut' road that skirts the steep rocky faces we picked up some new species for the trip in the form of Jungle Babbler, Himalayan Bulbul, and the amazing Black Giant Squirrel. The squirrel was particularly special for us as we had some mammal lovers on the tour and thought that we might have missed this classic eastern Himalayan beauty. Nice work, Rich!
Day 11, 6th April 2019. Trongsa to Bumthang
A quiet, relaxing day for our group today was welcome. We enjoyed some "Masala" omelets (some with local chili) and headed out to a scrubby roadside birding spot. We spent some time here, finding a pair of Kalij Pheasants, Streak-breasted Scimitar Babbler, Bhutan Laughingthrush, Mrs. Gould's Sunbird, Slaty-blue Flycatcher, Ashy Drongo, and Long-tailed Shrike, as well as two stunning male Golden-naped Finches. We also managed to see a male Golden Bush Robin; unfortunately only some of the group managed visuals of this species. Here we also found Brown-flanked Bush Warbler, a bird that doesn't boast much in the way of its physical appearance but really has a great call. Farther along the road over the Yatong La Pass we found Rufous-vented Yuhina, a stunning male Green-tailed Sunbird, the long-tailed Yellow-billed Blue Magpie, and Black-rumped Magpie. Bumthang has a good network of retail stores, and we spent some time picking up a few gifts and enjoying the town. Thereafter we tried a site for the local Solitary Snipe but came up empty-handed.
Day 12, 7th April 2019. Bumthang to Sengor via the Thrumshing La Pass
We once again gave the Solitary Snipe a try, and this time we succeeded! We didn't manage to pick up the bird on the ground, but two flushed views were good enough. We then started the trip towards Sengor and picked up a small flock of smart-looking Red-throated Thrush and a really large flock of Plain Mountain Finch, probably around 200 of the latter. The Thrumshing La Pass reaches over 3800 meters (0940 feet) and can produce all the higher-altitude specials on a good day. Bhutan had been experiencing a lingering winter this year, and we were still seeing the effects of it. The temperatures were quite low, and today we hit a late unexpected snowfall. It made birding rather tough, but the scenes in the pine forests were just beautiful, and birding is always an adventure! Thankfully we had no trouble seeing Blood Pheasants with males outnumbering females in most groups. Between the foggy patches we also managed to see Hodgson's Treecreeper, Rufous-gorgeted Flycatcher, and Grey Crested and Rufous-vented Tits.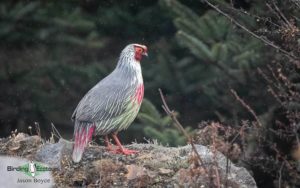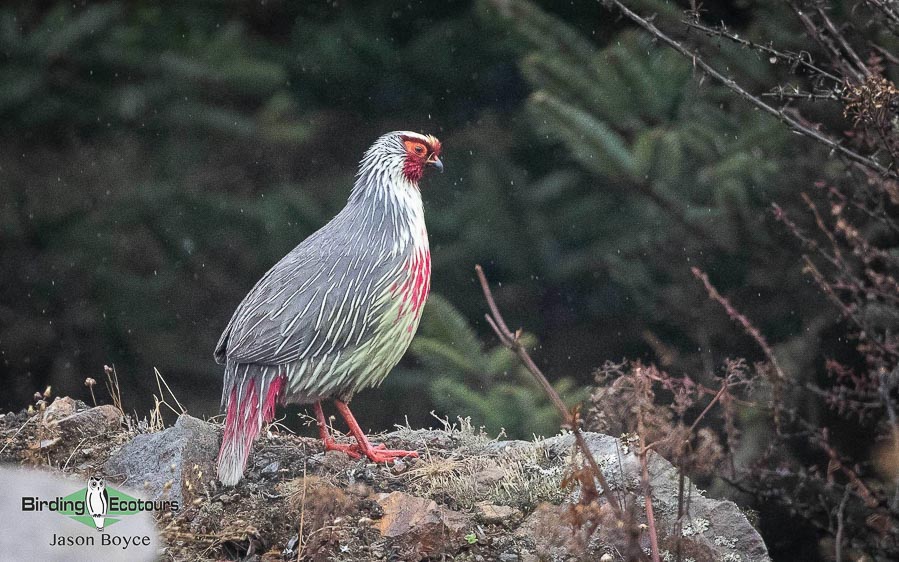 This was a fantastic species, enjoyed by all: the striking Blood Pheasant.
We arrived at our camp site for the night near the town of Sengor, which lies at roughly 2600 meters (8530 feet) above sea level. After some tea and a snack we headed south of Sengor for some birding and hopefully a Satyr Tragopan.  These birds tend to come out onto the quiet roads in the early mornings and (as we found out) in the late afternoons. We saw no less than three Satyr Tragopans that afternoon, two males and a female all at slightly different spots. We were incredibly grateful for some amazing hospitality that night as we enjoyed dinner in a local restaurant in Sengor right by our campsite. Bhutan's friendliness and hospitality astounded us more and more as the trip went on.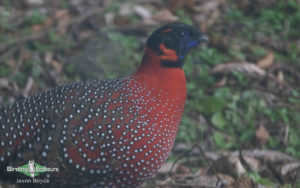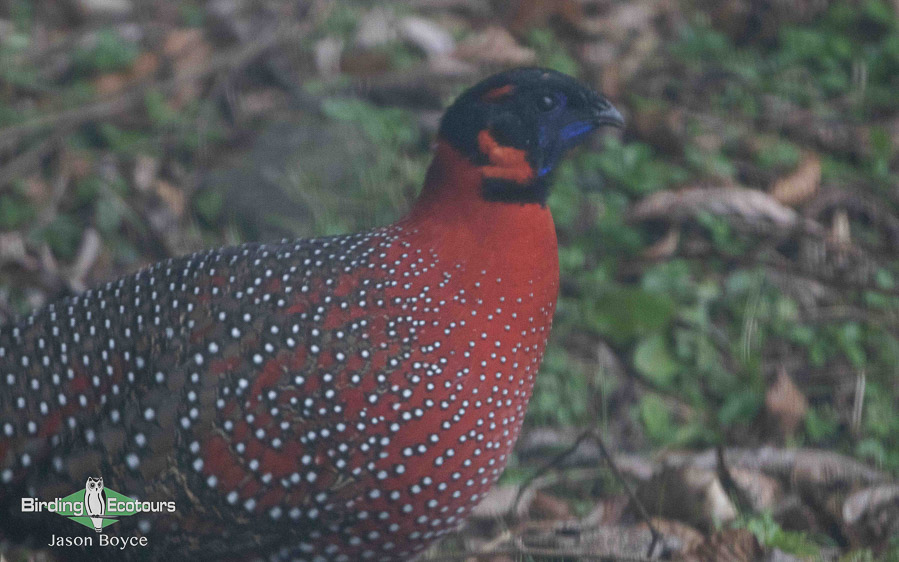 What a bird! Satyr Tragopan came strolling along in front of the car on more than one occasion. This was certainly one of the most incredible birding sightings not only of this trip but of our birding careers.
Day 13, 8th April 2019. Sengor and transfer to Yongkala
We woke up to Himalayan Owl calling from the nearby forest and begun another morning in the mountains. Satyr Tragopan once again showed really nicely for us, as too did a party of Red-headed Bullfinches, a female Darjeeling Woodpecker, and both Fire-tailed and Green-tailed Sunbirds. It's really tough to beat a male Satyr Tragopan for bird of the morning, but an incredibly confiding Wallcreeper came close. The rocky cliff faces had looked exceptional for foraging Wallcreeper over the last couple of days, and finally we spotted one and spent some time observing and photographing it. Later a mixed-species flock moving through included Lemon-rumped Warbler, Coal, Grey Crested, and Yellow-browed Tits, and Green Shrike-babbler.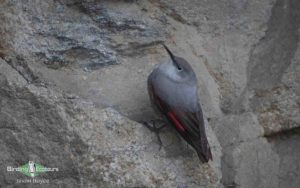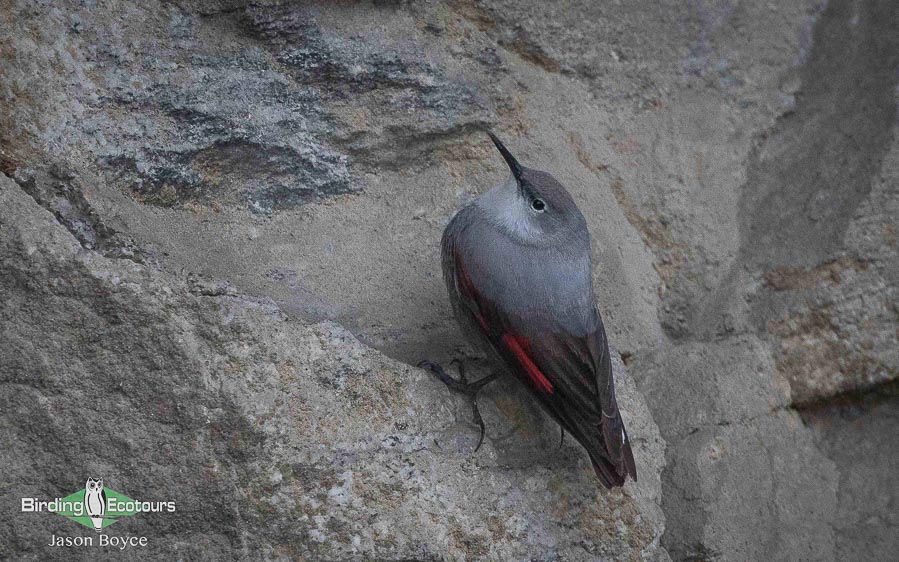 Wallcreeper was certainly one of the birds of the trip!
We descended a little and soon enjoyed views into the valley of Mongar area and Yongkala where we were camping for the next three nights. A pocket of activity yielded another highly-prized special; a pair of feeding Fire-tailed Myzornis. These guys have a lot of energy and flit around like sunbirds uttering high pitched calls. Other birds in this area were Black-headed Laughingthrush, Stripe-throated and Chestnut-vented Yuhina as well as a couple ever-present Phylloscopus warblers including Ashy-throated and Whistlers Warblers. We then start headed south towards Yongkala, at our roadside lunch spot we picked up Crimson-breasted Woodpecker, Bar-throated Minla, Rufous-winged Fulvetta and White-throated Fantail. Further down we drove through some bamboo forest patches that produced dozens of White-throated Laughingthrush and a pair of the bamboo special, Golden-breasted Fulvetta.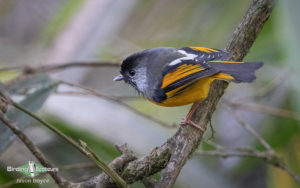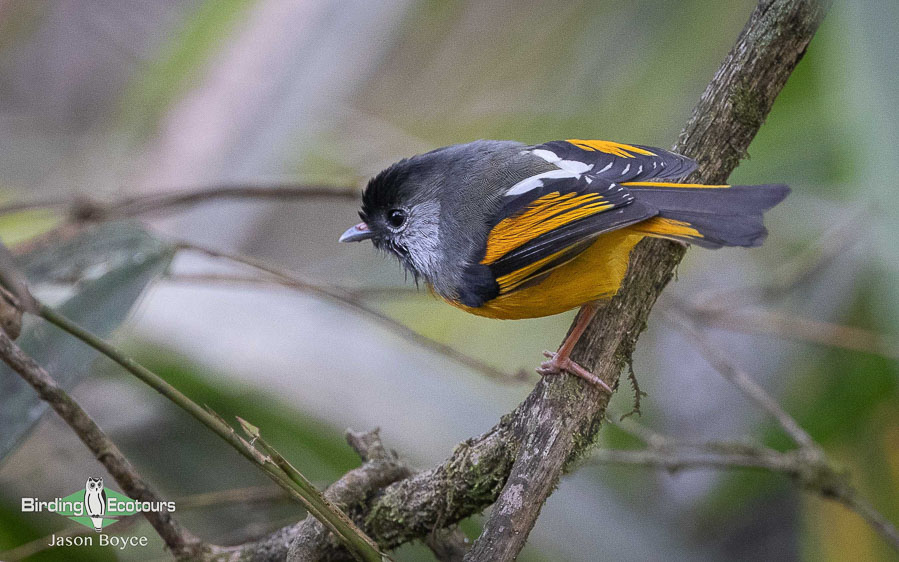 The very smart-looking Golden-breasted Fulvetta.
We then started a trogon search! Ward's Trogon is another special of Bhutanese forests and one that we were set on seeing. We spent some time searching good-looking habitat, mature, mossy forests, where we encountered species such as White-throated Fantail and both Stripe-throated and Rufous-vented Yuhina, and the three-note song of Large Niltava echoed through the forests around us. As for the trogon, a glimpse of something that could have been one was all we managed this afternoon – we would not give up, though.
Day 14, 9th April 2019. The Yongkala area
As usual the melodic song of Blue Whistling Thrush started really early this morning. We headed up to the same patch of forest for another shot at the desirable Ward's Trogon. We got a lot closer to seeing the bird this time but still only heard a couple of males singing in different spots. Rufous-capped Babbler was a treat as it popped up a few meters from us, and we also had decent visuals of Slaty-bellied Tesia in the darkness of the undergrowth. Unfortunately today wasn't meant to be a birding day; the rain came down around 10 a.m. and didn't let up all day. We used the day to rest, study up on a few bird species, and share some stories about our favorite experiences on the tour thus far.
Day 15, 10th April 2019. The famous Lingmethang Road
Today was a day that included some hard work. During our early morning session before breakfast we headed across the small Yongkala Pass toward Mongar. Here we had a really enjoyable walk on a quiet track, observing a several flocking species such as Rusty-cheeked Scimitar Babbler, Rufous-chinned Laughingthrush, Red-tailed Minla, and a good number of Nepal Fulvettas. Black-throated Prinia was also nearby, uttering its "tulip" call. A little farther down the track we managed to see another of Bhutan's langur species, Capped Langur. The high-pitched calls of White-gorgeted Flycatcher were coming from the forested valley below, but we couldn't get any visuals. A single Black-winged Cuckooshrike and a pair of Spotted Forktails were around to distract us, though. Raptors were out and about after the persistent rain the day before; Black Eagle, Mountain Hawk-Eagle and a few Crested Serpent Eagles came into view several times.
After breakfast we headed back up the road toward Trumshingla. Here we spent time searching some of the moist gullies and surrounding mature forest for all sorts of interesting species. Highlights included the shy Chestnut-headed Tesia, small flocks of noisy Yellow-throated Fulvettas, Scaly Laughingthrush, Golden-naped and Scarlet Finches, Golden and Rufous-capped Babblers, and the unique Yellow-rumped Honeyguide. Both Chestnut-bellied and Blue-capped Rock Thrush were present, while a single Black-throated Prinia showed well too. Even though our lunch setting was beautiful, the birding was almost too distracting to take time to enjoy it. Later on we had some luck with the tiny Pygmy Cupwing, which we managed to see moving through some of the dense foliage alongside the road. Blyth's Shrike-babbler, a few Yellow-bellied Fantails, and Sikkim Treecreeper were all nearby too. The forest was alive with bird song; warblers, Scaly-breasted Cupwing, Chestnut-throated Wren Babbler, Rufous-necked Hornbill, and the extremely skulking Lesser Shortwing were all singing their hearts out, with only a few species giving us any decent visuals.
We settled in for dinner and planned a night walk thereafter. This started with trying to pick up a calling Mountain Scops Owl without any luck. Incredibly and fairly unexpectedly we spotted a mammal in the mature woodland, Hodgson's Giant Flying Squirrel. It was truly exceptional to see this large squirrel move around at night! Another highlight was yet to come back at our campsite when we heard the low, fast hooting of Brown Wood Owl. This is a fairly secretive owl species, and we were so surprised to see it in a tree above our camp.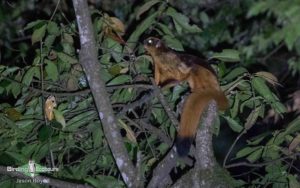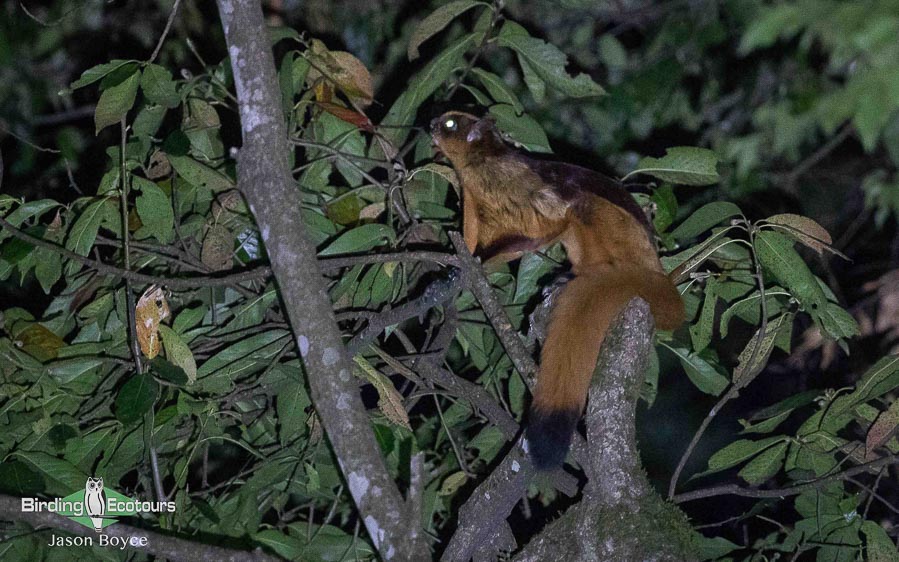 The wonderful Hodgson's Giant Flying Squirrel.
Day 16, 11th April 2019. Yongkala to Mongar
We spent our last morning at this campsite in the Yongkala area, where we attempted to find Red-headed Trogon among others. We didn't succeed with the trogon; unfortunately the late-winter birds might not yet have moved to these altitudes. We did, however, have some good sightings of Red-billed Leiothrix, Golden-throated Barbet, Rusty-cheeked Scimitar Babbler, Red-tailed Minla, a single Greater Yellownape, Black-throated Bushtit, and Mountain Tailorbird.
We enjoyed this last morning during a late breakfast overlooking the valley of the village of Lingmethang. Packed and ready for more birding we headed toward the valley, stopping at pockets of bird activity. We heard a small Collared Owlet call nearby and spotted it in an open tree above us. A new species for our tour was Grey-capped Pygmy Woodpecker; a pair of them called frequently and showed nicely too. On the mammal front we spotted more Black Giant Squirrels; watching them move through the trees was fun. It warmed up quickly, and birding slowed down after a while. We did, however, observed a small group of Capped Langurs, which was our last highlight for the afternoon.
Day 17, 12th April 2019. The Ward's Trogons of Kori La Pass
Today our first birding stop yielded calling Common Cuckoo and Large Hawk-Cuckoo, and we also saw a few distant Spot-winged Grosbeaks, Bhutan Laughingthrush, and Grey Treepie. Farther up the road we encountered Speckled Wood Pigeon, Chestnut-bellied Rock Thrush, Grey-winged Blackbird, Great Barbet, White-tailed Nuthatch, Rufous-bellied Woodpecker, Rufous-breasted Accentor, Ultramarine Flycatcher, and a fly-by Grey Wagtail. The forest patches near the Kori La Pass, which reaches an altitude of over 2200 meters (7217 feet), were beautifully mature. We spent some time birding the area near the top and then took a walk into the depths of the forest. Passerines were incredible active; Yellow-cheeked Tit, Black-faced, Chestnut-crowned and Buff-barred Warblers, Blyth's Leaf Warbler, and a few Long-tailed Minivets flitted through the trees at eyelevel.
Our walk in the forest was magical and produced specials such as Rufous-bellied Niltava and the tiny Pygmy Flycatcher almost immediately. Then we encountered a lovely Rufous-throated Wren-Babbler that actually showed really well, considering what a skulker it is! Then one of the highlights of the trip happened; we finally managed to lay eyes on the fantastic and highly sought-after Ward's Trogon. This species was definitely one of the birds of the trip, and we managed to see two male birds and a female bird. They hung around for quite some time, sitting characteristically still, as trogons do, ever so often flitting down to grab a meal from near the ground and flitting back up to an open perch. Mountain Hawk-Eagle and a few Himalayan Vultures spent some time in the skies above us, and later on we found a few Yellow-cheeked Tits and Verditer Flycatchers.
The afternoon gave us a single new bird species, Western Osprey sitting quietly along the river near Trashigang, as well as a single new mammal species, a family of five Wild Boars.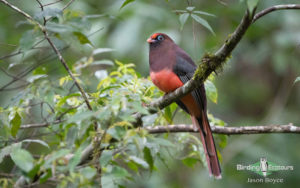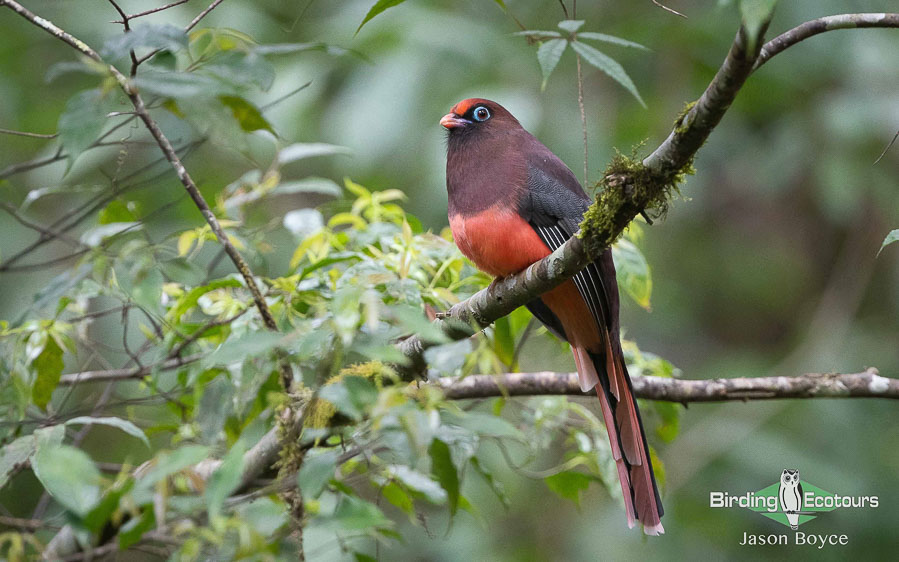 A male Ward's Trogon in all his splendor!
Day 18, 13th April 2019. Trashigang to our campsite in Morong
This was a day spent traveling and en route catching up on a number of sightings and species we had missed up until this point. A few roadside stops produced some really nice passerine species: Fire-breasted Flowerpecker, Ultramarine, Little Pied, and Pygmy Flycatchers, Streaked Spiderhunter, Mrs. Gould's and Green-tailed Sunbirds, Olive-backed Pipit, White-tailed Nuthatch, Blue-winged Minla, and White-naped Yuhina. Our campsite was once again fantastic, and we truly had a brilliant camping crew that prepared some of the best meals during our time in Bhutan. The campsite area produced some nice bird species too: Plaintive Cuckoo, Greenish Warbler, Mountain Imperial Pigeon, White-breasted Parrotbill, Rusty-cheeked Scimitar Babbler, and Rusty-fronted Barwing.
Day 19, 14th April 2019. Birding to the lowlands of Samdrup Jongkhar
It is a marvelous thing to wake up at dawn while overlooking a massive expanse of untouched forest. At the rate that our natural forests are being destroyed in many parts of the world it is certainly a 'breath of fresh air' to see the fruits of a conservation-minded government. The forest here is of course alive with bird song, and the dawn chorus was just beautiful. Our first new species was of the mammalian kind; a Himalayan Serow appeared from the slope above us and stopped briefly to look back at us before heading down the slope and out of sight. Our first birding highlight was finding a good number of Silver-eared Mesias, calling and showing well for us. Other species we encountered along the roadside forest were Black-eared Shrike-babbler, Black-throated Sunbird, Grey-headed Canary-flycatcher, White-throated Fantail, and a Mountain Hawk-Eagle perched up high. A flock of about thirty Scarlet Finches and a pair of Northern Red Muntjacs was also really neat.
We packed up our camp just before the rain came down and decided to travel down to the lower-altitude areas north of Samdrup Jongkhar. Here we enjoyed some amazing birding; a few specials included Mountain Imperial Pigeon, White-throated Needletail, Long-tailed Sibia, and a good number of Blue-throated Barbets. A Banded Bay Cuckoo signaled its presence with its distinctive call. A little farther down we started to encounter proper heat and humidity for the first time of the trip. Then a number of incredible low-altitude birds followed: Taiga Flycatcher, Crested Honey Buzzard, and Black-crested and Red-whiskered Bulbuls. A tiny White-browed Piculet showed briefly, while Greater Racket-tailed Drongo and especially Square-tailed Drongo-Cuckoo took some finding. I personally enjoyed the seemingly lethargic Yellow-bellied Warbler hanging around some bamboo near a stream. We continued toward the border town (where we would spend the night) and slowly added more species to our list. Our last new birds for the day were Oriental Dollarbird, Black-backed Forktail, Asian Palm Swift, Striated Heron, Little Cormorant, and a singing Lineated Barbet.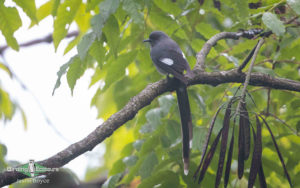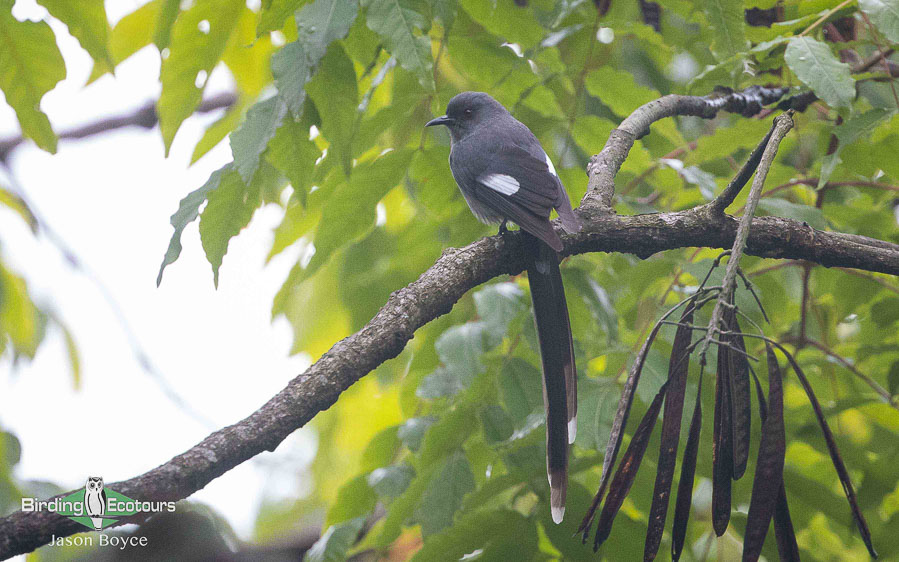 Long-tailed Sibia was seen well.
Day 20, 15th April 2019. Bhutan to Assam, India
We managed to sneak in some birding around town in the morning before breakfast, after which we needed to make the journey south into India and to Guwahati. The morning session yielded a nice sighting of Black-naped Monarch flitting low through some broad-leafed foliage. Three Wreathed Hornbills flew by as we were listening to the call of Puff-throated Babbler and frantically moved to get good visuals of it through the trees. In the town of Samdrup Jongkhar we also picked up a few mynas and starlings, all in one flowering tree; we saw Chestnut-tailed Starling and Jungle and Pied Mynas.
The border crossing was quick and painless, and soon we were on the plains of Assam, picking up new trip birds left, right, and center. Yellow-footed Green Pigeon and Coppersmith Barbet greeted us at the immigration office, while a few roadside stops yielded Asian Openbill, Indian Pond Heron, Purple Heron, Great and Eastern Cattle Egret, and a fantastic Blue-tailed Bee-eater. Striated Grassbird was quite common along the flooded grassland edges of the ponds. We had some time left to bird and headed to the infamous Municipal Solid Waste Management site in Guwahati to add the adjutants to our list. Both Greater and Lesser Adjutant were present, with a high number of Greater Adjutants but only a handful of Lesser Adjutants spotted.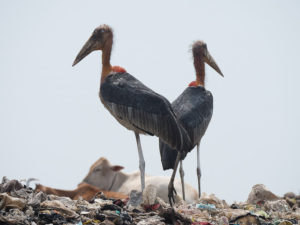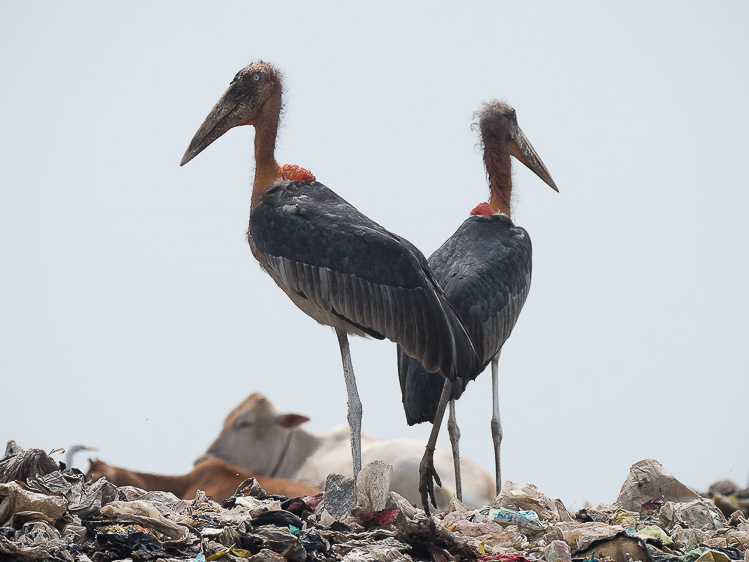 Greater Adjutant in Guwahati (photo Rich Sajdak).
We transferred to New Delhi and from there started a short extension in north India.
The trip was a huge success, and all involved thoroughly enjoyed the birding, the sights, the travel, and the Bhutanese hospitality and culture. Favorite sightings and birds of the trip range from the colorful Ward's Trogon and Long-tailed Broadbill to the comparatively dull Wallcreeper and Spotted Elachura. The fascinating pheasants were also high on the list, and the amazing giant squirrels really entertained us too. Please do join us in Bhutan sometime soon!
Please see the downloadable PDF above with the full species lists included.