Go to Florida bird tour page | USA bird tours | North American trip reports| All our birding tours
17 – 25 APRIL 2022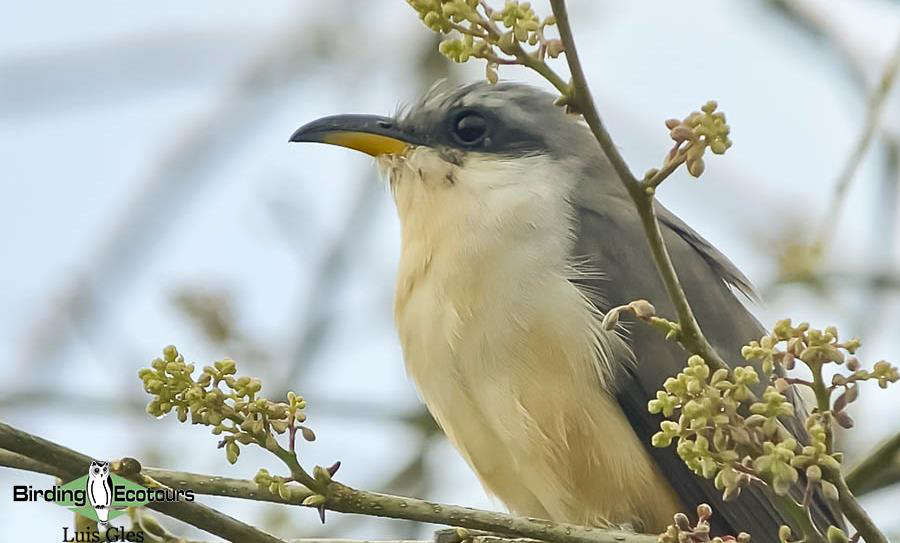 The elusive Mangrove Cuckoo.
Overview

This nine-day set departure birding tour of southern Florida commenced on the 17th of April and concluded on the 25th of April in Miami in 2022. Over these nine days we covered a lot of ground, managing to drive across eight counties exploring parts of two national parks, a few state parks and birded in nearly a dozen different key habitats, ensuring we got to see a large and unique diversity of birds and other wildlife.
During spring southern Florida can be an amazing experience, filled with avian possibilities: hundreds of migratory species stopping over the region during northbound flights, returning Caribbean breeders settling back into their territories and the prospect of vagrants from the tropics. This all contributed to giving us a great list for our southern Florida tour. The highlights featured a long list of Florida specials and migrants including: Swallow-tailed and Snail Kites, Shiny Cowbird, Mottled Duck, Mangrove Cuckoo, White-crowned Pigeon, Grey-headed Swamphen, Limpkin, Wood Stork, Piping Plover, Brown and Black Noddies, Sooty, Bridled and Roseate Terns, Magnificent Frigatebird and Masked Booby. We also had a few migrant warblers including the likes of Cape May, Magnolia, Blackpoll and Pine Warblers. Additionally, Red-cockaded Woodpecker, Yellow-chevroned and Mitred Parakeets, Grey Kingbird, Black-whiskered Vireo, Florida Scrub Jay, Red-whiskered Bulbul, Bachman's Sparrow and Spot-breasted Oriole were loved by all on the trip.
A total of 188 bird species were seen and two species heard only. Species lists are at the end of this report.
Detailed Report
Day 1, 17th April 2022. Arrival in Miami
After arriving in the busy city of Miami, the most tropical city in the USA, we checked into our hotel close to the airport. After settling in, we left for lunch, but not before checking the small pond behind the hotel. Here, we saw some of our main targets such as the introduced Grey-headed Swamphen and returning Grey Kingbirds as well as Sora, Black-and-white Warbler, Northern Parula and Summer Tanager. After this good start we were ready for a delicious Cuban lunch.
After lunch, we began birding some of the city's parks in search of multiple introduced species like Red-whiskered Bulbul, Common Hill Myna and Spot-breasted Oriole. A number of parrots and parakeets were also seen, and most definitely heard, such as Red-masked and Yellow-chevroned Parakeets and a pair of Chestnut-fronted Macaws in their cavity nest.
Day 2, 18th April 202. Miami and Palm Beach Area
We started the day with a quick breakfast and continued exploring for more exotic parrots around one of the oldest neighborhoods in Miami. Here we were able to see more parakeets including Green, Mitred, Yellow-chevroned and Monk Parakeets. Later we transferred to the Island of Key Biscayne, located in the southeastern part of Miami-Dade County. It is a barrier island connected by the Rickenbacker Causeway and home of Crandon Park. This park is a hotspot for birdwatching, where we are fortunate to see one of the largest extensions of beautiful white sandy beaches. These beaches are critical for providing habitat to large numbers of shorebirds and seabirds. This specific park is famous for being a wintering ground for a great number of the threatened Piping Plovers. Here, the group enjoyed Sanderling, Least Sandpiper, Grey (Black-bellied) Plover, Laughing Gull and Magnificent Frigatebird, before seeing the most unexpected bird for the tour so far, Thick-billed Vireo. This vagrant from the Caribbean has a restricted range between the Bahamas and Cuba with increasing numbers of records in southern Florida in recent years. The newest addition to the county bird list after this rarity became the Least Grebe which we were lucky enough to see on this tour too!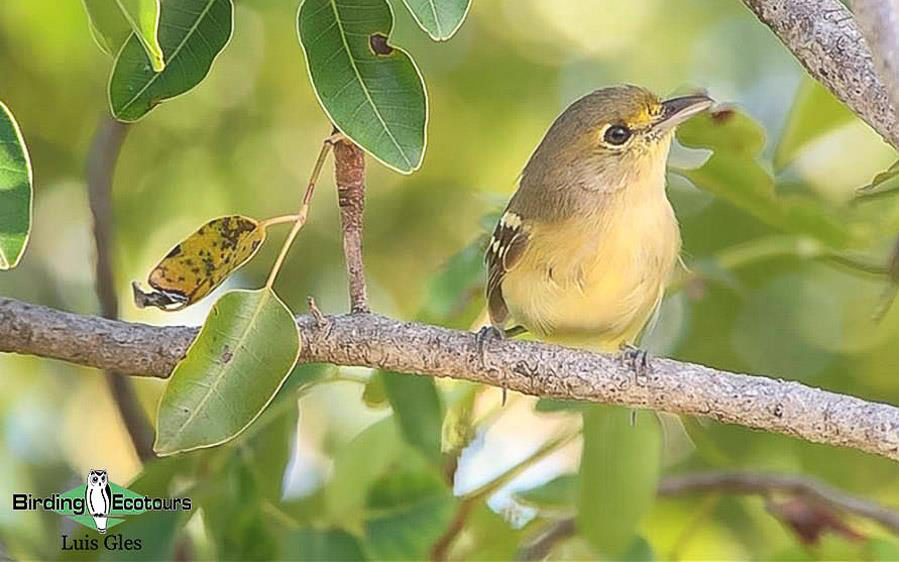 Thick-billed Vireo, a vagrant that we enjoyed on our second day.
After lunch we drove north to Palm Beach where we spent the rest of the afternoon at Green Cay Wetlands and Wakodahatchee Wetlands. These two artificially created wetlands are an oasis for breeding waterbirds, including Black-bellied Whistling Duck, Least Bittern, Anhinga and the incredibly beautiful Painted Bunting.
Day 3, 19th April 2022. Ocean side to gulf side
We spent the morning hours birding the Loxahatchee National Wildlife Refuge looking for and finding some top targets, such as Roseate Spoonbill, Limpkin, Pileated Woodpecker and Barred Owl. While here we crossed paths with a mixed flock of warblers which included American Redstart, Black-and-white, Cape May and Black-throated Blue Warblers, to name a few.
After lunch we spent the slower afternoon birding hours driving across the middle of Florida towards Fort Myers. Before reaching our final destination, we stopped at the magnificent Lake Okeechobee where we had great views of a couple of Snail Kites and dozens of Sand Martins (Bank Swallows) and Tree Swallows with a few Barn Swallows mixed in. The late afternoon and evening hours were spent birding the gulf finding many of our targets such as Wilson's Plovers, Willet and Reddish Egret.
Day 4, 20th April 2022. Babcock-Webb and Naples
We started in the early morning before sunrise to get to the Fred C. Babcock/Cecil M. Webb Wildlife Management Area. These Florida slash pine forests attract specials not found elsewhere. We were pretty lucky to hear one Red-cockaded Woodpecker as soon as we stepped out of the van, soon revealing itself to us. Following this Near Threatened species, were excellent views of Bachman's Sparrow and Brown-headed Nuthatch. Afterwards we passed by a known territory of a pair of the southeastern subspecies of American Kestrel. This is one of the most endangered subspecies of this fantastic falcon. A nearby neighborhood gave us Florida Scrub Jay, Florida's only endemic bird species.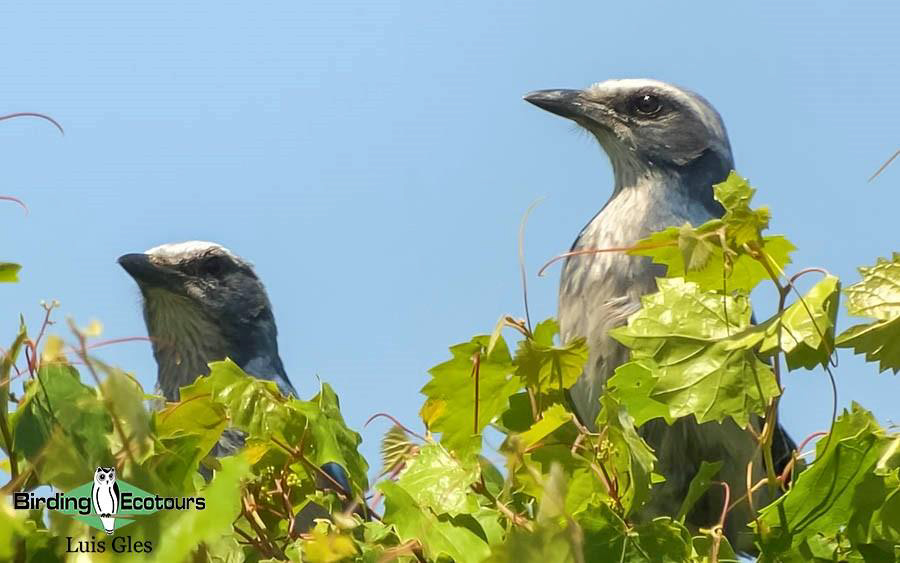 The sociable Florida Scrub Jay.
After a successful morning and a delicious lunch, we were ready for our departure south to Naples to look for one of the newest additions to the ABA acceptable bird list, the Rose-ringed Parakeet. After we added another yet parakeet to our list, we finally got to see the cute Snowy and Piping Plovers as well as Least and Sandwich Terns. Afterwards we drove southeast across the peninsula via the Tamiami Trail to Homestead, passing through two of the best-known wilderness areas in the state of Florida, Big Cypress National Preserve and the northern edge of Everglades National Park. The tasty Mexican food around the corner is a must-go and we enjoyed this treat before getting to our hotel in Homestead.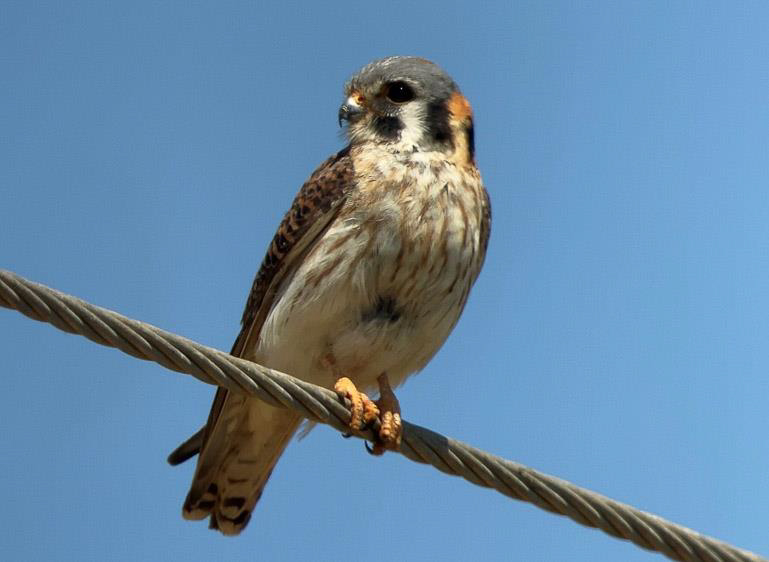 The endangered southeastern subspecies of American Kestrel.
Day 5, 21th April 2022. Everglades and Homestead
We started the day early to be in the most favorable habitat where we saw and enjoyed the one and only "Cape Sable" Seaside Sparrow. This subspecies of Seaside Sparrow is the first bird to adapt to the climate change and rising sea levels. There are many trails to explore in the Everglades including: Anhinga Trail, Gumbo Limbo Trail, Mahogany Hamock Tail and Pahockey. A great diversity of warblers including Black-throated Green, Prairie, Magnolia and Cape May Warblers, greeted us on these trails while a Barred Owl chick had us all staring. Short-tailed Hawk is a Florida special, sought out by raptor-lovers, and today we had a light morph soaring above us which we all enjoyed. After all the excitement we finally got to the Flamingo Visitor Center area, where we enjoyed a picnic lunch on the edge of the impressive Florida Bay. Following our lunch, we observed a Swallow-tailed Kite on the nest, feeding their young along the Anhinga Trail. The Everglades offers wildlife of all kinds and the group couldn't pass up seeing American Alligators, Yellow-bellied Sliders and strange Florida Softshell Turtles.
Knowing that we would be going owling in the evening, we decided to take a more relaxed afternoon around the pool of the hotel. Following another delicious Mexican dinner, we enjoyed an excellent evening of owling, where we were able to see and hear White-tailed Kite and American Barn Owl, foraging at dusk outside of the everglades. Chuck-will's-widow and Eastern Screech Owl could be heard singing inside the park. Southern Toads on the side of the road were a regular occurrence and multiple Two-striped Walkingsticks were seen crossing the road.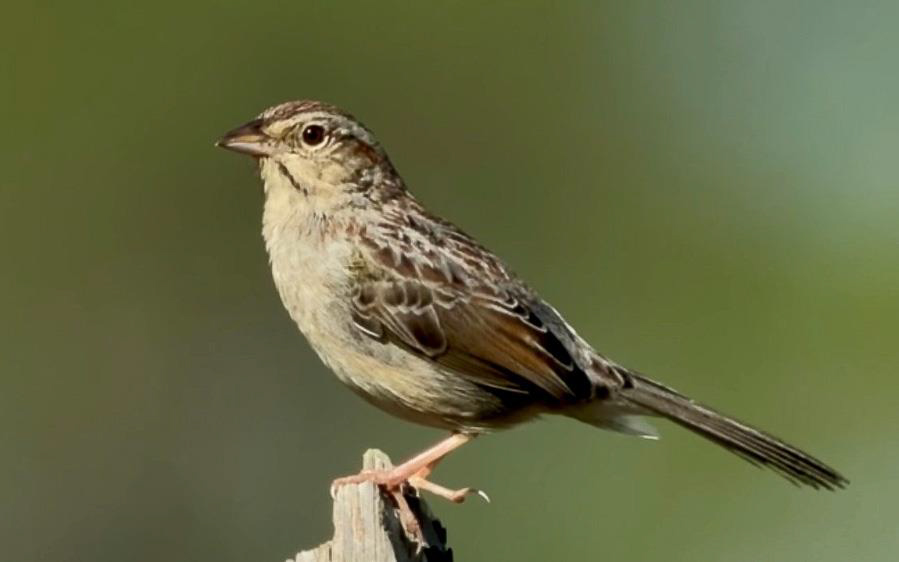 The localized Bachman's Sparrow gave us great views on this Florida birding tour.
Day 6, 22th April 2022. Florida Keys
After an early breakfast, we began our drive south to Key West, but before reaching the southernmost town in the US, we stopped along the road at multiple birding hotspots like Dagny Johnson Key Largo Hammock Botanical State Park. Here, we enjoyed seeing Prairie and Blackpoll Warblers, American Redstart and other regional specials, like Black-whiskered Vireo. The vireo breeds in the Caribbean but has been extending its range to southern Florida. After a full morning of driving and birding, we had lunch in Marathon at a famous food truck, Irie Island Eats. A quick vote easily decided this was the favorite restaurant of the tour! After lunch, we continued driving south while we kept a lookout for the elusive Mangrove Cuckoo and the Cuban race of American Yellow Warbler. On our search we visited Key Deer National Wildlife Refuge where we saw a family group of the endangered 'Key Deer' (a subspecies of White-tailed Deer) before ending our day indulging in a flavorful Key West dinner.
Day 7, 23th April 2022. More of the Florida Keys
After a delicious Cuban breakfast, we kept searching for the elusive Mangrove Cuckoo. Our adventures that morning went from Key West to Big Pine Key. During the search for the cuckoo, we were able to see multiple White-crowned Pigeons, a top target for the tour, since this bird only just reaches southern Florida and the Keys to breed. We also saw 'Great White Heron', a white morph of Great Blue Heron that only occurs in this region. We took advantage of the opportunity to explore multiple islands in the lower and middle Keys where we got to enjoy the amazing landscape – white sandy beaches with clear blue waters, unlike anywhere else in the word which enchants its many visitors. All these places were surrounded by mixed flocks of warblers and fishing Western Ospreys and Northern Gannets. Closer to noon we received information of two Mangrove Cuckoos that were seen in a neighborhood of Big Pine Key. We rushed to the area where we were finally able to see this extremely shy bird! Probably one of the hardest birds to see in the US.
Before heading out for lunch we visited Blue Hole, a trail inside the Key Deer Wildlife Refuge, where we enjoyed more migrant warblers and local food. In the afternoon we went around Key West and got to see one of the most iconic places in Florida, the southernmost point in the US, just 90 miles (c. 140 kilometers) from Cuba. Then we cooled off around the hotel pool, before getting ready for dinner.
Day 8, 24th April 2022. Dry Tortugas
Today we yet another early start, as this day was probably the most-anticipated day of the tour. We left our hotel to jump aboard the Yankee Freedom II catamaran on a day trip heading 70 miles (c. 110 kilometers) west of Key West to the Dry Tortugas National Park. This park is composed of seven sandy islands that barely rise above sea level and are often changing with the tides and storms. Once we were within the boundaries of the archipelago, the deeper waters of the straits were replaced by the bright turquoise, light blue and emerald-green hues distinctive of the Dry Tortugas National Park. The only key we were able to explore was Garden Key, where we had four hours to awe over the famous nesting colonies of Brown Noddy, along with the hundreds of Sooty Terns, Magnificent Frigatebirds, Masked Boobies and a few Bridled Terns. We were extremely lucky to see one White-tailed Tropicbird flying between Garden Key and Loggerhead Key. There were also some migrants around the impressive Fort Jefferson including Ovenbird, Black-and-white and Cape May Warblers, Barn Swallow, Peregrine Falcon, Merlin, Sharp-shinned Hawk, an extremely rare Red-shouldered Hawk and an unusual Cooper's Hawk. Taking the ferry there and back offers opportunities for other highlights including Black Noddy, Audubon's Shearwater, Loggerhead and Green Sea Turtles, many flying fish, Common Bottlenose Dolphin and a group of Roseate Terns, before returning to Key West and starting the scenic drive back to Homestead.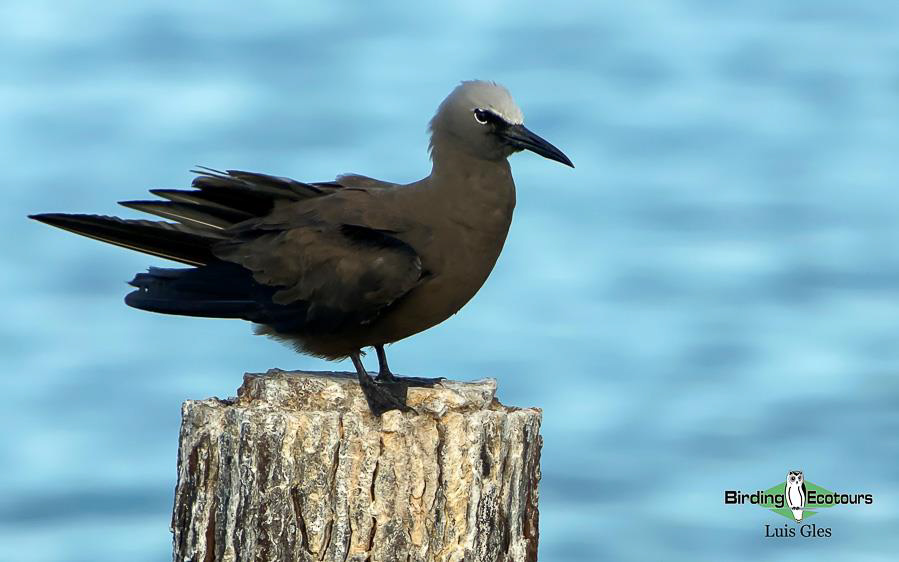 The rare Black Noddy at Dry Tortugas National Park.
Day 9, 25th April 2022. Homestead area and tour conclusion
On our last day of the tour, we decided to do a clean-up outside the Everglades for some of the missing species. A few meters out of the van and we were lucky to encounter a Great Horned Owl, followed by a good variety of flycatcher including. Great Crested, Least and Brown-crested Flycatchers, Tropical and Western Kingbirds and another rare visitor to this part of the country, a Cassin's Kingbird, all making the last morning a treat. Shiny and Bronzed Cowbird were the last of the regional specials added to our list! Before the airport we had to stop for a delicious Cuban lunch. After lunch all the participants were brought to their hotel or the airport. This concluded another successful tour full of great moments, delicious food and amazing birds!
Bird List – Following IOC (12.1)
Birds 'heard only' are marked with (H) after the common name, all other species were seen.
The following notation after species names is used to show conservation status following BirdLife International: VU = Vulnerable, NT = Near Threatened
Common Name
Scientific Name
Ducks, Geese, Swans (Anatidae)
Black-bellied Whistling Duck
Dendrocygna autumnalis
Egyptian Goose
Alopochen aegyptiaca
Muscovy Duck
Cairina moschata
Wood Duck
Aix sponsa
Blue-winged Teal
Spatula discors
Mottled Duck
Anas fulvigula
New World Quail (Odontophoridae)
Northern Bobwhite (H)
Colinus virginianus
Pheasants & Allies (Phasianidae)
Indian Peafowl
Centrocercus urophasianus
Red Junglefowl
Centrocercus minimus
Nightjars (Caprimulgidae)
Common Nighthawk
Chordeiles minor
Chuck-will's-widow
Antrostomus carolinensis
Swifts (Apodidae)
Chimney Swift – VU
Chaetura pelagica
Cuckoos (Cuculidae)
Mangrove Cuckoo
Coccyzus minor
Pigeons, Doves (Columbidae)
Rock Dove (Pigeon)
Columba livia
White-crowned Pigeon
Patagioenas leucocephala
Eurasian Collared Dove
Streptopelia decaocto
Common Ground Dove
Columbina passerina
Mourning Dove
Zenaida macroura
White-winged Dove
Zenaida asiatica
Rails, Crakes & Coots (Rallidae)
Clapper Rail
Rallus crepitans
King Rail
Rallus elegans
Sora
Porzana carolina
Grey-headed Swamphen
Porphyrio poliocephalus
Purple Gallinule
Porphyrio martinica
Common Gallinule
Gallinula galeata
American Coot
Fulica americana
Cranes (Gruidae)
Sandhill Crane
Antigone canadensis
Limpkin (Aramidae)
Limpkin
Aramus guarauna
Grebes (Podicipedidae)
Pied-billed Grebe
Podilymbus podiceps
Least Grebe (Rarity)
Tachybaptus dominicus
Stilts and Avocets (Recurvirostridae)
Black-necked Stilt
Himantopus mexicanus
Plovers (Charadriidae)
Grey (Black-bellied) Plover
Pluvialis squatarola
Semipalmated Plover
Charadrius semipalmatus
Wilson's Plover
Charadrius wilsonia
Killdeer
Charadrius vociferus
Piping Plover
Charadrius melodus
Snowy Plover
Charadrius nivosus
Sandpipers, Snipes (Scolopacidae)
Ruddy Turnstone
Arenaria interpres
Stilt Sandpiper
Calidris himantopus
Sanderling
Calidris alba
Dunlin
Calidris alpina
Least Sandpiper
Calidris minutilla
Semipalmated Sandpiper
Calidris pusilla
Short-billed Dowitcher
Limnodromus griseus
Spotted Sandpiper
Actitis macularius
Solitary Sandpiper
Tringa solitaria
Lesser Yellowlegs
Tringa flavipes
Willet
Tringa semipalmata
Greater Yellowlegs
Tringa melanoleuca
Gulls, Terns, Skimmers (Laridae)
Brown Noddy
Anous stolidus
Black Noddy
Anous minutus
Laughing Gull
Leucophaeus atricilla
Gull-billed Tern
Gelochelidon nilotica
Caspian Tern
Hydroprogne caspia
Royal Tern
Thalasseus maximus
Cabot's (Sandwich) Tern
Thalasseus acuflavidus
Least Tern
Sternula antillarum
Bridled Tern
Onychoprion anaethetus
Sooty Tern
Onychoprion fuscatus
Roseate Tern
Sterna dougallii
Common Tern
Sterna hirundo
Tropicbirds (Phaethontidae)
White-tailed Tropicbird (Rarity)
Phaethon lepturus
Petrels, Shearwaters, Diving Petrels (Procellariidae)
Audubon's Shearwater
Puffinus lherminieri
Storks (Ciconiidae)
Wood Stork
Mycteria americana
Frigatebirds (Fregatidae)
Magnificent Frigatebird
Fregata magnificens
Gannets, Boobies (Sulidae)
Northern Gannet
Morus bassanus
Masked Booby
Sula dactylatra
Cormorants and Shags (Phalacrocoracidae)
Double-crested Cormorant
Nannopterum auritum
Anhingas, Darters (Anhingidae)
Anhinga
Anhinga anhinga
Ibises, Spoonbills (Threskiornithidae)
American White Ibis
Eudocimus albus
Glossy Ibis
Plegadis falcinellus
Roseate Spoonbill
Platalea ajaja
Herons, Bitterns (Ardeidae)
Least Bittern
Ixobrychus exilis
Black-crowned Night Heron
Nycticorax nycticorax
Yellow-crowned Night Heron
Nyctanassa violacea
Green Heron
Butorides virescens
Western Cattle Egret
Bubulcus ibis
Great Blue Heron
Ardea herodias
Great Egret
Ardea alba
Reddish Egret
Egretta rufescens
Tricolored Heron
Egretta tricolor
Little Blue Heron
Egretta caerulea
Snowy Egret
Egretta thula
Pelicans (Pelecanidae)
American White Pelican
Pelecanus erythrorhynchos
Brown Pelican
Pelecanus occidentalis
New World Vultures (Cathartidae)
Black Vulture
Coragyps atratus
Turkey Vulture
Cathartes aura
Ospreys (Pandionidae)
Western Osprey
Pandion haliaetus
Kites, Hawks, Eagles (Accipitridae)
White-tailed Kite
Elanus leucurus
Swallow-tailed Kite
Elanoides forficatus
Sharp-shinned Hawk
Accipiter striatus
Cooper's Hawk
Accipiter cooperii
Northern Harrier
Circus hudsonius
Bald Eagle
Haliaeetus leucocephalus
Snail Kite
Rostrhamus sociabilis
Red-shouldered Hawk
Buteo lineatus
Short-tailed Hawk
Buteo brachyurus
Red-tailed Hawk
Buteo jamaicensis
Barn Owls (Tytonidae)
American Barn Owl
Tyto furcata
Owls (Strigidae)
Eastern Screech Owl
Megascops asio
Great Horned Owl
Bubo virginianus
Barred Owl
Strix varia
Burrowing Owl
Athene cunicularia
Kingfishers (Alcedinidae)
Belted Kingfisher
Megaceryle alcyon
Woodpeckers (Picidae)
Red-headed Woodpecker
Melanerpes erythrocephalus
Red-bellied Woodpecker
Melanerpes carolinus
Downy Woodpecker
Dryobates pubescens
Hairy Woodpecker (H)
Dryobates villosus
Red-cockaded Woodpecker
Leuconotopicus borealis
Northern Flicker
Colaptes auratus
Pileated Woodpecker
Dryocopus pileatus
Caracaras, Falcons (Falconidae)
Northern Crested Caracara
Caracara cheriway
American Kestrel
Falco sparverius
Merlin
Falco columbarius
Peregrine Falcon
Falco peregrinus
African & New World Parrots (Psittacidae)
Red-masked Parakeet (Non-ABA)
Psittacara erythrogenyus
White-eyed Parakeet (Non-ABA)
Psittacara leucophthalmus
Green Parakeet
Psittacara holochlorus
Scarlet-fronted Parakeet (Non-ABA)
Psittacara wagleri
Mitred Parakeet
Psittacara mitratus
Monk Parakeet
Myiopsitta monachus
Yellow-chevroned Parakeet
Brotogeris chiriri
Chestnut-fronted Macaw (Non-ABA)
Ara severus
Old World Parrots (Psittaculidae)
Rose-ringed Parakeet
Psittacula krameri
Tyrant Flycatchers (Tyrannidae)
Tropical Kingbird (Rarity)
Tyrannus melancholicus
Western Kingbird
Tyrannus verticalis
Cassin's Kingbird (Rarity)
Tyrannus vociferans
Scissor-tailed Flycatcher
Tyrannus forficatus
Eastern Kingbird
Tyrannus tyrannus
Grey Kingbird
Tyrannus dominicensis
Great Crested Flycatcher
Myiarchus crinitus
Brown-crested Flycatcher (Rarity)
Myiarchus tyrannulus
Shrikes (Laniidae)
Loggerhead Shrike
Lanius ludovicianus
Vireos, Shrike-Babblers, and Erpornis (Vireonidae)
White-eyed Vireo
Vireo griseus
Thick-billed Vireo (Rarity)
Vireo crassirostris
Black-whiskered Vireo
Vireo altiloquus
Crows, Jays, and Magpies (Corvidae)
Blue Jay
Cyanocitta cristata
Florida Scrub Jay (Endemic) – VU
Aphelocoma coerulescens
American Crow
Corvus brachyrhynchos
Fish Crow
Corvus ossifragus
Waxwings (Bombycillidae)
Cedar Waxwing
Bombycilla cedrorum
Bulbuls (Pycnonotidae)
Red-whiskered Bulbul
Pycnonotus jocosus
Swallows (Hirundinidae)
Tree Swallow
Tachycineta bicolor
Purple Martin
Progne subis
Northern Rough-winged Swallow
Stelgidopteryx serripennis
Barn Swallow
Hirundo rustica
American Cliff Swallow
Petrochelidon pyrrhonota
Wrens (Troglodytidae)
Carolina Wren
Thryothorus ludovicianus
House Wren
Troglodytes aedon
Nuthatches (Sittidae)
Brown-headed Nuthatch
Sitta pusilla
Mockingbirds, Thrashers (Mimidae)
Grey Catbird
Salpinctes obsoletus
Northern Mockingbird
Catherpes mexicanus
Brown Thrasher
Cistothorus palustris
Starlings, Rhabdornis (Sturnidae)
Common Myna
Acridotheres tristis
Common (European) Starling
Sturnus vulgaris
Common Hill Myna (Non-ABA)
Gracula religiosa
Thrushes (Turdidae)
Eastern Bluebird
Sialia sialis
Old World Sparrows, Snowfinches (Passeridae)
House Sparrow
Passer domesticus
New World Sparrows (Passerellidae)
Seaside Sparrow
Ammodramus maritimus
Bachman's Sparrow
Peucaea aestivalis
Eastern Towhee (H)
Pipilo erythrophthalmus
Oropendolas, Orioles, Blackbirds (Icteridae)
Bobolink
Dolichonyx oryzivorus
Eastern Meadowlark
Sturnella magna
Spot-breasted Oriole
Icterus pectoralis
Red-winged Blackbird
Agelaius phoeniceus
Shiny Cowbird
Molothrus bonariensis
Bronzed Cowbird
Molothrus aeneus
Brown-headed Cowbird
Molothrus ater
Common Grackle
Quiscalus quiscula
Boat-tailed Grackle
Quiscalus major
New World Warblers (Parulidae)
Ovenbird
Seiurus aurocapilla
Northern Waterthrush
Parkesia noveboracensis
Black-and-white Warbler
Mniotilta varia
Common Yellowthroat
Geothlypis trichas
American Redstart
Setophaga ruticilla
Cape May Warbler
Setophaga tigrina
Northern Parula
Setophaga americana
Magnolia Warbler
Setophaga magnolia
Blackpoll Warbler
Setophaga striata
Black-throated Blue Warbler
Setophaga caerulescens
Palm Warbler
Setophaga palmarum
Pine Warbler
Setophaga pinus
Prairie Warbler
Setophaga discolor
Black-throated Green Warbler
Setophaga virens
Cardinals & Allies (Cardinalidae)
Summer Tanager
Piranga rubra
Northern Cardinal
Cardinalis cardinalis
Indigo Bunting
Passerina cyanea
Painted Bunting
Passerina ciris
Total Seen
185
Total Heard
3
Total Recorded
188
Mammal List
Common Name
Scientific Name
Rabbits and Hares (Leporidae)
Marsh Rabbit
Sylvilagus palustris
Squirrels and Allies (Sciuridae)
Eastern Grey Squirrel
Sciurus carolinensis
Raccoons and Allies (Procyonidae)
Northern Raccoon
Procyon lotor
True Deer (Cervidae)
White-tailed Deer (Key Deer)
Odocoileus virginianus clavium
Total seen
4
This is a sample trip report. Please email us ([email protected]) for more trip reports from this destination.