Go to Northwest India bird tour page | India bird tours | Asian trip reports | All our birding tours
DOWNLOAD TRIP REPORT
12-26 February 2020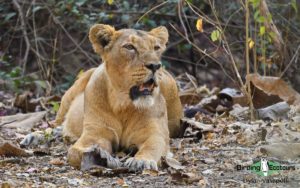 Asiatic Lion is one of the main targets for this tour and showed very well.
Overview
This 14-day set departure tour takes in the best of Gujarat, India, and combines some of the best desert-based birding in the country with a number of prized and monotypic birds along with some of the enigmatic mammals of the desert region, including the localized Asiatic subspecies of Lion. The tour starts in Ahmedabad and quickly moves south to Velavadar and the Blackbuck National Park, where we get our first taste of the jewels to be sought in the region. The famous Gir National Park follows, where Lion is the main target, before we transfer to the coast at Jamnagar for a suite of coastal wetland birding. The tour then proceeds first to the Great Rann of Kutch and then to the Little Rann of Kutch for some more extended desert-based birding before returning to Ahmedabad, where the tour ends.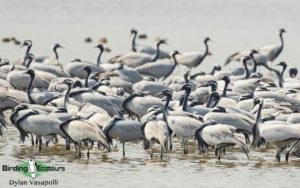 We saw many large flocks of the stunning Demoiselle Crane during the tour.
This tour had a small group, with only two participants joining, namely Pam and Julie, and everything went ahead smoothly, with no unforeseen interruptions and an added bonus of good weather all around. The birding was excellent throughout, and we did extremely well to record nearly all of the region's various specialties, including the hoped-for monotypic birds. The tour's top specials were Crab-plover, Sociable Lapwing, Indian Skimmer, Sykes's Nightjar, Ruddy-breasted Crake, Red-necked Falcon, Grey Hypocolius, Marshall's Iora, White-naped Tit, Greater Hoopoe-Lark, Sykes's Lark, and White-browed Bush Chat,  with a good supporting cast including Painted Francolin, Garganey, Ferruginous Duck, Cotton Pygmy Goose, Chestnut-bellied Sandgrouse, Yellow-footed Green Pigeon, Baillon's and Spotted Crakes, Demoiselle Crane, Barred Buttonquail, Great Knot, Broad-billed and Terek Sandpipers, Indian Courser, Lesser Crested Tern, Yellow Bittern, Dalmatian Pelican, Greater Spotted and Eastern Imperial Eagles, Pallid and Montagu's Harriers, White-eyed Buzzard, Indian Eagle-Owl, White-spotted Fantail, Indian Bush Lark, Sand Lark, Paddyfield and Sykes's Warblers, Red Avadavat, Blyth's Pipit, and Grey-necked, Black-headed, and Red-headed Buntings. Mammals are also an important part of this tour, and we did well on this front also, enjoying an excellent sighting of the main target, Asiatic Lion. A number of other sought mammals included Asiatic Wild Ass, Blackbuck, Indian Crested Porcupine, a brief sighting of the Indian Leopard subspecies, Indian Wolf subspecies, Bengal Fox, and Chinkara. Species lists are found at the end of this report.
Detailed Report
Day 1, February 13, 2020. Arrival and transfer from Ahmedabad to Bhavnagar
The group arrived a day early, and met during the previous evening, so we were all good to go this morning, departing our Ahmedabad hotel after breakfast, bound for Bhavnagar. While it was a relatively long transfer we made a few stops on our way, picking up many species – an excellent start to the tour. The bulk of the stops were at small wetlands, but we also birded some scrub areas as well. Some of the species we found included Greylag Goose and stunning Painted Storks along with an assortment of herons and egrets, Red-naped Ibis, our first Common Crane, some shorebirds including Common Snipe, Indian Roller, Paddyfield Warbler, Rosy Starling, Western Yellow and Citrine Wagtails, Red Avadavat, and a somewhat surprising Purple-rumped Sunbird. With a wedding going on it was a bit chaotic checking into our hotel in Bhavnagar, but once we had checked in, and following a brief break, we set off to the nearby Victoria Park, where we spent the rest of the day walking around. There was some frustration when we were being denied cameras at the gate and we had to make do without them for our walk. The park was pretty birdy, and we enjoyed a productive time picking up some great birds, top of which was the scarce Marshall's Iora, of which we enjoyed several great views. It was also good getting our eyes on some of the more-widespread Indian species like Red Turtle Dove, Greater Coucal, Asian Koel, Crested Honey Buzzard flying overhead, the cute Spotted Owlet, stunning Green Bee-eaters, Eurasian Hoopoe, the neat Coppersmith Barbet, a flock of Small Minivets, the boisterous Rufous Treepie, Rufous-fronted, Plain, and Grey-breasted Prinias, Dusky Crag Martin, Large Grey Babbler, Red-breasted Flycatcher, and Indian Silverbill. Not to be forgotten, we also enjoyed our first mammals with the large Nilgai and Five-striped Palm Squirrel commonly seen, and just before the park's closing we came across a surprising Indian Crested Porcupine, which showed well, albeit briefly, and a Golden Jackal, which gave us a more prolonged view. With the sun going down we called time on our first day out – which was largely successful!
Day 2, February 14, 2020. Birding Blackbuck National Park
We had a full day in store as we left our hotel early, bound for Blackbuck National Park near Velavadar. We made good progress, arrived just after daybreak, and started exploring the area just outside the park. We got off to a great start when we ran into one of the prized Indian Wolves (the Indian subspecies of Grey Wolf) slowly trotting along the road before it disappeared. A stunning Short-eared Owl was perched atop an embankment while we were delighted by masses of Common Cranes flying overhead, heading into the fields to feed for the day. We were also able to enjoy Grey Francolin, our first Eagle – Bonelli's, Isabelline Shrike, Greater Short-toed Lark, Common Babbler, and Red-headed Bunting. An opportunistic stop allowed us to observe the sought-after Sykes's Lark, enjoying excellent looks as a small group moved around on the ground, along with Black-headed Bunting and a few Common Quails walking about in the open. As if that weren't enough another Indian Wolf popped into view and gave us a prolonged sighting! We then proceeded into the park proper, where we explored some of the tracks that go through the reserve with its mix of thornveld and open grassland. The birding was good, and we did well early on, finding our two main targets at the same spot soon into the drive – the stunning Painted Francolin, of which a male gave us quite a show, and the threatened White-browed Bush Chat, of which a young male gave us extended views! Many other birds were seen and included Indian Stone-curlew, Greater Spotted, Booted, Steppe, and Eastern Imperial Eagles, Short-toed Snake- Eagle, Shikra, Bay-backed Shrike, Rufous-tailed and more Sykes's Larks, Ashy-crowned Sparrow-Lark, Lesser Whitethroat, Desert Wheatear, and a brief Long-billed Pipit. A dam was heaving with birds, and here we picked up a few Dalmatian Pelicans among the more common Great White Pelicans, Northern Shoveler, Gadwall, Northern Pintail, Eurasian Teal, Common Pochard, Pied Avocet, Spotted and Common Redshanks, Gull-billed, Whiskered, and River Terns, Purple Heron, Black-crowned Night Heron, and a large flock of Eurasian Spoonbills, among other more-widespread species. The unique Blackbuck was common in the reserve, and we enjoyed many good looks at this handsome antelope, with smaller numbers of Wild Boar and Nilgai seen as well. After breaking for lunch and relaxing for a bit we started birding again, but, feeling a bit tired and with activity limited in the hot conditions, we decided to call it a day, make our way back to our hotel, and take the rest of the afternoon off. A stop en-route back for a group of Lesser Flamingos also yielded Black-tailed Godwit, Eurasian Curlew, and Ruff.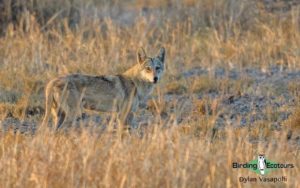 We had a few sightings of the prized Indian Wolf during the morning around Blackbuck National Park.
Day 3, February 15, 2020. Transfer from Bhavnagar to Sasan Gir
With a long transfer in store we departed Bhavnagar early, bound for Sasan Gir, where we would be based for two nights to explore the Gir National Park area. We made good time and arrived at lunchtime after a few birding stops on the way. These gave us many of the region's common species, but we were also able to add the likes of the impressive Great Stone-curlew (Thick-knee), Ashy Prinia, Brahminy Starling, Yellow-throated Sparrow, and Olive-backed Pipit to our growing list. A large Mugger (Marsh Crocodile) also gave us good views. Following a rest during the heat of the day we resumed later in the afternoon with a walk along a nearby river. The whole area was birdy, and as we walked along the river banks we noted many species between the diverse riverine woodlands and the river. Some of our main highlights were a stunning male Tickell's Blue Flycatcher after a concerted effort, getting excellent looks at Plum-headed Parakeet (with a large flock sitting in the treetops), some excitement with a few Yellow Bitterns flying up and down the river, a surprising Black-naped Monarch, a much more obliging Indian Paradise Flycatcher, and enjoying a Sykes's Warbler that hung around for all of us to admire! This was only a handful of some 70-odd species seen during our afternoon walk, with other birds including Yellow-footed Green Pigeon, Asian Koel, Grey-headed Swamphen, White-breasted Waterhen, River Tern, Purple Heron, Black-crowned Night Heron, Western Reef Heron, Brahminy Kite, Common and Pied Kingfishers, Green Bee-eater, Coppersmith Barbet, Common Woodshrike, Common Iora, Greenish Warbler, our first Jungle Babbler, Red-breasted Flycatcher, Scaly-breasted Munia, and both Grey and White-browed Wagtails. We rounded the day off with masses of Indian Flying Foxes flying overhead before we settled in for the evening, filled with excitement about our safaris on the following day.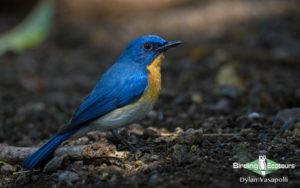 The lovely Tickell's Blue Flycatcher is surprisingly inconspicuous, despite its bright colors.
Day 4, February 16, 2020. Birding Gir National Park
We had a full day available to explore the area and would have two safaris in the park in the morning and the afternoon. We set off early at pre-dawn and covered the short distance to the gate, where after completing the required formalities we were assigned route 12 for the morning. It was a quiet start, with little moving and calling, although a showy Crested Serpent Eagle posed well for us early into the drive. Except for the numerous Chital (Spotted Deer) mammals weren't well represented either, and it took a long time before we found Northern Plains Gray Langurs, and Indian Grey Mongoose. Only later in the morning, on our drive back, did the birding actually begin to pick up with a few feeding flocks. We stopped and searched through them, noting a number of new species such as Brown-capped Pygmy Woodpecker, Large Cuckooshrike, White-browed Fantail, Cinereous Tit, and Thick-billed Flowerpecker while also enjoying looks at Common Iora, Common Woodshrike, and Indian Paradise Flycatcher, among others. After seeing a few in the air we finally found a perched Crested Treeswift, which gave us glorious views and was one of the best sightings of the morning. An otherwise quiet morning came to an end as we exited the park after our morning safari, slightly disappointed. A midday walk around the lodge grounds gave us a sampling of the common species of the area, with showy Tickell's Blue and Red-breasted Flycatchers being the main standouts.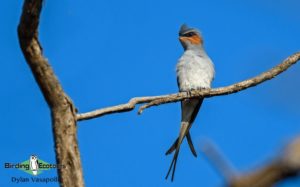 We eventually found a perched Crested Treeswift, allowing us to appreciate its finer details.
Following a short break after lunch it was time for us to head into the park once more for our afternoon safari. We had to go through the same formalities once more and were assigned route 6 for the afternoon. In contrast to the mornings safari the afternoon was far more active, with us enjoying some excellent birding. Feeding parties held species such as Small Minivet, Sykes's Warbler, Ashy Prinia, White-browed Fantail, Brahminy Starling, and Black Redstart among others, and we did well to find a roosting Mottled Wood Owl. A group of the prized Yellow-wattled Lapwings stalked some open land, while shy Indian Stone-curlews sheltered under some bushes and noisy Grey Francolins called from the clearings. We then heard of a Lion seen nearby, and as the viewing of Lions here is strictly controlled, with each group only being allowed a short period of time for viewing, we joined a small cue of vehicles waiting to see it. Soon it was our turn, and we enjoyed some stellar looks at a female Asiatic Lion as she sat in an open clearing. Having young cubs meant she was a separated from the main pride and was by herself, and although we didn't see her cubs (which were hiding nearby) we couldn't complain with the fantastic views we had! While the Asiatic Lion is not a separate species but rather a different subspecies of Lion from the more-widespread subspecies found in Africa, it was great to be able to see this localized and Endangered (IUCN) subspecies. Following this great sighting, and with time running out before we had to exit the park, we started making our way back, enjoying a few more stops and birds, most notable of which was a stunning Indian Scops Owl peeking out of its hole. Following dinner we took a night walk around the lodge, but it was extremely quiet, with not much moving around and nothing calling. Regardless we rested easy following our successful day out, with the main target (Lion) under our belt!
Day 5, February 17, 2020. Birding Gir National Park, transfer to Jamnagar
Our morning began with another predawn start as we headed into Gir National Park for our last safari there. Similar to the previous day the morning period was a bit on the slow side with not too much activity. We were eventually able to find a few mixed feeding flocks but enjoyed a similar suite of species to those seen yesterday rather than adding more new species. During the course of the morning we found species such as Greater Coucal, Crested Honey Buzzard, Shikra, Brown-capped Pygmy Woodpecker, Tickell's Blue Flycatcher, and Grey Wagtail. We did well on the mammal side of things, however, enjoying another Asiatic Lion sighting before running into a stunning Indian Leopard, another local subspecies, which unfortunately didn't hang around for long and quickly disappeared into the bushes. All too soon our time in the park had come to an end and we departed this magnificent area, bound for the coastal town of Jamnagar, where we would spend two nights. It was a long transfer, and we arrived in the late afternoon at our birding site near the port area on the outskirts of the town. Our primary target here was Indian Skimmer, which we fortunately found early on and of which we enjoyed some good scope views.
The birds were part of a massive mixed gull/tern roost and were a considerable distance away in the mudflats. We slowly worked our way closer to them, enjoying progressively better views, before a raptor flew in and put the huge flock into the air and sent them scattering. They landed closer to another berm, and we backtracked and tried again. We were much more successful this time and after a bit of walking were enjoying great looks at these prized birds and even could watch them skimming. The bulk of the gulls were Brown-headed and Slender-billed Gulls, but we also picked up Black-headed Gull and Gull-billed and Little Terns among them all. The mudflats were alive with species, and we enjoyed a heap of shorebirds, with the standout species being a single Great Knot feeding with a group of Grey Plovers. Two Lesser Sand Plovers stood out from the hordes of Common Redshanks and Marsh Sandpipers, while the massive Eurasian Curlews dwarfed those around them. A bright flock of Lesser Flamingos added a splash of color to the otherwise brown areas, as did a number of Western Reef Herons. A handful of other common and expected species were seen before we called it a day when the sun was going down and settled in for the evening.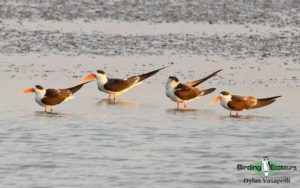 Part of the flock of Indian Skimmers we found near Jamnagar.
Day 6, February 18, 2020. Birding Jamnagar and surroundings           
One of the main drawcards for birders in this area is the excellent coastal birding, and, most importantly, the area is one of the most reliable for the monotypic Crab-plover. Having succeeded with Indian Skimmer the previous day, our main focus today was Crab-plover. A look at the tides the previous evening had revealed that the midday/early afternoon period would be best, when the tide would begin to drop, bringing the intertidal zone, where Crab-plovers feed, into play. Following breakfast at a more 'normal' hour we were off to bird some of the salt pans north of the town. We worked the area for some time, scanning on, around, and in between the many saltpans and enjoying a number of excellent species. On top of the list was a group of around 20 Red-necked Phalaropes, a scarce visitor to the area. A number of other shorebirds we had seen yesterday were again present in good numbers, with us enjoying good looks at Pied Avocet, Black-tailed Godwit, Ruff, Curlew Sandpiper, Little Stint, Spotted and Common Redshanks, Marsh Sandpiper, and Common Greenshank, among others. A few Indian Spot-billed Ducks were a welcome addition, as was a group of Black-necked and some flighty Great Crested Grebes. Endless numbers of both Greater and Lesser Flamingos dotted the pans, while scanning through a gull/tern roost we found produced a few Lesser Black-backed Gulls and a Common Tern among the masses of Brown-headed and Slender-billed Gulls. A few vocal Sand Larks also were a good find. Then we continued to the Narara Marine National Park, where we hoped to find our main target. We made good progress, allowing us to bird some of the outlying pans, which proved productive. Huge masses of shorebirds congregated here while the tide was still high. Most of them were Lesser Sand Plover, but among them we also noted a few Greater Sand Plovers and a few of the tricky Broad-billed Sandpipers. Western Osprey watched the area from its perch, as did Peregrine Falcon, while some of the surrounding scrubby areas held Graceful Prinia, Desert Wheatear, Long-billed Pipit, and a pair of courting Sykes's Larks that gave us wonderful views! Following a quick lunch break we were off and went into the park. Here we waded out into the now receding tidal area, and after a bit of walking we were looking at a group of the prized Crab-plovers! We slowly approached the birds, being able to get quite close to a few individuals as they went about their business and even to watch them catch and eat a number of crabs! Well pleased with our efforts we began to focus on the many other birds in the area, and over our time scanning we compiled a decent list of shorebirds, including Eurasian Oystercatcher, masses of Lesser and Greater Sand Plovers, Kentish Plover, Eurasian Whimbrel, Eurasian Curlew, Bar-tailed Godwit, Ruddy Turnstone, Great Knot, and Terek Sandpiper among many of other species we were now that well acquainted with. A gull/tern roost on a sandspit held a few massive Pallas's Gulls along with numbers of Lesser Crested Terns, while a few Little Terns worked up and down the shoreline. It was also incredible to see the huge numbers of Western Reef Herons spread out throughout the area and fascinating to watch Painted Storks feeding in the ocean. This brought to an end a wonderful day on the coast, and we settled in for a good evening.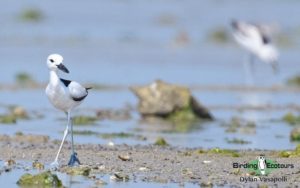 Spending time with the strange Crab-plover was one of the major tour highlights.
Day 7, February 19, 2020. Transfer from Jamnagar to the Great Rann of Kutch           
Today was essentially a travel day as we made the long journey from Jamnagar to the Bhuj region, where we would be based for the next three nights while we would explore the Great Rann of Kutch. The travel went smoothly, and we arrived in the area in the afternoon, with a bit of roadside birding en route under our belts. While we hadn't found anything too exciting it had been great to catch up with Indian Spot-billed Duck, Common Crane, Bank Myna, Pied Bush Chat, and a few of the smart Black-headed Buntings, along with another batch of shorebird-watching, which had produced many of the species we had seen already along with a small group of Dunlins. Our afternoon birding saw us exploring the dry acacia thornveld of the area near Nakhatrana, where our primary target was the localized White-naped Tit. It was great to get out of the car for a while, and it was as if the birds wanted to put on a show, as we did extremely well, finding almost all of our targets in next to no time. We started with a vocal Marshall's Iora, which showed well, improving on the views we had had earlier in the trip, before we heard the characteristic call of our primary target. We headed a short way deeper into the thornveld, and after a quick burst of playback our quarry, White-naped Tit, flew in and proceeded to put on quite a show for us. We sat back and soaked in the stunning and prolonged views we had of this scarce bird, watching it call and feed and go about its business. After having had our fill we tried to find Pallid Scops Owl but were unsuccessful. However, we enjoyed a bonus with great looks at Yellow-crowned Woodpecker and a perched White-eyed Buzzard. With the afternoon moving on we had to slowly start making our way to our accommodation, enjoying the likes of Black-winged Kite, Common Woodshrike, Bay-backed Shrike, Blue Rock Thrush, and Brown Rock Chat on the way. We eventually arrived at our comfortable lodge and settled in for the evening, looking forward to our days exploring the Great Rann of Kutch, a salt marsh reputed to be one of the largest salt deserts in the world.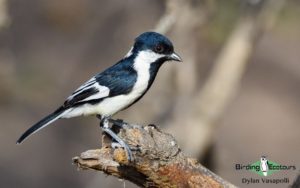 We had some knock-out views of the scarce and localized White-naped Tit.
Day 8, February 20, 2020. Birding the Great Rann of Kutch
Following an early tea and biscuits we started at predawn, bound for the Chhari Dhand area, with our primary target being the enigmatic and monotypic Grey Hypocolius. We made good progress and enjoyed a few stops on the way, where we found our first Chestnut-bellied Sandgrouse and Variable Wheatear. But we were soon halted and forced to find another site because the track we were driving on went into some rougher stuff on the edge of a lake – meaning we couldn't get through. As a consolation immense numbers of Common Cranes and Great White Pelicans were present on the flats and showed well. We headed onward to another site and after a short walk found ourselves surrounded by our target's favorite bushes filled with berries. After a short wait the first call of Grey Hypocolius went up. We had to wait a little while longer until we all got our first views – a female bird that came out into the open, feeding atop one of the bushes. We enjoyed good views for a little while before the bird disappeared into cover. We had to wait a little while longer, and just when thoughts of 'should we move on' began to creep into our minds our patience was rewarded as we were treated to stunning and prolonged looks at a pair of these stunning birds out in the open. We soaked up the views of this highly prized species before beginning to concentrate on some of the other birds in the area.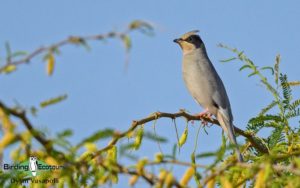 The monotypic Grey Hypocolius is a major target for the region, and a highly prized world bird.
A few Alpine Swifts moved overhead, while the grassy verges hosted Zitting Cisticola and Graceful Prinia, among others. Following our satisfying packed breakfast we resumed birding the area, and checked a number of sites on our way back to our lodge. We were fortunate and enjoyed a healthy sampling of some of the species of the area, including more Chestnut-bellied Sandgrouse, Steppe Eagle, Pallid Harrier, Eurasian Sparrowhawk, Great Grey Shrike, Ashy-crowned Sparrow-Lark, Rufous-tailed and Greater Short-toed Larks, Dusky Crag Martin, Red-rumped Swallow, Common Chiffchaff, both Lesser and the scarce Desert Whitethroats, which gave us good views, improved views of Eastern Orphean Warbler (which we had seen earlier on the trip, albeit briefly), numbers of Rosy Starlings, Desert Wheatear, Brown Rock Chat, Yellow-throated Sparrow, Tawny and Long-billed Pipits, and a Grey-necked Bunting that left us wanting more. Following a successful morning in the Great Rann of Kutch we eventually returned to our lodge in time for a late lunch, following which we took it easy for a while before resuming birding in the late afternoon. With the main focus being on the night birding to come, we first birded the last bit of the afternoon along a dry riverbed, which was on the quiet side, but we could better our views of Grey-necked Bunting and found a surprise Eurasian Wryneck skulking around among many of the area's other common species. The nocturnal part then followed, but it was pretty quiet, with not much calling or moving about. However, close to our end point we finally found a calling Indian Nightjar, which we managed to locate and then enjoyed good views of, albeit rather briefly. A pair of Spotted Owlets that allowed prolonged views rounded off another successful day.
Day 9, February 21, 2020. Birding the Great Rann of Kutch
Our second full day exploring the Great Rann of Kutch saw us heading westward from our base, where we would explore a mix of agricultural/cultivated lands, acacia thornveld, and open grasslands. We began things in a mix of acacia thornveld and cultivation and enjoyed a birdy morning exploring these habitats. The fields supported a wide array of species, and we spent the bulk of our time working them. We did well, enjoying groups of Chestnut-bellied Sandgrouse, a large flock of Common Cranes, Common Quail, a number of the prized White-browed Bush Chats, a mix of larks including Indian Bush Lark, Ashy-crowned Sparrow-Lark, and two of the scarce Hume's Short-toed Larks among many Greater Short-toed Larks, and a variety of Pipits including Paddyfield, Long-billed, Tawny and a Blyth's, of all of which we enjoyed good views. Not to be forgotten the acacia too produced some good birds, and we enjoyed sightings of a perched Eastern Imperial Eagle, the scarce Marshall's Iora, Rufous-fronted Prinia, Sykes's Warbler, and masses of Grey-necked Buntings that were scattered all over the area. During our walk back to the vehicle the wind picked up substantially, which didn't bode well for the rest of the day. We then moved to the Great Indian Bustard Sanctuary, where we would spend the afternoon – well that had been the plan, at least. With the day being a holy day (unknown to us at the time) this meant that the park was closed and we couldn't get in. Beaten, we retreated back to the Fulay area, where we spent the afternoon instead, trying for a few of the species we had missed so far. We birded a few different areas, but with a strong wind and a fairly intense sun there wasn't much activity, and we retired in the late afternoon, ready to call it a day. Our afternoon efforts, however, did reward us with a few species, which included a pair of Garganeys and a pair of Eurasian Wigeons, numbers of Greater Short-toed Larks, Western Yellow Wagtail, and further groups of Grey-necked Buntings, which seemed to have invaded the whole area en masse.
Day 10, February 22, 2020. Great Rann of Kutch to Little Rann of Kutch
We had the morning available for some further local birding and spent it near Nakhatrana in the hills dominated by acacia thornveld. We tried again chiefly for some species which had been evading us so far, such as White-bellied Minivet and Rock Bush Quail, but were sadly unsuccessful on both accounts. But we still enjoyed a productive morning session that offered a number of great birds, such as the prized White-naped Tit and the scarce Marshall's Iora. Other species here were Pallid Harrier, Eurasian Hoopoe, Common Woodshrike, Small Minivet, Grey-breasted Prinia, Sykes's Warbler, and Grey-necked Bunting, but the undoubted highlight was finding a pair of Barred Buttonquails that were on the edge of a small puddle. We spooked them before they could get to the water and, anticipating that they would try and drink again, moved to a good vantage area a bit farther away and waited. We didn't need to wait long before the pair appeared again, sauntered to the edge of the puddle, and spent a short time drinking. Buttonquails are notoriously shy birds and often very difficult to see well on the ground (compared to the often typical 'flushed' views), and we were thrilled at getting such excellent and prolonged views of these birds. Following breakfast we checked out and began the long drive to the Little Rann of Kutch, which would take the rest of the day. We had a few more cultural stops along the way to admire some of the region's unique craftwork and even saw a number of methods and designs in action. No birds of major interest were seen during the day, but we did round it off with the sunset over a bridge in the Little Rann of Kutch filled with nesting Streak-throated Swallows and Little Swifts..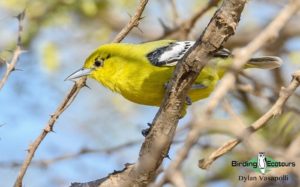 The scarce Marshall's Iora was a sought-after bird in and around the Great Rann of Kutch.
Day 11, February 23, 2020. Full day birding the Little Rann of Kutch
An early start got things under way as we headed for the Nalsarovar area in the southern part of the Little Rann of Kutch for the day. We made good progress, and an opportunistic stop at a roadside dam gave us a handful of Pheasant-tailed Jacanas and a large group of Knob-billed Ducks among other more widespread waterbirds. Soon enough we had linked up with our local guide who would take us around the area, and we were whisked off to a nearby field, where the prized and nomadic Indian Courser was the main target. Fortunately the birds were present in the field, and we counted seven individuals in total and enjoyed some great and prolonged looks at these curious birds. After spending some time watching them we headed for our next destination, which was a small roadside stream with a clearing cut into the reeds, which had been attracting a few crakes recently. After settling in, sitting on the ground next to the clearing, we were amazed when almost immediately a tiny Baillon's Crake popped out into the open before a much larger, immaculately marked Spotted Crake appeared. As if that weren't enough a short while later a scarce Ruddy-breasted Crake joined the melee. We spent the next hour at this site, taking in the breathtakingly excellent views of all these cryptic skulkers and watching them feed, paying no attention to us at all – just pure magic! In the end there were no less than three Baillon's Crakes, two Spotted Crakes, and one Ruddy-breasted Crake working the area, and we also noted a number of Paddyfield Warblers and a few Yellow Bitterns as well. Red-necked Falcon was the next target to fall, and we enjoyed stellar looks at a nesting pair after a short walk. Coincidentally a pair of Red-naped Ibis were nesting in the same tree, and it was interesting to watch the falcons dive-bomb the ibis every time they flew into the tree as well. Our next target was the Critically Endangered (IUCN) Sociable Lapwing, and following a short drive to get to the area where a small flock of around 40 individuals had been wintering we set about trying to find them. They weren't in any of their regular haunts, and we began searching some of the surrounding areas, when we picked up a small group of four birds flying in. They fortunately landed not too far away, and after a short walk we found ourselves in a good position and enjoyed excellent looks at these highly prized birds – which were resplendent in their fine breeding-plumage colors! Some distant Sarus Cranes along with Asian Openbill and Woolly-necked Stork were also noted as new birds in the area.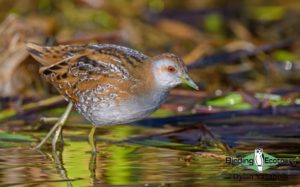 Baillon's Crake kept us entertained for some time, together with other crakes.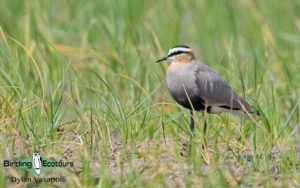 The Critically Endangered (IUCN) Sociable Lapwing is a great bird to find on any tour, and we were very privileged to see this species.
Following a break for lunch we resumed with a visit to a nearby wetland, which hosted a large flock of wintering Demoiselle Cranes. We estimated the flock to be between 1500-2000 birds, and it was wonderful to see these elegant cranes so well. A wide array of other more widespread waterbirds were also present here, and we found our first White-tailed Lapwing along with both Sand and Grey-throated Martins. Today was a very birdy day, and we recorded well over 100 species, with some of the other highlights being Common Quail, Chestnut-bellied Sandgrouse, Pallid and Montagu's Harriers, Isabelline Shrike, Clamorous Reed Warbler, and Bluethroat. We returned to our lodge in the late afternoon after a highly successful day.
Day 12, February 24, 2020. Birding the Little Rann of Kutch
With another full day at our disposal for birding the area, we set off predawn once more, this time venturing for the Wild Ass Wildlife Sanctuary and its vast salt flats and scattered trees. We arrived in good time and started exploring the area. One of our main targets was the scarce Macqueen's Bustard, which winters in the area in low numbers. We covered a lot of ground during the morning and searched many good areas, but luck wasn't on our side and the bustard eluded us. Fortunately the other one of our main targets, the Asiatic Wild Ass, was for more cooperative, and we enjoyed several great looks at this handsome mammal and ended up seeing many individuals, including several large herds. We also did well to find the scarce Wild Cat, although it didn't hang around too long and disappeared into its den before we could all get good looks at it. Birds were on the sparser side, and species seen during our time on the flats included Chestnut-bellied Sandgrouse, Crested Lark, Long-billed Pipit, and Desert Wheatear. A stop at a roadside pan on our way back held a huge flock of Demoiselle Cranes, with a few Common Cranes scattered among them, and also produced great looks at numbers of Greater Flamingo, Spotted Redshank, and a showy Clamorous Reed Warbler. We took a break over the midday period before resuming later in the afternoon.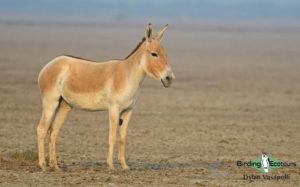 Asiatic Wild Ass is a big target on this tour and didn't disappoint.
Our first stop was at a small roadside pond, which was teeming with ducks, and we found our first Cotton Pygmy Goose, including a few handsome males, and a group of Ferruginous Ducks among others like Common Pochard, Knob-billed Duck, Gadwall, and most of the 'common' species. We then ventured to a nearby quarry where a pair of the sought-after Indian Eagle-Owls were nesting. We kept our distance and enjoyed great views of both adults; the female was sitting on the nest with three small chicks underneath while the male looked on from a perch near the nest. Following our stellar looks at these birds we continued to our last stop at one of the larger dams, but not before finding a field littered with Indian Coursers and Chestnut-bellied Sandgrouse. We spent the last bit of daylight scouring the dam for any unusual birds but were unable to find any new species. There were absolute masses of birds around the dam, however, with huge numbers of Common Cranes roosting, along with others such as Dalmatian Pelican, Greylag Goose, Eurasian Wigeon, Kentish Plover, Temminck's Stint, and a stunning male Montagu's Harrier that sent all the birds flying. As it started to get dark we staked out a Bengal Fox den but had to leave without them having ventured out when we began searching for our main quarry, the localized Sykes's Nightjar. We worked a patch of thorny scrub for some time, and after a few brief views that left us wanting more we eventually found a relaxed individual that allowed us to approach, giving excellent views! With the nightjar under our belts we retired for the evening after another successful day.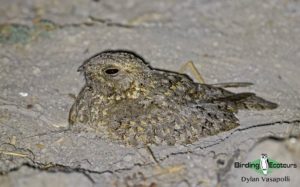 The scarce Sykes's Nightjar eventually gave us good views.
Day 13, February 25, 2020. Birding the Little Rann of Kutch and transfer to Ahmedabad
We had one final morning available for birding the area, so we had another pre-dawn start as we ventured deeper into the Rann to try for a few more species. After a bit of a drive we arrived at our birding site and immediately started trying to find one of our main targets, the Greater Hoopoe-Lark. After a short search we finally heard one and moments later had it in our sight. This is an incredibly difficult bird to find in India, right on the edge of its range, and was a big bonus for us! We were able to get a bit closer to the bird and found there to be a pair working the area. They were fairly active and soon disappeared from view, and we left them be. We tried to track down one of our other targets, Macqueen's Bustard, but our luck wouldn't hold for this species and again we didn't find it. Following a picnic breakfast we continued working the area and found another pair of Greater Hoopoe-Larks, these birds being a bit more accommodating than the earlier ones had been. We watched as the male dug up a grub of sorts and then flew far into the vast salt flats. We kept track of it, noted were it landed, and made our way there. After another short search we found it again, and a short while later our suspicions were confirmed when we found a very-well-camouflaged youngster hiding on the ground near the adult. We sat tight and waited, and sure enough we could watch the young bird being fed by the adult at length. We couldn't believe the great views we had of these sought birds and after this very special sighting left them in peace. We had an uneventful drive back to our lodge, with the only notable sighting being a large flock of Demoiselle Cranes (well into the thousands). Following lunch we checked out, made our way to Ahmedabad, and settled in for the evening. Traditionally the tour would conclude in the morning, but as we had flights one day later, so we had one final day to explore Gujarat.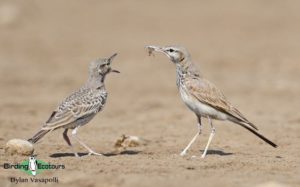 The young Greater Hoopoe-Lark about to be fed by a parent – what a sighting!
Day 14, February 26, 2020. Birding Indroda Nature Park and exploring Ahmedabad
Our last day of the tour had come, and the morning saw us heading to the excellent Indroda Nature Park on the outskirts of town, where we spent a few hours exploring the area. This park has a botanic garden, picnic area, and a small zoo, together with an extensive 'wild' area with tons of good habitat to explore. The birding was great, and there was never a dull moment, with some early excitement coming from a few Black-rumped Flamebacks, which put on a show for us, along with the snazzy Spot-breasted Fantail. We spent a short while admiring the subtle differences between Hume's Leaf Warbler, Greenish Warbler, and Blyth's Reed Warbler before running into a feeding party that held Purple-rumped Sunbird, Small Minivet, and two White-browed Bulbuls right on the edge of their range here. A pair of Large Cuckooshrikes wasn't happy with a group of House Crows, and we witnessed some heated exchanges between these birds, while an Indian Stone-curlew provided some calm. A large, active group of Tawny-bellied Babblers was a pleasant surprise and added another species to our tally. We also enjoyed a wide array of other species during our time here, which included Greater Coucal, Crested Honey-Buzzard, Booted Eagle, Rufous Treepie, Indian White-eye, Red-breasted Flycatcher, and Yellow-throated Sparrow. Nilgai and Northern Plains Gray Langurs provided entertainment on the mammalian side of things. Following a short lunch break we took in some of the area's historic sites, including the Adalaj Stepwell and the Hutheesing Jain Temple – all of which showcased incredible early architecture and were excellent to see. We retired in the afternoon, and, following dinner, the tour concluded with the group departing at different times the following day.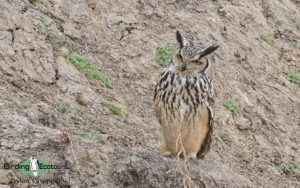 Finding owls is always exhilarating, and this Indian Eagle Owl near its nest was no exception.
I just want to thank the group for joining the tour and for being excellent clients that made the trip all the more enjoyable and the birding a delight! Thanks must also go to our trusty local guide, Shyam. Overall we had a mighty successful tour, finding nearly all of the possible bird and mammal specialties the region has to offer! There were too many highlights to mention, but some of our top experiences were finding some of the scarce and highly prized birds such as Crab-plover and Sociable Lapwing, while some of the more common species were also appreciated, such as the  ever-stunning Greater Flamingo, the immense flocks of Demoiselle Cranes we encountered, and the exquisite Green Bee-eaters. Spending time with some incredibly confiding Crakes, Baillon's, Spotted, and Ruddy-breasted, was another major highlight, as was our excellent sighting of the Asiatic Lion.
Please see the downloadable PDF above with the full species lists included.