We would like to give you our recommendations about the timing of a birding (or for that matter, mammal viewing) visit to Tanzania.
The timing of the wildebeest migration is one of the key items to discuss, as most birders want to be in Tanzania when these beasts are migrating through the country rather than through Kenya on the Maasai Mara side. We actually run our main 19-day annual set-departure bird tour (as opposed to our week-long "intro tour") in April, which used to be considered the "rainy season", although rain is rarely a big or real problem in this relatively arid country even in the wet season as showers often don't last for more than a couple of hours*; Tanzania is well worth visiting year-round. Due to a changing climate, we have found that April has been dry for some years now, and it's less expensive (and crowded) than later in the season, when most wildlife photographers and birders visit. April has also proven really good for catching up with the wildebeest migration on all the tours we've operated to date. While both the weather and the wildebeest are unpredictable from year to year (which is part of the excitement; this is not a zoo!), we're able to drive to wherever the wildebeest are on the vast plains of the Serengeti so as not to miss them.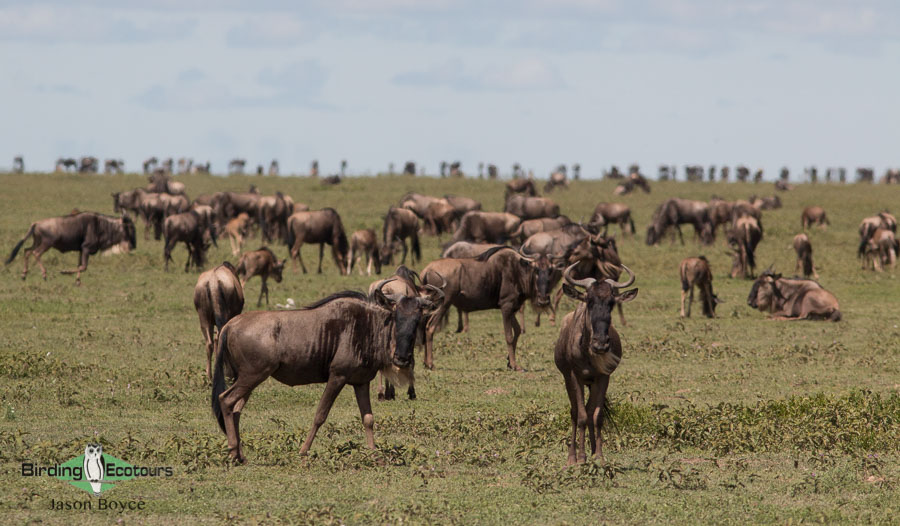 The impressive wildebeest migration is a definite highlight of Tanzania.
As indicated, April is also a superior month to visit Tanzania because it's not as crowded with general nature tourists, as it is during the June through October period. This (June through October window) is the classic dry season of Tanzania, but please note that much of the rain that does fall in the period of "long rains" falls as afternoon thunderstorms, which don't interrupt the birding for long and which actually cool things down nicely (see * above). November and December are considered the season of the "short rains", but (once again) this is usually not in reality a huge problem. Tanzania is actually good to visit all year round!" You'll notice that our timing blogs for other East African countries also mention similar things, e.g. for Uganda as well, while we believe that June through September is the optimal timing, showers rarely interrupt the birding and game viewing for long there either and indeed the whole region is good to visit at any time of the year.
Being tropical and extremely close to the equator, Tanzania does not have proper seasons in the usual sense. Temperatures in most parts of the country remain warm throughout the year. But please note that a large part of Tanzania is wonderfully mountainous country, and high-altitude areas can of course get chilly. The coast of Tanzania, on the other hand, is generally hot and humid.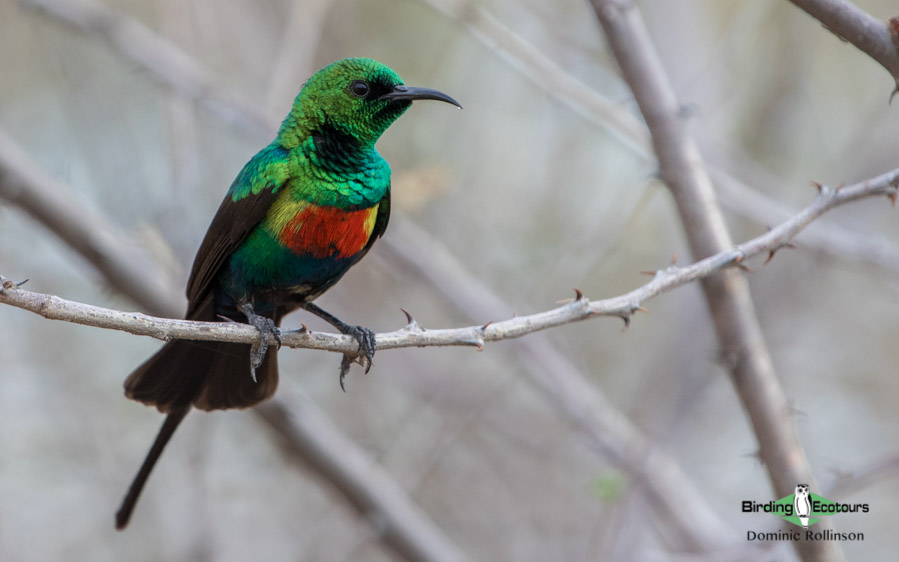 Beautiful Sunbird is one of the many amazing tropical bird species to be seen in Tanzania.
If you want to combine your bird/nature tour to mainland Tanzania with a visit to Zanzibar or Pemba Islands, we have found that this has worked well for us either before or after our set departure trips to Tanzania. However, Zanzibar does usually have a warmer dry season in January and February, and a cooler dry season from June through October. Again, probably because of climate change, we've found that weather patterns seem to be becoming less predictable.