In this article, we recommend the best months to tour Uganda for birding, photography and wildlife viewing. The take home message is that it's well worth visiting this compact, mega-diverse country any time of the year, but if you have a choice then June through September is optimal timing.
Uganda, described by Sir Frederick Jackson (an ornithologist who once governed the country) as "a hidden Eden", and by others as "the Pearl of Africa" and "the primate capital of the world", is only the size of England or Oregon, yet boasts 1,096 bird species! It has a huge array of habitats packed into a tiny country that ranges hugely in altitude from the shores of Lake Victoria to the 16,795 feet (5,107 meters) highest peak of the Ruwenzori Range (the "Mountains of the Moon"). Most of the roads linking the plentiful national parks such as Bwindi impenetrable National Park and Kibale National Park are paved, and since it is a small country, driving distances are relatively short.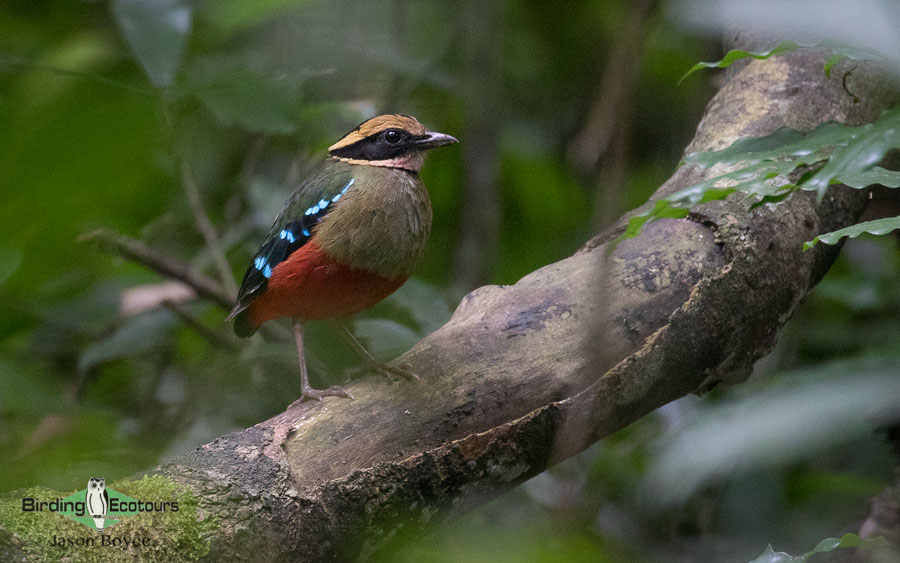 Uganda is perhaps the best place to see Green-breasted Pitta.
Uganda has excellent weather year-round, typically ranging from 65 to 90 F (about 18 to 33 C) during the day, and nicely cooler at night. Being a tropical country straddling the equator, it does not have seasons in the usual sense of the word, but does have two wet "seasons" which generally run from March to May and then again from late September to November each year. Some areas such as the beautiful and wonderfully remote Kidepo Valley National Park and the more famous Murchison Falls National Park are relatively arid though, so less affected by rain compared to the forested parts of the country which include the two parks mentioned earlier (Bwindi and Kibale) which is where gorillas and chimpanzees are often seen.
General birding and wildlife viewing in Uganda is good all year round; even in the wet seasons it's rare for rain to fall all day long and, instead, showers usually only last one to three hours, leaving the rest of the day for enjoying birding and wildlife. So, indeed you can have a very pleasant bespoke birding/photography/nature tour to Uganda any time of the year. Having said this, we do schedule our actual set departure birding and primate tours to Uganda within the June to September window (specifically usually in August, less often in July), which we consider the optimal timing. We believe this timing is perfect, for a variety of reasons:
Intra-African migrants from southern Africa are in Uganda in August (and at least the month before and after). These include various cuckoos such as Barred Long-tailed Cuckoo which spends the southern summer in countries such as Mozambique and Malawi. And they also include hirundines like the Vulnerable and declining Blue Swallow, which breeds in high altitude grasslands of South Africa, Zimbabwe, Malawi and other countries and then migrates to a completely different habitat. In Uganda it's great to see this elegant swallow flitting around and foraging near Shoebills in the famous Mabamba Swamp, adjacent to Lake Victoria in Uganda. As an aside, it's worth mentioning here that the amazing Mabamba Swamp can be birded on a 1-day tour out of Entebbe or Kampala, although we of course also include it as part of our annual comprehensive Uganda birding tour.
Birds are in spectacular breeding plumage at this time of the year, as August is right in the middle of the main nesting season in Uganda. These include a whole suite of brightly-colored weaver species, the males of which are spectacular-looking at this time of the year, with dazzling yellow, orange, brown and black plumages. Fox's Weaver is endemic to Uganda.
Some of Uganda's best birds are most easily located from June through September (August being perfect). These include the Vulnerable, extremely localized Grauer's (African Green) Broadbill, which nests at this time of the year. Mubwindi Swamp in Bwindi Impenetrable National Park is the place we look for this incredible bird on our usual annual Uganda birding and wildlife tour. Eastern (Mountain) Gorilla also inhabits this area, just to make the birding even more exciting! Uganda has a large number of these mountain gorillas and looking for them in Uganda is less expensive than in Rwanda. The dazzling Green-breasted Pitta can also be reliably found when it displays at this same time of year (it becomes very elusive at other times of the year when it doesn't give away its presence by its display call!). Chimpanzee and other charismatic primates also lurk at the same site we look for the pitta,

Kibale National Park

.
As previously mentioned, June through September is one of the dry seasons in Uganda, making travel more enjoyable and meaning that birding does not get interrupted much by rain (although as indicated, this is not as big a problem as it is in "rainforest" countries).
Also, there is plenty of food available for other wildlife during this month. This can make it more successful for primate watching as figs, which are favored by all kinds of great apes and smaller monkeys, are fruiting in abundance. Similarly, fresh grass is available for grazing mammals and the typical African megafauna has plenty to feed on. Game viewing is good year-round in Uganda, but arguably even better during the window we recommend as the optimal time for doing a wildlife tour in Uganda.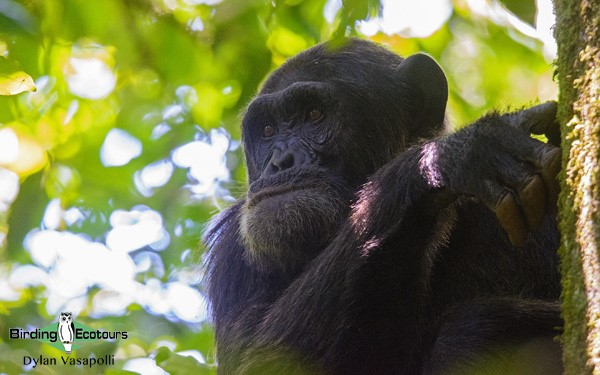 A number of primates are possible on our Uganda birding tours, Eastern (Mountan) Gorilla and Chimpanzee being some of the most impressive of them.
In summary regarding timing, we do run custom birding and wildlife tours to Uganda virtually any month of the year, because it's not one of those countries that never has bad seasons that are unproductive, for example even the "rainy" seasons do not tend to pose a serious problem. But we do recommend that if you are able to, you do join a birding/wildlife trip to "the Pearl of Africa" during the June through September period, with July and August being ideal.