Ultimate Uganda Birding Tour – Shoebill, Albertine Rift Endemics and Great Apes
Go to: Uganda Birding Tours | Birding Tours in Africa | All our birding tours
Download Itinerary
Ultimate Uganda Birding Tour – Shoebill, Albertine Rift Endemics and Great Apes
August 2024
This Uganda birding and mammal extravaganza allows you to find the most important birds and primates that Uganda has to offer. Shoebill is almost guaranteed. Over 20 Albertine (Western) Rift endemics are also sought, including one of Africa's most fabulous turacos, Rwenzori Turaco, and of course the "must-see" Grauer's (African Green) Broadbill. We have not yet missed Green-breasted Pitta on any of our trips – Uganda has become the classic country for finding this otherwise very difficult bird. We also look for other range-restricted birds, such as Red-faced Barbet that is also found in a remote part of Tanzania excluded from most birding tours to that country. Ross's Turaco, Great Blue Turaco (almost twice the size of other turacos), and various other birds are virtually garden birds here in Uganda, "the Pearl of Africa". Other highlights of our Uganda birding tour are a great many primates such as Uganda Red Colobus, Guereza, Eastern (Mountain) Gorilla, and Chimpanzee, not to mention the spectacular scenery, including such famous places as Lake Victoria (the continent's largest lake), Bwindi Impenetrable Forest National Park, and last but not least the Virunga Mountains.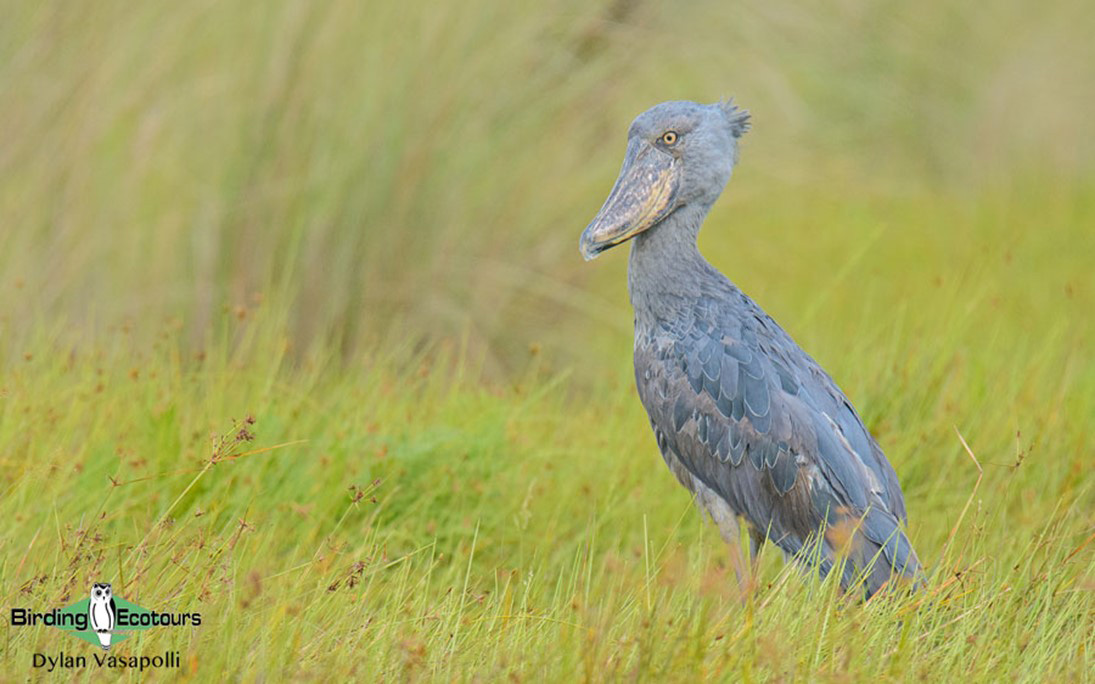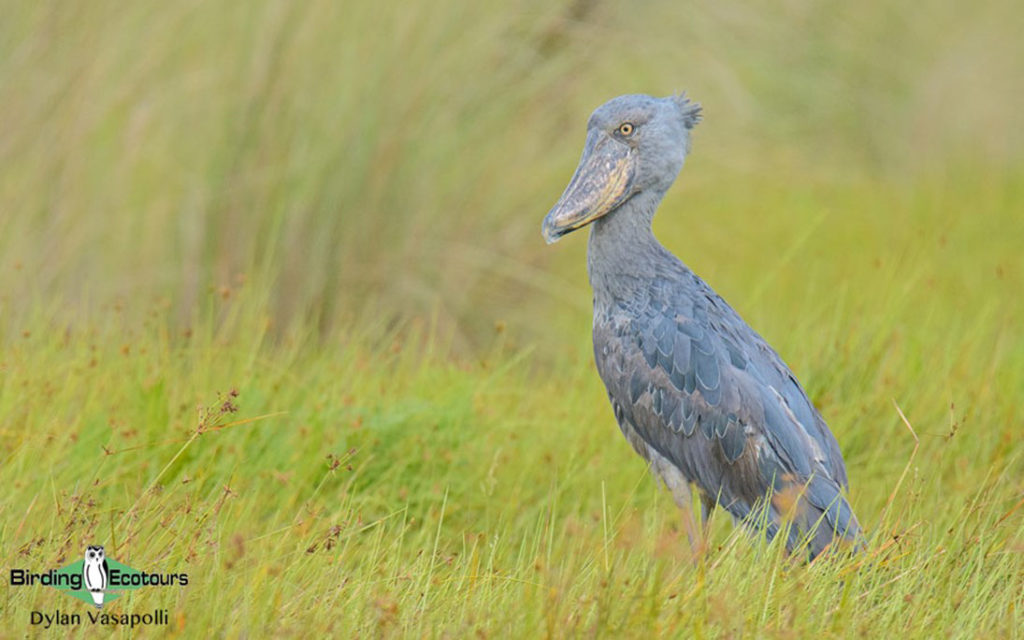 Shoebill is one of the most sought-after birds in the world, and is one of our special targets on this tour!
The latter part of this tour is good for a host of more widespread African birds, Lion, with some luck Leopard, White Rhinoceros, and fabulous sites such as Murchison Falls, where the mighty Nile is forced through a narrow gap.
We have the option to spend some time with Eastern (Mountain) Gorillas on this tour.
PLEASE NOTE: This trip is moderate in terms of fitness required, except for some days that are considered quite strenuous, such as the day of gorilla trekking and the day hike into Mubwindi Swamp and back. Chimpanzee trekking and looking for Green-breasted Pitta can also involve quite a lot of walking. You are welcome to opt out of any activities if you don't feel you'll manage them. There are also many days of forest birding; please wear appropriate clothing items (dark/neutral clothing and caps instead of very wide-brimmed hats) and be ready to spend good amounts of time on foot with a good chance of soaking rain, so protection for camera gear is advised.
Itinerary (19 days/18 nights)
Day 1. Arrival at Entebbe International Airport and birding the shore of Lake Victoria
We'll fetch you from Entebbe International Airport and check in at our guest house before starting the birding. The dazzling Black-headed Gonolek as well as the striking Double-toothed Barbet are both common around Entebbe. Bat Hawk and African Hobby are sometimes seen around town. Broad-billed Roller, Palm-nut Vulture, numerous weavers, and perhaps our first Great Blue Turaco might be seen as we bird the Entebbe Botanical Garden on the edge of Africa's largest lake.
Overnight: The Boma, or similar, Entebbe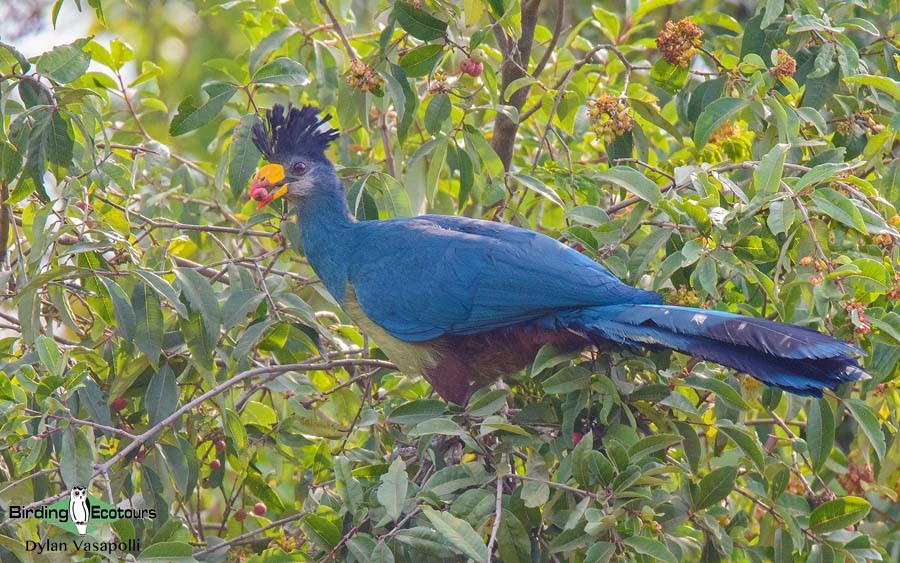 The Great Blue Turaco is magnificent!
Days 2 – 3. Shoebill and transfer to Lake Mburo National Park
Bypassing the bustling city of Kampala (adjacent to the more pleasant small town of Entebbe) we head for Mabamba Swamp, one of Africa's most accessible sites for the monstrous Shoebill. The papyrus-swamp-loving Red-chested Sunbird, numerous weaver species that build their impressively neat nests in the wetlands, coucals, and many tropical waterbirds such as Lesser Jacana abound as we do a dugout canoe trip into the huge swamp. Swamp Flycatcher is also common here. After seeing Shoebill we continue to our site for Orange Weaver, often seeing Eastern Plantain-eater, Ross's Turaco, large flocks of the noisy Great Blue Turaco (the far-carrying calls of which are one of the characteristic sounds of Uganda), Grey Kestrel, and a very big, beautiful barbet, Double-toothed Barbet.
We eventually arrive at Lake Mburo National Park (where we'll spend two nights), which breaks the journey between Entebbe and the southwestern border region of Uganda, where we will look for over 20 Albertine Rift endemics (this, also known as the Western Rift, is a branch of the Great Rift Valley).
The following morning we take a boat trip on the lake, and this is one of the easiest places to find African Finfoot. We sometimes see overwintering Malagasy Pond Heron and Papyrus Gonolek in addition to an array of kingfishers including the likes of Malachite Kingfisher, Giant Kingfisher, Pied Kingfisher, and the rare Shining-blue Kingfisher. In general this park gives us an excellent opportunity to see a lot of arid-country birds, which can include Blue-naped Mousebird, Bare-faced Go-away-bird, Golden-breasted Bunting, and the incredibly localized, rather "thin-on-the-ground" Red-faced Barbet, along with a more widespread East African species, Spot-flanked Barbet. Nubian Woodpecker is often heard before it is seen. Like in most arid-habitat parks in East Africa a large bird list can be accumulated very fast, and the above species are just a few of the many goodies we expect to find. This is the only place where we're likely to see Plains Zebra during our Uganda birding tour, and there are a lot of other mammals as well, such as Hippopotamus, African Buffalo, Defassa Waterbuck, Bohor Reedbuck, Topi, Common Eland, and many more.
Overnight: Rwakobo Rock, Lake Mburo National Park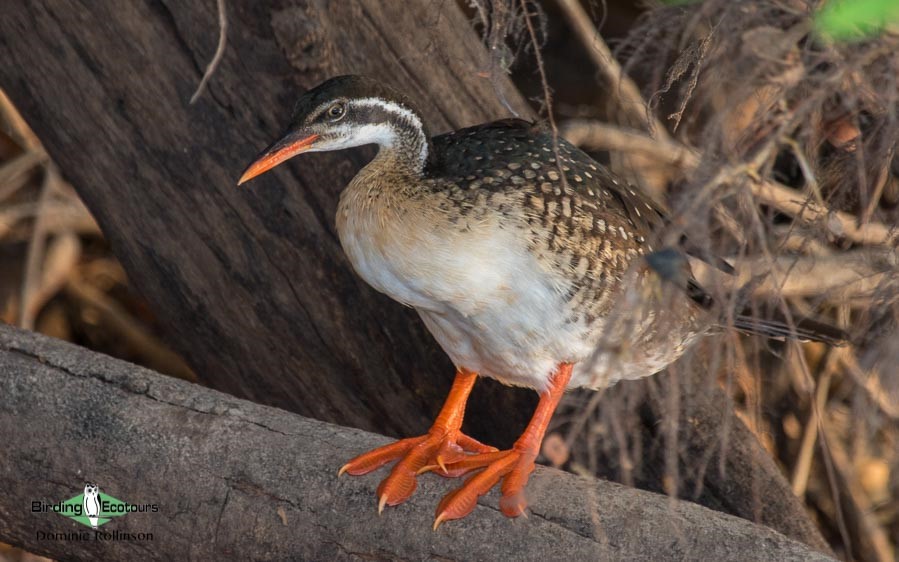 Sometimes we see up to five African Finfoots at Lake Mburo.
The Eastern (Mountain) Gorillas here freely roam into neighboring Rwanda and the DRC, but with extreme luck we might stumble across them (usually we have to wait until we get to Bwindi Impenetrable Forest National Park, though). One of the main reasons we include this park on our Uganda birding tour is to look for the gorgeous Rwenzori Turaco. This park has a lot of bamboo forest, in which we search for Abyssinian Ground Thrush. The very rare Shelley's Crimsonwing is always possible – this Endangered (IUCN) species seems to be declining, and for once not because of humans. We may get a head start with some other Albertine Rift endemics, but most of these will have to wait for Bwindi.
Overnight: Travellers Rest, Kisoro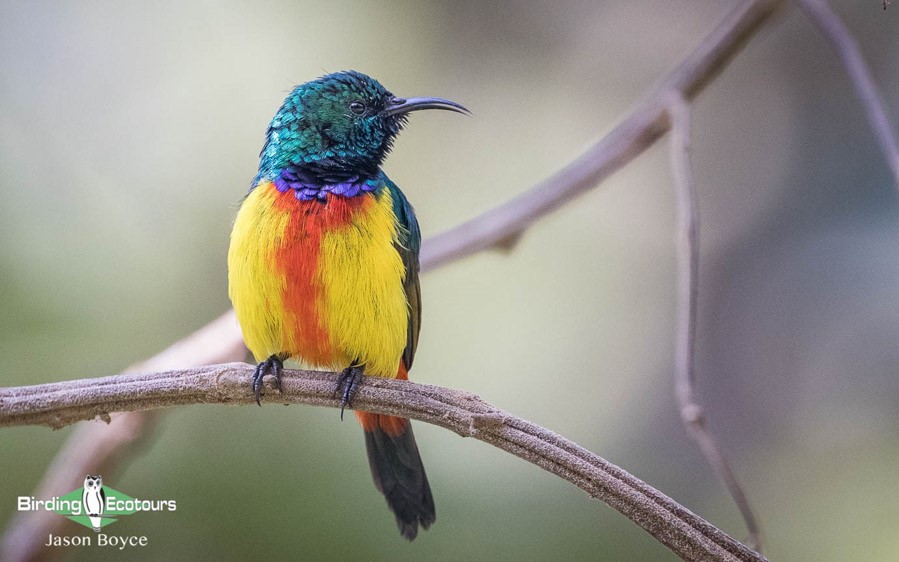 The beautiful Regal Sunbird is an Albertine Rift endemic.
Days 6 – 7. Ruhija, Bwindi Impenetrable Forest National Park
We travel to one of Africa's richest forests for primates and birds, Bwindi Impenetrable Forest National Park, and start in its high-altitude Ruhija part. We'll start birding the forest-covered hills as soon as we arrive, looking for the beautiful Black Bee-eater and also trying to find Grauer's Swamp Warbler at a roadside site, so that we can reduce the length of the long walk on day 6, this warbler occurring right in the lower reaches of Mubwindi Swamp. Mountain Yellow Warbler might also be seen, nice to compare with Papyrus Yellow Warbler, for which we try another day. A walk most of the way down to this swamp can't be avoided, though, as Grauer's (African Green) Broadbill, one of Africa's most desirable birds, also occurs there.
The good-looking, highly localized Yellow-eyed Black Flycatcher also lurks pretty close to the bottom reaches. The walk down to the site for this broadbill (and back) takes a large part of the day, but this is one of the best birding days of the entire tour. Trip participants usually end up getting a constant stream of life-birds throughout the day, mainly Albertine Rift endemics. Banded Prinia, Mountain Masked Apalis, Rwenzori Apalis, Chestnut-throated Apalis, the strange-looking (and dull for a barbet) Grey-throated Barbet, Red-faced Woodland Warbler, and up to four species of quiet, brightly colored forest finches known as crimsonwings (all of them very difficult, though!) are often encountered. There are too many high-quality species to list here, but we hope to find Olive-breasted Greenbul (one of the more attractively colored greenbuls – we'll see a great many of the duller ones, as Uganda is absolutely full of them, presenting quite an identification challenge). We do need to mention a couple of the other range-restricted species as well, though, – the very long-tailed Blue-headed Sunbird, the dazzling Regal Sunbird, Stripe-breasted Tit, Rwenzori Batis, and also slightly more widespread species like the fabulous Bar-tailed Trogon and Rwenzori Hill Babbler.
Overnight: Trekker's Tavern Cottages, Ruhija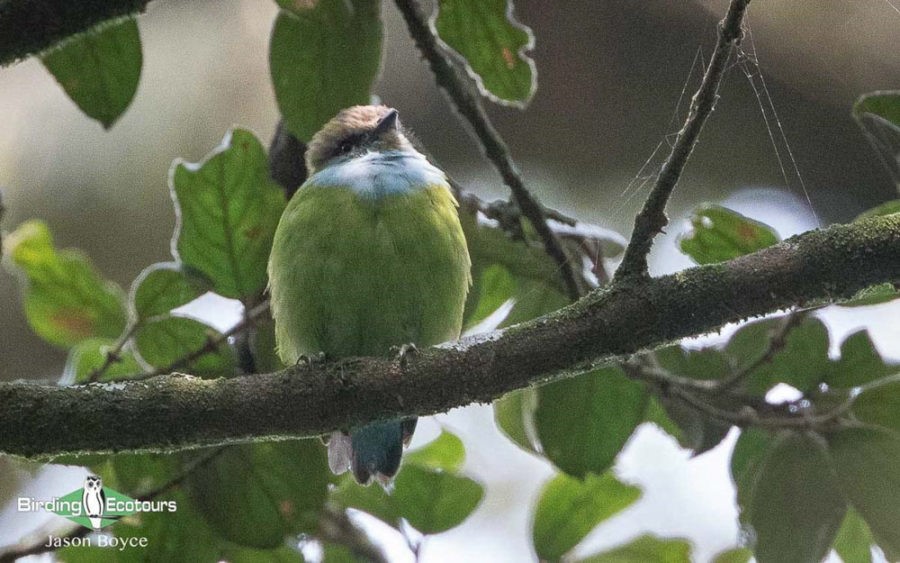 The highly prized Grauer's (African Green) Broadbill is another major target.
Days 8 – 10. Buhoma, Bwindi Impenetrable Forest National Park: birds and optional gorilla trekking
En route between the higher-altitude Ruhija and the lower-elevation Buhoma sections of the park we stop to bird "The Neck", which allows us to see quite a number of species we won't find elsewhere. Black Bee-eater and Cinnamon-chested Bee-eater are both quite easy to see here. Chubb's Cisticola duets from the thickets. Black-and-white Shrike-flycatcher (also known as Vanga Flycatcher) might be seen – this charismatic bird usually moves around a lot (it's an extremely lively species) and makes lots of noise as it flies around from one perch to the next. It has a fabulous crest, but the female is chestnut and white, whereas the male is black-and-white with striking yellow eyes. We might also see Brown-throated Wattle-eye, Mackinnon's Shrike, Bronzy Sunbird and several other sunbirds, African Grey Woodpecker, Augur Buzzard, etc.
Deep-forest birds we'll seek include many more localized endemics that barely get into neighboring countries – Grauer's Warbler (not to be confused with Grauer's Swamp Warbler, which we should have already seen), Bar-tailed Trogon, Petit's Cuckooshrike, Lühder's Bushshrike, Brown-capped Weaver and other weavers of the forest canopy, Red-throated Alethe, and lots of others. We'll be sure to spend time looking for slightly more widespread birds as well, including the skulking White-spotted Flufftail, Red-shouldered Cuckooshrike, Olive-bellied Sunbird, some beautiful forest barbets such as the large Yellow-billed Barbet, the dazzlingly bright and shiny, green-and-yellow African Emerald Cuckoo, and, last but not least, Black-billed Turaco.
Forest-edge birding can be equally rewarding (and often easier for photography!) with such specials as Dusky Long-tailed Cuckoo, Great Blue and Ross's Turaco, Grey-winged Robin-Chat, Black-necked Weaver, Red-headed Malimbe, Northern Double-collared Sunbird, Grey-headed Nigrita and many others. Over our two full days here we will spend plenty of time birding the forest trails, forest edge and adjacent agricultural areas.
At Buhoma itself, there is the opportunity for one day optionally trekking for Mountain Gorillas (this is a strenuous activity; if you decide not to join, you'll be taken birding instead, or you can relax or look at and photograph birds around the lodge).
Overnight: Ride 4 a Woman, Buhoma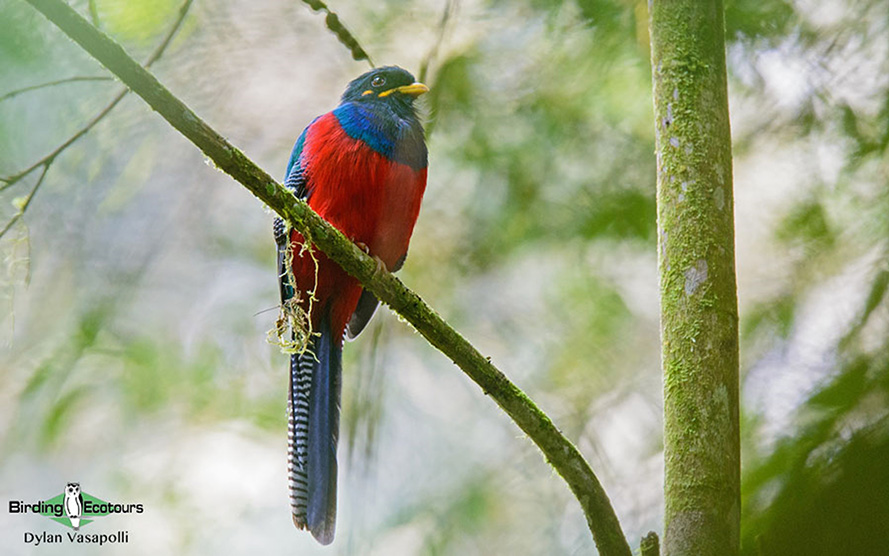 Bar-tailed Trogon occurs in the Bwindi Impenetrable Forest.
Day 11. Birds and mammals of Queen Elizabeth National Park
We stop over in Queen Elizabeth National Park (often staying on the Mweya peninsula itself, along the Kazinga Channel) en route to Kibale Forest. England's queen officially opened this national park (well-known for its tree-climbing lions and boasting 100 mammal species and 600 bird species!) in 1954. One of the highlights of our stay here is getting out on the Kazinga Channel by boat and seeing Nile Crocodile, Hippopotamus, and a great many waterbirds. Naturally we also see Common Warthog, African Buffalo, Uganda Kob, and a plethora of other mammals. Forest Hog usually steals the show, however.
Overnight: Bushlodge, Queen Elizabeth National Park
Days 12 – 13. Kibale National Park – the Chimpanzee/Green-breasted Pitta combo
The drive from Queen Elizabeth to another fantastic national park, Kibale, is amazing: We traverse the foothills of the "Mountains of the Moon" (the Ruwenzori Range) and cross the equator, eventually arriving at the richest forest for primates on the African continent. Our main avian target is Green-breasted Pitta, which is best found at dawn, when its display call allows us to narrow down its whereabouts (otherwise, despite the jewel-like colors of this bird, it's like looking for a needle in a haystack on the forest floor). While we search for this bird the atmospheric, quite scary noises of large troops of Chimpanzees resonate through the forest. There is also the opportunity for optionally trekking for Chimpanzees. We should also find some other primates such as L'Hoest's Monkey, Uganda Red Colobus, one of the most striking of all African primates, Guereza (Eastern Black-and-white Colobus), Red-tailed Monkey, Grey-cheeked Mangabey, and other monkeys (not to mention the well-built Olive Baboon, which wanders around in massive groups, usually on the ground). We also have a lot of good birds to see, which might include White-headed Wood Hoopoe, Narrow-tailed Starling, Black-billed Turaco, and Chestnut Wattle-eye.
Overnight: Kibale Forest Lodge, Bigodi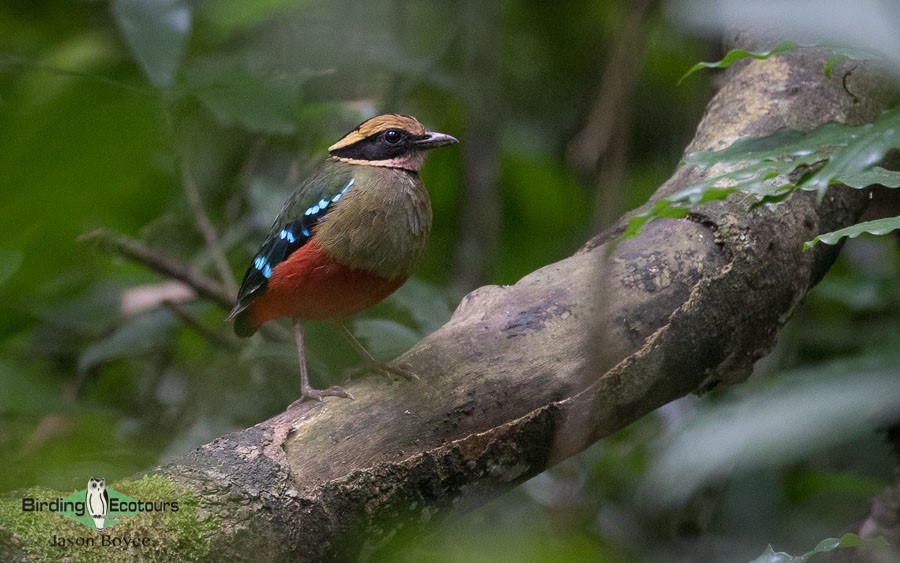 Green-breasted Pitta is another of Africa's most sought-after species we'll be targeting.
Day 14. Travel to Masindi
After some final birding around Kibale we head to Masindi. Time-permitting, we can already start birding famed sites nearby such as the Royal Mile.
Overnight: Masindi Hotel, Masindi – Tel. +256-77260420130
Day 15.  Birding at Budongo Forest and the beautiful Royal Mile, transfer to Murchison Falls National Park
Budongo Forest is excellent for many special birds we won't have yet seen during the tour. Chestnut-capped Flycatcher is a star bird – along with two other species: there is a trio of small warbler-like flycatchers that are taxonomically enigmatic, and this is one of them (we usually find the other two on our Tanzania and Mozambique birding tours). Fraser's Forest Flycatcher is another prized bird here. But it's the kingfishers (most of them not associated with water!) that make the Royal Mile famous. Chocolate-backed Kingfisher is probably the most popular of them all, but then Blue-breasted Kingfisher, African Dwarf Kingfisher, and others are also completely dazzling. Red-tailed Ant Thrush, Fire-crested Alethe, and Nahan's Partridge usually stay close to the forest floor. The pretty Rufous-crowned Eremomela, White-thighed Hornbill, and a lot of others inhabit the canopy. Some fantastic forest barbets, tinkerbirds, and woodpeckers abound. There are a great many greenbuls, different species inhabiting different levels of the forest from the undergrowth to the canopy, and these are fun (or, in some people's opinions, not!) to learn to identify. The Royal Mile is a breathtakingly beautiful forest to spend time in and certainly boasts an extremely rich birdlife. From here we will transfer to Murchison Falls National Park.
Overnight: Twiga Safari Lodge, near Murchison Falls National Park
We do boat trips and birding/game drives in this area, where we always add a great many new birds to our list. This is also a brilliant place for big and small mammals that might include Lion, Leopard, Rothschild's Giraffe, Oribi, Lelwel Hartebeest, Common Warthog, the scarce Patas Monkey, and many others. Black-headed Lapwing, Silverbird, Speckle-fronted Weaver, Abyssinian Ground Hornbill, Red-throated Bee-eater, Swallow-tailed Bee-eater, Rock Pratincole, White-headed Barbet, Black-billed Barbet, Meyer's Parrot, and Bateleur are just a few of the species on our rather large menu.
We should of course mention the fact that the massive volume of the Nile River is forced through a narrow gap here at Murchison Falls – while looking at this site there is a small chance that we might also manage to find Pel's Fishing Owl or Bat Hawk. Where possible we can arrange night drives for some nightjar and owl species in the area; these may include Long-tailed, Plain, and Pennant-winged Nightjars and possibly Greyish Eagle-Owl.
Overnight: Twiga Safari Lodge, near Murchison Falls National Park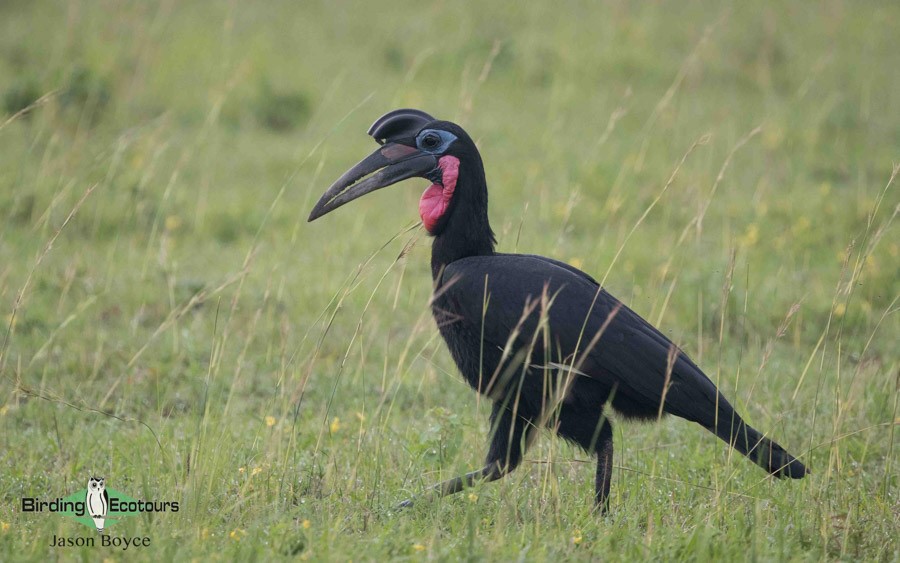 The massive Abyssinian Ground Hornbill can be found in Murchison Falls National Park.
Day 18. Birding Ziwa Rhino Sanctuary on the way back to Entebbe
Ziwa Rhino Sanctuary is the only place in Uganda to see White Rhinoceros and arguably the best place for the incomparable White-crested Turaco. There's a good variety of other birds as well (as usual), including Bronze–tailed, Purple, Splendid, and Rüppell's Starlings, Parasitic Weaver, Marsh Widowbird, Weynes's Weaver, African Hoopoe, African Cuckoo-Hawk, etc. We then transfer back to Entebbe.
Overnight: The Boma, or similar, Entebbe
Day 19. Flights leave Entebbe
Your flight can leave any time today from Entebbe International Airport.
Please note that the itinerary cannot be guaranteed as it is only a rough guide and can be changed (usually slightly) due to factors such as availability of accommodation, updated information on the state of accommodation, roads, or birding sites, the discretion of the guides and other factors. In addition, we sometimes have to use a different international guide from the one advertised due to tour scheduling.
Download Itinerary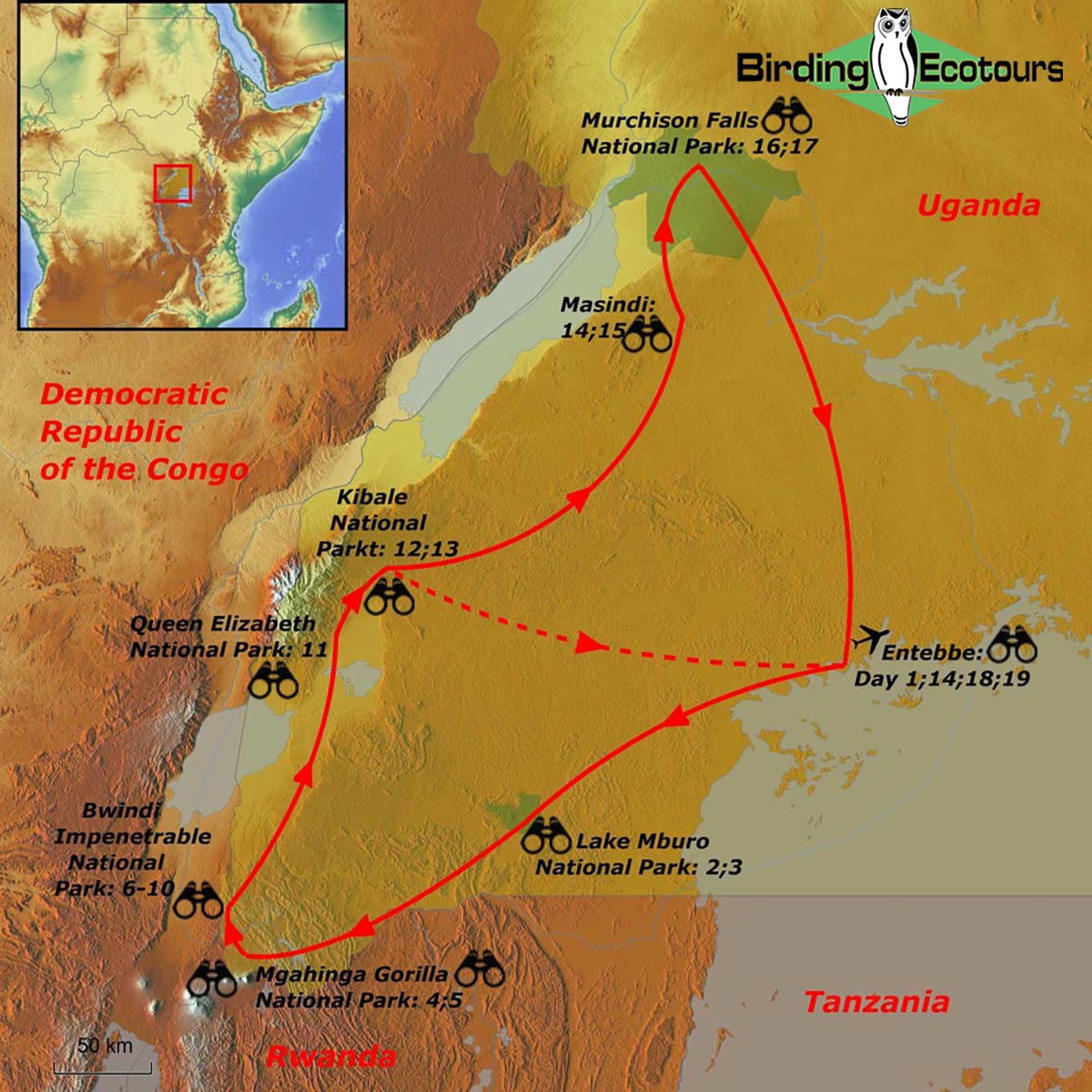 Ultimate Uganda: Birding and Mammal Trip Report, July 2023

DOWNLOAD TRIP REPORT
10–29 JULY 2023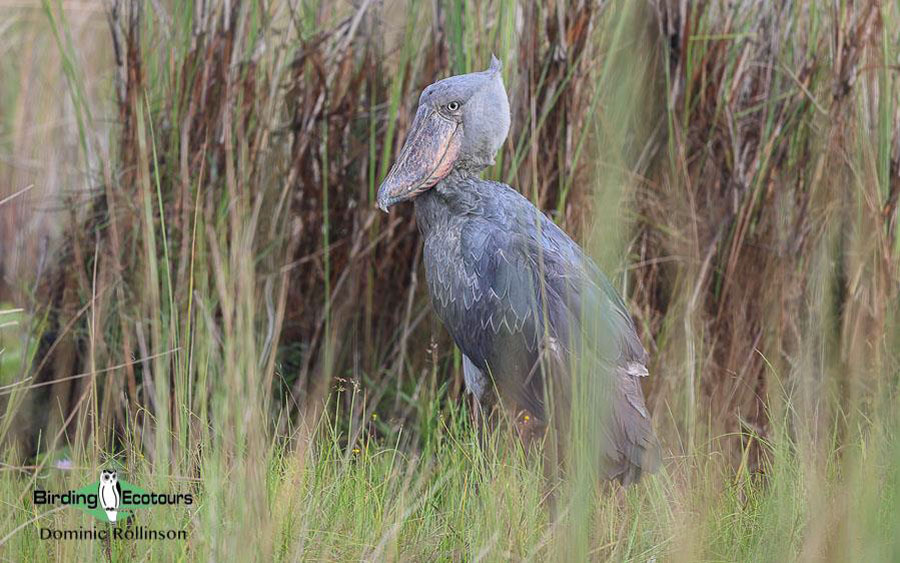 Shoebill was an early trip highlight and perhaps our most-wanted Ugandan bird target.
Overview
Our fixed departure Uganda birding tours offer you the opportunity of seeing a vast selection of East African bird species, including a whole host of Albertine Rift endemics, as well as many well-known and charismatic mammal species. Uganda is known amongst birders as perhaps the most accessible country to find two iconic bird species; the massive and bizarre-looking Shoebill and the enigmatic Green-breasted Pitta, both of which were seen well on this tour. Our 19-day Uganda birding tour covers the 'traditional' birding route through the western half of the country and adds on some lesser-visited spots, such as Mgahinga Gorilla National Park, right in the southwestern corner of Uganda, on the border with Rwanda and the Democratic Republic of Congo (DRC). This tour was scheduled during Uganda's dry season, when inclement weather generally does not play a role, and to coincide with the peak breeding season of many of our special targets.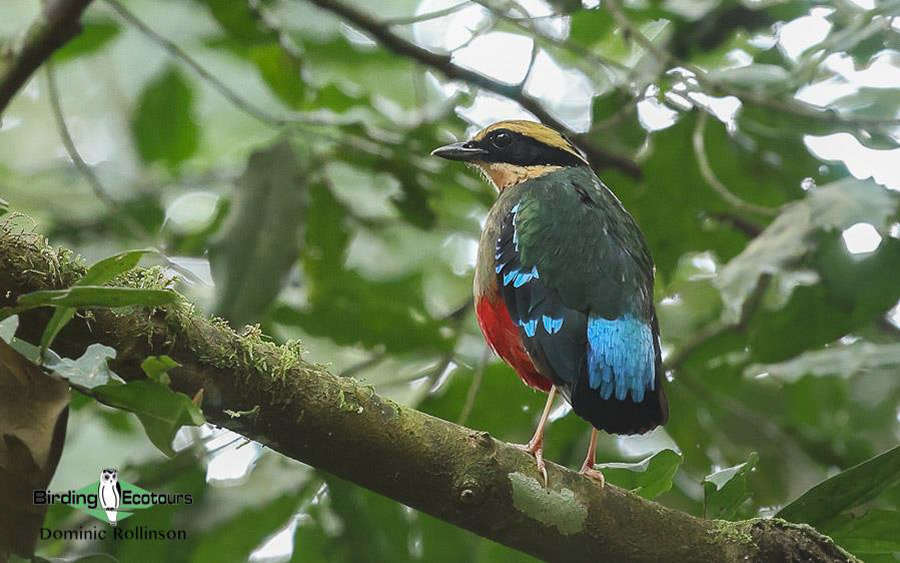 Green-breasted Pitta put on an exceptional show for us at Kibale Forest.
Despite this being our set departure tour, we were able to run it with just two clients, David and Barbara, which meant it could essentially be run as a private tour, occasionally opting out of certain strenuous hikes etc. This meant we missed a few Albertine Rift Endemics and other specials by excluding the Mubwindi Swamp walk, however, the birding was exceptional throughout the trip, and we amassed a list of 534 species.
This tour started in Entebbe, before we moved to the shores of Lake Victoria at Mabamba Swamp, where we had special views of the most-wanted bird of the trip, Shoebill. We then pressed on southwest to Lake Mburo National Park, where we spent two days birding the dry woodlands, with highlights including Red-faced Barbet, and enjoyed a boat cruise on Lake Mburo, which saw us adding African Finfoot and White-backed Night Heron. Next, was a long transit to the southwest corner of the country, where we had a full day's birding in the Mgahinga Gorilla National Park and found our two main targets of the area; Rwenzori Turaco and Rwenzori Double-collared Sunbird, as well as a pair of the tricky White-collared Oliveback.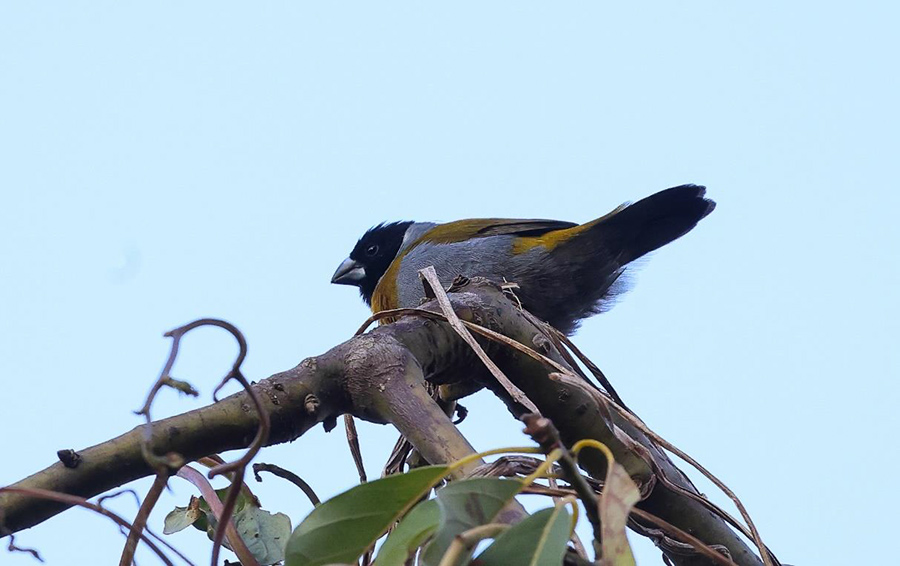 This male White-collared Oliveback was seen in Kisoro.
The famous Bwindi Impenetrable Forest was up next, where we spent five nights and enjoyed a lot of forest birding and, of course, Eastern (Mountain) Gorillas. The highlands of the Ruhija section were particularly birdy, and we found such targets as Dusky Crimsonwing, Grauer's Warbler and Stripe-breasted Tit. We spent a few hours birding The Neck en route to the lower forests of Buhoma, which added Bar-tailed Trogon and many other new bird species, before we spent three nights birding at Buhoma. Barbara had a fantastic experience on her gorilla trekking, and the general forest birding was again excellent, with a whole host of forest species enjoyed here.
We then briefly left the Ugandan forests behind for a couple of days, birding the savannas and river channels of Queen Elizabeth National Park. This again resulted in a huge jump in our trip list, and we also enjoyed seeing Lion and Leopard while in the park.
It was soon back into the forests as we entered Kibale National Park, where we had a magical 20 minutes watching a displaying Green-breasted Pitta and bumped into some feeding Chimpanzees while enjoying the forest's many bird specials.
After a long transfer further north, we spent the morning birding Budongo Forest's famous Royal Mile. It was its usual birdy self with Fraser's Forest Flycatcher, Chestnut-capped Flycatcher and African Dwarf and Chocolate-backed Kingfishers all seen well, with the neighboring farmlands producing Brown Twinspot and stunning views of Grey-headed Oliveback.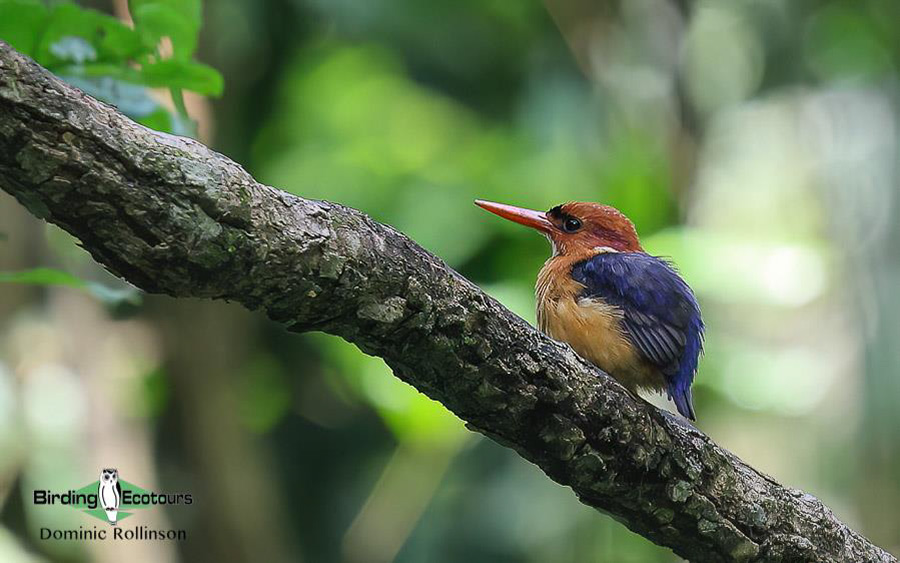 African Dwarf Kingfisher showed incredibly well in Budongo Forest.
Finally, we spent three nights in Murchison Falls National Park, where we saw a plethora of new wildlife and some standout species such as White-crested Turaco, Dusky Babbler and Pennant-winged Nightjar. It was then time to make our way back south towards Entebbe, with some final birding in Kaniyo Pabidi Forest and Ziwa Rhino Sanctuary before making our way back into Entebbe where the tour ended.
Detailed Report
Day 1, 11th July 2023. Entebbe birding
With all of us having arrived the afternoon before, we decided to get an early start to our birding with a walk around Entebbe's very birdy suburbs and managed to find a heap of birds to get our Uganda bird list rolling. Some of the highlights of our pre-breakfast walk included African Hobby, Shikra, Ross's Turaco, Eastern Plantain-eater, Crowned and Black-and-white-casqued Hornbills, Woodland Kingfisher, Broad-billed Roller, Grey Parrot, Black-headed Gonolek, Green-headed and Red-chested Sunbirds and a small group of Piapiacs. As we were enjoying breakfast, David spotted a pair of Palm-nut Vultures, which posed nicely for us.
After lunch, we met William, our driver and expert guide for the trip, and headed to the lovely Entebbe Botanical Garden on the shores of Lake Victoria, which always provides a fantastic start to our Uganda birding tour. Before reaching the botanical garden, we stopped at a nearby Bat Hawk roost, which was unfortunately empty, however, we did find a pair of roosting Southern White-faced Owls, which was an unexpected bonus. The botanical garden was alive with birds and we soon notched up Lizard Buzzard, Blue-spotted Wood Dove, the huge Great Blue Turaco, African Pygmy Kingfisher, Olive (Madagascar) Bee-eater, African Hobby, Grey Parrot, Green Crombec, Grey-capped Warbler, Winding Cisticola, Olive-bellied Sunbird and Orange and Golden-backed Weavers. After dipping on Bat Hawk earlier, we soon made up for this miss when we found a pair of roosting birds high up in the tree canopy. The lakeside was also full of birds, with Pink-backed Pelican, Hamerkop, Striated Heron and Pied Kingfisher all seen well. After an incredibly productive first day, with all our targets found, we enjoyed cold beers and a meal at our hotel before retiring for the evening, all excited about the prospect of Shoebills the next morning!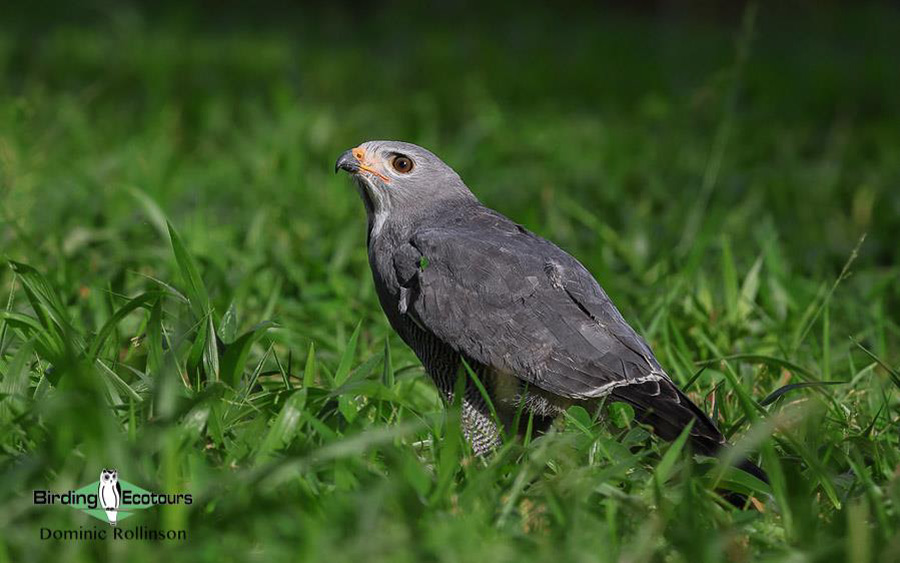 This confiding Lizard Buzzard was seen in the Entebbe Botanical Garden.
Day 2, 12th July 2023. Mabamba Swamp and transfer to Lake Mburo
An early start this morning as we made our way west towards Mabamba Swamp, where we would enjoy a boat trip to look for Shoebill. On our way out of Entebbe, David delighted in seeing Marabou Storks perched on top of buildings, immediately adding to the beauty of the building – beauty is in the eye of the beholder! We soon boarded our motorized dugout canoes and made our way through the swamp's network of channels. It took a little while, but eventually, news filtered through that a Shoebill had been found nearby, and we shot by and were able to enjoy the bird for ten minutes all by ourselves before other tourist boats arrived on the scene, and it got a bit chaotic. David's main target bird of the trip was in the bag on the first morning of the trip, with some fantastic views enjoyed by us all!
Of course, the general birding while out on the boat was productive too, and we also added the likes of Long-toed Lapwing, Blue-headed Coucal, African Swamphen, White-winged Tern, Purple and Squacco Herons, Great Egret, African Marsh Harrier, Blue-breasted Bee-eater, Banded and Brown-throated Martins, Red-breasted Swallow, Swamp Flycatcher and Northern Brown-throated Weaver. After our boat ride, we birded some woodland on the edge of the swamp, where we found African Blue Flycatcher, Brown-throated Wattle-eye, Copper Sunbird and Brimstone Canary.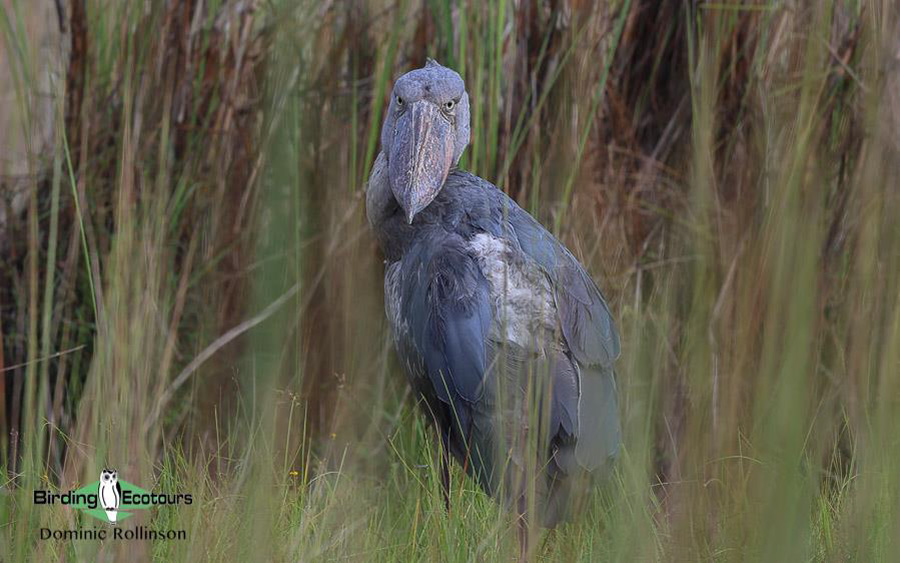 The huge and fierce-looking Shoebill was seen in Mabamba Swamp.
It was then time to get moving, as we still had some more birding to do before our lunch stop. We stopped on the edge of the nearby Mpanga Forestry Reserve, where we had flyover Palm-nut and Hooded Vultures and African Harrier-Hawk and were made to work for Weyn's Weaver, which eventually showed, albeit briefly. Other birds seen in the area included African Pied and Crowned Hornbills, Black Cuckooshrike, Plain-backed Pipit and Tawny-flanked Prinia.
We stopped for a traditional lunch at the equator before the long haul southwest towards Lake Mburo National Park, where we would be based for the next two nights. The drive was mostly uneventful, however, we did add a few new trip birds, such as Lilac-breasted Roller, Long-crested Eagle, Speckled Pigeon and Black-chested Snake Eagle.
Late in the afternoon, we made it onto the dirt road to Lake Mburo, which is always incredibly birdy and thus normally takes a long time to negotiate. Today was no different, and we spent a good couple of hours working these farmlands and open woodlands. New birds came thick and fast and included the likes of Crested Francolin, Brown-chested Lapwing (one of the big targets of the area), Black-winged Kite, Blue-naped Mousebird, Little Bee-eater, Spot-flanked Barbet, Meyer's Parrot, Grey (African) Penduline Tit, Red-faced Crombec, Trilling Cisticola, White-browed Scrub Robin, and a few cute Black-faced Waxbills. Verreaux's Eagle-Owl, starting its night out a little early today, was a welcome surprise to cap off the day. We then settled into our lovely accommodation with Freckled Nightjar heard calling as we enjoyed a tasty dinner that evening.
Day 3, 13th July 2023. Lake Mburo National Park birding and boat cruise
After an early breakfast, we were in our land cruiser and on the way to Lake Mburo National Park, where we birded for the entire morning. The farmland and degraded woodland en route to the park was a little quieter than usual, however, we did manage to find Bare-faced Go-away-bird, White-browed Coucal, White-winged Black Tit, Long-tailed Cisticola, Arrow-marked and Black-lored Babblers and Marico Sunbird.
The entrance gate to Lake Mburo National Park was its usual birdy self, and we soon found our target bird, Red-faced Barbet, which was seemingly part of a mixed-species pair as it was displaying with the similar Black-collared Barbet. Other good birds seen here included Snowy-crowned Robin-Chat, Common Scimitarbill, Lesser Masked Weaver and Green-winged Pytilia, with Red-headed Lovebirds seen noisily flying overhead. We also enjoyed our first views of large game, including Plains Zebra, Common Warthog, African Buffalo, Bushbuck, Common Eland, Impala, Waterbuck, Topi and Giraffe.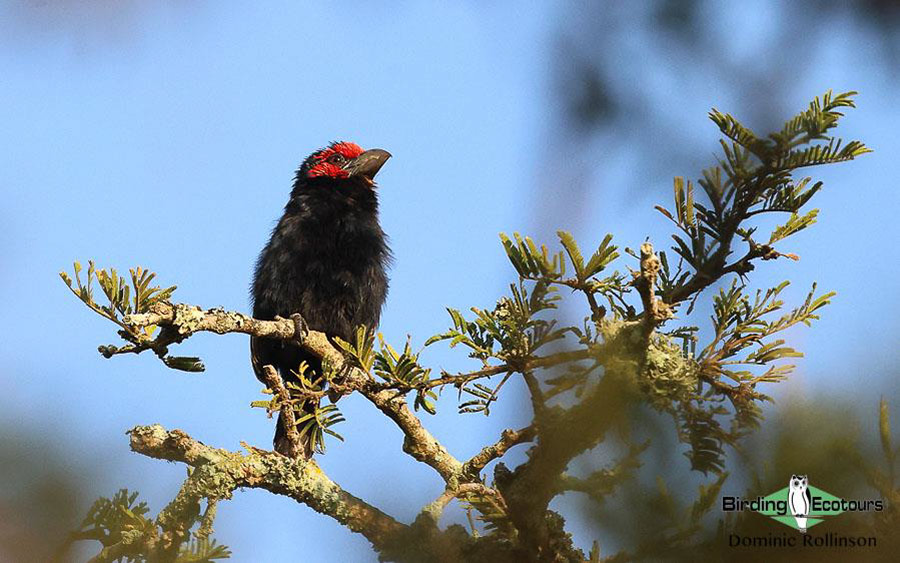 This Red-faced Barbet was seen at Lake Mburo National Park.
We then took a very slow drive through the productive woodlands where the birding was exceptional. We came across many feeding flocks, and slowly working through them gave us a multitude of new birds. Our long list of highlights from within Lake Mburo National Park included Red-chested Cuckoo, Green Wood Hoopoe, Grey-headed and Striped Kingfishers, Crested Barbet (a range-restricted species in southwestern Uganda), White-headed Barbet, Cardinal, African Grey and Nubian Woodpeckers, Meyer's Parrot, Black Cuckooshrike, Chinspot Batis, Orange-breasted Bushshrike, White-winged Black Tit, Grey Penduline Tit, Red-faced Crombec, Green-capped Eremomela, Greater Blue-eared Starling and many others. Several raptor species were seen throughout the morning and included White-backed Vulture, Bateleur, Wahlberg's Eagle and Grey Kestrel. We enjoyed watching a small group of Senegal Lapwings feeding in a recently burnt field, along with a pair of African Wattled Lapwings. After a long and successful morning's birding, we headed back to our lodge for lunch and then took a couple of hours off in the heat of the early afternoon.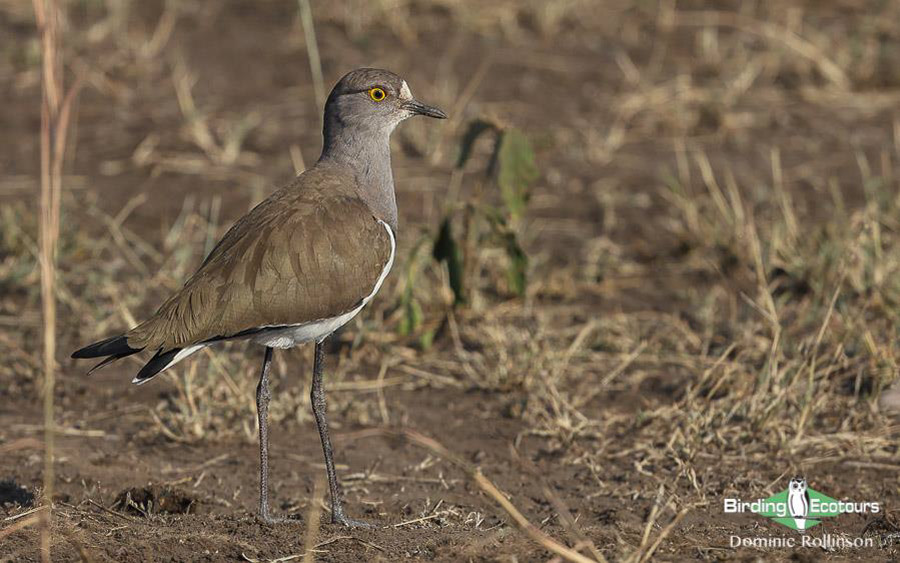 Senegal Lapwings were seen in open areas in Lake Mburo National Park.
Later that afternoon, we made our way back into the national park and headed towards Lake Mburo itself for our much-anticipated boat trip. We again took our time driving through the park and saw more of the regulars, including Crested Francolin, Red-necked Spurfowl, African Openbill (the same bird we saw earlier in the day at its puddle), Lilac-breasted Roller, Black-headed Oriole, Tropical Boubou and Lesser Masked Weaver. We arrived in the late afternoon for our boat ride, which took less than five minutes for us to find our primary target, African Finfoot. The initial sighting of this bird was brief, but over the course of the next two hours, we had multiple prolonged sightings of this unusual bird. Another big target of the boat cruise was White-backed Night Heron which we too found on this trip. It took a lot of maneuvering of the boat from the skipper and changing of our angles, but we eventually all had seen enough to piece the birds together. Other common waterbirds included Black Crake, Water Thick-knee, Hamerkop, Common Sandpiper, Striated Heron and Malachite and Pied Kingfishers. At the same time, a couple of large flocks of Splendid Starlings further kept us entertained. We drove out through the park as the sun was setting and managed flight views of Swamp Nightjar while Fiery-necked Nightjar and African Scops Owl would make it onto the heard-only list for now.
Day 4, 14th July 2023. Lake Mburo to Kisoro, birding en route
We had an early breakfast and then enjoyed a casual walk around the lodge grounds, where we hoped to find Striped Pipit. The pipit would not show, however, we did find large flocks of Splendid Starlings and African Green Pigeons feeding in a large fig tree and also saw Brown-throated Wattle-eye, African Paradise Flycatcher, Yellow-throated Leaflove and Green-headed Sunbird in the general area.
We then packed the vehicle and were soon on our way, with a quick stop for Slate-colored Boubou as we left the area, which also produced African Hoopoe and our first looks at House Sparrow (which caused much excitement). On our way out of the Lake Mburo area, we stopped at a wetland which was just alive with birds and we did not know which way to look. In no time at all, we had added Grey Crowned Crane, African Openbill, Little Bittern, Rufous-bellied Heron, Glossy Ibis, African Marsh Harrier, Greater Swamp Warbler, Highland Rush Warbler and even managed views of a couple of skulking African Rails. In the nearby fields, we found a few more Brown-chested Lapwings and Fan-tailed Widowbirds. We made one final stop at a small dam for White-backed Ducks, which showed well before we hit the long road towards Kisoro, right in the southwest of the country.
We had a late lunch stop on the edge of Lake Bunyonyi, where we enjoyed good looks at Bronzy Sunbird, White-browed Robin-Chat, Black-crowned Waxbill and Western Citril before we moved onto Echuya Forest Reserve. Despite the heat of the early afternoon, Echuya was its usual birdy self and a couple of hours birding here produced Cinnamon-chested Bee-eater, White-browed Crombec, Chubb's Cisticola, Rwenzori Hill Babbler, Sharpe's Starling, Dusky-blue Flycatcher, Northern Double-collared Sunbird, Red-headed Malimbe and our first Albertine Rift endemics in the form of Regal Sunbird, Rwenzori (Collared) Apalis and brief views of Strange Weaver.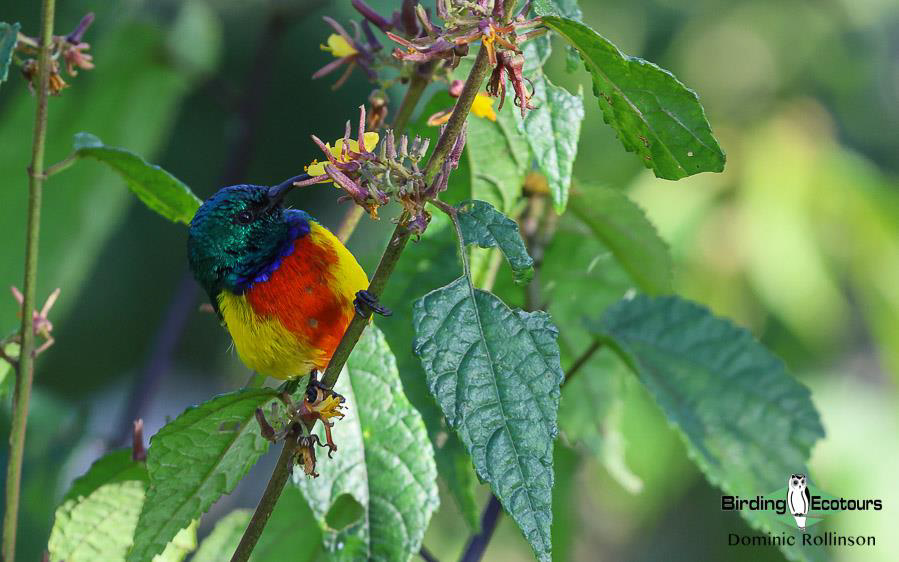 Regal Sunbird, a stunning Albertine Rift endemic.
After a long day on the road, we made it to our lovely accommodation just outside of Kisoro, which is beautifully set alongside a stream and makes for a tranquil atmosphere, with plenty of exciting birds around.
Day 5, 15th July 2023. Mgahinga Gorilla National Park birding
Today was another exciting day as we spent a large portion of the day in Mgahinga Gorilla National Park and hiked up the slopes of Mount Sabyinyo in search of a few localized specials. The 12,000-foot (c. 3,700 meter) Mount Sabyinyo is an extinct volcano (one of three impressive extinct volcanoes in the area) which falls on the border of Rwanda, the DRC and Uganda. It is found within three separate parks in these different countries, Virunga National Park in the DRC, Volcanoes National Park in Rwanda and Mgahinga Gorilla National Park in Uganda. We had most of the day to slowly hike up the slopes, with Rwenzori Turaco and Rwenzori Double-collared Sunbird being our two primary targets.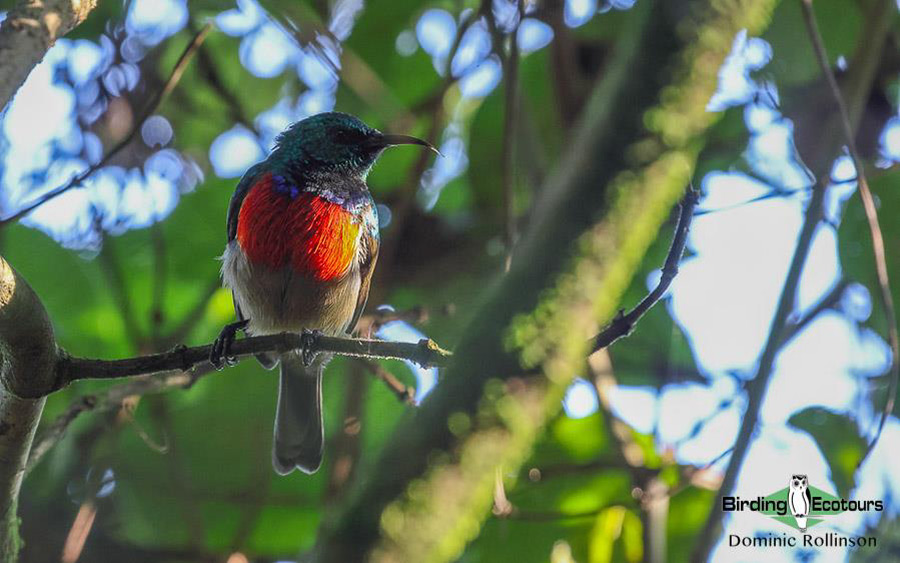 Rwenzori Double-collared Sunbird was seen well on the slopes of Mount Sabyinyo.
After arriving in the park, we soon set out for our hike with our local guide, Patrick, and a couple of armed park rangers. It did not take long at all to find Rwenzori Double-collared Sunbird, which showed well, and we noted its heavier bill and longer tail, which differentiates it from the similar Northern Double-collared Sunbird. Other species seen on the initial stretches of the trail included Dusky Turtle Dove, Cinnamon-chested Bee-eater, Rwenzori Batis, Cinnamon Bracken Warbler, Northern Puffback, Mountain Masked and Chestnut-throated Apalises, Yellow-whiskered and Olive-breasted Greenbuls, Red-faced Woodland Warbler, Rwenzori Hill Babbler, White-starred Robin and Streaky Seedeater. We heard the high-pitched calls of Dusky Crimsonwing; however, we could not see any of these little beauties (yet). Heading further up the slopes, we added the likes of Levaillant's Cuckoo, Western Tinkerbird, Mountain Yellow Warbler, White-eyed Slaty Flycatcher and a large flock of Kandt's Waxbills. After much work, we eventually managed to get good views of Albertine Sooty Boubou, which we had been hearing for most of the morning. We only managed brief views of the vocal and elusive Doherty's Bushshrike and would have to wait a little longer for better views of this stunning species.
We eventually made it to our turnaround point, where we enjoyed a well-earned break in the shade and tucked into our lunch packs. We then ventured a little further into the bamboo section, which was very quiet, and so decided to start slowly making our way back down. We had yet to see (or even hear) Rwenzori Turaco, and just as a bit of dipping dread was starting to creep in, we heard a bird call from relatively close by. After a bit of work, we eventually managed to see a pair of these strange-looking turacos as they bounced around the trees and did a couple of flybys showing their brilliant red wings, which is due to the presence of the pigment, turacin (after which turacos get their name and which is only found in this bird family).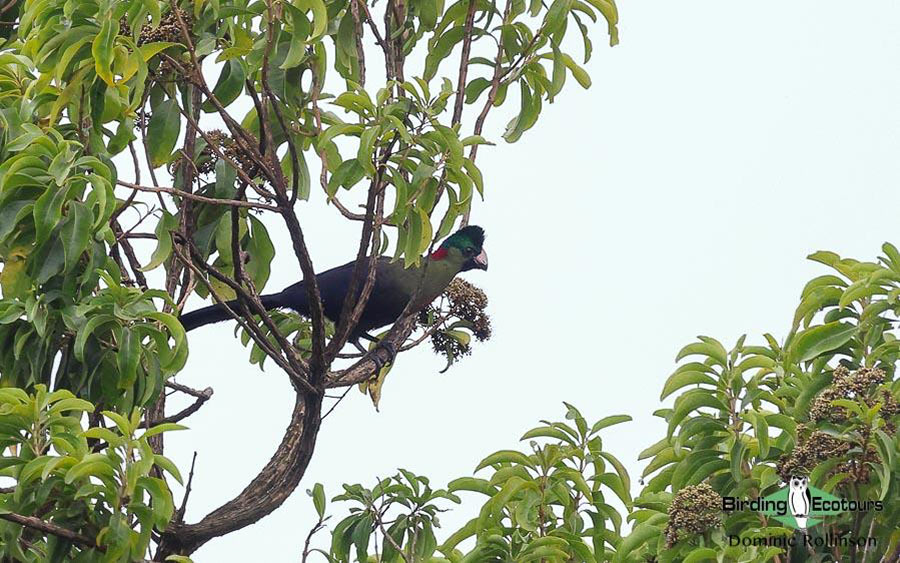 The unusual Rwenzori Turaco took some effort to find.
After seeing the turaco, we could relax a bit and concentrate on some of the many other birds around, including a small flock of Scarce Swift, brief views of a White-tailed Crested Flycatcher and right at the end of the walk, a calling Dwarf Honeyguide (well picked up on, William) which is a very difficult Albertine Rift endemic.
After a long day out, we decided to put our feet up back at our lodge and just enjoy our surroundings. However, we had a few birding distractions while we were relaxing and managed some lovely views of the striking but scarce White-collared Oliveback as well as a flyover African Spoonbill and Yellow-billed Stork. The day ended wonderfully well when we found a calling Western Barn Owl in the lodge grounds later that evening.
Day 6, 16th July 2023. Kisoro to Ruhija, papyrus birding en route
We ate breakfast just before dawn this morning and were soon out the door as we were transferring to the Ruhija section of Bwindi Impenetrable Forest, with some fine birding stops scheduled en route. Our first stop was on a winding road overlooking a lake where we added Red-knobbed Coot and a few Red-rumped Swallows lazily flying overhead. We then excitedly made our way back into Echuya Forest, this time at a much better time of the day, and soon started finding some of our missing targets. We yet again had brief views of Strange Weaver (they unfortunately would just not sit still!) along with African Olive Pigeon, Grey Cuckooshrike, Mountain Oriole and the best of the lot, prolonged views of a calling Barred Long-tailed Cuckoo.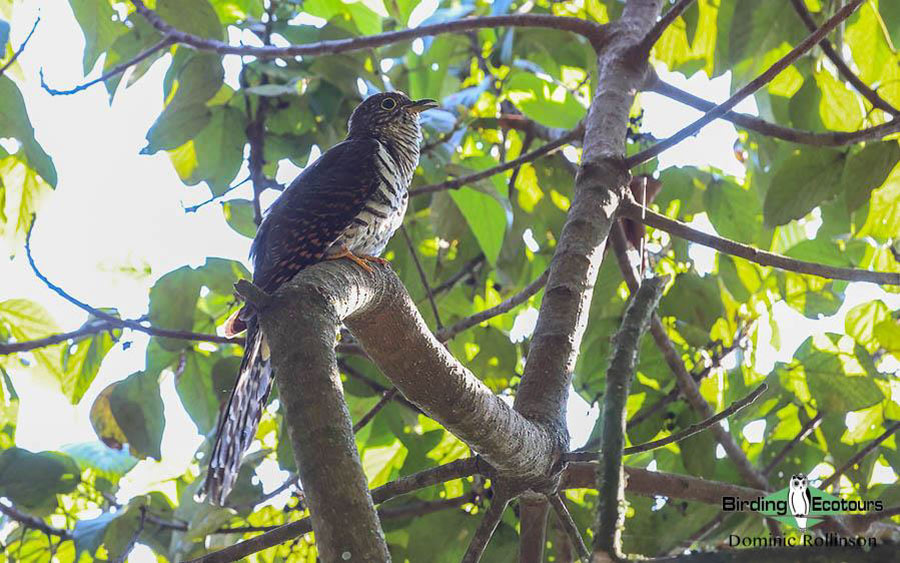 Barred Long-tailed Cuckoo seen in Echuya Forest.
It was then time for a quick break from forest birding as we made our way to the edge of Lake Bunyonyi to try for a few swamp specials. Papyrus Yellow Warbler proved remarkably easy and showed up without much of a wait, with Mackinnon's Shrike and Carruthers's Cisticola showing well too, while Black-and-white Mannikin made a brief flyby. We tried for Red-chested Flufftail, and although we saw some grass move and heard a call response, we could not lay eyes on these notorious skulkers.
Next, it was time to target Papyrus Canary in a nearby swampy area on the edge of some millet fields. We spent a lot of time working through flocks of Western Citril as well as Black-and-white Mannikin, Black-crowned and Common Waxbills and an assortment of weavers, including Black-headed, Northern Brown-throated and Slender-billed Weavers. After a while, Barabara spotted a pair of canaries sitting up in the papyrus, which turned out to be our primary target, Papyrus Canary. We also enjoyed watching Augur Buzzard and Wahlberg's Eagle as they soared above us. We then enjoyed our lunch on the edge of Lake Bunyonyi, with many Red-chested and Bronzy Sunbirds around as happy distractions.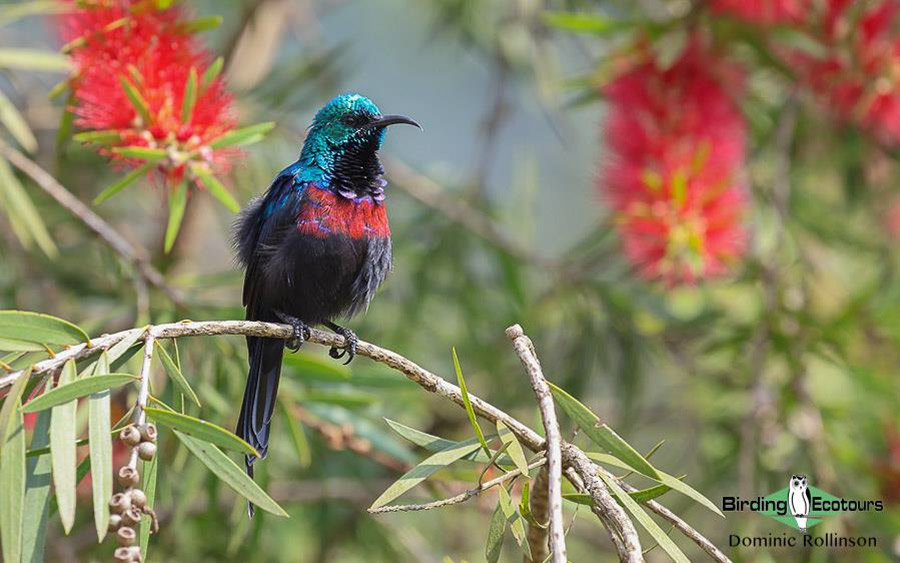 Red-chested Sunbirds were common throughout this tour.
After lunch, it was time to move on to the Ruhija section of the famous Bwindi Impenetrable Forest. The drive across was uneventful, and after arriving in Ruhija, we took some time off in the early afternoon before our late afternoon's birding outing.
After meeting up with our eagle-eyed local guide, Gordon, we decided to spend some time birding the farmlands just outside of Ruhija, targeting Dusky Twinspot. Despite some focused searching, we could not find the twinspots, however, we did come across some other good bird species, such as Red-rumped Swallow, African Stonechat, Variable Sunbird, Streaky Seedeater, Yellow-crowned Canary and a juvenile Rufous-chested Sparrowhawk (well spotted Barbara!). We then birded some nearby patches of forest where we found Great Blue Turaco, Western Tinkerbird, Northern Double-collared Sunbird and best of all, a very showy Doherty's Bushshrike which sat preening in the sun for us. We also saw a few Carruther's Mountain Squirrels while birding in the forests. We then took a drive towards the bamboo section of Bwindi in the hopes of finding the tricky Handsome Spurfowl, which unfortunately would not oblige for us.
Day 7, 17th July 2023. Birding the highlands of Ruhija  
Today would normally have been the day we undertake the long trek down to Mubwindi Swamp to look for Grauer's Broadbill and Grauer's Swamp Warbler; however, due to the difficulty of the walk, we decided to rather just bird the roadside and farmlands for the day. We were keen for another shot at Dusky Twinspot, and this time, the birds showed well within 15 minutes of arriving at the site, and we also found Slender-billed Starling and Lanner Falcon in the area.
We then birded a section of forest along the main road near Ruhija, which proved very productive, and we found many of our targets. Standout species included Yellow-billed and Grey-throated Barbets, White-tailed Blue Flycatcher, Black-throated and Mountain Masked Apalises, Mountain Yellow Warbler, Red-faced Woodland Warbler, Waller's Starling, Abyssinian Thrush, Blue-headed and Regal Sunbirds and Thick-billed Seedeater. We tried a few favored spots for the gorgeous Dusky Crimsonwing, but this species continued to elude us.
After lunch and a short break, it was time to bird the famous Ruhija school track, which again proved incredibly productive. After Gordon's morning in Mubwindi Swamp, we were happy to have him join us again and were thoroughly impressed by his knowledge of calls and ability to pick out any bird movement. First up was Stripe-breasted Tit (an Albertine Rift endemic), which was soon followed by a pair of Equatorial Akalats which showed surprisingly well in the dark undergrowth. We kept hearing the secretive Grauer's Warbler, but unfortunately, it would not show for us today; the loud and colorful Black-billed Turaco, however, put on a fantastic show for us. Over the next couple of hours, we managed to get views of a great many forest species, including African Olive Pigeon, Cinnamon-chested Bee-eater, Rwenzori Batis, Lühder's Bushshrike, White-chinned Prinia, Rwenzori and Mountain Masked Apalises, Yellow-streaked Greenbul, Mountain Illadopsis and Regal Sunbird. We heard Red-headed Bluebill, but despite our best efforts, we could not lay eyes on this attractive finch.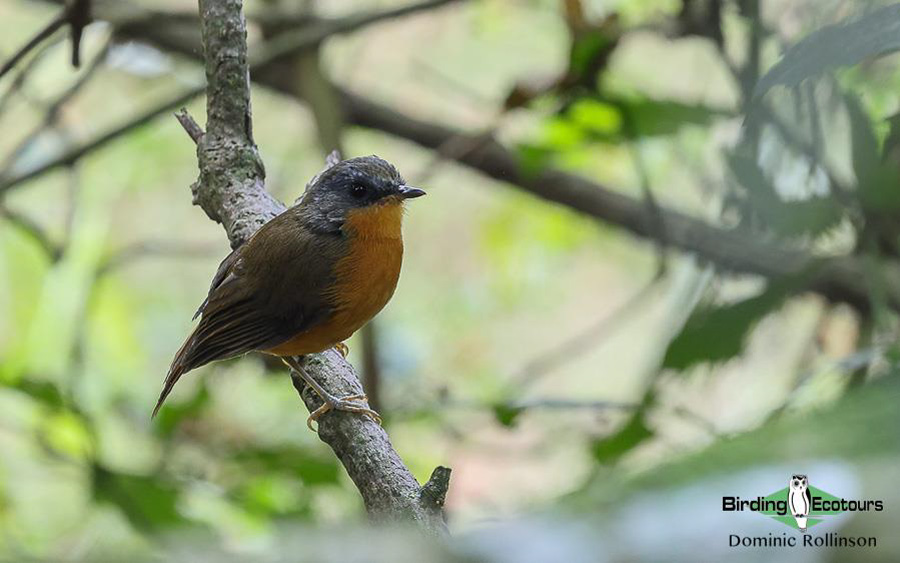 Equatorial Akalat was seen well in the Ruhija area.
To finish off the day, we headed back into the bamboo zone to see if we could find any Handsome Spurfowl, but the best we could do was to hear some rather distant birds calling from the valleys below us. We drove back along the road as it was getting dark and flushed a Montane Nightjar that was too quick for us all to get onto; however, a pair of African Wood Owls did pose nicely for us.
Day 8, 18th July 2023. Birding Ruhija and The Neck, and transfer to Buhoma
This morning, we were keen to try and track down a few missing targets and so headed back to the bamboo zone. Handsome Spurfowl was again not playing ball; however, we did find White-headed Wood Hoopoe, and finally, all got good (although brief) looks at Dusky Crimsonwing, which was one of David's most-wanted targets. We headed back to the school track for one more go at Grauer's Warbler, which eventually showed briefly for us (along with a couple of Blue Monkeys) before we made our way out of Ruhija towards Buhoma with some birding en route at The Neck to look forward to. As we were leaving the forests of Ruhija, we stopped to enjoy a group of handsome Guerezas (Black-and-white Colobus), which posed nicely for us.
We spent a good few hours birding at The Neck, which proved to be some of the best birding of the trip, and also enjoyed our lunch break in the relative cool of the forest. A stop at the stream failed to deliver the hoped-for Mountain Wagtail and Cassin's Flycatcher; however, we did find Speckled Tinkerbird, Petit's Cuckooshrike, Klaas's Cuckoo, White-browed Crombec and White-breasted Nigrita.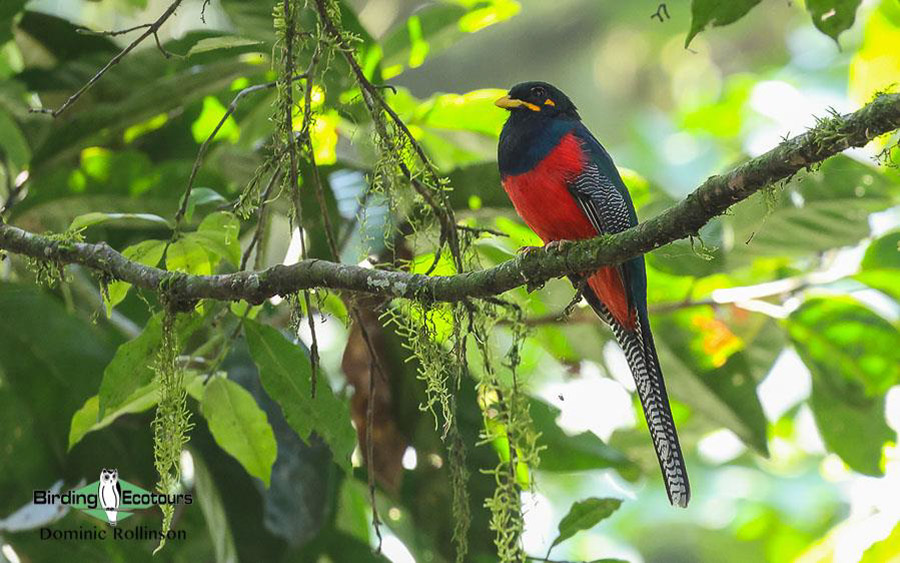 We had splendid views of Bar-tailed Trogon while birding The Neck.
A little further into the forest, we bumped into a bird party, which left us not knowing which way to look, and we soon racked up Ansorge's, Plain, Red-tailed, Yellow-whiskered and Honeyguide Greenbuls, Banded Prinia, Bar-tailed Trogon, Yellow-spotted Barbet and Black-billed Weaver. After our lunch, the high-octane birding continued with more feeding flocks producing Blue Malkoha, Bocage's Bushshrike, Grey-headed Sunbird, Brown-capped Weaver, Slender-billed Starling and Black-and-white Shrike-flycatcher. We waited on the edge of a small wetland and eventually had good looks at a pair of African Black Ducks, which are often seen here.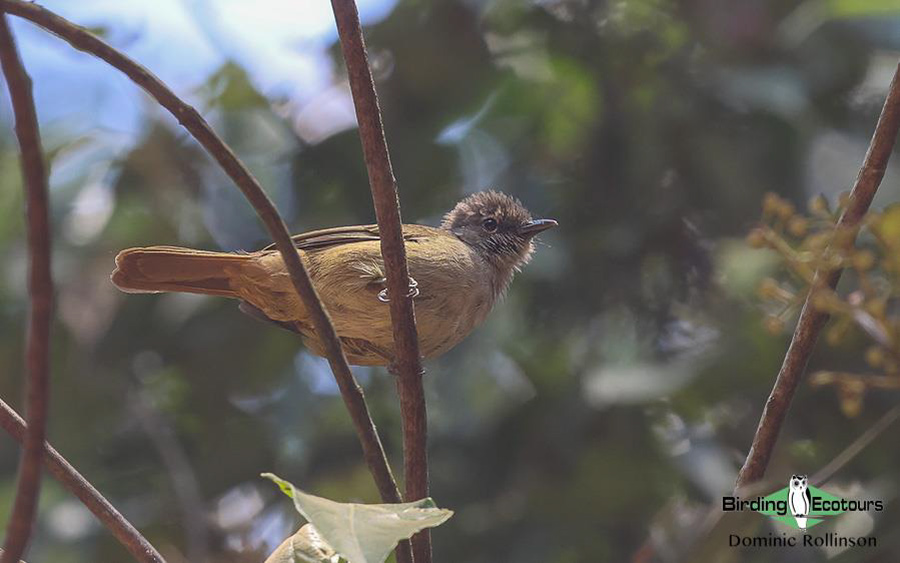 The subtly beautiful Ansorge's Greenbul at The Neck.
We arrived in the early afternoon in Buhoma, checked into our lodging and had a short break before our late-afternoon birding session. This afternoon, we birded the entrance road to the Buhoma section of Bwindi Impenetrable Forest, which again proved productive for us. Right at the park entrance, a flowering tree was attracting lots of feeding sunbirds, including Green-headed, Green-throated, Olive-bellied, Bronzy and Northern Double-collared Sunbirds. Soon after starting our walk, we bumped into Wilcock's Honeyguide – a tricky forest species, while a flyover Cassin's Hawk-Eagle was another unexpected bonus. We worked our way through various feeding flocks, which contained Many-colored Bushshrike, Petit's Cuckooshrike, Narrow-tailed Starling, Dusky-blue Flycatcher, Grey-throated Tit-Flycatcher and Little Green Sunbird, before we called it a day and enjoyed a traditional Ugandan dinner.
Day 9, 19th July 2023. Buhoma main trail birding
We had another early start this morning as we were to spend most of the day birding the Buhoma main trail, which offers superb deep-forest birding. We took lunch packs along with us and spent the morning and early afternoon birding in the forest interior, which produced a fine list of forest specials. Some of the day's highlights included Bar-tailed Trogon, Grey-throated and Yellow-spotted Barbets, Cassin's Honeyguide, Chestnut Wattle-eye, Pink-footed Puffback, Dusky Tit, Black-throated Apalis, Black-faced Rufous Warbler, Ansorge's, Plain, Yellow-whiskered and Little Greenbuls, Sooty Flycatcher, Blue-throated Brown Sunbird and African Broadbill which we enjoyed watching for a while as it performed its display flight. At our turnaround, point we searched for Neumann's Warbler, which although we heard nearby, we could not obtain any visuals of this cryptic forest skulker. During our walk, we also enjoyed several sightings of the attractive L'hoest's Monkey, which were not at all perturbed by our presence. Before exiting the forest, we had an exciting encounter with the relatively large Yellow-backed Duiker, which walked along the path up to us before diving into the thick bush; we also saw several Black-fronted Duiker today. On our way back out through the secondary forest, we managed to find Grey-winged Robin-Chat and Elliot's and Buff-spotted Woodpeckers, as well as White-rumped Swift and Red-rumped Swallow overhead.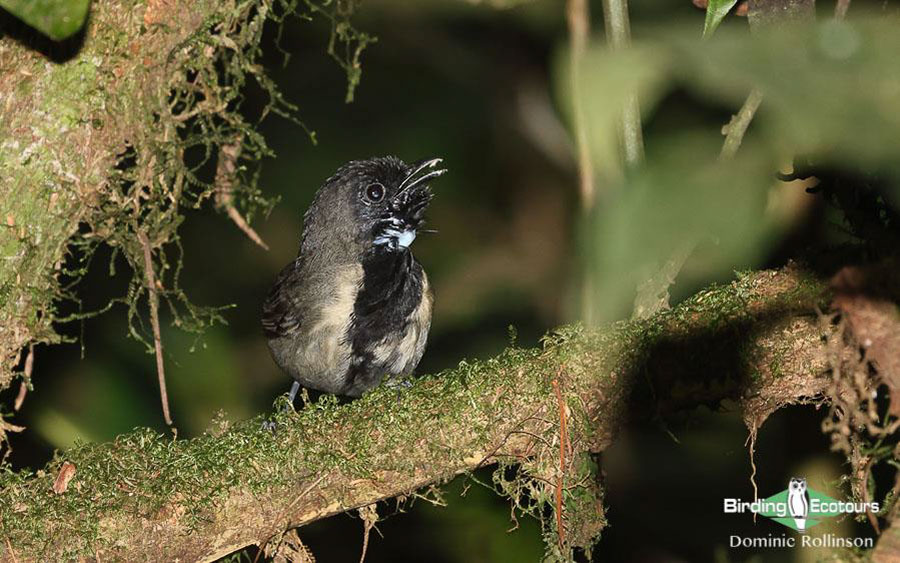 This female Black-faced Rufous Warbler showed well for us in Bwindi Impenetrable Forest.
For our afternoon birding session, we decided to take a break from forest birding and rather birded the farmlands outside of Buhoma town. Some of the afternoon's highlights included Tambourine Dove, Ross's Turaco, Eastern Plantain-eater, White-browed Coucal, Woolly-necked Stork, Palm-nut Vulture, White-winged Black Tit, Holub's Golden Weaver, and two pairs of Wahlberg's Eagles which were seen displaying to each other. This ended another fun day's birding in the forests of Uganda.
Day 10, 20th July 2023. Gorilla trekking and late afternoon forest birding
Today was an exciting day for Barbara as she was heading out gorilla trekking for the morning. We dropped Barbara at the park headquarters, and then David, Gordon and I carried on back into the forests as we would again be birding the entrance road and the streamside track. We had many of the same species as yesterday, including Tambourine Dove, Grey-throated Barbet, Buff-spotted Woodpecker, Petit's Cuckooshrike, Chestnut Wattle-eye, Black-and-white Shrike-flycatcher, Bocage's Bushshrike, Green Hylia, Brown-capped Weaver and Grey-winged Robin-Chat. We had to work for our new birds but did manage to find African Goshawk, African Shrike-flycatcher, Red-tailed Bristlebill and Toro Olive Greenbul before we headed back to the park headquarters to meet up with Barbara. We were pleased to hear that Barbara had thoroughly enjoyed her time with the Eastern (Mountain) Gorillas and was lucky enough to have a small group of tourists along with her (rather than the full complement of eight), which made for a more enjoyable experience. After our busy mornings, we headed back to our lodge for a sit-down lunch and some time off in the early afternoon.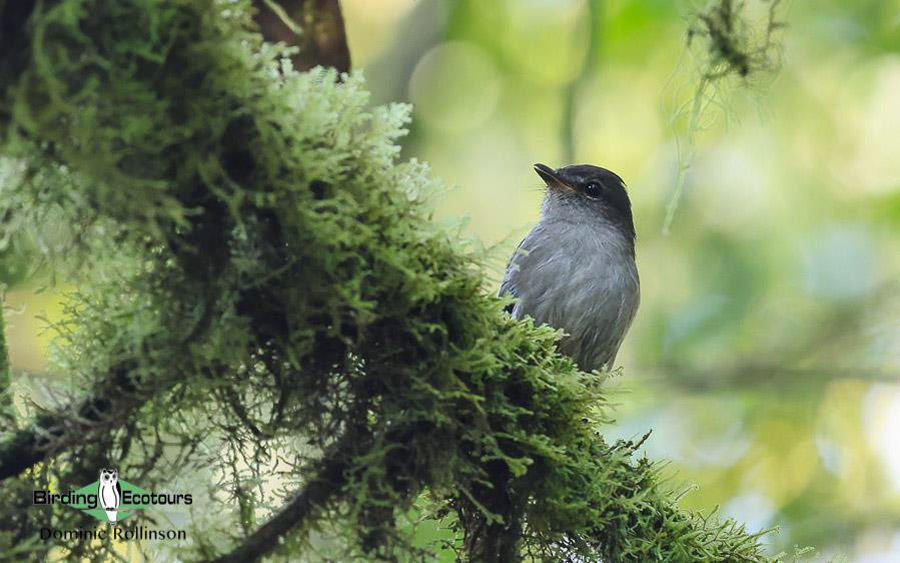 Chapin's Flycatcher was another highlight of our time at Buhoma.
Later that afternoon we headed back out for our final session of birding the Buhoma entrance road to see if we could find some of the species that Barbara had missed in the morning while she was out gorilla trekking. The forest was very quiet this afternoon; however, we still enjoyed our walk along the edge of the stream and even managed to bump into a family group of Eastern (Mountain) Gorillas which was unexpected bonus. After a bit of work, we found a small group of Red-tailed Bristlebirds, which was a catch-up bird for Barabara. Feeling content after our time birding in Buhoma over the last couple of days, we headed back to our lodge for a good night's sleep before an early start the next morning.
Day 11, 21st July 2023. Transfer to and birding Queen Elizabeth National Park
We had a pre-dawn breakfast before we were in our vehicle and started the transfer to Queen Elizabeth National Park. En route, we stopped near the town of Kasese, where we quickly found a Red-throated Wryneck, which posed well for us with a confiding trio of Grey Crowned Cranes feeding nearby. After refueling and drawing some cash in Kasese, we soon entered the national park and slowly started making our way northwards. Immediately, the birding picked up, and we soon saw the likes of Common Scimitarbill, Olive Bee-eater, Cardinal and Green-backed Woodpeckers, Northern Fiscal, Red-faced, Trilling and Croaking Cisticolas, Red-billed Quelea and White-winged Widowbird.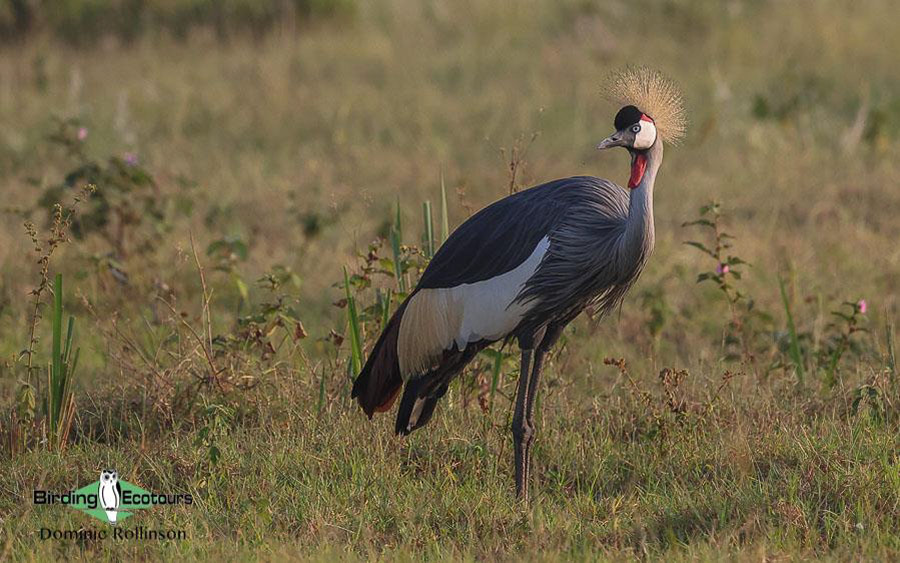 Grey Crowned Cranes were commonly encountered on this tour.
After a little while, we entered the Ishasha sector of the park; however, by this point, things had started to warm up, and the area was perhaps not quite as productive as it often can be. Despite this, we saw some good birds, including Blue-spotted Wood Dove, Marabou Stork (much to David's delight), Hamerkop, Palm-nut, White-backed and Rüppell's Vultures, Bateleur (which loosely means tight-rope walker in French, from its habit of tilting its wings as it flies), Brown Snake Eagle, Lesser Honeyguide, Black-headed Gonolek, Banded Martin, Flappet Lark, Quailfinch, and a pair of Verreaux's Eagle-Owls at their day roost. We were hoping for sightings of tree-climbing Lions while in the Ishasha sector; however, we had no such luck today.
After a quick picnic lunch (while being distracted by a group of Buff-bellied Warblers), we carried on north through the park (finding a flock of Western Crested Guineafowl en route), eventually arriving at our comfortable lodge in the early afternoon. After a quick rest, we were soon out the door again and this time birded some grasslands near our lodge, where we found Moustached Grass Warbler and Marsh Tchagra but could only briefly hear Fan-tailed Grassbird, never managing to lay eyes on it.
A quick stop at the Kazinga Channel bridge eventually yielded the secretive Papyrus Gonolek (well spotted William) as well as Malachite and Pied Kingfishers, Wire-tailed Swallow and Winding Cisticola. We made a stop for nightjars on our way back which resulted in a brief view of Fiery-necked Nightjar; however, the calling Square-tailed Nightjars would not show for us.
Day 12, 22nd July 2023. Kasenyi Track birding, Kazinga Channel boat cruise and transfer to Kibale Forest
We enjoyed an early breakfast before we packed our bags and were again out early, watching the sun rise as we headed towards the Kasenyi Track. We would be birding this famed track for the morning before heading out on our lunchtime Kazinga Channel boat cruise. After sorting out the entrance fees, we were soon on our way along the track, which proved very birdy and added many new birds to our already impressive bird list. Some of the highlights of the morning included Red-necked Spurfowl (many), Mourning Collared Dove, African Crake, Senegal Lapwing, Common Buttonquail, Dwarf Bittern, Bateleur, Yellow-billed Kite, Green Wood Hoopoe, Grey Kestrel, White-tailed, Flappet and Red-capped Larks, Stout Cisticola, Yellow-billed Oxpeckers (feeding on the large herds of African Buffalo in the area), Quailfinch and Plain-backed Pipit. The area is well-known for its large numbers of game, and today, we managed to find a male Lion, a single Leopard resting in a tree, impressive herds of African Buffalo as well as Common Warthog, Kob and Waterbuck. We enjoyed the views out over Lake Bunyampaka (a crater lake), where we scoped small numbers of Lesser Flamingo, Black-winged Stilt, Spur-winged Lapwing, Common Greenshank and Kittlitz's Plover.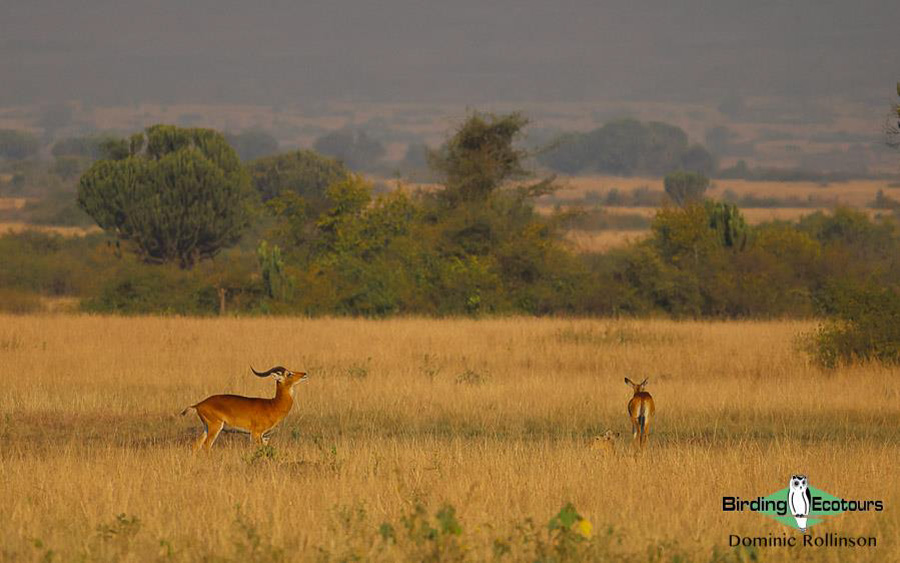 Kob are abundant in many f Uganda's national parks.
It was then time to make our way west, enjoying a quick lunch before heading out for our much-anticipated boat cruise of the Kazinga Channel. This cruise is always a very enjoyable one, with large numbers of both birds and animals on display. Today was no different as we watched large numbers of African Elephants coming down to drink, as well as small numbers of Forest Hogs sheltering in the shade. The impressive numbers of Hippopotamuses kept us entertained as they lounged around with a few good-sized Nile Crocodiles seen basking on the exposed banks. Unfortunately, the water levels were too high for African Skimmers, which we had hoped to see, and there were none of these charismatic birds around.
Despite the lack of skimmers, the birding overall was excellent, and by working through the more familiar species we were able to pick out Knob-billed Duck, Water Thick-knee, African Jacana, Common Sandpiper, Grey-headed Gull, Yellow-billed Stork, White-breasted Cormorant, Great White and Pink-backed Pelicans, Goliath and Squacco Herons, Pied Kingfisher (in the highest concentrations I have ever seen), Red-throated Bee-eater and many other widespread species.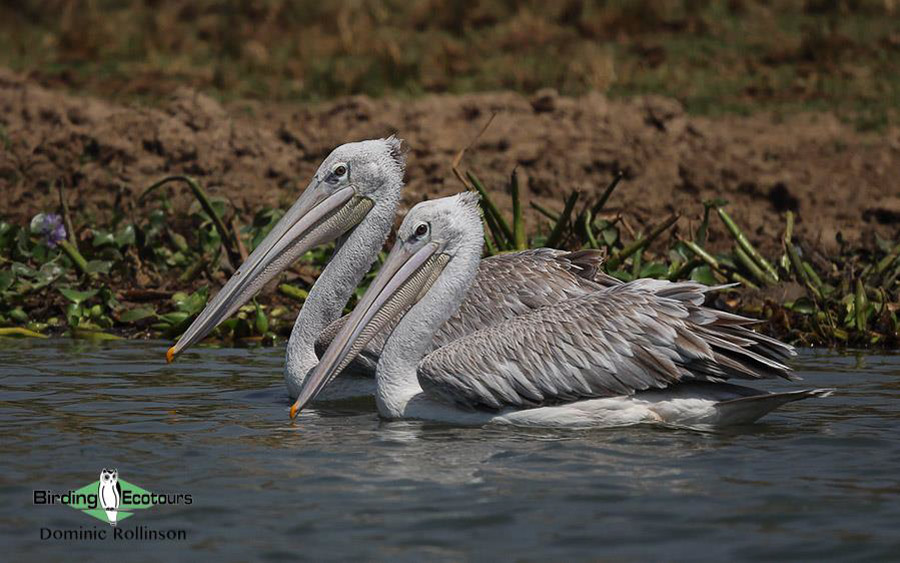 Pink-backed Pelicans on the Kazinga Channel.
After a relaxing and highly enjoyable cruise, we made the journey north to Kibale Forest, where we would be based for the next two nights. A quick stop as we drove through the forest added Sabine's Spinetail and Purple-headed Starling before we arrived at our lodge as the sun was setting.
Day 13, 23rd July 2023. Kibale Forest birding
Today was another highly anticipated day of birding as we made our way into Kibale Forest pre-dawn to look for the most-wanted Green-breasted Pitta. The pittas had proven tricky this season, with a few previous birding tours having missed them. I had chatted to William about the pittas, and he had said from the start that he would make sure we saw them, and he stayed true to his word, as we had mind-blowing views for around 15 minutes watching a bird displaying, doing its little jump and wing drumming. It was a magical experience, and we were all very relieved to have seen this attractive and elusive species. While out looking for the pittas, we also found Brown Illadopsis, Yellow-throated Tinkerbird and heard many Western Orioles, although we could not lay eyes on them yet.
After our successful morning out, we birded the forest edge, which proved equally productive as we soon found Jameson's Wattle-eye, Lowland Masked and Grey Apalises, Blue Malkoha, Western Nicator (which William somehow spotted sat on its nest!), African Shrike-flycatcher (catchup bird for Barbara), Plain Greenbul and Purple-banded Sunbird.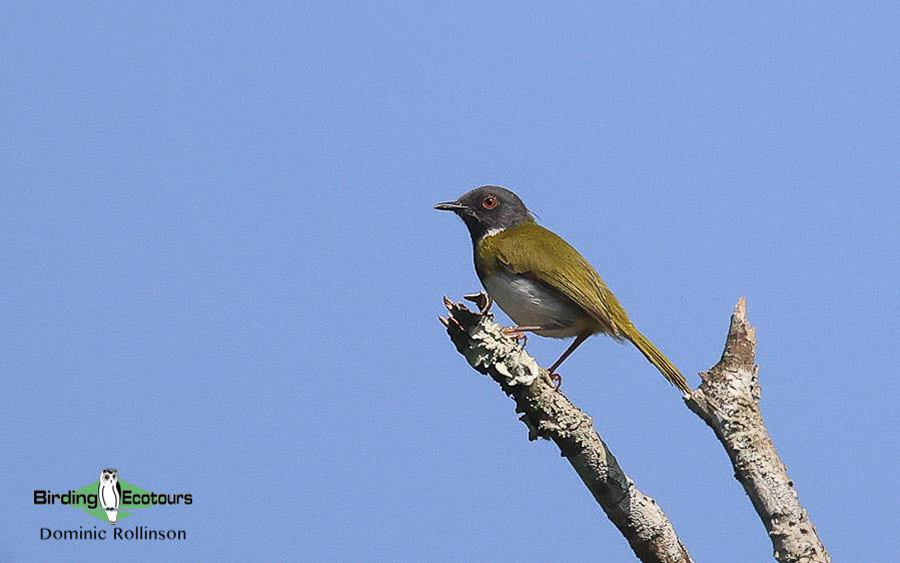 Lowland Masked Apalis was particularly confiding on the edge of Kibale Forest.
We then headed back to our lodge for a sit-down lunch and some time off in the early afternoon. Feeling refreshed, we headed out again for our afternoon's birding around Bigodi Swamp. The birding was a little on the slow side; however, we did add some new birds in the form of White-spotted Flufftail (great looks as an individual walked across the path), Ayres's Hawk-Eagle, Shining-blue Kingfisher (unfortunately missed by David and Barbara), Purple-headed Starling and a few flyover flocks of Magpie Mannikins.
Day 14, 24th July 2023. Kibale Forest birding and transfer to Masindi
Today we had the long transfer to Masindi ahead of us, but before that, we wanted to get in some last birding around Kibale Forest and the surrounds. After breakfast, we birded the area close to Bigodi Swamp, which was very productive, and we managed to find our primary target, Speckle-breasted Woodpecker. Other good birds seen included Brown-throated Wattle-eye, Black-and-white Shrike-flycatcher, African Blue Flycatcher, Copper Sunbird, Baglafecht Weaver and several showy Great Blue Turacos.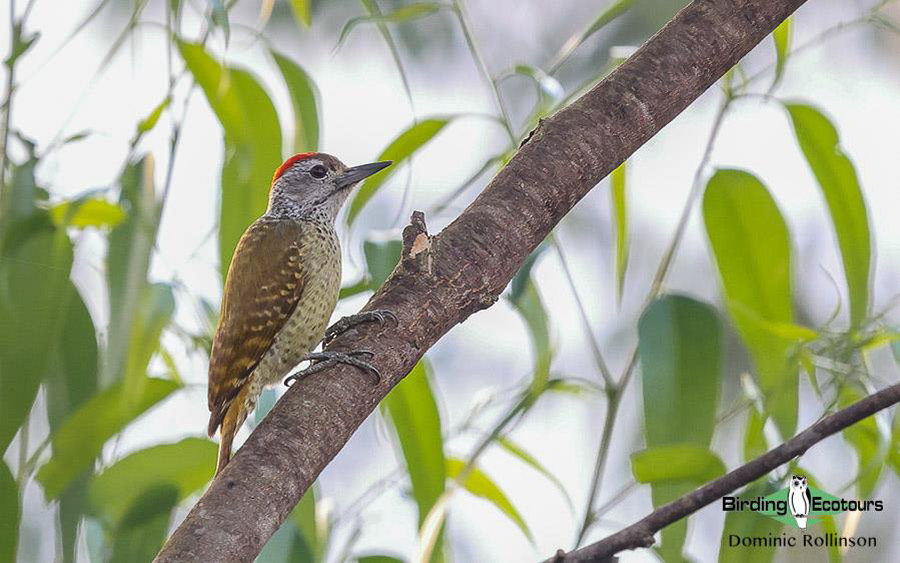 Speckle-breasted Woodpecker showed wonderfully well near Kibale Forest.
We then spent some time birding in Kibale Forest to try to find a few missing targets. A stop at the stream produced the hoped-for Cassin's Flycatcher which we had missed previously, with other previously encountered species including African Shrike-flycatcher, African Green Pigeon, Black-billed Turaco, Sabine's Spinetail, Grey-throated and Hairy-breasted Barbets, Yellow-throated Tinkerbird, Cassin's Honeybird, Chestnut Wattle-eye, Dusky Tit, Purple-banded Sunbird and Grey-headed Nigrita. New trip birds included the likes of Afep Pigeon, Dusky Long-tailed Cuckoo (finally seen, after having heard it for the last few days), European Honey Buzzard, Red-capped Robin-Chat (brief glimpses as it flew across the road) and the aptly named Superb Sunbird. We were also lucky to be able to watch a group of Chimpanzees as they fed high up in a fruiting fig tree – it's always a pleasure to watch these fascinating apes in the wild. Kibale Forest is well-known for its diversity of primates. While birding in the forest and general area over the last couple of days, we also noted Grey-cheeked Mangabey, Olive Baboon, Red-tailed Monkey and Ashy Red Colobus (which is the favored prey of Chimpanzees, due to their slow-moving nature).
After exiting Kibale Forest, the remainder of the day was mostly a travel day as we continued our way north to the town of Masindi. We made a stop for Red-headed Bluebill and another stop for Grey-headed Oliveback; however, both stops proved unsuccessful. After a long day on the road, we arrived in the late afternoon and enjoyed our dinner before heading to bed.
Day 15, 25th July 2023. Budongo Forest birding and transfer to Murchison Falls
We had a long day's birding ahead of us today, with lots to fit in, so we decided on another pre-dawn breakfast before making our way out of Masindi, heading towards Budongo Forest. Before we made it into the forest, we had several birds to target in the farmlands on the outskirts of the forest. Our first stop was for White-winged Swamp Warbler, which did not take long to finally get visuals of, after having heard it many times previously. A few farmland stops proved very birdy, and it did not take long before we had accumulated an impressive list, including Senegal Coucal, Red-necked Falcon (well spotted David, this turned out to be our only sighting of the trip!), Marsh Tchagra, Moustached Grass Warbler, Short-winged Cisticola, Brown-backed Scrub Robin, Compact Weaver, Yellow-mantled and Red-collared Widowbirds, Black Bishop, Fawn-breasted and Orange-breasted Waxbills and African Firefinch. I had brief views of a small group of Brown Babblers, but unfortunately, nobody else got onto these birds.
We then moved around the corner to try for Grey-headed Oliveback with a pair of these attractive finches showing wonderfully well for a prolonged period. At the same time, we also had a pair of Brown Twinspots, which also showed well. In this area we further saw Red-headed Lovebird, Meyer's Parrot, Grey-backed Fiscal, Snowy-crowned Robin-Chat, Compact Weaver and had a displaying African Goshawk overhead.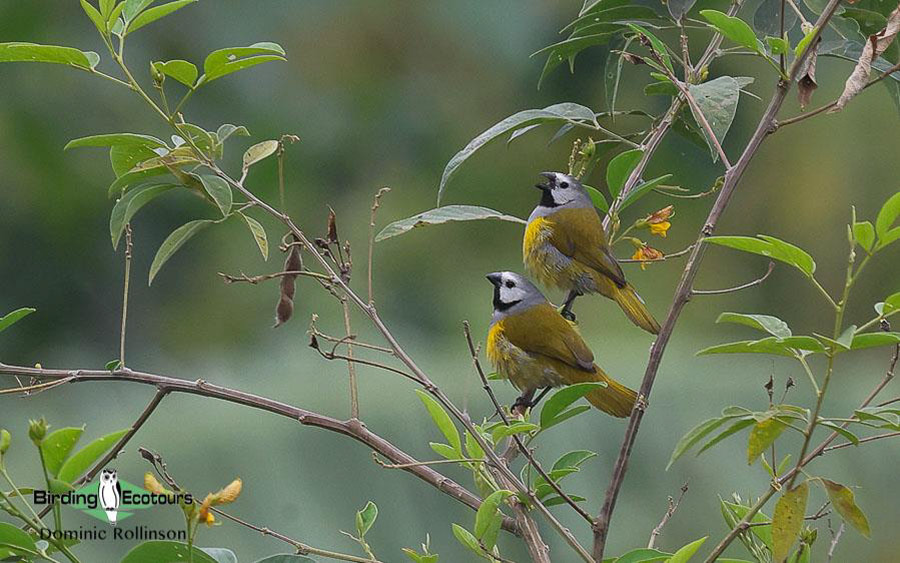 We could not have asked for better views of this pair of Grey-headed Olivebacks near to Budongo Forest.
Around mid-morning, we finally made it into Budongo Forest itself and proceeded to bird the famed Royal Mile which as always, was full of birds. Birding along the Royal Mile can be difficult at times, with flocks feeding high up in the canopy, often meaning a scope is needed to get views of many of the canopy dwellers. Our first feeding flock contained Little Grey Greenbul, Grey Longbill, Ashy Flycatcher, Little Green Sunbird, Green Crombec and Green Hylia. Nearby, we had superb views of a pair of Yellow-crested Woodpeckers. We then moved deeper into the forest and soon found a feeding party of birds high up in the canopy, which had us craning our necks upwards and managed to pick out Chestnut-capped Flycatcher and Spotted Greenbul, with glimpses of Rufous-crowned Eremomela and Ituri Batis (unfortunately Barbara and David missed these two). We had a fun time with kingfishers as we all managed good looks at African Pygmy and African Dwarf Kingfishers, with Chocolate-backed Kingfishers eventually showing very well for us. The calling Blue-breasted Kingfishers, however, would not show themselves, for now.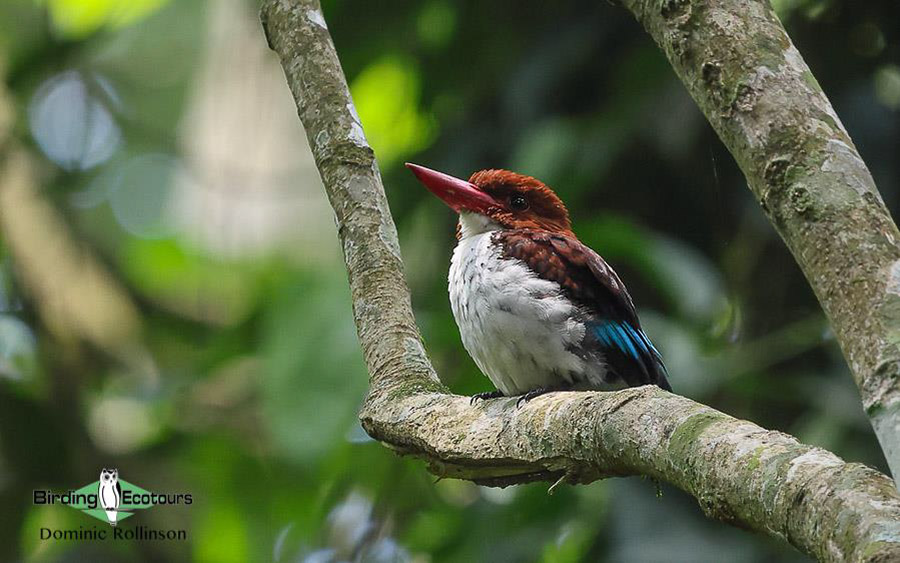 Chocolate-backed Kingfisher was one of the many kingfishers we saw along the Royal Mile.
After our picnic lunch, we continued to bird the forest and managed to find good birds in the form of White-thighed Hornbill, African Emerald Cuckoo (female), Western Oriole, Red-bellied Paradise Flycatcher, Fraser's Rufous Thrush, Fraser's Forest Flycatcher and Red-headed Malimbe. Unfortunately, we could not find the calling Uganda Woodland Warbler, which too was calling high up in the forest canopy.
After a few good hours of lowland forest birding, we decided it was time to hit the road and make our way towards Murchison Falls National Park. We wanted to take our time getting to Murchison Falls, as there was some fine birding to be had en route. We stopped off at the Butiaba Escarpment, where a drastic change in habitat (here dry woodlands) meant the new birds came rolling in thick and fast. Some of the exciting birds found here included Bateleur, African Hawk-Eagle, Swallow-tailed Bee-eater, Black-billed Barbet, Northern Crombec, Foxy Cisticola, Lesser Blue-eared Starling, Western Violet-backed and Beautiful Sunbirds, Vitelline Masked Weaver, Red-headed Quelea, Black-rumped Waxbill and Green-winged Pytilia. We moved further round the corner, where we had lovely views of Cinnamon-breasted Bunting, with the great birding continuing as we worked through the large flocks of seedeaters, picking out Cut-throat Finch and Village Indigobird. We then tried our best not to spot any exciting birds and drove the last hour or two to Murchison Falls, with William and I spotting a brief flyover Bruce's Green Pigeon as we entered the park.
Day 16, 26th July 2023. Birding Murchison Falls National Park
We had the exciting prospect of the full day in Murchison Falls National Park today and so after an early breakfast, we crossed the bridge over the Nile River and enjoyed the day of birding and animal viewing. Woodland birding produced sightings of Black-billed Wood Dove, Jacobin Cuckoo, Grey-headed Kingfisher, Northern Carmine Bee-eater, Yellow-fronted Tinkerbird, Western Black-headed Batis, White-shouldered Black Tit, Black-crowned and Brown-crowned Tchagras, Rattling Cisticola, Silverbird, Spotted Palm Thrush, Chestnut-crowned and White-browed Sparrow-Weavers, Speckle-fronted Weaver, Shelley's Sparrow, Black-bellied Firefinch and many others. The open grasslands had good numbers of Northern Red and Black-winged Bishops, Flappet Lark, Banded Martin, Black-headed Lapwing and a group of massive Abyssinian Ground Hornbills. Overhead, there were several raptors using the thermals, including Lappet-faced, White-backed and Rüppell's Vultures, Bateleur and Martial and Wahlberg's Eagles with Western Banded Snake Eagle and Dark Chanting Goshawk seen perched in tall trees. While out birding in the plains and savannas of Murchison, we noted good numbers of game, including Oribi, Waterbuck, Kob, Hartebeest and masses of African Buffalo.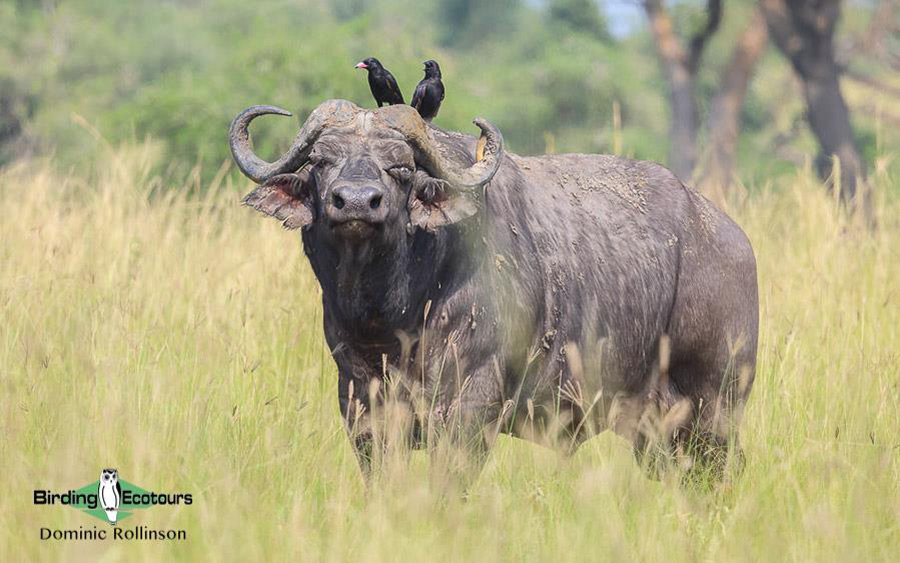 Piapiacs adorned the many African Buffalo in Murchison Falls National Park.
We enjoyed our lunch along the edge of Lake Albert, where we scoped Spur-winged and Long-toed Lapwings, Common Greenshank, African Openbill, Saddle-billed and Yellow-billed Storks, Intermediate Egret and Pink-backed Pelican before we started to slowly make our way back towards our lodge. We eventually made it back to our lodge in the late afternoon and decided to take the rest of the afternoon off and enjoy the beautiful lodge grounds and a quiet beer.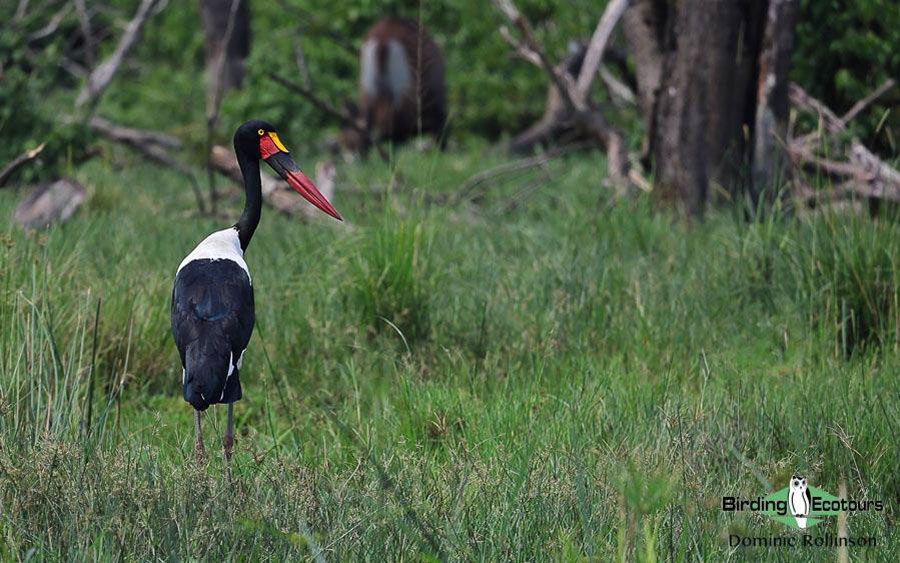 Saddle-billed Storks are often seen well in Murchison Falls National Park.
Day 17, 27th July 2023. Nile River boat cruise and birding Murchison Falls
This morning, we slowly birded the road between our lodge and Paraa, which again proved very productive with lots of new birds. We found a few bird parties, which contained the likes of Nubian Woodpecker, Western Black-headed Batis, White-crested Helmetshrike, White-shouldered Black Tit, Green-backed Eremomela, Red-winged Grey Warbler, Singing and Short-winged Cisticolas and Northern Yellow White-eye. We had to work for Grey-headed Bushshrike, but eventually, William spotted a bird calling from a distant tree, which we could all enjoy. William and I had a brief view of a male Red-shouldered Cuckooshrike as it flew across the road that was unfortunately missed by David and Barbara.
We then birded the northern side of the Nile River, which got us our two main targets for the day; White-crested Turaco and a small group of Dusky Babblers, with Pale Flycatcher and Bar-breasted Firefinch seen in the area too.
We had our picnic lunch on the edge of the Nile River while sat on a wobbly bench, which almost sent David and Barbara flying, but thankfully, all ended well, and we could laugh about it. It was then time for our Nile River boat cruise, which as always, proved to be very relaxing as we headed out to see Murchison Falls itself which is always impressive to see and hear. The birding was productive along the cruise, and we added Senegal Thick-knee, Rock Pratincole, Osprey, Giant Kingfisher and Common Swift to our trip list. Other nice birds to be seen included Red-throated Bee-eater, Goliath Heron, Grey Kestrel and Saddle-billed Stork. We also enjoyed some close-up sightings of African Buffalo, African Elephant, Hippopotamus and Nile Crocodile.
After our boat cruise, we birded the main road near our lodge in the hopes of finding Blue-breasted Kingfisher, which played hide-and-seek for a while before we eventually managed brief views of this attractive kingfisher. As the sun was setting, we drove a track where we managed a few brief flyover views of impressive male Pennant-winged Nightjars and had brief looks at Blue-throated Roller as it hawked insects in amongst the many Broad-billed Rollers.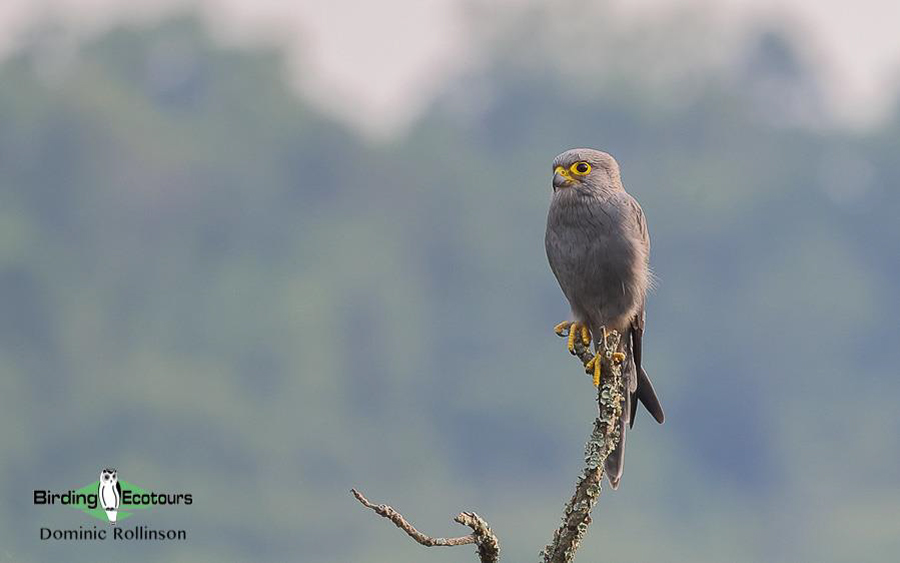 Grey Kestrel is common in savanna habitat across Uganda.
Day 18, 28th July 2023. Murchison Falls to Entebbe, with Ziwa Rhino Sanctuary en route
Today was our final full day of the tour, and we would be slowly making our way back to Entebbe, with several birding and wildlife stops to be enjoyed en route. After our sit-down breakfast we stopped at Kaniyo Pabidi Forest where we enjoyed some more lowland forest birding with highlights including Western Crested Guineafowl, Narina Trogon (calling only), African Dwarf Kingfisher, Blue-breasted Kingfisher (flying overhead), Western Oriole (seen well at last), Spotted Greenbul (seen much better this time), Fraser's Rufous Thrush, Blue-throated Brown Sunbird, Red-headed Malimbe and Yellow-mantled Weaver. We tried again for Forest Robin, which was calling close to the road; however, this bird continued to elude us.
We then continued south and stopped at Ziwa Rhino Sanctuary, where we were shown some of the White Rhinoceroses which are protected in this sanctuary. We enjoyed watching a mother with her young calf as they quietly grazed and were told of the plight of this species in the country, but we were happy to hear how conservation efforts plan to return this iconic species to the plains of Uganda. Other species seen around Ziwa included Grey Crowned Crane, Nubian Woodpecker, Yellow-fronted Tinkerbird, Double-toothed Barbet, African Golden Oriole, Whistling Cisticola and Grey Tit-Flycatcher.
Our final birding stop was at a roadside marsh where we found our target Marsh Widowbird as well as several Fan-tailed Widowbirds, before making our way through the chaos of Kampala and into Entebbe, where we would spend our final night on tour.
Day 19, 29th July 2023. Departure from Entebbe
After a busy 18 days around Uganda, we decided to take it easy for the morning, and after a final lunch, David and Barbara caught their afternoon flights out of the Pearl of Africa. Thanks to William, our trusty driver and eagle-eyed local guide, for helping make this trip the success it was. I look forward to visiting again soon!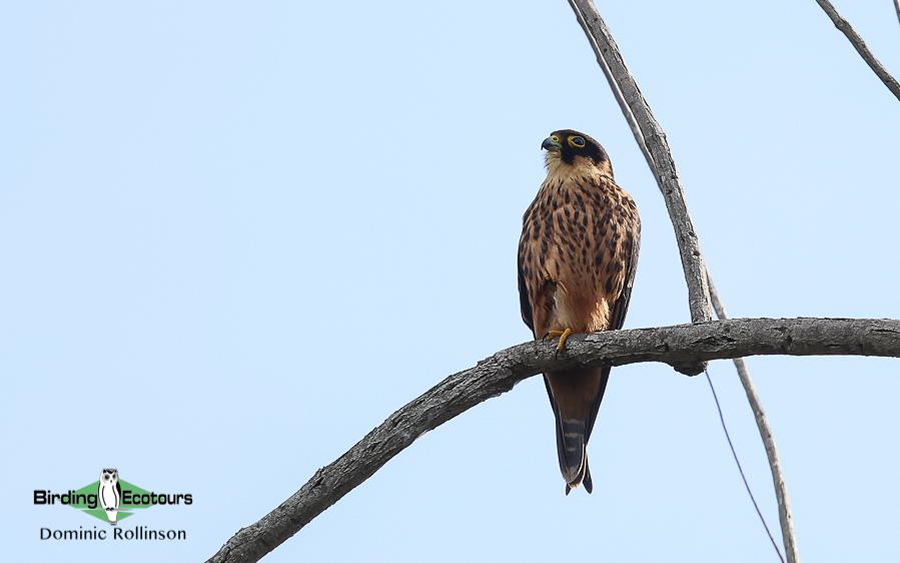 Entebbe must be one of the best places to find African Hobby.
Bird List – Following IOC (12.1)
Birds 'heard only' are marked with (H) after the common name, birds seen by the guide only are marked with a (G) after the common name, all other species were seen both by clients and guide.
The following notation after species names is used to show conservation status following BirdLife International. CR = Critically Endangered, EN = Endangered, VU = Vulnerable.
Albertine Rift endemics are bolded.
Common Name
Scientific Name
Ducks, Geese, Swans (Anatidae)
White-faced Whistling Duck
Dendrocygna viduata
White-backed Duck
Thalassornis leuconotus
Knob-billed Duck
Sarkidiornis melanotos
Egyptian Goose
Alopochen aegyptiaca
African Black Duck
Anas sparsa
Yellow-billed Duck
Anas undulata
Guineafowl (Numididae)
Helmeted Guineafowl
Numida meleagris
Crested Guineafowl
Guttera pucherani
Pheasants & Allies (Phasianidae)
Crested Francolin
Ortygornis sephaena
Coqui Francolin (H)
Campocolinus coqui
Handsome Spurfowl (H)
Pternistis nobilis
Heuglin's Spurfowl (H)
Pternistis icterorhynchus
Red-necked Spurfowl
Pternistis afer
Nightjars (Caprimulgidae)
Black-shouldered Nightjar
Caprimulgus nigriscapularis
Montane Nightjar (G)
Caprimulgus poliocephalus
Swamp Nightjar
Caprimulgus natalensis
Freckled Nightjar (H)
Caprimulgus tristigma
Square-tailed Nightjar (H)
Caprimulgus fossii
Pennant-winged Nightjar
Caprimulgus vexillarius
Swifts (Apodidae)
Scarce Swift
Schoutedenapus myoptilus
Sabine's Spinetail
Rhaphidura sabini
African Palm Swift
Cypsiurus parvus
Common Swift
Apus apus
Little Swift
Apus affinis
White-rumped Swift
Apus caffer
Turacos (Musophagidae)
Great Blue Turaco
Corythaeola cristata
Bare-faced Go-away-bird
Crinifer personatus
Eastern Plantain-eater
Crinifer zonurus
Rwenzori Turaco
Gallirex johnstoni
Ross's Turaco
Tauraco rossae
White-crested Turaco
Tauraco leucolophus
Black-billed Turaco
Tauraco schuettii
Cuckoos (Cuculidae)
Senegal Coucal
Centropus senegalensis
Blue-headed Coucal
Centropus monachus
White-browed Coucal
Centropus superciliosus
Blue Malkoha
Ceuthmochares aereus
Levaillant's Cuckoo
Clamator levaillantii
Jacobin Cuckoo
Clamator jacobinus
Diederik Cuckoo
Chrysococcyx caprius
Klaas's Cuckoo
Chrysococcyx klaas
African Emerald Cuckoo
Chrysococcyx cupreus
Dusky Long-tailed Cuckoo
Cercococcyx mechowi
Barred Long-tailed Cuckoo
Cercococcyx montanus
Red-chested Cuckoo
Cuculus solitarius
Pigeons, Doves (Columbidae)
Rock Dove
Columba livia
Speckled Pigeon
Columba guinea
Afep Pigeon
Columba unicincta
African Olive Pigeon
Columba arquatrix
Dusky Turtle Dove
Streptopelia lugens
Mourning Collared Dove
Streptopelia decipiens
Red-eyed Dove
Streptopelia semitorquata
Ring-necked Dove
Streptopelia capicola
Vinaceous Dove
Streptopelia vinacea
Laughing Dove
Spilopelia senegalensis
Emerald-spotted Wood Dove
Turtur chalcospilos
Black-billed Wood Dove
Turtur abyssinicus
Blue-spotted Wood Dove
Turtur afer
Tambourine Dove
Turtur tympanistria
Bruce's Green Pigeon (G)
Treron waalia
African Green Pigeon
Treron calvus
Finfoots (Heliornithidae)
African Finfoot
Podica senegalensis
Flufftails (Sarothruridae)
White-spotted Flufftail
Sarothrura pulchra
Red-chested Flufftail (H)
Sarothrura rufa
Rails, Crakes & Coots (Rallidae)
African Rail
Rallus caerulescens
African Crake
Crecopsis egregia
Common Moorhen
Gallinula chloropus
Red-knobbed Coot
Fulica cristata
African Swamphen
Porphyrio madagascariensis
Black Crake
Zapornia flavirostra
Cranes (Gruidae)
Grey Crowned Crane – EN
Balearica regulorum
Grebes (Podicipedidae)
Little Grebe
Tachybaptus ruficollis
Flamingos (Phoenicopteridae)
Lesser Flamingo
Phoeniconaias minor
Buttonquail (Turnicidae)
Common Buttonquail
Turnix sylvaticus
Stone-curlews, Thick-knees (Burhinidae)
Senegal Thick-knee
Burhinus senegalensis
Water Thick-knee
Burhinus vermiculatus
Stilts, Avocets (Recurvirostridae)
Black-winged Stilt
Himantopus himantopus
Plovers (Charadriidae)
Long-toed Lapwing
Vanellus crassirostris
Spur-winged Lapwing
Vanellus spinosus
Black-headed Lapwing
Vanellus tectus
Senegal Lapwing
Vanellus lugubris
Crowned Lapwing
Vanellus coronatus
African Wattled Lapwing
Vanellus senegallus
Brown-chested Lapwing
Vanellus superciliosus
Kittlitz's Plover
Charadrius pecuarius
Jacanas (Jacanidae)
African Jacana
Actophilornis africanus
Sandpipers, Snipes (Scolopacidae)
Common Sandpiper
Actitis hypoleucos
Wood Sandpiper
Tringa glareola
Common Greenshank
Tringa nebularia
Coursers, Pratincoles (Glareolidae)
Rock Pratincole
Glareola nuchalis
Gulls, Terns, Skimmers (Laridae)
Grey-headed Gull
Chroicocephalus cirrocephalus
White-winged Tern
Chlidonias leucopterus
Storks (Ciconiidae)
Yellow-billed Stork
Mycteria ibis
African Openbill
Anastomus lamelligerus
Woolly-necked Stork
Ciconia episcopus
Saddle-billed Stork
Ephippiorhynchus senegalensis
Marabou Stork
Leptoptilos crumenifer
Anhingas, Darters (Anhingidae)
African Darter
Anhinga rufa
Cormorants, Shags (Phalacrocoracidae)
Reed Cormorant
Microcarbo africanus
White-breasted Cormorant
Phalacrocorax lucidus
Ibises, Spoonbills (Threskiornithidae)
African Sacred Ibis
Threskiornis aethiopicus
Hadada Ibis
Bostrychia hagedash
Glossy Ibis
Plegadis falcinellus
African Spoonbill
Platalea alba
Herons, Bitterns (Ardeidae)
Little Bittern
Ixobrychus minutus
Dwarf Bittern
Ixobrychus sturmii
White-backed Night Heron
Gorsachius leuconotus
Striated Heron
Butorides striata
Squacco Heron
Ardeola ralloides
Rufous-bellied Heron
Ardeola rufiventris
Western Cattle Egret
Bubulcus ibis
Grey Heron
Ardea cinerea
Black-headed Heron
Ardea melanocephala
Goliath Heron
Ardea goliath
Purple Heron
Ardea purpurea
Great Egret
Ardea alba
Intermediate Egret
Ardea intermedia
Little Egret
Egretta garzetta
Hamerkop (Scopidae)
Hamerkop
Scopus umbretta
Shoebill (Balaenicipitidae)
Shoebill – VU
Balaeniceps rex
Pelicans (Pelecanidae)
Great White Pelican
Pelecanus onocrotalus
Pink-backed Pelican
Pelecanus rufescens
Ospreys (Pandionidae)
Western Osprey
Pandion haliaetus
Kites, Hawks, Eagles (Accipitridae)
Black-winged Kite
Elanus caeruleus
African Harrier-Hawk
Polyboroides typus
Palm-nut Vulture
Gypohierax angolensis
European Honey Buzzard
Pernis apivorus
African Cuckoo-Hawk
Aviceda cuculoides
Hooded Vulture – CR
Necrosyrtes monachus
White-backed Vulture – CR
Gyps africanus
Rüppell's Vulture – CR
Gyps rueppelli
Lappet-faced Vulture – EN
Torgos tracheliotos
Black-chested Snake Eagle
Circaetus pectoralis
Brown Snake Eagle
Circaetus cinereus
Western Banded Snake Eagle
Circaetus cinerascens
Bateleur – EN
Terathopius ecaudatus
Bat Hawk
Macheiramphus alcinus
Crowned Eagle (H)
Stephanoaetus coronatus
Martial Eagle – EN
Polemaetus bellicosus
Long-crested Eagle
Lophaetus occipitalis
Wahlberg's Eagle
Hieraaetus wahlbergi
Ayres's Hawk-Eagle
Hieraaetus ayresii
Cassin's Hawk-Eagle
Aquila africana
African Hawk-Eagle
Aquila spilogaster
Lizard Buzzard
Kaupifalco monogrammicus
Dark Chanting Goshawk
Melierax metabates
African Goshawk
Accipiter tachiro
Shikra
Accipiter badius
Rufous-breasted Sparrowhawk
Accipiter rufiventris
Black Sparrowhawk
Accipiter melanoleucus
African Marsh Harrier
Circus ranivorus
Yellow-billed Kite
Milvus aegyptius
African Fish Eagle
Haliaeetus vocifer
Augur Buzzard
Buteo augur
Barn Owls (Tytonidae)
Western Barn Owl
Tyto alba
Owls (Strigidae)
Pearl-spotted Owlet
Glaucidium perlatum
African Scops Owl (H)
Otus senegalensis
Southern White-faced Owl
Ptilopsis granti
Verreaux's Eagle-Owl
Bubo lacteus
African Wood Owl
Strix woodfordii
Mousebirds (Coliidae)
Speckled Mousebird
Colius striatus
Blue-naped Mousebird
Urocolius macrourus
Trogons (Trogonidae)
Narina Trogon (H)
Apaloderma narina
Bar-tailed Trogon
Apaloderma vittatum
Hoopoes (Upupidae)
African Hoopoe
Upupa africana
Wood Hoopoes (Phoeniculidae)
White-headed Wood Hoopoe
Phoeniculus bollei
Green Wood Hoopoe
Phoeniculus purpureus
Common Scimitarbill
Rhinopomastus cyanomelas
Ground Hornbills (Bucorvidae)
Abyssinian Ground Hornbill – VU
Bucorvus abyssinicus
Hornbills (Bucerotidae)
Crowned Hornbill
Lophoceros alboterminatus
African Pied Hornbill
Lophoceros fasciatus
African Grey Hornbill
Lophoceros nasutus
White-thighed Hornbill
Bycanistes albotibialis
Black-and-white-casqued Hornbill
Bycanistes subcylindricus
Rollers (Coraciidae)
Lilac-breasted Roller
Coracias caudatus
Blue-throated Roller (G)
Eurystomus gularis
Broad-billed Roller
Eurystomus glaucurus
Kingfishers (Alcedinidae)
Chocolate-backed Kingfisher
Halcyon badia
Grey-headed Kingfisher
Halcyon leucocephala
Striped Kingfisher
Halcyon chelicuti
Blue-breasted Kingfisher
Halcyon malimbica
Woodland Kingfisher
Halcyon senegalensis
African Dwarf Kingfisher
Ispidina lecontei
African Pygmy Kingfisher
Ispidina picta
Malachite Kingfisher
Corythornis cristatus
Shining-blue Kingfisher (G)
Alcedo quadribrachys
Giant Kingfisher
Megaceryle maxima
Pied Kingfisher
Ceryle rudis
Bee-eaters (Meropidae)
Black Bee-eater
Merops gularis
Swallow-tailed Bee-eater
Merops hirundineus
Little Bee-eater
Merops pusillus
Blue-breasted Bee-eater
Merops variegatus
Cinnamon-chested Bee-eater
Merops oreobates
Red-throated Bee-eater
Merops bulocki
Olive Bee-eater
Merops superciliosus
Northern Carmine Bee-eater
Merops nubicus
African Barbets (Lybiidae)
Grey-throated Barbet
Gymnobucco bonapartei
Speckled Tinkerbird
Pogoniulus scolopaceus
Western Tinkerbird
Pogoniulus coryphaea
Yellow-throated Tinkerbird
Pogoniulus subsulphureus
Yellow-rumped Tinkerbird
Pogoniulus bilineatus
Yellow-fronted Tinkerbird
Pogoniulus chrysoconus
Yellow-spotted Barbet
Buccanodon duchaillui
Hairy-breasted Barbet
Tricholaema hirsuta
Spot-flanked Barbet
Tricholaema lacrymosa
White-headed Barbet
Lybius leucocephalus
Red-faced Barbet
Lybius rubrifacies
Black-billed Barbet
Lybius guifsobalito
Black-collared Barbet
Lybius torquatus
Double-toothed Barbet
Lybius bidentatus
Yellow-billed Barbet
Trachyphonus purpuratus
Crested Barbet
Trachyphonus vaillantii
Honeyguides (Indicatoridae)
Cassin's Honeybird
Prodotiscus insignis
Dwarf Honeyguide
Indicator pumilio
Willcocks's Honeyguide
Indicator willcocksi
Lesser Honeyguide
Indicator minor
Woodpeckers (Picidae)
Red-throated Wryneck
Jynx ruficollis
Buff-spotted Woodpecker
Pardipicus nivosus
Brown-eared Woodpecker (H)
Pardipicus caroli
Nubian Woodpecker
Campethera nubica
Little Spotted Woodpecker
Campethera cailliautii
Yellow-crested Woodpecker
Chloropicus xantholophus
Speckle-breasted Woodpecker
Dendropicos poecilolaemus
Cardinal Woodpecker
Dendropicos fuscescens
Elliot's Woodpecker
Dendropicos elliotii
African Grey Woodpecker
Dendropicos goertae
Caracaras, Falcons (Falconidae)
Grey Kestrel
Falco ardosiaceus
Red-necked Falcon
Falco chicquera
African Hobby
Falco cuvierii
Lanner Falcon
Falco biarmicus
African & New World Parrots (Psittacidae)
Grey Parrot – EN
Psittacus erithacus
Meyer's Parrot
Poicephalus meyeri
Old World Parrots (Psittaculidae)
Red-headed Lovebird
Agapornis pullarius
African & Green Broadbills (Calyptomenidae)
African Broadbill
Smithornis capensis
Pittas (Pittidae)
Green-breasted Pitta
Pitta reichenowi
Wattle-eyes, Batises (Platysteiridae)
Rwenzori Batis
Batis diops
Chinspot Batis
Batis molitor
Western Black-headed Batis
Batis erlangeri
Ituri Batis (G)
Batis ituriensis
Chestnut Wattle-eye
Platysteira castanea
Brown-throated Wattle-eye
Platysteira cyanea
Jameson's Wattle-eye
Platysteira jamesoni
Bushshrikes (Malaconotidae)
Grey-headed Bushshrike
Malaconotus blanchoti
Many-colored Bushshrike
Chlorophoneus multicolor
Bocage's Bushshrike
Chlorophoneus bocagei
Orange-breasted Bushshrike
Chlorophoneus sulfureopectus
Doherty's Bushshrike
Telophorus dohertyi
Marsh Tchagra
Bocagia minuta
Brown-crowned Tchagra
Tchagra australis
Black-crowned Tchagra
Tchagra senegalus
Pink-footed Puffback
Dryoscopus angolensis
Northern Puffback
Dryoscopus gambensis
Albertine Sooty Boubou
Laniarius holomelas
Slate-colored Boubou
Laniarius funebris
Lühder's Bushshrike
Laniarius luehderi
Tropical Boubou
Laniarius major
Papyrus Gonolek
Laniarius mufumbiri
Black-headed Gonolek
Laniarius erythrogaster
Brubru
Nilaus afer
Vangas & Allies (Vangidae)
White-crested Helmetshrike
Prionops plumatus
African Shrike-flycatcher
Megabyas flammulatus
Black-and-white Shrike-flycatcher
Bias musicus
Cuckooshrikes (Campephagidae)
Grey Cuckooshrike
Ceblepyris caesius
Black Cuckooshrike
Campephaga flava
Red-shouldered Cuckooshrike (G)
Campephaga phoenicea
Petit's Cuckooshrike
Campephaga petiti
Shrikes (Laniidae)
Mackinnon's Shrike
Lanius mackinnoni
Grey-backed Fiscal
Lanius excubitoroides
Northern Fiscal
Lanius humeralis
Figbirds, Orioles, Turnagra (Oriolidae)
Western Oriole
Oriolus brachyrynchus
Black-headed Oriole
Oriolus larvatus
Mountain Oriole
Oriolus percivali
African Golden Oriole
Oriolus auratus
Drongos (Dicruridae)
Fork-tailed Drongo
Dicrurus adsimilis
Monarchs (Monarchidae)
Red-bellied Paradise Flycatcher
Terpsiphone rufiventer
African Paradise Flycatcher
Terpsiphone viridis
Crows, Jays (Corvidae)
Piapiac
Ptilostomus afer
Pied Crow
Corvus albus
White-necked Raven
Corvus albicollis
Fairy Flycatchers (Stenostiridae)
African Blue Flycatcher
Elminia longicauda
White-tailed Blue Flycatcher
Elminia albicauda
White-tailed Crested Flycatcher
Elminia albonotata
Tits, Chickadees (Paridae)
White-shouldered Black Tit
Melaniparus guineensis
White-winged Black Tit
Melaniparus leucomelas
Dusky Tit
Melaniparus funereus
Stripe-breasted Tit
Melaniparus fasciiventer
Penduline Tits (Remizidae)
Grey Penduline Tit
Anthoscopus caroli
Nicators (Nicatoridae)
Western Nicator
Nicator chloris
Larks (Alaudidae)
Rufous-naped Lark
Mirafra africana
Flappet Lark
Mirafra rufocinnamomea
White-tailed Lark
Mirafra albicauda
Red-capped Lark
Calandrella cinerea
Bulbuls (Pycnonotidae)
Slender-billed Greenbul
Stelgidillas gracilirostris
Red-tailed Bristlebill
Bleda syndactylus
Yellow-throated Leaflove
Atimastillas flavicollis
Spotted Greenbul
Ixonotus guttatus
Honeyguide Greenbul
Baeopogon indicator
Kakamega Greenbul (G)
Arizelocichla kakamegae
Olive-breasted Greenbul
Arizelocichla kikuyuensis
Red-tailed Greenbul
Criniger calurus
Little Greenbul
Eurillas virens
Yellow-whiskered Greenbul
Eurillas latirostris
Plain Greenbul
Eurillas curvirostris
Little Grey Greenbul
Eurillas gracilis
Ansorge's Greenbul
Eurillas ansorgei
Yellow-streaked Greenbul
Phyllastrephus flavostriatus
Toro Olive Greenbul
Phyllastrephus hypochloris
Dark-capped Bulbul
Pycnonotus tricolor
Swallows, Martins (Hirundinidae)
Black Saw-wing
Psalidoprocne pristoptera
White-headed Saw-wing
Psalidoprocne albiceps
Banded Martin
Neophedina cincta
Brown-throated Martin
Riparia paludicola
Rock Martin
Ptyonoprogne fuligula
Wire-tailed Swallow
Hirundo smithii
Barn Swallow
Hirundo rustica
Angolan Swallow
Hirundo angolensis
Red-breasted Swallow
Cecropis semirufa
Mosque Swallow
Cecropis senegalensis
Lesser Striped Swallow
Cecropis abyssinica
Red-rumped Swallow
Cecropis daurica
Crombecs, African Warblers (Macrosphenidae)
Moustached Grass Warbler
Melocichla mentalis
Grey Longbill
Macrosphenus concolor
Northern Crombec
Sylvietta brachyura
Red-faced Crombec
Sylvietta whytii
Green Crombec
Sylvietta virens
White-browed Crombec
Sylvietta leucophrys
Cettia Bush Warblers & Allies (Cettiidae)
Neumann's Warbler (H)
Urosphena neumanni
Yellow Flycatchers (Erythrocercidae)
Chestnut-capped Flycatcher
Erythrocercus mccallii
Hylias (Hyliidae)
Green Hylia
Hylia prasina
Leaf Warblers & Allies (Phylloscopidae)
Red-faced Woodland Warbler
Phylloscopus laetus
Uganda Woodland Warbler (H)
Phylloscopus budongoensis
Reed Warblers & Allies (Acrocephalidae)
Grauer's Warbler
Graueria vittata
Greater Swamp Warbler
Acrocephalus rufescens
Mountain Yellow Warbler
Iduna similis
Papyrus Yellow Warbler – VU
Calamonastides gracilirostris
Grassbirds & Allies (Locustellidae)
Fan-tailed Grassbird (H)
Catriscus brevirostris
Cinnamon Bracken Warbler
Bradypterus cinnamomeus
White-winged Swamp Warbler
Bradypterus carpalis
Highland Rush Warbler
Bradypterus centralis
Cisticolas & Allies (Cisticolidae)
Red-faced Cisticola
Cisticola erythrops
Singing Cisticola
Cisticola cantans
Whistling Cisticola
Cisticola lateralis
Trilling Cisticola
Cisticola woosnami
Chubb's Cisticola
Cisticola chubbi
Rattling Cisticola
Cisticola chiniana
Winding Cisticola
Cisticola marginatus
Carruthers's Cisticola
Cisticola carruthersi
Stout Cisticola
Cisticola robustus
Croaking Cisticola
Cisticola natalensis
Short-winged Cisticola
Cisticola brachypterus
Foxy Cisticola
Cisticola troglodytes
Long-tailed Cisticola
Cisticola angusticauda
Zitting Cisticola
Cisticola juncidis
Tawny-flanked Prinia
Prinia subflava
Black-faced Prinia
Prinia melanops
White-chinned Prinia
Schistolais leucopogon
Rwenzori Apalis
Oreolais ruwenzorii
Red-winged Grey Warbler
Drymocichla incana
Buff-bellied Warbler
Phyllolais pulchella
Yellow-breasted Apalis
Apalis flavida
Lowland Masked Apalis
Apalis binotata
Mountain Masked Apalis
Apalis personata
Black-throated Apalis
Apalis jacksoni
Chestnut-throated Apalis
Apalis porphyrolaema
Buff-throated Apalis
Apalis rufogularis
Grey Apalis
Apalis cinerea
Grey-capped Warbler
Eminia lepida
Grey-backed Camaroptera
Camaroptera brevicaudata
Olive-green Camaroptera (H)
Camaroptera chloronota
Black-faced Rufous Warbler
Bathmocercus rufus
Green-backed Eremomela
Eremomela canescens
Green-capped Eremomela
Eremomela scotops
Rufous-crowned Eremomela (G)
Eremomela badiceps
Sylviid Babblers (Sylviidae)
Rwenzori Hill Babbler
Sylvia atriceps
White-eyes (Zosteropidae)
Green White-eye
Zosterops stuhlmanni
Northern Yellow White-eye
Zosterops senegalensis
Ground Babblers (Pellorneidae)
Brown Illadopsis
Illadopsis fulvescens
Mountain Illadopsis
Illadopsis pyrrhoptera
Scaly-breasted Illadopsis (H)
Illadopsis albipectus
Laughingthrushes & Allies (Leiothrichidae)
Brown Babbler (G)
Turdoides plebejus
Arrow-marked Babbler
Turdoides jardineii
Dusky Babbler
Turdoides tenebrosa
Black-lored Babbler
Turdoides sharpei
Starlings, Rhabdornis (Sturnidae)
Wattled Starling
Creatophora cinerea
Purple-headed Starling
Hylopsar purpureiceps
Greater Blue-eared Starling
Lamprotornis chalybaeus
Lesser Blue-eared Starling
Lamprotornis chloropterus
Splendid Starling
Lamprotornis splendidus
Rüppell's Starling
Lamprotornis purpuroptera
Violet-backed Starling
Cinnyricinclus leucogaster
Slender-billed Starling
Onychognathus tenuirostris
Waller's Starling
Onychognathus walleri
Narrow-tailed Starling
Poeoptera lugubris
Sharpe's Starling
Poeoptera sharpii
Oxpeckers (Buphagidae)
Yellow-billed Oxpecker
Buphagus africanus
Thrushes (Turdidae)
Fraser's Rufous Thrush
Stizorhina fraseri
White-tailed Ant Thrush (H)
Neocossyphus poensis
African Thrush
Turdus pelios
Abyssinian Thrush
Turdus abyssinicus
Chats, Old World Flycatchers (Muscicapidae)
Brown-backed Scrub Robin
Cercotrichas hartlaubi
White-browed Scrub Robin
Cercotrichas leucophrys
Fraser's Forest Flycatcher
Fraseria ocreata
Grey-throated Tit-Flycatcher
Myioparus griseigularis
Grey Tit-Flycatcher
Myioparus plumbeus
White-eyed Slaty Flycatcher
Melaenornis fischeri
Northern Black Flycatcher
Melaenornis edolioides
Pale Flycatcher
Melaenornis pallidus
Silverbird
Empidornis semipartitus
Ashy Flycatcher
Muscicapa caerulescens
Swamp Flycatcher
Muscicapa aquatica
Cassin's Flycatcher
Muscicapa cassini
Chapin's Flycatcher – VU
Muscicapa lendu
African Dusky Flycatcher
Muscicapa adusta
Dusky-blue Flycatcher
Muscicapa comitata
Sooty Flycatcher
Muscicapa infuscata
Red-throated Alethe (H)
Chamaetylas poliophrys
Archer's Ground Robin
Cossypha archeri
Grey-winged Robin-Chat
Cossypha polioptera
Blue-shouldered Robin-Chat
Cossypha cyanocampter
White-browed Robin-Chat
Cossypha heuglini
Red-capped Robin-Chat (G)
Cossypha natalensis
Snowy-crowned Robin-Chat
Cossypha niveicapilla
White-starred Robin
Pogonocichla stellata
Forest Robin (G)
Stiphrornis erythrothorax
Equatorial Akalat
Sheppardia aequatorialis
Spotted Palm Thrush
Cichladusa guttata
African Stonechat
Saxicola torquatus
Sooty Chat
Myrmecocichla nigra
Sunbirds (Nectariniidae)
Grey-headed Sunbird
Deleornis axillaris
Western Violet-backed Sunbird
Anthreptes longuemarei
Little Green Sunbird
Anthreptes seimundi
Grey-chinned Sunbird
Anthreptes tephrolaemus
Collared Sunbird
Hedydipna collaris
Green-headed Sunbird
Cyanomitra verticalis
Blue-throated Brown Sunbird
Cyanomitra cyanolaema
Blue-headed Sunbird
Cyanomitra alinae
Olive Sunbird
Cyanomitra olivacea
Green-throated Sunbird
Chalcomitra rubescens
Scarlet-chested Sunbird
Chalcomitra senegalensis
Bronzy Sunbird
Nectarinia kilimensis
Olive-bellied Sunbird
Cinnyris chloropygius
Rwenzori Double-collared Sunbird
Cinnyris stuhlmanni
Northern Double-collared Sunbird
Cinnyris reichenowi
Regal Sunbird
Cinnyris regius
Beautiful Sunbird
Cinnyris pulchellus
Marico Sunbird
Cinnyris mariquensis
Red-chested Sunbird
Cinnyris erythrocercus
Purple-banded Sunbird
Cinnyris bifasciatus
Superb Sunbird
Cinnyris superbus
Variable Sunbird
Cinnyris venustus
Copper Sunbird
Cinnyris cupreus
Old World Sparrows, Snowfinches (Passeridae)
Shelley's Sparrow
Passer shelleyi
Northern Grey-headed Sparrow
Passer griseus
House Sparrow
Passer domesticus
Weavers, Widowbirds (Ploceidae)
White-browed Sparrow-Weaver
Plocepasser mahali
Chestnut-crowned Sparrow-Weaver
Plocepasser superciliosus
Speckle-fronted Weaver
Sporopipes frontalis
Thick-billed Weaver
Amblyospiza albifrons
Baglafecht Weaver
Ploceus baglafecht
Slender-billed Weaver
Ploceus pelzelni
Little Weaver
Ploceus luteolus
Spectacled Weaver
Ploceus ocularis
Black-necked Weaver
Ploceus nigricollis
Strange Weaver
Ploceus alienus
Black-billed Weaver
Ploceus melanogaster
Holub's Golden Weaver
Ploceus xanthops
Orange Weaver
Ploceus aurantius
Northern Brown-throated Weaver
Ploceus castanops
Lesser Masked Weaver
Ploceus intermedius
Vitelline Masked Weaver
Ploceus vitellinus
Village Weaver
Ploceus cucullatus
Vieillot's Black Weaver
Ploceus nigerrimus
Weyns's Weaver
Ploceus weynsi
Black-headed Weaver
Ploceus melanocephalus
Golden-backed Weaver
Ploceus jacksoni
Yellow-mantled Weaver
Ploceus tricolor
Compact Weaver
Ploceus superciliosus
Brown-capped Weaver
Ploceus insignis
Red-headed Malimbe
Malimbus rubricollis
Red-headed Weaver
Anaplectes rubriceps
Red-headed Quelea
Quelea erythrops
Red-billed Quelea
Quelea quelea
Black Bishop
Euplectes gierowii
Black-winged Red Bishop
Euplectes hordeaceus
Southern Red Bishop
Euplectes orix
Northern Red Bishop
Euplectes franciscanus
Fan-tailed Widowbird
Euplectes axillaris
Yellow-mantled Widowbird
Euplectes macroura
Marsh Widowbird
Euplectes hartlaubi
White-winged Widowbird
Euplectes albonotatus
Red-collared Widowbird
Euplectes ardens
Waxbills, Munias & Allies (Estrildidae)
Bronze Mannikin
Spermestes cucullata
Magpie Mannikin
Spermestes fringilloides
Black-and-white Mannikin
Spermestes bicolor
White-collared Oliveback
Nesocharis ansorgei
Dusky Crimsonwing
Cryptospiza jacksoni
Jameson's Antpecker (H)
Parmoptila jamesoni
White-breasted Nigrita
Nigrita fusconotus
Grey-headed Nigrita
Nigrita canicapillus
Grey-headed Oliveback
Delacourella capistrata
Black-faced Waxbill
Brunhilda erythronotos
Black-crowned Waxbill
Estrilda nonnula
Kandt's Waxbill
Estrilda kandti
Fawn-breasted Waxbill
Estrilda paludicola
Common Waxbill
Estrilda astrild
Black-rumped Waxbill
Estrilda troglodytes
Quailfinch
Ortygospiza atricollis
Cut-throat Finch
Amadina fasciata
Orange-breasted Waxbill
Amandava subflava
Red-cheeked Cordon-bleu
Uraeginthus bengalus
Red-headed Bluebill (H)
Spermophaga ruficapilla
Green-winged Pytilia
Pytilia melba
Dusky Twinspot
Euschistospiza cinereovinacea
Brown Twinspot
Clytospiza monteiri
Red-billed Firefinch
Lagonosticta senegala
African Firefinch
Lagonosticta rubricata
Black-bellied Firefinch
Lagonosticta rara
Bar-breasted Firefinch
Lagonosticta rufopicta
Indigobirds, Whydahs (Viduidae)
Village Indigobird
Vidua chalybeata
Pin-tailed Whydah
Vidua macroura
Wagtails, Pipits (Motacillidae)
Cape Wagtail
Motacilla capensis
Mountain Wagtail (H)
Motacilla clara
African Pied Wagtail
Motacilla aguimp
Yellow-throated Longclaw
Macronyx croceus
African Pipit
Anthus cinnamomeus
Plain-backed Pipit
Anthus leucophrys
Finches, Euphonias (Fringillidae)
Western Citril
Crithagra frontalis
Papyrus Canary
Crithagra koliensis
Yellow-fronted Canary
Crithagra mozambica
Brimstone Canary
Crithagra sulphurata
Thick-billed Seedeater
Crithagra burtoni
Streaky Seedeater
Crithagra striolata
Yellow-crowned Canary
Serinus flavivertex
Buntings (Emberizidae)
Cinnamon-breasted Bunting
Emberiza tahapisi
Golden-breasted Bunting
Emberiza flaviventris
| | |
| --- | --- |
| Species Seen | 503 |
| Species heard only | 20 |
| Species seen by guide only | 11 |
| Total species recorded | 534 |

Mammal List


The following notation after species names is used to show conservation status following the IUCN Red List:
CR = Critically Endangered, EN = Endangered, VU = Vulnerable.
Common Name
Scientific Name
Elephants (Elephantidae)
African Elephant – VU
Loxodonta africana
Squirrels and Relatives (Sciuridae)
Striped Ground Squirrel
Euxerus erythropus
Carruthers's Mountain Squirrel
Funisciurus carruthersi
Boehm's Bush Squirrel
Paraxerus boehmi
Old World Monkeys (Cercopithecidae)
Grey-cheeked Mangabey – VU
Lophocebus albigena
Olive Baboon
Papio anubis
Patas Monkey
Erythrocebus patas
Vervet Monkey
Chlorocebus pygerythrus
L'Hoest's Monkey – VU
Allochrocebus lhoesti
Red-tailed Monkey
Cercopithecus ascanius
Blue Monkey
Cercopithecus mitis
Guereza
Colobus guereza
Ashy Red Colobus – EN
Piliocolobus tephrosceles
Great Apes (Hominidae)
Eastern Gorilla – CR
Gorilla beringei
Chimpanzee – EN
Pan troglodytes
Fruit Bats (Pteropodidae)
Straw-colored Fruit Bat
Eidolon helvum
 
False Vampire Bats (Megadermatidae)
Yellow-winged Bat
Lavia frons
Cats (Felidae)
Lion
Panthera leo
Leopard
Panthera pardus
Mongooses and Fossa (Herpestidae)
Common Dwarf Mongoose
Helogale parvula
Horses, Asses and Zebras (Equidae)
Plains Zebra
Equus quagga
Rhinoceroses (Rhinocerotidae)
White Rhinoceros
Ceratotherium simum
Hogs and Pigs (Suidae)
Common Warthog
Phacochoerus africanus
Forest Hog
Hylochoerus meinertzhageni
Bush Pig
Potamochoerus larvatus
Hippopotamuses (Hippopotamidae)
Hippopotamus – VU
Hippopotamus amphibius
Bovids (Bovidae)
African Buffalo
Syncerus caffer
Bushbuck
Tragelaphus scriptus
Common Eland
Tragelaphus oryx
Impala
Aepyceros melampus
Oribi
Ourebia ourebi
(Defassa) Waterbuck
Kobus ellipsiprymnus
Kob
Kobus kob
(Lelwel) Hartebeest
Alcelaphus buselaphus
Topi
Damaliscus lunatus
Black-fronted Duiker
Cephalophus nigrifrons
Yellow-backed Duiker
Cephalophus silvicultor
Giraffes and Okapis (Giraffidae)
Giraffe – VU
Giraffa camelopardalis
Species seen:
38
DOWNLOAD TRIP REPORT
This is a sample trip report. Please email us ([email protected]) for more trip reports from this destination.
ULTIMATE UGANDA BIRDING TOUR – SHOEBILL, ALBERTINE RIFT ENDEMICS AND GREAT APES
                 GENERAL INFORMATION
 
GENERAL
Uganda, "the Pearl of Africa", is about the same size as the state of Oregon yet boasts over 1,000 bird species and Africa's greatest concentration of primate species! This spectacular faunal diversity is partly explained by the dramatic variety of habitats that change constantly (and sometimes rapidly) as one drives across the country. On this Ugandan birding tour, we target the most important birds and primates that Uganda has to offer. The huge and bizarre Shoebill is searched for in Mabamba Swamp and is near-guaranteed. Enough time is spent in the highlands of the country where we search for the 20 Albertine (Western) Rift endemics which includes one of Africa's most fabulous turacos, Rwenzori Turaco, and of course the "must-see" Grauer's Broadbill. We also then spend time in lowland forest (looking for Green-breasted Pitta) and savanna as well as time on boats on rivers and lakes which results in an impressive trip list (both birds and mammals).
DAILY ACTIVITIES, PHYSICAL REQUIREMENTS, AND TOUR PACE
Most of the trip is not very strenuous. However, there are a couple of relatively difficult, but optional, walks that take at least half a day, sometimes the whole day. Those folks who are unfit (or who prefer just to have more of a vacation) can certainly feel free to opt out of any strenuous activities. The lodges are pleasant places to spend the occasional day relaxing, and we have found that photographers sometimes get quite good bird pictures by staying behind at the accommodations while the others embark on these long walks. Some folks also opt out of pre-breakfast birding or night owling if they want a less tiring trip. From our experience, a mix of hardcore birders and relaxed birding spouses have thoroughly enjoyed this trip to Uganda since it is, on most days (except when driving between sites), easy to opt out of activities and to enjoy "off" time around the hotels.
There are a few long, slow drives during the tour that can take half a day or more between sites. Road work has been ongoing for several years in Uganda, so do be prepared to travel along the unpaved side of the road for many miles at times – this gets dusty.
Most of the birding on this tour involves birding in forests (at Mgahinga, Bwindi, Kibale and Budongo Forests), although we do also spend quality time in savanna, wetland and river systems, and other open-country habitats. Forest birding is typically difficult and often involves looking for birds high up in the tree canopy or searching for cryptic and skulking species in the dense undergrowth. This means at times forest birding can be frustrating as often somebody in the group may miss species however it can also be incredibly rewarding if you are patient and determined and can result in some highly prized Albertine Rift endemics added to your life list.
BIRDING AND GREAT APE HIKES:
We undertake several birding hikes and walks on this trip, most of which take us through climax highland as well as lowland forest. The birding hike down to Mubwindi Swamp is one of the most exciting birding walks of the entire trip, as one often sees a constant stream of Albertine Rift endemics, the top one being Grauer's Broadbill, which is unfortunately right at the bottom around the swamp. It is also the most strenuous walk of the trip as it involves hiking at altitude (roughly 6,400 feet /2,000 meters above sea), covers roughly 10 miles (16 kilometers), round trip, and may include some walking off cleared paths. One spends the whole morning slowly walking down (dropping roughly 1,500 feet/500 meters), enjoy our picnic lunch at the swamp and then some people struggle, as the entire afternoon is spent walking back up a long hill for several hours! Mgahinga Gorilla National Park (near the start of the trip) is also strenuous but usually involves walking uphill first, then downhill later. Other birding walks are far less strenuous and are over much easier terrain, such as at the Buhoma section of Bwindi Impenetrable Forest, Kibale Forest and Budongo Forest's Royal Mile (although it can get hot in these forests). If you decide you'd prefer to skip any of our planned birding hikes, we will try our best to make other plans for more relaxed birding, probably along forest roads. To get the most out of this Uganda birding tour however a moderate level of fitness is ideal.
Gorilla trekking can take 2-14 hours, depending on where the gorilla family is on the day you do the trekking (it's all about luck, or lack thereof!). The gorilla trekking is in a mountainous area, so expect to walk up and down a lot.  Most of the time one has to leave the trail completely to get to where the gorillas are. This can involve some serious "bush-bashing" through the undergrowth; proper hiking boots with good grip are essential. So be prepared, with proper clothing. Snakes and forest elephants lurk in the area; this is wild Africa. For those folks who have problems walking, if you're willing to pay at the very least double the price of the gorilla trekking, you can be carried on a stretcher to see these great apes! So, if money is less of an issue, even this day does not have to be strenuous as the porters will prepare a stretcher for you on the spot. Strictly one hour is spent with the gorillas after meeting up with them – this is to keep disturbance to a minimum.
Chimpanzee trekking in Kibale Forest is usually quite a lot easier, as it is over flatter terrain. Of course, it still can involve quite a walk through a hot and humid forest.
Those opting out of the gorilla and chimp trekking can catch up on rest and "regroup" at the lodge or will be taken birding if preferred.
BOAT TRIPS:
There are a few boat trips on this tour. The trip to look for Shoebill at the Mabamba Swamp is in small dugout canoes (mokoros). Due to limited space in each canoe, the group splits up into different canoes, which, however, stick close together as they travel out onto the water to seek Shoebill. Other wildlife-viewing boat trips such as on Lake Mburo and on the Nile River at Murchison Falls are on larger boats where the whole group can be accommodated together.
PASSPORT AND VISA
Most visitors require a tourist visa to visit Uganda, and these must be applied for online (here) prior to your visit at a cost of around $50. We can provide you with a letter from a local sponsor, which may be required for your application process. We usually recommend starting the visa application process a couple of months before the start of the tour.
Please make sure that you bring a photocopy of your passport with you on the tour, to be kept in a different location to your original passport, in case of loss or damage. This can be kept with other important documents such as vaccine certificate, emergency contact details, and insurance documents. It may also be worthwhile to leave a copy with your tour leader. Your passport should be valid for a minimum period of six months from the time you enter Uganda.
If you are further unsure of entry requirements from your home country, we suggest checking your own governments' advice and contact their nearest embassies/consulates for up-to-date regulations and requirements.
TRAVEL INSURANCE
As per our standard Terms and Conditions, we strongly suggest (and essentially insist, as tour deposits and balance payments are unfortunately non-refundable if you cancel as we spend the money in advance to secure services) that you buy trip cancellation insurance to protect yourself against accidents, medical issues, illness, repatriation, loss of valuables or luggage, and travel interruptions or delays of any kind.
HEALTH AND SAFETY
Please read the Centers for Disease Control website's section on Uganda very carefully, noting that anti-malarial drugs are required and that a yellow fever vaccination certificate is needed to enter the country. Insect repellent and quick-drying long-sleeved shirts are a good idea, not only to help prevent mosquito bites but also to protect against other (simply pesky) insects such as biting flies.
Avoid travelers' diarrhea by never drinking tap water or eating unpeeled fruit or salads. Unlimited bottled water is provided free of charge throughout the tour in the vehicles (we purchase this inexpensively at grocery stores; bottled water bought at restaurants is not covered and is for your account but you are welcome to take water from the vehicles to the rooms when needed although many hotels provide free bottled water too).
In Uganda, large animals such as elephants, hippos, lions, leopards, gorillas, chimpanzees, crocodiles and others pose a risk and need to be treated with extreme respect. Small animals such as spiders, snakes, etc. can also, of course, pose a safety risk.
You'll find the people of Uganda to be extremely friendly and helpful, but (like in most parts of the world) crime is possible (especially in the big cities). Always watch your valuables (although we certainly have never had any problems on any of our tours to Uganda).
Steep trails (see for example the part on gorilla trekking above) can also be a hazard.
CURRENCY
The Ugandan Shilling (see here for exchange rate, etc.) is the currency. You can draw this local currency using major credit cards (especially Visa and Mastercard) at ATMs (which can be found at the airport and in towns along the way – please do ask the guides a couple of days in advance when you need another ATM stop to replenish cash!). Major credit cards can be used for some purchases and to buy drinks and get laundry done at some hotels – but a supply of local cash is also essential, as some of the accommodations are remote and do not take cards (and neither do folks selling gifts and souvenirs along the route). If you prefer not to draw money from an ATM, then US dollar (or other major currency to a lesser extent) cash is easily exchanged for local currency in Entebbe and we recommend doing this before the start of the tour as it may be difficult in smaller towns. Traveler's checks are no longer used much, are extremely difficult to cash, and are not advised.
WEATHER/CLIMATE
The country of Uganda is full of water and has vast papyrus swamps, shares a large part of Africa's largest lake (Victoria) with its neighbors, and has some verdant forest, thanks to the good amount of rain it receives. This also means that one must be prepared for the possibility of rain, drizzle, and mist, although often this does not pose a major problem as we run our set departure Uganda tours in the dry season, which covers the months from June to August. This is also when birds are in breeding plumage and singing and the intra-African migrants are present.
Uganda is well-known for its diversity of terrain and habitats, which in turn means that birders visiting Uganda need to be prepared for all kinds of different temperatures and weather patterns. At arrival in the hot and humid Entebbe airport one does not necessarily realize that a couple of days later one will likely be wearing fleeces high in the volcanic mountains straddling the border with Rwanda and the Democratic Republic of Congo; despite being equatorial, it can get cold in both Bwindi Impenetrable National Park and Mgahinga Gorilla National Park (not usually quite as low as freezing point, though). It's best to bring many layers; while quite often conditions will be unpleasantly hot and humid, at other times people get surprised how cold it is. Bwindi Impenetrable National Park (especially its higher-altitude Ruhija section) and Mgahinga Gorilla National Park often leave people feeling markedly chilly. Accommodations are not always heated, so you may rely on layers while sleeping, and the provided blankets.
The "take-home" message is to bring layers, including waterproofs (which hopefully you won't actually need, but which you certainly should carry, while gorilla trekking or on long birding walks). A relatively nominal fee can be paid to porters for carrying gear during the longer birding walks and gorilla/chimp trekking. A waterproof day backpack is advised (whether you carry it or the porter does, during the birding and primate walks) – for waterproof layers, your water bottle, etc. Waterproof bags for placing cameras, cell phones, etc. into, in case that it does rain, are recommended.
ELECTRICITY
Electricity in Uganda is 220 V and with UK-type plug sockets – full details are shown here. Please bring adapters, and in some cases a currency converter in order not to damage cameras or other equipment, noting that voltage is twice that in North America.
COMMUNICATIONS
Cell (mobile) phone signal is likely to be available at most locations we visit on the tour. Roaming charges might apply depending on your phone contract, it's thus best to check with your supplier that your phone will work in Uganda. A considerably less expensive alternative to using an international SIM card would be to purchase a local SIM card on your arrival at the airport or phone shop (options are available in Entebbe, prior to the start of the tour). Wi-Fi is usually widely available at most of our accommodation establishments however it is not always available in your rooms and is rather only available in common areas such as reception or the dining area.
TRANSPORTATION AND SEAT ROTATION
Travel in Uganda is typically very slow (with many speed bumps and potholes) which means even though we might not have far to travel between destinations, it may take a very long time. However, we use modern, comfortable vehicles during our Uganda birding tours, such as a Toyota Landcruiser, or a minibus, for larger groups, which ensures the drives are as comfortable as possible.
We have a seat rotation policy for our set departure tours, this ensures ensure everybody has equal opportunities within the vehicle throughout the tour. As we need to keep things fair for all our paying clients, motion sickness will unfortunately not excuse you from our seat rotation policy and if you are prone to motion sickness you should ensure you bring the necessary medication. It is necessary that you are fit and flexible enough to maneuver yourself to the back of the vehicle when it is your turn to sit in that position. Tour participants should be mindful of the extra equipment they bring into the general seating area of the vehicle (rather than the luggage section) and should ensure they do not clog up general thoroughfare or extra seats with camera equipment, tripods, etc. from both a comfort and a health and safety perspective.
LUGGAGE
Due to restricted space in the vehicles, please try to pack on the lighter side for this tour. We find a medium-sized, soft-sided duffle bag (not the hard-sided cases) usually works best for packing in the vehicles. A small daypack should be used to keep items that you wish to use daily when in the vehicle or in the field.
ACCOMMODATION
Accommodation is by no means luxurious but is clean, reasonably comfortable and well situated, often with large gardens or grounds which offer good birding opportunities right on the doorstep. Most accommodation establishments have air-conditioning and/or a fan while all have private bathrooms. "Load-shedding" is common – this is when the electricity supply is interrupted because of Uganda's limited capacity for power generation. At other times, electricity at some hotels will be from generators that are switched off at certain times (e.g. between 10 p.m. and 6 a.m.). The guides will advise on the exact details/generator times during the tour. Rooms are not always heated and can actually get slightly chilly at night up in the mountains. At other times heat and humidity will of course be more of a problem however most establishments we use have air-conditioning and/or a fan.
WHAT TO BRING: CLOTHING
We recommend packing loose, lightweight field clothing with green and brown colors as these colors work best for our birding activities and help blend into the forest environments that we will spend most of our time birding in. Bright colors are to be avoided for birding attire, please (e.g. no pale colors, white, red, orange etc.). Due to the potential insect issues (and fierce tropical sun) mentioned above, we recommend long pants/trousers and long-sleeved shirts (these can be rolled up should you get too hot). Shorts can be great for when you are relaxing around the accommodation but always be aware of biting insects and sun exposure.
As we will be birding in the mountains for some sections of this tour, you will also need to bring some warmer clothing, certainly a minimum of a warm fleece/jacket for early morning/evening when temperatures can be low. It is also advisable to pack something warm to sleep in for the nights when at higher elevation. Rain is always a possibility in Uganda, so (light-weight) rain gear is always useful to have on hand.
Casual and informal dress is fine in the hotels/accommodation (and for dinners). Swimwear can be useful as there may be opportunities to swim at some of the accommodations during the rest periods in the middle of the day. Sunglasses, sunhat, and sunscreen (rated SPF 30 or higher) are useful.
We undertake a number of birding/wildlife hikes on this Uganda birding tour and thus we recommend lightweight walking boots for when out on foot to give extra ankle support and added protection against animal stings/bites. A change of shoes is always good in case your boots get soaked from rain or walking through damp areas – a pair of lighter walking shoes is good to have along on the trip as a backup and for shorter walks. Sandals/trainers (tennis shoes) are useful for in the vehicles and for walking between your room and restaurant in the hotels and lodges.
WHAT TO BRING: OTHER ITEMS
Do not forget: binoculars, East African/Ugandan field guides (see "Books" section below), flashlight (torch), prescription drugs (please bring the generic names for these drugs with you), toiletries, prescription glasses (and a spare pair), insect repellent, sunscreen, sunglasses, camera, batteries (for electronic equipment and chargers for the re-chargeable batteries, if required), converter plugs and plug adaptors if needed, money pouch, suggested medical kit, and daypacks.
Our tour leader or local guide will have a telescope for use during the tour. Most of the birding will be carried out in forest environments and therefore we are unlikely to rely heavily on a scope during this tour, therefore it is probably not worth bringing your own scope, unless you like to "digiscope/phone-scope". The communal scope will be for everyone to look at the birds but not for taking photos through.
Other important items to remember to bring include: key travel documents, cash (or ATM/credit cards to draw money), passport, proof of vaccinations (yellow fever vaccination is mandatory) and your travel or health insurance cards – photocopies of all can be carried by the tour leader in case of emergency, US Dollars (US$) or British Pound Sterling (GBP/£) can be changed to Ugandan Shillings if you prefer not to simply draw from ATM's, cash for anything of a personal nature that is not included within the tour cost.
To help with the evening checklist session, we recommend bringing two different colored pens and a 12-inch (30-centimeter) plastic ruler. Using different colors on alternate days makes the listing activity much easier!
If you would like some advice on what to pack for a birding tour, you can read more in this blog post here.
BOOKS
In terms of books, "The Birds of East Africa" field guide and the associated app (detailed in our blog here) are highly recommended for Uganda. Another good option is the Merlin bird app (with the Uganda country package downloaded) which gives you access to a large range of photos and calls of almost all of Uganda's bird species.
Superb birds, magnificent animals; brilliant guide; excellent driver and local guide. Friendly local people. Fascinating countryside. Great team.
Don - On Uganda
Not only did we see a huge number of bird species (between 450 and 500 for all trip participants), but we also had amazing close encounters with Mountain Gorillas and Chimpanzees and other Africa wildlife. Murchison Falls was astonishing finale to the trip.
Eric - On Uganda
Dom is a fabulous guide! He is patient, attentive to details, & always wiling to answer questions. He's extremely knowledgeable about birds, their songs, the differences between different species, and if he doesn't know the bird as well as he would like, he asked directed questions to Harriet. Harriet and Dom worked very well together. He was a delight to bird with, and I will gladly go on another trip with him.
The local guides that we used in a variety of places were most excellent as well. They knew the birds & bird songs in their area; also they were very attentive when we struggled to make it up or down a hill by lending a hand. I find over all the Ugandan people that we ran into friendly helpful and eager to have us come back to their country.
Frances - On Dom and Uganda
This is truly a once-in-a-lifetime adventure. The birding was intense but fun. There was a relaxed atmosphere despite the intense birding. My partner, a birding novice, loved the trip. We did the optional gorilla and chimp trekking – both well worth doing. Dylan was great. He made sure all went smoothly. He was attentive to all our needs. He's a superb birder with a great knowledge-base of sounds and a sharp keen eye.
Ira - On Dylan and Uganda
This was my first trip to Africa and my longest birding trip ever. The itinerary was excellent, the accommodations were pleasant, and the guides were outstanding. Compared to other birding tours I've been on, this was orders of magnitude better. Kudos to Dylan and William or the support they gave to a visually- and hearing-impaired birder!
Rob - On Dylan and Uganda
An excellent tour with a great range of activity from easy roadside birding to a couple of good long day walks. I enjoyed the whole thing and particularly like it when the accommodation lends itself to birding in the gardens.
Dylan is a fantastic guide, absolutely dedicated to getting the specials and numbers expected on a trip like this. He also has an eye out for anything else interesting, a good sense of humor and is unfailingly helpful.
Rosemary - On Dylan and Uganda