Written by Harriet Kemigisha, published 25 November 2020.
Entebbe Botanical Gardens
Located only five miles (eight kilometers) from Entebbe International Airport, these beautiful and bird-rich gardens are reachable within a five-to-ten-minute drive from any hotel or guest house we use in Entebbe. We usually make these gardens our first stop after checking into our hotel and after everyone has refreshed themselves. Entebbe Botanical Gardens offers a very good introduction to a bird tour in Uganda and is actually the only reliable site for the Endangered and super-intelligent (African) Grey Parrot, while we also hope to find Great Blue Turaco, Ross's Turaco, Bat Hawk and Black-and-white-casqued Hornbill. Other wildlife species to be seen here include the attractive Guereza (Colobus Monkey), Red-tailed Monkey, Vervet Monkey and Striped Ground Squirrel.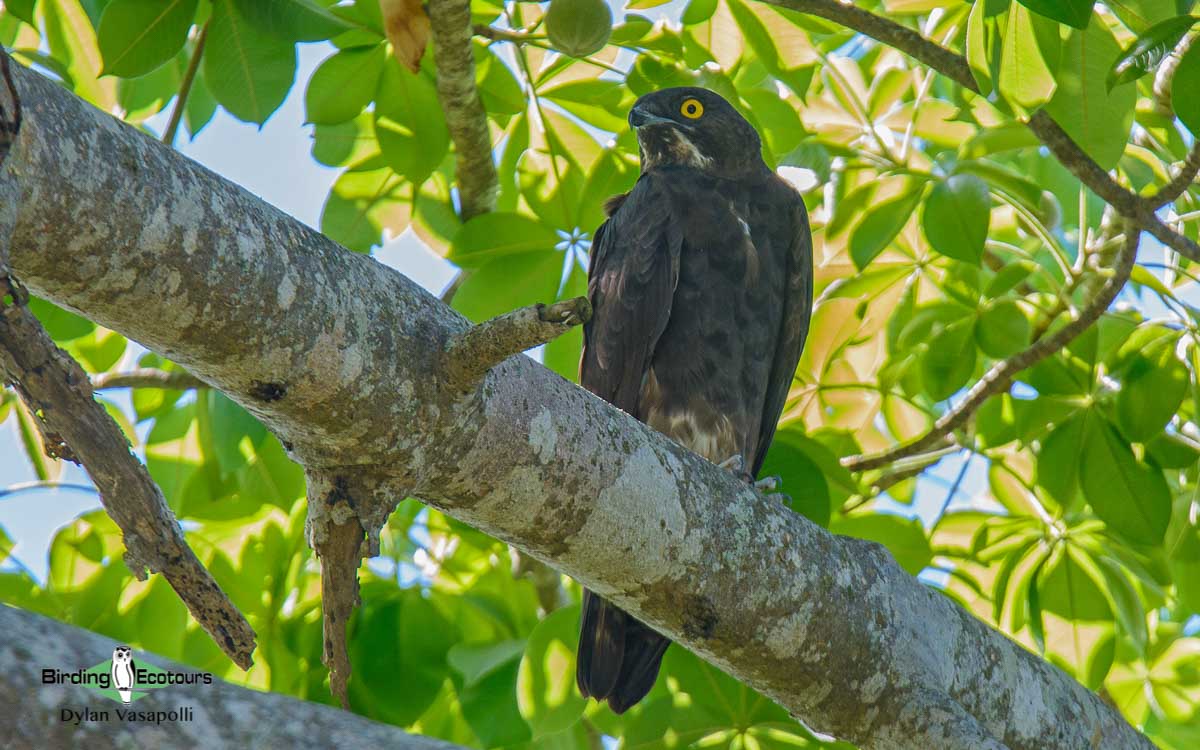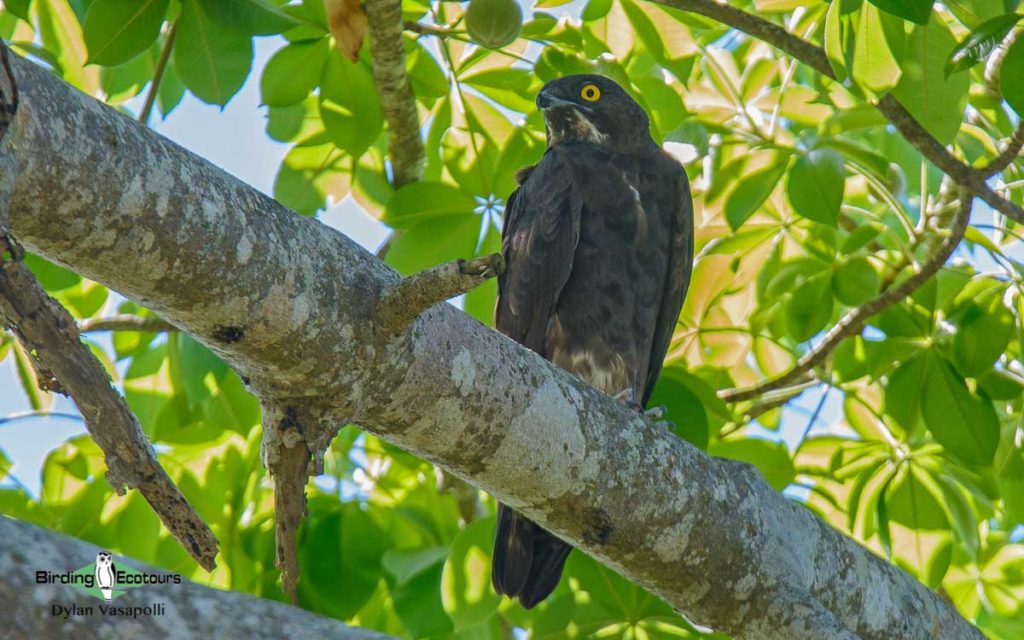 Bat Hawk can be seen hunting bats above Entebbe at dusk.
Mabamba Swamp
This is a natural swamp on the edge of Lake Victoria and is managed by the local people. It is considered the only place to truly reliably and easily see the mighty Shoebill in Uganda (and anywhere in the world for that matter). It also has a wide variety of other waterbirds to enjoy, not to mention overwintering Blue Swallow, Swamp Flycatcher, Papyrus Gonolek, Orange and Weyns's Weavers.
Mabamba Swamp is one of the best places for the prehistoric-looking Shoebill.
Lake Mburo National Park
Lake Mburo is Uganda's smallest savannah park and is a unique birding spot, one of Africa's best sites for African Finfoot, along with White-backed Night Heron, Rufous-bellied Heron and the localized Red-faced Barbet. It is also the only reliable site for Brown-chested Lapwing. The lapwing is only present here from the second week of July to the second week of December (we run our Uganda birding tours within this window, so we are usually successful in finding this bird, see our Uganda timing blog here).
Other wildlife at Lake Mburo National Park includes Common Eland, Topi, Oribi, Plains Zebra, Giraffe, Impala, Leopard (needs luck!), 'Defassa' Waterbuck and African Buffalo.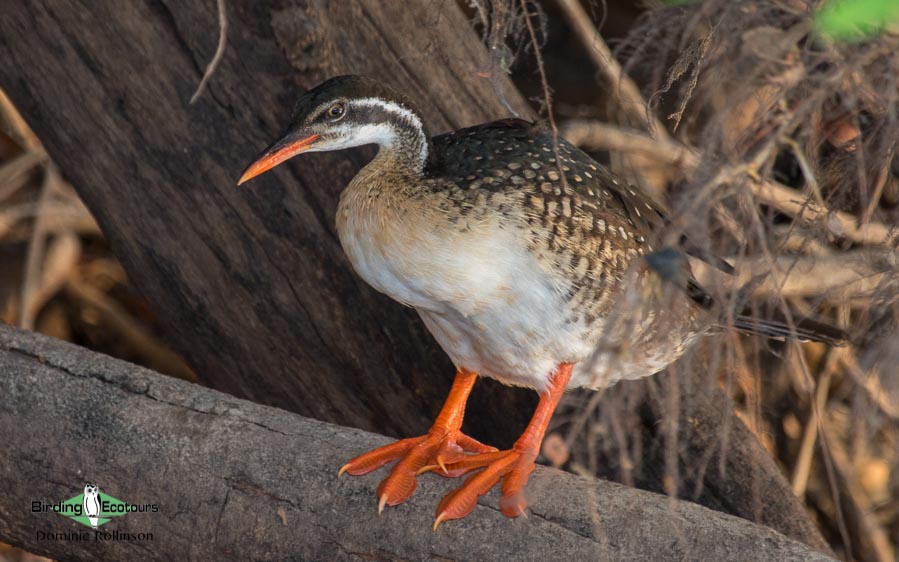 African Finfoot is normally reliable at Lake Mburo.
Mgahinga National Park
Mgahinga is Uganda's smallest protected area which forms part of the far-larger, transboundary protected area that conserves wildlife and habitats of the great Virunga volcanos in Uganda, Rwanda and the Democratic Republic of the Congo. Mgahinga enjoys a magnificent setting on the northern slopes of three of the extinct Virunga cones, Mounts Muhavura, Gahinga and Sabinyo.
It is a reliable site for Albertine Rift endemics such as Rwenzori Turaco; Rwenzori Double-collared Sunbird and many others. Additional activities here include Eastern (Mountain) Gorilla and Golden Monkey tracking.
Bwindi Impenetrable National Park
Bwindi is one of Africa's oldest forests, one of the few that predate the arid conditions of the last ice age; the 125 square miles (325 square kilometers) of Bwindi Impenetrable Forest has carpeted the margin of the Albertine Rift Valley for some 25,000 years. During this time, it has accumulated a remarkable biodiversity and is divided into the four sections by Bwindi Tourism: Buhoma, Ruhija, Rushaga and Nkuringo. All these sites have habituated families of Eastern (Mountain) Gorillas. Our birding in Ruhija is excellent for Albertine Rift endemics such as Grauer's (African Green) Broadbill, Regal Sunbird, Blue-headed Sunbird, Purple-breasted Sunbird, Strange Weaver, Rwenzori Batis, Rwenzori Apalis, Mountain Masked Apalis, to mention but a few.
The other section of Bwindi we visit is Buhoma, via the neck (more great birding here!), for species such as Neumann's Warbler, Bar-tailed Trogon, Many-colored Bushshrike, and 'Kivu' Ground Thrush (the local subspecies of Abyssinian Ground Thrush), Lühder's Bushshrike, Pink-footed Puffback and many more.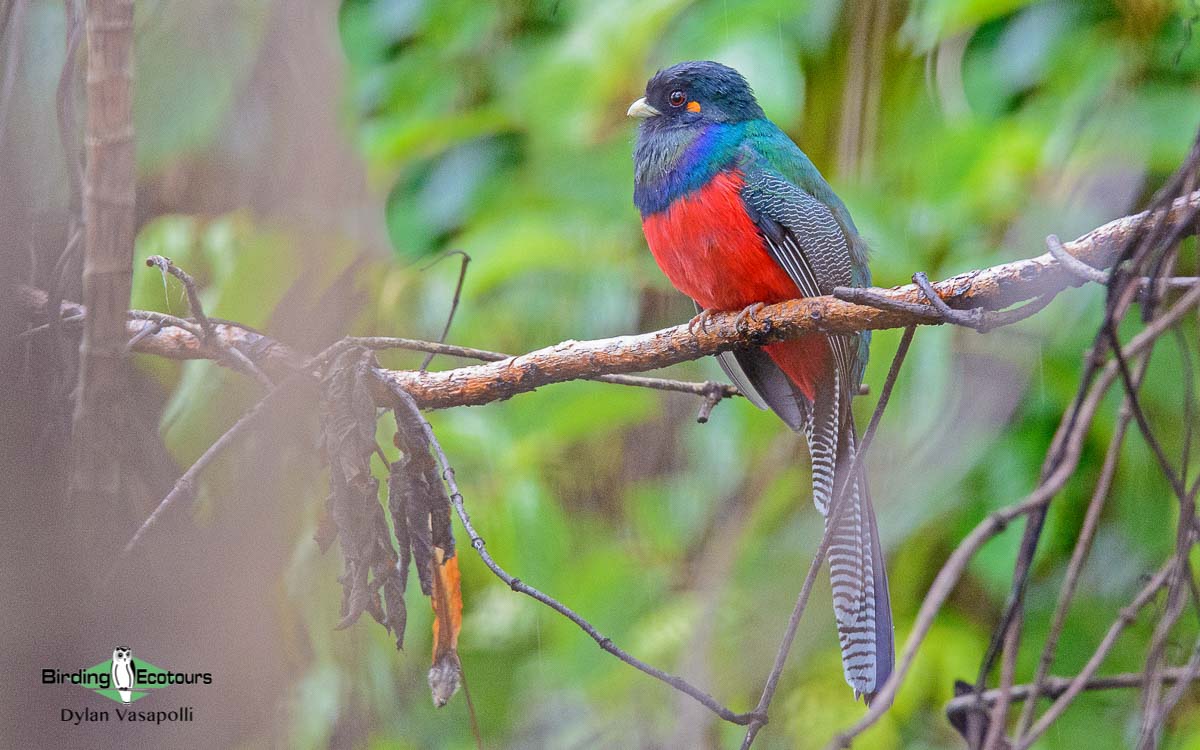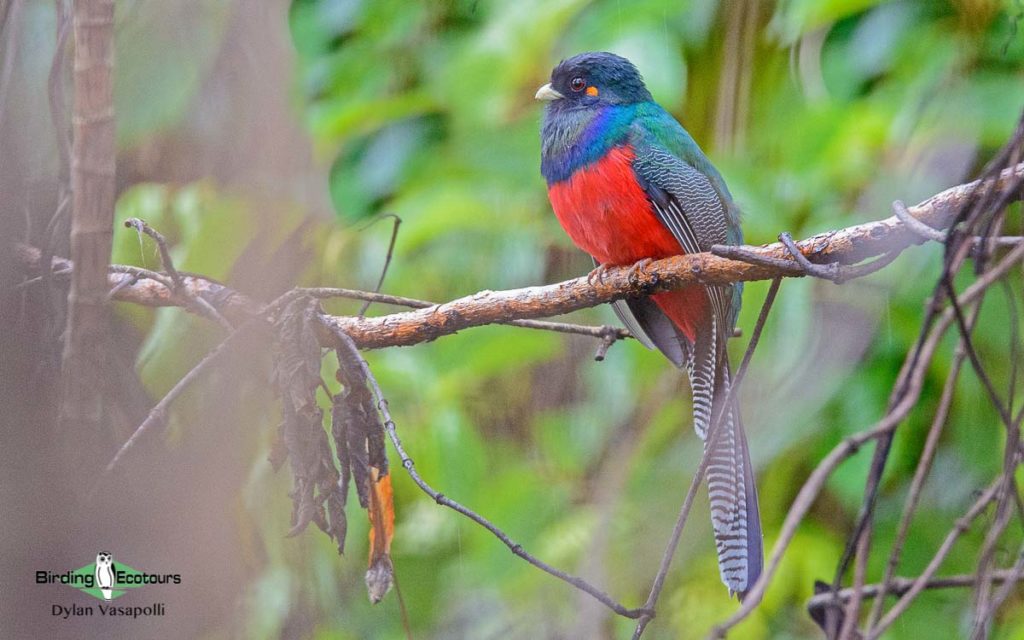 Bar-tailed Trogon may be seen in the forests of Bwindi.
Queen Elizabeth National Park
Queen Elizabeth National Park is one of Uganda's biggest savannah parks and is incredibly rich in biodiversity including classic big African game animals. It has a fabulous setting on the Albertine Rift Valley floor with varied habitats ranging from tropical rainforest, dense papyrus swamps, natural channels, lakes, open water, acacia woodlands and open savannah grasslands.
The Kazinga Channel is a home to African Skimmers and many other waterbirds, both migratory and resident.
Kibale National Park
Kibale National Park is a tropical rainforest famous among birders for Green-breasted Pitta, Black Bee-eater, Blue-throated Roller, Purple-headed Starling and many others. But this largely forested park is actually best known for its high concentrations of primates, especially for its reliability for habituated Chimpanzees.
Kibale National Park has an impressive 13 primate species including nocturnal ones that can be seen during a night walk which we arrange on some of our bird/wildlife tours, such as East African Potto, Demidoff's Dwarf Galago and Thomas's Dwarf Galago.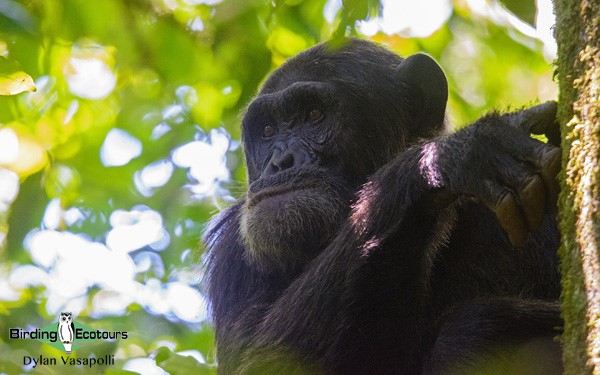 Kibale National Park allows one the chance to see Chimpanzee.
Budongo Forest
Budongo Forest is part of the Murchison Falls Conservation Area located at the edge of the Albertine Rift Valley and protects the largest natural forest area in East Africa. The forest comprises of huge mahogany trees with excellent trails for birding; one of the birding trails is also known as 'Kingfisher World' due to the plethora of kingfisher species occurring here including Chocolate-backed Kingfisher, African Dwarf Kingfisher, African Pygmy Kingfisher, Blue-breasted Kingfisher and Shining-blue Kingfisher. Most of these kingfisher species are actually not linked to water, and feed on small reptiles etc. rather than fish! The rare Nahan's Partridge also occurs here.
Murchison Falls National Park
Murchison Falls is Uganda's largest park and is famous for its impressive falls and its large numbers of big game. The Victoria Nile bisects the national park, racing westwards for 80 kilometers (50 miles) over a series of rapids before exploding through a narrow, six-meter/yard gap in the remnant Rift Valley cliffs.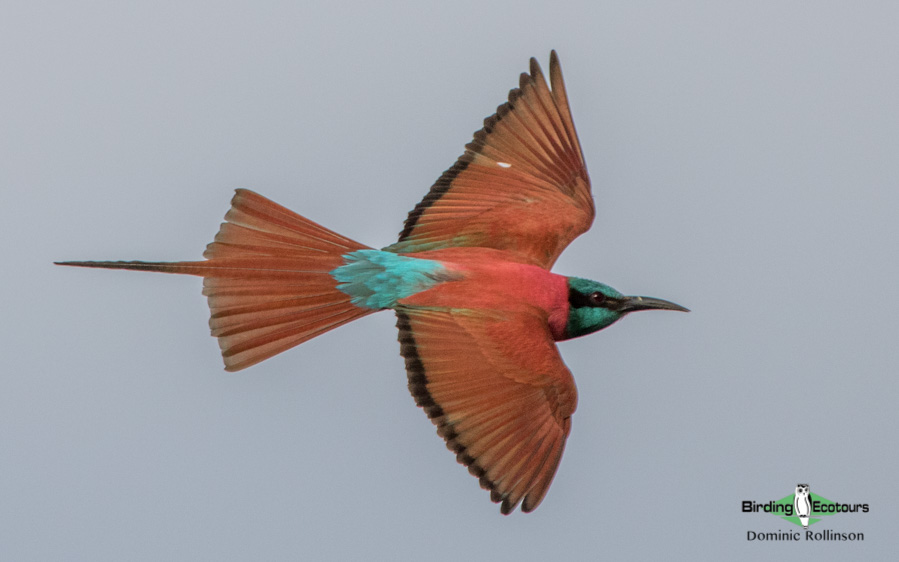 Northern Carmine Bee-eaters add a splash of color in Murchison Falls National Park. 
Birding in the savannah woodland and open grassland here is spectacular, and here we hope to find Abyssinian Ground Hornbill, Northern Carmine Bee-eater, Swallow-tailed Bee-eater, Vinaceous Dove, Black-billed Wood Dove and Black-billed Barbet. Here, we also have another chance to see the mighty Shoebill on the Nile River delta. The river below the falls provides one of Uganda's finest wildlife spectacles including congregations of African Elephant, Giraffe, African Buffalo, Hippo, Nile Crocodile, and many water birds.
We incorporate all the above sites into our 19-day Uganda birding and primate tour. See our "best time to visit Uganda" timing blog as well.