First posted in 2013, revised and reposted in April 2021.
Woodpeckers are among the world's most charismatic birds. And the United States certainly has more than its fair share of spectacular-looking ones, with an amazing 22 species! I've actually heard a lot of fellow birders unfairly slate American birding because of the overall lower diversity on this continent (and in other temperate regions), compared to, say, my home, Africa, where one has to kick birds off the trails. However, despite what others may say, the States certainly have an excellent collection of certain bird families that are extremely well-represented there. Many of my "own" African woodpeckers all look rather similar and are largely brown and subtly speckled. So, arriving in the USA to do my post-doc was, to me, like being a kid in a candy store. Here I discovered that some of our planet's most-loved bird groups – Woodpeckers, Owls, Alcids (what is more dazzling than a Tufted Puffin? – even better than an Atlantic Puffin, in my opinion!), and of course Wood-warblers (or New World warblers) – had speciated very wildly in North America! I've covered some of these other American families elsewhere (e.g. owls here), but here I'd love to share with you my personal American woodpecker quest.
It all started when my plane touched down late at night in Denver some years back and I then drove three hours northwards to Laramie, Wyoming, which would be my base for the next 2.5 years while doing post-doctoral ornithological research. The next day I had woken up jetlagged, but excited about my first ever US birds! I did not have a particular mission to see woodpeckers specifically, but because I've recently seen my last three US ones, I am excited about this group right now – in this blog I will tell you how I found my woodpeckers, in chronological order.
Hairy Woodpecker and Downy Woodpecker were, not surprisingly, the first two species that I saw in quick succession around the small (27,000 inhabitants) town of Laramie. A visit to the nearby Snowy Range generated Williamson's Sapsucker and Red-naped Sapsucker without too many problems. Walking to the university one day, I was amazed to see my first flicker ever, Northern Flicker. Birders in the Americas are of course often blasé about flickers, but trust me, my first one was one of the most memorable highlights of living in Laramie. Seeing a large, colorful woodpecker on the ground was certainly a sight to behold! I recently also saw the Cuban subspecies of Northern Flicker, but the Canadian clients who were with me on that birdwatching tour struggled to get excited about it (the rare Cuban endemic Fernandina's Flicker and other Cuban endemic woodpeckers were of course of massive interest to all of us, though!).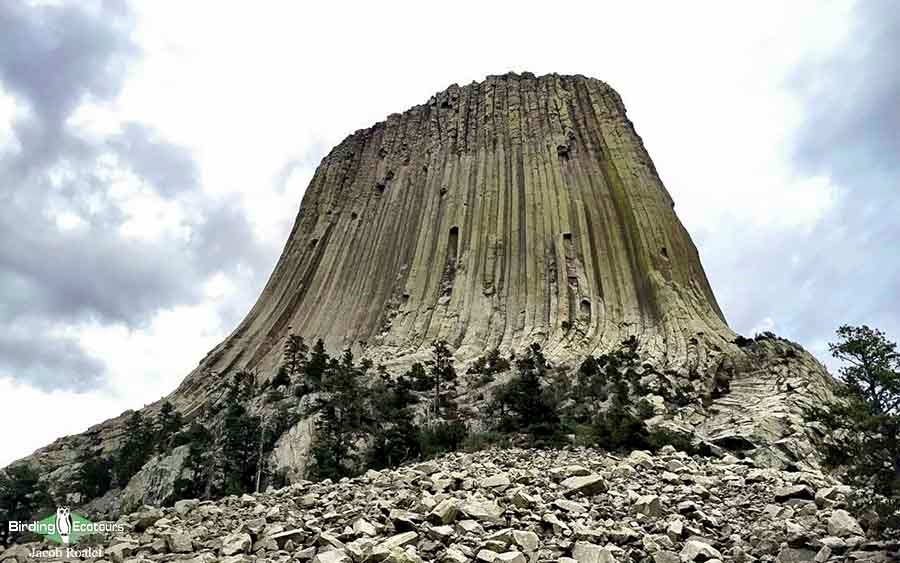 The stunning Devils Tower National Monument in the Black Hills of Wyoming
After a couple of months, naturally, I found that I started having to travel further afield to find new birds, including new woodpeckers. A visit to the Black Hills of north-eastern Wyoming proved great for the stonking (which means "absolutely stunning" in British bird talk!) Red-headed Woodpecker. The Crow Valley Campground in northern Colorado, a wooded area that acts as a "migrant trap" in the middle of the Pawnee National Grassland, eventually yielded a bogey bird for me, the bizarre Lewis's Woodpecker. My Mexican friend (studying with me in Wyoming), Jorge Schondube, absolutely loved to boast about the Lewis's Woodpecker he saw without me once – finally the "joke" was no longer worth telling – YAY – at long last!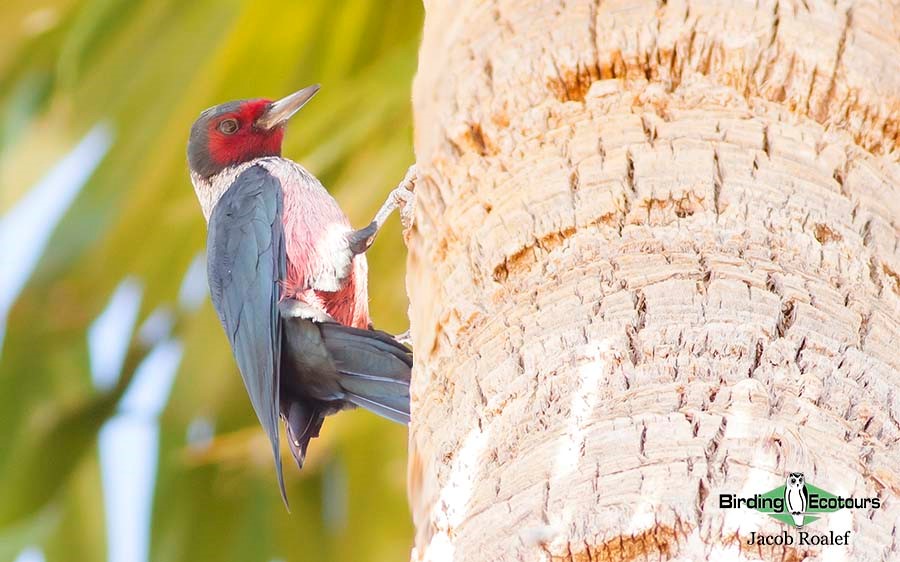 Lewis's Woodpecker, one of the most colorful of the US woodpecker species.
With great anticipation, one fine day I eventually headed off on my first trip to Arizona…..!!! In Saguaro National Park, Gila Woodpecker and Gilded Flicker were found with ease. And in the amazing "Sky Islands" between Tucson and the Chiricahua Mountains, Ladder-backed Woodpecker and Arizona Woodpecker were eventually located. I got an absolute thrill out of seeing the characterful Acorn Woodpecker too, especially since it had the peculiar habit of making holes to bury acorns in telephone poles! You've got to love them even though they're destructive.
Florida was next, and here it was rather easy to add Red-bellied Woodpecker and Yellow-bellied Sapsucker to my growing collection. Pileated Woodpecker (my all time favorite US species) cooperated well at its stakeout in the Big Cypress National Preserve. The rare Red-cockaded Woodpecker was my last Floridian target, and it did not disappoint in the beautiful pine savanna of the Avon Park Air Force Range close to Orlando.
Pileated Woodpecker
My then home state of Wyoming was not yet exhausted, though. There still were two rare woodpeckers that I could see there. American Three-toed Woodpecker presented itself right in front of my friend Doug and myself halfway up Laramie Peak on a day hike. And some other good friends and I were looking for this same species in a burnt area of the Grand Teton National Park, when we actually found the much rarer (especially in north-western Wyoming) Black-backed Woodpecker. I was one happy Chris!
Don, Al, Megan, and I then did a long-awaited South Texas trip, during which we saw Golden-fronted Woodpecker along with a large number of other life-birds.
Finally, this last December, Megan and I headed to California, where White-headed Woodpecker was near the top of my US "still-wanted" birds. I'd missed it in Idaho and Washington State (and had in fact also missed Red-breasted Sapsucker there). The spectacular Yosemite National Park was where we looked for this amazing white-headed black bird. And, in fact, at the first place we stopped we actually heard one! Thanks to Megan's sharp eyes, we also got visuals of it without massive efforts. And we were rewarded with brilliant views of this striking bird as it foraged and eventually even flew across the road. Red-breasted Sapsucker and Nuttall's Woodpecker came without that much effort en route from these mountains to San Francisco.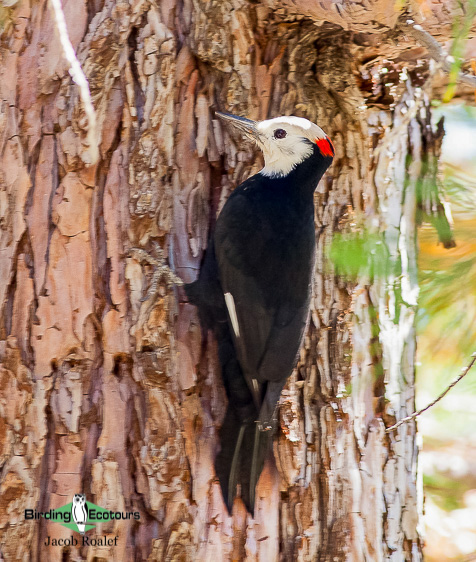 The stunning White-headed Woodpecker
And that ends the great US woodpecker story. It certainly got me to some of the world's most beautiful places. I'd definitely like to do it all again, except the world is a big place – so maybe one day after I'm retired from bird guiding and have seen 10,000 world birds…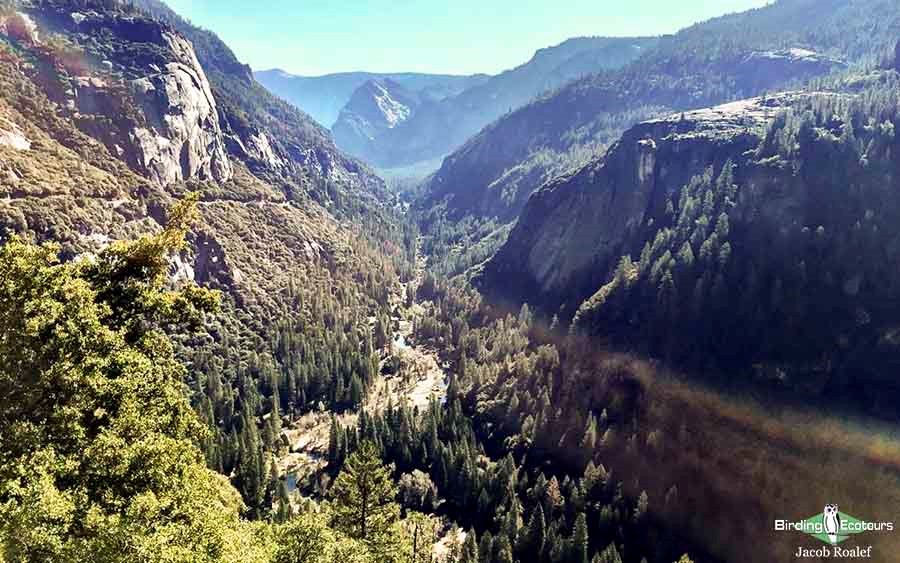 Birding sure gets one to some beautiful spots, like Yosemite National Park!