Go to Arizona bird tour page | USA bird tours | North American trip reports| All our birding tours
DOWNLOAD TRIP REPORT
16 – 25 AUGUST 2021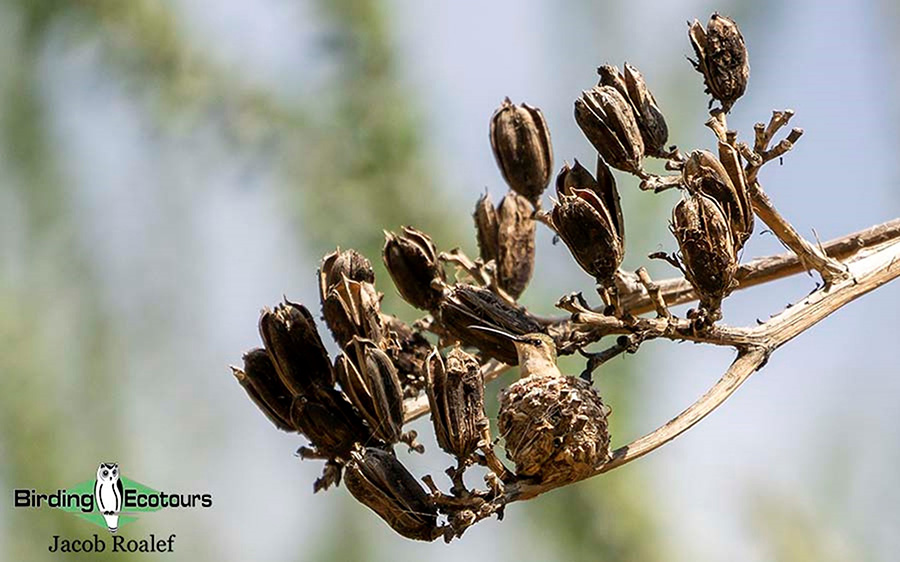 This brilliantly camouflaged Lucifer Hummingbird on her nest was a real treat.
Overview
This ten-day set departure tour of Southeast Arizona commenced in Tucson, Arizona on the 16th of August 2021 and concluded back there on the 25th of August 2021. Several of the tour participants arrived early for one day of pre-trip birding in the Phoenix, Arizona area. The tour visited many amazing birding locations including Mount Lemmon, Madera Canyon, Box Canyon, Paton Center for Hummingbirds, Patagonia Rest Area, Carr Canyon, Ramsey Canyon, Las Cienegas National Conservation Area, Ash Canyon Bird Sanctuary, Cave Creek South Fork, Rustler Park, and Lake Cochise.
The tour connected with many fantastic target birds giving us a great list for our ten days in the region. Avian highlights include a long list of both migrants and regional specials including Lesser Nighthawk, Mexican Whip-poor-will, Rivoli's, Lucifer, and Violet-crowned Hummingbirds, Blue-throated Mountaingem, Greater Roadrunner, Inca Dove, Band-tailed Pigeon, Grey and Zone-tailed Hawks, Whiskered Screech Owl, Elegant Trogon, Arizona Woodpecker, Thick-billed Kingbird, Mexican Jay, Phainopepla, Mexican Chickadee, Juniper Titmouse, Crissal and Bendire's Thrashers, Rufous-winged, Botteri's and Cassin's Sparrows, Red-faced Warbler, Lazuli and Varied Buntings, and Hepatic Tanager. We also saw several ABA rarities including Rose-throated Becard, White-eared and Berylline Hummingbirds, and Five-striped Sparrow.
A total of 168 bird species were seen (plus six species heard only), along with a few amazing mammals including Ringtail, Mexican Long-tongued Bat, Black-tailed Jackrabbit, and Pronghorn.  A few other noteworthy animal highlights included a Rock Rattlesnake, Arizona Sister butterfly and Tadpole Shrimp . Full bird and mammal checklists can be found at the end of the report.
Detailed Report
Pre-trip, 15th August 2021. Arrival in Phoenix, transfer to Tucson
Four of the tour participants decided to fly in early to Phoenix where they were picked up by Jacob for a little bit of pre-trip birding. Around mid-morning we headed off to Encanto Park, a small residential park in the middle of Phoenix. It wasn't long before we spotted our main target bird for the area, Rosy-faced Lovebird. These small parrots are escapees but have an established population in Phoenix and deemed countable by the ABA. We made a quick loop around the park netting some common species such as Gila Woodpecker, Great-tailed Grackle and White-winged Dove. After this we decided to brave the heat and venture out to the desert and a location known as "the thrasher spot". While the heat prevented us from spotting any thrashers, we did manage a couple of nice species including MacGillivray's Warbler and Bullock's Oriole. We headed to lunch after this and had a nice visit from an adorable Inca Dove before we eventually made our way to Tucson for the night.
Day 1, 16th August 2021. Arrival and birding in Tucson
While waiting for the rest of the group to arrive, some of us headed out for a bit of morning birding at Sweetwater Wetlands before the heat picked up. This pleasant park is a water treatment facility with trails looping around the bodies of water, a rare occurrence for the desert, so it is normally full of wildlife activity. A few of the highlights from the morning included Tropical Kingbird, Lucy's Warbler, and Abert's Towhee. After this, we picked up Eric and now had a group of five. We headed north a bit to some farming areas and witnessed a spectacular display of migrating swallows, mostly Tree and Cliff Swallows. We also bumped into a fun little Burrowing Owl along the roadside. From here we headed to the airport to pick up Sue and bring our group to full size. After a bit of lunch, we ventured off to explore Sam Lena Park. It was hot but we weren't deterred and enjoyed a nice afternoon of birding, scoring species such as Curve-billed Thrasher, Black-tailed Gnatcatcher, Vermillion and Pacific-slope Flycatchers, and Wilson's Warbler.
We enjoyed some tasty Mexican food for dinner and then we were off again for an evening session of birding at Saguaro National Park – East, keeping a careful eye on the weather and storms that might move in. It was a beautiful evening drive along the Cactus Loop where we enjoyed huge Saguaros, a gorgeous sunset, Lesser Nighthawks flying around, and a Great Horned Owl perched off in the distance. After sunset we scored an Elf Owl but unfortunately, we had to settle for heard only and get out of the park just before a large thunderstorm rolled in. Certainly, a fantastic first day of birding to get the trip off to a great start!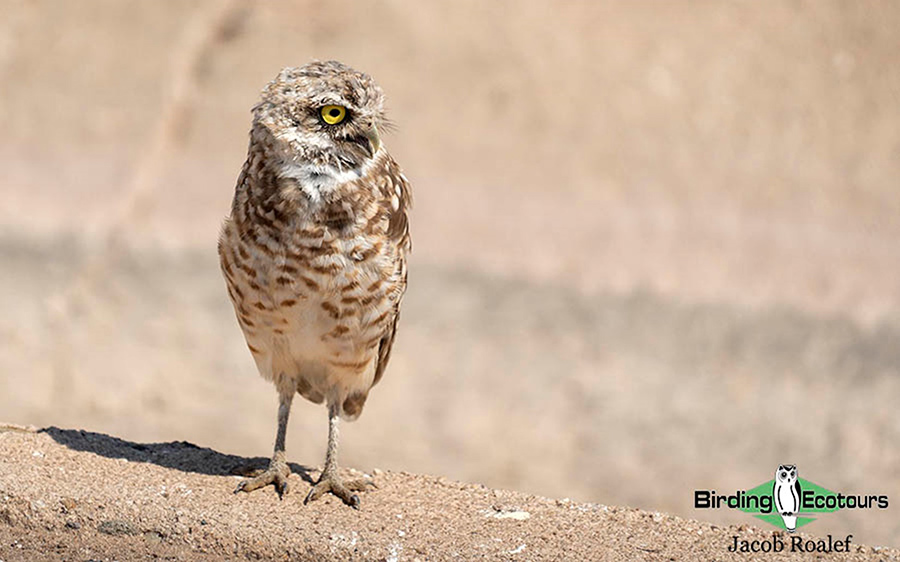 We enjoyed watching this diurnal Burrowing Owl along the roadside.
Day 2, 17th August 2021. Mount Lemmon birding and transfer to Green Valley
Today we set out to conquer Mount Lemmon, located just northeast of Tucson. We would experience a great diversity of habitats as we climbed in elevation throughout the course of the day. Starting in the lowlands featuring desert scrub and Saguaro forest, we spotted Gilded Flicker, Gila Woodpecker, and Black-throated Sparrow. As we drove up the mountain, we enjoyed the scenery and visible difference in vegetation that came with the altitude change, from desert to mixed oak, to coniferous forests. We made several stops along the way at various pull offs scoring us species such as Zone-tailed Hawk, Steller's Jay, Hutton's Vireo, Black-throated Grey Warbler, and Acorn Woodpecker. We eventually made it to Rose Canyon Lake campground; a small lake located at rather high altitude. Here we encountered several great avian species including Yellow-eyed Junco, Cordilleran Flycatcher, and Grace's, Hermit and Red-faced Warblers.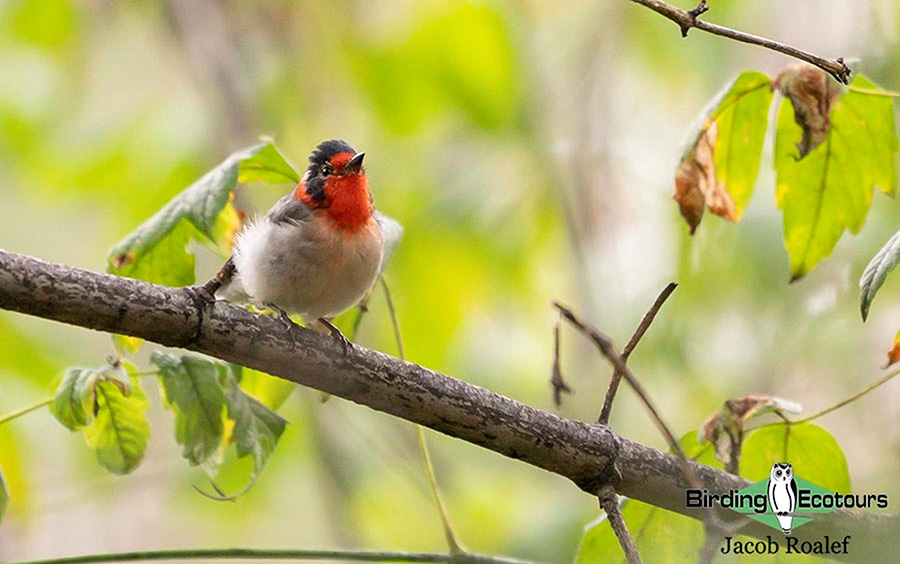 This beautiful Red-faced Warbler gave everyone killer views.
After this we climbed to the small town of Summerhaven for lunch, located at 7,700 ft (2,347m ) in elevation. A few of the businesses here put out feeders for the birds so we enjoyed watching these for a while which netted us Pygmy Nuthatch, Broad-tailed and Rivoli's Hummingbirds, and Townsend's Warbler. Finally, it was time to start working our way back down the mountain, after a bit of rain at the top of the mountain. We enjoyed the beautiful scenery and rock formations and managed to spot a few more species including Peregrine Falcon. Back at the bottom we all had a good laugh about an interesting Red-tailed Hawk we saw, before starting the journey south to Green Valley for the night.
Day 3, 18th August 2021. Box and Madera Canyon
This morning marked our first exploration of the sky islands starting with Box Canyon in the Santa Rita Mountains. After breakfast we headed down the bumpy gravel road to a known stakeout spot with a particular target in mind. It was a beautiful morning with several fantastic species including Varied Bunting, Hooded Oriole and a female Lucifer Hummingbird sitting on her tiny nest. Our main target however was making us wait and work hard for a view. After hearing it several times, the Five-striped Sparrow finally perched up on a century plant for some extended views!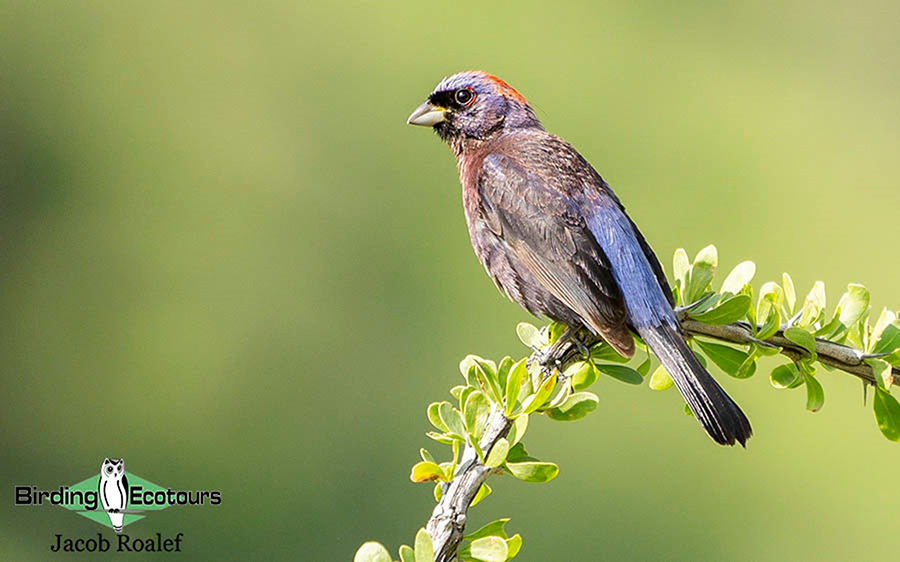 A striking Varied Bunting perched in some very green Ocotillo.
Leaving Box Canyon behind we headed "next door" to the famous Madera Canyon. Our first stop was at the relaxing Santa Rita Lodge feeders. Here we enjoyed a picnic lunch and some time resting and enjoying the birds coming into the feeders including Hepatic Tanager, Mexican Jay, Acorn Woodpecker, Wild Turkey, Anna's, Black-chinned, Broad-billed, and Rivoli's Hummingbirds and Lesser Goldfinch. We continued on to the top of the mountain and hiked up the Old Baldy trail. Unfortunately, things had really quieted down in the afternoon, however we did encounter a real showstopper Painted Redstart which was a treat for everyone. We then headed back down to Green Valley for dinner. After dinner we headed right back up Madera Canyon for some evening birding fun. At the top we managed to hear a Mexican Whip-poor-will calling loudly for us and we spotlighted a few Mexican Jays sleeping in the Alligator Juniper trees which provided a few laughs. While the birds were slow, the real highlight of the evening came in the form of some fantastic mammals. Back at the Santa Rita Lodge, the hummingbird feeders were now attracting a new animal, Mexican Long-tongued Bats! There were probably 20-30 bats zooming in and out taking hits of the sweet sugar water giving us quite a show. While the bats themselves were amazing, something even more incredible happened after that. Another birder and friend had spotted a Ringtail cross the road and head into a tree! We all managed to get over to the tree and shine a light without disturbing this incredible mammal too much, and all enjoyed amazing views. It was feeding on an Arizona Grey Squirrel. What an absolutely epic experience to cap off the evening nature session!
Day 4, 19th August 2021. More Madera Canyon, Desert Meadows, and Montosa Canyon
We headed back to the Old Baldy trail in Madera Canyon first thing this morning in hopes of catching up with an Elegant Trogon, but no such luck was to be had today and that bird would have to wait a little while longer for us. We did manage to get onto a small mixed flock however including Plumbeous and Hutton's Vireos, White-breasted Nuthatch, Bridled Titmouse, and Painted Redstart. We headed back to the feeders for one more check in hopes of something new but after a little while viewing the same species as the previous day, we headed to the Mount Washington campground. Here some of the heavy rain from monsoon season had flooded and washed out the trails so we didn't make it very far, with the highlight being a pair of Sulphur-bellied Flycatchers visiting a nesting cavity in a telephone pole. We decided to call it a day with Madera Canyon and headed back into town to a small park called Desert Meadows. This pleasant oasis in the desert yielded some great plants for our botany enthusiasts as well as nice birding with species including Rufous-winged Sparrow, Gambel's Quail, and Vermillion Flycatcher. After lunch we headed out to Montosa Canyon for a great session of birding encountering several new trip birds along the river. Highlights included Canyon Towhee, Pyrrhuloxia, Phainopepla, Western Tanager, Northern Cardinal, and Bell's Vireo. From here we headed off to dinner and called it a day's birding.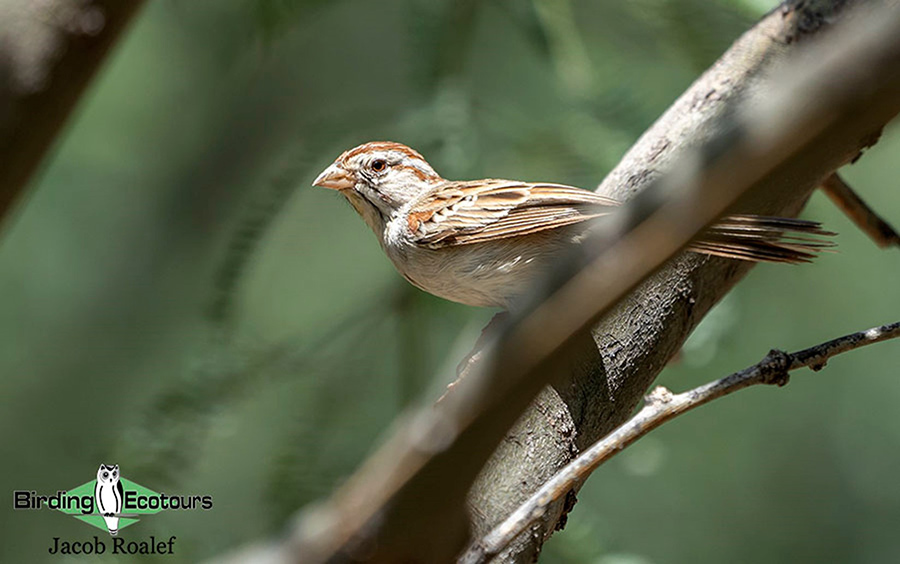 Showing off its namesake, this Rufous-winged Sparrow was quite accommodating.
Day 5, 20th August 2021. Tubac to Patagonia to Miller Canyon
Today we said goodbye to Green Valley and started our journey to Sierra Vista and the Huachuca Mountains. We began heading south with our first stop being Santa Gertrudis Lane. We were treated to both Cassin's and Tropical Kingbirds in the parking area before making our way down the lane to the trail. Here we managed to score species such as Summer Tanager and Inca Dove. On the way out we were treated to a nice viewing of a family of Thick-billed Kingbirds, a true special of the region. We continued onwards to the Patagonia Rest Stop, famously known for the rest stop effect, but we first spotted a gorgeous Grey Hawk along the way! After arriving we found a small flock of White-collared Swifts circling a nearby cliff. With a little bit of walking, it didn't take long to bag the top target here, a Rose-throated Becard. We took some time to view their large, messy nest hanging down from a sycamore before heading onwards to the town of Patagonia for lunch. During lunch we heard a higher nasal call from a smaller black corvid and boom, Chihuahuan Raven was on the list! After lunch we ventured over to the Paton Center for Hummingbirds where we enjoyed a leisurely hour digesting our lunch and viewing the feeders, with the star being a Violet-crowned Hummingbird. It was then soon time to move onwards to the Beatty's Guest Ranch in Miller Canyon for our first taste of Huachuca birding. More hummingbird feeders awaited us here and it wasn't long before the real star and ABA rarity showed up, White-eared Hummingbird! Other hummers included Rivoli's, Black-chinned, Anna's and Broad-billed Hummingbirds. From here, it was off to dinner after a very successful day of transit between mountains and a list full of hummingbird species.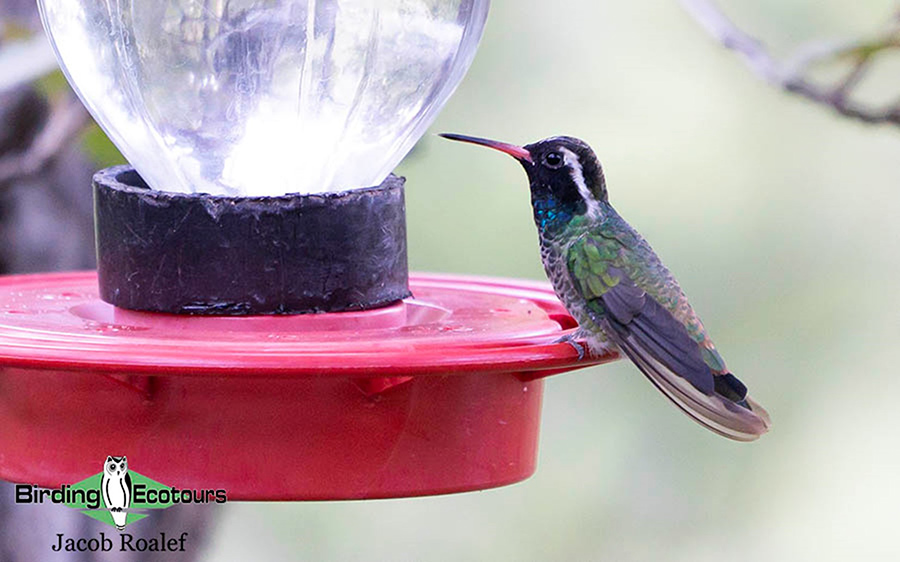 We enjoyed the brilliance of this rare White-eared Hummingbird.
Day 6, 21st August 2021. Carr and Ramsey Canyons
We headed out in the morning to continue our exploration of the Huachuca Mountains starting with Carr Canyon. This location allows us to drive to the top where a campground awaits us with mixed coniferous forest. The road is steep, windy, and full of rocks and gravel but offers us some great views of Sierra Vista below. On our climb up we made a few birding stops at pull-offs catching up with several great species including Arizona Woodpecker, Bewick's Wren, and Painted Redstart. At the reef campsite we managed to dig up Western Wood Pewee, Spotted Towhee, Grace's Warbler, and a small flock of Bushtits among others. We drove our way back down and over to Ramsey Canyon Preserve for lunch and a little hike up the trail. This beautiful park features a small river running through it and is a favorite for Sulphur-bellied Flycatcher, Brown Creeper and Elegant Trogon. Unfortunately, we dipped again on the latter species, but we hadn't given up hope for that species yet, stay tuned! After our hike we decided to check out the feeders at the nearby Ramsey B&B and they sure put on a show. We enjoyed eight species of hummingbirds just at these feeders including Blue-throated Mountaingem, Violet-crowned, Rufous, and Rivoli's Hummingbirds. While these birds are all beautiful, the true star was the incredibly rare male Berylline Hummingbird which made an appearance after about an hour's wait! Other highlights from the feeders included Arizona Woodpecker, Western Tanager, and Black-headed Grosbeak. Pulling ourselves away from the feeders, we headed off to dinner.
After dinner we headed out to lower Carr Canyon for some nighttime birding. Upon arrival we heard several Common Poorwills calling out in the distance. After some time with no owl luck, we moved up the road a little further to try a different location. It didn't take long to pick up on a Whiskered Screech Owl calling. A few of us ventured in the woods a little way and managed to score some awesome visuals! The evening birding was a big success, and it was back to the hotel for some much-needed sleep and rest.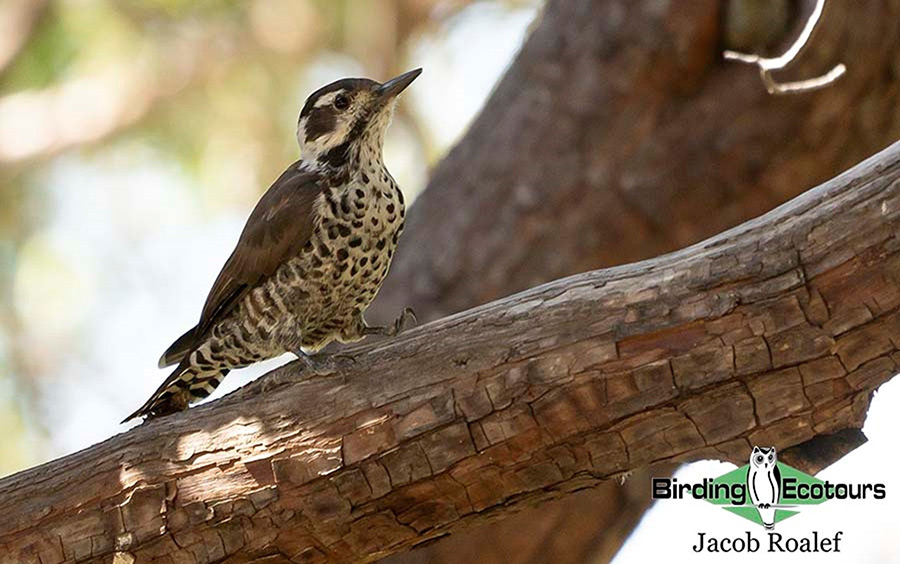 Arizona Woodpecker is always a favorite of the region.
Day 7, 22nd August 2021. Las Cienagas and Ash Canyon
It was time for a little change in scenery and habitat. Most of the tour had featured desert and canyon birding but this morning we headed out to the grasslands of Las Cienagas National Conservation Area. Upon our approach to the grasslands, we were greeted by a gorgeous Swainson's Hawk perched on the telephone wires. This huge and expansive habitat treated us well with many great sightings including Eastern Meadowlark (Lilian's subspecies), Cassin's and Botteri's Sparrows, Lazuli Bunting, American Kestrel, Loggerhead Shrike, Western and Cassin's Kingbirds, Northern Harrier, Say's Phoebe, and Horned Lark. Birds weren't the only animals using this habitat as we stopped by a Black-tailed Prairie Dog colony and spotted a Pronghorn on the horizon. The most interesting animal had to be the bizarre Tadpole Shrimp in a small puddle along the roadside. After a great morning of birding the prairies and grasslands we headed off to enjoy a delicious brunch.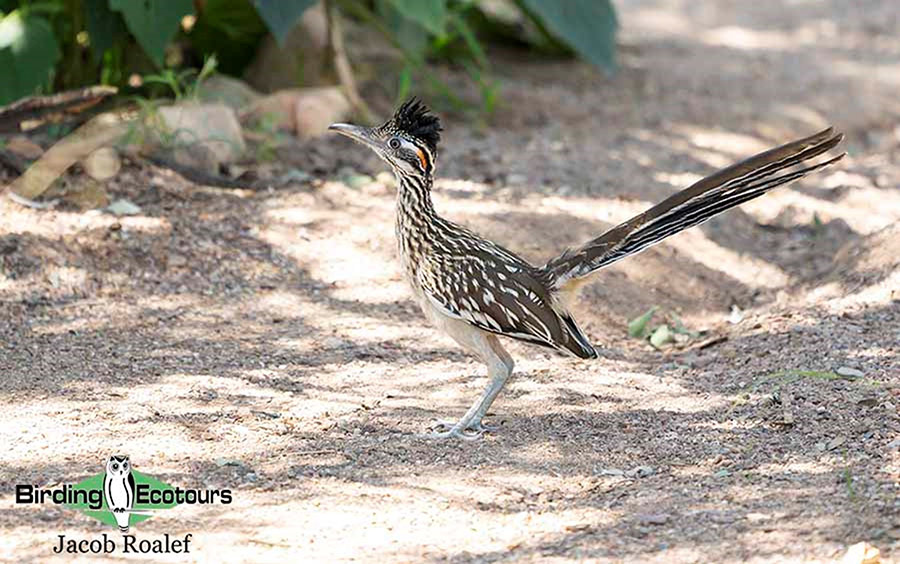 Everyone loves a good Greater Roadrunner sighting!
We spent the afternoon digesting and enjoying the feeders of Ash Canyon Bird Sanctuary. This lovely little spot is a true blessing to have in our birding community and we enjoyed the many visiting birds including Greater Roadrunner, Lucifer Hummingbird, Canyon Towhee, and Ladder-backed Woodpecker. We decided to make one last quick birding stop before dinner at the Sierra Vista Environmental Operations Park (EOP). This little body of water in the middle of the desert can attract quite a few birds and in our brief visit we noted a huge flock of Red-winged Blackbirds with a couple Yellow-headed Blackbirds mixed in. Unfortunately, the park is closed most of the time so we couldn't do a full loop. It was now time for dinner and then sleep for our early morning the next day.
Day 8, 23rd August 2021. Portal and the Chiricahua Mountains
Today was an early morning with a 5:30am start and about a 2-hour drive to get us to the Portal area and the Arizona/New Mexico border. Upon arrival we cruised up and down Stateline Road watching birds cross between the states and joking about ticking them for both Arizona and New Mexico.  Along this gravel road we noted Greater Roadrunner, Scaled and Gambel's Quail, and Cassin's Kingbird. We continued on from the desert scrub and entered into the Chiricahua Mountains, the final set of canyons we would explore of the sky islands. Our first stop was a mid-morning hike along South Fork in Cave Creek Canyon. The birding was a bit slow however we saw some nice species including Arizona Woodpecker and Mexican Jay, and towards the end of the trail, a top trip highlight awaited us. A pair of Elegant Trogons had nested in a small cavity in an oak tree and every 15-40 minutes one of the parents would fly in with a large insect to feed the young waiting in the cavity. We waited patiently and managed to get amazing views of both the male and female trogons. After trying for this species in the other two mountain ranges on numerous occasions, we were finally treated to their beauty, and what a treat it was!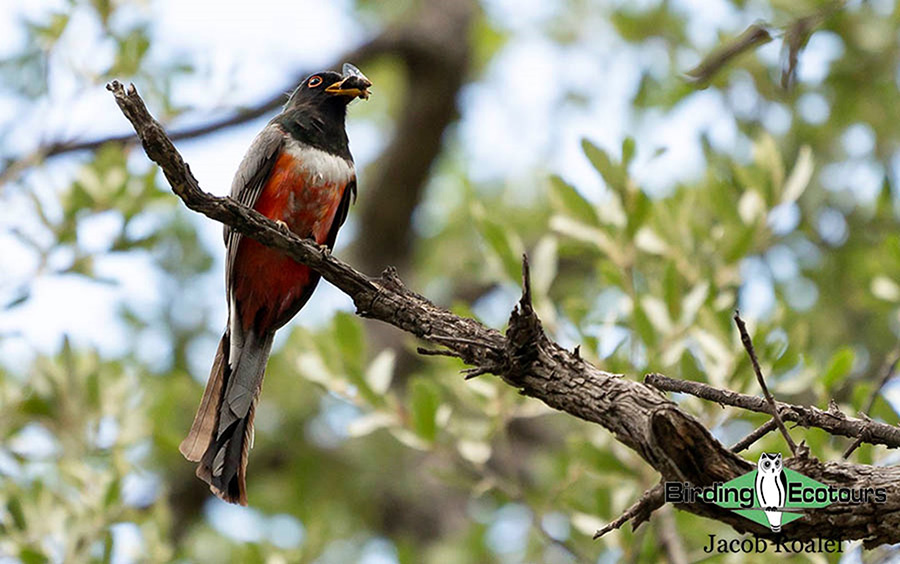 Watching an Elegant Trogon bringing food to its young was a top highlight of the trip.
The afternoon birding session had its fair share of ups and downs. So far during the trip we had done a great job at avoiding any adverse weather conditions, however, as soon as we left the trogons, the rains began. It down-poured and huge chunks of hail even fell as we were sheltered in the car. We eventually made it to the top of the mountains and to Rustler Park hoping to catch a break in the weather. Conditions were still drizzling, and the birding was slow but when the rain finally broke, we got onto a nice mixed flock including Mexican Chickadee, House Wren (Brown-throated subspecies), and Hermit Warbler. As we got back to the van, we discovered a bit of a problem, our tire was losing air and quickly! Luckily it wasn't raining, and we managed to work as a great team putting on the spare. Just as we had finished Eric noticed a bird perched nearby, Band-tailed Pigeon! A new trip bird and lifer for some, how serendipitous. We all shared a good laugh and got down the mountain and decided to call it a day with the birds, quite an eventful one at that.
Day 9, 24th August 2021. Portal Area, Wilcox, and back to Tucson
We started the day back in the lowlands of the desert scrub searching for a few more targets. Today the wind seemed to be calmer and the birds more active. We managed to find several great species despite some nearby noisy donkeys. These included Crissal and Bendire's Thrashers, Chipping, Lark, Black-throated and Brewer's Sparrows, and a cute covey of Gambel's Quails. From here we headed to Paradise, a tiny town located in the Chiricahuas, where we visited the George Walker House. The gracious host was full of fun information and the birds cooperated too with highlights being Juniper Titmouse and Calliope Hummingbird. From here it was time to say our goodbyes to the sky islands and begin our drive back to Tucson with a few birding stops along the way.
First up was Lake Cochise in Wilcox. This small body of water acts as a real oasis in the desert and hosts many amazing waterfowl and shorebird species during their migration. Some of the highlights here included Wilson's Phalarope, Long-billed Curlew, Black-necked Stilt, American Avocet, Baird's Sandpiper, White-faced Ibis, Cinnamon Teal, and Northern Shoveler. We continued along until we reached the town of Saint David for a quick stop to view what is likely the western-most nesting population of Mississippi Kites in the USA. It is always fun to watch these graceful acrobats in the air. Eventually we made it back to Tucson where we had an excellent final dinner of Mexican cuisine and began to talk about our favorite birds and moments of the trip.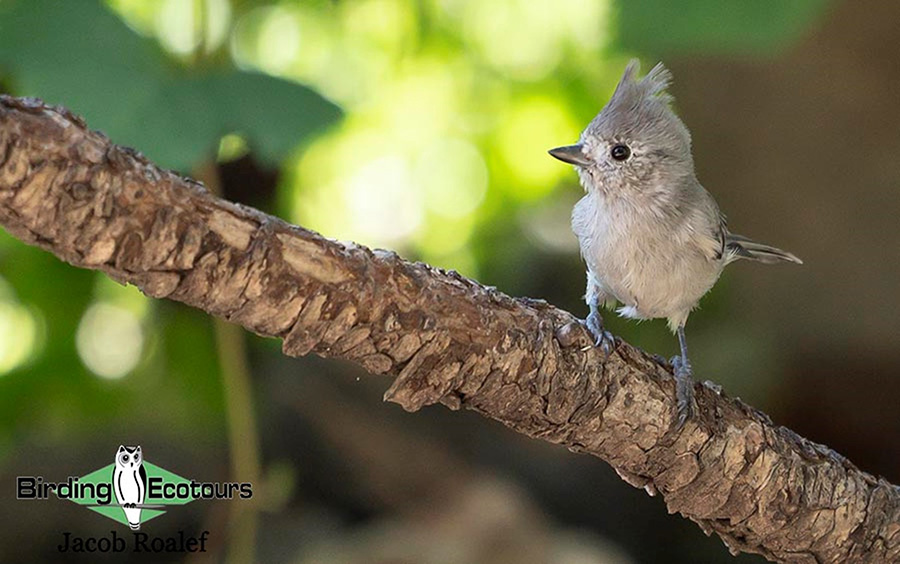 The cute Juniper Titmouse gave some fantastic views.
Day 10, 25th August 2021. Departure day
After some breakfast at the hotel, it was time to make the first run to the airport and say our goodbyes. The other participants were transported back to Phoenix in the afternoon and thus wrapped up a lovely trip to Southeast Arizona. Everyone was asked to name their five favorite species and they wanted to share the results below. Jacob's favorites had to be the Berylline and White-eared Hummingbirds, Elegant Trogon, Whiskered Screech Owl, and Cactus Wren.
| | | |
| --- | --- | --- |
| Eric | Ed | Sue |
| Elegant Trogon | Rose-throated Becard | Vermillion Flycatcher |
| Steller's Jay | Elegant Trogon | Violet-crowned Hummingbird |
| Painted Redstart | Greater Roadrunner | Painted Redstart |
| Acorn Woodpecker | Arizona Woodpecker | Elegant Trogon |
| Gambel's Quail | Violet-crowned Hummingbird | Band-tailed Pigeon |
| | | |
| John | Scott | Wil |
| Whiskered Screech-Owl | Curve-billed Thrasher | Whiskered Screech Owl |
| White-eared Hummingbird | Red-faced Warbler | Red-faced Warbler |
| Violet-crowned Hummingbird | Violet-crowned Hummingbird | Curve-billed Thrasher |
| Rufous-winged Sparrow | Whiskered Screech Owl | Zone-tailed Hawk |
| House Wren (Brown-throated) | Zone-tailed Hawk | Hermit Warbler |

Please see the downloadable PDF above with the full species lists included.