85 % of the bird species of the southern third of Africa (705 species out of 829 regularly occurring ones), and an amazing 82 mammal species, seen in two months by combining four of our back-to-back tours
I collated the bird and mammal lists of four of our October to December southern African birding tours we ran in 2015 and found the result very rewarding and exciting. These trips, which run for almost two months (combined) from October 9 to December 5 each year (and which can be joined back to back or separately) evidently allow a birder to see the bulk of the regularly occurring birds and mammals (as well as a great many reptiles, amphibians, plants, etc.) of the southern third of the vast continent of Africa. By joining these bird tours over this two-month period (or by joining one or two of them each year for a couple of years), you will find yourself safely within the prestigious "700 listing club" for southern Africa (kept at Zest for Birds), even if you have never previously birded in Africa before. This will put a lot of local birders to shame. The southern African listing region consists of the seven countries south of the Zambezi and Kunene Rivers, namely Namibia, South Africa, Lesotho, Swaziland, Botswana, Zimbabwe and the southern half of Mozambique.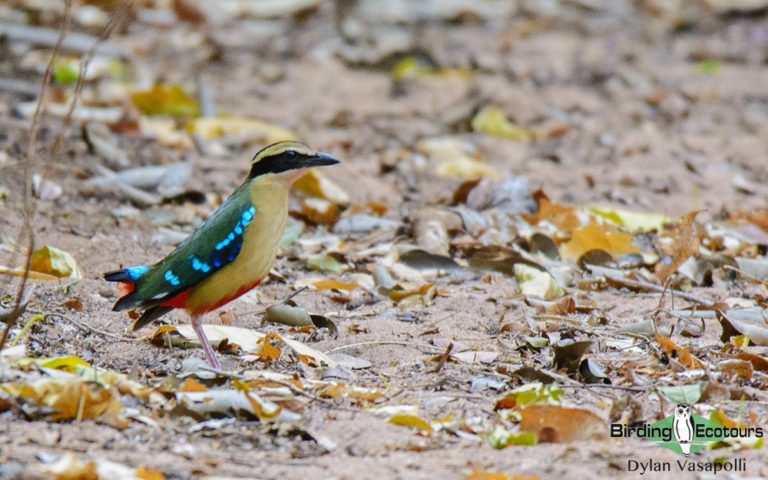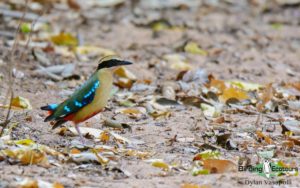 Our usual Mozambique/Zimbabwe bird tour is timed for African Pitta, but we also do winter trips to Mozambique for Madagascan migrants and others.
The combined list from the four tours shown below totaled 705 bird species and 82 mammal species (excluding, as we always do, heard only and leader only birds – we've failed if trip participants don't see each species well):
Birding Tour South Africa: 8-day Western Cape
Birding Tour South Africa: Subtropical South Africa
Birding Tour Namibia: Namibia, Okavango, and Victoria Falls
Birding Tour Zimbabwe and Mozambique
If you go to the bottom of each of the links shown above, you can download a sample trip report (from recent tours), and we are proud that we have the highest lists out there for our birding tours to South Africa as well as to Namibia/Okavango/Victoria Falls. And few birding tour companies do Mozambique and Zimbabwe, so it is difficult to make comparisons, but we do very well there too, finding the strategic birds and accumulating large lists. Despite the fact that our lists are top, we do not like to set a crazy pace, so we'd rather add a day or two (and use good accommodation), since trip enjoyment and having fun is extremely important to us – high bird lists alone are not good enough according to our philosophy.
Some of the top birds we find on these tours are the plethora of Cape, Karoo, and Drakensberg endemics (e.g. both rockjumper species and a myriad others), the whole suite of Namibia/Angola endemics, including those marginally entering Namibia at the Kunene River Lodge/Ruacana area (such as Angola Cave Chat, Cinderella Waxbill, Herero Chat, and all the others), the Okavango Delta specials (e.g. Pel's Fishing Owl and Slaty Egret), the often neglected endemics straddling the mountainous border between Zimbabwe and Mozambique (such as Chirinda Apalis and Roberts's Warbler), and all the Mozambique lowland birds (including the stunning African Pitta, East Coast Akalat, and lots of others – these parts are very bird-diverse!).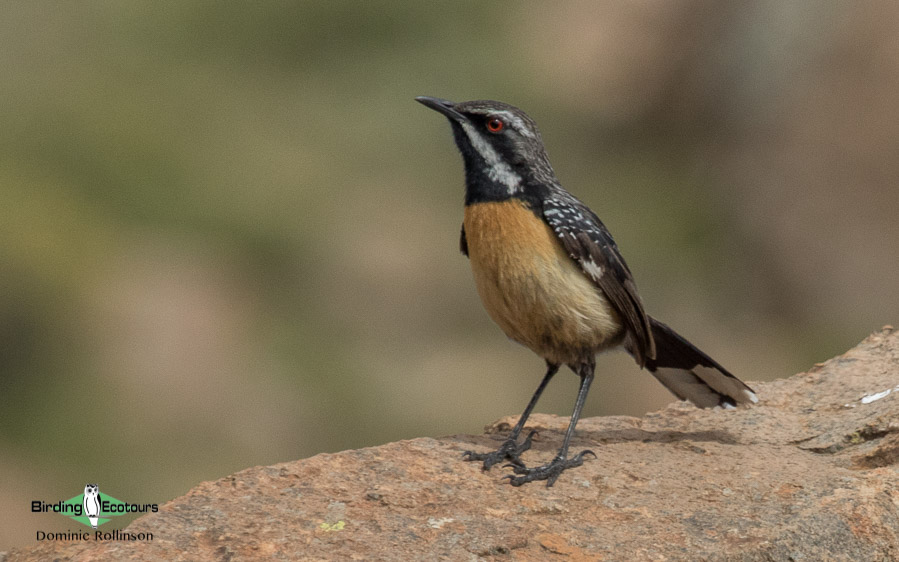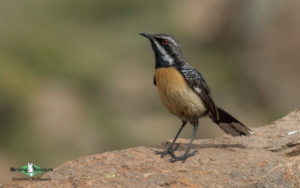 Drakensberg Rockjumper is easily seen at around 10,000 feet in Lesotho on our classic subtropical (eastern) South Africa birding tour.
Looking at the combined bird list for 2015 for these four tours, we did very well with flufftails (three species actually seen; looking at other trip reports out there, most do not report seeing even one, although many report hearing one or two, especially Red-chested Flufftail), owls (11 out of 12 southern African owls were seen, but sadly we missed African Grass Owl – we do have quite good success with this species on Johannesburg/Pretoria day trips, though), an incredible 55 birds of prey and vultures, every single bustard/korhaan in the region (an amazing 11 of them!), all 10 kingfishers, 7 spectacular bee-eaters, and of course all the others.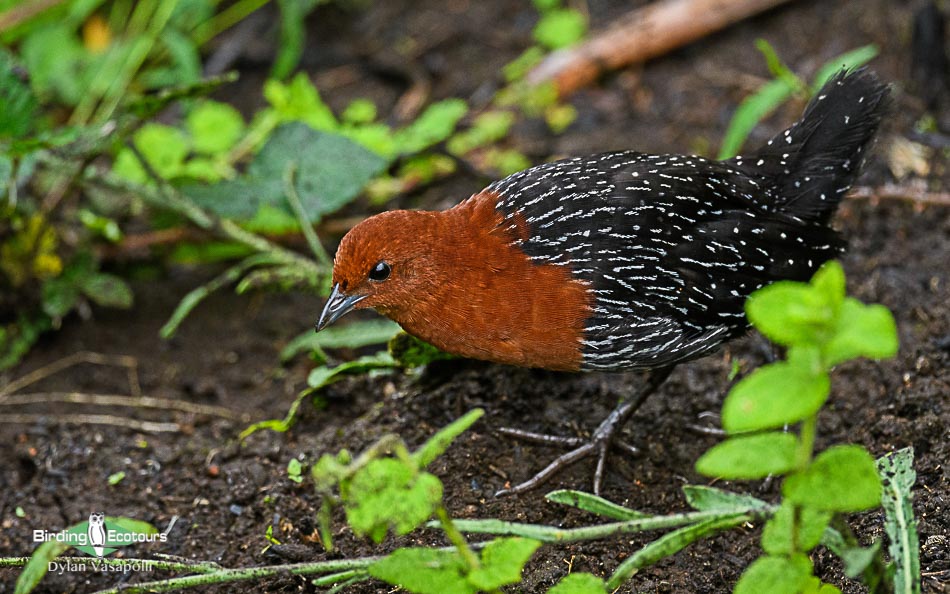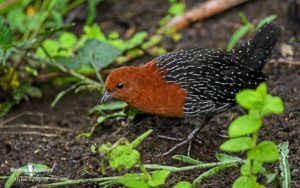 Red-chested Flufftail on one of our South African birding tours
We also see Africa's big and small mammals, incredibly varied, spectacular scenery, and stacks of plants (including the richest biome on earth for plants, the Cape fynbos) on these trips.
One can also combine some of these trips with our annual October Madagascar birding and wildlife tours, but since that large island is so very different from Africa I did not include Madagascar in this current combined bird/mammal list comparison. Needless to say (being a world apart from southern Africa from a biodiversity point of view even though it is geographically so close to southern Africa), Madagascar adds a great many unique birds, mammals, etc.
The combined bird list of 705 species can be seen below and is modeled directly after the "official" southern African bird list used by the "700 club" at Zest for Birds. The mammal list of 82 species is also shown, following the bird list.