This is a topic we would sincerely love your comments on – please do e-mail us at and let us have your opinion on the matter!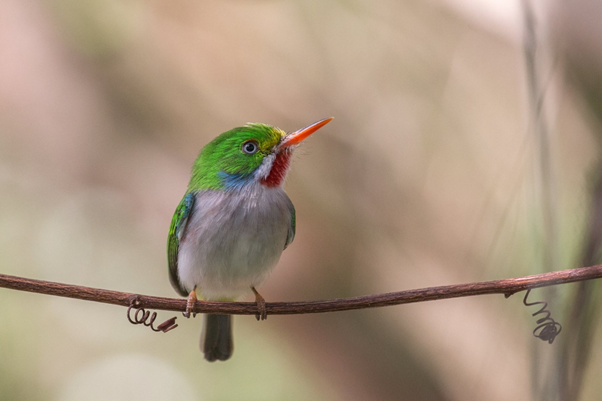 Cuban Tody (photo Jean Kirkwood) from our March 2017 Cuba birding tour – luckily not too difficult to see without playback
Whether to tick heard-only birds can be a contentious issue. My personal rule is to strictly exclude heard-only birds from all of my lists (including my world list, my southern African list, my Ohio state list, and any year lists that I attempt). My reasons for excluding heard-only birds are twofold. Firstly, because birding would then simply be too easy – the challenge of actually seeing elusive skulkers is a large part of what makes birding tough (in a good way). Finding owls, crakes (especially the tiny flufftails), and some of the more elusive warblers, such as Connecticut Warbler or Swainson's Warbler, would be far too easy if one simply had to hear them to list them.
Secondly, and more importantly, one would miss getting to know some of the most fabulous birds out there if one was content just to hear them. For example, seeing the plumage of a Boreal Owl is of course a whole lot better than only hearing the species. Not to say that hearing the distant call of this tiny owl for the first time on a cold night in the mountains of Wyoming wasn't one of the most memorable birding experiences I have ever had! The mountains seemed lifeless and completely quiet until the eerie tooting of this owl suddenly rang out!
On the other hand, one of the most compelling arguments to tick birds by hearing them only (and not continuing further to try and get visuals on them) is an excellent one that I certainly do spend a lot of time thinking about. By making it a rule to actually see (rather than to hear only) a species before listing it, birds can very much be disturbed, sometimes badly. There is, for example, hardly any other way of seeing a good number of the world's owl species if one does not actually call them in and spotlight them. This is obviously not something the owls particularly enjoy. The same argument applies to rails, crakes, and flufftails, some of which birders call closer with playback before flushing them, which is a double whammy for the poor birds. Perhaps it might therefore be a good idea to count heard-only species on all one's lists except for one's main life-list? Let us have your comments.
The ethical concern mentioned above ultimately means that I have a shorter life list, as I sometimes opt not to bother the birds that I would otherwise want to get acquainted with (and list). Sometimes it's just a matter of being more patient. The Connecticut Warbler that was a life bird for me very recently (earlier this month, May 2017) took a long time to see as I did not try and call it in with playback but instead waited for it (it took a couple of hours before I eventually saw this amazing little thing). With regards to the Critically Endangered White-winged Flufftail, I opted to join a controlled flushing event that minimizes disturbance to this species and in fact is used to raise funds to help its conservation (as participants pay into a conservation trust set up for this species, for the privilege of joining the controlled flush). In south-western Australia it was an absolute mission to see the three notorious skulkers of Cheynes Beach, because most birders try to see them there, so playback is a definite NO – you can read about my struggles here.
Actually, with the massive increase in the popularity of bird photography, in which birders want to get photos and not just see the species, this whole controversy is brought to a whole new level. In this modern age probably more than half the birders out there want to photograph what they are finding, not just see the birds, and certainly not just hear them! When I started birding, hardly anyone was trying to photograph a species – folks were more than happy just to see each species and not get photos.
Seeing birds, or better still photographing them, adds to the challenge of birding, which is a good thing. If done in a truly caring way in which the bird's welfare is genuinely put first (which is what most of my birding friends do), then to me this is the way to go. Other people will remain quite content to list birds simply by hearing them. If that were the case for me, I may have given up on that Connecticut Warbler more easily – but, believe me, I'm glad I spent a couple of hours trying for the species; when I saw this beautiful bird (first at eye level when singing territorially and then moving onto the ground where it moved to forage) it is one of the most unforgettable birding memories possible. The same holds for when I raised my binoculars to a Buff-spotted Flufftail after an arduous session in which my patience was tested to the absolute limit but was eventually rewarded. Flufftails must be the world's most elusive birds (see or blog here), and many people settle for hearing them only. But I have to tell you that when you see these tiny spotted miniature chickens it's the birding experience of a lifetime. That's if you can stop shaking with excitement and actually get proper views.
At Birding Ecotours we also do not include heard-only birds in the final count – we mark the heard-only birds on our tour lists, but we are clear to state them as such and not include them with the trip tally. We feel that we have failed the trip participants if we have not got everyone onto the bird properly – that means everyone getting a good view of it. A poor view or a heard-only species can't be included on the trip list.
For eBird, regional atlases, and other data-collecting exercises which can have scientific and conservation benefits we do, however, count heard-only birds.
On this topic, even more than most, we would love your opinion, stories, etc. Do you tick on heard only, and if so, why? Please e-mail us and let us know, if you don't mind!