1-day Sani Pass and Lesotho Birding Tour
Go to: South Africa Day Tours | Full length South Africa birding tours | Birding Tours in Africa | All our birding tours
1-day Sani Pass and Lesotho Birding Tour
The ascent up Sani Pass, one of the most famed birding routes in South Africa, provides easy access to most of the birds endemic to the Drakensberg Escarpment and highlands, plus spectacular mountain scenery.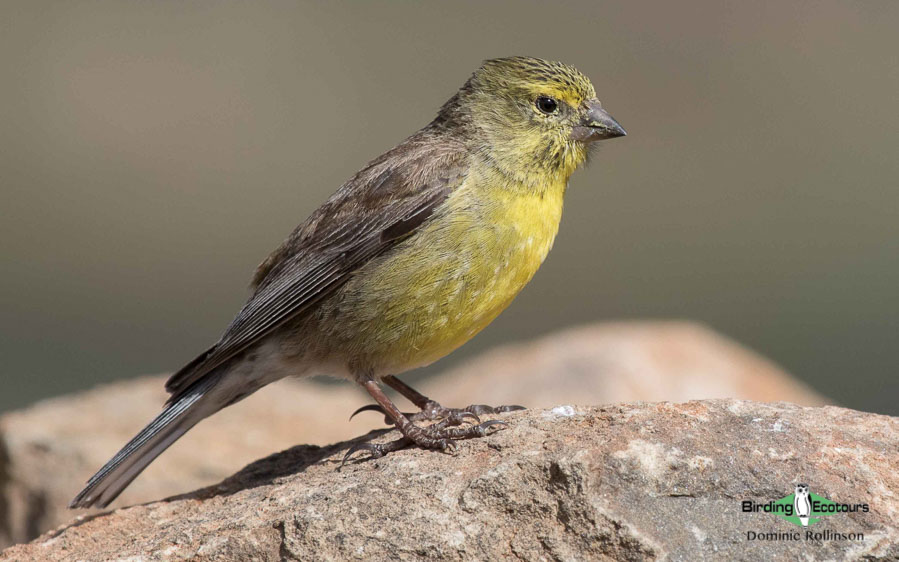 Drakensberg Siskin only occurs at high altitudes in the Drakensberg Mountains.
We leave very early in the morning (around 5:30) with a packed breakfast and lunch to ascend the Sani Pass by 4-wheel drive with a local guide. Before we ascend the pass we will keep a lookout as we drive through the grasslands below the pass for Denham's Bustard, Ant-eating Chat, Grey Crowned Crane, and Secretarybird. At the lower elevations small patches of temperate forest and scrub will be searched for the sought-after Bush Blackcap, Drakensberg Prinia, Chorister Robin-Chat, Swee Waxbill, and Brown-backed Honeybird. This habitat is soon replaced by Protea stands a little higher up, where Gurney's Sugarbird and Malachite Sunbird occur alongside Ground Woodpecker, Red-throated Wryneck, Cape Rock Thrush, and Buff-streaked Chat. Small wetlands will be checked for Fan-tailed Grassbird, with Red-winged Francolin, Long-billed Pipit, Cape Grassbird, and Wailing Cisticola occurring in the nearby grasslands.
At little higher up the large stands of trees will be investigated for Barratt's Warbler, Drakensberg Prinia, Greater Double-collared Sunbird and a little higher up for Karoo Prinia. Above the tree-line Drakensberg Siskin and Drakensberg Rockjumper start to appear, as well as Bearded (Lammergeier) and Cape Vultures. Once we cross into the Kingdom of Lesotho the habitat consists of vast open plains with small scrubby bushes which hold Large-billed Lark, Fairy Flycatcher, Grey Tit, Layard's Warbler (Tit-babbler), Sickle-winged Chat, Yellow Canary, Sentinel Rock Thrush, and Southern Bald Ibis. In summer we will search the grassy areas of the plateau for the range-restricted Mountain Pipit.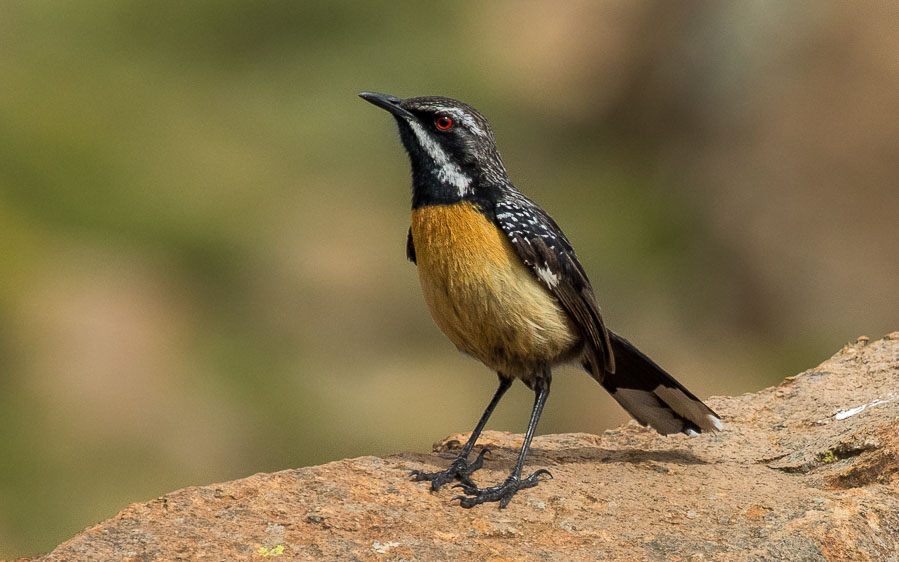 Another Drakensberg endemic; Drakensberg Rockjumper.
We will spend a full day ascending to the top of the escarpment and into the beautiful mountain kingdom of Lesotho, with frequent stops along the way, in a quest to find all the localized specials.
Download Summary
South Africa: 3-Day Drakensberg and Sani Pass Birding Tour Report

01 – 03 FEBRUARY 2022
DOWNLOAD TRIP REPORT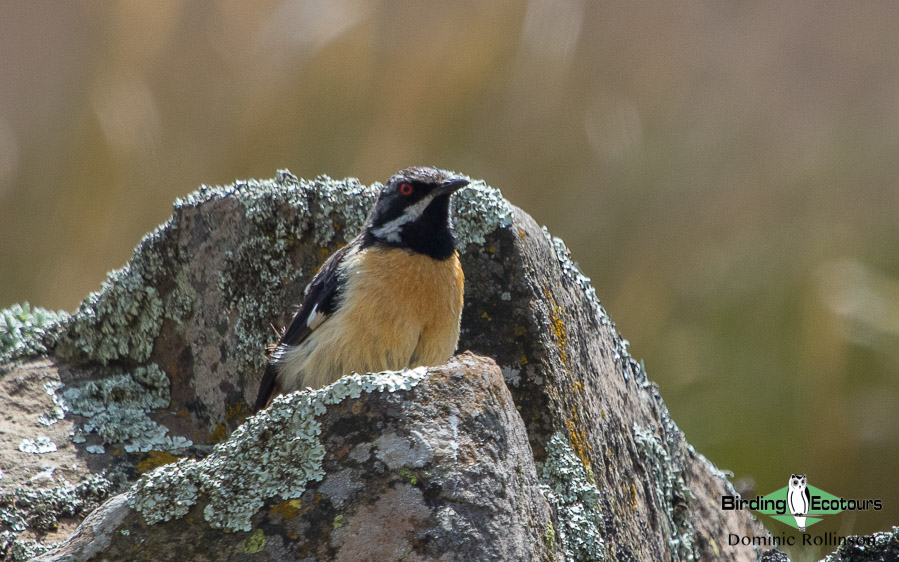 Drakensberg Rockjumper is always a highlight of a day's biridng on Sani Pass.
Overview
This three-day birding tour of the Sani Pass and Drakensberg Mountains aims to target as many of the high altitude and mid-elevation specials of the KwaZulu-Natal Province of South Africa, many of which are South African endemics or near-endemics. The main birding attraction of this short tour is our day up the famed Sani Pass, which crosses into the Kingdom of Lesotho, however we also enjoy some grassland and montane forest birding at slightly lower elevations. Some of the specials we found on this tour included Drakensberg Rockjumper, Drakensberg Siskin, Mountain Pipit, Bearded and Cape Vultures, Blue and Grey Crowned Cranes, Black-winged Lapwing, Southern Bald Ibis, Crowned Eagle, Half-collared Kingfisher, Ground Woodpecker, Fairy Flycatcher, Grey Tit, Orange Ground Thrush, Gurney's Sugarbird, Greater Double-collared Sunbird, and many others.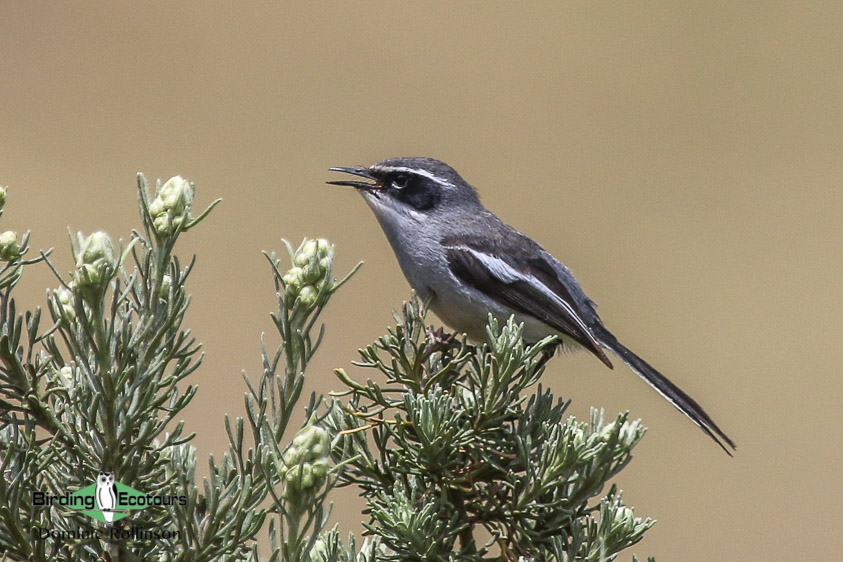 The cute Fairy Flycatcher was seen on the plateau in the Kingdom of Lesotho.
Detailed Report


Day 1, 1st February 2022. Durban to Himeville
We left Durban soon after sunrise and headed inland to our first birding stop near to the Karkloof area, in the KwaZulu-Natal Midlands, where we would spend most of the morning. At a quick stop in some grasslands, we started racking up good birds in the form of Black-winged Lapwing, Southern Bald Ibis, Martial and Long-crested Eagles, Jackal Buzzard, Drakensberg Prinia and many Red-collared Widowbirds. A European Honey Buzzard was also seen nearby, always a great bird to see anywhere in South Africa. We then pressed on further into the Karkloof area and birded some scrubby areas on the edge of a timber plantation which was surprisingly productive, and we managed to add Lesser Honeyguide (missed by most of the group), Black Saw-wing, Neddicky, Greater Double-collared Sunbird, African Firefinch and its brood parasite Dusky Indigobird, along with Golden-breasted Bunting and a calling Cape Grassbird which would remain unseen for now.
Around mid-morning we arrived at our primary birding site for the morning, Benvie Garden, where we enjoyed our breakfast with a number of interesting forest species calling as we ate. After finishing our breakfast, we took a walk around the garden and found some great birds including the likes of Orange Ground Thrush (our big target here), Woolly-necked Stork, Cape Batis, Black-headed Oriole, African Paradise Flycatcher, Bar-throated Apalis, Olive Thrush, Yellow-throated Bush Sparrow, Cape Weaver, Forest Canary, and a pair of Crowned Eagles which were busy displaying above us. In the patch of forest above the gardens we found other exciting birds such as Yellow-throated Woodland Warbler, Blue-mantled Crested Flycatcher and calling African Emerald Cuckoo and White-starred Robin, neither of which would show themselves.
After finishing our forest birding for the day and after a quick lunch we made our way further inland and climbed in elevation as we headed towards the Drakensberg Mountains. We didn't find too much of interest for the rest of the afternoon until a birding stop outside Himeville at a small dam, which held Cape Shoveler, South African Shelduck, African Spoonbill and African Wattled Lapwing. However, the Wattled Cranes which are regular here, were unfortunately not around today. A little closer to Himeville we birded some grasslands on the edge of a wetland which gave us beautiful looks at Yellow-crowned Bishop, brief views of Pale-crowned Cisticola and prolonged views of Long-tailed Widowbirds, as they performed their crazy display flights.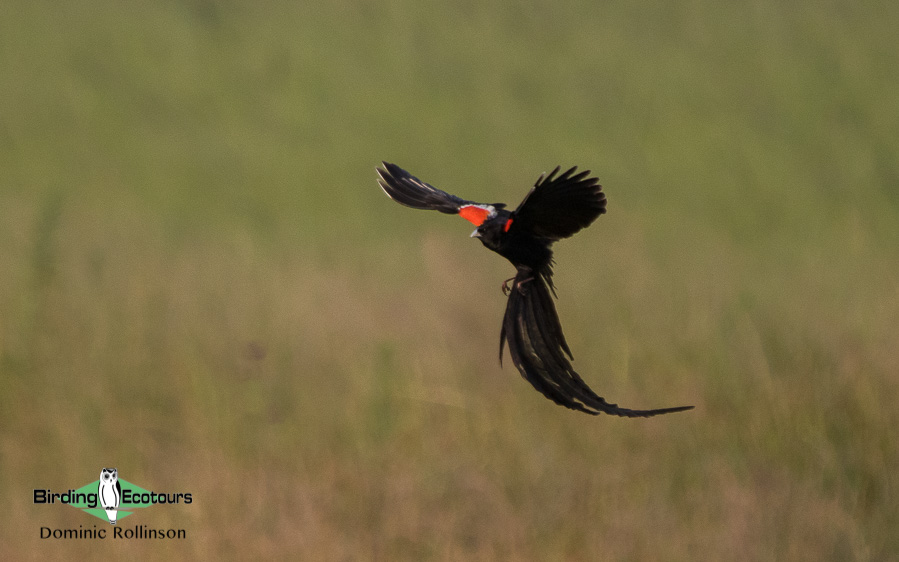 Long-tailed Widowbirds were displaying in grasslands throughout the area.
Day 2, 02nd February. Sani Pass birding
Today was the day we'd all been looking forward to as we were to spend most of the day up Sani Pass, one of South Africa's premier birding sites. We left our accommodation with our local guides Aldo and Stuart just after dawn and made our way towards the base of the pass and had a few good birding stops en route. These stops yielded some great birds such as Red-throated Wryneck, Southern Boubou, Bokmakierie, Cape Crow, Cape Grassbird, African Yellow Warbler, Greater Double-collared Sunbird, Yellow Bishop, Swee Waxbill and the highly prized Bush Blackcap. We then stopped for some breakfast alongside a river which had a bunch of nice birds around. First prize went to a Half-collared Kingfisher which eventually showed well for us, and we also found Cape Batis, Olive Thrush, Fiscal Flycatcher, Brimstone and Cape Canaries and Streaky-headed Seedeater.
After breakfast we started to ascend the pass proper and the birding continued to pick up. The lower boulder-strewn slopes had good numbers of Gurney's Sugarbird perching up on protea bushes while Karoo Prinia, Wailing Cisticola, Cape Rock Thrush, Buff-streaked Chat, Ground Woodpecker, Cape Bunting and Horus Swift also put in appearances for us. The higher-elevation rocky areas (such as around the switchbacks, just below the Lesotho border post) were really birdy and this is where we found our first Drakensberg Rockjumper of the day along with Drakensberg Siskin, Sickle-winged Chat and flyovers of Cape and Bearded Vultures. Two mammal highlights were encountered on the drive too, in the form of Mountain Reedbuck and Grey Rhebok.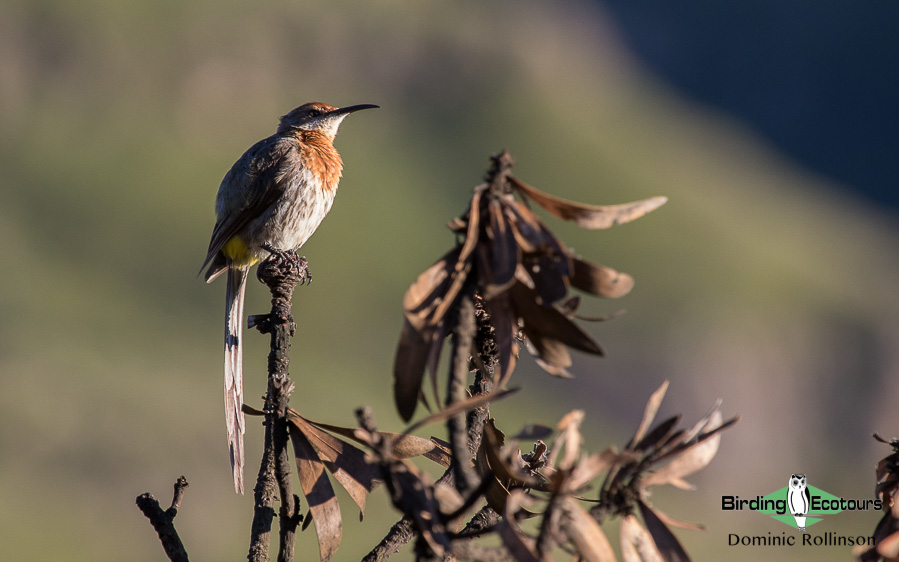 Gurney's Sugarbird showed well as we ascended Sani Pass.
Once onto the top of Sani Pass and the plateau at around 2,800 metres (9,100 feet) in elevation we found a different suite of birds which inhabit the short Karoo-type vegetation which dominates the plateau. Layard's Warbler, Fairy Flycatcher, Sentinel Rock Thrush, Mountain Wheatear and Yellow Canary were relatively abundant while we had to work for Grey Tit and Large-billed Lark. The target bird of any summer trip to the plateau is Mountain Pipit which was surprisingly abundant and were in full voice today. We also enjoyed decent views of a couple of African Black Ducks on a nearby river. After some lunch and a quick drink at the Sani Top Chalet (the highest pub in Africa, which included more views of Drakensberg Rockjumper) we made our way back down the pass. The descent was fairly uneventful but did produce fleeting glimpses of the skulking Barratt's Warbler.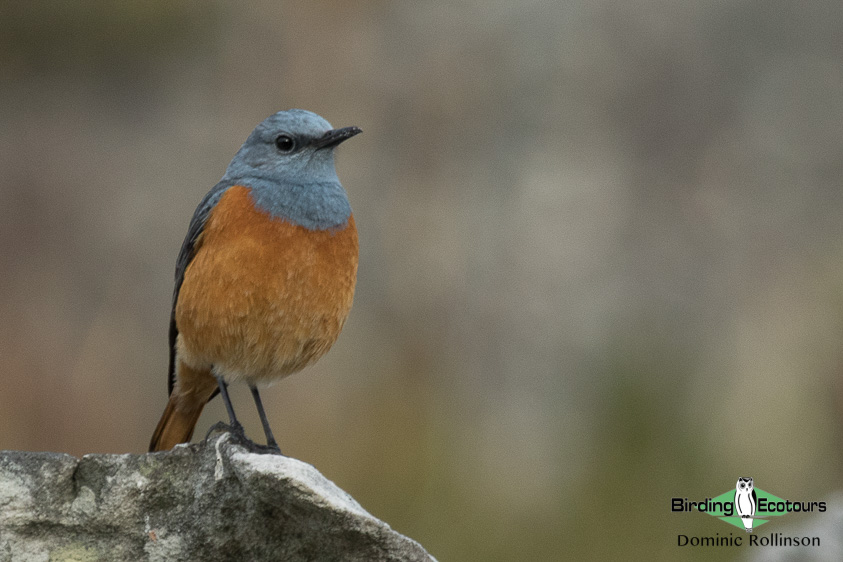 The attractive Sentinel Rock Thrush was seen on the plateau.
After safely negotiating the pass, we enjoyed some birding around the Himeville area which produced Grey Crowned Crane, White Stork, Jackal Buzzard, Ant-eating Chat, Quailfinch and Red-collared, Fan-tailed and Long-tailed Widowbirds. After a long day out, we enjoyed a good drink and meal before heading to bed for our last night of this short tour.
Day 3, 03rd February 2022. KwaZulu-Natal Midlands birding and transfer to Durban
We had another early start this morning and headed out to Marutswa Forest to try our luck at Cape Parrot. Disappointingly the parrots were a no-show this morning and so we had to be content with African Olive Pigeon, Terrestrial Brownbul, Speckled Mousebird, Amethyst and Malachite Sunbirds, African Firefinch and Forest Canary which all kept us entertained on the forest edge. After giving up on the parrots we headed to the Mkomazi Valley where our next big target was Blue Swallow. This rare swallow is listed as Vulnerable by BirdLife International and is mostly threatened by the loss of mid-altitude grassland habitat where it breeds in South Africa. The swallows took a little while but eventually we had great views of at least one adult male and a juvenile as they went about feeding low over the grasslands, alongside Black Saw-wings. Other good birds in the area included Lazy Cisticola, Fan-tailed Grassbird (heard only), Swee Waxbill and Common House Martin.
We then made our way further down the valley and enjoyed some bushveld birding with our lunch stop. Birds seen here included Natal Spurfowl, Purple-crested Turaco, Green Wood Hoopoe, Black-headed Oriole, Cape Starling, Thick-billed Weaver and Golden-breasted Bunting. As we crossed the Mkomazi River we enjoyed perched views of a Crowned Eagle. From here, it was the long drive back to Durban where we arrived in the late afternoon, after a successful three days of Drakensberg birding.
DOWNLOAD TRIP REPORT
This is a sample trip report. Please email us ([email protected]) for more trip reports from this destination.