Birding Tour Borneo: Sabah Classic Tour
Go to: Borneo birding tours | Malaysia birding tours | Birding tours in Asia | All our birding tours
Download Itinerary
Birding Tour Borneo: Sabah Classic Tour
August 2024/September 2025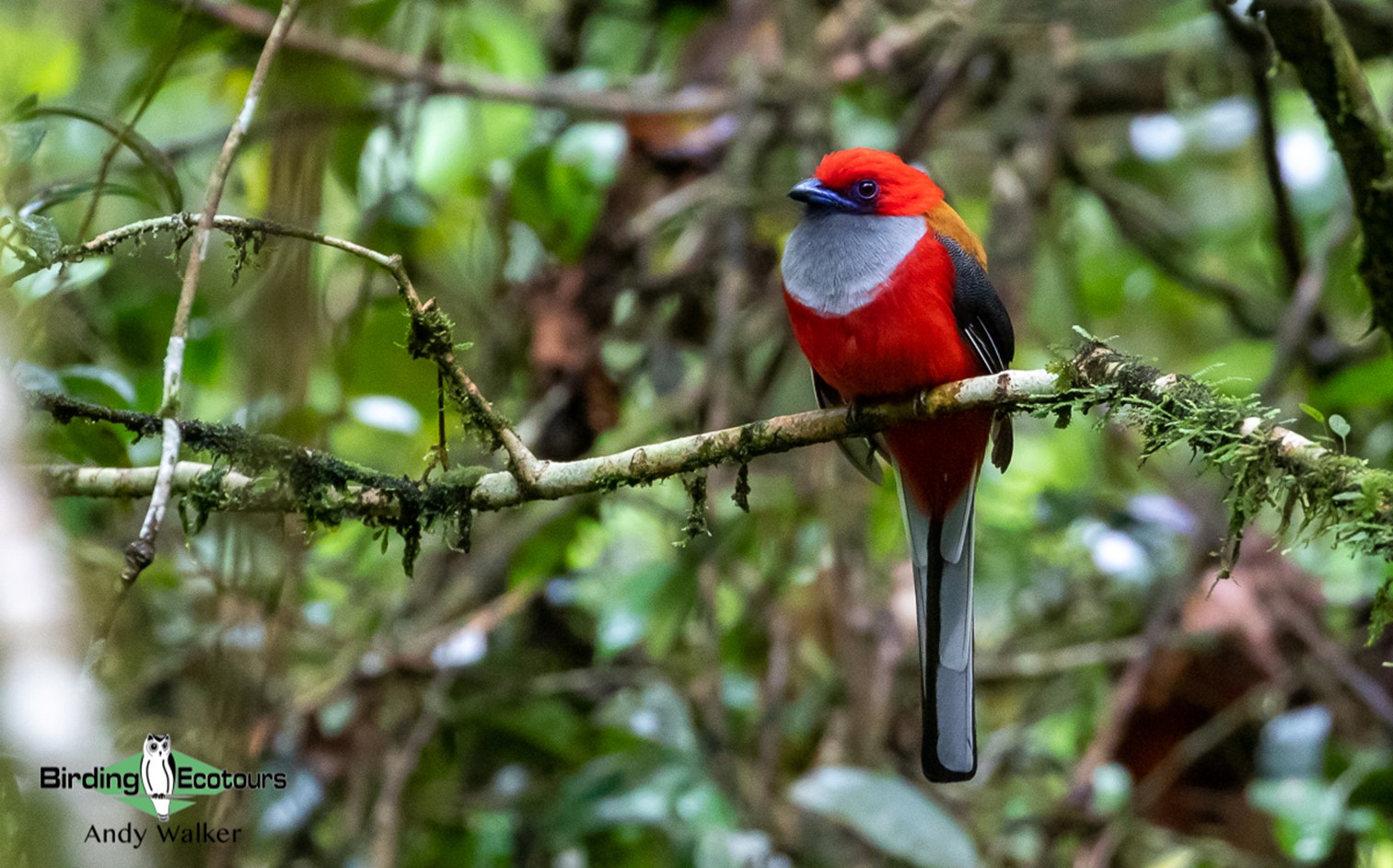 Whitehead's Trogon – one of the famous "Whitehead's trio" that we target on this Borneo tour.
Borneo, the world's third-largest island, is one of the world's most biodiverse wildlife havens. With over 50 island endemics found across pristine dipterocarp forests, montane cloudforests, riverine habitats, and mangrove swamps you should enjoy an amazing time on this small-group birdwatching tour filled with stunning birds from mouthwatering families like pittas, trogons, kingfishers, hornbills, and broadbills, as well as a wide range of mammalian treasures.
Our Borneo birding tour will take us to the important birdwatching sites of the Malaysian province of Sabah, which covers the northernmost part of this vast and amazing island, including time spent birding in five of its IBAs (Important Bird Areas identified by BirdLife International): the Crocker Range, Mount Kinabalu, Kabili-Sepilok, the Kinabatangan river floodplain, and the Danum Valley (where we will stay at the magnificent Borneo Rainforest Lodge).
Some of the many birds we target include the famous "Whitehead's trio" of Whitehead's Trogon, Whitehead's Broadbill, and Whitehead's Spiderhunter, along with the monotypic Bornean Bristlehead, a big target for family listers and one of Borneo's most sought endemics. We will also look for other mega endemic birds such as Bornean Ground Cuckoo, Fruithunter, and Bornean Green Magpie, and we will look for three glittering endemic pittas, the simply sublime trio of Blue-headed Pitta, Black-crowned Pitta, and Bornean Banded Pitta. Furthermore, we will also look for the near-mythical Giant Pitta. It is very unlikely that we will see the very tough endemic Blue-banded Pitta on this tour, though our Malaysia: Borneo, Sarawak – Restricted Range Endemics tour offers better chances for that one.
On our radar will be all eight hornbill species that occur here, including the spectacular Helmeted Hornbill, which is now Critically Endangered (BirdLife International), along with stunning Rhinoceros Hornbill. There will also be plenty of other endemic and Sundaic birds available during this tour, such as Storm's Stork, Banded Kingfisher, and Bornean Forktail.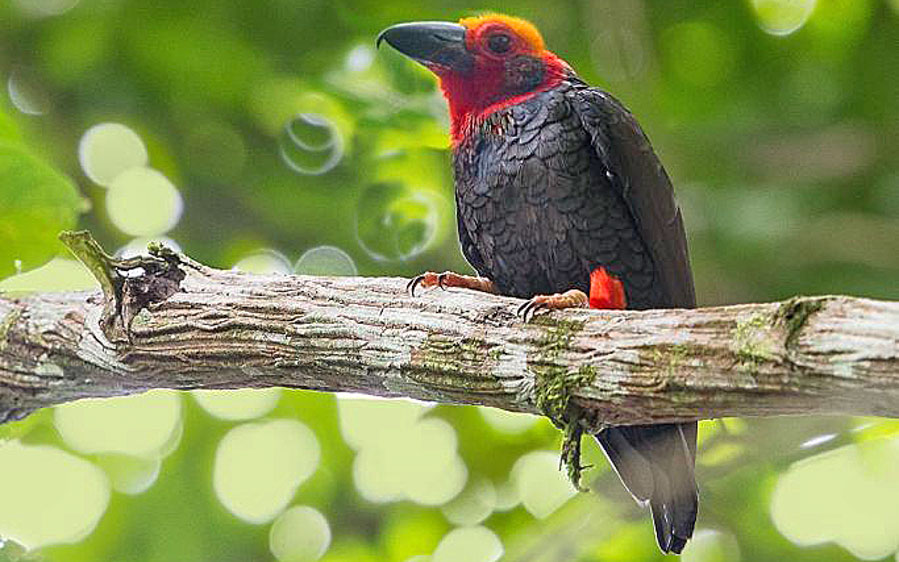 Bornean Bristlehead, a bizarre and monotypic endemic target (photo Liew Weng Keong).
In addition to the incredible birds, we will also be focused on finding some spectacular mammals, such as the "old man of the forest", the Bornean Orangutan, along with the unique-looking Proboscis Monkey, plus other delights including Malay Civet, Red Giant Flying Squirrel, and Northern (North Bornean) Grey Gibbon as a small sample of possibilities.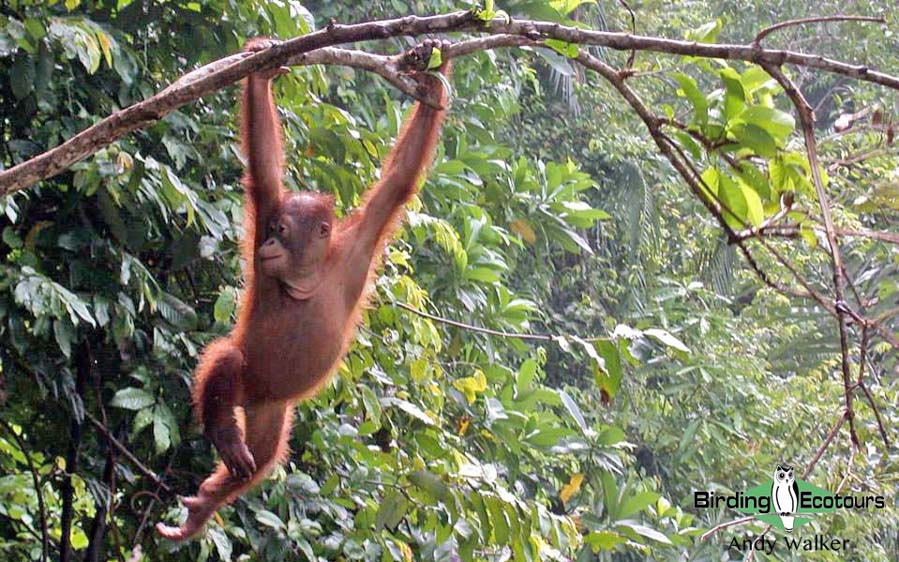 We will be sure to look for the amazing Bornean Orangutan during our tour of Sabah.
Detailed Itinerary (12 days/11 nights)
Day 1. Arrival in Kota Kinabalu
Your flight arrives any time in the morning, and you will be transferred to your hotel with the rest of the morning at leisure. We will meet for a welcome lunch and thereafter will make a start with our first birding of the tour. We will likely head to the nearby Tanjung Aru beach to look for Blue-naped Parrot, Pied Triller, and other birds that we may not encounter for the rest of the trip, as well as visiting a couple of excellent wetland sites. If you would like to arrive the night before the tour starts to acclimatize and get onto the local time zone, we can arrange this for you, please just let us know.
Overnight: Kota Kinabalu City Hotel
Day 2. Tambunan Rafflesia Nature Reserve Center, transfer to Kinabalu National Park
Early morning (usually around 04:30 a.m.) we will take a packed breakfast and transfer to Kinabalu National Park, a UNESCO World Heritage Site. En route we will stop at the Tambunan Rafflesia Nature Reserve Center and Gunung Alab in the Crocker Range National Park. Here we will be birding for the whole morning, hoping to see, among others, a number of Bornean endemics such as Whitehead's Spiderhunter, Bornean Barbet, Mountain Barbet, Golden-naped Barbet, Bornean Treepie, Chestnut-crested Yuhina, Penan Bulbul, Pale-faced Bulbul, Bornean Bulbul, Bare-headed Laughingthrush, and Chestnut-hooded Laughingthrush. With luck, we might even find the tough Crimson-headed Partridge (Bloodhead) or Red-breasted Partridge.
After our birding, we will make our way into the mountains to Kinabalu National Park. We will be based for three nights in Kundasang, a small village very close to the entrance to the park.
Overnight: Kinabalu Pine Resort, Kundasang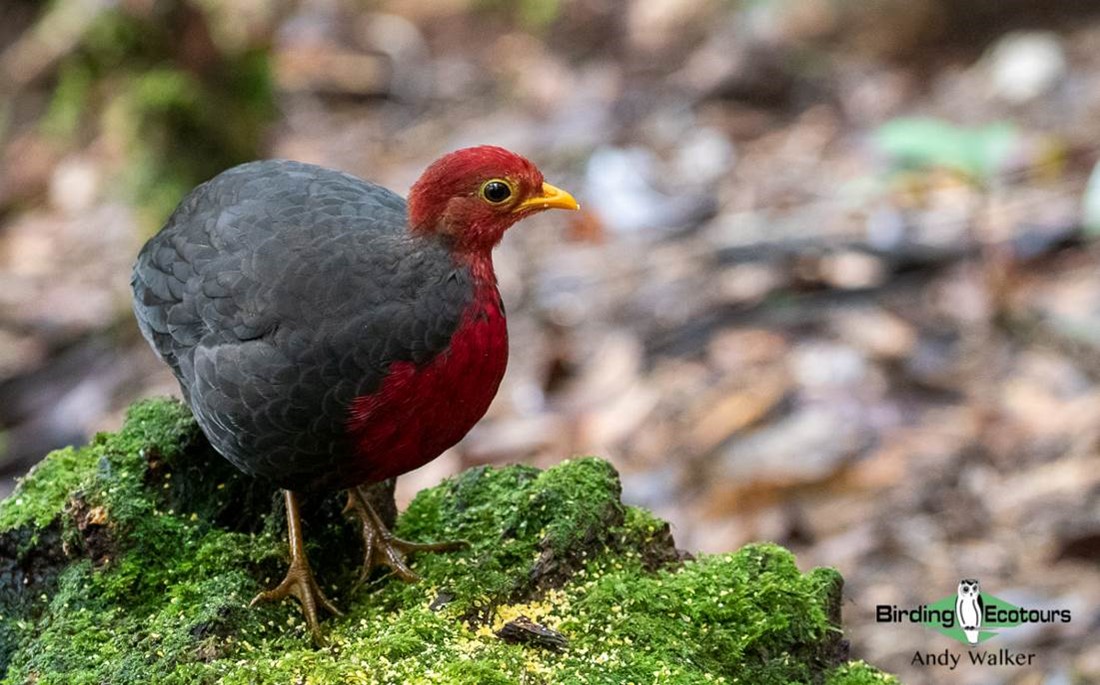 Not too difficult to hear, though seeing Crimson-headed Partridge (Bloodhead) takes some luck!
Day 3. Birding Kinabalu National Park
Today we will explore the network of forested trails around the headquarters of Kinabalu National Park on the forest-draped slopes of Mount (Gunung) Kinabalu. This mountain is the highest peak between the Himalayas and the tall ranges of New Guinea at 13,418 feet (4,090 meters). Its huge granite massif holds a spectacular avifauna with plenty of endemics for us to enjoy. Among these we hope to find Whitehead's Trogon, Whitehead's Broadbill, Fruithunter, Golden-naped Barbet, Bornean Swiftlet, Bornean Treepie, Bornean Stubtail, Bornean Green Magpie, Bornean Forktail, Eyebrowed Jungle Flycatcher (Bornean Shade-dweller), Black-sided Flowerpecker, Bare-headed Laughingthrush, Mountain Wren-Babbler, Bornean Whistler, Chestnut-crested Yuhina, and Everett's Thrush.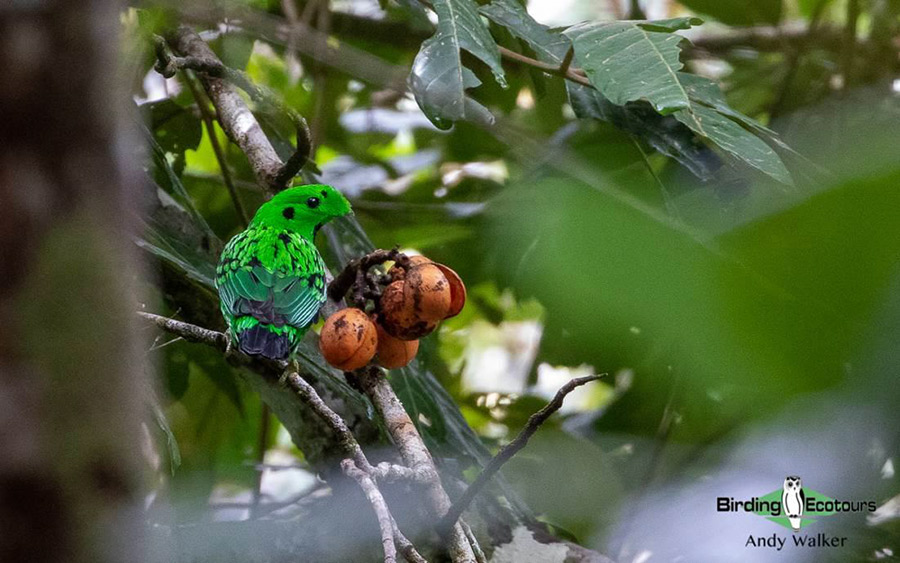 The large and bulky Whitehead's Broadbill will hopefully be found in the montane forests on Mount (Gunung) Kinabalu. Checking fruiting trees can provide rewards.
In addition to the species mentioned above we will also be looking out for other enticing species, some perhaps even found in mixed feeding flocks (which can be a spectacular sight), like Penan Bulbul, Cinereous Bulbul, Chestnut-hooded Laughingthrush, Sunda Laughingthrush, White-browed (Blyth's) Shrike-babbler, Mountain Leaf Warbler, Yellow-breasted Warbler, Aberrant (Sunda) Bush Warbler, White-throated Fantail, Temminck's Sunbird, and Black-and-crimson Oriole, to name just a few.
Overnight: Kinabalu Pine Resort, Kundasang
Day 4. Birding Kinabalu National Park
We will have another day birding within and around the Kinabalu National Park with morning and afternoon birding sessions likely to be punctuated by a period around our accommodation over the middle of the day. We will look for the birds mentioned above and will maybe focus on some of the more difficult species, or those requiring better views, possibly including the endemic Bornean Forktail, the endemic Pale-faced Bulbul, and recently split endemic Bornean (White-browed) Shortwing. We will also again be keeping our eyes peeled for Mountain Black-eye, Pygmy White-eye, Fruithunter, Cinereous Bulbul, Bornean Treepie, Bornean Stubtail, Bornean Whistler, Chestnut-hooded Laughingthrush, Whitehead's Trogon, Whitehead's Broadbill, and Mountain Wren-Babbler. During the day we might also find Least Pygmy Squirrel (the smallest squirrel in the world), the attractive Tufted (Whitehead's) Pygmy Squirrel, and the rather huge Pale Giant Squirrel.
Overnight: Kinabalu Pine Resort, Kundasang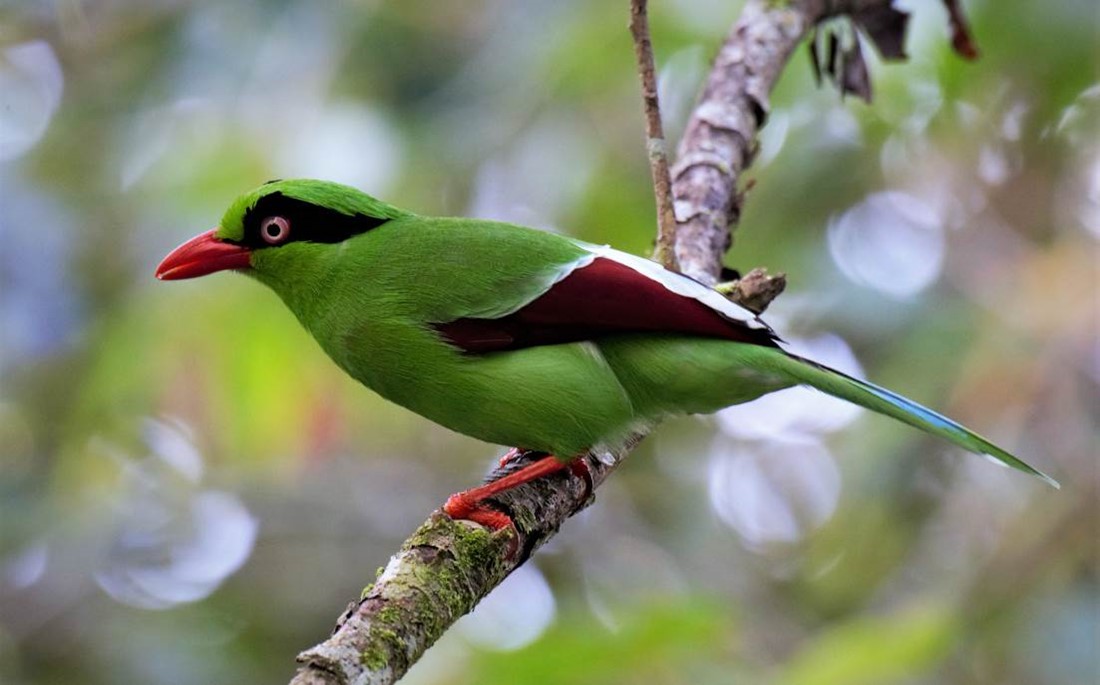 The striking Bornean Green Magpie can be seen in Kinabalu National Park (photo Liew Weng Keong).
Day 5. Poring Hot Springs, transfer to Sepilok
Although in the afternoon today we will have a lengthy (but extremely worthwhile) drive, we will spend a good part of the morning birding at Poring Hot Springs, a small reserve approximately 25 miles (40 kilometers) from Kinabalu National Park.
Poring is mainly known for its hot springs, which are a major Bornean tourist attraction, but the reserve also holds numerous exciting birds. During our walk we hope to encounter Rufous-collared Kingfisher, Black-and-yellow Broadbill, Banded Broadbill, Chestnut-capped Thrush, Moustached Babbler, Bornean Black-capped Babbler, Diard's Trogon, Black Hornbill, Red-throated Barbet, Little Spiderhunter, Bornean Blue Flycatcher, Maroon-breasted Philentoma, Fulvous-chested Jungle Flycatcher, and perhaps also the attractive Scaly-breasted Bulbul. If we are lucky enough to find a fruiting tree there is a slim chance of the tough Hose's Broadbill, but chances for this species are greater on our Sarawak tour.
During the afternoon we will drive approximately five to six hours overland, mainly through endless oil palm plantations, to Sepilok and check into our accommodation for the next couple of nights. It is a depressing sight in all honesty; however, we are encouraged that there are still some large areas of protected habitat allowing the incredible lowland species here to continue to exist, and we hope that the presence of birdwatchers in the country can spark an interest in the local population to continue with the conservation efforts underway. We might see Crested Serpent Eagle, Changeable Hawk-Eagle, Black-winged Kite, Long-tailed Shrike, Striated Grassbird, and Dusky Munia along the way.
Overnight: Sepilok Jungle Resort
Day 6. Kabili-Sepilok Forest Reserve and Rainforest Discovery Center
We will have a full day to explore this exciting area. We will bird the wonderful dipterocarp forest of the Kabili-Sepilok Forest Reserve with its magnificent walkway at the Rainforest Discovery Center in the morning, when the birds are most active. This will give us a chance for Bornean Bristlehead, our main target among many other species we are going to encounter here like Black-crowned Pitta, Red-naped Trogon, Scarlet-rumped Trogon, Bornean Black-capped Babbler, Red-bearded Bee-eater, Oriental Dwarf Kingfisher, Rufous-collared Kingfisher, (Bornean/Black-faced) Banded Kingfisher, Bornean Spiderhunter, and possibly even Little Spiderhunter, Thick-billed Spiderhunter, Spectacled Spiderhunter, Yellow-eared Spiderhunter, and Long-billed Spiderhunter. We can also find the endemic Yellow-rumped Flowerpecker, and Dusky Munia, as well as barbets, mid-canopy bulbuls, ground-dwelling babblers, cuckoos, minivets, and many more avian riches, such as Rhinoceros Hornbill, White-crowned Hornbill, and Wallace's Hawk-Eagle, that can be found in these wonderfully birdy forests. This is a very special place, and it is sure to be a memorable morning.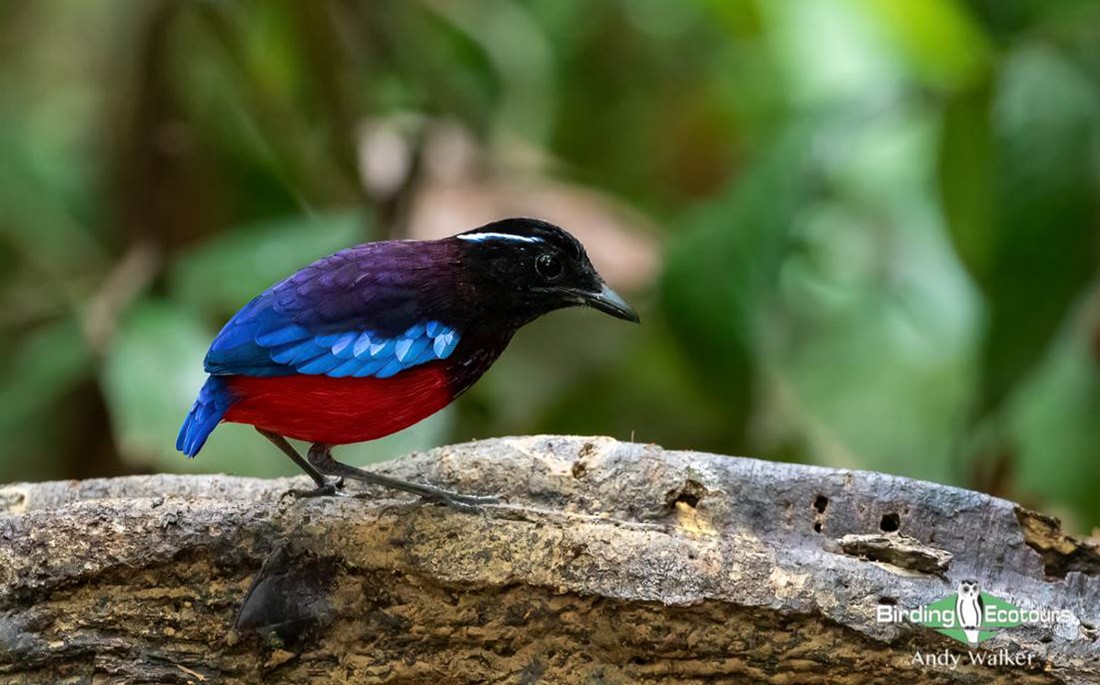 The stunning Black-crowned Pitta is possible in the Kabili-Sepilok Forest Reserve area, and a sighting like this would be a tour highlight for sure.
While birding here we might also see a number of inquisitive squirrels and possibly some primate species, among which the endearing Red Langur might be particularly appreciated.
An optional visit to the famous Sepilok Orangutan Rehabilitation Center for either the morning or the afternoon feeding of these semi-wild primates, along with several other species that take advantage of the free handouts, can be arranged, although it is very likely, but of course not guaranteed, that we will see Bornean Orangutan in the wild during the second half of this tour.
Overnight: Sepilok Jungle Resort
Day 7. Birding Sepilok, transfer to the Kinabatangan River via Gomantong Caves
After breakfast we will still have time to do some morning birding in the Sepilok for any species we might have missed or of which we would like to try to get improved views. We will then drive two hours overland, transferring to Sukau on the Kinabatangan River. We will make a stop at the famous Gomantong Caves, an intricate cave system inside Gomantong Hill, the largest limestone outcrop in the Lower Kinabatangan area. The caves and the surrounding area are a protected area for wildlife, especially Bornean Orangutan, which is frequently seen at the entrance to the caves, and are well-known in birding circles for the variety of swiftlets inhabiting them, together with a vast array of other wildlife, including massive populations of cockroaches and bats. Here we have a chance to see four species of swiftlets, three of which are near-identical and really only safely told apart by their nests. Edible-nest Swiftlet, Black-nest Swiftlet, Mossy-nest Swiftlet, and the more distinct Plume-toed Swiftlet all nest in these caves. There is a boardwalk through the caves that will give us access to the inside of the cave system, where we will be able to see where these birds make their nests and how the local workers collect them for birds-nest soup on intricate rope-and-ladder systems. [Note the caves have been closed since mid-2022 for refurbishment. We expect that they will be reopened soon, but there is no confirmed date for the reopening. If the caves are still closed at the time of our tours, we will make an alternative plan for the day].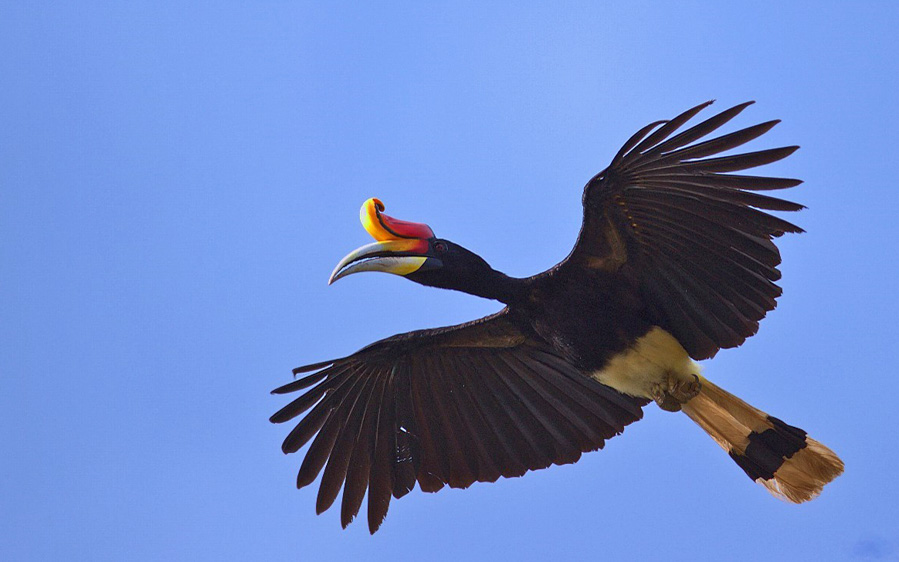 Rhinoceros Hornbill is an incredible sight (photo Liew Weng Keong).
After arrival and check-in at the lovely Borneo Nature Lodge on the Kinabatangan River, where we will stay for two nights, we will embark in the late afternoon on our first birding river cruise.
The Kinabatangan Wildlife Sanctuary is now within the purview of the Sabah Wildlife Department. Despite ever-encroaching oil palm plantations the original lowland forests and mangrove swamps near the coast have largely survived, providing sanctuary for a population of Saltwater Crocodiles and containing some of Borneo's highest concentrations of wildlife. Of special note are Borneo's indigenous Proboscis Monkey, Bornean Orangutan, and Asian Elephant (the subspecies occurring here possibly a full species: Bornean Pygmy Elephant). We will be looking for as many of these unique animals during our time on the river, and this sanctuary is also well known for its prolific birdlife.
Some of our main avian targets on the Kinabatangan River include Bornean Black Magpie, Collared Kingfisher, Rufous-collared Kingfisher, Ruddy Kingfisher, Stork-billed Kingfisher, Banded Kingfisher, Blue-eared Kingfisher, and Malayan Blue-banded Kingfisher, along with Red-naped Trogon, Scarlet-rumped Trogon, and Hooded Pitta. If we are very lucky, we will also find a huge target bird, the enigmatic, rare, and just plain tough endemic Bornean Ground Cuckoo.
Overnight: Borneo Nature Lodge, Sukau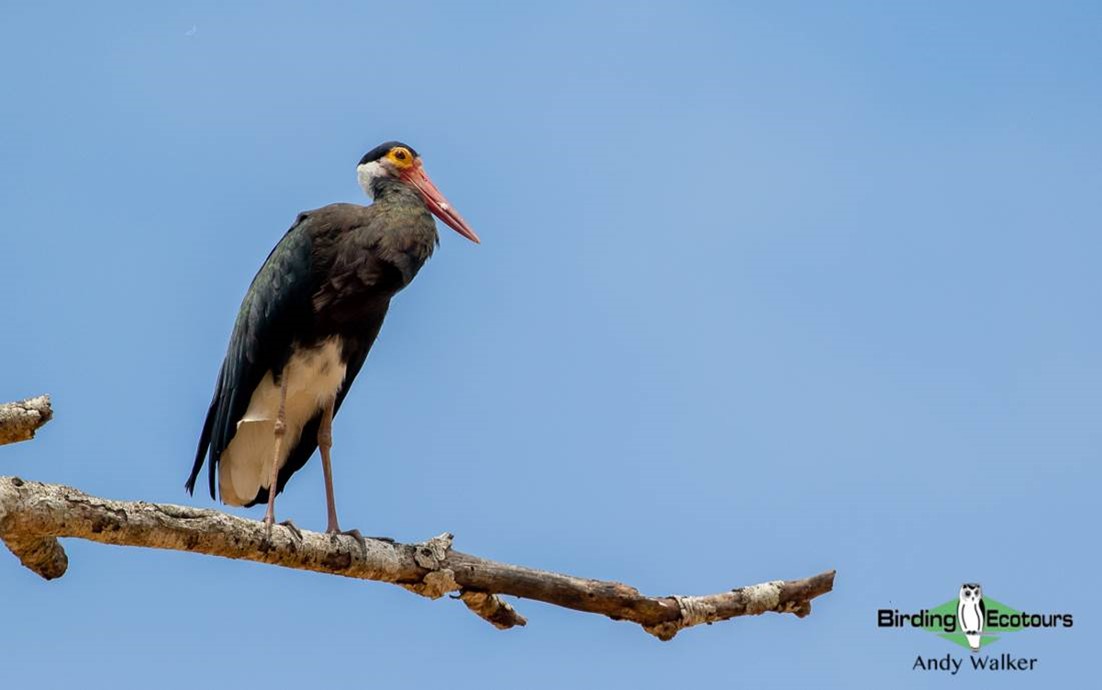 We will hope for good, perched views of Storm's Stork.
Day 8. Kinabatangan Wildlife Sanctuary
In the early morning and mid-afternoon, boat trips will take us along the river and its small tributaries. Here we hope to see wild Bornean Orangutan feasting on the fruits of riverside fig trees or, in the late afternoon, preparing their nighttime nests. Troops of the bizarre Proboscis Monkeys with their huge potbellies and the males' extraordinary, floppy noses will watch us curiously. Many groups of Long-tailed Macaques will be our constant companions, and we might find the occasional Silvery Lutung and, with luck, perhaps Northern (North Bornean) Grey Gibbon. We might come across a herd of Asian Elephants (Bornean Pygmy Elephant) in this area, or the secretive and rare Flat-headed Cat.
The forest along the river and its tributaries is home to a wealth of birds, including such spectacular species as Rhinoceros Hornbill, Helmeted Hornbill, Black Hornbill, Oriental Pied Hornbill, Bushy-crested Hornbill, Wreathed Hornbill, White-crowned Hornbill, and Wrinkled Hornbill (that is all the hornbills that occur in Borneo!), White-bellied Sea Eagle, Lesser Fish Eagle, Grey-headed Fish Eagle, Wallace's Hawk-Eagle, Lesser Adjutant, Black-and-red Broadbill, Black-and-yellow Broadbill, Hooded Pitta, and with luck a pair or two of the Endangered (IUCN) Storm's Storks or the endemic White-fronted Falconet sitting on a snag.
Overnight: Borneo Nature Lodge, Sukau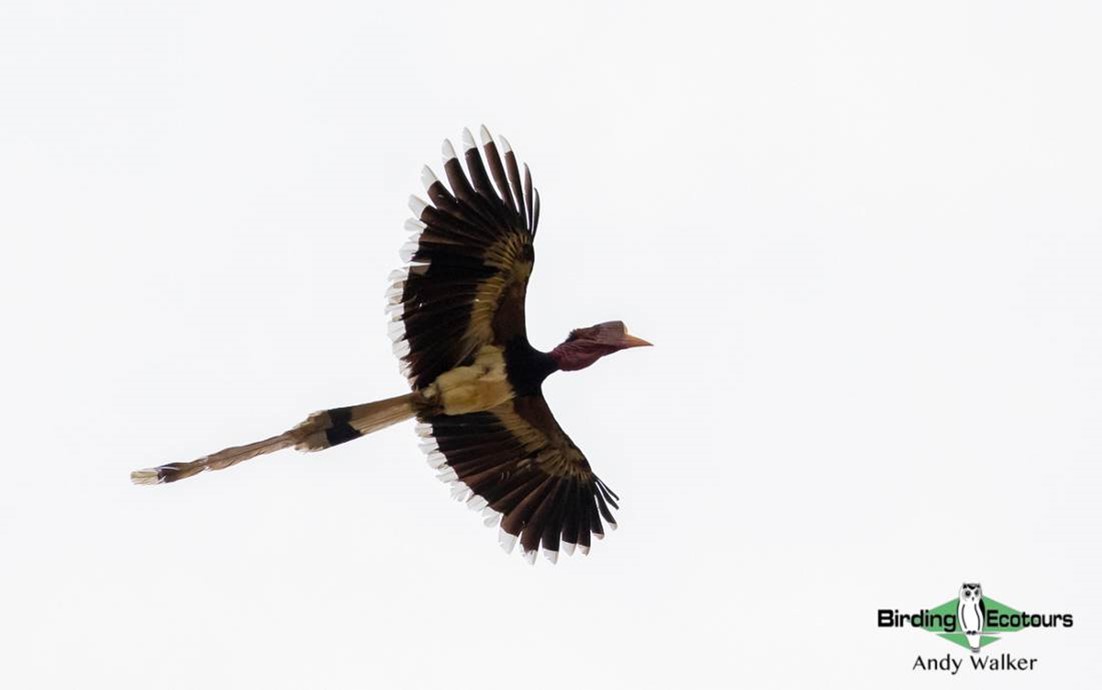 The huge Helmeted Hornbill is a spectacular and now rare sight across its whole small global range due to illegal hunting.
Day 9. Kinabatangan Wildlife Sanctuary to Danum Valley via Lahad Datu
After a final early morning cruise to look for more birds, we will depart overland to Danum Valley and make a stop at Lahad Datu for lunch after a journey of a couple of hours. After lunch we will have another drive for a few more hours on an adventurous prior logging road to the Danum Valley Conservation Area and the Borneo Rainforest Lodge. This wonderful, upscale lodge is situated in a large tract of mind-blowing primary rainforest, one of only very few remaining on Borneo after rampant logging and clearing for oil palm plantations. While within much of the conservation area selective logging was allowed, a large part had been set aside for the protection of one of only two remaining expanses of primary lowland dipterocarp forest in Sabah.
The Danum Valley Conservation Area boasts 268 bird species, and 110 mammals, 72 reptiles, 56 amphibians, and 37 fish species. We will search for a good selection of especially the birds and mammals during our time in this great habitat. We plan to arrive at the lodge by the middle of the afternoon and begin birding before it gets dark, making a start on the species listed below for Days 10 and 11.
After dinner we may be able to join one of the night drives to look for nocturnal animals as well as night birds, and we will likely make a couple of night outings during our time in the Danum Valley. Results of these are always unpredictable, of course, but with luck we might find Large Frogmouth and Gould's Frogmouth or something really exciting from the mammalian world, like Red Giant or Black Flying Squirrels, Sunda Flying Lemur (Colugo), the occasional Philippine Slow Loris, Horsfield's Tarsier, or the tiny Temminck's Flying Squirrel.
Overnight: Borneo Rainforest Lodge, Danum Valley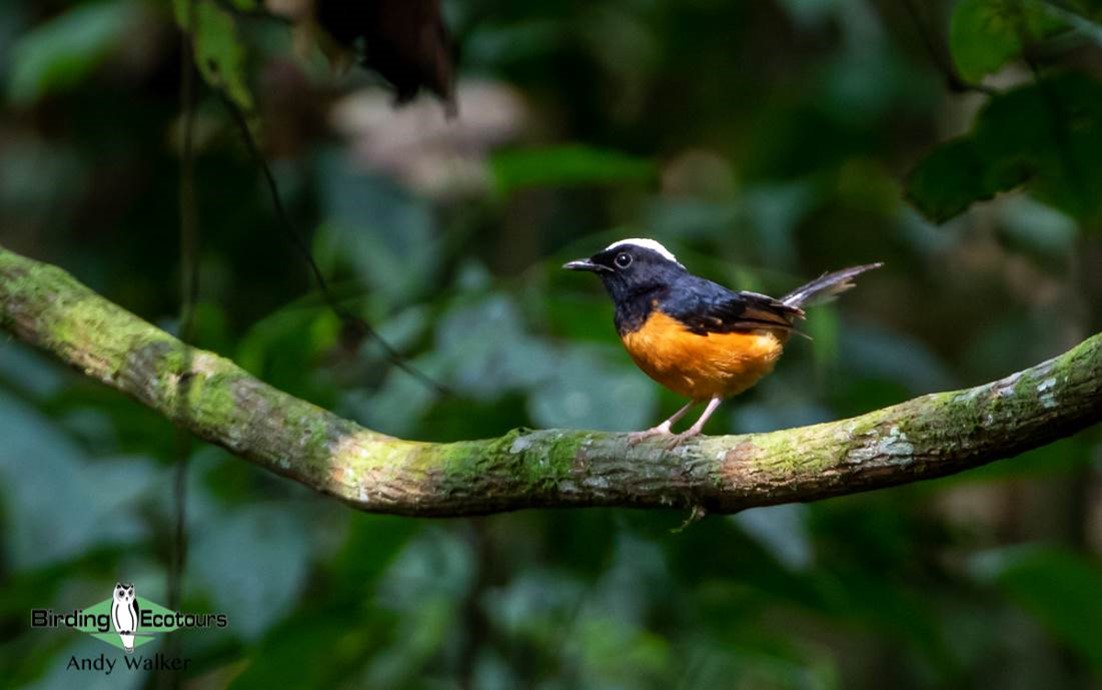 The attractive and endemic (to Sabah) White-crowned Shama can be found around our accommodation in the Danum Valley.
Days 10 – 11.  Danum Valley Conservation Area
During our two full days in Danum Valley we will explore the excellent system of trails around the lodge as well as the canopy walkway, and after dinner there will be opportunities to go out with one of the local guides in search of nocturnal wildlife.
Among the multitude of birds we hope to encounter here are eight species of hornbills, with the huge Rhinoceros Hornbill likely to be seen and heard almost daily, plus chances of Helmeted Hornbill and White-crested Hornbill to name a couple of others.
The entire slate of Bornean endemic pittas occurs in Danum Valley, though on this tour we are only likely to have a chance for three of these endemics, Black-crowned Pitta, Blue-headed Pitta, and Bornean Banded Pitta, and Giant Pitta and Hooded Pitta also occur in the areas we will be exploring.
In addition to the suite of hornbills and pittas mentioned above we will look for the monotypic Bornean Bristlehead and of course other special target birds like Bornean Crested Fireback, Sabah (Chestnut-necklaced) Partridge, Bornean Blue Flycatcher, Sunda Blue Flycatcher, White-crowned Shama, Black-throated Wren-Babbler, Bornean Wren-Babbler, Crested Jayshrike, Chestnut-naped Forktail, White-crowned Forktail, Great-billed Heron, Wallace's Hawk-Eagle, Blyth's Hawk-Eagle, Rufous-bellied Eagle, Bat Hawk, Large Green Pigeon, Great Slaty Woodpecker, Olive-backed Woodpecker, Ashy Tailorbird, Whiskered Treeswift, Oriental Dwarf Kingfisher, Chestnut-capped Thrush, and a host of forest bulbuls (including the Critically Endangered (BirdLife International) Straw-headed Bulbul), babblers, flowerpeckers, flycatchers, woodpeckers, drongos, raptors, sunbirds, and spiderhunters. This place really is a naturalist's dream.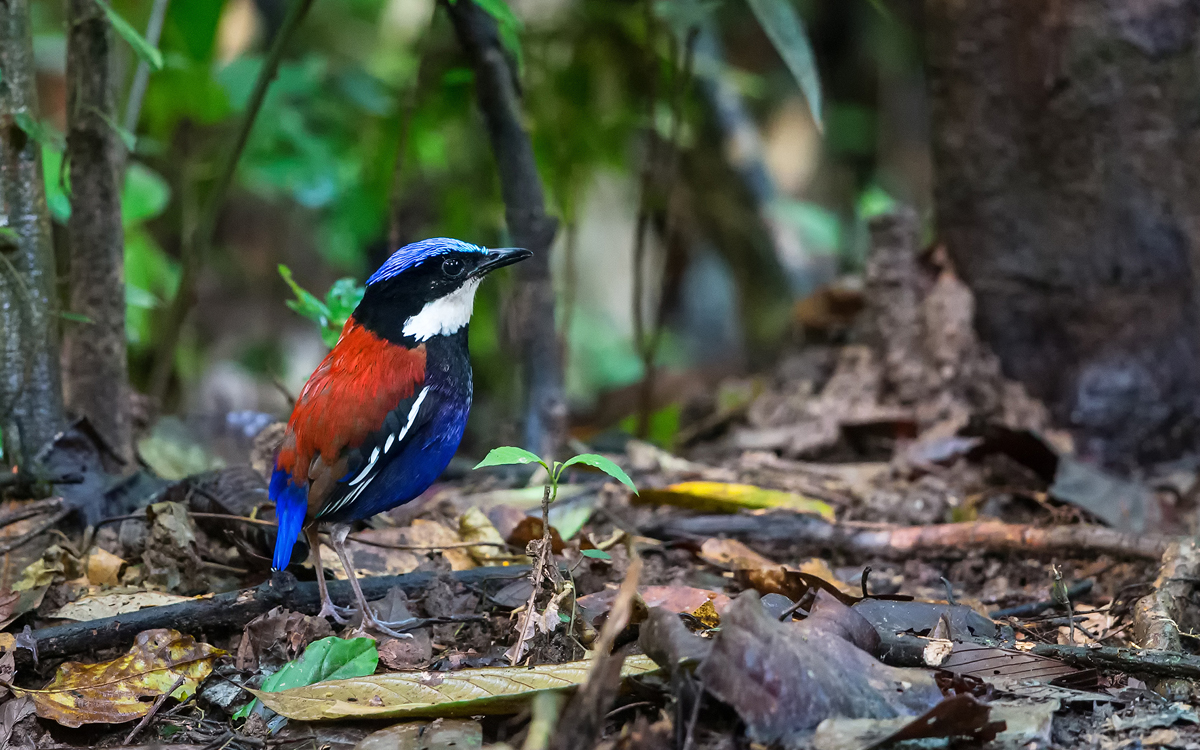 Blue-headed Pitta is a target during our time in Danum Valley (photo Liew Weng Keong).
Danum Valley is a particularly good area for Bornean Orangutan, which is sometimes even seen within the lodge grounds! Commoner mammal species include Long-tailed Macaque and Southern Pig-tailed Macaque, a wide variety of both diurnal and nocturnal tree shrews and squirrels, Bearded Pig, Masked Palm and Malay Civets, both Greater and Lesser Oriental Chevrotains, the endemic Bornean Yellow Muntjac, the much-more-widespread Southern Red Muntjac, and Sambar. The biggest predator here is the Sunda Clouded Leopard, which is seen on night drives a couple of times a year – so one can always hope (but certainly not expect!).
The heat of the afternoon after lunch allows some relaxed meanderings around the resort, and you can find flowerpeckers and spiderhunters in the flowering bushes, along with some stunning butterflies, all of which might provide some nice photographic opportunities. Regardless of what we see here we will be in for a veritable treat. It is a real privilege to wander through the forest and imagine what this fascinating island would have been like in years gone by. We could well encounter a trip highlight bird or mammal during our time in Danum Valley.
Overnight: Borneo Rainforest Lodge, Danum Valley
Day 12. Danum Valley to Lahad Datu, departure
Sadly, our exciting tour to wild Sabah will end today. After a final morning relaxed birding session and early lunch, we will transfer from Danum Valley back to the Lahad Datu airport, where the tour ends in the early afternoon when we arrive back at Lahad Datu airport.
Overnight: Not included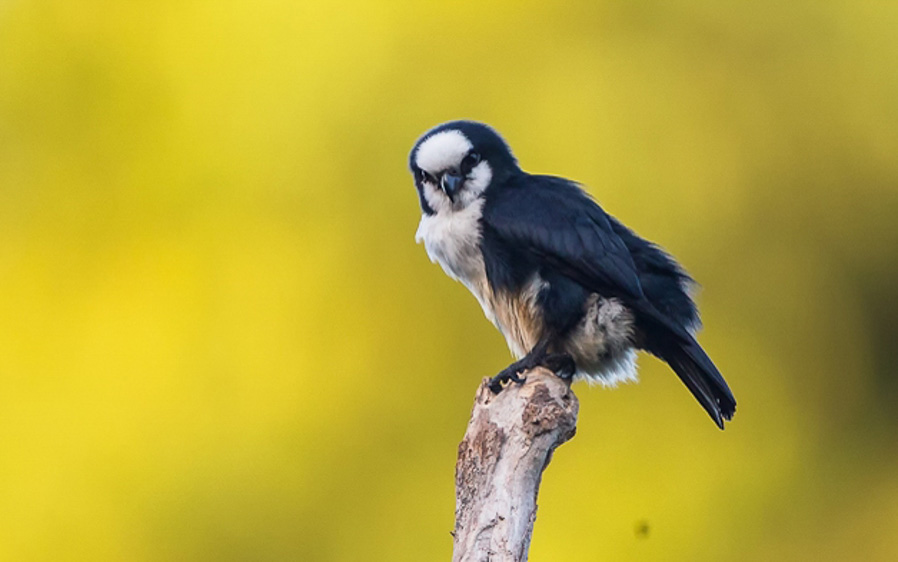 The endemic White-fronted Falconet is a tiny and prolific hunter – beware if you are a bulbul or smaller (photo Liew Weng Keong)!
Please note that the itinerary cannot be guaranteed as it is only a rough guide and can be changed (usually slightly) due to factors such as availability of accommodation, updated information on the state of accommodation, roads, or birding sites, the discretion of the guides, and other factors.
Download Itinerary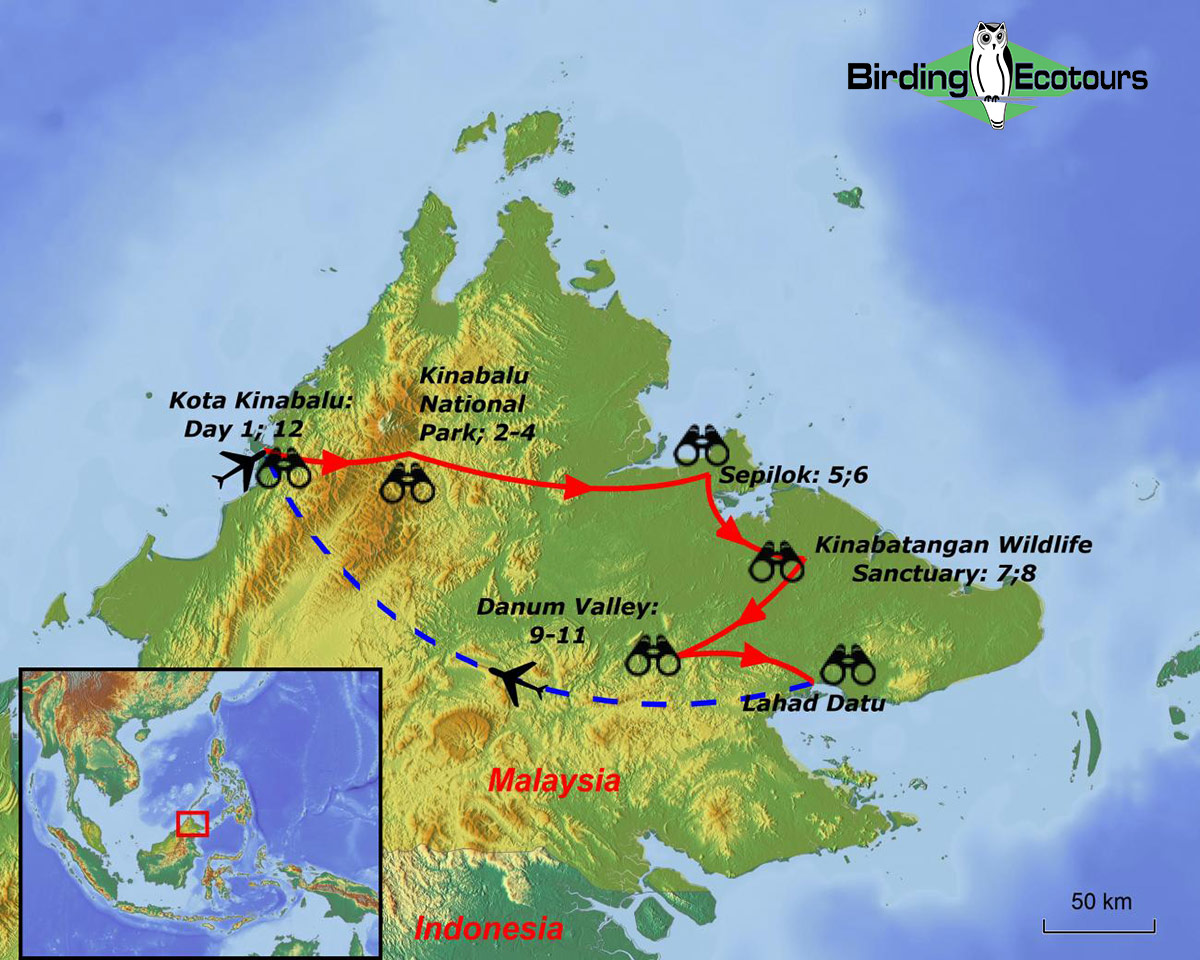 Malaysia: Borneo, Sabah –  Sabah Classic Set Departure Tour Trip Report
27 SEPTEMBER – 8 OCTOBER 2022
DOWNLOAD TRIP REPORT
Overview
Our tour of Sabah, Malaysian Borneo started in Kota Kinabalu on the 27th of September 2022, visited the Croker Ranges National Park, Kinabalu National Park, Poring Hot Springs, Sepliok Rainforest Discovery Center (Sepilok RDC), Kinabatangan River, and the Danum Valley, where we stayed in the glorious Borneo Rainforest Lodge. The tour ended at Lahad Datu on the evening of the 8th of October 2022.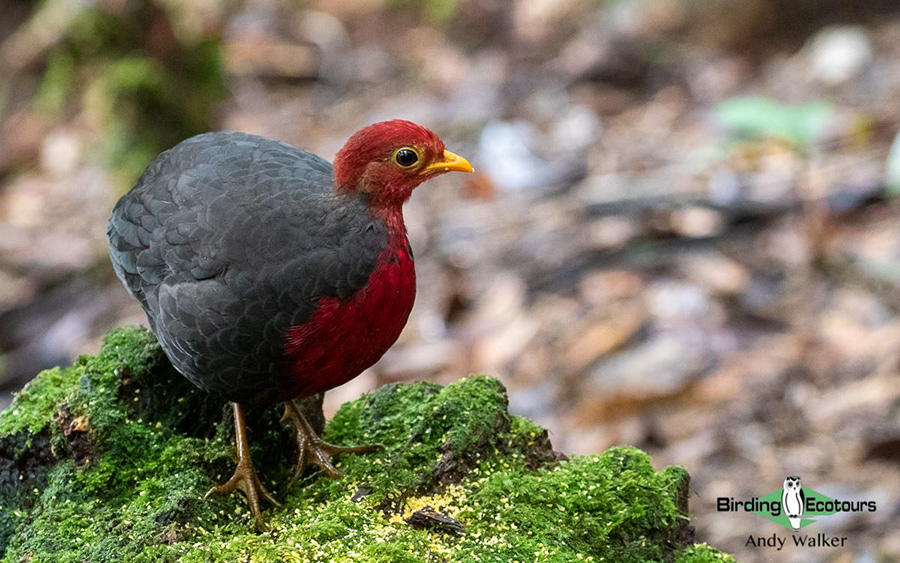 We saw many spectacular Bornean endemics on the tour, such as Crimson-headed Partridge.
We recorded 271 species (nine heard only) and enjoyed a long list of Bornean endemic birds during the tour (almost 50 species on current taxonomy). Some of the endemic highlights seen included Crimson-headed Partridge, Red-breasted Partridge, Bornean Bristlehead, Bornean Ground Cuckoo, Whitehead's Trogon, Whitehead's Broadbill, Whitehead's Spiderhunter, Everett's Thrush, Fruithunter, Black-crowned Pitta, Bornean Green Magpie, Bornean Forktail, White-fronted Falconet, Bornean Barbet, Mountain Barbet, Golden-naped Barbet, Pale-faced Bulbul, Bornean Bulbul, Bornean Stubtail, Bornean Wren-Babbler, Mountain Wren-Babbler, Eyebrowed Jungle Flycatcher, Bornean Blue Flycatcher, and Mountain Black-eye.
There were many non-endemic highlights too, like Storm's Stork, Helmeted Hornbill, Rhinoceros Hornbill, Diard's Trogon, Red-naped Trogon, Hooded Pitta, and White-bellied Woodpecker, along with several interesting subspecies that could result in future splits, such as Chestnut-necklaced (Sabah) Partridge and (Bornean) Crested Fireback. We also found lots of other spectacular kingfishers, hornbills, and woodpeckers, as well as cryptic babblers and bulbuls. Plenty of non-avian highlights were found, such as Bornean Orangutan, Bornean Gibbon, and Proboscis Monkey. The trip lists for birds and everything else identified follows the report.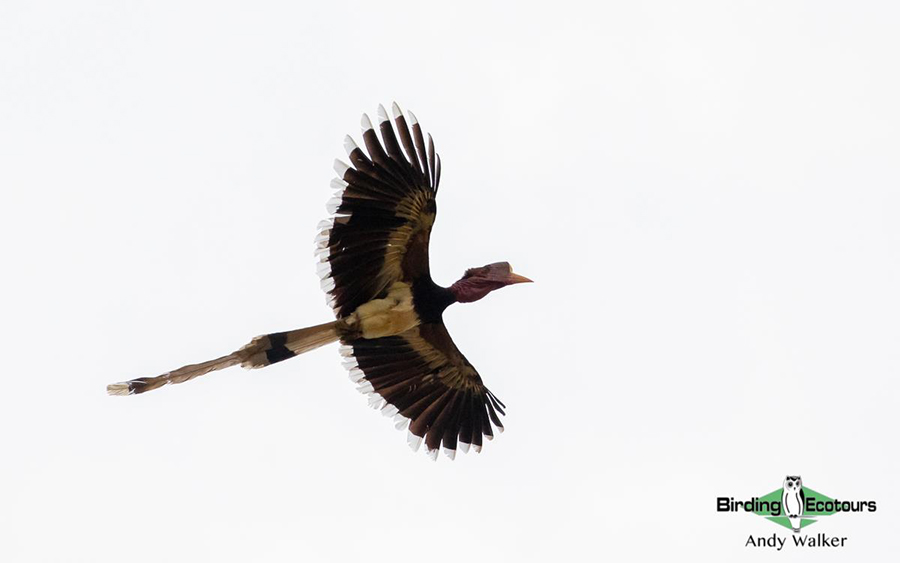 We saw all eight species of the hornbills found in Borneo on the tour but seeing the Critically Endangered (BirdLife International) Helmeted Hornbill so well was the definite highlight.
Detailed Report
Day 1, 27th September 2022. Arrival and birding in Kota Kinabalu
After a welcome lunch we set out for some relaxed birding around Kota Kinabalu with some of the highlights including Wandering Whistling Duck, Long-tailed Parakeet, Blue-naped Parrot, Whiskered Tern, White-winged Tern, Wood Sandpiper, Nankeen Night Heron, Black-crowned Night Heron, Sunda Pygmy Woodpecker, Pied Triller, and Chestnut Munia. It was early to bed in preparation for the following morning.
Day 2, 28th September 2022. Kota Kinabalu to Kinabalu National Park via Croker Range National Park (Tambunan Rafflesia Nature Reserve Center and Gunung Alab areas)
We had a very early start today to get up to Gunung Alab in the Crocker Range National Park for first light. We arrived and got into position near a security light that had attracted lots of moths into it. As the day dawned, we were rewarded for our early start with close views of Bornean Treepie, Hair-crested (Bornean Spangled) Drongo, Chestnut-hooded Laughingthrush, White-throated Fantail, Indigo Flycatcher, Mountain Black-eye, Mountain Tailorbird, Mountain (Bornean) Leaf Warbler, and Sunda Bush Warbler all coming in for breakfast.
After a while we changed sites and in no time at all we were enjoying point blank views of stunning birds like Crimson-headed Partridge (Bloodhead) – see the trip report cover image, Red-breasted Partridge, Orange-headed Thrush, Chestnut-hooded Laughingthrush, Sunda Laughingthrush, and Snowy-browed Flycatcher. A fantastic start to the day, topped off with close views of a Bornean Swiftlet breeding colony nearby while we enjoyed some refreshments.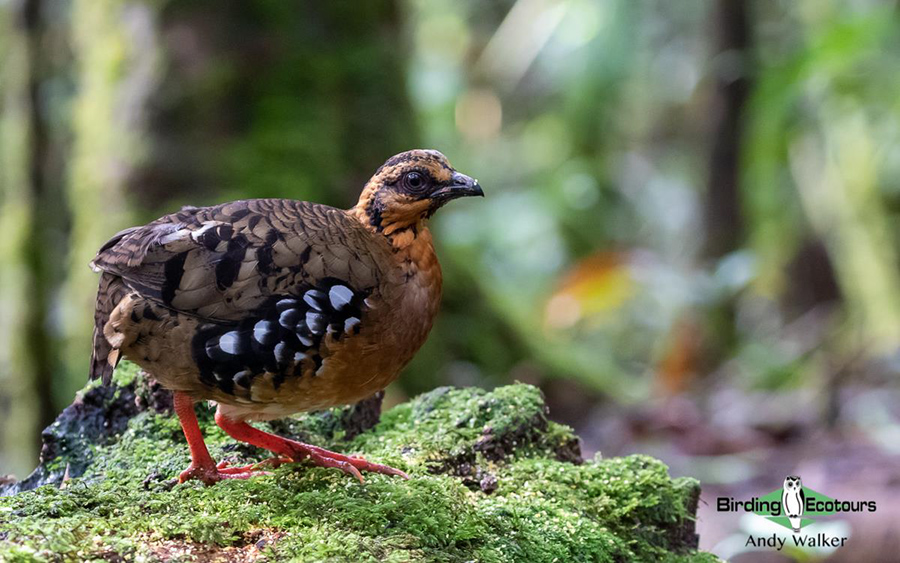 The Bornean endemic, Red-breasted Partridge gave some excellent views.
Driving down through the mountain range we stopped so some folks could look at a flowering rafflesia, and we found some excellent species here too, including Bornean Barbet, Mountain Barbet, Black-sided Flowerpecker, Chestnut-crested Yuhina, Black-capped White-eye, Cinereous (Green-winged) Bulbul, and Bornean Bulbul. We then took a drive of a couple of hours to our base in Kundasang near Mount Kinabalu, where we enjoyed lunch and checked into our hotel (with amazing mountain views) for the next three nights.
In the late afternoon we looked through a section of forest in Kinabalu National Park. The birding was hard going compared to the easy morning birding, regardless we saw some really fantastic birds, with the absolute highlight being a pair of Everett's Thrushes feeding along the roadside drainage ditch. These birds offered prolonged views of this scarce and usually very secretive species. Further highlights included Bornean Green Magpie and Eyebrowed Jungle Flycatcher (Bornean Shade-dweller). We also heard Whitehead's Trogon but couldn't get into a position to view it, unfortunately. This all ended a really enjoyable first full day birding on the tour with loads of Bornean endemic birds seen and seen very well in most cases.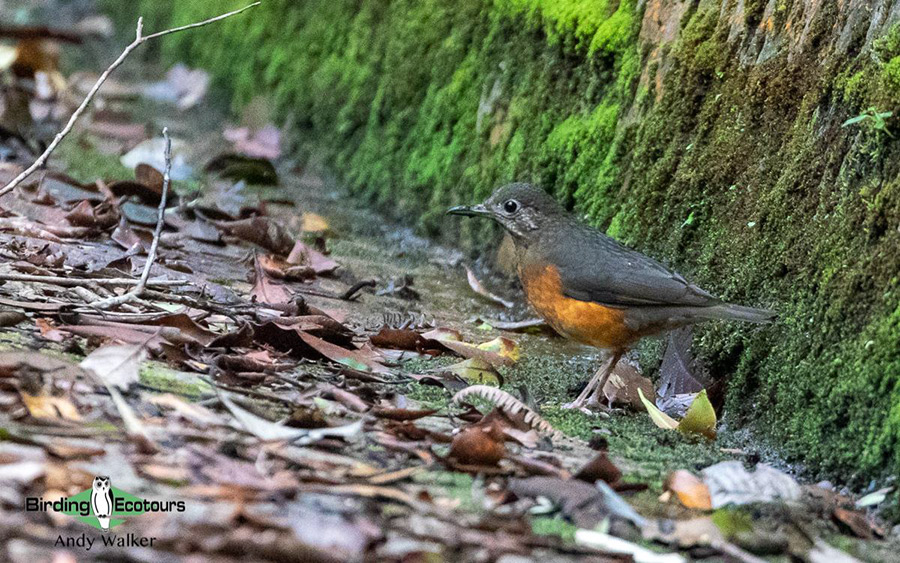 The scarce and (usually) difficult to see Everett's Thrush showed remarkably well for us.
Day 3, 29th September 2022. Birding Kinabalu National Park
We headed back into Kinabalu National Park for a morning of birding. We drove into some nice-looking habitat and walked to a viewing platform, finding three Bornean Forktails (two adults and a juvenile), Bornean Whistling Thrush, Golden-naped Barbet, Bornean Whistler, Pale-faced Bulbul, Bornean Treepie, Yellow-breasted Warbler, Mountain (Kinabalu) Leaf Warbler, Chestnut-crested Yuhina, Blyth's Shrike-babbler, Indigo Flycatcher, Eyebrowed Jungle Flycatcher (Bornean Shade-dweller), and Temminck's Sunbird. However, the real stars of the show here were the pair of Fruithunters that were part of a mixed flock and showed excellently for all with prolonged close views, what a treat!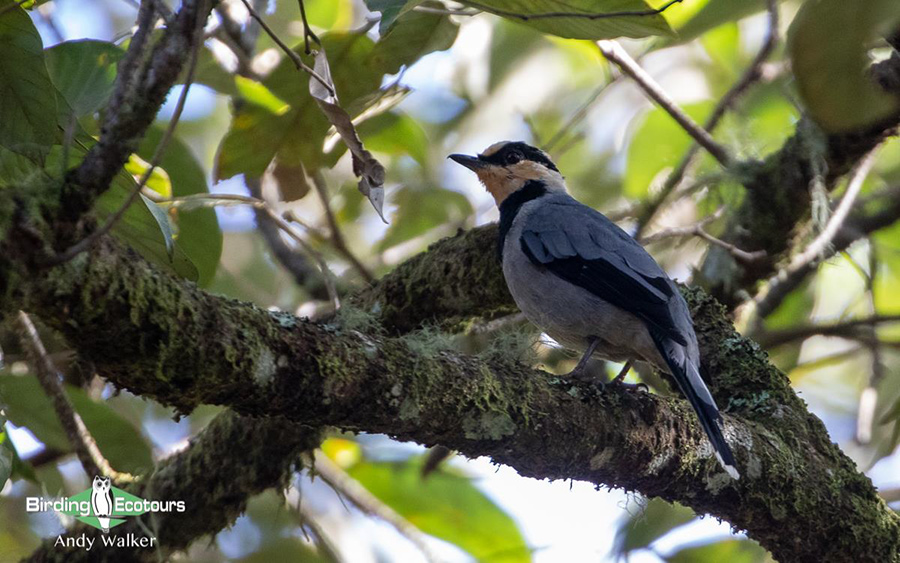 This male Fruithunter gave fantastic close views, as did the female shortly afterwards.
Walking further along the road network we had a Mountain Serpent Eagle hunting through the forest (an impressive sight), Chestnut-hooded Laughingthrush, Sunda Laughingthrush, Bare-headed Laughingthrush, Bornean Stubtail, Grey-throated Babbler, Grey-chinned (Grey-throated) Minivet, Ashy (Bornean) Drongo, Bornean Green Magpie, Penan Bulbul, Bornean Whistler, and Mountain Wren-Babbler.
A rain affected afternoon resulted in a change of plans but did result in sightings of Pygmy White-eye (Pygmy Heleia/Ibon), Yellow-vented Flowerpecker, Pale Blue (Hartet's) Flycatcher, and Oriental (Black) Magpie-Robin in the garden.
Day 4, 30th September 2022. Birding Kinabalu National Park
We had our final day birding within Kinabalu National Park. The day started off overcast, drizzly, and quite cool and didn't look too promising. Indeed, birds were hard to come across early, with Bornean Whistling Thrush seen along the road and a few very small mixed-species flocks containing Yellow-breasted Warbler, Mountain (Kinabalu) Leaf Warbler, Bornean Whistler, Eyebrowed Jungle Flycatcher, Mountain Wren-Babbler, and Grey-throated Babbler.
A change of location yielded another group of birds, including Golden-naped Barbet, Blyth's Shrike-babbler, Velvet-fronted Nuthatch, Sunda Bush Warbler, Indigo Flycatcher, Pygmy Flycatcher, Lesser Cuckooshrike, Temminck's Sunbird, Dark Hawk-Cuckoo, and the star of the morning, Whitehead's Broadbill visiting a fruiting tree.
After lunch we continued our search for more endemics, some of the group saw a distant Whitehead's Spiderhunter, and after a lot of walking up and down a section of hill everyone had point-blank views of a pair of one of the star birds of the trip, Whitehead's Trogon.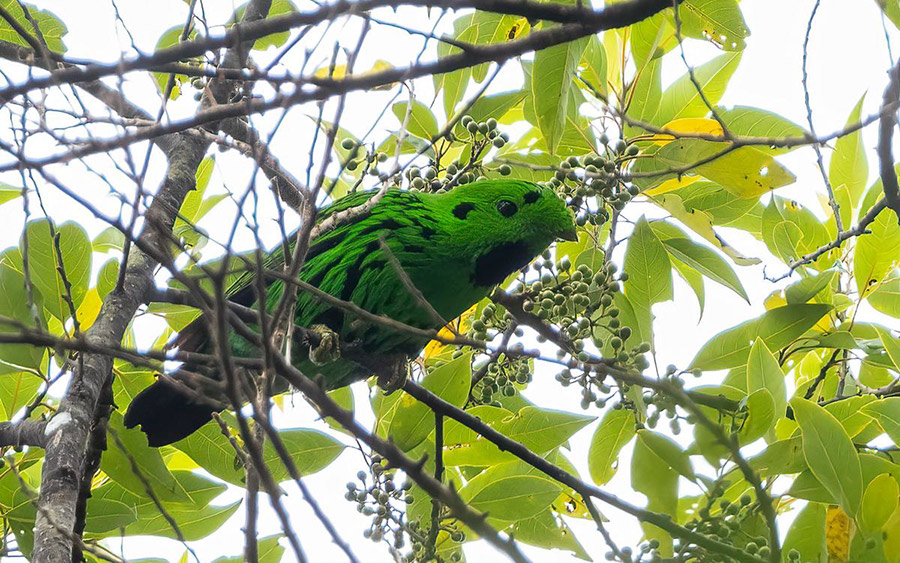 Whitehead's Broadbill showed well to the group (photo by tour participant Joanne Rickett).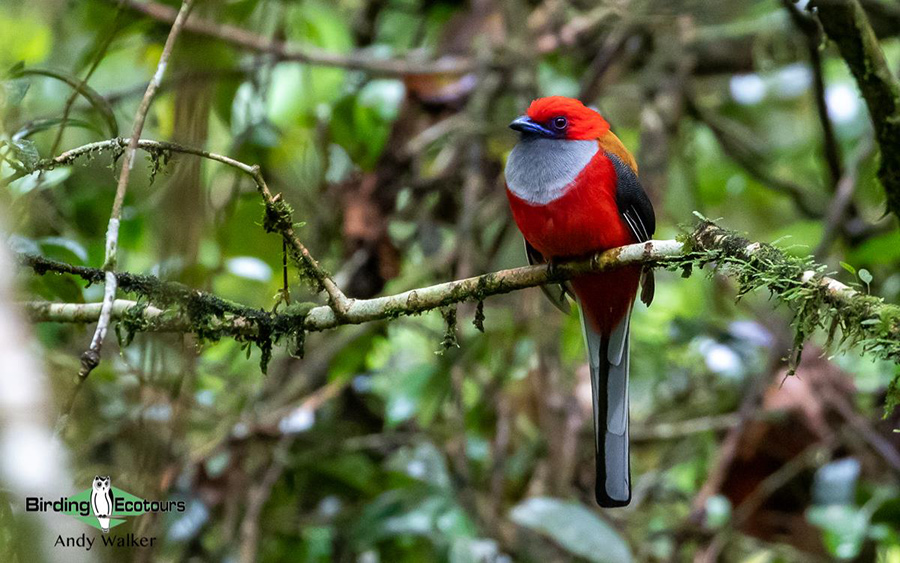 Whitehead's Trogon was one of the most spectacular birds of the tour.
We picked up a few other birds during the day that were either new, or gave better views than previous days, such as Black-sided Flowerpecker, Ashy (Bornean) Drongo, Grey Wagtail, Maroon Woodpecker, White-bellied Erpornis, Black-capped White-eye, and right at the end of the day, Brown Wood Owl.
Day 5, 1st October 2022. Birding Poring Hot Springs and travel to Sepliok
We left the Mount Kinabalu area dropping down in elevation and had a few hours birding the lower elevations of Poring Hot Springs. Here we found White-crowned Shama, White-fronted Falconet, Bornean Black-capped Babbler, Sunda Scimitar Babbler, Fulvous-chested Jungle Flycatcher, Banded Broadbill, Black-and-yellow Broadbill, Crimson Sunbird, Ruby-cheeked Sunbird, Brown-throated Sunbird, Plain Sunbird, Black-winged Flycatcher-shrike, Black-headed Bulbul, Charlotte's Bulbul, Verditer Flycatcher, Little Spiderhunter, Bornean Spiderhunter, and Orange-bellied Flowerpecker. It was a very pleasant walk.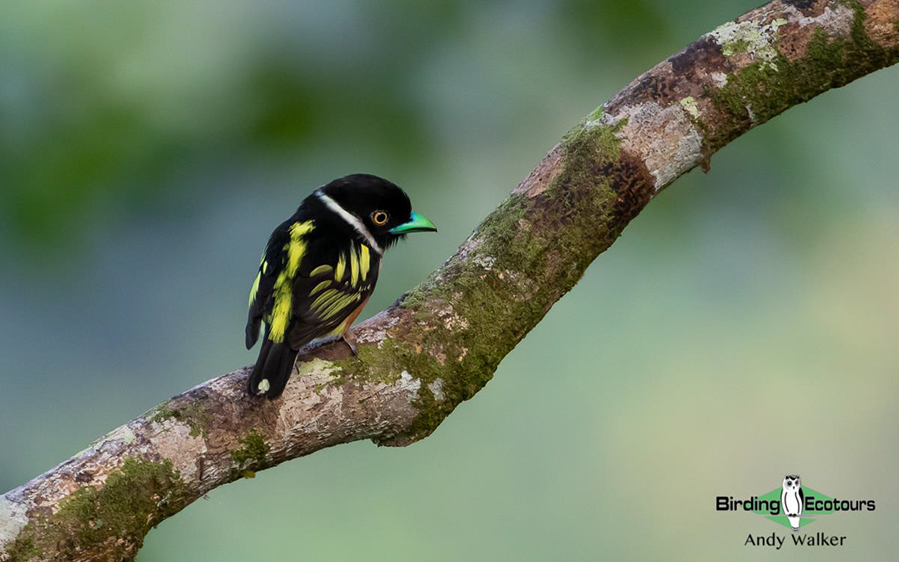 Good sightings of the attractive Black-and-yellow Broadbill are always appreciated.
We had a long drive to make so got on the road for a couple of hours before grabbing lunch in a roadside café with good noodles. Afterwards we continued our journey east towards Sepilok. As we drove through countless miles of palm oil plantations we stopped occasionally for a few interesting roadside birds, including Black-winged Kite, Crested Serpent Eagle, Changeable Hawk-Eagle, Rufous-bellied Eagle, Long-tailed Shrike, Striated Grassbird, and Black Hornbill.
Once we arrived in hot and humid Sepilok, we checked into our rooms and had a quick recce of the nearby area, finding Hooded Pitta, White-crowned Shama, Blue-throated Bee-eater, Greater Racket-tailed Drongo, Grey-hooded Babbler, Black Hornbill, Rufous-tailed Tailorbird, Yellow-bellied Bulbul, Grey-cheeked Bulbul, and Olive-winged Bulbul.
Day 6, 2nd October 2022. Birding Sepilok Rainforest Discovery Center
We spent the whole day birding around the Sepilok Rainforest Discovery Center (known simply as "RDC"). We hit the very impressive canopy walkway at dawn and made our way to a couple of the towers, the whole walk and our time on the towers giving us some incredible views of the forest from an unusual perspective. From the towers we got excellent views of several species, including White-crowned Hornbill, Black Hornbill, Brown Barbet, White-bellied Woodpecker, Grey-capped Pygmy Woodpecker, Buff-rumped Woodpecker, Maroon Woodpecker, Black-and-red Broadbill, Black-and-yellow Broadbill, Long-billed Spiderhunter, Thick-billed Spiderhunter, Lesser Green Leafbird, and Raffles's Malkoha. We also enjoyed views of Prevost's Squirrel, Pale Giant Squirrel, and one of the biggest highlights of the morning, a Red Giant Flying Squirrel, which some of the group got to witness in a 50+ meter (165+ feet) flight, a seriously spectacular sight!
It was soon time for breakfast, and it was looking like rain was on the way, so we departed for our nearby accommodation and enjoyed watching some sunbirds while we ate. Afterwards, we headed back out into the trail system at the RDC. The weather was starting to deteriorate but we persisted a little longer, and it was a good job we did as it resulted in us seeing Short-tailed (Leaflitter) Babbler and the star of the mornings birding, the highly sought-after, Black-crowned Pitta, which put on a great performance for us. By now the rain had started to get too heavy and so we sought some shelter in the café for a while.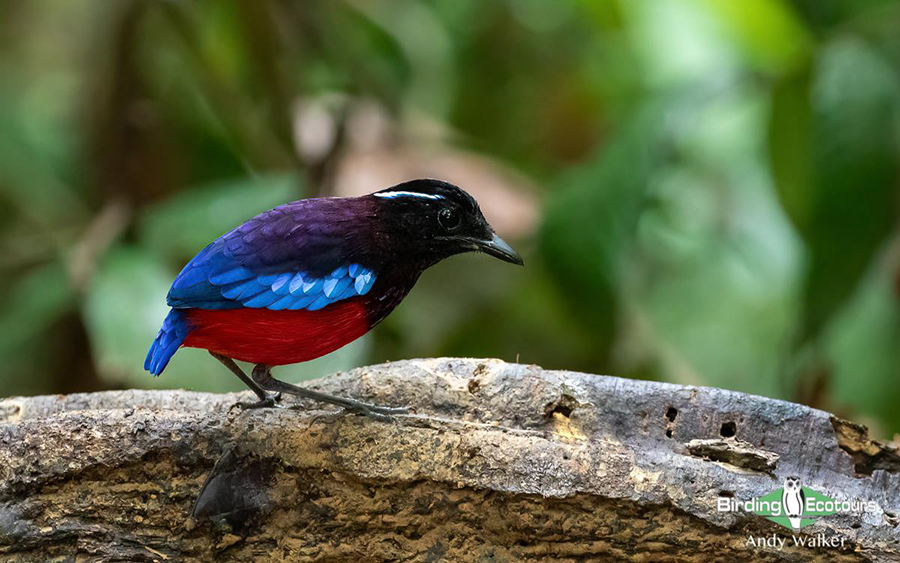 We had some great looks at the Bornean (and Sabah) endemic, Black-crowned Pitta during the tour.
Once the rain had reduced enough, we ventured out for some late morning birding. It was hot and very humid and activity low, though we did see Chestnut-breasted Malkoha, Raffles's Malkoha, Greater Racket-tailed Drongo, Purple-naped Spiderhunter, Buff-necked Woodpecker, Green Iora, Crested Goshawk, and Black-winged Flycatcher-shrike, to name a few. Oriental Dwarf Kingfisher and Blue-eared Kingfishers were seen by some of the group.
We enjoyed lunch and some took a siesta while others tried photographing some birds in the lodge grounds (getting brilliant looks at Blue-crowned Hanging Parrot), and others made use of the swimming pool and spa. After our break we covered a trail and section of canopy walkway where we found plenty of birds to keep us entertained. Some of these included Rufous-collared Kingfisher, (Black-faced/Bornean) Banded Kingfisher, Diard's Trogon, Rhinoceros Hornbill, Red-billed Malkoha, Wallace's Hawk-Eagle, Silver-rumped Spinetail, Grey-rumped Treeswift, Rufous-winged Philentoma, Grey-and-buff Woodpecker, Banded Woodpecker, Crimson-winged Woodpecker, Brown Barbet, White-crowned Shama, and a migrant (calling) Arctic Warbler.  It had been another wonderful day of birding in Borneo.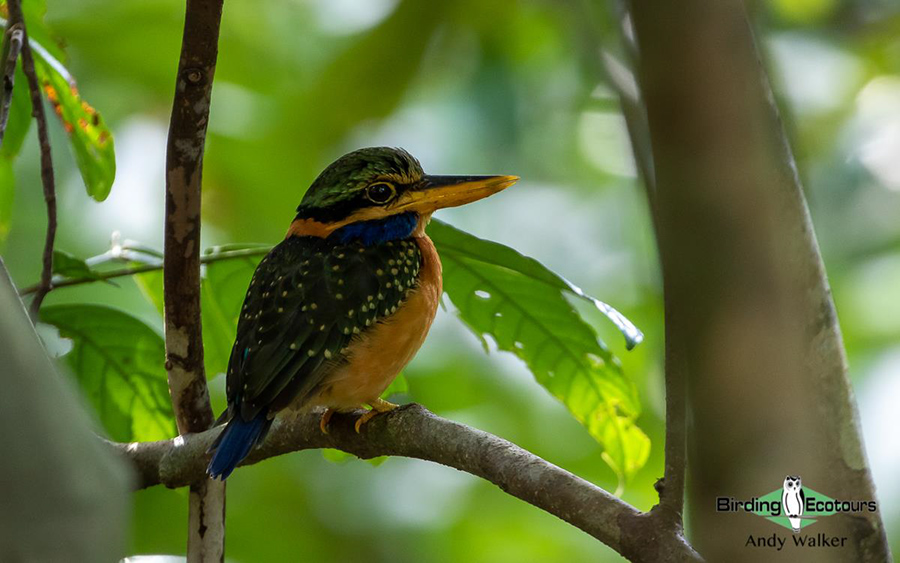 This female Rufous-collared Kingfisher was one of several high-quality birds that came thick and fast during our afternoon birding in the RDC at Sepliok.
Day 7, 3rd October 2022. Birding Sepilok Rainforest Discovery Center and travel to Kinabatangan River with evening boat cruise
We again took a pre-breakfast walk along the canopy walkway and enjoyed good views of many species. While numbers appeared lower than the previous day, we did pick out some new species for the trip and improved on views of some others, including Brown Barbet, Violet Cuckoo, Wallace's Hawk-Eagle, Common Hill Myna, Oriental Pied Hornbill, Stork-billed Kingfisher, Hooded Pitta, Spectacled Bulbul, and Brown-streaked (Umber) Flycatcher. Some in the group saw a distant (wild) Bornean Orangutan and the pretty Red Leaf Monkey.
In the afternoon we drove across to Sukau where we boarded our boat to our accommodation along the Kinabatangan River. Unfortunately, we had a fair bit of rain during the afternoon, so our boat trip was somewhat delayed, and we only got out for less than an hour. During this time we did see Wrinkled Hornbill, Bushy-crested Hornbill, Black Hornbill, Oriental Pied Hornbill, Oriental Darter, Black-crowned Night Heron, Wallace's Hawk-Eagle, Crested Serpent Eagle, and Bat Hawk. There were a few mammalian highlights too, with the odd-looking Proboscis Monkey being one of our key targets for the area seen well, other species seen included Silvery Lutung, Southern Pig-tailed Macaque, and Long-tailed Macaque.
Day 8, 4th October 2022. Birding Kinabatangan River
We made a couple of boat trips in the morning. The first one at dawn gave us a vocal Chestnut-necklaced (Sabah) Partridge which we saw along the riverbank, brief views of a pair of Storm's Stork, along with White-bellied Sea Eagle, Brahminy Kite, Crested Goshawk, Wrinkled Hornbill, and a few other more widespread species like Oriental Dollarbird, Little Green Pigeon, and Blue-eared Kingfisher. We heard Bornean Ground Cuckoo but were unable to obtain views given the location it was in.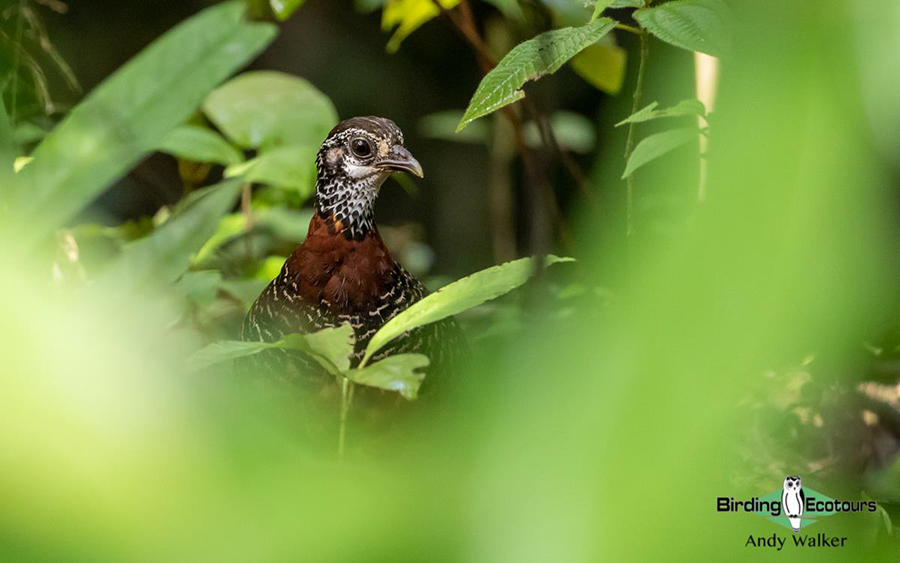 The Bornean endemic subspecies of Chestnut-necklaced Partridge is found only in Sabah and is considered a potential future split by some authorities and referred to as Sabah Partridge.
After breakfast we hit the waterways again and had walkaway views of a perched and rather showy Storm's Stork, with other birds seen including Bat Hawk, Lesser Adjutant, Whiskered Tern, Wrinkled Hornbill, and more common birds. Just after we'd heard another Bornean Ground Cuckoo there was a clap of thunder and suddenly a torrential deluge hit us. We donned our waterproofs and made a hasty retreat in some appalling conditions with a stinging horizontal rain!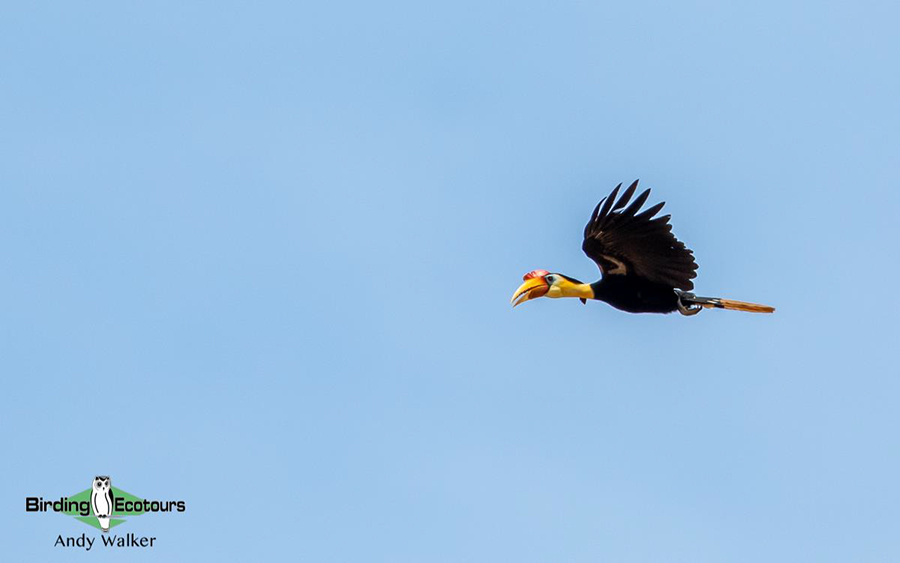 It was great to see the colorful Wrinkled Hornbill while birding along the Kinabatangan River.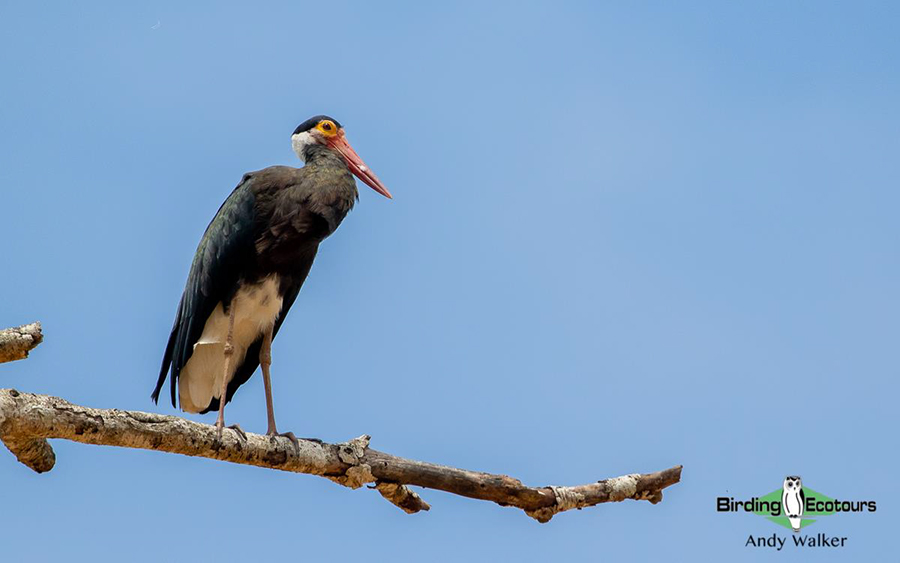 We enjoyed this Storm's Stork much more than the squally storm that followed!
We got back to our accommodation and tried to dry off, and while we waited for the rain to stop, we had lunch. The afternoon featured much of the same, dodging showers and listening to Bornean Ground Cuckoos!
Day 9, 5th October 2022. Morning birding Kinabatangan River and transfer to Borneo Rainforest Lodge, Danum Valley
Our final boat trip on the Kinabatangan River was delayed due to some more heavy rain showers, but we were eventually able to make our way out on the water and we were glad we did! We went back to one of the spots where we heard four Bornean Ground Cuckoos the previous afternoon, but this time just one could be heard and it was, unfortunately, too distant. We did enjoy watching a Grey-headed Fish Eagle, Storm's Stork, and a pair of Bold-striped Tit-Babblers while we waited. Again, there was no sign of the cuckoos, so we went to another site we'd heard them the previous day. After a while of sitting and waiting we were about to give up, we had a bus to catch to Lahad Datu. Just as our trusty boatman turned the engine on, we heard one calling, and it seemed close. We repositioned ourselves along the riverbank and after a while of scanning we picked one up, sitting a few feet off the ground in a tree – finally, we'd seen Bornean Ground Cuckoo! We were elated and with some careful maneuvering around the boat everyone was able to get into a position to see this wonderful and highly sought-after scarce endemic! We were behind schedule but there were no complaints!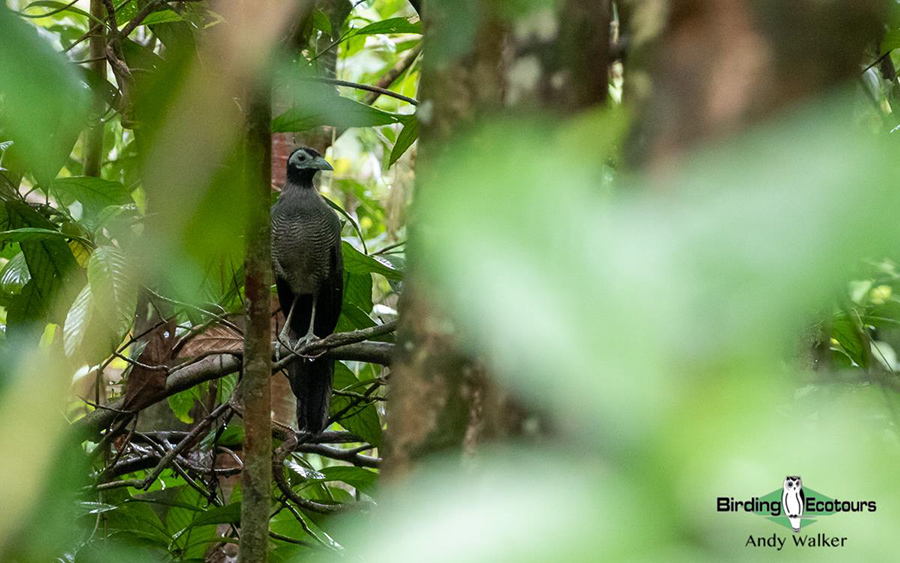 Bornean Ground Cuckoo appeared very much at the last minute.
After a quick, late breakfast, we spent the rest of the day traveling to Borneo Rainforest Lodge in the Danum Valley. We arrived just as the sun set, with the sound of Rhinoceros Hornbills flying over this spectacular forest we would be exploring over the coming few days.
Day 10, 6th October 2022. Birding Danum Valley and Borneo Rainforest Lodge
We awoke to a beautiful morning with mist hanging in the valley in front of the lodge. We headed out early to try and get started on the birding in the area and found some great birds. Lots of bulbuls and babblers were vocalizing and we found a small fruiting tree that attracted several species. Some of the morning highlights included Red-naped Trogon, Scarlet-rumped Trogon, Crested (Indomalayan) Honey Buzzard, Black Eagle, Blyth's Hawk Eagle, White-fronted Falconet, Rufous Piculet, Lesser Cuckooshrike, White-bellied Erpornis, Blyth's Paradise Flycatcher, Spectacled Bulbul, Hairy-backed Bulbul, Finsch's Bulbul, Charlotte's Bulbul, Horsfield's Babbler, Brown Fulvetta, Yellow-breasted Flowerpecker, Yellow-rumped Flowerpecker, Bornean Spiderhunter, Purple-naped Sunbird, Greater Green Leafbird, and Lesser Green Leafbird. Several species tantalized us by remaining 'heard only' and included Great Argus, Blue-headed Pitta, and Giant Pitta!
Our morning birding was interrupted for one particular mammal that gave us our best look to date, (a wild) Bornean Orangutan. It was sitting feeding happily in a durian tree and we enjoyed watching this magnificent creature go about its daily routine.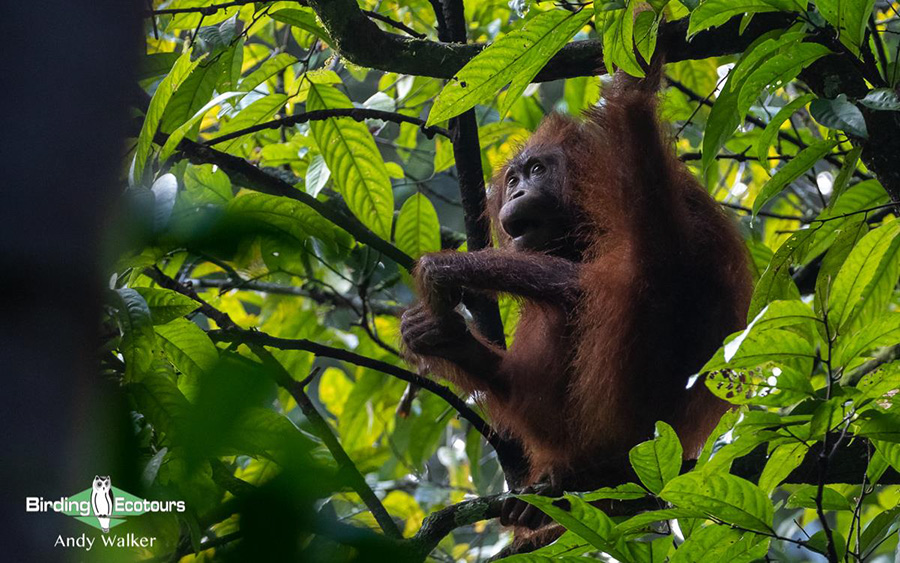 One of the mammalian highlights of the whole tour was this Bornean Orangutan.
In the afternoon we ventured out under leaden skies into the forest before a storm hit. As expected, it was fairly quiet as the birds seemed to sense what was coming! Grey-hooded Babbler, Blyth's Paradise Flycatcher, Grey-headed Canary Flycatcher, and Spotted Fantail were seen and Sunda Blue Flycatcher, Blue-eared (Black-eared) Barbet, and (Bornean) Crested Fireback were heard.
Day 11, 7th October 2022 Birding Danum Valley and Borneo Rainforest Lodge
We again had morning and afternoon birding sessions in the Danum Valley from our base at the wonderful Borneo Rainforest Lodge. It was amazing to be staying right in this beautiful forest. The morning was very birdy, and we found several new species for the trip, and several more endemics too. We got some good lucks at the skulking Bornean Wren-Babbler, Striped Wren-Babbler, Bornean Blue Flycatcher, Red-bearded Bee-eater, Large Woodshrike, Fluffy-backed Tit-Babbler, Chestnut-rumped Babbler, Black-bellied Malkoha, and several of the group heard a distant Bornean Bristlehead. Activity dropped as soon as the temperature crept up, so we also took a break during the middle of the day.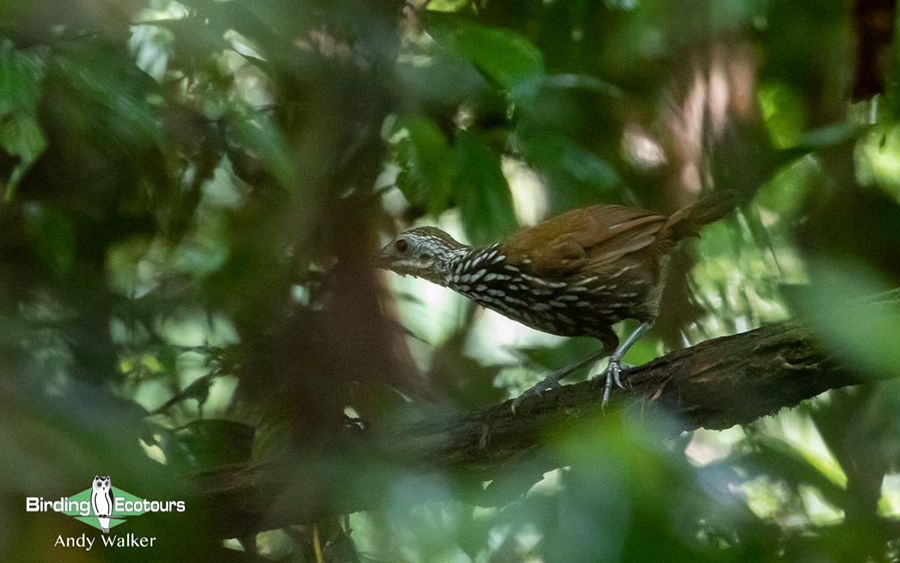 Bornean Wren-Babbler gave some very good views, but getting a photo was tough given its habits of moving along the ground through dense vegetation.
In the afternoon we again headed out birding and found a pair of White-chested (Bornean Swamp) Babblers near the river, with Black Eagle and Changeable Hawk-Eagle overhead. We made our way to a canopy walkway and while we were busily photographing a gorgeous Whiskered Treeswift, the distinctive shape of the Bornean Bristlehead appeared, flying over us. They were typically vocal as four birds landed in the tops of the tallest trees around. Everyone got up on the canopy walkway to enjoy slightly closer views of this species, which is a highly sought-after Bornean endemic, monotypic family. We were extremely happy to have finally seen this species, after having no sight or sound of them during our time at Sepilok earlier in the tour. The afternoon was pressing on, so we commenced our walk back to the lodge, stopping on the way back to enjoy good views of Dark-sided Flycatcher, Rufous Woodpecker, White-crowned Hornbill, and the other star of the afternoon, a mother and baby (wild) Bornean Orangutan preparing to go to bed.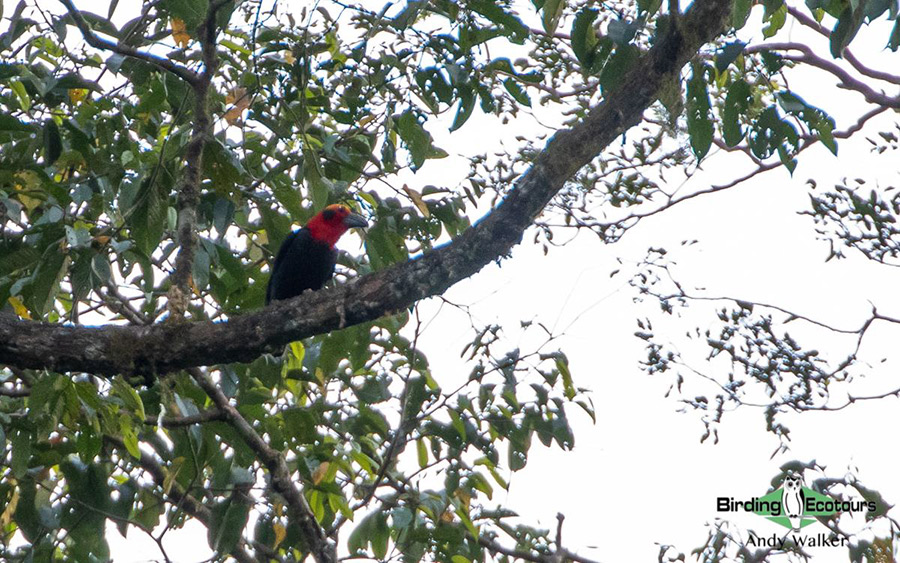 We had spent a lot of time trying to locate this sought-after endemic, so despite them being high in the canopy we were very grateful to see a small group of Bornean Bristleheads. Not a great photo, but you can tell what it is!
We had a night drive in the early evening and got to see the rather unique sight of a male Black-crowned Pitta roosting! More expected was the Blyth's Frogmouth. Barred Eagle-Owls were vocal but would not show this time. We also found Sambar, Lesser Oriental Chevrotain (Lesser Mouse Deer), Large Flying-fox, and Black Flying Squirrel.
Day 12, 8th October 2022. Morning birding Danum Valley and Borneo Rainforest Lodge before tour conclusion in Lahad Datu with onward journeys
We had a final morning birding session out from the Borneo Rainforest Lodge as we tried to seek out any final species. It was however rather hot very early and activity was disappointingly low. We did pick up a couple of Bornean Black Magpies moving through the canopy, and we enjoyed having a final look at the Bornean Orangutans, the mother and baby not having moved far from where we left them the previous evening. Some of the group also saw the elusive Northern (North Bornean) Grey Gibbon, a species we had been hearing calling away most mornings in the lowlands. A few other species put in an appearance, such as (Bornean) Crested Fireback, Thick-billed Green Pigeon, Large Green Pigeon, Wreathed Hornbill, Rufous Piculet, Banded Broadbill, Black-and-yellow Broadbill, Rufous-winged Philentoma, Fluffy-backed Tit-Babbler (our best views of the tour), Striped Wren-Babbler, Common Hill Myna, and White-crowned Shama.
We had our final lunch and checklist session of the tour, the food and service at Borneo Rainforest Lodge was top notch and definitely well received. We then made our way to Lahad Datu where this Borneo birding tour ended – not before we saw Oriental Plover on the runway!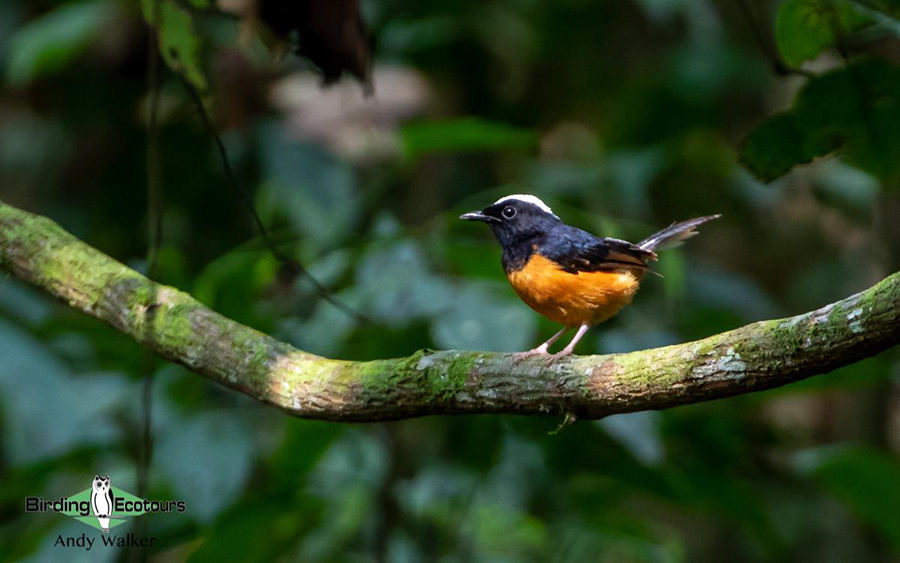 The Bornean endemic White-crowned Shama often remains hidden in the forest, but occasionally hops out into the sunlight.
This was a great and enjoyable tour with a fun group of people from around the world. We must also offer a huge debt of thanks to our wonderful local guide, Liew, and all of the other people (local guides and drivers – particularly David for the first half of the tour) who all helped make it a success.
Bird List – Following IOC (12.1)
Birds 'heard only' are marked with (H) after the common name, all other species were seen. The following notation after species names is used to show conservation status following BirdLife International: CR = Critically Endangered, EN = Endangered, VU = Vulnerable. The common name for Bornean endemics is shown in bold type, e.g., Whitehead's Trogon.
Common Name
Scientific Name
Ducks, Geese, Swans (Anatidae)
Wandering Whistling Duck
Dendrocygna arcuata
Pheasants & Allies (Phasianidae)
Red-breasted Partridge
Arborophila hyperythra
Crested Fireback – VU
Lophura ignita
Great Argus – VU (H)
Argusianus argus
Chestnut-necklaced Partridge – VU
Tropicoperdix charltonii
Crimson-headed Partridge
Haematortyx sanguiniceps
Red Junglefowl (H)
Gallus gallus
Frogmouths (Podargidae)
Blyth's Frogmouth
Batrachostomus affinis
Treeswifts (Hemiprocnidae)
Grey-rumped Treeswift
Hemiprocne longipennis
Whiskered Treeswift
Hemiprocne comata
Swifts (Apodidae)
Plume-toed Swiftlet
Collocalia affinis
Bornean Swiftlet
Collocalia dodgei
Silver-rumped Spinetail
Rhaphidura leucopygialis
White-throated Needletail
Hirundapus caudacutus
Brown-backed Needletail
Hirundapus giganteus
Pacific Swift
Apus pacificus
House Swift
Apus nipalensis
Cuckoos (Cuculidae)
Short-toed Coucal – VU
Centropus rectunguis
Greater Coucal
Centropus sinensis
Lesser Coucal
Centropus bengalensis
Bornean Ground Cuckoo
Carpococcyx radiceus
Raffles's Malkoha
Rhinortha chlorophaea
Red-billed Malkoha
Zanclostomus javanicus
Chestnut-breasted Malkoha
Phaenicophaeus curvirostris
Chestnut-bellied Malkoha
Phaenicophaeus sumatranus
Black-bellied Malkoha
Phaenicophaeus diardi
Violet Cuckoo
Chrysococcyx xanthorhynchus
Dark Hawk-Cuckoo
Hierococcyx bocki
Pigeons, Doves (Columbidae)
Rock Dove (Feral Pigeon)
Columba livia dom.
Spotted Dove
Spilopelia chinensis
Philippine Cuckoo-Dove
Macropygia tenuirostris
Little Cuckoo-Dove
Macropygia ruficeps
Common Emerald Dove
Chalcophaps indica
Zebra Dove
Geopelia striata
Little Green Pigeon
Treron olax
Pink-necked Green Pigeon
Treron vernans
Thick-billed Green Pigeon
Treron curvirostra
Large Green Pigeon – VU
Treron capellei
Green Imperial Pigeon
Ducula aenea
Rails, Crakes & Coots (Rallidae)
Common Moorhen
Gallinula chloropus
White-breasted Waterhen
Amaurornis phoenicurus
Plovers (Charadriidae)
Oriental Plover
Charadrius veredus
Sandpipers, Snipes (Scolopacidae)
Common Sandpiper
Actitis hypoleucos
Wood Sandpiper
Tringa glareola
Gulls, Terns, Skimmers (Laridae)
Whiskered Tern
Chlidonias hybrida
White-winged Tern
Chlidonias leucopterus
Storks (Ciconiidae)
Storm's Stork – EN
Ciconia stormi
Lesser Adjutant – VU
Leptoptilos javanicus
Anhingas, Darters (Anhingidae)
Oriental Darter
Anhinga melanogaster
Herons, Bitterns (Ardeidae)
Black-crowned Night Heron
Nycticorax nycticorax
Nankeen Night Heron
Nycticorax caledonicus
Striated Heron
Butorides striata
Eastern Cattle Egret
Bubulcus coromandus
Grey Heron
Ardea cinerea
Purple Heron
Ardea purpurea
Great Egret
Ardea alba
Intermediate Egret
Ardea intermedia
Little Egret
Egretta garzetta
Kites, Hawks, Eagles (Accipitridae)
Black-winged Kite
Elanus caeruleus
Crested Honey Buzzard
Pernis ptilorhynchus
Crested Serpent Eagle
Spilornis cheela
Mountain Serpent Eagle – VU
Spilornis kinabaluensis
Bat Hawk
Macheiramphus alcinus
Changeable Hawk-Eagle
Nisaetus cirrhatus
Blyth's Hawk-Eagle
Nisaetus alboniger
Wallace's Hawk-Eagle – VU
Nisaetus nanus
Rufous-bellied Eagle
Lophotriorchis kienerii
Black Eagle
Ictinaetus malaiensis
Crested Goshawk
Accipiter trivirgatus
Chinese Sparrowhawk
Accipiter soloensis
Brahminy Kite
Haliastur indus
White-bellied Sea Eagle
Haliaeetus leucogaster
Grey-headed Fish Eagle
Haliaeetus ichthyaetus
Owls (Strigidae)
Barred Eagle-Owl (H)
Bubo sumatranus
Brown Wood Owl
Strix leptogrammica
Trogons (Trogonidae)
Red-naped Trogon
Harpactes kasumba
Diard's Trogon
Harpactes diardii
Whitehead's Trogon
Harpactes whiteheadi
Scarlet-rumped Trogon
Harpactes duvaucelii
Hornbills (Bucerotidae)
White-crowned Hornbill – EN
Berenicornis comatus
Rhinoceros Hornbill – VU
Buceros rhinoceros
Helmeted Hornbill – CR
Rhinoplax vigil
Oriental Pied Hornbill
Anthracoceros albirostris
Black Hornbill – VU
Anthracoceros malayanus
Bushy-crested Hornbill
Anorrhinus galeritus
Wreathed Hornbill – VU
Rhyticeros undulatus
Wrinkled Hornbill – EN
Rhabdotorrhinus corrugatus
Rollers (Coraciidae)
Oriental Dollarbird
Eurystomus orientalis
Kingfishers (Alcedinidae)
Rufous-collared Kingfisher
Actenoides concretus
Banded Kingfisher
Lacedo pulchella
Stork-billed Kingfisher
Pelargopsis capensis
Collared Kingfisher
Todiramphus chloris
Blue-eared Kingfisher
Alcedo meninting
Oriental Dwarf Kingfisher
Ceyx erithaca
Bee-eaters (Meropidae)
Red-bearded Bee-eater
Nyctyornis amictus
Blue-throated Bee-eater
Merops viridis
Asian Barbets (Megalaimidae)
Golden-whiskered Barbet
Psilopogon chrysopogon
Mountain Barbet
Psilopogon monticola
Golden-naped Barbet
Psilopogon pulcherrimus
Blue-eared Barbet
Psilopogon duvaucelii
Bornean Barbet
Psilopogon eximius
Brown Barbet
Caloramphus fuliginosus
Woodpeckers (Picidae)
Rufous Piculet
Sasia abnormis
Grey-and-buff Woodpecker
Hemicircus concretus
Grey-capped Pygmy Woodpecker
Yungipicus canicapillus
Sunda Pygmy Woodpecker
Yungipicus moluccensis
White-bellied Woodpecker
Dryocopus javensis
Banded Woodpecker
Chrysophlegma miniaceum
Crimson-winged Woodpecker
Picus puniceus
Maroon Woodpecker
Blythipicus rubiginosus
Orange-backed Woodpecker
Reinwardtipicus validus
Rufous Woodpecker
Micropternus brachyurus
Buff-rumped Woodpecker
Meiglyptes tristis
Buff-necked Woodpecker
Meiglyptes tukki
Caracaras, Falcons (Falconidae)
White-fronted Falconet
Microhierax latifrons
Peregrine Falcon
Falco peregrinus
Old World Parrots (Psittaculidae)
Blue-rumped Parrot
Psittinus cyanurus
Blue-naped Parrot
Tanygnathus lucionensis
Long-tailed Parakeet – VU
Psittacula longicauda
Blue-crowned Hanging Parrot
Loriculus galgulus
Typical Broadbills (Eurylaimidae)
Long-tailed Broadbill (H)
Psarisomus dalhousiae
Black-and-red Broadbill
Cymbirhynchus macrorhynchos
Banded Broadbill
Eurylaimus javanicus
Black-and-yellow Broadbill
Eurylaimus ochromalus
African & Green Broadbills (Calyptomenidae)
Whitehead's Broadbill
Calyptomena whiteheadi
Pittas (Pittidae)
Giant Pitta (H)
Hydrornis caeruleus
Blue-headed Pitta – VU (H)
Hydrornis baudii
Black-crowned Pitta
Erythropitta ussheri
Hooded Pitta
Pitta sordida
Australasian Warblers (Acanthizidae)
Golden-bellied Gerygone
Gerygone sulphurea
Vangas & Allies (Vangidae)
Black-winged Flycatcher-shrike
Hemipus hirundinaceus
Large Woodshrike
Tephrodornis virgatus
Rufous-winged Philentoma
Philentoma pyrhoptera
Bristlehead (Pityriasidae)
Bornean Bristlehead
Pityriasis gymnocephala
Woodswallows, Butcherbirds & Allies (Artamidae)
White-breasted Woodswallow
Artamus leucorynchus
Ioras (Aegithinidae)
Common Iora
Aegithina tiphia
Green Iora
Aegithina viridissima
Cuckooshrikes (Campephagidae)
Grey-chinned Minivet
Pericrocotus solaris
Pied Triller
Lalage nigra
Lesser Cuckooshrike
Lalage fimbriata
Whistlers & Allies (Pachycephalidae)
Bornean Whistler
Pachycephala hypoxantha
Shrikes (Laniidae)
Long-tailed Shrike
Lanius schach
Vireos, Greenlets, Shrike-babblers (Vireonidae)
Blyth's Shrike-babbler
Pteruthius aeralatus
White-bellied Erpornis
Erpornis zantholeuca
Figbirds, Orioles, Turnagra (Oriolidae)
Dark-throated Oriole
Oriolus xanthonotus
Drongos (Dicruridae)
Bronzed Drongo
Dicrurus aeneus
Greater Racket-tailed Drongo
Dicrurus paradiseus
Hair-crested Drongo
Dicrurus hottentottus
Ashy Drongo
Dicrurus leucophaeus
Fantails (Rhipiduridae)
White-throated Fantail
Rhipidura albicollis
Malaysian Pied Fantail
Rhipidura javanica
Spotted Fantail
Rhipidura perlata
Monarchs (Monarchidae)
Black-naped Monarch
Hypothymis azurea
Blyth's Paradise Flycatcher
Terpsiphone affinis
Crows, Jays (Corvidae)
Bornean Black Magpie
Platysmurus aterrimus
Bornean Green Magpie
Cissa jefferyi
Bornean Treepie
Dendrocitta cinerascens
House Crow
Corvus splendens
Slender-billed Crow
Corvus enca
Fairy Flycatchers (Stenostiridae)
Grey-headed Canary-flycatcher
Culicicapa ceylonensis
Bulbuls (Pycnonotidae)
Hairy-backed Bulbul
Tricholestes criniger
Yellow-bellied Bulbul
Alophoixus phaeocephalus
Grey-cheeked Bulbul
Alophoixus tephrogenys
Penan Bulbul
Alophoixus ruficrissus
Finsch's Bulbul
Iole finschii
Charlotte's Bulbul
Iole charlottae
Cinereous Bulbul
Hemixos cinereus
Black-headed Bulbul
Brachypodius melanocephalos
Spectacled Bulbul
Ixodia erythropthalmos
Bornean Bulbul
Rubigula montis
Cream-vented Bulbul
Pycnonotus simplex
Olive-winged Bulbul
Pycnonotus plumosus
Asian Red-eyed Bulbul
Pycnonotus brunneus
Pale-faced Bulbul
Pycnonotus leucops
Yellow-vented Bulbul
Pycnonotus goiavier
Swallows, Martins (Hirundinidae)
Pacific Swallow
Hirundo tahitica
Barn Swallow
Hirundo rustica
Cettia Bush Warblers & Allies (Cettiidae)
Mountain Tailorbird
Phyllergates cucullatus
Sunda Bush Warbler
Horornis vulcanius
Bornean Stubtail
Urosphena whiteheadi
Leaf Warblers & Allies (Phylloscopidae)
Arctic Warbler
Phylloscopus borealis
Yellow-breasted Warbler
Phylloscopus montis
Mountain Leaf Warbler
Phylloscopus trivirgatus
Grassbirds & Allies (Locustellidae)
Striated Grassbird
Megalurus palustris
Cisticolas & Allies (Cisticolidae)
Yellow-bellied Prinia
Prinia flaviventris
Dark-necked Tailorbird
Orthotomus atrogularis
Rufous-tailed Tailorbird
Orthotomus sericeus
Ashy Tailorbird
Orthotomus ruficeps
White-eyes (Zosteropidae)
Chestnut-crested Yuhina
Staphida everetti
Pygmy White-eye
Heleia squamifrons
Black-capped White-eye
Zosterops atricapilla
Mountain Blackeye
Zosterops emiliae
Hume's White-eye
Zosterops auriventer
Babblers, Scimitar Babblers (Timaliidae)
Bold-striped Tit-Babbler
Mixornis bornensis
Fluffy-backed Tit-Babbler
Macronus ptilosus
Grey-hooded Babbler
Cyanoderma bicolor
Rufous-fronted Babbler
Cyanoderma rufifrons
Bare-headed Laughingthrush
Melanocichla calva
Sunda Scimitar Babbler
Pomatorhinus bornensis
Chestnut-rumped Babbler (H)
Stachyris maculata
Grey-throated Babbler
Stachyris nigriceps
Ground Babblers (Pellorneidae)
Black-throated Wren-Babbler (H)
Turdinus atrigularis
Sooty-capped Babbler
Malacopteron affine
Scaly-crowned Babbler
Malacopteron cinereum
Rufous-crowned Babbler
Malacopteron magnum
Moustached Babbler
Malacopteron magnirostre
Bornean Black-capped Babbler
Pellorneum capistratoides
Short-tailed Babbler
Pellorneum malaccense
White-chested Babbler
Pellorneum rostratum
Striped Wren-Babbler
Kenopia striata
Horsfield's Babbler
Malacocincla sepiaria
Mountain Wren-Babbler
Gypsophila crassa
Bornean Wren-Babbler – VU
Ptilocichla leucogrammica
Alcippe Fulvettas (Alcippeidae)
Brown Fulvetta
Alcippe brunneicauda
Laughingthrushes & Allies (Leiothrichidae)
Sunda Laughingthrush
Garrulax palliatus
Chestnut-hooded Laughingthrush
Pterorhinus treacheri
Fairy-bluebirds (Irenidae)
Asian Fairy-bluebird
Irena puella
Nuthatches (Sittidae)
Velvet-fronted Nuthatch
Sitta frontalis
Starlings, Rhabdornis (Sturnidae)
Asian Glossy Starling
Aplonis panayensis
Common Hill Myna
Gracula religiosa
Javan Myna – VU
Acridotheres javanicus
Thrushes (Turdidae)
Fruithunter
Chlamydochaera jefferyi
Everett's Thrush
Zoothera everetti
Orange-headed Thrush
Geokichla citrina
Chats, Old World Flycatchers (Muscicapidae)
Oriental Magpie-Robin
Copsychus saularis
White-crowned Shama
Copsychus stricklandii
Dark-sided Flycatcher
Muscicapa sibirica
Asian Brown Flycatcher
Muscicapa dauurica
Brown-streaked (Umber) Flycatcher
Muscicapa williamsoni umbrosa
Pale Blue Flycatcher
Cyornis unicolor
Sunda Blue Flycatcher – VU (H)
Cyornis caerulatus
Bornean Blue Flycatcher
Cyornis superbus
Fulvous-chested Jungle Flycatcher
Cyornis olivaceus
Verditer Flycatcher
Eumyias thalassinus
Indigo Flycatcher
Eumyias indigo
White-browed Shortwing
Brachypteryx montana
Eyebrowed Jungle Flycatcher
Vauriella gularis
Bornean Forktail
Enicurus borneensis
Bornean Whistling Thrush
Myophonus borneensis
Pygmy Flycatcher
Ficedula hodgsoni
Little Pied Flycatcher
Ficedula westermanni
Snowy-browed Flycatcher
Ficedula hyperythra
Rufous-chested Flycatcher
Ficedula dumetoria
Leafbirds (Chloropseidae)
Greater Green Leafbird – EN
Chloropsis sonnerati
Lesser Green Leafbird
Chloropsis cyanopogon
Flowerpeckers (Dicaeidae)
Yellow-breasted Flowerpecker
Prionochilus maculatus
Yellow-rumped Flowerpecker
Prionochilus xanthopygius
Yellow-vented Flowerpecker
Dicaeum chrysorrheum
Orange-bellied Flowerpecker
Dicaeum trigonostigma
Black-sided Flowerpecker
Dicaeum monticolum
Sunbirds (Nectariniidae)
Ruby-cheeked Sunbird
Chalcoparia singalensis
Plain Sunbird
Anthreptes simplex
Brown-throated Sunbird
Anthreptes malacensis
Red-throated Sunbird
Anthreptes rhodolaemus
Copper-throated Sunbird
Leptocoma calcostetha
Olive-backed Sunbird
Cinnyris jugularis
Crimson Sunbird
Aethopyga siparaja
Temminck's Sunbird
Aethopyga temminckii
Purple-naped Sunbird
Kurochkinegramma hypogrammicum
Little Spiderhunter
Arachnothera longirostra
Thick-billed Spiderhunter
Arachnothera crassirostris
Long-billed Spiderhunter
Arachnothera robusta
Yellow-eared Spiderhunter
Arachnothera chrysogenys
Bornean Spiderhunter
Arachnothera everetti
Whitehead's Spiderhunter
Arachnothera juliae
Old World Sparrows, Snowfinches (Passeridae)
Eurasian Tree Sparrow
Passer montanus
Waxbills, Munias & Allies (Estrildidae)
Scaly-breasted Munia
Lonchura punctulata
Dusky Munia
Lonchura fuscans
Chestnut Munia
Lonchura atricapilla
Wagtails, Pipits (Motacillidae)
Grey Wagtail
Motacilla cinerea
Paddyfield Pipit
Anthus rufulus
| | |
| --- | --- |
| Total seen | 262 |
| Total heard only | 9 |
| Total recorded | 271 |
Mammal List
Common Name
Scientific Name
Squirrels (Sciuridae)
Least Pygmy Squirrel
Exilisciurus exilis
Tufted (Whitehead's) Pygmy Squirrel
Exilisciurus whiteheadi
Borneo Black-banded Squirrel
Callosciurus orestes
Plantain Squirrel
Callosciurus notatus
Bornean Mountain Ground Squirrel
Sundasciurus everetti
Jentink's Squirrel
Sundasciurus jentinki
Low's Squirrel
Sundasciurus lowii
Pale Giant Squirrel
Ratufa affinis
Prevost's Squirrel
Callosciurus prevostii
Red Giant Flying Squirrel
Petaurista petaurista
Black Flying Squirrel
Aeromys tephromelas
 
Civets, Genets, and Oyans (Viverridae)
Malay (Palm) Civet
Viverra tangalunga
(Bornean) Banded Civet
Hemigalus derbyanus boiei
 
Old World Fruit Bats (Pteropodidae)
Large Flying-fox
Pteropus vampyrus
 
Old World Leaf-nosed Bats (Hipposideridae)
Ridley's Leaf-nosed Bat
Hipposideros ridleyi
 
Deer (Cervidae)
(Bornean) Sambar
Rusa unicolor brookei
 
Chevrotains (Tragulidae)
Lesser Oriental Chevrotain
Tragulus kanchii
 
Treeshrews (Tupaiidae)
Common (Large) Treeshrew
Tupaia glis
Lesser Treeshrew
Tupia minor
Mountain Treeshrew
Tupia montana
 
Old World Monkeys (Cercopithecidae)
Long-tailed Macaque
Macaca fascicularis
Southern Pig-tailed Macaque
Macaca nemestrina
Red Langur (Leaf Monkey)
Presbytis rubicunda
Silvery Lutung
Trachypithecus cristatus
Proboscis Monkey
Nasalis larvatus
 
Gibbons (Hylobatidae)
Northern (North Bornean) Grey Gibbon
Hylobates funereus
 
Great Apes (Hominidae)
(Northeast) Bornean Orangutan
Pongo pygmaeus morio
 
Reptile List
Common Name
Scientific Name
Typical Geckos (Gekkonidae)
Common House Gecko
Hemidactylus frenatus
Flat-tailed House Gecko
Hemidactylus platyurus
Spotted House Gecko
Gekko monarchus
 
Dragons (Agamidae)
Borneo Forest Dragon
Gonocephalus bornensis
Changeable (Oriental Garden) Lizard
Calotes versicolor
Great Flying Dragon
Draco maximus
 
Skinks (Scincidae)
Borneo Skink
Dasia vittata
Rough Mabuya
Eutropis rudis
Lewis's Mabuya
Eutropis lewisi
Sabah Slender Skink
Sphenomorphus sabanus
 
Monitor Lizards (Varanidae)
Common Water Monitor
Varanus salvator
 
Crocodiles (Crocodylidae)
Saltwater Crocodile
Crocodylus porosus
 
Colubrid Snakes (Colubridae)
Red-sided Keelback Water Snake
Xenochrophis trianguligerus
 
Notable Other Taxa List
Not a conclusive list. We saw lots of interesting taxa during our tour, e.g. multiple species of millipede that can only be identified to genus level (see here) and so not included below. Similarly, lots of butterflies, dragonflies, damselflies and stick insects were seen and will take a long time to identify due to limited available literature. The list below includes some of the more readily identified species.
Common Name
Scientific Name
Orbweavers (Araneidae)
Multi-colored Saint Andrew's Cross Spider
Argiope versicolor
 
Ants (Formicidae)
Giant Forest Ant
Dinomyrmex gigas borneensis
 
Lanternflies (Fulgoridae)
Lanternfly sp.
Pyrops whiteheadi
 
Swallowtails and Parnassians (Papilionidae)
Raja Brooke's Birdwing
Trogonoptera brookiana
Malayan Birdwing
Troides amphrysus
Borneo Birdwing
Troides andromache
Green Dragontail Butterfly
Lamproptera meges
 
Brush-footed Butterflies (Nymphalidae)
Giant Tree Nymph
Idea lynceus
Clipper
Parthenos sylvia
 
Skimmers (Libellulidae)
Crimson Dropwing
Trithemis aurora
Indonesian Red-winged Dragonfly
Neurothemis terminata
 
Jawed Land Leeches (Haemadipsidae)
Brown Leech
Haemadipsa zeylanica
Tiger Leech
Haemadipsa picta
 
Sesarmid Marsh Crabs (Sesarmidae)
Vampire Crab sp.
Geosesarma danumense
DOWNLOAD TRIP REPORT
Please see the downloadable PDF above with the full species lists included. This is a sample trip report. Please email us ([email protected]) for more trip reports from this destination.
MALAYSIA: BORNEO – SABAH CLASSIC TOUR
 TOUR-SPECIFIC INFORMATION
GENERAL INFORMATION ABOUT MALAYSIA (INCLUDING BORNEO) CAN BE READ HERE
TOUR OUTLINE
A great tour taking in several of the best birding sites in Borneo, including the Danum Valley. This Sabah tour starts in Kota Kinabalu and ends in Lahad Datu. Sabah is home to wonderful endemic birds and impressive wildlife and on this tour we will look for as much as we can, including the likes of Bornean Ground Cuckoo, Bornean Bristlehead, Whitehead's Trogon, Fruithunter, Bornean Green Magpie, Blue-headed Pitta, Black-crowned Pitta, and so much more, including top mammals like Bornean Orangutan and Proboscis Monkey. This premium tour includes better accommodation (including the amazing Borneo Rainforest Lodge) and runs with a nice small group, giving you a much better birding experience than you would get on a large group tour.
DAILY ACTIVITIES, PHYSICAL REQUIREMENTS, AND TOUR PACE
This Borneo birdwatching tour requires reasonable physical fitness but is not considered too physically demanding (though humidity in the lowlands can increase tiredness). We will spend time birding on easy to moderate trails at a range of elevations and will experience hot and humid conditions in the lowlands and cooler temperatures in the mountains. We will usually have early morning birding sessions with a break during the middle of the day back at our accommodation to escape the heat of the day (less of an issue at higher elevations), with further birding sessions in the afternoon. Occasionally we will undertake some night walks/drives/boat rides to look for nocturnal wildlife. On some days we will have long drives (of between three and six hours) to get between birding areas. This is a birding-focused tour that does offer some photo opportunities, though these are secondary to the actual birding element of the tour, i.e., seeing the many endemic species and subspecies of the region as well as other regional specialties, will be considered priority.
TRANSPORTATION
The tour starts in Kota Kinabalu and ends in Lahad Datu. You will need to book a flight for the end of the tour from Lahad Datu to Kota Kinabalu/Kuala Lumpur (this flight is not included in the tour cost). For more information see the "Domestic Flights" section. We will use airconditioned vehicles on this tour. Roads are generally good and paved, with the exception of the road to Borneo Rainforest Lodge which is unpaved and a bit rough (it is an old logging road). Some roads, particularly in the mountains may be windy in places. We will use motorized boats for birding along the Kinabatangan River as this allows us great access to the forest.
DOMESTIC FLIGHTS
The tour itself doesn't require any domestic flights, however the tour ends in Lahad Datu and so you will likely require a domestic fight to either Kota Kinabalu or Kuala Lumpur to connect with your international departure. The cost of this flight is not included in the tour price. If you will be joining our Sarawak – Restricted Range Endemics birding tour you will need to fly to Kota Kinabalu as that's where that tour will commence from. If you need help booking this tour, please let us know as we may be able to book the flights for you and add the cost to your tour balance, payable no later than two months prior to departure.
The domestic flight is likely to have a hold luggage weight limit of 44 pounds (20 kilograms) and a hand luggage allowance of 15 pounds (7 kilograms). Any overweight baggage will likely incur costs and will be the responsibility of the individual. Excess baggage costs will most likely need to be paid in cash to the airline at the airport.
LUGGAGE
Please pack as lightly as possible for this tour (noting the expected weight allowance of the domestic flight that will be required after the tour). A medium, soft-sided, and robust duffle bag is likely to work best for packing in the tour vehicles. We recommend a daypack is used to keep items that you wish to use daily when in the vehicle or when birding in the field/from the boat.
SAFETY
Your safety is our paramount concern on this, and all of our tours, hence the detailed information contained within this tour-specific information and the Malaysia general information. Our tour takes us to a remote part of Sabah. There has been safety and security issues along the coast of eastern Sabah, between Kudat and Tawu, including (but not limited to) Lankaya, Mabul, Pom Pom, Kapalai, Litigan, Sipadan, and Mataking – however we do not go to any of these islands on the tour. These issues are linked to terrorists from southern Philippines and most incidents appear to be maritime related, though additional care should be taken in the towns of Sandakan and Lahad Datu. We monitor the situation continuously with our local guides who live in the area.
Trips and falls when on trails, tracks/roads, and getting into or out of the vehicles or boats are all possibilities on this tour and care should be taken at all times please. Sturdy walking shoes or hiking boots are recommended for this tour. A hiking pole or walking stick is compulsory if you are at all unsure on your feet.
There is a low risk of malaria on Sabah, but please consult your doctor or local travel clinic for specific advice. We will be spending time birding in lowland forests, riverine forest, and mangroves over the dawn and dusk periods, where we will come into contact with mosquitoes. Insect repellent with a high DEET concentration can be useful for keeping mosquitoes away and reducing the chance of getting bites. DEET insect spray can also keep chiggers and leeches away (as can citronella). Chiggers can lead to Scrub (Bush) Typhus and can be incredibly irritating. Leeches do not spread diseases, but they are rather unnerving and can cause blood loss and are particularly evident in Borneo. "Leech socks" are a useful piece of kit.
WEATHER/CLIMATE   
While in the lowlands we can expect average daytime highs of around 88 °F (31 °C) and average nighttime lows of 72 °F (22 °C). There is often thick cloud cover here, resulting in hot and humid, rather oppressive, conditions. In the mountains it is cooler than the lowland temperatures and we can expect average daytime highs of around 84 °F (29 °C) and average nighttime lows of 63 °F (17 °C) but it may drop to below 59 °F (15 °C), occasionally.
The sun is strong at this time of year and care should be taken to remain hydrated and use sun protection. Rain is possible at any time at any location so rain gear and an umbrella will be essential. A dry bag is also recommended for protecting optics, electrical equipment/cameras, and important documents (see the "What to Bring: Clothing and Other Items" section below).
ACCOMMODATION
The accommodation on this tour is of a good standard with electricity throughout. Most of the accommodation has air conditioning (those in the mountains don't really need it). Accommodation without air conditioning, such as in Danum Valley, should have fans instead.
ELECTRICITY
All locations we visit on the tour should have a regular power supply, unless there are unexpected power cuts etc.
COMMUNICATIONS
There is phone signal across most of Sabah and many of the accommodations will have Wi-Fi. You may want to purchase a local SIM card on arrival in Malaysia or use your own provider on a roaming package (be aware of charges). You can usually purchase a travel SIM from the airport from either Digi.com or Maxis, both are reasonably good at our tour destinations except for the Danum Valley, where only Maxis works. There is no Wi-Fi at our accommodation along the Kinabatangan River, but everywhere else should have Wi-Fi, though it may be unreliable in some places, such as Danum Valley.
FOOD AND MEALS
There are various food choices on this tour, most food is of a Chinese style, with local Malaysian food typical and with some western menu options in some places. Vegetarian food can be arranged but please let us know of any dietary requirements ahead of the tour. Most meals are based around chicken or fish with rice and noodles, and mixed vegetables, tempeh, and tofu. Fresh fruit will be available. Due to the lack of refrigeration, dairy products are not common. We suggest you bring your favorite snacks or protein bars to supplement your diet.
MONEY
We will have access to ATMs in Kota Kinabalu and at other towns we pass through during the tour, such as Sandakan and Lahad Datu. But it is usually best to withdraw cash from the airport.
WHAT TO BRING: CLOTHING AND OTHER ITEMS
The following is a list of useful items to bring on this Sabah birding tour and should be read in conjunction with the Malaysia general information document which suggests lots of other important items to bring on the tour.
Hiking pole or walking stick to help on the tracks and trails. A walking stick is compulsory for anyone who is unsteady walking, as we feel this is a safety issue; we don't want anyone slipping on the trails or anywhere else.
Torch (flashlight) and/or headlamp, and spare batteries – we will have some nighttime bird/wildlife watching during the tour and so a torch and/or headlamp is required for that. Additionally, we will likely be setting off into the forest for our morning birding sessions when it is still dark, so this is essential kit. A torch is also useful for when walking around our accommodation at night.
High concentration DEET insect repellant (note citronella also works well with leaches).
Salt sachets can be effective in getting leeches off you.
Leech socks – essential kit on this tour.
A small personal first aid kit. See the suggested items from the Centers for Disease Control and Prevention (CDC), here. There are pharmacies in some of the towns we pass through, but we will only have limited access to these.
Footwear is a matter of personal preference but sturdy shoes as a minimum are required, and hiking boots are probably best.
Quick-drying clothes are the best for this tour and a good selection of clothing layers are also recommended for time at higher elevations where temperatures will be lower than in the lowlands (see the "Weather/Climate" section for further information on likely temperatures during the tour).
Rain jacket (and small umbrella) and a coat/fleece for our time in the mountains.
A dry bag to keep valuable documents in such as passports, cell phones, wallets etc., as well as cameras if it rains.

Download Malaysia – Classic Sabah Tour-specific Information
This trip was amazing. This is my second trip with Andy, and he is absolutely amazing. His knowledge and birding skills are extraordinary, and he's so committed to getting all his tour group a good view of all species possible. He also deals with difficult situations and keeps the group on an even footing. A very professional young man! He was invisibly but constantly working to take care of the eBird lists, lodgings, transportation, schedules and all details that made the trip as seamless as possible.
Claudia
We had an excellent experience on the Birding Ecotours Sabah Classic Tour with Andy Walker, the tour leader, and our local guide, both being exceptional birders. They located all the key target birds with skill and tenacity and always worked hard for all members of the group to get good views. So many highlights: the elusive Whitehead's Trogon and Broadbill, the mythical Bornean Ground Cuckoo, the last-minute Bornean Bristlehead, Forktails, Fruithunters, Everett's Thrush…to name just a few truly exceptional birds that were so worth the effort of searching them out. Boating on the Kinabatangen River gave superb views of so many fantastic hornbills and the canopy walkways gave access to great views of many species otherwise unreachable. This was our second time birding with Andy. Excellent birding skills, very well organised, sensitive to needs of group members (photographers/non-photographers), and good company.
Steve & Joanne