Birding Tour Borneo : Sarawak – Restricted Range Endemics
Go to: Borneo Birding Tours | Malaysia Birding Tours | Birding Tours in Asia | All our birding tours
Download Itinerary
Birding Tour Borneo: Sarawak – Restricted Range Endemics
September 2023/July 2024
The Malaysian province of Sarawak in Borneo takes more effort than neighboring Sabah, but we do not recommend missing Sarawak as it provides superior chances of seeing Blue-banded Pitta, Bornean Banded Pitta, Hose's Broadbill, Bulwer's Pheasant, Rail-babbler, and other absolute jewels that will burn your eyes. And we also will be looking for species we have no chance of seeing on our Sabah tour, such as Dulit Frogmouth, Bornean Frogmouth, and Black Oriole, all mega world birds of rather legendary status!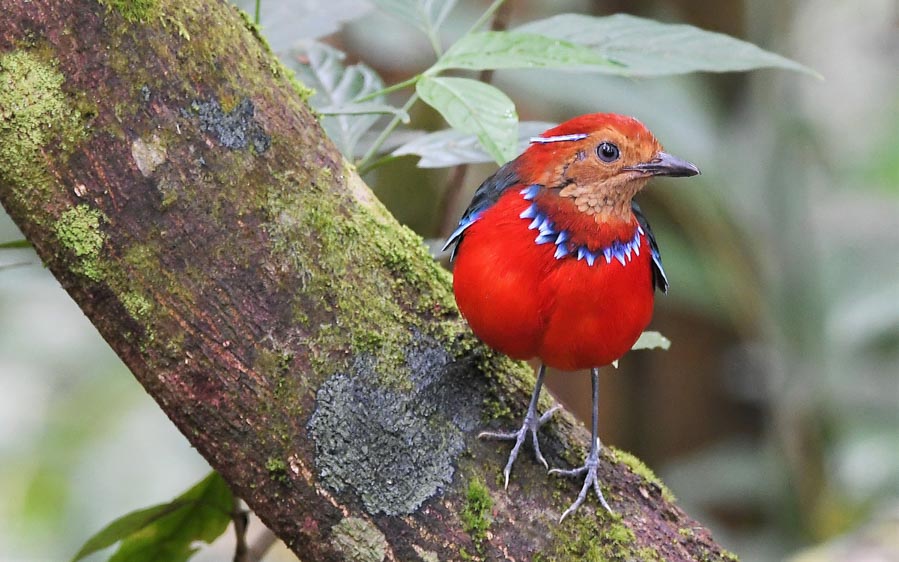 Blue-banded Pitta – one of the stunning birds we will target on this trip (photo Yeo Siew Teck).
This short (seven-day) trip starts and ends in Kota Kinabalu in the neighboring Sabah province before crossing into Sarawak, where our birding is focused. This trip begins immediately after our Birding Tour Borneo: Sabah Premium Tour, and straight after this Sarawak tour there is our Birding Tour Malaysia: Peninsular Malaysia, which offers yet more spectacular birds.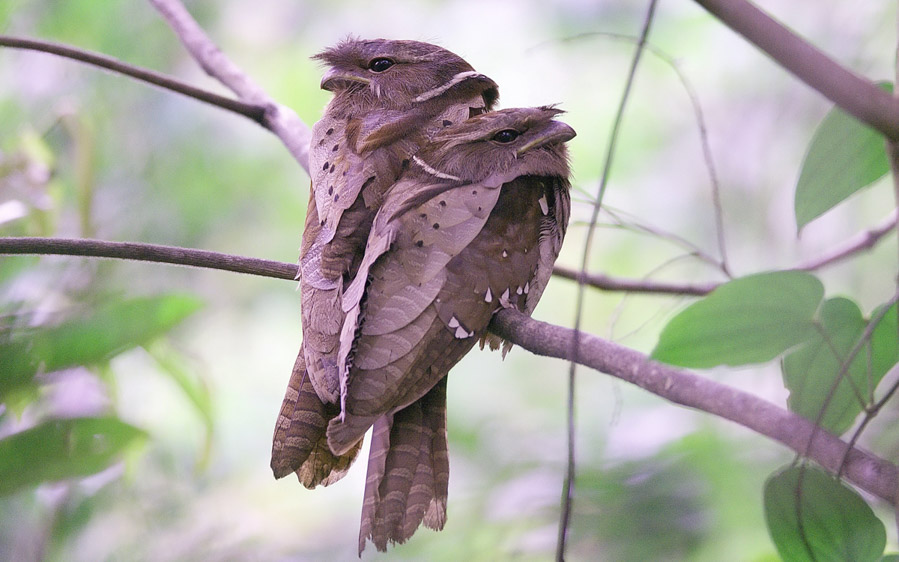 Dulit Frogmouth is one of the most legendary of Borneo's endemics (photo Yeo Siew Teck).
Itinerary (7 days/6 nights)
Day 1. Kota Kinabalu to Orang Ulu Village (via Klias Wetland)
In the morning we proceed from Kota Kinabalu to the Klias Wetlands, where we will look for Grey-breasted Babbler, Scarlet-breasted Flowerpecker, Red-crowned Barbet, and Chestnut-bellied Malkoha. One of our main targets here will be Hook-billed Bulbul, a specialist of peat swamp forest. After lunch in Lawas town we will travel overland in four-wheel-drive vehicles to Orang Ulu Village ahead of our next few days birding at Paya Maga.
Overnight: Orang Ulu Village homestay
Day 2. Paya Maga Highlands
After breakfast we will transfer to the Paya Maga Highlands drop-off point, from where we will slowly hike for four kilometers (two-and-a-half miles) along a gently undulating old logging road to our campsite, birding along the way. This beautiful montane forest area in remote northeastern Sarawak is home to many incredible species, and we will be on the lookout for a very special bird, none other than Black Oriole, a very rare Bornean endemic not found in Sabah.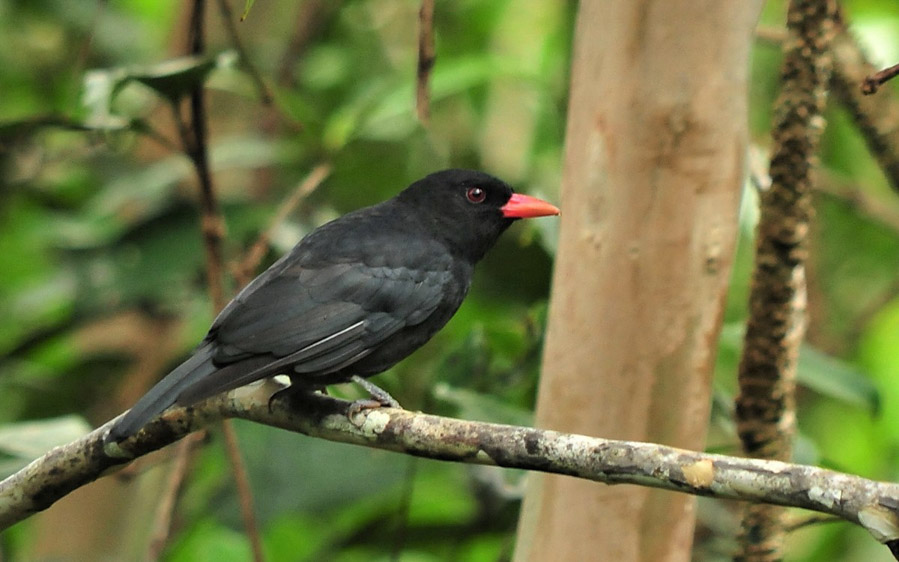 We will be birding in what is practically the only place in the world where you stand a chance of seeing the endemic Black Oriole (photo Yeo Siew Teck).
These highlands are covered in secondary forest with an abundance of Macaranga. We will bird the logging road from where it begins, then go beyond Gunung Doa at 850 meters (2,500 feet) to the base of the Paya Maga Camp Site at 1,050 meters (3,100 feet). The habitat along the road consists of mixed dipterocarp and lower montane forest. Occasional patches of undisturbed montane heath forest remain, particularly on the steepest slopes.
Targets during our hike will include Bulwer's Pheasant along with Bornean Banded Pitta, Blue-banded Pitta, and Hose's Broadbill, all stunning jewels. There are usually plenty of bulbuls, babblers, and flycatchers along the track, and other endemics may include Bornean Barbet and Bornean Leafbird.
In the evening we will look for Bornean Frogmouth, another endemic bird best looked for in Sarawak as opposed to Sabah.
Overnight: Paya Maga campsite wooden house
Day 3. Paya Maga Highlands
After breakfast we continue birding the Paya Maga Highlands, hoping to add species to our list that might include more endemics. We will look for Hose's Broadbill, Bornean Leafbird, Bornean Bulbul, Pygmy White-eye, Banded Kingfisher (an endemic subspecies and potential future split), Bornean Treepie, Chestnut-crested Yuhina, and any of the other goodies that are around.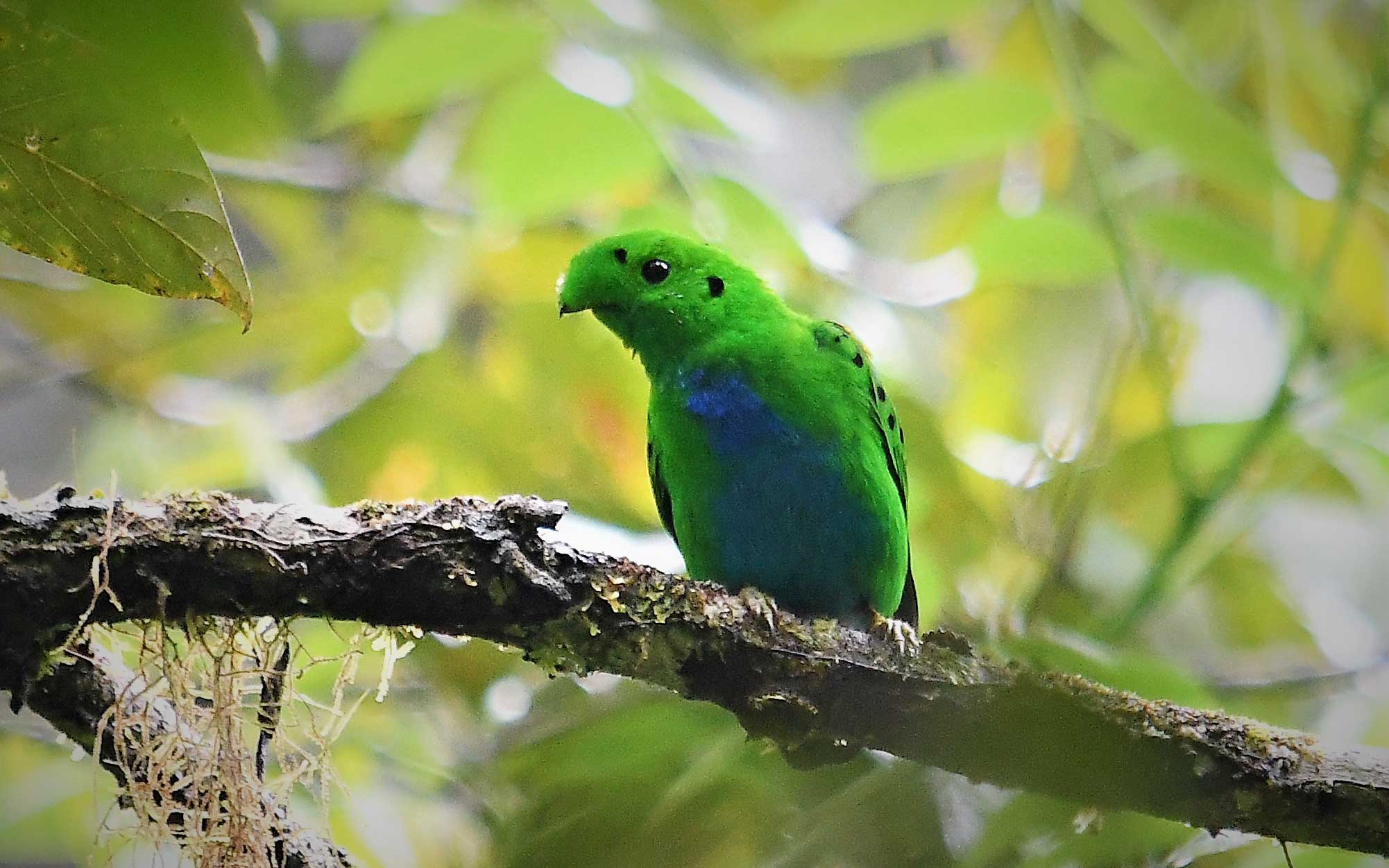 We will search for Hose's Broadbill in the Paya Maga Highlands (photo Liew Weng Keong).
While not endemic, Rail-babbler is likely at the top of many birders' wish-lists. Not only is it an incredible-looking species but it is also in a monotypic family, making it a must-see for any family lister. It is also extremely secretive and does not give itself up easily, although the sub-montane forest at Paya Maga is a good place to search for it.
We will also be sure to search for Javan Blue Flycatcher, until recently part of the Hill Blue Flycatcher complex. The subspecies of this new species that occurs in Borneo may potentially be further split as Dayak Blue Flycatcher in the near future, so this is one to be on the lookout for! Other species we will search for include Collared Owlet, Jambu Fruit Dove, White-necked Babbler, Eyebrowed Wren-Babbler, Temminck's Babbler, the attractive Scaly-breasted Bulbul, Finsch's Bulbul, Olive-backed Woodpecker, Rufous-collared Kingfisher, Diard's Trogon, and Red-bearded Bee-eater.  In the evening we will have another opportunity for Bornean Frogmouth if needed.
Overnight: Paya Maga campsite wooden house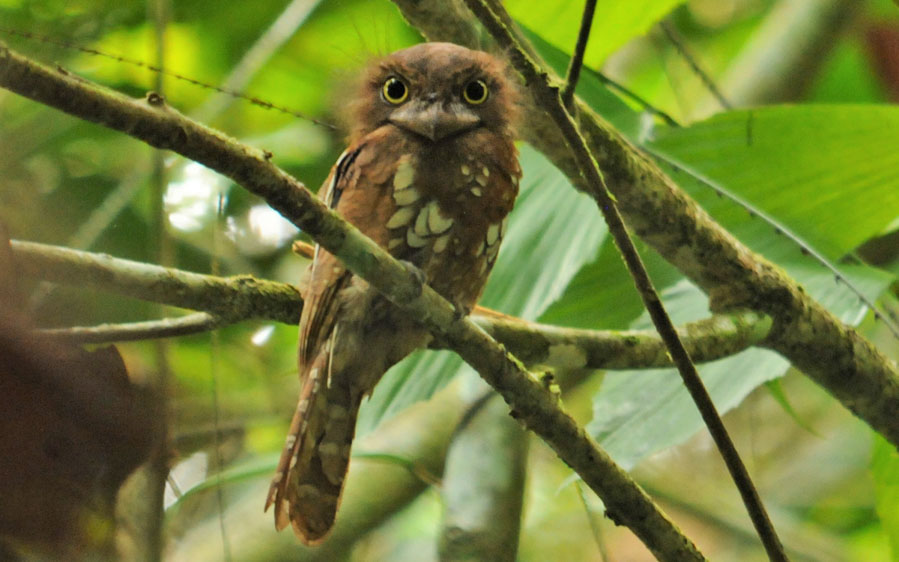 The rather cute endemic Bornean Frogmouth is another major target of the tour (photo Yeo Siew Teck).
Day 4. Paya Maga Highlands to Ba'kelalan
We will have a final morning birding in the Paya Maga Highlands area, where we will be on the continuous lookout for new species, some of which may include Rufous-tailed Shama, Bornean Spiderhunter, Bare-headed Laughingthrush, and Flavescent Bulbul of the distinctive endemic subspecies sometimes referred to as Pale-faced Bulbul, another potential split.
On reaching the point we were dropped off on day 2 we will board our four-wheel drive vehicles again for a few hours as we travel to the Ba'kelalan area, where we will check into our homestay late in the afternoon. This homestay will serve as our base for the next three nights as we work the area for its special birds.
After dinner we will search for the highly prized Dulit Frogmouth in a nearby patch of forest.
Overnight: Ba'kelalan homestay
Days 5 – 6. Ba'kelalan area
We will have two full days birding in the Ba'kelalan area, home to some of Borneo's classic, vibrant, and famous endemic birds. These include the likes of Whitehead's Spiderhunter, Whitehead's Broadbill, Hose's Broadbill, Fruithunter, Bornean Green Magpie, Mountain Serpent Eagle, Black-throated Wren-Babbler, Bornean Stubtail, Bornean Spiderhunter, Bornean Barbet, Mountain Barbet, Golden-naped Barbet, Bare-headed Laughingthrush, Chestnut-hooded Laughingthrush, and Bornean Whistler – an impressive set of birds likely to get the juices flowing!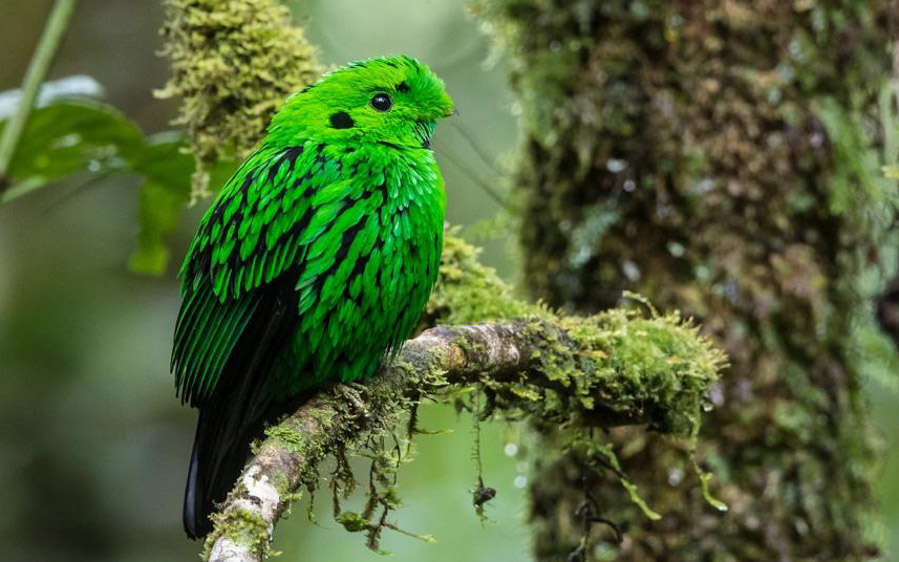 Whitehead's Broadbill, a stunning endemic target (photo Liew Weng Keong)
During our time in Ba'kelalan we also hope to encounter Long-tailed Broadbill, Rufous-tailed Jungle Flycatcher, Orange-breasted Trogon, and Dark Hawk Cuckoo in addition to the many species mentioned above. We will have plenty of time to look for all these exciting species and many more. Crimson-headed Partridge, Red-breasted Partridge, and Ferruginous Partridge all occur here but are often particularly secretive and therefore very tough to actually see. In addition to Dulit Frogmouth other night birds in the vicinity of the homestay may include Malaysian Eared Nightjar and Brown Hawk-Owl, so we will seek those out.
Overnight: Ba'kelalan homestay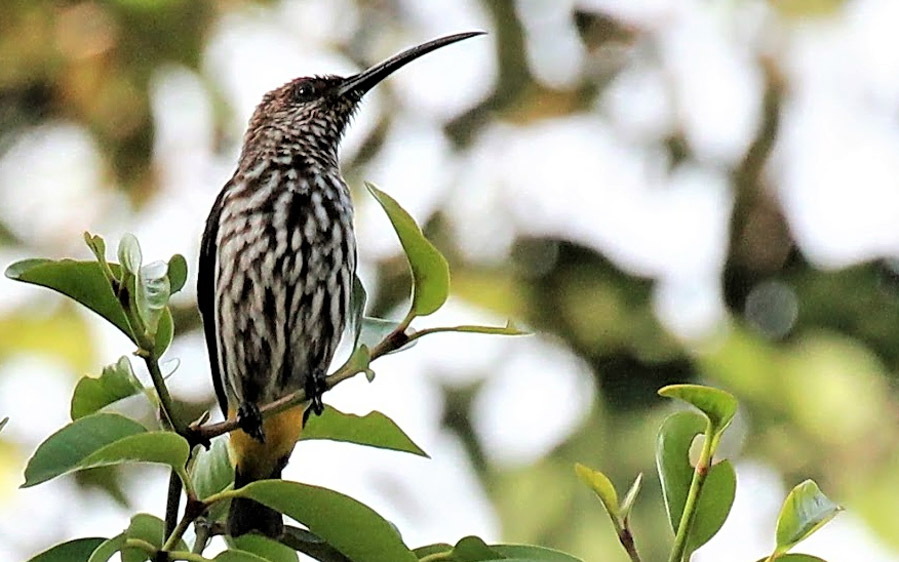 The endemic Whitehead's Spiderhunter is another highly sought species (photo Yeo Siew Teck).
Day 7. Ba'kelalan to Kota Kinabalu (via Lawas) 
We will have a final morning birding in the Ba'kelalan area, the exact timing of which will depend on the time of our flight between Ba'kelalan and Lawas. We may look around the village, where in the rice paddies and meadows we might find Greater Painted-snipe, Yellow Bittern, and Cinnamon Bittern, along with some other birds of the habitat.
After arrival in Lawas we will transfer back to Kota Kinabalu. The journey will take a few hours, and we aim to be back in the city in the late afternoon. If you plan on leaving Borneo on this day we recommend a late-evening flight; alternatively you could stay overnight (cost not included) and enjoy some hotel comforts after a week of exploring one of Asia's greatest birding destinations.
Directly following this tour we start our Birding Tour Malaysia: Peninsular Malaysia, where we can see a very different set of birds to those seen on this tour, such as Mountain Peacock-Pheasant, Malayan Peacock-Pheasant, Ferruginous Partridge, Malayan Laughingthrush, Malayan Banded Pitta, Garnet Pitta, Blue-winged Pitta, Hooded Pitta, Mangrove Pitta, Common Green Magpie, Mangrove Blue Flycatcher, and many more!
Overnight: Not included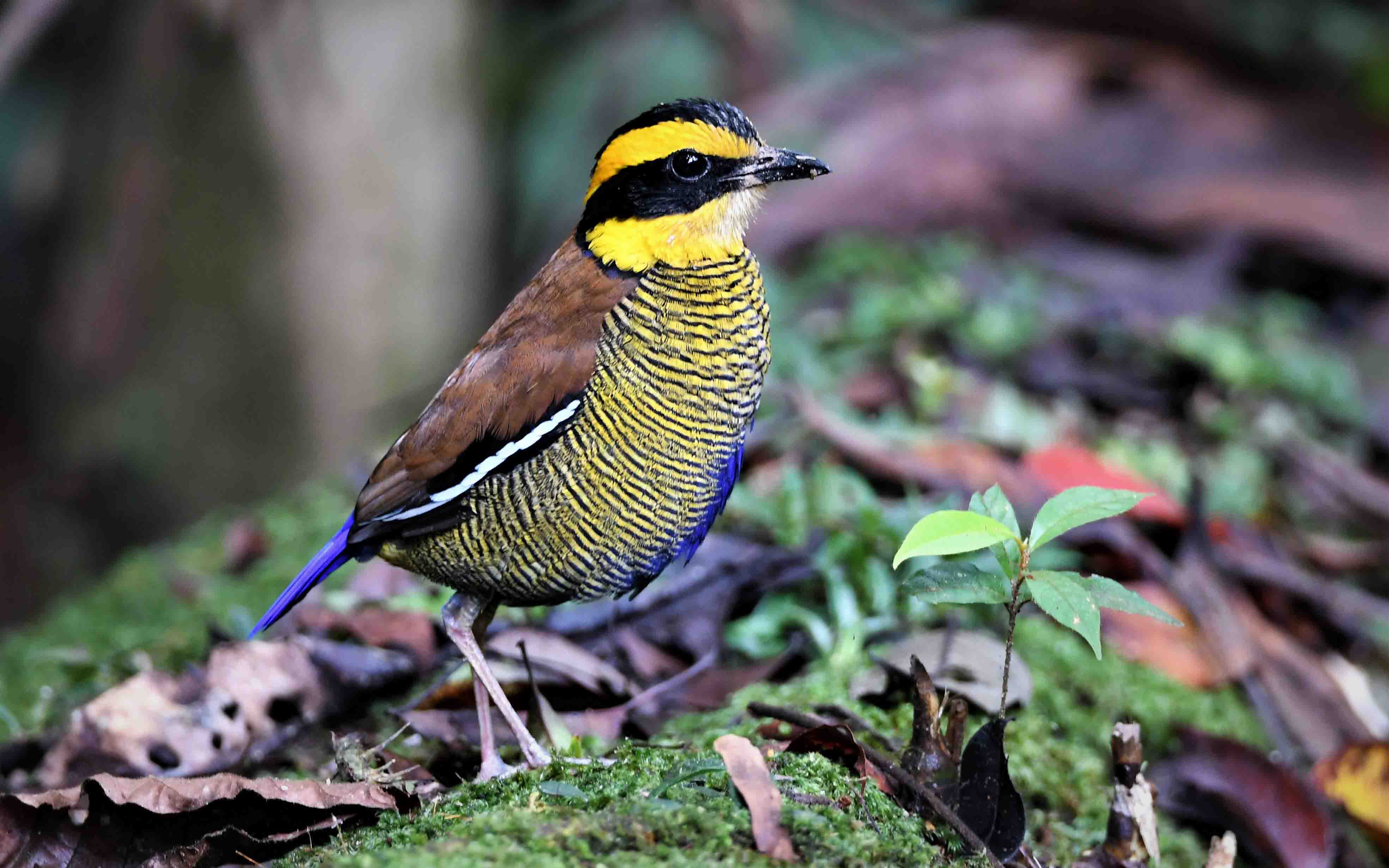 Bornean Banded Pitta is another endemic target on our Sarawak trip (photo Liew Weng Keong).
Please note that the itinerary cannot be guaranteed as it is only a rough guide and can be changed (usually slightly) due to factors such as availability of accommodation, updated information on the state of accommodation, roads, or birding sites, the discretion of the guides and other factors. In addition, we sometimes have to use a different international guide from the one advertised due to tour scheduling.
Download Itinerary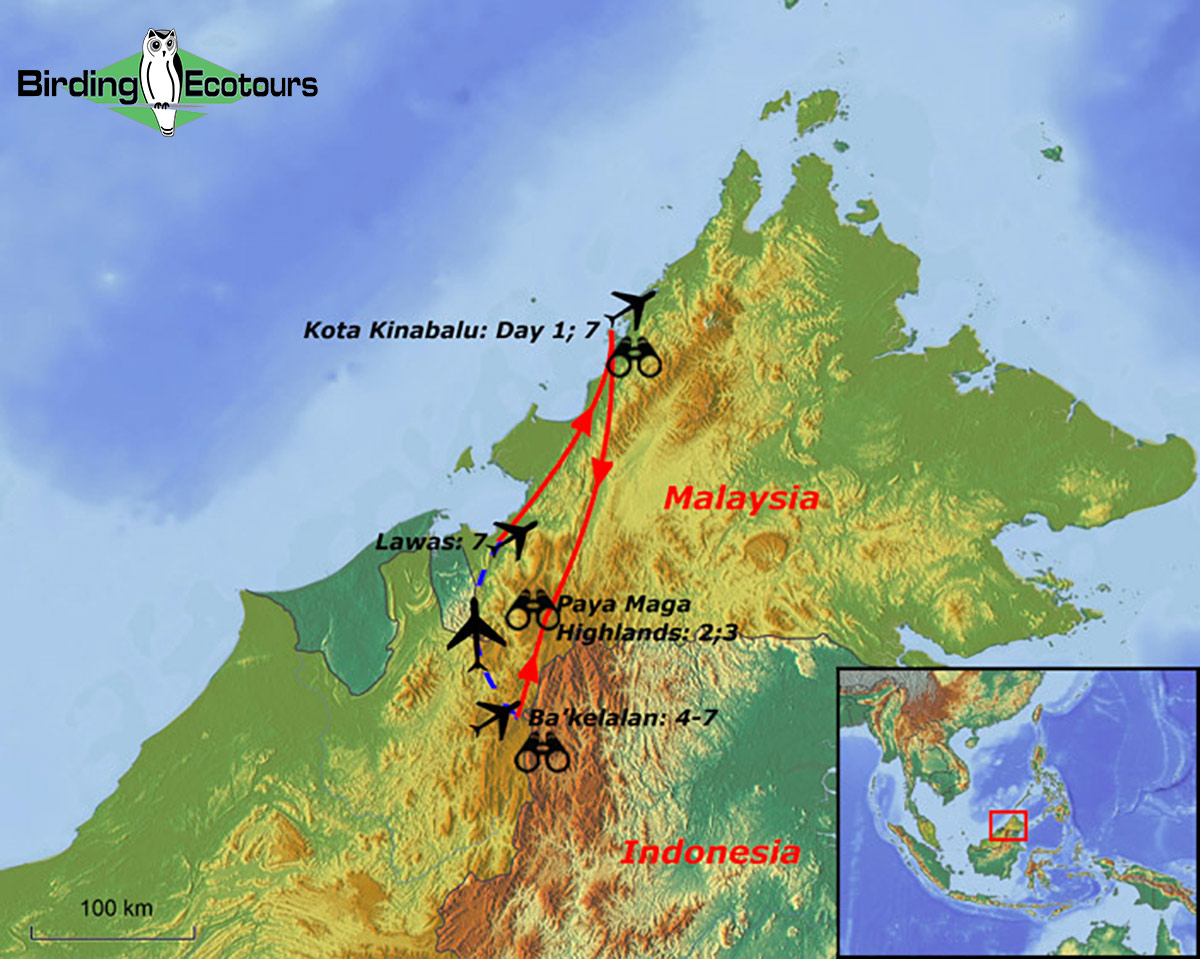 Malaysia, Borneo: Set Departure Trip Report
29 August – 14 September 2018
 With

Chris Lotz

and Lee Kok Chung
DOWNLOAD TRIP REPORT
Overview
This 12-day birding and wildlife tour of Sabah, Malaysian Borneo, was absolutely spectacular! Some of the many highlights were Bornean Bristlehead (what a dazzling, weird, and unique bird!), Bornean Ground Cuckoo, the Whitehead's trio (Broadbill, Trogon, and Spiderhunter), all four endemic pittas (although one of them sadly only seen by one person) plus Hooded Pitta, so many trogons, broadbills, barbets, woodpeckers, partridges, etc., etc. All eight Malaysian hornbills were seen. Wild Bornean Orangutans were seen several times, along with Proboscis Monkey, Philippine Slow Loris, and other primate species. And we saw a plethora of squirrel species (including Red Giant Flying Squirrels gliding from tree to tree, and the smallest squirrel on the planet – see later) and lots of other mammals and other wildlife. One of the world's largest flowers, Rafflesia keithii, was blooming. From the beaches to the 4,095 m (13,435 feet) Mount Kinabalu to the verdant rainforest of the magnificent Danum Valley, Borneo almost exceeded expectations as one of the richest and most spectacular wildlife destinations on the planet. What a place! And what an incredible 12 days!
It was wonderful sharing this trip with Kristin, Kjell, Lee and David.
Itinerary at a glance 
| | | |
| --- | --- | --- |
| Date | Location | Overnight |
| 29 August 2018 | Arrival and birding Kota Kinabalu | Kota Kinabalu |
| 30 August 2018 | Crocker Range, onward to Mount Kinabalu | Kundasang |
| 31 August 2018 | Mount Kinabalu National Park | Kundasang |
| 01 September 2018 | Mount Kinabalu National Park | Kundasang |
| 02 September 2018 | Poring Hot Springs, transfer to Sepilok | Sepilok Nature Resort |
| 03 September 2018 | Kabili-Sepilok Forest Reserve | Sepilok Nature Resort |
| 04 September 2018 | Gomantong Caves, Kinabatangan River | Sukau Rainforest Lodge |
| 05 September 2018 | Kinabatangan Wildlife Sanctuary | Sukau Rainforest Lodge |
| 06 September 2018 | Kinabatangan, transfer to Danum Valley | Borneo Rainforest Lodge |
| 07 September 2018 | Danum Valley | Borneo Rainforest Lodge |
| 08 September 2018 | Danum Valley | Borneo Rainforest Lodge |
| 09 September 2018 | Danum Valley, departure | |
Detailed Report
Day 1, 29 August. Arrival in Kota Kinabalu and nearby birding
Kristin and Kjell had arrived from Norway a couple of days ago, but our birding and wildlife tour officially started at 1 p.m. today with lunch, followed by a productive afternoon of birding. Wetland birding was rewarding, and we located Wandering Whistling Duck (lots), Nankeen Night Heron, Black-crowned Night Heron, various egrets, Watercock, White-breasted Waterhen, Black-backed Swamphen, White-breasted Woodswallow, Common Iora, Yellow-vented Bulbul, Pacific Swallow, Yellow-bellied Prinia, stacks of Asian Glossy Starlings, Scaly-breasted Munia, lots of Chestnut Munias, and many other birds. A massive Common Water Monitor swam sluggishly across a pond at one stage. We also saw Oriental Garden Lizard and Green Paddy Frog today.
We then spent the late afternoon at Tanjung Aru Beach, which was highly rewarding. Blue-naped Parrot and Long-tailed Parakeet co-operated well, and we also had our first but brief views of Blue-crowned Hanging Parrot. Pied Triller, Ashy Tailorbird, Collared Kingfisher, Green Imperial Pigeon, Pink-necked Green Pigeon, Germain's Swiftlet, Oriental Dollarbird, Sunda Pygmy Kingfisher, Brown-throated Sunbird, and Olive-backed Sunbird all put in appearances.
The last bird of the day was a Peregrine Falcon that flew by a couple of times just as we were about to sit down for dinner.
Day 2, 30 August. Birding the Crocker Range and onward to Mount Kinabalu
An early start with a packed breakfast got us to the Crocker Range in time for several hours of birding there. Our first stop rewarded us with some ridiculously close-up, confiding birds, including Sunda Bush Warbler, a couple of beautiful Little Pied Flycatchers, Indigo Flycatcher, White-throated Fantail, the gorgeous Chestnut-hooded Laughingthrush, and Blyth's Shrike-babbler. Mountain Blackeye and Black-capped White-eye were both quite numerous. I should mention that many of these birds were endemics; Bornean endemics are marked in bold in the bird list associated with this trip report.
We enjoyed our first Bornean Treepie and Bornean Leafbird. The spectacularly colored Temminck's Sunbird was much in evidence. Ashy Drongo, Grey-chinned Minivet, probable/assumed Bornean Swiftlet (to add to Plume-toed Swiftlet we saw later today), and various others were all added to our growing list. Our first of many pretty, little Yellow-breasted Warblers was good to see. Less brightly colored but equally numerous was Mountain Leaf Warbler (but I can add that the Mount Kinabalu subspecies of this one is even duller; we saw lots of those too a couple of days later).
We then went to a nearby site for Red-breasted Partridge and Crimson-headed Partridge and saw both of them (the first species allowed great photos and videos). While waiting for these ground bird, a close, little Snowy-browed Flycatcher kept us entertained.
At another site Mountain Barbet, Golden-naped Barbet, and very brief views of Bornean Barbet were obtained. Mountain Tailorbird, the strange-looking, crombec-like Bornean Stubtail, Bornean Bulbul, and Ochraceous Bulbul, as well as small flocks of Chestnut-crested Yuhina, also all showed up for us.
We eventually arrived at our hotel near the 13,435 feet (3,095 meter) Mount Kinabalu only to be rewarded with an immature Rufous-bellied Eagle with some avian prey as we were checking in! Pygmy White-eye co-operated really well and didn't take very long to find, as it sometimes can do.
Some late afternoon birding was worthwhile for various farmland species such as Long-tailed Shrike.
Mammal-wise we saw Lesser Gymnure today. 
Day 3, 31 August. Mount Kinabalu National Park
Fruithunter (a strange name as fruit, which doesn't move much, is not usually something that seems to need hunting) was actually one of the first birds we saw today! A nice pair of them showed so we could see the difference between the male and the female (both being beautifully-marked birds). A serendipitous meeting with my friend Duan Biggs was pretty lucky, as he had already staked out one of the "Whitehead Trio" of Bornean mountain endemics, the stunning Whitehead's Spiderhunter. The other two had to wait until the next day, although we really did enjoy seeing the absolutely tiny Tufted (Whitehead's) Pygmy Squirrel today (being a mammal, it doesn't make it into the trio!). We also enjoyed Borneo Black-banded Squirrel, Jentink's Squirrel, and Bornean Mountain Ground Squirrel during the course of the day.
Mountain Serpent Eagle gave us magnificent flight views. Little Cuckoo-Dove showed well but fairly briefly, not giving much time for photos. Our first Bornean Whistler put in appearances. A pair of Black-and-crimson Orioles (the female lacking any crimson) flew back and forth between some of the larger trees, and we got quite good scope views of the male. We followed a Velvet-fronted Nuthatch for a couple of minutes. A fruiting tree attracted some species we'd already seen, as well as Flavescent (Pale-faced) Bulbul. Small flocks of Grey-throated Babblers proved common, but Temminck's Babbler only showed itself the next morning. A quiet, stationary Eyebrowed Jungle Flycatcher would occasionally be spotted, and the beautiful Black-sided Flowerpecker was pretty common around the park headquarters. We also saw quite a number of Bornean Whistling Thrushes over the course of the day.
Day 4, 1 September. Second day at Kinabalu National Park
The morning started spectacularly well with a massive mixed flock right near the park headquarters, which we followed for over an hour as it gradually moved up the road and once crossing the road (much to our delight!). The best bird that seemed to be associated with this flock was Whitehead's Broadbill! And, just as the flock was petering out we found an amazing, photogenic pair of Whitehead's Trogons. Two superb-looking woodpecker species were part of this flock, the un-woodpecker-like Maroon Woodpecker with its nice yellow bill and a couple of Checker-throated Woodpeckers. The almost luminous-colored Bornean Green Magpies seemed to be loosely associated with the mixed flock, but a core part of this flock were all three species of Laughingthrush (Bare-headed, Sunda, and Chestnut-hooded) as well as, of course, Hair-crested Drongo (very noisy). Sunda Cuckooshrike sat in the canopy to watch others going by.
A pair of skulking Mountain Wren-Babblers eventually (after a lot of patience) rewarded us with several excellent views, but White-browed Shortwing only gave brief glimpses (although its pleasant song was some compensation). We also got fantastic views of a pair of Bornean Forktails.
After lunch followed by a rest we did a late-afternoon birding session, which proved amazing! We found another mixed flock containing another Whitehead's Broadbill, and we also saw another Whitehead's Trogon! A lively little pair of Pygmy Flycatchers chased each other around right next to the road, giving fantastic views. An immature Sunda Cuckoo also sat right next to the road. And just before dark we got close views of Everett's Thrush and brief views of a nearby Orange-headed Thrush as well.
Day 5, 2 September. Poring Hot Springs and transfer to Sepilok
We ate breakfast, packed and left Mount Kinabalu at 6 a.m. and arrived at Poring Hot Springs around 7 a.m. We were so pleased that one of the world's largest flowers, the parasitic Rafflesia keithii, was flowering there. Apart from seeing one of the world's largest flowers we also saw the world's smallest squirrel, Least Pygmy Squirrel, and the world's smallest bird of prey, White-fronted (Bornean) Falconet, at this site. Prevost's Squirrel (a larger, "normal"-sized, black squirrel) and Lesser Treeshrew were other mammals we encountered this morning. And, as far as reptiles went, we saw Common House Gecko, Common Flying Dragon, and Common Sun Skink.
Nectar-feeding birds abounded, and we saw Little Spiderhunter, Spectacled Spiderhunter, Orange-bellied Flowerpecker, Plain Flowerpecker, Plain Sunbird, and Crimson Sunbird. Dusky Munia was seen briefly (this endemic was also seen later in the trip). Black-and-yellow Broadbill sang a lot and put on a good show, providing prolonged scope views, although photographing the bird so high up in the tree was not easy – we had much better photo opportunities later in the trip. Other really attractive birds were Golden-whiskered Barbet, Black-bellied Malkoha, Yellow-bellied Warbler, White-crowned Shama, Rufous-tailed Tailorbird, and a Malaysian Hawk-Cuckoo spotted by Kristin. We saw six bulbul species today: Black-headed Bulbul, Spectacled Bulbul, Yellow-bellied Bulbul, Hairy-backed Bulbul, Charlotte's Bulbul, and the ubiquitous Yellow-vented Bulbul. Malaysian Pied Fantail flitted around like only a fantail can.
Lee and I went on a 45-minute walk just before lunch, while Kristin, Kjell and David stayed to photograph things like Crimson Sunbird. On this walk we found some good birds, such as White-bellied Erpornis, a flock of Chestnut-crested Yuhinas, the beautiful Black-naped Monarch, Fulvous-chested Jungle Flycatcher, and Yellow-rumped Flowerpecker.
We had lunch at Poring Hot Springs before embarking on a 3.5-hour drive to Sepilok, where we were about to spend two nights. Initial birding before rain set in for the rest of the afternoon gave us a taste of what this place was going to be like, generating species such as Grey-rumped Treeswift, Silver-rumped Spinetail, Black Hornbill, and Crimson-winged Woodpecker. A White-bellied Sea Eagle also gave us a nice show at one point.
Day 6, 3 September. Rainforest Discovery Centre
We started the day at 6 a.m. with a wild Bornean Orangutan eating tarap fruit (similar to jackfruit) in a tree right outside our accommodation! What a pleasant surprise! We also enjoyed several sunbird species, including the spectacular Crimson Sunbird, which tried to distract us from the great ape. We then headed for the Rainforest Discovery Centre, where we birded the amazing canopy walkway and the trails. We saw four Bornean Bristleheads flying together, followed by a single one a little while later when we were on the boardwalk. The beautiful Black-and-red Broadbill and Black-and-yellow Broadbill always wowed us every time we saw them.
We also had brief views of Bushy-crested Hornbill. Diard's Trogon was spotted, but we were unable to get visuals of the nearby Red-naped Trogon (luckily we saw this species very well later in the trip). At one point we enjoyed Plaintive Cuckoo and Blue-throated Bee-eater sharing the same perch.
This was a good day for raptors as we scoped Crested Goshawk (there were two of them, actually) and Wallace's Hawk-Eagle. Green Iora, a sadly racket-less Greater Racket-tailed Drongo, and a co-operative group of Black-capped Babblers were firsts for the trip. Common Hill Myna and Javan Myna were around. Three different spiderhunter species including a new one, Yellow-eared Spiderhunter fed right next to us, and we also saw lots of sunbirds (including a jewel-like Ruby-cheeked Sunbird) and many bulbuls, with all of today's species being rather drab in color, though. Ridiculously-close Maroon Woodpecker (two of them actually) and an equally close Rufous Piculet also showed well toward the end of an amazing day. Earlier on we also had had fantastic views of a Banded Woodpecker. We ended the day with a luminous-colored Hooded Pitta – what a marvelous, spectacularly looking skulker!
This was also a great day for spectacular kingfishers, some of which we saw at the accommodation as well as at the restaurant where we had breakfast and lunch. A couple of them darted by like tiny jewels (Blue-eared Kingfisher and Oriental Dwarf Kingfisher), but Stork-billed Kingfisher provided fantastic views and photo opportunities throughout lunch (we sat outside to eat and even saw it catch a fish in front of us).
Mammal-wise, apart from the Bornean Orangutan, we also saw Pig-tailed Macaque and Pale Giant Squirrel today.
Day 7, 4 September. Gomantong Caves, then onward to the Kinabatangan River
We started the day with a pre-breakfast walk near our lodge, finding yet more great birds. One of the highlights was really close views of Chestnut-necklaced Partridge. Kristin saw Chestnut-breasted Malkoha (all of us saw many of them during the course of the trip), and we also saw Raffles's Malkoha. We found our first Lesser Cuckooshrike, Black-winged Flycatcher-shrike, a pair of Long-billed Spiderhunters, and our first Black Magpie. A pair of Brahminy Kites flew over.
We then went to the spectacular Gomantong Cave complex, a truly fascinating place. Here four species of swiftlet breed, and the only way of surely identifying each species is by seeing their nests, which are distinctive, unlike the birds. The nests of the Edible-nest Swiftlets, which make white nests, get top dollar, and unfortunately the ones here had recently been harvested, so we were unable to find this species sitting on any nests. We can assume that there were Edible-nest Swiftlets flying around the cave, but we were only able to conclusively identify Mossy-nest Swiftlet, Black-nest Swiftlet, and Plume-toed Swiftlet from birds sitting on their respective nests. One of the highlights was seeing Bornean Orangutan seemingly guarding the entrance to the cave. Wrinkle-lipped Bat was also seen roosting inside the cave.
The boardwalk leading to the caves goes through excellent forest where we found some good birds such as Chestnut-winged Babbler, Sooty-capped Babbler, Rufous Piculet, Spotted Fantail and various others.
We had brief views of a Lesser Coucal as we drove towards Kinabatangan, then we checked in and had another delicious lunch.
In the afternoon, we did a boat trip along the Kinabatangan River and enjoyed seeing Jerdon's Baza, Green Imperial Pigeon and several spectacular hornbills, White-crowned Hornbill, Rhinoceros Hornbill, Oriental Pied Hornbill, Black Hornbill, Bushy-crested Hornbill and Wrinkled Hornbill. A couple of groups of Slender-billed Crow with their unmistakable silhouettes, sat atop huge dead trees and called loudly. The boat trip was also great for monkeys including the strange, charismatic Proboscis Monkey and Silvered Langur.
After dinner tonight, we were rewarded with amazing views of a Large Frogmouth – quite a spectacular bird!
Day 8, 5 September. Full day Kinabatangan River
We did a pre-breakfast as well as a post-breakfast boat trip. Both times we cruised some small tributaries as well as the main channel.
We got pretty close views of Bornean Ground Cuckoo (and heard three of them!), and saw a few each of Malaysian Blue Flycatcher, Bold-striped Tit-Babbler, White-chested Babbler, Rufous Woodpecker, and then also a close-up Ruddy Kingfisher. The world's largest woodpecker, Great Slaty Woodpecker, called in the distance, but we couldn't locate it to get visuals on it, sadly. A beautiful Violet Cuckoo showed really well at one point. Yellow-vented Flowerpecker also put in an appearance. We were lucky enough to see Storm's Stork (three of them in fact) circling above us just as we were finishing the pre-breakfast boat ride. Purple Heron was good to see – although it is a widespread bird, it's generally not seen particularly often. An Oriental Darter allowed really close-up views. Raptors were good, and we admired some of them rather closely, e.g., Lesser Fish Eagle and Wallace's Hawk-Eagle.
A huge Saltwater Crocodile scarily swam past us a few times when we were in a narrow channel. We also went up to a group of Proboscis Monkeys.
After lunch and a break during the heat of the day we went on another superb boat cruise in the afternoon. We found our seventh and penultimate hornbill, Wreathed Hornbill. A beautiful and characterful Chestnut-breasted Malkoha skulked around close to us, sometimes showing parts of itself well. The tiny Blue-crowned Hanging Parrot fed in the treetops. Pink-necked Green Pigeon and Little Green Pigeon were also present, but views were not great as they were far away and not in the best light (we got much better views of the former the next day). We added yet another fine bird of prey to our growing list, Grey-headed Fish Eagle, as well as another White-bellied Sea Eagle. Blue-throated Bee-eater added a fantastic splash of color, as did Black-and-red Broadbill.
All in all this was a bird-filled yet relaxing day, as we just had to sit in a boat the whole time to get views of all this spectacular wildlife.
 Day 9, 6 September. Kinabatangan Wildlife Sanctuary to the Danum Valley via Lahad Datu
We did another superb pre-breakfast boat trip and found a new bird in the form of Buff-rumped Woodpecker as well as some better views of previously-seen birds – for example, we found a tree full of Oriental Dollarbird (quite a sight really!) and another tree full of Pink-necked Green Pigeon.
After breakfast we embarked on a long drive, breaking for lunch. In the late afternoon we drove down into the magnificent Danum Valley. Common Emerald Dove sat on the road in front of us, and over the course of the next couple of days we stopped for a few of them to get views and photos of this beautiful dove. A pair of Greater Coucals also sat in the road, devouring a young Reticulated Python! Whiskered Treeswift perched in the massive trees as we descended into the valley.
A beautiful Maroon Langur greeted us on arrival at our luxury accommodation for the last three nights of the trip, and on a night drive we managed to find another charismatic primate, Philippine Slow Loris! We also saw Sambar deer on this night drive. 
Days 10-11, 7-8 September. Two full days in the incomparable Danum Valley
This is "pitta-land" for sure, and we managed to find four species endemic to Borneo, although sadly only one of us saw Blue-banded Pitta (it was vocal but tough to get views of). We did enjoy good views of the other species of these jewel-like skulkers of the forest floor, the dazzling Blue-headed Pitta, the luminous Black-crowned Pitta, and the extravagant Bornean Banded Pitta.
One morning we had scope views of Bornean Bristlehead in the canopy – what a spectacular (and bizarre) bird! We saw lots of hornbills, including our eighth and final Bornean species, the largest of all of them (over a meter or over three feet long), Helmeted Hornbill. This is also broadbill paradise, and we enjoyed two new ones, Dusky Broadbill (from the fantastic canopy tower) and Banded Broadbill. Trogons also co-operated well, and we saw Scarlet-rumped Trogon and Red-naped Trogon (which we had only heard previously). This is an area just so full of unbelievably colorful birds, and the other dazzling group that proved well-represented here was kingfishers, including Rufous-collared Kingfisher. There were good numbers of Chestnut-breasted Malkoha around along with a Raffles's Malkoha. Red-bearded Bee-eaters made their strange, loud call, and we enjoyed seeing this species well. A couple of largely green species, Red-throated Barbet, Lesser Green Leafbird, and Blue-crowned Hanging Parrot were around. Neat little Black-winged Flycatcher-shrikes were seen pretty regularly. Every now and again we would also see Dark-throated Oriole.
Certainly there were also some more "subtly beautiful" birds, such as an array of bulbuls and babblers. Striped Wren-Babbler, Bornean Wren-Babbler (Bornean Ground-babbler) and Black-throated Wren-Babbler were highlights, as was the funny-named Fluffy-backed Tit-Babbler. Sooty-capped Babbler, Rufous-crowned Babbler, Scaly-crowned Babbler, and Rufous-fronted Babbler were all also present.  Streaked Bulbul was added to our burgeoning bulbul list. Brown Fulvetta was common. Dusky Munia was seen a couple of times.
Each morning we'd watch Bornean Falconet catch moths, and other raptors also abounded. A Black Eagle would sometimes fly by majestically, along with fish eagles we'd seen earlier in the trip. Crested Honey Buzzard flew over the road at one point.
The lodge grounds themselves (as usual) proved great for birding. The resident family of Crested Firebacks was sometimes seen crossing the road or roosting at dusk (the two babies were able to fly up into the trees to join their parents, even at a very young age). White-crowned Forktail was seen on a trail not far from the lodge. Maroon-breasted Philentoma, Rufous-winged Philentoma, and Grey-headed Canary-flycatcher were also around. Bornean Spiderhunter and some other spiderhunter species we'd previously seen during the trip were in the flowers near the restaurant.
Brown Wood Owl visited the reception area one night and allowed perfect views, and we enjoyed fantastic views of Buffy Fish Owl another evening.
Bornean Orangutan was seen a couple of times in this area – once from the canopy walkway. 
Day 12, 9 September. Final morning of birding in the Danum Valley and flight home
What a morning this proved to be! We walked up a trail to try and find Blue-banded Pitta (only one person saw it, even though two pittas gradually approached us quite closely – judging from their calls – but remained hidden). The consolation prize was great views of an even-less-often-seen bird, the beautiful Chestnut-capped Thrush. Crested Jay (Shrikejay) also entertained us at the pitta site. Purple-naped Sunbird put in a brief appearance, but Chestnut-backed Scimitar Babbler sadly remained invisible even though it vocalized a lot not far from us.
We found several other truly star birds this morning, including two Bornean Blue Flycatchers and a male Banded Kingfisher. We also encountered a beautiful male Diard's Trogon on the way up the hill to the pitta site.  Bar-bellied Cuckooshrike also showed well at one point. We also had great views of another Black-throated Wren-Babbler when we walked up the trail, and Short-tailed Babbler was new for our list. The extremely noisy Bornean Gibbon was also sighted a couple of times.
After a great morning we had a last delicious lunch at our upmarket accommodation before our 2.5-hour road journey to the airport in Lahad Datu (where we saw Paddyfield Pipit). From here we caught our flights back to Kota Kinabalu and onward home.
Please see the downloadable PDF above with the full species lists included. This is a sample trip report. Please email us ([email protected]) for more trip reports from this destination.
MALAYSIA: BORNEO – SARAWAK RESTRICTED RANGE ENDEMICS
 TOUR-SPECIFIC INFORMATION
GENERAL INFORMATION ABOUT MALAYSIA (INCLUDING BORNEO) CAN BE READ HERE
TOUR OUTLINE
Sarawak is not to be missed, it offers the best chance in the world of finding Dulit Frogmouth, Bornean Frogmouth, and Black Oriole, as well as great birds like Blue-banded Pitta, Bornean Banded Pitta, Hose's Broadbill, Bulwer's Pheasant, and Rail-babbler. This tour starts and ends in Kota Kinabalu (in neighboring Sabah) and visits Klias wetland, the Paya Maga highlands, and Ba'kelalan. This tour runs with a nice small group with a minimum of four and a maximum of just six, giving everyone a much better birding experience than you would get on a large group tour.
DAILY ACTIVITIES, PHYSICAL REQUIREMENTS, AND TOUR PACE
This is a more remote tour than our other Bornean (Sabah) birding tour, with high avian rewards. It requires reasonable physical fitness and a sense of adventure. We will be staying in basic accommodation (homestays and camping) mainly with shared facilities, will have long hikes of three to five hours on muddy and possibly slippery trails most days, and will travel about in 4×4 vehicles on rough roads (there will be long drives in 4×4 vehicles to get between birding locations). Expect some night birding too, probably with early starts and late finishes, so all in all, we will be having long days in the field with little rest time. We are likely to experience a range of temperatures as we cover different elevations on the tour from lowlands to highlands.
TRANSPORTATION
We will be using 4×4 vehicles to get around on this tour. Roads are generally rough and not very good, with the going being quite slow at times, resulting in long travel times.
We will take a domestic flight back to Kota Kinabalu at the end of the tour.
DOMESTIC FLIGHTS
A domestic flight between Ba'kelalan and Lawas is included in the tour cost, but note that at the time of writing (February 2022) that flight may not be currently operating – due to Covid. So, if the flight is not operational, we may have to reorder the route of the tour and use 4×4 vehicles a little more to get around the wider region.
The domestic flight is likely to have a hold luggage weight limit of 44 pounds (20 kilograms) and a hand luggage allowance of 15 pounds (7 kilograms). Any overweight baggage will likely incur costs and will be the responsibility of the individual. Excess baggage costs will most likely need to be paid in cash to the airline at the airport.
LUGGAGE
Please pack as lightly as possible for this tour (noting the expected weight allowance of the domestic flight). A medium, soft-sided, and robust duffle bag is likely to work best for packing in the tour vehicles. A small daypack will be required for when we go out hiking during the day, to keep a personal supply of food and water for the day as well as other essential items such as rain gear, insect repellant, etc.
SAFETY
Your safety is our paramount concern on this, and all of our tours, so we are trying to provide you with as much information as possible within this tour-specific information and the Malaysia general information. Our tour takes us to a remote part of Sarawak.
The most likely issues on this tour are trips and falls when on trails, tracks/roads, and getting into or out of the 4×4 vehicles and so extra care should be taken at all times. Sturdy walking shoes, hiking boots or even rubber boots (wellington boots) are recommended for this tour. A hiking pole or walking stick is compulsory if you are at all unsure on your feet.
There is a low risk of malaria on Sarawak, but please consult your doctor or local travel clinic for specific advice. We will be spending time birding in areas where mosquitos occur. Insect repellent with a high DEET concentration can be useful for keeping them away and reducing the chance of mosquito bites. DEET or citronella insect spray can also keep chiggers and leeches away. Chiggers can lead to Scrub (Bush) Typhus and can be incredibly irritating. Leeches do not spread diseases, but they are rather unnerving and can cause blood loss and are particularly evident in Borneo. "Leech socks" are a useful piece of kit.
WEATHER/CLIMATE   
In the mountains it is cooler than the lowlands and we can expect average daytime temperature highs of around 84 °F (29 °C) and average nighttime lows of 63 °F (17 °C) but the temperature may drop to below 59 °F (15 °C) occasionally. Note we will be in basic accommodation so you might feel the cold a bit more than if you were in a typical western-style building.
While in the lowlands we can expect average daytime highs of around 88 °F (31 °C) and average nighttime lows of 72 °F (22 °C). There is often thick cloud cover here, resulting in hot and humid, rather oppressive conditions.
Be aware that the sun is strong here and care should be taken to remain hydrated and use sun protection. Rain is possible at any time at any location so rain gear and an umbrella will be essential. A dry bag is also recommended for protecting optics, electrical equipment/cameras, and important documents. For more information on packing lists, see the "What to Bring: Clothing and Other Items" section below.
ACCOMMODATION
The accommodation on this tour is of a very basic standard and we will stay in homestays and camp in tents (within buildings) and these will have shared very basic bathroom facilities and toilets. The water pressure will be low for showering with limited hot water – most likely hot water at the homestay will be on request with hot water mixed into a pail of cold water for showering. You will need to bring a travel towel. There should be fans available at the homestay.
ELECTRICITY
Power cuts are frequent and some of the places we stay run on diesel generators. It would be advisable to bring a power bank for charging small personal items like smart phones etc.
COMMUNICATIONS
There is limited phone signal where we will be birding in Sarawak and there will not be any Wi-Fi along the tour route. You can purchase a local travel SIM card on arrival at the airport (Maxis SIM is probably the best for this tour). Alternatively, you can use your own provider on a roaming package, but please be aware there will likely be charges for this.
FOOD AND MEALS
Food is basic and of local Malaysian style. Vegetarian food can be arranged but please let us know of any dietary requirements ahead of the tour. Due to the lack of refrigeration, dairy products are not common. We suggest you bring your favorite snacks or protein bars to supplement your diet.
MONEY
We will only have access to ATMs in Kota Kinabalu on this tour. You shouldn't require too much spare cash on this tour, but it is usually best to withdraw some cash when at the airport.
WHAT TO BRING: CLOTHING AND OTHER ITEMS
The following is a list of useful items to bring on this Sarawak birdwatching tour and should be read in conjunction with the Malaysia general information document, which suggests lots of other important items to bring on the tour.
Hiking pole or walking stick to help on the tracks and trails. A walking stick is compulsory for anyone who is unsteady walking, as we feel this is a safety issue; we don't want anyone slipping on the forest trails or anywhere else.
Torch (flashlight) and/or headlamp, and spare batteries – we will have some nighttime bird/wildlife watching during the tour so a torch and/or headlamp will be required for that. Additionally, we will likely be setting off into the forest for our morning birding sessions when it is still dark, so this is essential kit. A torch is also useful for when walking around our accommodation at night which may have no power/lights overnight.
A travel towel (suitable size to be used after showering).
A day pack for carrying your personal supply of food and water when out on the trails and for other essential gear when out birding, such as umbrella, waterproofs etc.
High concentration DEET or citronella insect repellant.
Salt sachets can be effective for removing leeches if you get one on you.
Leech socks – essential kit on this tour.
A small personal first aid kit. See the suggested items from the Centers for Disease Control and Prevention (CDC), here. We will not have access to pharmacies on this tour due to the remote location of where we will be going.
Footwear is a matter of personal preference but sturdy shoes as a minimum are required, and hiking boots or rubber boots (wellington boots) are probably best, with something a bit more comfortable maybe for time spent in vehicles.
Quick-drying clothes are the best for this tour and a good selection of clothing layers are also recommended for time at the higher elevations (and overnights in basic accommodation) where temperatures will be lower than in the lowlands (see the "Weather/Climate" section for further information on likely temperatures during the tour).
Rain jacket (and a small umbrella) and a coat/fleece for the time in the mountains.
A dry bag to keep valuable documents in such as passports, cell phones, wallets etc., as well as cameras if it rains.
Power bank – useful for charging items.

Download Borneo – Sarawak Tour-specific Information