Birding Tour Costa Rica: Costa Rica Premium Tour
Go to: Costa Rica Birding Tours | Birding Tours in the Neotropics | Tours by destination - List
Dates and Costs:
28 March – 14 April 2021
Price: US$7,638 / £5,803 / €6,723 per person sharing
Single Supplement: US$1,200 / £911 / €1,056
* Please note that currency conversion is calculated in real-time, therefore is subject to slight change. Please refer back to the base price when making final payments.
28 March – 14 April 2022
Spaces available: 7
Price: US$7,638 / £5,803 / €6,723 per person sharing
Single Supplement: US$1,200 / £911 / €1,056
---
Tour Details
Duration: 18 days
Group Size: 4 – 9
Tour Start: San José, Costa Rica
Tour End: San José, Costa Rica
---
Price includes:
Meals
Accommodation
Guiding fees
Entrance fees
All transport while on tour
Tolls
Price excludes:
Flights to/from San José International Airport
Meals and drinking water before/after tour as described above
Items of a personal nature, e.g. gifts, laundry, internet access, phone calls, etc.
Soft/alcoholic drinks
Camera permits
Personal insurance
Gratuities (please see our tipping guidelines blog)
---
Featured Guide: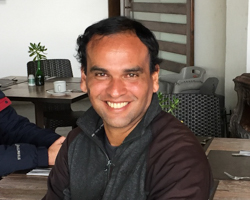 Eduardo Ormaeche
View Larger
Crowned Woodnymph
View Larger
White-necked Jacobin
View Larger
White-whiskered Puffbird
View Larger
Rufous-tailed Jacamar
View Larger
Great Curassow
View Larger
Speckled Tanager
View Larger
Three-wattled Bellbird
Kevin Easley
View Larger
Volcano Hummingbird
View Larger
Emerald Tanager
View Larger
Grey-necked Wood Rail
View Larger
Resplendent Quetzal
Costa Rica Premium Tour
March 2021/2022
As one of the most prosperous countries in Central America, Costa Rica, with its good infrastructure, stable democratic government, high literacy rate, and extensive network of parks and preserves, has long been an important ecotourism destination for travelers from all over the world. This verdant paradise has also long been a classic, premier destination for birdwatchers, and with good reason. The literal translation of Costa Rica means 'rich coast', and it is truly rich in birds, with over 900 species recorded in a country only the size of West Virginia. Ideally positioned at the meeting point where the avifauna of Central and South America intermingle, this small country hosts the highest avian diversity in an area of its size anywhere on Earth. However, Costa Rica hosts more than just an astonishingly rich diversity of birds. Along with neighboring Panama, this small country is one of the great centers of avian endemism in the world, with over 70 regional endemics that occur nowhere else!
This carefully designed itinerary targets these regional endemics as well as numerous must-see, charismatic species, such as Resplendent Quetzal, Jabiru, Agami Heron, Sungrebe, King Vulture, Great Curassow, Scarlet Macaw, Great Green Macaw, Green-and-rufous Kingfisher, Zeledon's, Bare-crowned, and Spotted Antbirds, Sharpbill, Lovely, Snowy, Turquoise, and Yellow-billed Cotingas, Silvery-fronted Tapaculo, Wrenthrush, Snowcap, Coppery-headed Emerald, Mangrove Hummingbird, and Black-cheeked Ant Tanager, among many more exciting antbirds, tanagers, woodpecker, trogons, and hummingbirds.
Jabiru is one of the highlights of this tour.
Itinerary (18 days/17 nights)
Day 1. Arrival in San José
You will arrive at Juan Santamaría International Airport in San José and be transferred to your nearby hotel with optional birding around the hotel grounds, depending on arrival time. Here we might find Ferruginous Pygmy Owl, Laughing Falcon, or Pearl Kite. We will come together at 7 p.m. to meet each other and have dinner together.
Overnight: Hotel Robledal, San José
Day 2. San José to the Rio Tárcoles area
We will leave San José after breakfast for the Pacific lowlands. The Rio Tárcoles area marks the transition point between the humid rainforests of southwestern Costa Rica and the seasonally dry forests of the northwest of the country. Consequently the avifauna here is particularly diverse, as birds from the wetter south and drier north mingle in a relatively small area. After checking into our hotel and having lunch we will concentrate our efforts on the mangroves along the Rio Tárcoles via boat, where we will seek out species from the diminutive American Pygmy Kingfisher to the country-endemic Mangrove Hummingbird.
Overnight: Hotel Villa Lapas, Tárcoles
The huge and brightly colored Scarlet Macaw
Day 3. Full day at Carara National Park
We will have a full day birding Carara National Park, home to a wide assortment of special birds, such as Scarlet Macaw, Northern Royal Flycatcher, and White-whiskered Puffbird, as well as regional endemics like Orange-collared Manakin and Baird's Trogon. There are plenty of great birds in and around the park, and we're bound to have a large list of species at the end of the day.
Overnight: Hotel Villa Lapas, Tárcoles
Day 4. Tárcoles area, travel to Esquinas Rainforest Lodge
After another morning in the Tárcoles area for some additional birding we continue our journey to Esquinas Rainforest Lodge in the southwestern corner of Costa Rica. A few stops along the way are likely to provide a few new birds.
Overnight: Esquinas Rainforest Lodge, Golfito
Day 5. Full day at Esquinas Rainforest Lodge
Nestled within the rainforest fringing the nearby Golfo Dulce, Esquinas Rainforest Lodge offers a variety of lowland regional endemics Costa Rica shares only with westernmost Panama, known as Chiriqui endemics. By birding the grounds of the lodge in the early morning we should connect with many of these species: Riverside Wren, Golden-naped Woodpecker, Charming Hummingbird, Fiery-billed Aracari, Black-cheeked Ant Tanager (a Costa Rica endemic), and more. Uniform Crake, a widespread but normally very difficult forest rail, is also possible.
In the afternoon we visit sites away from the lodge for several more targets that follow this general theme, like Veraguan Mango, a bird with a tiny global distribution, and Sapphire-throated Hummingbird, which barely reaches into Costa Rica from Panama.
Overnight: Esquinas Rainforest Lodge, Golfito
Day 6. Birding Rincón Bridge
An early morning vigil from the well-known Rincón Bridge for canopy species may yield two highly desirable regional endemics, the immaculate Yellow-billed Cotinga and the vibrant Turquoise Cotinga. We will also check some grassland areas nearby, where we search for Ocellated Crake, a species which will take effort and patience to see, while the forests higher up the mountain slopes harbor two sought-after regional endemics, Costa Rican Brushfinch and Spot-crowned Euphonia.
Overnight: Esquinas Rainforest Lodge, Golfito
Day 7. Transfer to Savegre Mountain Lodge via Tolomuco
We'll leave the Esquinas area in the morning and drive north toward the Savegre Mountain Lodge in the Cerro de la Muerte, stopping at sites en route for a trio of difficult, range-restricted hummingbirds, White-tailed Emerald, Snowy-bellied Hummingbird, and White-crested Coquette. As we pass through a couple of sites above the treeline we will make a few stops in the páramo zone, where we hope to connect with several highland specialists, such as Peg-billed Finch, Volcano Junco, Timberline Wren, and Fiery-throated Hummingbird.
Overnight: Savegre Mountain Lodge, San Gerardo de Dota
Day 8. Full day in the Savegre Valley
Situated in misty, cool montane oak forest at about 7000 feet (2133 meters) in elevation, the Savegre Valley contains some of Costa Rica's most sought-after birds, including many Chiriqui endemics. We'll look for a long list of mouth-watering specialties, which we hope to connect with during our time here. Costa Rican Pygmy Owl, Dusky Nightjar, Sulphur-winged Parakeet, Ochraceous Pewee, Silvery-throated Jay, Flame-throated Warbler, Wrenthrush, Silvery-fronted Tapaculo, Long-tailed Silky-flycatcher, and Scintillant Hummingbird are just some of the potential targets. The birding usually begins in earnest right around the gardens of the lodge, where one often sees the magnificent Resplendent Quetzal, a contender for the best-looking bird in the world.
Overnight: Savegre Mountain Lodge, San Gerardo de Dota
Tapantí National Park has some great birds, such as Black Guan.
Day 9. The Savegre area and transfer to Tapantí National Park
After a final morning in the Savegre Valley we will travel to the mid-elevation of the Tapantí area. Tapantí National Park offers an interesting suite of birds such as Black Guan and Prong-billed Barbet, as well as several specialties like the unusual Green-fronted Lancebill, the glistening Golden-browed Chlorophonia, and the secretive Sooty-faced Finch.
Overnight: Hotel Tapantí Media Lodge, Orosi
Day 10. Rio Macho and Irazú Volcano
We will leave the Tapantí area for the stunning Irazú Volcano via the Rio Macho Forest Reserve, where we'll stop for some birding. The volcano is home to two very rare and highly sought species, Unspotted Saw-whet Owl and Buffy-crowned Wood Partridge, as well as a range of other highland species. After our time birding here we'll drop down into the Caribbean lowlands into the La Selva area.
Overnight: La Quinta Sarapiquí Lodge, La Virgen
The attractive Great Curassow can be seen at La Selva Biological Station.
Day 11. Full day La Selva Biological Station
The famous La Selva Biological Station vies only with Carara National Park as the single most diverse birding site in Costa Rica in terms of overall species count. We will spend the full day birding along the amazing trail network, which is home to literally hundreds of bird species, including key specialties such as Snowy Cotinga, Semiplumbeous Hawk, Great Curassow, Great Tinamou, Blue-chested Hummingbird, and Great Green Macaw.
Overnight: La Quinta Sarapiquí Lodge, La Virgen
Day 12. Braulio Carillo National Park and area
Braulio Carillo National Park, established in the 1980s in part to protect Caribbean foothill forest, hosts a wide variety of species for us to target. Although there are few trails in this massive park, the Quebrada-Gonzalez trail is a decidedly rich and productive one. Fast-moving feeding flocks, usually led by Black-faced Grosbeak, can contain a host of desirable regional endemics, such as Streak-crowned Antvireo, Black-and-yellow Tanager, and Blue-and-gold Tanager. We will also keep a sharp eye out for Lattice-tailed Trogon, White-ruffed Manakin, and Ornate Hawk-Eagle away from such flocks. Down the road the abandoned El Tapir butterfly/garden/ecotourism venture offers opportunities to see two dainty, near-endemic hummingbirds, Black-crested Coquette and Snowcap.
Overnight: La Quinta Sarapiquí Lodge, La Virgen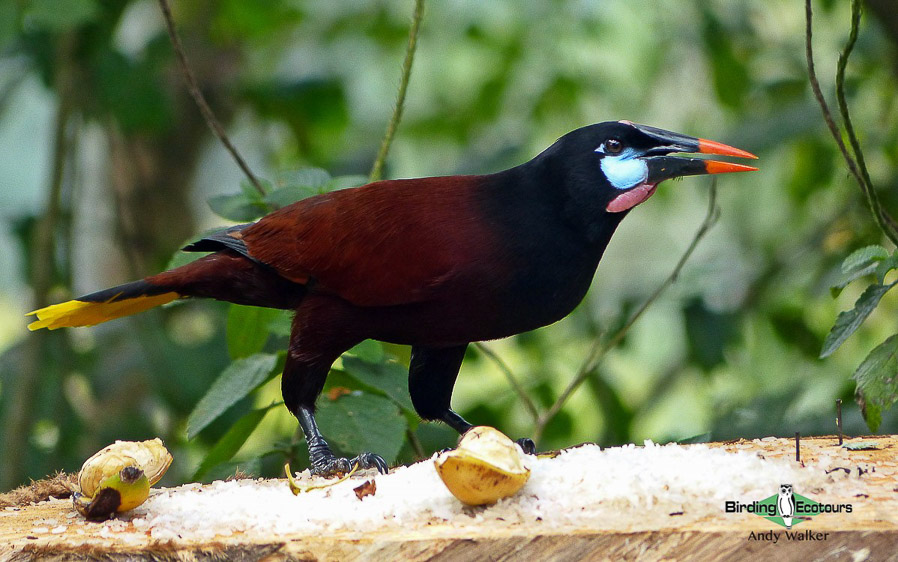 We'll look for Montezuma Oropendola at La Paz Waterfall Gardens.
Day 13. La Virgen to Arenal via La Paz Waterfall Gardens
We will gradually make our way between the La Selva lowlands and the stunning Arenal volcano. As we leave the La Selva area we will drop into the deep, forested gorge known as Colonia Virgen del Socorro. Here we hope to encounter several specialties, such as the near-endemic Sooty-faced Finch and the mouse-like Northern Nightingale-Wren. Our lunch stop will be at La Paz Waterfall Gardens, which hosts a series of busy hummingbird feeders, where we'll watch out for the endemic Coppery-headed Emerald and the near-endemic Black-bellied Hummingbird, while fruit feeders can attract charismatic and colorful species such as Prong-billed Barbet, Blue-throated Toucanet, Montezuma Oropendola, and a host of tanagers. In addition this area can be very productive for raptors like White and Barred Hawks, which soar high on rising thermals as the day heats up. During the afternoon we'll complete our journey to the luxurious Arenal Observatory Lodge.
Overnight: Arenal Observatory Lodge & Spa, La Fortuna
Day 14. Full day in the Arenal area
We will dedicate this morning to search for the extraordinarily skulky Thicket Antpitta, which is more easily seen here than anywhere else in Costa Rica (or Central America). The excellent primary forest can also be productive for a host of other typically difficult species, and we will keep an ear out for Song Wren, Spotted Antbird, and others in the undergrowth. Within the canopy of fruiting trees we could find a smorgasbord of colorful tanagers, including the rare Rufous-winged Tanager. If we are lucky, we may even see a Lovely Cotinga in these same trees.
Overnight: Arenal Observatory Lodge & Spa, La Fortuna
Day 15. Arenal to Caño Negro
After another morning birding around the Arenal area (the feeders here can sometimes hold some great birds such as Emerald Tanager, Great Curassow, and Montezuma Oropendola) we will continue north to the Caño Negro region with a stop at the Medio Queso wetlands along the way to look for the normally secretive Pinnated Bittern. Caño Negro itself, a watery lowland of lush sloughs, marshes, and wooded countryside, features an abundance of herons, storks, raptors, and kingfishers. Targets during an evening birding session include Striped Owl and Great Potoo.
Overnight: Natural Lodge Caño Negro
Day 16. Caño Negro to Hacienda Solimar
This morning includes a boat ride in order to better seek out the special inhabitants of the Río Frío and Lago Caño Negro. Nicaraguan Grackle, a species that Costa Rica shares only with southernmost Nicaragua, inhabits the reedy vegetation, while bare snags over the water can host any of five different species of kingfishers, including American Pygmy Kingfisher. Quiet coves may also host the bizarre yet striking Sungrebe. Other targets include the fish-eating Black-collared Hawk, the localized Spot-breasted Wren, and the demure Grey-headed Dove.
In the afternoon we continue our journey toward Hacienda Solimar through the dry forests and wetlands of the Guanacaste region near the coast. The seasonal wetlands of this area host an impressive diversity and number of waterbirds, including the gigantic Jabiru. Near the bird-rich grounds of our lodge, Hacienda Solimar, we hope to connect with both Pacific Screech Owl and Spectacled Owl in the evening.
Overnight: Hacienda Solimar
Day 17. Hacienda Solimar to San José
The decidedly Central American avifauna of the seasonally dry forest of Guanacaste in northwestern Costa Rica shares strong affinities with that found north along the coast all the way to southern Mexico. During the morning we will dedicate considerable effort to observing many of these specialties, from the elusive Thicket Tinamou and Lesser Ground Cuckoo to the brash White-throated Magpie-Jay and Streak-backed Oriole.
After lunch we will continue with the journey back to San José, where the tour concludes and we will enjoy our final evening meal.
Overnight: Hotel Robledal, San José
Day 18. Departure from San José
Departure from San José on your international flights home.
Please note that the itinerary cannot be guaranteed as it is only a rough guide and can be changed (usually slightly) due to factors such as availability of accommodation, updated information on the state of accommodation, roads, or birding sites, the discretion of the guides and other factors.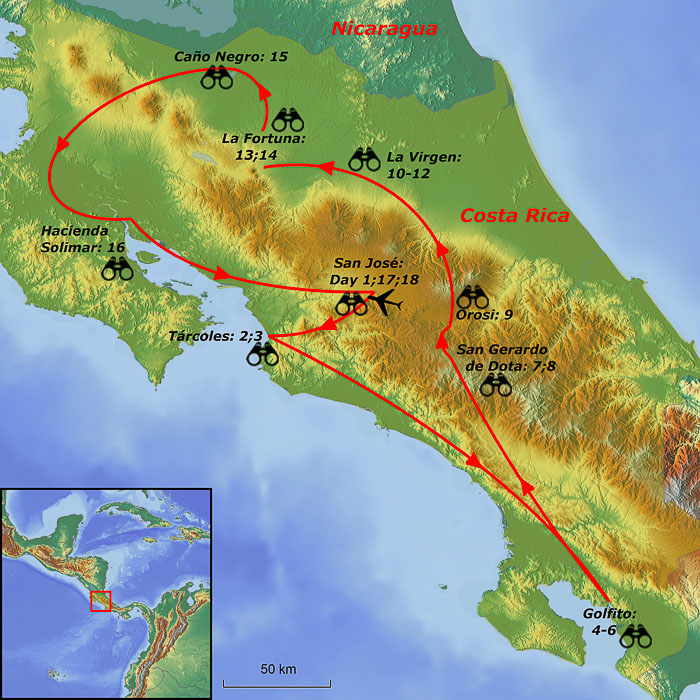 Health Issues: There are no vaccination requirements to enter Costa Rica, although some are recommended. Please kindly refer to https://wwwnc.cdc.gov/travel/destinations/traveler/none/costa-rica for detailed information.
While the two areas where Malaria has occurred in the past are near Los Chiles in the Central North on the border of Nicaragua and also an area in the Central Caribbean just inland from Limon, neither of which we visit on our standard itineraries, we advise treating malaria as a very serious disease.
Dengue Fever is also spread by mosquitoes and sometimes occurs after floods in certain areas.
Hepatitis A and B are listed on most websites, although seemingly rare in Costa Rica.
A tetanus booster may be the most worthwhile vaccination you can get.
Having said that, you should know that Costa Rica has one of the highest standards of health care and hygiene in Latin America, and the vast majority of people visiting Costa Rica do not experience any problems at all. But we of course strongly recommend you take note of the advice given by the CDC (above link), a travel clinic, or your family doctor.
Chiggers: These are small mites that burrow into your skin and cause redness and itching (sometimes extremely bad itching that can last for days on end!). They are frequently encountered in the southern USA, although residents of the UK and other countries may not be familiar with them. They are relatively harmless but can be a real nuisance and are abundant in the cattle pastures of Costa Rica, especially in the lowlands. Spraying your trousers, socks, shoes, and waste line with a repellent containing Deet (N, N-Diethyl-meta-toluamide) is a good deterrent. Anti-itch cream is about all you can do for them once the redness and itching begin, although a swim in saltwater may also calm these effects.
Safety and Theft: Like in any country common sense will go a long way in Costa Rica regarding safety and theft. Make sure that you lock your rooms when leaving, do not leave valuables exposed in your car while you are in the field, lock your rental car at all times, do not leave your camera and binoculars at the lunch table, keep an eye on your luggage in exposed areas such as at the airport, etc.
Many hotels provide a lockable safe in the room or at the front desk, usually at an added expense, where you can store valuables safely. It is probably wise to carry your important documents and money with you, even in the field.
Regarding your arrival in Costa Rica, if you will be taking a taxi from the airport to your hotel or lodge you should purchase your ticket at the Airport Taxi booth located after leaving customs and before entering the awaiting, sectioned-off crowd. Their taxis are orange and are safe, reliable, and with competitive prices. There will no doubt be independent taxi drivers once you enter the crowd who will try to secure a fare from you, but this is not always a good idea even if it does save you a buck or two. A good rule to follow is not to hire a taxi driver who is pushy and in a hurry to get your fare.
While in the field remember that, although rarely encountered, there are poisonous snakes, not to mention the more numerous ants, wasps, etc. Do not walk in sandals into the forest or secondary growth, especially at night, and take a flashlight along at night if you cannot see where you are stepping.
Water: While tap water is safe at many lodges, it's best not to risk Delhi belly, and bottled water is readily available at the lodges and in stores throughout Costa Rica (but we provide an unlimited supply in the vehicle – more expensive bottled water in restaurants is for your own account). Salads are usually considered safe to eat in all of our recommended lodges but should be avoided in local roadside restaurants to be on the safe side, no matter how clean the restaurant looks. Giardia is the most frequently encountered intestinal parasite. The local pharmacy (farmacia) can supply you with the necessary medicine if you explain your symptoms.
Electricity: 120 V, plugs are ITA Type A/B. Adaptors are needed for overseas appliances unless you come from the Unites States.
What to bring:
Passport: To enter Costa Rica you will need a valid passport that will not expire before 90 days upon arrival in Costa Rica. However, some international flights require a passport that is valid for at least six months from your departure to Costa Rica. It would be best to follow the latter to be on the safe side. Visas are not required for citizens of the USA, Canada, the United Kingdom, etc. It is always a good idea to make a copy of your passport and put it somewhere separate from you actual passport. This copy will make securing a new passport at the US Embassy in San Jose easier in case you should lose your passport. We will assist you in securing a new passport should this happen.
Binoculars
Bird Book: please see the recommended-field-guides blog at https://www.birdingecotours.com/field-guides-to-the-neotropics-what-to-take-into-the-field/ in which we make recommendations of which field guide to use.
Camera: Beware of humidity problems with cameras and video equipment in the tropics. You may want to bring a compact hair dryer to remove this humidity. This should be done gently and over a period of time in order to not damage your equipment. Do bring a waterproof camera bag to carry with you in the field in case we get caught in a sudden downpour.
Clothing: Long pants and long-sleeved shirts are best to deter any insects and minor scratches from the vegetation. The new, lightweight outdoor variety is very comfortable and dries quickly. Shorts and T-shirts can also be useful. A lightweight jacket will be welcomed in the middle elevations, a fleece or medium-weight jacket for visiting the highlands such as Savegre Mountain Lodge. Laundry can be done at most of the lodges for those wanting to travel light.
Shoes: Light-weight hiking boots will be invaluable, preferably waterproof Gortex boots. Sandals are useful around the lodges and beach but should not be worn on the forest trails. Rubber boots are always an option but typically do not provide sufficient support for hiking.
Rain gear: Umbrella or Poncho, whichever you feel is more practical. Rain suits can be quite uncomfortable in the lowlands where it is hot and humid, but please note that Costa Rica is a rainy country (although we run our trips in the "dry" season).
Sun Protection: Sunscreen, hat, sunglasses, lip balm, etc.
Mosquito repellent: Although mosquitoes are not usually a problem in most of the areas we visit in Costa Rica it is still nice to have your own supply on hand when they are encountered. Repellent containing Deet works best. Deet is mildly poisonous, but if used modestly and as instructed it should pose no real threat. It is not necessary to spray profuse amounts before going into the field, unless you are hiking in chigger-infested areas. You should protect all rubberized or plastic areas of binoculars, scopes, watches, etc., before spraying, as repellents have a tendency to partially melt rubber and plastics. Insect repellent can be purchased in nearly all of the more modern supermarket types in Costa Rica such as Mega-Super and Mas-x-Menos.
Toiletries: It's best to bring these with you, but supermarkets in Costa Rica do carry a wide variety.
Medications: Bring your prescription items. Pharmacies and supermarkets have a wide variety of over-the-counter medicines that are quite effective. We and our local ground operator in Costa Rica will also assist you in securing any medical needs you may require while touring Costa Rica with our agency.
I loved all properties on the Costa Rica Escape tour in January 2019 – small family run establishments in lovely grounds. Accommodation at Savegre was very good and the best in the area. We had a 12-seater van for one couple along with our guide Eduardo and driver Ricardo, who drove excellently and we felt safe. Our guide Eduardo, is funny and friendly, and has an amazing knowledge of all wildlife. He is great company! Highlights of the tour included Resplendent Quetzal, Snowcap and the structure of the tour.
Karen Hargreave, Yorkshire, UK