Birding Tour Costa Rica: Costa Rica Premium Tour
Go to: Costa Rica Birding Tours | Birding Tours in the Neotropics | All our birding tours
Download Itinerary
Costa Rica Premium Tour
March 2023/2024
As one of the most prosperous countries in Central America, Costa Rica, with its good infrastructure, stable democratic government, high literacy rate, and extensive network of parks and preserves, has long been an important ecotourism destination for travelers from all over the world. This verdant paradise has also long been a classic, premier destination for birdwatchers, and with good reason. The literal translation of Costa Rica means 'rich coast', and it is truly rich in birds, with over 900 species recorded in a country only the size of West Virginia. Ideally positioned at the meeting point where the avifauna of Central and South America intermingle, this small country hosts the highest avian diversity in an area of its size anywhere on Earth. However, Costa Rica hosts more than just an astonishingly rich diversity of birds. Along with neighboring Panama, this small country is one of the great centers of avian endemism in the world, with over 70 regional endemics that occur nowhere else!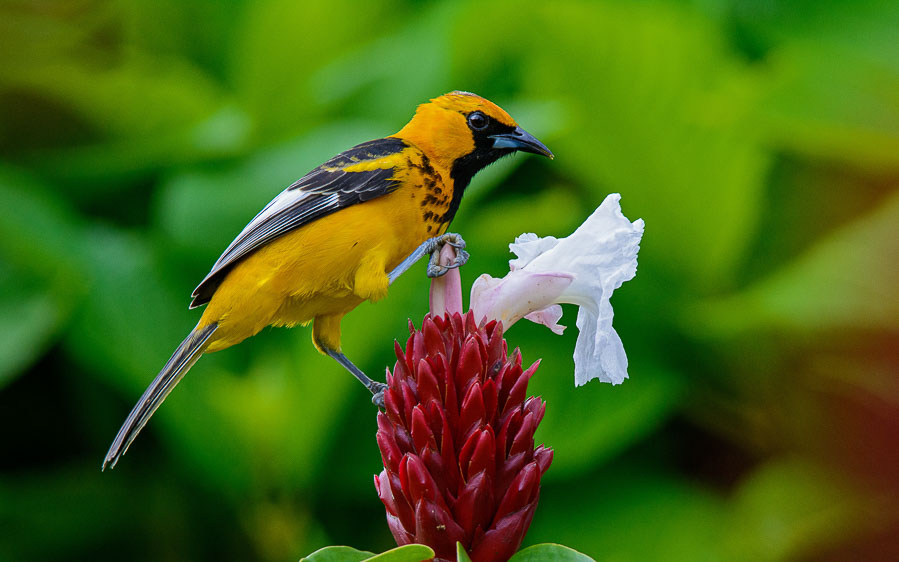 Spot-breasted Oriole is one of the many bright and beautiful birds that Costa Rica has to offer.  
This carefully designed itinerary targets these regional endemics as well as numerous must-see, charismatic species, such as Resplendent Quetzal, Jabiru, Agami Heron, Sungrebe, King Vulture, Great Curassow, Scarlet Macaw, Great Green Macaw, Green-and-rufous Kingfisher, Zeledon's, Bare-crowned, and Spotted Antbirds, Sharpbill, Lovely, Snowy, Turquoise, and Yellow-billed Cotingas, Silvery-fronted Tapaculo, Wrenthrush, Snowcap, Coppery-headed Emerald, Mangrove Hummingbird, and Black-cheeked Ant Tanager, among many more exciting antbirds, tanagers, woodpecker, trogons, and hummingbirds.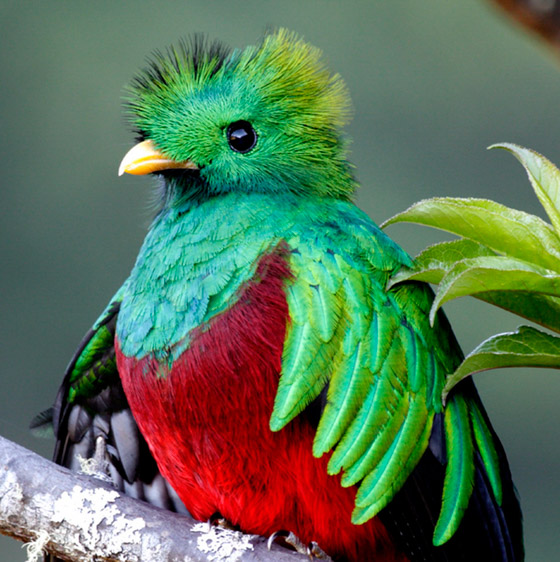 Resplendent Quetzal, surely one of the world's top birds (photo Kevin Easley)!
Itinerary (18 days/17 nights)
Day 1. Arrival in San José
You will arrive at Juan Santamaría International Airport in San José and be transferred to your nearby hotel.  Depending on your arrival time, we can explore the hotel grounds. Here we might find Ferruginous Pygmy Owl, Red-billed Pigeon, Inca Dove, Hoffmann's Woodpecker, Orange-chinned Parakeet, Rufous-backed Wren, Clay-colored Thrush, Melodious Blackbird, Buff-throated Saltator, Rufous-tailed Hummingbird, and Spot-breasted Oriole. We will keep an eye out overhead for Finsch's Parakeet, Laughing Falcon and White-tailed Kite, which are often seen flying over the garden. We will come together at 7 p.m. to meet each other and have dinner together.
Overnight: Hotel Robledal, San José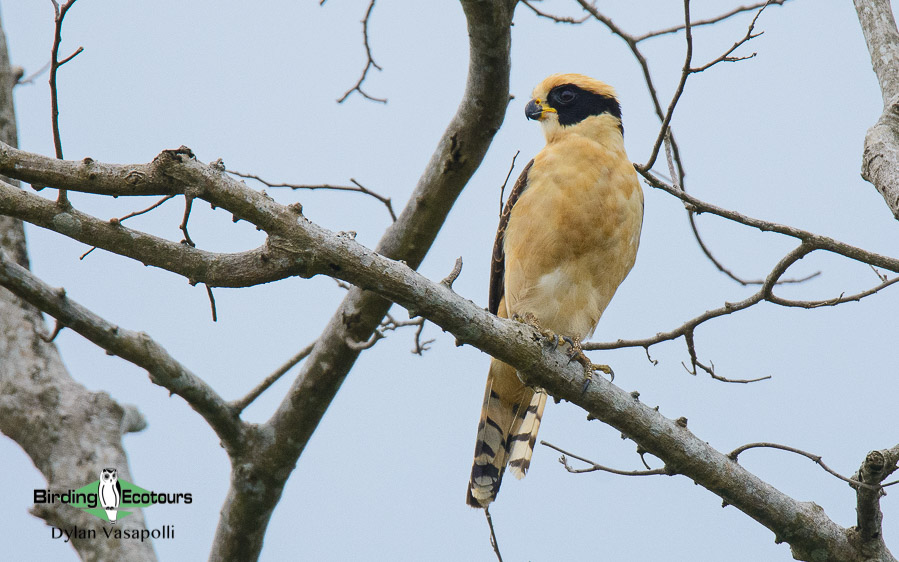 The attractive Laughing Falcon is often seen around San José.
Day 2. San José to the Rio Tárcoles area
We will leave San José after breakfast for the Pacific lowlands. The Rio Tárcoles area marks the transition point between the humid rainforests of southwestern Costa Rica and the seasonally dry forests of the northwest of the country. Consequently, the avifauna here is particularly diverse, as birds from the wetter south and drier north mingle in a relatively small area. After checking into our hotel and having lunch we will concentrate our efforts on the mangroves along the Rio Tárcoles via boat, where we will seek out species from the diminutive American Pygmy Kingfisher to the country-endemic Mangrove Hummingbird. Other targets will include Bare-throated Tiger Heron, Roseate Spoonbill, American White Ibis, Brown Pelican, Magnificent Frigatebird, Northern Jacana and with luck, Double-striped Thick-knee. Here you will also have the chance to find American Crocodile.
Overnight: Hotel Villa Lapas, Tárcoles
Day 3. Full day at Carara National Park
We will have a full day birding Carara National Park, home to a wide assortment of special birds, such as Scarlet Macaw, Northern Royal Flycatcher, White-whiskered Puffbird, Streak-chested Antpitta, Chestnut-backed Antbird, Red-capped Manakin, Blue-crowned Manakin, Great Tinamou, Sunbittern, Masked Tityra as well as regional endemics like Orange-collared Manakin and Baird's Trogon. There are plenty of great birds in and around the park, and we're bound to have a large list of species at the end of the day.
Overnight: Hotel Villa Lapas, Tárcoles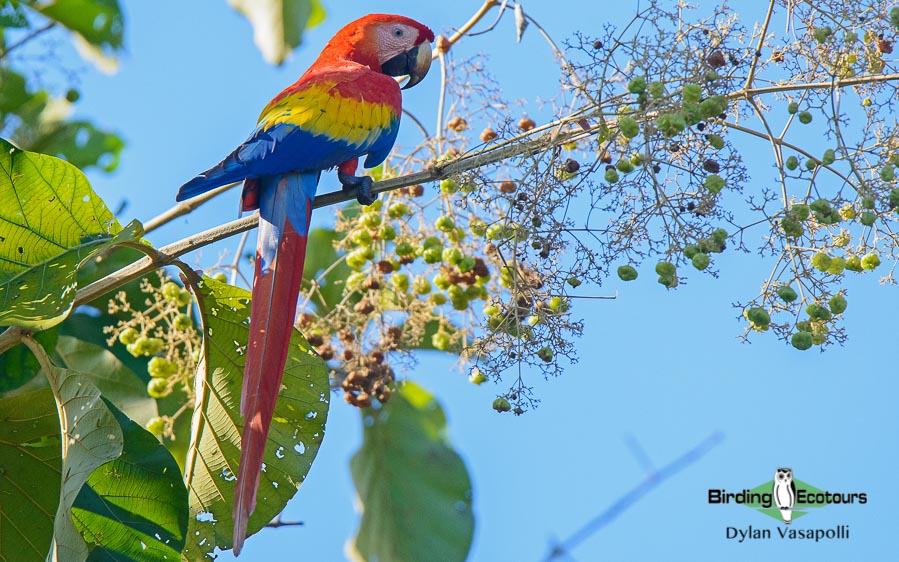 The huge and brightly colored Scarlet Macaw.
Day 4. Tárcoles area, travel to Esquinas Rainforest Lodge
After another morning in the Tárcoles area for some additional birding we continue our journey to Esquinas Rainforest Lodge in the southwestern corner of Costa Rica. A few stops along the way are likely to provide a few new birds.
Overnight: Esquinas Rainforest Lodge, Golfito
Day 5. Full day at Esquinas Rainforest Lodge
Nestled within the rainforest fringing the nearby Golfo Dulce, Esquinas Rainforest Lodge offers a variety of lowland regional endemics Costa Rica shares only with westernmost Panama, known as Chiriqui endemics. By birding the grounds of the lodge in the early morning we should connect with many of these species: Riverside Wren, Golden-naped Woodpecker, Charming Hummingbird, Fiery-billed Aracari, Black-cheeked Ant Tanager (a Costa Rica endemic), and more. Uniform Crake, a widespread but normally very difficult forest rail, is also possible.
In the afternoon we visit sites away from the lodge for several more targets that follow this general theme, like Veraguan Mango, a bird with a tiny global distribution, and Sapphire-throated Hummingbird, which barely reaches into Costa Rica from Panama.
Overnight: Esquinas Rainforest Lodge, Golfito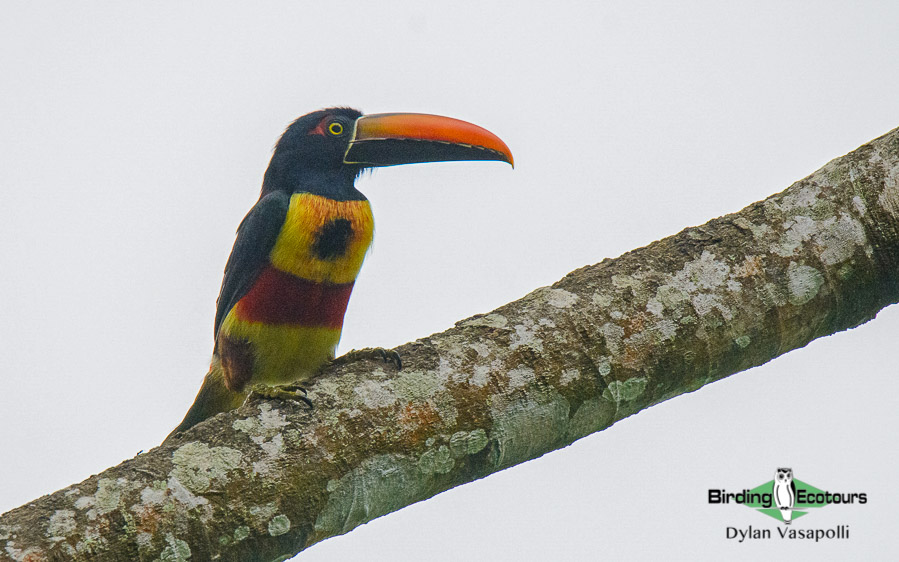 Costa Rica is famous for its toucans and aracaris, this one being a Fiery-billed Aracari.
Day 6. Birding Rincón Bridge
An early morning vigil from the well-known Rincón Bridge for canopy species may yield two highly desirable regional endemics, the immaculate Yellow-billed Cotinga and the vibrant Turquoise Cotinga. We will also check some grassland areas nearby, where we search for Ocellated Crake, a species which will take effort and patience to see, while the forests higher up the mountain slopes harbor two sought-after regional endemics, Costa Rican Brushfinch and Spot-crowned Euphonia.
Overnight: Esquinas Rainforest Lodge, Golfito
Day 7. Transfer to Savegre Mountain Lodge 
We'll leave the Esquinas area in the morning and drive north toward the Savegre Mountain Lodge in the Cerro de la Muerte, stopping at sites en route for any birding opportunities.  As we pass through a couple of sites above the treeline we will make a few stops in the páramo zone, where we hope to connect with several highland specialists, such as Peg-billed Finch, Volcano Junco, Timberline Wren, and Fiery-throated Hummingbird.
Overnight: Savegre Mountain Lodge, San Gerardo de Dota
Day 8. Full day in the Savegre Valley
Situated in misty, cool montane oak forest at about 7,000 feet (2,133 meters) in elevation, the Savegre Valley contains some of Costa Rica's most sought-after birds, including many Chiriqui endemics. We'll look for a long list of mouth-watering specialties, which we hope to connect with during our time here. Costa Rican Pygmy Owl, Dusky Nightjar, Sulphur-winged Parakeet, Ochraceous Pewee, Silvery-throated Jay, Flame-throated Warbler, Wrenthrush, Silvery-fronted Tapaculo, Long-tailed Silky-flycatcher, and Scintillant Hummingbird are just some of the potential targets. The birding usually begins in earnest right around the gardens of the lodge, where one often sees the magnificent Resplendent Quetzal, a contender for the best-looking bird in the world.
Overnight: Savegre Mountain Lodge, San Gerardo de Dota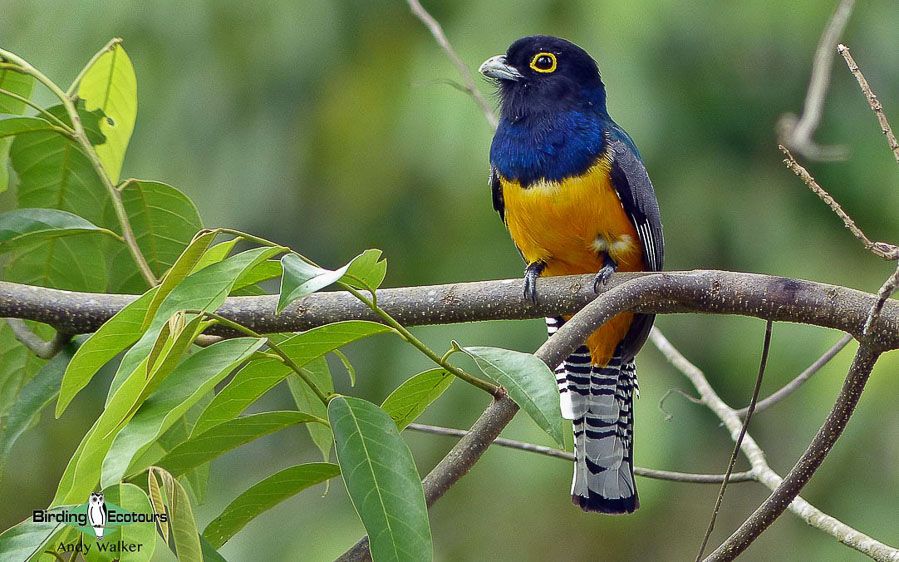 Gartered Trogon is yet another brightly colored delight of Costa Rica.
Day 9. The Savegre area and transfer to Tapantí National Park
After a final morning in the Savegre Valley we will travel to the mid-elevation of the Tapantí area. Tapantí National Park offers an interesting suite of birds such as Black Guan and Prong-billed Barbet, as well as several specialties like the unusual Green-fronted Lancebill, the glistening Golden-browed Chlorophonia, and the secretive Sooty-faced Finch.
Overnight: Paraíso Orocay Lodge
Day 10. Rio Macho and Irazú Volcano
We will leave the Tapantí area for the stunning Irazú Volcano via the Rio Macho Forest Reserve, where we'll stop for some birding. The volcano is home to two very rare and highly sought species, Unspotted Saw-whet Owl and Buffy-crowned Wood Partridge, as well as a range of other highland species. After our time birding here we'll drop down into the Caribbean lowlands into the La Selva area.
Overnight: La Quinta Sarapiquí Lodge, La Virgen
Day 11. Full day La Selva Biological Station
The famous La Selva Biological Station vies only with Carara National Park as the single most diverse birding site in Costa Rica in terms of overall species count. We will spend the full day birding along the amazing trail network, which is home to literally hundreds of bird species, including key specialties such as Snowy Cotinga, Semiplumbeous Hawk, Great Curassow, Great Tinamou, Blue-chested Hummingbird, and Great Green Macaw.
Overnight: La Quinta Sarapiquí Lodge, La Virgen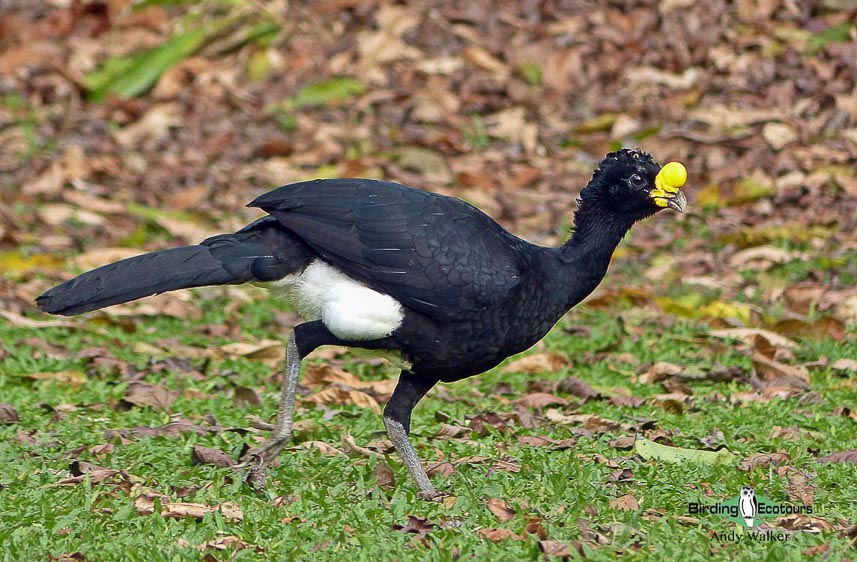 The attractive Great Curassow can be seen at La Selva Biological Station.
Day 12. Braulio Carillo National Park and area
Braulio Carillo National Park, established in the 1980s in part to protect Caribbean foothill forest, hosts a wide variety of species for us to target. Although there are few trails in this massive park, the Quebrada-Gonzalez trail is a decidedly rich and productive one. Fast-moving feeding flocks, usually led by Black-faced Grosbeak, can contain a host of desirable regional endemics, such as Streak-crowned Antvireo, Black-and-yellow Tanager, and Blue-and-gold Tanager. We will also keep a sharp eye out for Lattice-tailed Trogon, White-ruffed Manakin, and Ornate Hawk-Eagle away from such flocks.
Overnight: La Quinta Sarapiquí Lodge, La Virgen
Day 13. La Virgen to Arenal via La Paz Waterfall Gardens
We will gradually make our way between the La Selva lowlands and the stunning Arenal volcano. As we leave the La Selva area we will drop into the deep, forested gorge known as Colonia Virgen del Socorro. Here we hope to encounter several specialties, such as the near-endemic Sooty-faced Finch and the mouse-like Northern Nightingale-Wren. Our lunch stop will be at La Paz Waterfall Gardens, which hosts a series of busy hummingbird feeders, where we'll watch out for the endemic Coppery-headed Emerald and the near-endemic Black-bellied Hummingbird, while fruit feeders can attract charismatic and colorful species such as Prong-billed Barbet, Blue-throated Toucanet, Montezuma Oropendola, and a host of tanagers. In addition this area can be very productive for raptors like White and Barred Hawks, which soar high on rising thermals as the day heats up. During the afternoon we'll complete our journey to the luxurious Arenal Observatory Lodge.
Overnight: Arenal Observatory Lodge & Spa, La Fortuna
Day 14. Full day in the Arenal area
We will dedicate this morning to search for the extraordinarily skulky Thicket Antpitta, which is more easily seen here than anywhere else in Costa Rica (or Central America). The excellent primary forest can also be productive for a host of other typically difficult species, and we will keep an ear out for Song Wren, Spotted Antbird, and others in the undergrowth. Within the canopy of fruiting trees we could find a smorgasbord of colorful tanagers, including the rare Rufous-winged Tanager. If we are lucky, we may even see a Lovely Cotinga in these same trees.
Overnight: Arenal Observatory Lodge & Spa, La Fortuna
Day 15. Arenal to Caño Negro
After another morning birding around the Arenal area (the feeders here can sometimes hold some great birds such as Emerald Tanager, Great Curassow, and Montezuma Oropendola) we will continue north to the Caño Negro region with a stop at the Medio Queso wetlands along the way to look for the normally secretive Pinnated Bittern. Caño Negro itself, a watery lowland of lush sloughs, marshes, and wooded countryside, features an abundance of herons, storks, raptors, and kingfishers. Targets during an evening birding session include Striped Owl and Great Potoo.
Overnight: Natural Lodge Caño Negro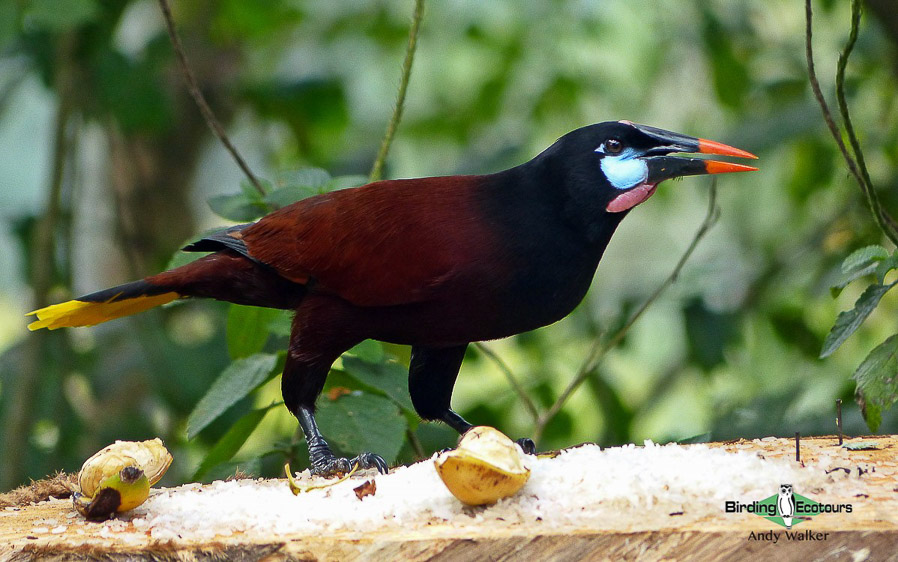 We'll look for Montezuma Oropendola at La Paz Waterfall Gardens.
Day 16. Caño Negro to Hacienda San Joaquin
This morning includes a boat ride in order to better seek out the special inhabitants of the Río Frío and Lago Caño Negro. Nicaraguan Grackle, a species that Costa Rica shares only with southernmost Nicaragua, inhabits the reedy vegetation, while bare snags over the water can host any of five different species of kingfishers, including American Pygmy Kingfisher. Quiet coves may also host the bizarre yet striking Sungrebe. Other targets include the fish-eating Black-collared Hawk, the localized Spot-breasted Wren, and the demure Grey-headed Dove.
In the afternoon we continue our journey toward Hacienda San Joaquin through the dry forests and wetlands of the Guanacaste region near the coast. The seasonal wetlands of this area host an impressive diversity and number of waterbirds, including the gigantic Jabiru. Near the bird-rich grounds of our lodge, Hacienda San Joaquin, we hope to connect with both Pacific Screech Owl and Spectacled Owl in the evening.
Overnight: Hacienda San Joaquin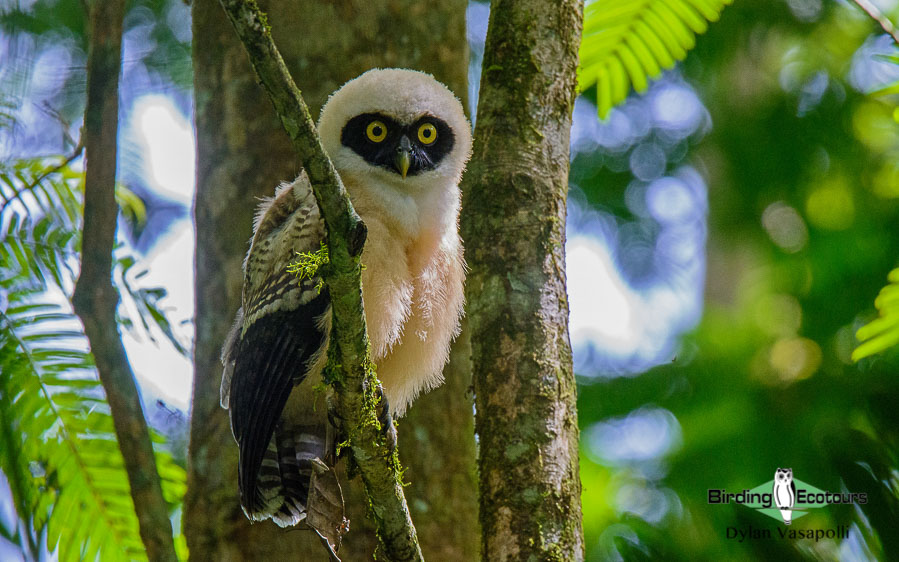 We should find a number of owl species on this trip such as this young Spectacled Owl.
Day 17. Hacienda San Joaquin to San José
The decidedly Central American avifauna of the seasonally dry forest of Guanacaste in northwestern Costa Rica shares strong affinities with that found north along the coast all the way to southern Mexico. During the morning we will dedicate considerable effort to observing many of these specialties, from the elusive Thicket Tinamou and Lesser Ground Cuckoo to the brash White-throated Magpie-Jay and Streak-backed Oriole.
After lunch we will continue with the journey back to San José, where the tour concludes and we will enjoy our final evening meal.
Overnight: Hotel Robledal, San José
Day 18. Departure from San José
Departure from San José on your international flights home.
Please note that the itinerary cannot be guaranteed as it is only a rough guide and can be changed (usually slightly) due to factors such as availability of accommodation, updated information on the state of accommodation, roads, or birding sites, the discretion of the guides and other factors. In addition, we sometimes have to use a different international guide from the one advertised due to tour scheduling.
Download Itinerary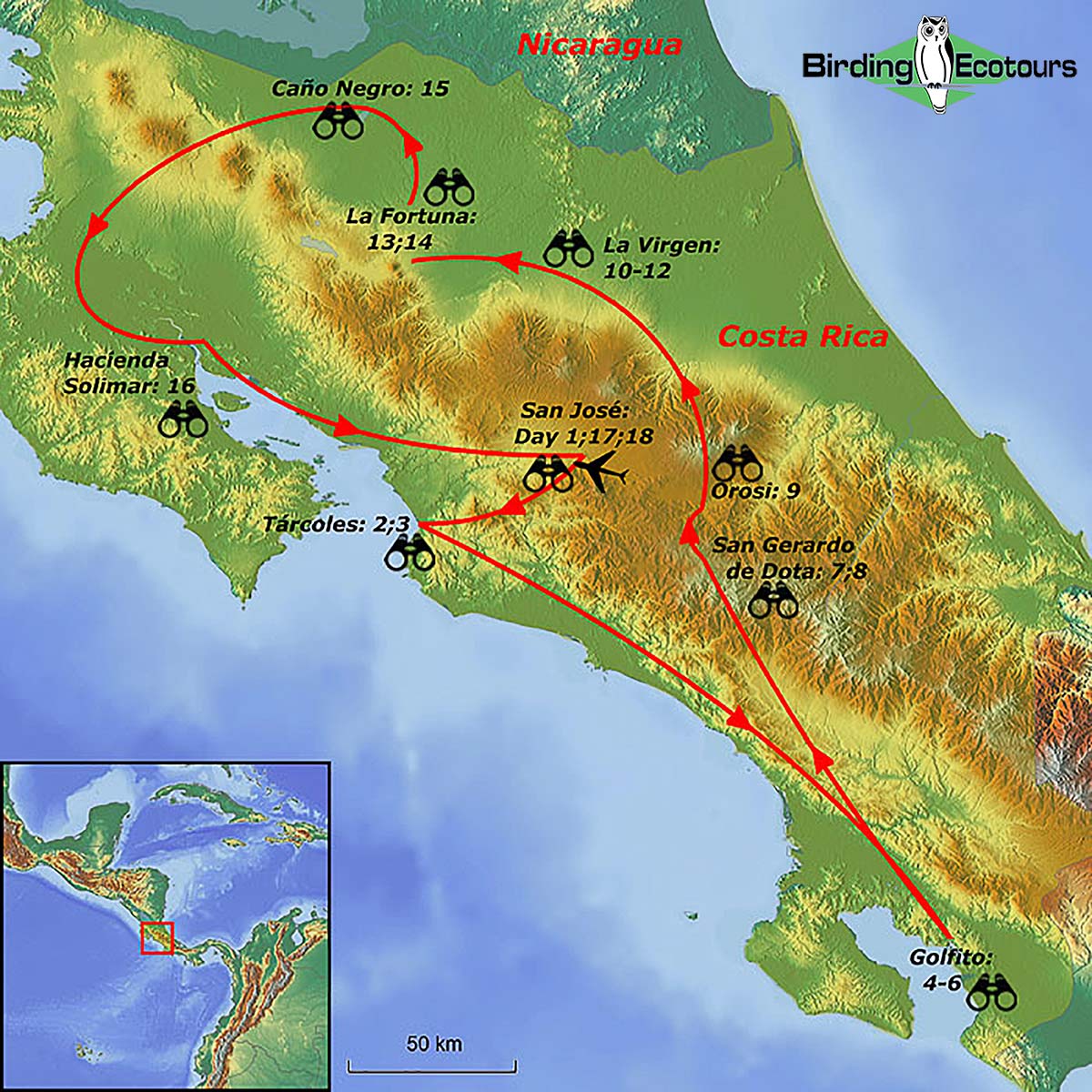 Complete Costa Rica Birding Trip Report, March 2017
13 – 26 MARCH 2017
DOWNLOAD TRIP REPORT
This scheduled tour around northern Costa Rica, doubling as a Conservation Tour for the Neotropical Bird Club, commenced on the 13th of March 2017 in San José and concluded back there on the 26th of March 2017. The tour visited some of Costa Rica's most spectacular national parks, volcanoes, and top birding destinations, such as La Selva Biological Station, Braulio Carrillo National Park, Poás Volcano National Park, Arenal Volcano, Caño Negro Lake, Tenorio Volcano National Park, Miravalles Volcano, Hacienda Solimar, Monteverde Cloud Forest Reserve, Santa Elena Cloud Forest Reserve, San Gerardo Field Station, and Puntarenas. Tour participants came from Australia (John and Su), New Zealand (Rosemary), South Africa (Don), Trinidad (Stuart), and the United States of America (Tim and Kay). Kevin, an American having lived in Costa Rica for the last 20 years, acted as local guide. This all meant an interesting combination of discussions on a range of topics, particularly world birding and sport! Kevin's local knowledge and bird identification expertise ensured that we saw a huge number of birds during the tour and had a whole lot of fun along the way.
A total of 498 bird species were recorded during the 12.5 days birding during the tour. This included a number of highly sought-after Costa Rican and Chiriqui (shared with Western Panama) endemic resident species, many migratory species from both North and South America, and numerous rare, uncommon, or secretive species, with some of the major highlights of birds having been seen including Resplendent Quetzal, Three-wattled Bellbird, Scaled, Ochre-breasted, and Thicket Antpittas, Jabiru (including a nesting pair with three young), Agami Heron, Sungrebe, Yellow-breasted Crake, Rufous-necked Wood Rail, Pinnated and Least Bitterns, Highland Tinamou, Great Curassow, King Vulture, Black-collared Hawk, Pearl Kite, Black Skimmer, Scarlet and Great Green Macaws, Green-and-rufous Kingfisher, Tody Motmot, Keel-billed Motmot, White-fronted Nunbird, Pied, White-necked, and White-whiskered Puffbirds, Zeledon's, Bare-crowned, Spotted, Dusky, and Dull-mantled Antbirds, Black-faced, Black-headed, and Rufous-breasted Antthrushes, Grey-throated and Tawny-throated Leaftossers, Silvery-fronted Tapaculo, Long-tailed, White-crowned, White-ruffed, and White-collared Manakins, Sharpbill, Lovely and Snowy Cotingas, Azure-hooded Jay, White-throated Magpie-Jay, Long-tailed Silky-flycatcher, Black-and-yellow Phainoptila, Song Wren, Northern Nightingale-Wren, Nicaraguan Seed Finch, nesting Golden-browed Chlorophonia, and not forgetting 24 species of tanagers (including Blue-and-gold, Emerald, Silver-throated, and Spangle-cheeked Tanagers), and 36 species of hummingbirds (including Coppery-headed Emerald, Violet Sabrewing, Snowcap, and Black-crested Coquette).
In addition to the above highlights we also did very well on nocturnal birds, with Pacific, Bare-shanked, and Vermiculated Screech Owls, several Black-and-white, Spectacled, and Striped Owls, three Great Potoos, Ferruginous and Central American Pygmy Owls, Chuck-will's-widow, and Lesser and Short-tailed Nighthawks all seen during the daylight hours. Furthermore, an interesting selection of Nearctic migrants were found either wintering or on passage. Some favorites included Chestnut-sided Warbler, Golden-winged Warbler, Ovenbird, Kentucky Warbler, Common Yellowthroat, American Redstart, Wood Thrush, Painted Bunting, Broad-winged and Swainson's Hawks, and Turkey Vulture (a large visible migration of thousands of birds at Caño Negro Wildlife Refuge).
There was plenty of other interesting wildlife to keep us on our toes, including Hoffmann's two-toed sloth, brown-throated sloth, northern tamandua, mantled howler monkey, Geoffroy's (Central American) spider monkey, Colombian white-faced capuchin, numerous reptiles (including the stunning green basilisk), and plenty of gorgeous butterflies and moths. Complete lists are found at the end of this report for species identified.
Detailed Report
Day 1, 13th March 2017: Arrival in San José
The group assembled in San José ready for a welcome evening meal, with participants arriving from New Zealand, Australia, South Africa, Trinidad, and America. Those who arrived early enough got some birding in around the hotel, finding Pearl Kite, Cooper's Hawk, Zone-tailed Hawk, Laughing Falcon, Spot-bellied Bobwhite, Plain-capped Starthroat, Ferruginous Pygmy Owl, Olive Sparrow, and Nutting's Flycatcher.
Day 2, 14th March 2017: Poás Volcano, La Paz Waterfall Gardens, and La Selva
We left our airport hotel and headed up the slopes of Poás Volcano. Our first stop was a hummingbird garden, where we found some real beauties: Magenta-throated Woodstar, Volcano Hummingbird, Lesser Violetear, and the huge Violet Sabrewing. Several other birds were noted in the small garden and included Mountain Thrush, Flame-colored Tanager, and Slaty Flowerpiercer. After moving a few kilometers further along the road a strategic stop produced the hoped-for (and now nesting) Long-tailed Silky-flycatcher. This is a really impressive bird, so we were rather pleased to see it so early in the trip, especially as this was our only chance to see one. However, it was probably overshadowed by the incredibly beautiful pair of Golden-browed Chlorophonia that we also found nesting at fairly close range. These birds gave fantastic prolonged views as they tended their nest. Yellow-thighed Finch, Collared Whitestart, and Prong-billed Barbet were also seen well here. Driving higher up the volcano we found some rather smart birds, highlights including Black-and-yellow Phainoptila, Flame-throated Warbler, and Large-footed Finch. A distant Bare-shanked Screech Owl was noted calling down the valley but was a long way off.
It was getting close to lunchtime, so we drove across to La Paz Waterfall Gardens, home to an array of hummingbird feeders, some lush forests, and a rapidly-flowing river containing several waterfalls. Our first port of call was the hummingbird feeders, where we found several of the species we'd seen earlier in the morning but also plenty of new ones, such as the endemic Coppery-headed Emerald along with Black-bellied Hummingbird, White-bellied Mountaingem, Green Hermit, Green Thorntail, and Green-crowned Brilliant. A walk along the river produced American Dipper and Green-fronted Lancebill, the latter feeding over the water, collecting tiny insects. Some impressive flocks were found here, containing Streak-breasted Treehunter, Lineated Foliage-gleaner, Spotted Woodcreeper, Spotted Barbtail, Red-faced Spinebill, Spangle-cheeked Tanager, Kentucky Warbler, Ovenbird, Golden-winged Warbler, Black-eared Warbler, and more.
Our final proper birding stop of the day, again at a feeding station, gave us our best views of the day, with Passerini's, Silver-throated, Blue-grey, Palm, and Summer Tanagers allowing good photographic opportunities.
We continued our journey to our base for the next three nights, La Selva Biological Station. At the entrance to the area we found Great Green Macaw and Red-lored Amazon, and as the sun went down Pauraque were on the road and outside of our rooms to end a memorable day.
Day 3, 15th March 2017: La Selva Biological Station
After an early start we were out birding around our accommodation, where we quickly found Cinnamon Woodpecker, Black-cheeked Woodpecker, and Yellow-olive Flatbill. We soon moved onto the La Selva entrance road, where the birds came thick and fast, such as Pied Puffbird, Slaty-tailed Trogon, Yellow-throated Toucan, Keel-billed Toucan, Chestnut-colored Woodpecker, Pale-billed Woodpecker, and several woodcreepers, along with smaller birds like Black-faced Grosbeak, Band-tailed Barbthroat, Ruby-throated Hummingbird, Chestnut-sided Warbler, Yellow-crowned Euphonia, and Black-cowled Oriole.
After a breakfast interrupted by a few birds (Band-backed Wren and Golden-hooded Tanager being the best) and several rather heavy rain showers we started birding around the mosaic of trails in this large reserve. Highlights were many, but some of the best birds were Agami Heron, Great Curassow, Crested Guan, Great Tinamou, Double-toothed Kite, Semiplumbeous Hawk, Collared Aracari, Rufous Motmot, Broad-billed Motmot, Gartered Trogon, Slaty-tailed Trogon, Black-throated Trogon, Northern Mealy Amazon, White-crowned Parrot, Great Green Macaw, Northern Royal Flycatcher, Red-throated Ant Tanager, Dusky Antbird, Fasciated Antshrike, and Buff-rumped Warbler.
After lunch a siesta was in order before the afternoon's birding back in the forest. A male White-collared Manakin showed rather nicely, allowing great views of this rather stunning species. Two King Vultures gave prolonged overhead flight views, and several Great Curassows showed very well as they walked across some open areas – two of the many highlights of the day. Yet another soon followed when we found the diminutive Vermiculated Screech Owl on a day roost. We finished the day by the river, where we found Short-tailed Nighthawk and Bat Falcon.
Day 4, 16th March 2017: Braulio Carillo National Park area
A walk near our accommodation at dawn produced very nice views of a pair of White-fronted Nunbirds as well as Bay Wren, White-collared Manakin, and Bright-rumped Attila. The river provided great views of Green Ibis and Anhinga, with Yellow-throated Toucan, Keel-billed Toucan, and Red-lored Amazon all visiting a fruiting tree.
After breakfast we drove towards Braulio Carillo National Park, finding a perched Laughing Falcon, quickly followed by White-whiskered Puffbird, Fasciated Tiger Heron, Green Ibis, Buff-rumped Warbler and Orange-billed Sparrow.
A garden full of flowering Verbena gave us the opportunity to add some more new hummingbirds to our rapidly expanding list, with Snowcap and Black-crested Coquette jumping right to the top of the pile! Here we also found Violet-headed Hummingbird, White-necked Jacobin, and Crowned Woodnymph, but we were temporarily distracted by a migratory kettle of Swainson's Hawk, with the odd Broad-winged Hawk thrown in for good measure.
We then took a walk around the forest – typically difficult birding, but we found the odd bird of high quality, with the real highlight being Lattice-tailed Trogon. Males of both White-ruffed and White-crowned Manakins were found, and some subdued ant activity resulted in Black-faced Antthrush, Spotted Antbird, White-flanked Antwren, and Checker-throated Antwren being discovered. A mixed flock contained Black-faced Grosbeak, Tawny-crested Tanager, Emerald Tanager, Black-and-Yellow Tanager, Green Honeyeater, and Scarlet-thighed Dacnis, among other species.
After our picnic lunch and the morning's hike we had a relaxing afternoon of target birding and feeder stakeouts. By this process we found some seriously great birds, the top three being Thicket Antpitta, Spectacled Owl, and Great Potoo. We also got Rufous-naped Wood Rail, Bronze-tailed Plumeleteer, Long-billed Hermit, Red-legged Honeyeater, Pale-vented Pigeon, Gartered Trogon, Montezuma and Chestnut-headed Oropendolas, Masked Tityra, and more!
Day 5, 17th March 2017: La Selva to Arenal Volcano
After breakfast we set off on our final walk at La Selva, seeing many of the same exciting species we'd seen the day before, such as Great Curassow, Keel-billed Toucan, and Rufous Motmot. We found several new birds for the trip and saw a few species we'd only heard previously, such as Little Tinamou, Black-throated Wren, Stripe-breasted Wren, and Rufous-tailed Jacamar, with a rather nice Hooded Warbler seen too. We took a drive around some nearby farmland, where we had a few Great Green Macaws and Red-lored Amazons and a perched Bat Falcon. A Giant Cowbird was hanging around a Montezuma Oropendola nesting colony, and a Western Osprey went along the river, as did a small kettle of Broad-winged Hawks.
Our time in the La Selva area also resulted in a large list of non-avian highlights, including Central American agouti, collared peccary, mantled howler monkey, brown-throated (three-toed) sloth, eyelash pit viper, green iguana, and strawberry poison frog.
We then drove toward our next destination at Arenal Volcano, making a stop along the way for lunch. Here we found a very confiding pair of White-throated Crakes as well as spectacular views of Yellow-throated Euphonia, Red-legged Honeycreeper, and Greyish Saltator. A brief walk at this site also yielded Yellow-crowned Night Heron, American Pygmy Kingfisher, Olivaceous Piculet, Black-and-white Warbler, and Wood Thrush. Here we also had the rather gaudy red-eyed treefrog.
As the afternoon progressed we headed up the Arenal Volcano, settled into our very nice rooms, and then started birding. A walk around the lodge grounds produced several good birds, such as Great Curassow, Crested Guan, Emerald Tanager, Red-legged and Green Honeycreepers, White-breasted Wood Wren, Black-throated Wren, Stripe-breasted Wren, and Carmiol's Tanager. A fruiting tree attracted many species; Bay-headed Tanager was a new one for the trip, and Tropical Pewee was also present. The flowering bushes attracted many hummingbirds; Brown Violetear was a new one for us, and another adult male Black-crested Coquette was a welcome sight.
After a lovely three-course dinner we thought our list was finished for the day, only to discover a gorgeous Black-and-white Owl outside our rooms when we got back to them!
Day 6, 18th March 2017: Arenal Volcano
We awoke to rain, and unfortunately it persisted all morning, sometimes rather heavy, but at times stopping long enough for some birding. Prior to breakfast we added a few new birds like White-throated Thrush, Northern Waterthrush, Rose-breasted Grosbeak, Black-striped Sparrow, Swainson's Thrush, Purple-crowned Fairy, Olive-striped Flycatcher, Lineated Woodpecker, and Scaly-breasted Hummingbird, along with several birds from the previous day like Great Curassow, Montezuma Oropendola, Green Honeycreeper, Red-legged Honeycreeper, and Emerald Tanager.
Due to the low clouds and persistent rain we decided to come down from the volcano to some slightly 'drier' areas, although rain still featured a little too much for our liking. Regardless, we pressed on and found several more new birds, like Pied-billed Grebe, Yellow-bellied Flycatcher, Black-headed Saltator, Yellow Tyrannulet, Olive-sided Flycatcher, Bare-crowned Antbird, and Dull-mantled Antbird. Another day-roosting Great Potoo was also a pleasant surprise, though it looked rather wet and fed up.
Over a rather nice typical Costa Rican lunch we had excellent looks at Swallow-tailed Kite and a male Scarlet-thighed Dacnis. Driving back to our hotel for a siesta we had the magnificent sight of the giant Barred Hawk cruising over.
After our break (adding Yellow-faced Grassquit in front of our rooms) we headed back down the volcano, as the weather still wasn't good high up. This was a great move, as we stayed dry and found loads of excellent birds. Highlights from the afternoon included Keel-billed Motmot, Rufous-winged Woodpecker, Mourning Warbler, Great Antshrike, Barred Antshrike, Fasciated Antshrike, Russet Antshrike, Smokey Brown Woodpecker, and Vaux's Swift. A group of five Swallow-tailed Kites drifted over in the late-afternoon sun against a black sky and looked seriously impressive, and a nest-building Stripe-throated Hermit also proved popular.
As dusk approached we drove back up to our hotel, seeing several Pauraque along the way.
Day 7, 19th March 2017: Arenal Volcano to Caño Negro
A great morning was spent birding around our hotel on the slopes of Arenal Volcano. The weather through the night and the early morning was worrying, and we were fully expecting to be rained off again. However, as our meeting time arrived the rain stopped and the wind dropped. Heading out into the damp forest we were soon watching several great birds: Wood Thrush, Black-headed Nightingale-Thrush, Song Wren, Louisiana Waterthrush, Tawny-faced Gnatwren, Semiplumbeous Hawk, and Rufous Motmot. Not a bad haul before breakfast!
After breakfast we spent some time around the edge habitat at our hotel, enjoying the spectacular landscape views and plenty of Swallow-tailed Kites. Other highlights included the rare and localized Yellow-bellied Tyrannulet, which showed remarkably well. We also enjoyed watching a pair of Golden-olive Woodpeckers excavating two nest holes. Back in the same forest we'd visited earlier we found a few new birds, such as Streak-crowned Antvireo, Slaty Antwren, Collared ('Orange-bellied') Trogon, Scarlet-thighed Dacnis, and Black-and-yellow Tanager.
Late in the morning we left the volcano to start our drive toward Caño Negro. First we visited some marshland, where we found Nicaraguan Seed Finch, complete with its huge, pink bill, Thick-billed Seed Finch, Blue-black Grassquit, and the localized Ruddy-breasted Seedeater. Here we also saw Ringed, Amazon, and Green Kingfishers, Bare-throated Tiger Heron, and our first of at least 26 Green Herons. Finsch's and Orange-chinned Parakeets showed well, as did Roadside Hawk, Grey-crowned Yellowthroat, Orchard Oriole, nesting Green-breasted Mango, Solitary Sandpiper, and Greater Yellowlegs.
Our last birding stop of the day was one of the highlights of the whole tour for many people and involved an afternoon boat ride through some marshy areas near the Nicaraguan border. New birds and very high quality birds were on offer, and we succeeded in getting good views of all of our targets and a few nice surprises, such as Sungrebe, Yellow-breasted Crake, Pinnated Bittern, Least Bittern, Nicaraguan Grackle, Red-breasted Blackbird, Lesser Yellow-headed Vulture, Purple Gallinule, Northern Jacana, Black-bellied Whistling Duck, Blue-winged Teal, Great Blue, Little Blue, Tricolored, and Green Herons, Great, Snowy, and Western Cattle Egrets, Black-crowned and Yellow-crowned Night-Herons, American White Ibis, Wood Stork, Anhinga, Neotropic Cormorant, Green, Amazon, Ringed and Belted Kingfishers, Canebrake Wren, and Common, Olive-crowned, and Grey-crowned Yellowthroats.
As darkness fell we commenced the drive to our hotel, stopping along the way for close views of Great Potoo, Black-and-white Owl, and a gorgeous Striped Owl to end what turned out to be a fantastic day with 170 species logged!
Day 8, 20th March 2017: Caño Negro to Heliconias Lodge
After yesterday's really big day list and enjoyable boat trip we awoke at Caño Negro full of anticipation for another great day, and it didn't disappoint, with the first bird of the morning being a confiding Pacific Screech Owl in our hotel garden. A walk around the village gave us two restricted-range species, and both showed well: Grey-headed Dove (alongside White-tipped and White-winged Doves to allow ample comparison) and Spot-breasted Wren, which sat up for all to see.
After breakfast we headed out on our morning boat ride. We had several big targets, and gradually they all fell into place. After views of multiple Ringed, Amazon, Green, and American Pygmy Kingfisher we found our main kingfisher target, Green-and-rufous Kingfisher, which showed well, and this meant that we'd completed the set of all American kingfishers for the tour. Unfortunately, a pair of Snowy Cotinga didn't play the game and just flew through. Other interest along this section of river included another Sungrebe, Mangrove Cuckoo, Nicaraguan Grackle, Rufous-naped Wood Rail, Black-headed Trogon, and the bizarre-looking Boat-billed Heron.
Heading out into a marshy area we found several new and exciting species. Top of the list here were the four Jabirus that were circling low before landing at the back of the marsh. These are seriously enormous birds, especially when seen in flight next to the large Wood Stork or walking along next to cows! We also had good looks at a perched, local, and rare Black-collared Hawk, many Roseate Spoonbills, Glossy Ibis, Tricolored, Little Blue, Great Blue, Green, and more Boat-billed Herons, and Black-crowned Night Heron, Snowy Egret, and Great Egret. As we headed back to the dock a juvenile Snail Kite and another Black-collared Hawk flew over. Although we'd seen some fantastic, rare, and localized birds here, one of the special memories that will stay with us from here involves a common species, Turkey Vulture. During our morning on the river we got to witness thousands of these birds migrating in huge towering kettles as they made their way north, a highly impressive sight. While in this area we also saw Geoffroy's (Central American) spider monkey and dozens of common (spectacled) caimans.
In the late morning, after a short break back at our hotel, we grabbed some food, made a picnic of sorts, and started our drive to the Caribbean foothills and our next location, Heliconias Lodge. A strategic stop along the way proved very worthwhile; here we found the rather vocal and particularly scarce Central American Pygmy Owl that eventually gave fantastic views. We also saw the gorgeous White Hawk, Short-tailed Hawk, and Swallow-tailed Kite in the air here, while the forest contained White-ruffed Manakin, Buff-throated Foliage-gleaner, and Golden-winged Warbler.
In the late afternoon we checked into our new hotel and took a walk around the hotel grounds. By now it was quite windy, so these were not ideal conditions, but this didn't stop us from seeing a pair of the very localized Tody Motmot, although a Long-tailed Manakin frustratingly remained out of sight ̶ views of this one would have to wait.
Day 9, 21st March 2017: Heliconias Lodge to Hacienda Solimar
We awoke to find ourselves surrounded by low clouds with strong wind. These were conditions far from ideal for birding, especially when the light drizzle started. We headed out for a short pre-breakfast walk, hearing some good birds but having no luck with seeing them, and so Purplish-backed Quail-Dove, Northern Nightingale-Wren, and Yellow-eared Toucanet remained frustratingly elusive. We did get views of Ovenbird, Wood Thrush, and Grey-chested Dove, though.
After breakfast we walked a loop trail near our hotel. It was again difficult birding due to the weather with Yellow-eared Toucanet, Northern Schiffornis, and Green Shrike-Vireo all remaining out of sight. However, Tody Motmot, Black-headed Nightingale-Thrush, and Northern Nightingale-Wren showed well, and the real highlight was a Chuck-will's-widow that was found roosting halfway up a tree. Brilliant to be able to see this nocturnal uncommon migrant during the day! We also saw Spotted Antbird, Tawny-crowned Greenlet, Bright-rumped Attila, and Golden-crowned Warbler here. A Central American dwarf squirrel ran through the forest like a bolt of lightning, but paused briefly, allowing everybody to see it.
In the mid morning, with no sign of the weather improving, we cut our losses and started our journey into the Pacific lowlands. A brief stop at an area of dry forest gave us a lesson in Myiarchus flycatcher identification, with Great Crested, Brown-crested, and Nutting's Flycatchers all in evidence at the same time! Here we also had Banded Wren, White-lored Gnatcatcher, Canivet's Emerald, Yellow-olive Flatbill, Blue Grosbeak, and Scrub Euphonia.
After reaching our new accommodation at Hacienda Solimar and taking a short rest through the heat of the middle of the afternoon we birded the dry Pacific lowlands for the first time. This site, a working farm with several wetland areas, is a paradise for birds, and it was fantastic driving around and finding great bird after great bird. Some highlights from the afternoon included Limpkin, Jabiru, Double-striped Thick-knee, Southern Lapwing, Glossy Ibis, Boat-billed Heron, Bare-throated Tiger Heron, Muscovy Duck, Harris's Hawk, Peregrine Falcon, Merlin, Ferruginous Pygmy Owl (with Barn Swallow prey in claws), Lesser Nighthawk, Yellow-naped Amazon, White-fronted Amazon, Orange-fronted Parakeet, Streak-backed Oriole, Spot-breasted Oriole, and Scissor-tailed Flycatcher. We also got to see one of the most impressive sunsets of the tour while watching three large Jabiru chicks standing on their nest and scores of very vocal Black-bellied Whistling Ducks circling overhead, definitely another trip highlight.
Day 10, 22nd March 2017: Hacienda Solimar to Monteverde Cloud Forest Reserve
A pre-breakfast walk along a dry riverbed gave us several new trip birds and further views at a number of others, with Long-tailed Manakin, Thicket Tinamou (for a lucky few), White-necked Puffbird, Turquoise-browed Motmot, Steely-vented Hummingbird, Ruby-throated Hummingbird, Black-headed Trogon, Yellow-green Vireo, Yellow-throated Vireo, Lesser Nighthawk, Olive Sparrow, Scissor-tailed Flycatcher, Streaked Flycatcher, Rufous-capped Warbler, and Grey-headed Kite all seen well. Back at our hotel we found a roosting Pacific Screech Owl, White-throated Magpie-Jay, and Least Grebe. We took another drive around the farm, seeing most of what we'd seen the previous evening, We heard Lesser Ground Cuckoo but couldn't entice it out, but imitation of Ferruginous Pygmy Owl brought in a number of birds, such as Streak-backed Oriole, Baltimore Oriole, Plain-capped Starthroat, Steely-vented and Ruby-throated Hummingbirds, Scrub Euphonia, Red-legged Honeycreeper, Sulphur-bellied Flycatcher, Philadelphia, Yellow-throated, and Yellow-green Vireos, and Tropical Pewee.
Driving back to the hotel for lunch we saw Peregrine Falcon, Snail Kite, American Kestrel, Western Osprey, and Roadside Hawk, all making use of the wonderful habitat here. A pair of adult Jabirus was scoped not too far from the nest we had observed the previous day. Further very close views of Limpkin, Double-striped Thick-knee, and many other quality birds were had, and a pair of Collared Plovers were new for the trip. There also was plenty of non-avian interest during our time here, highlights including Colombian white-faced capuchin, American Crocodile, common spiny-tailed iguana, crab-eating raccoon, and northern tamandua.
After a wonderful lunch we left the Pacific lowlands, heading back into the mountains to the world-famous birding area that is Monteverde Cloud Forest Reserve. As with most of our time at elevation it was cooler and wetter, but the drizzle didn't stop us from enjoying several new species, with great views of Black-breasted Wood Quail being right up there. We found a few Lesson's Motmots to complete the set of Costa Rican motmots, Orange-billed Nightingale-Thrush in full song sat out in the open for quite a while, and a couple of pairs of both White-eared Ground Sparrow and White-naped Brushfinch eventually showed well. A pair of Blue-throated Toucanets flew into view, sitting out in the open to allow good, close-range scope views.
Day 11, 23rd March 2017: Monteverde, Santa Elena, San Gerardo Field Station
We awoke to wind, more rain, and low clouds and were a bit concerned about our chances of finding our highly-prized target. We needed not have worried, though, as a little after 30 minutes of waiting beside a fruiting tree near our hotel we found three Resplendent Quetzals (two male and one female). They were wet, and so were we, but who cares when you are looking at one of the most beautiful birds on the planet. We watched them feeding and listened to them calling for a good length of time.
It's hard to get distracted while you are watching a quetzal, but there were a few species trying their best to put us off, and eventually, as the quetzals moved down the valley and out of sight, we took a look at some of the other birds that were around. The best species was Azure-hooded Jay; at least three of these secretive and difficult-to-find forest corvids came marauding through and were gone as quickly as they had appeared. Several Black Guans were more sedate, allowing great views as they fed in the same fruiting trees we'd previously enjoyed while looking at the quetzal. White-throated Thrush, Mountain Thrush, and Ruddy-capped Nightingale-Thrush were all seen (the latter only briefly by a few). Despite the rain we found a few hummingbirds coming to some sheltered feeders and enjoyed seeing some birds we'd seen much earlier in the tour, like Coppery-headed Emerald, Lesser Violetear, Green-crowned Brilliant, and Violet Sabrewing.
After breakfast we checked out of our hotel for the Santa Elena Reserve. There still were very poor weather conditions, but nevertheless we set off in the hope of finding something interesting. A mixed flock at the visitors' center was a good start, and we got good looks at Spotted Barbtail, Red-faced Spinebill, Common Bush Tanager, Black-eared Warbler, Collared Whitestart, Northern Tufted Flycatcher, and Golden-winged Warbler. Further walking in the rain yielded Black-throated Green Warbler, Grey-breasted Wood Wren, Ruddy Treerunner, Slaty-backed and Ruddy-capped Nightingale-Thrushes, Yellow-thighed Finch, Barred Becard, Collared ('Orange-bellied') Trogon, and the super-skulking Silvery-fronted Tapaculo. A rather sorry-looking (and rather drenched) Hoffmann's two-toed sloth was also found in the treetops here.
As lunchtime approached it was also a good time to shelter from the rain and warm ourselves up, as well as prepare for our hike down to the San Gerardo Field Station, our base for the next two nights. As luck would have it the rain stopped and the wind died down for the majority of our descent, and over the course of the three-hour walk we picked up some seriously good birds. Highlights included Bare-shanked Screech Owl that flew in to check us out and proceeded to show fantastically well with its large, bright-yellow eyes glaring at us as we watched in awe, Three-wattled Bellbird sitting atop a tree from which it was singing, a pair of feeding and fighting Grey-throated Leaftossers, a couple of Zeledon's Antbirds, several Silvery-fronted Tapaculos, multiple Blue-throated Toucanets, and a lone but rather vocal Golden-bellied Flycatcher. We arrived at the field station in perfect time, just as the rain started up again.
Despite the difficult birding and hiking conditions we ended up with a good list of high-quality birds during the day.
Day 12, 24th March 2017: San Gerardo Field Station
On waking up it was clear that the weather situation had not improved. We took an early breakfast and waited for an improvement in the mist/wind/rain. As we were getting our boots on our attention was drawn to a large bird that stood in the trail head, and our first bird of the day was a huge Scaled Antpitta! The bird showed well for 20 minutes or so as it fed on the trail. Then there was a perceived improvement in the weather conditions, so we set off on our morning walk. Highland Tinamou was calling but not close enough to get to, as was Thicket Antpitta (but there was no chance of bettering our previous views, so we didn't even try to see it!). Eye-ringed Flatbill moved through rather quickly, and a short while later Brown-billed Scythebill and Slaty-capped Flycatcher flew into view, the scythebill showing rather well. A singing Three-wattled Bellbird, viewed through the scope, was also a very special sight. We continued walking through this pristine forest, some of the best in Costa Rica, and before long we were looking face to face at a pair of the tiny Ochre-breasted Antpitta and shortly thereafter at Black-headed Antthrush, which walked around giving nice views. Not a bad selection of birds for before 9 a.m.! A very small mixed flock contained another Slaty-capped Flycatcher, Kentucky Warbler, Tawny-crowned Greenlet, Golden-crowned Warbler, and Stripe-breasted Wren, with Spotted Antbird and Slaty-backed Nightingale-Thrush also close by. Black Guan, Crested Guan, and Great Curassow were also found foraging in fruiting trees, along with several species of thrush.
As we made our descent back to the lodge in time for lunch we hit a rather interesting mixed flock of good size and species make-up. The big highlights of this flock were the uncommon Sharpbill, a stunning Red-headed Barbet, and Scaly-throated Foliage-gleaner, but there were also plenty of repeat views to be had of other species, such as Buff-throated Foliage-gleaner, Red-faced Spinetail, Spotted Woodcreeper, Ruddy Treerunner, Lesser Greenlet, Black-and-white Warbler, Golden-winged Warbler, and Rufous-tailed Jacamar. With that great flock under our belt we hiked back to the accommodation for lunch, stopping for a Tawny-throated Leaftosser and another Three-wattled Bellbird along the way.
After a long hike yesterday and again this morning we took a relaxed and gentle walk near the accommodation during the afternoon. Luckily, we found a decent flock not far away. Here we enjoyed watching Rufous-browed Tyrannulet, Azure-hooded Jay (improving from our views yesterday), Red-headed Barbet, Blackburnian and Golden-winged Warblers, Tawny-capped Euphonia, Scale-crested Pygmy Tyrant, Golden-bellied Flycatcher, Russet Antshrike, Blue-throated Toucanet, Collared ('Orange-bellied') Trogon, and Squirrel Cuckoo.
As dusk approached we moved to the balcony of the accommodation, had a nice drink of rum, and added Brown-hooded Parrot to our list.
Day 13, 25th March 2017: San Gerardo Field Station to Puntarenas
Our pre-breakfast birding walk was again very successful, and it was even dry for the most part of it, a nice change from the last few days! It was interesting walking the same area we had done the previous day, but there was a lot more song audible. One of the species was Northern Nightingale-Wren, a beautiful songster that showed at a few meters. Next up was the uncommon and restricted-range Blue-and-gold Tanager, which showed well at close range. Into the forest we saw Highland Tinamou, Sharpbill, Grey-throated and Tawny-throated Leaftossers, White-throated Spadebill, Eye-ringed Flatbill, Black-thighed Grosbeak, Black-headed Antthrush, and an inquisitive Great Curassow that walked right up to us. Soon it was time for breakfast, so we headed back to the field station, and a female Lovely Cotinga graced the paddock along the way.
After breakfast we needed to get back up the mountain. Some walked all the way, some walked and then jumped on the back of an ATV, and others (the sensible ones) took an ATV all the way to the top. Those that walked were rewarded with a couple of good birds (Three-wattled Bellbird [our closest views yet], Swainson's Thrush, and Black Hawk-Eagle) and one great one, Rufous-breasted Antthrush, which made us work but rewarded us highly.
Then we commenced our drive down to the Pacific lowlands, stopping along the coast near Puntarenas. Here we found Brown Pelican, Magnificent Frigatebird, Royal and Elegant Terns, Laughing Gull (some in full breeding plumage), Willet, and Whimbrel. A short while later we arrived at our hotel with stunning views of the Gulf of Nicoya and the Nicoya Peninsula. Great views of Scarlet Macaw and Turquoise-browed Motmot were had in the hotel grounds, and as we watched a gorgeous sunset the sound of Ferruginous Pygmy Owl rang out and several Lesser Nighthawks started hawking.
We enjoyed out final evening meal of the tour and reminisced on some of the many tour highlights, including the votes for bird of the trip: Resplendent Quetzal (Su), Collared ('Orange-bellied') Trogon (John), Three-wattled Bellbird (Stuart, Don, and Kay), Turquoise-browed Motmot (Tim), and Violet Sabrewing (Rosemary).
Day 14, 26th March 2017: Puntarenas to San José, and tour concludes
As the final morning of the tour dawned we were already up and having breakfast, ready to head out for a final look for more new birds. In some scrub and mangroves we found some great birds like Lesser Ground Cuckoo, Cinnamon Hummingbird, Stripe-headed Sparrow, Turquoise-browed Motmot, Black-headed Trogon, Indigo and Painted Buntings (the latter a stunning male), Northern Scrub Flycatcher, Panamanian Flycatcher, Mangrove Warbler, and American Redstart.
Our final birding stop was at a small, unassuming area of saltpans. Here we got some incredible views of lots of new shorebirds and terns, all at close range. However, before that a perched Pearl Kite gave prolonged views and was probably breeding in the area. Highlights from the saltpans included Black Skimmer, Stilt Sandpiper, Short-billed Dowitcher, Willet, Marbled Godwit, Western, Semipalmated, and Least Sandpipers, and Grey, Semipalmated, and (rather amorous) Wilson's Plovers. Western Osprey, Royal Tern, Cabot's Tern, and Magnificent Frigatebirds were overhead, while Gull-billed Terns flew in and landed, a few in complete breeding plumage. We took a quick look inside some adjacent mangroves, and in no time at all we were eye-to-eye with the uncommon Rufous-necked Wood Rail, a very nice bonus bird and always a treat to see.
Then we started our journey back to San José, stopping for lunch along the way, and as luck would have it there was a nesting pair of White-necked Puffbirds in the restaurant car park. They gave excellent, close views, proving a fitting end to the tour. On reaching San José the tour concluded.
Please see the downloadable PDF above with the full species lists included. This is a sample trip report. Please email us ([email protected]s.com) for more trip reports from this destination.
COSTA RICA PREMIUM TOUR-SPECIFIC INFORMATION
PLEASE CLICK HERE FOR GENERAL INFORMATION PERTAINING TO ALL OUR COSTA RICA TOURS
This 18-day Costa Rica birding tour is designed to provide you with the best birding in the country. We will begin the tour by birding the Pacific slope in and around Carara National Park, looking for Streak-chested Antpitta, Orange-collared Manakin, Scarlet Macaw and Fiery-billed Aracari. A boat trip along the Tarcoles River is another tour highlight where we are likely to find many waterbird species, the endemic Mangrove Hummingbird, and even American Crocodile. Further south, near Golfo Dulce, we will search for the most-wanted duo of Yellow-billed and Turquoise Cotinga, as well as the endemic Black-cheeked Ant Tanager and White-crested Coquette. We will then continue the tour by taking you to the lush Savegre Lodge where we will target the fantastic Resplendent Quetzal, Spotted Wood Quail and Spangle-cheeked Tanager. Here we will have the chance to visit several bird feeders where we can find outstanding hummingbirds such as Fiery-throated Hummingbird and Talamanca Hummingbird.
Exploring northern Costa Rica will take us to visit the famous La Selva biological station where we should be rewarded with sightings of Snowy Cotinga and Cinnamon Woodpecker. The trails here provide further exciting, yet secretive species such as Great Curassow and Great Tinamou. We will explore Caño Negro River and Medio Queso wetlands in search of the localized Nicaraguan Seed Finch and Nicaraguan Grackle as well as the secretive Pinnated Bittern and Yellow-breasted Crake. A visit to the Arenal region provides further splendid birding and if you are lucky, you could score with uncommon birds such as Yellow-eared Toucanet, Thicket Antpitta, Ornate Hawk-Eagle, Blue-and-gold Tanager, Russet Antshrike, Keel-billed Motmot and Bare-crowned Antbird. Of course, the bird feeders at Cinchona are a mandatory stop for stunning views of Red-headed Barbet, Prong-billed Barbet, Black Guan, Buff-fronted Quail-Dove, and several colorful tanagers. American Dipper, Yellow-throated Toucan, Snowcap, Keel-billed Toucan and other dream species are frequently seen on this fantastic tour.
ARRIVAL INFORMATION
Please e-mail us ([email protected], or contact us here) before booking any of your flights, as the information shown here is just an initial guide. Our tour will start in San José, the capital city of Costa Rica. You can reach San José's Juan Santa Maria International Airport (SJO) by direct flights from the USA, Europe and Panama City (Panama). You might wish to consult your travel agent to book your most convenient flight (and please contact us if you want any guidance). Your tour leader will be waiting for you at San José Airport displaying the Birding Ecotours logo and we will then transfer you to your hotel. Please be aware that most international flights arrive in San José around noon, so we don't have any birding activities planned for the first afternoon. If you do arrive on an earlier flight, you will be transferred to the hotel but may have to wait until check-in is available (normally in the early afternoon, although you can easily pass the time in the hotel's garden). For an early check-in you might be charged extra by the hotel; this cost is not included in the Birding Ecotours tour price.
Please remember to keep your luggage tags, as they are required to exit the terminal building at the San José Airport.
When filling out your customs declaration form, please use the below address for the hotel:
Hotel Robledal: Oeste de la Iglesia Católica de El Roble 124, El Roble, Provincia de Alajuela, Alajuela, 20104, Costa Rica
DEPARTURE INFORMATION
Our tour will end in San José after a wonderful 18 days/17 nights in Costa Rica. After the last morning's birding, our representatives in Costa Rica or the hotel shuttle will transfer you to San José's Juan Santa Maria International Airport (SJO), from where you can take connections out home.
DOMESTIC FLIGHT INFORMATION
There are not domestic flights needed for this itinerary.
PHYSICAL REQUIREMENTS AND PACE
We grade this trip as moderate to easy. Most of the birding consists of walking along roads, with some walks involving steady ascents and descents. We will explore forest trails which may be uneven and can get muddy after rain, and will also cross suspension bridges on some of the trails. Participants should be able to walk at least three miles (five kilometers) per day. We will spend lots of relaxing and highly rewarding time sitting and watching hummingbird feeders and looking for birds in the surrounding lodge grounds.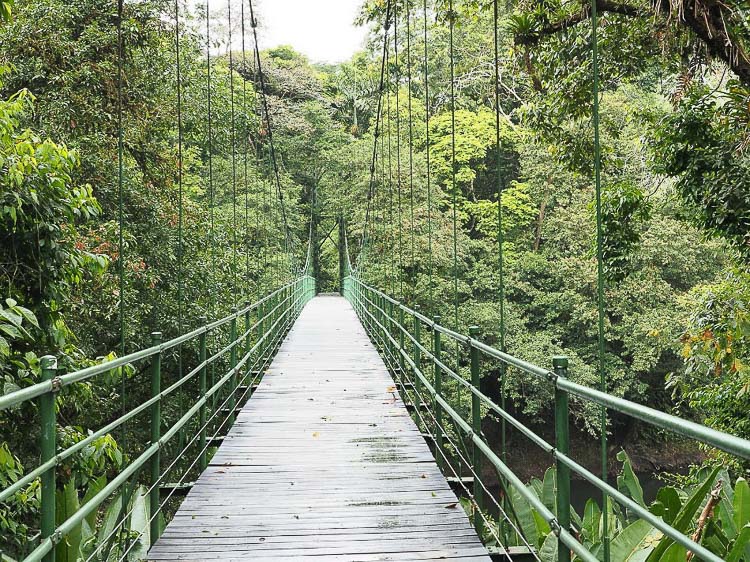 Suspension bridge at La Selva Biological Station.
Keep in mind that (as is usual on birding trips) we need to be awake very early in the mornings, and pre-dawn starts are in order each day. We normally spend the whole morning birding in the field, before returning to the lodge for lunch, followed by an early afternoon rest, before continuing birding later in the afternoon. Your guide will sometimes invite you to look for owls at night, but this is an optional activity that you can skip if you are feeling tired. Some people prefer to rest, skipping birding in the afternoon; this can be done at those lodges when we are staying two or more nights. When we make birding stops while traveling between locations, people who feel tired do not have to follow the group and can remain in the vehicle.
We will spend two or three nights at a few lodges/hotels during this tour, which allows you to enjoy the grounds more and relieves you of the stress of packing and re-packing every day. Furthermore, our leaders and tour staff will do their utmost to ensure you feel as comfortable as possible while on tour.
We think this trip might be difficult for people with back, walking, and balance problems or for those who are not used to a birding trip with regular early morning starts.
ATM MACHINES
ATM machines are available at San José's airport and at La Fortuna. Please be sure to draw cash or exchange money at San José Airport, as we will have very few opportunities or time to visit ATMs while on tour. Most of the hotels and shops accept credit cards.
ALTITUDE
We will reach high elevations at Los Quetzales National Park which is the highest point of the tour at 10,465 feet (3,190 meters) above sea level. We will only likely spend a couple of hours birding at altitude here, as we do not have many specific target species.
WEATHER
We ask you to be ready for all kinds of weather during this trip.
The southern Pacific slope region, including Villa Lapas, Carara National Park, Esquinas Rainforest Lodge, and the northern Caribbean foothills (Sarapiquí, La Selva Biological Station and Caño Negro) is hot and humid, with temperatures reaching 30–37°C (86–98°F). We suggest packing appropriate clothing for these temperatures and using sunscreen and a light-colored hat or cap.
The cloudforest of Irazú Volcano and Savegre Lodge can be sunny in the morning, with temperatures often dropping to 16°C (60°F) in the early morning and as low as 9°C (48°F) at night. We can also expect some rain in this part of the country.
Please check our list of what we recommend to bring, here.
LAUNDRY
Laundry services are available at most of the hotels we stay at in Costa Rica, with the exception of the Tapenti Hotel and Hacienda San Joaquin. Laundry fees are not included in the tour price.
ACCOMMODATION
The accommodation is generally of a high standard on the trip, featuring some particularly good hotels such as Hotel Savegre Natural Reserve Spa, Arenal Observatory, Villa Lapas and La Quinta de Sarapiquí. Others are of a slightly lower standard but still have perfectly adequate service, in some cases they are run as family businesses, and are always located strategically close to the main birding sites such as at Caño Negro Natural Lodge, Tres Esquinas Rainforest Lodge, Hotel Tapantí, Hotel Robledal and Hacienda San Joaquín.
TRANSPORT
We will have a private van for the whole tour with plenty of room for everybody. We will also take an enjoyable boat ride along the Rio Tarcoles. Please be sure to check the information regarding our vehicle seat rotation policy in our Costa Rica general information document, here. At Savegere Lodge, we will be transferred to the start of the creek trail in the back of an open-top 4×4 jeep however this is only a 10-minute ride. Participants need to be fit enough to get in and out of the vehicle.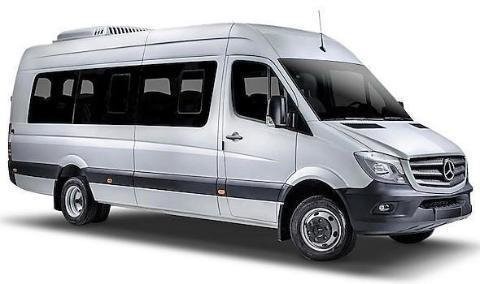 An example of the van we will use while on our Costa Rica Premium Tour.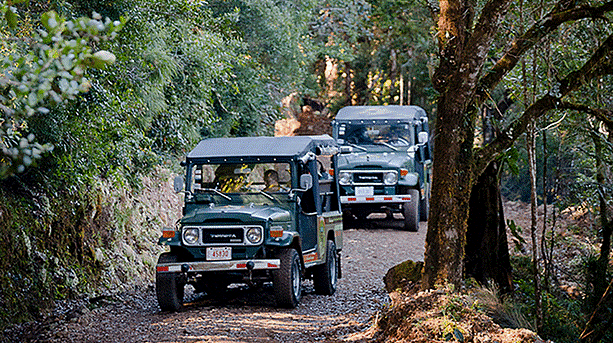 A 10-minute ride in 4×4 vehicles might be required to reach certain spots along the tour.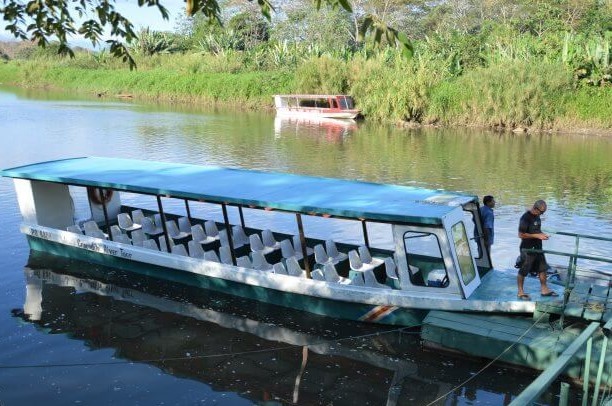 An example of the boat we use along the Tarcoles River.

Costa Rica General Information
'I loved all properties on the Costa Rica Escape tour in January 2019 – small family run establishments in lovely grounds. Accommodation at Savegre was very good and the best in the area. We had a 12-seater van for one couple along with our guide Eduardo and driver Ricardo, who drove excellently and we felt safe. Our guide Eduardo, is funny and friendly, and has an amazing knowledge of all wildlife. He is great company! Highlights of the tour included Resplendent Quetzal, Snowcap and the structure of the tour.'
Karen