Birding Tour Thailand: Central Thailand – Shorebird Spectacle and Jungle Birding
Go to: Thailand Birding Tours | Birding Tours in Asia | All our birding tours
Dates and Costs
07 – 16 February 2022
Price: US$4,215 / £3,205 / €3,731 per person sharing – based on 4-8 people
Single Supplement: US$575 / £437 / €509
* Please note that currency conversion is calculated in real-time, therefore is subject to slight change. Please refer back to the base price when finalising payments.
09 – 18 January 2023
Price: US$4,635 / £3,524 / €4,102 per person sharing – based on 4-8 people
Single Supplement: US$635 / £483 / €562
---
Tour Details
Duration: 10 days
Group Size: 4 – 8
Tour Start: Suvarnabhumi Airport, Bangkok
Tour End: Suvarnabhumi Airport, Bangkok
---
Price includes:
Meals (from evening meal on day 1 until lunch on day 10)
Accommodation
Guiding fees
Entrance fees
All transport while on tour
Tolls
Price excludes:
All flights
Items of a personal nature, e.g. gifts
Alcoholic drinks
Personal insurance
Gratuities (please see our tipping guidelines blog)
---
Featured Guide: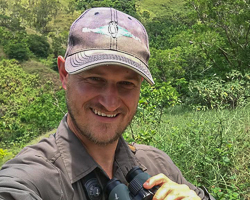 Andrew Walker
Birding Tour Thailand: Central Thailand – Shorebird Spectacle and Jungle Birding
February 2022/January 2023
This short, small-group tour forms a circuit around central Thailand starting and ending in Bangkok. This tour can also easily be combined with our northern Thailand tour, which runs immediately after this one finishes, Northern Thailand: Spectacular Resident and Migrant Birds – think Rusty-naped Pitta, Siberian Rubythroat, Spot-breasted Parrotbill, Mrs. Hume's Pheasant, Baer's Pochard, and an amazing Pied Harrier roost, etc., for that tour. Our March southern Thailand tour, Southern Thailand: Jewels of the South – think Malayan Banded Pitta, Mangrove Pitta, Scarlet-rumped Trogon, Malaysian Rail-babbler, and Helmeted Hornbill,  etc., starts a few days after the conclusion of this northern Thailand tour in 2022 and thus could also be combined with the preceding tour(s) for an exciting, comprehensive Thailand adventure. These tours have been designed to focus on the amazing birding that Thailand has to offer during the northern winter, set in gorgeous countryside with incredibly warm people and some of the tastiest food in the world too.
Spoon-billed Sandpiper, one of the most sought-after birds on earth.
After arrival in Bangkok we head south to the shores of the Bay of Bangkok and the vast areas of saltpans that form the vital overwintering habitat for hundreds of thousands of shorebirds, where one of the most highly sought of these birds on the planet, Spoon-billed Sandpiper, can be found during the non-breeding season. We will be putting all of our effort into finding this sought-after bird, along with many other species. In fact, over 40 species of shorebirds can be found here in a couple of days birdwatching! It really is quite staggering witnessing the huge numbers of birds and the species diversity. Other key birds on our radar here include Great Knot, Nordmann's Greenshank, Asian Dowitcher, Far Eastern Curlew, Malaysian Plover, and 'White-faced' Plover (a very distinctive subspecies of Kentish Plover and a bit of a taxonomic mystery). There are of course many other potential highlights to search for during our time here, and Chinese Egret will be high on that list.
We will search for Chinese Egret along the coast near Laem Pak Bia.
After our time at the coast we will venture into farmland (including some rice paddies), where we will look for impressive eagles, such as Greater Spotted and Eastern Imperial Eagles, and with luck we will find the spectacular Pied Harrier, possibly one of the best-looking harriers on the planet. There will also be a long list of typical farmland birds of the region, such as weavers, shrikes, and a wide range of interesting passerines.
We will then dive into about a week of forest birding across two phenomenal reserves Kaeng Krachan and Khao Yai National Parks. The potential list of species of birds and other wildlife across these two locations is massive (see the detailed itinerary below for extra details). Some of the most interesting and exciting birds we might find here could include Blue and Eared Pittas, Great, Wreathed, Tickell's Brown, Austen's Brown, and Oriental Pied Hornbills, Black-and-red, Banded, Black-and-yellow, Dusky, Silver-breasted, and Long-tailed Broadbills, Banded Kingfisher, Kalij and Silver Pheasants, Red Junglefowl, Siamese Fireback, White-fronted Scops Owl, Oriental Bay Owl, Coral-billed Ground Cuckoo, Red-bearded and Blue-bearded Bee-eaters, Common Green Magpie, Ratchet-tailed Treepie, Red-headed and Orange-breasted Trogons, Orange-headed Thrush, and Bamboo, Heart-spotted, and Great Slaty Woodpeckers. Non-avian highlights could include Lar (White-handed) and Pileated Gibbons, Asian Elephant, the Indochinese subspecies of Leopard (Panthera pardus delacouri), which may include the melanistic form known as "Black Panther" that occurs here, Sloth Bear, and Siamese Crocodile among the species.
This tour visits some stunning forest, and we will also sample some of Thailand's famed, delicious food during our journey. Some of the temples that we will drive past while birding are absolutely spectacular and worth spending time to appreciate them in their own right. Several sites visited also offer very good photographic opportunities for those with an interest.
We'll bird the forests of Kaeng Krachan National Park for Silver-breasted Broadbill and many others.
 Itinerary (10 days/9 nights)
Day 1: Arrival in Bangkok
After your afternoon arrival at Suvarnabhumi Airport in Bangkok you will take the short transfer to our nearby hotel for the night with the rest of the day at leisure. We will have a group evening meal together.
Overnight: Bangkok Airport area
Day 2: Pak Thale and Laem Pak Bia
After breakfast we will depart our hotel, drive straight to the coast, and start a few days' birding along the edge of the Bay of Bangkok, one of the most important overwintering areas for shorebirds in the whole of Southeast Asia. We will spend the late morning and, after checking in to our nearby hotel and having lunch, the remainder of the afternoon birding in this incredible area. We will be searching through thousands of shorebirds made up of flocks of Great Knot, Common Greenshank, Black-tailed Godwit, Eurasian Curlew, Marsh Sandpiper, Curlew Sandpiper, Spotted Redshank, Black-winged Stilt, and Red-necked Stint, but among them we will also try to find one of the most unique and Critically Endangered (IUCN) shorebirds of them all, the incredible Spoon-billed Sandpiper. Other high-value targets will be Nordmann's Greenshank, Far Eastern Curlew, and Asian Dowitcher.
Overnight: Chao Samran Beach
Nordmann's Greenshank is another globally rare wader that we will search for.
Day 3: Pak Thale and Laem Pak Bia
We will spend the full day birding within a few different areas of salt pans and coastal environments around the Pak Thale and Laem Pak Bia areas, where we hope to find Spoon-billed Sandpiper along with the range of shorebirds listed above, but there will also be other birds possible due to visiting different habitats. The number of birds here can be mesmerizing. These may include Malaysian Plover and 'White-faced' Plover (a distinctive subspecies of Kentish Plover), Long-toed Stint, Grey-headed Lapwing, Terek Sandpiper, Red-necked Phalarope, Pied Avocet, Pin-tailed Snipe, Greater Painted-snipe, and many more.
There will be plenty of other birds to look at while we are in this area, including a wide range of herons, egrets (including Chinese Egret), cormorants, storks (including the gorgeous Painted Stork), gulls, and terns. There are also plenty of raptors in this area (there is lots of food for hungry Peregrine Falcons), and other highlights could include Mangrove Whistler, Golden-bellied Gerygone, Common, Pied, Collared, and Black-capped Kingfishers, Eurasian Wryneck, Freckle-breasted Woodpecker, Oriental Skylark, White-shouldered Starling, Black-browed Reed Warbler, and Plain-backed Sparrow.
Overnight: Chao Samran Beach
Black-capped Kingfisher is a striking bird.
Day 4: Nong Pla Lai Rice Paddies to Kaeng Krachan National Park
We will leave the coast after breakfast and will check out a few sites around the Nong Pla Lai area, where we will spend the majority of the morning before continuing on to the Kaeng Krachan National Park area. We will be looking for Greater Spotted Eagle, Eastern Imperial Eagle, Eastern Marsh and Pied Harriers, Grey-headed Lapwing, Pheasant-tailed Jacana, Green-billed Malkoha, Coppersmith Barbet, Green Bee-eater, Freckle-breasted Woodpecker, Streaked Weaver, Baya Weaver, Asian Golden Weaver, and Bluethroat.
After checking into our accommodation near Kaeng Krachan National Park we will spend the late afternoon birding from a hide in the forest, where we might find a range of babblers and bulbuls visiting as well as, potentially, Bar-backed and Green-legged Partridges, Large Scimitar Babbler, Common Green Magpie, Tickell's Blue Flycatcher, Siberian Blue Robin, or, with extreme luck, Eared Pitta coming in to drink/bath at a small forest pool.
Overnight: Near Kaeng Krachan National Park
Days 5 – 6: Kaeng Krachan National Park
We will spend two full days birding within and around this exciting park. Our time will be spent at a range of elevations to connect with the associated species of these areas. At the higher elevations of the park we are restricted to birding along a few roads that cut through the park, but this still gives us some fantastic opportunities for some restricted-range species, such as Ratchet-tailed Treepie, Collared, Spot-necked, Grey-throated, Golden, and Rufous-fronted Babblers, and Black-throated Laughingthrush. Other species on offer here include Red-headed Trogon, Red-bearded Bee-eater, Ferruginous Partridge, Kalij Pheasant, Grey Peacock-Pheasant, Mountain Imperial Pigeon, Rufous-bellied Eagle, Mountain Hawk-Eagle, Silver-breasted and Long-tailed Broadbills, Great Hornbill, Banded Kingfisher, Great Barbet, and Bamboo Woodpecker, along with lots of bulbuls, babblers, and warblers.
Red-bearded Bee-eater is another beautiful target while in Kaeng Krachan National Park.
The middle- and lower-elevation areas give us the chance for further exploration of this wonderful park. The long entrance road provides great opportunities for stopping and checking out vantage points to look at patches of forest (often with the sound of Lar (White-handed) Gibbons echoing around), and there are several trails and roads we can walk to get closer to the birds. Some of the most exciting birds we could find here may include Blue and Eared Pittas, White-fronted Scops Owl, Oriental Bay Owl, Brown Hawk-Owl, Vernal Hanging Parrot, Heart-spotted and Great Slaty Woodpeckers, Tickell's Brown, Wreathed, and Oriental Pied Hornbills, Black-thighed Falconet, Banded, Black-and-red, Black-and-yellow, and Dusky Broadbills, Orange-breasted Trogon, Common Green Magpie, Sultan Tit, Scarlet Minivet, Golden-crested and Common Hill Mynas, and Asian Fairy-bluebird, along with a wide range of bulbuls, leafbirds, woodpeckers, babblers, and barbets.
Black-and-yellow Broadbill is always a popular target bird.
On the early morning and late-evening drives into and out of the national park we are most likely to see the shy mammals, and with some luck we may come across Asian Elephant or Leopard (maybe even including the rare and elusive "Black Panther") on these drives, or even a Sloth Bear!
Overnight: Near Kaeng Krachan National Park
Day 7: Morning birding Kaeng Krachan area and transfer to Khao Yai
We will spend the early morning in a hide in the forest near Kaeng Krachan National Park, where we hope to get good views of Kalij Pheasant, Red Junglefowl, Bar-backed Partridge, Black-naped Monarch, Puff-throated Babbler, Racket-tailed Treepie, White-browed Scimitar Babbler, Greater Necklaced and Lesser Necklaced Laughingthrushes, White-rumped Shama, and an assorted range of other interesting passerines.
The colors of the Common Green Magpie need to be seen to be believed on this gorgeous bird.
During the midmorning we will commence our journey from the Kaeng Krachan area back around Bangkok and to the northeast. We will stop for lunch along the way and will visit a small temple to look for Limestone Wren-Babbler along the way. Some authorities (e.g. BirdLife International) consider the subspecies occurring here to represent a separate species; they call it Rufous Limestone-babbler. We will check into our comfortable hotel late in the afternoon for the next three nights.
Overnight: Khao Yai
Days 8 – 9: Khao Yai National Park
Another two exciting, bird-filled days await, this time in the famous Khao Yai National Park. This is a very popular national park with the locals due to its proximity to the capital of Bangkok, but the birds seem to be used to the visitors, and due to the good road network through and around the park it is usually possible to find quiet areas where we can enjoy the birds to ourselves.
We will head up to the higher parts of the site first, where we will look for Silver Pheasant, Red-headed Trogon, Collared Owlet, Black-throated Laughingthrush, White-browed Scimitar Babbler, Moustached Barbet, Grey-backed Shrike, Mountain Imperial Pigeon, Barred Cuckoo Dove, Ashy Bulbul, and Blue Rock Thrush. After enjoying some time in the slightly cooler part of the forest we will drop down to slightly lower elevations in search of some different birds.
Silver Pheasant is a spectacular target bird during our time in Khao Yai National Park
The forests along the way to the top can support some spectacular birds, and a few strategic stops may yield Long-tailed Broadbill, Banded Broadbill, Siamese Fireback, Coral-billed Ground Cuckoo, Blue Pitta, Eared Pitta, Blue-bearded Bee-eater, Orange-breasted Trogon, Common Hill Myna, and Sultan Tit.
The plateau area offers some great birding, and hornbills also feature in this part of the park. We will look for Wreathed Hornbill, Great Hornbill, Oriental Pied Hornbill, and Austen's Brown Hornbill, along with Banded Kingfisher, Red Junglefowl, Scarlet Minivet, Green-eared Barbet, Laced Woodpecker, Streak-breasted Woodpecker, Greater Flameback, Hainan Blue Flycatcher, Mugimaki Flycatcher, Buffy Fish Owl, Common Kingfisher, Blue-eared Kingfisher, Chestnut-headed Bee-eater, Brown-backed Needletail, and White-throated Rock Thrush.
Forest trails a bit lower down below the plateau area are not only good for the aforementioned hornbills but also for other species, such as Eared Pitta, White-crested Laughingthrush, Lesser Necklaced Laughingthrush, Siamese Fireback, Orange-breasted Trogon, Banded Kingfisher, Banded Broadbill, Long-tailed Broadbill, Siberian Blue Robin, and Orange-headed Thrush.
This park also gives us a chance for observing Asian Elephant, and we might also find Pileated Gibbon, Sambar, Southern Red Muntjac, Black Giant Squirrel, and other interesting animals, maybe even the rare Siamese Crocodile.
Overnight: Khao Yai
Wreathed Hornbill occurs in Khao Yai National Park, and we will listen out for its heavy wingbeats to try and locate this beautiful, huge bird.
Day 10: Khao Yai National Park area and transfer to Bangkok, where the tour concludes
We will have a final morning birding around the Khao Yai area outside of the national park. Red-breasted Parakeets are often around our hotel as are a range of barbets and starlings, maybe Pied Bush Chat or Eurasian Hoopoe too, so we will keep a lookout for these before we drive back to Bangkok.
Those participants not continuing on the northern Thailand tour will be dropped off at the Suvarnabhumi Airport in Bangkok for evening departures from Thailand. Those participants continuing on the northern Thailand tour will overnight in a hotel near the airport before flying north the following morning.
Overnight: Not included
Please note that the itinerary cannot be guaranteed as it is only a rough guide and can be changed (usually slightly) due to factors such as availability of accommodation, updated information on the state of accommodation, roads, or birding sites, the discretion of the guides and other factors. In addition, we sometimes have to use a different international guide from the one advertised due to tour scheduling.
Download Itinerary
PASSPORT AND VISA
Some visitors may require a visa depending on the country of origin or length of stay. Please check your government's advice. Your passport must be valid for a period of at least six months after the date of your arrival in Thailand. Please make sure that there is at least one full empty page available in your passport.  Also please bring a photocopy of your passport, to be kept in a different location from your passport, in case of loss or damage.
In the north of the country we bird near the Myanmar (Burma) border, and we pass through a number of military roadblocks, where identification will likely need to be shown.
TRAVEL INSURANCE
We strongly recommend that you purchase trip and cancellation insurance to protect yourself against accidents, medical, illness, loss of valuables, luggage, etc., and travel interruptions or delays of all kinds.
HEALTH
Please consult your doctor regarding any vaccine requirements. All travelers should be up to date with routine vaccination courses and boosters (e.g. tetanus). There is no risk of yellow fever transmission in Thailand; however, there is a certificate requirement if travelers have visited or come from the following countries: http://www.who.int/ith/2015-ith-annex1.pdf?ua=1. Some travelers may require Hepatitis B, Japanese Encephalitis, and Rabies vaccinations. The risk of malaria is considered low, though you should seek the recommendations of your doctor. Please read  https://wwwnc.cdc.gov/travel/destinations/traveler/none/thailand carefully.
Sunscreen should be carried, and a hat should be worn to protect from the powerful rays of the sun, with sunglasses to help prevent glare. A plentiful supply of water should be carried at all times to maintain hydration. Insect repellent is recommended.
MEDICAL CONDITIONS
Please make sure that you are covered with medical insurance in case of an emergency while on this trip. Without insurance the cost of medical care can be extremely high. Please notify us at the time of registering for these tours of any medical conditions you think we should know about (including allergies, heart conditions, epilepsy, etc.). This will greatly help us to cater to your needs and update emergency services if required.
CURRENCY
Thai Baht. Visa and Mastercard are widely accepted, including for drawing cash from ATM's (as everywhere, bank charges may apply). Note: USD/EUR/GBP cannot be used for purchases. We will be able to exchange or draw money at the airport upon our arrival and in the various cities we pass through.
WEATHER/CLIMATE   
Thailand has a tropical climate with a dry season (September-June) and a wet season (July-October). We will experience a range of temperatures on the tour, including some cold mornings in the mountains such as Doi Lang and Doi Inthanon. The birding sites around Bangkok and Chiang Mai can be hot and humid. There is always a chance of rainfall.
ELECTRICITY
The electricity is 220V, and a variety two-pronged round or flat plugs are used, ITA Types A, B, C, and O. Adaptors are needed for overseas appliances. Please also check whether your devices are 220V-compatible; if not you need a converter.
LENGTH OF DRIVES
There are a couple of days in which there are moderate drives (circa four hours). Drives are broken up where possible with birding stops and stops for refreshments etc.
WHAT TO BRING
Clothing
These are not fashion statement trips! Casual and informal dress is fine in the hotels/motels. Loose lightweight field clothing works best, with a warm fleece or jacket for cooler weather. Shorts/trousers and T-shirts are fine. You will also need to bring some warmer clothing, certainly a minimum of a warm fleece and a rain jacket. Rain is always a possibility, so an umbrella and/or rain gear is always useful to have. Early mornings can feel chilly in some areas, so come prepared, especially in the northern mountains at higher elevations.
Sunglasses, a hat and sunscreen (rated SPF 30 or higher) are useful, especially around the wader sites near Bangkok, where there is little shelter from the sun. A pair of trousers or a long skirt and a long-sleeved shirt should be included to help protect against forest vegetation and the sun. Swimwear can be brought, as there are swimming pools at some of the hotels/motels.
We would recommend lightweight walking boots when out on foot. You might like to consider sandals/trainers (tennis shoes) for use in the vehicles and for walking between your room and restaurant in the hotels and lodges.
Do not forget
Binoculars, prescription drugs (also bring the generic names of these drugs), toiletries, prescription glasses (and a spare pair), insect repellent, sunscreen and sunglasses, camera, flashlight (torches), batteries (for electronic equipment and chargers for rechargeable batteries if required), converter plug set if needed and plug adaptors, alarm clock, money pouch, field guide(s), daypacks Your guide will have a Swarovski telescope; however, if you have your own scope it is recommended that you bring it too, as this will speed up the observation of waders (shorebirds).
Key Documents and Cash
Passports, your travel or health insurance cards – photocopies of which can be carried by the tour leader in case of emergency, credit cards – see info above, USD, EUR, or GBP can be exchanged into Thai Baht if you prefer not to simply draw from ATM's. Cash for drinks, gifts, tips, items of a personal nature, etc., is not included in the tour price.
LUGGAGE
Due to restricted space in the vehicles please pack as lightly as possible. A medium soft-sided duffle bag (not the hard-sided cases) works best for packing in the vehicles. This allows us to better fit the bags. Please bring a daypack to keep items that you wish to use or need on a daily basis.
DANGEROUS ANIMALS
There are several dangerous animals in Thailand such as tiger and leopard; however, the chance of seeing either of these beautiful creatures is very low. The most real risk is posed by Asian Elephants, which we may see in either Kaeng Krachan and/or Khao Yai. We endeavor to see these animals but remain a respectful distance from them. There are 85 species of venomous snakes in Thailand, so all snakes should be viewed from a safe distance, with care taken when walking in forests (e.g. check where you are putting your hands and feet).
CRIME
Thailand is generally a safe place to travel with very friendly people. However, as anywhere in the world it is advisable to take care and remain cautious and observant for the unexpected, especially in busy areas of Bangkok and Chiang Mai.
LANGUAGE
Thai is the main language but English is widely spoken.
FIELD GUIDES                            
Birds
A Field Guide to the Birds of Thailand – Craig Robson (2004, reprint 2013). New Holland/Helm.
A Field Guide to the Birds of South-East Asia – Craig Robson (2011), New Holland/Helm.
Mammals
A Field Guide to the Mammals of South-East Asia – Charles M Francis (2008). New Holland.
Reptiles
A Field Guide to the Reptiles of South-East Asia – Indraneil Das (2015). Bloomsbury Natural History.
SOUND RECORDINGS
A wide-range of CDs with bird songs (e.g. Birds of Tropical Asia) is available online or as apps and are a recommended tool for learning bird calls. In addition it is possible to download bird calls from the excellent Xeno Canto website http://www.xeno-canto.org/.
We just returned from our trip to Thailand. It was wonderful. Thank you very much for arranging our tour with Andy Walker. He was the best guide we ever had. He is knowledgeable, easy going, hard working, and has all the qualities that people expect from a guide. We really enjoyed birding with him. We would be happy to go birding with him any time and would highly recommend him as a guide to any of our friends.
Thanks again for giving us the opportunity to have him as our guide.
Our Best Regards,
Ahmad and Sue – Canada