4-day Diademed Sandpiper-Plover and Lima Highlights tour
Go to: Peru Day Tours | Full length Peru birding tours | Birding Tours in the Neotropics | All our birding tours
Tour Costs
Price: US$1,395 / £1,055 / €1,216 per person sharing (4-6 participants),
US$1,587 / £1,200 / €1,383 per person sharing (3 participants),
US$1,770 / £1,339 / €1,542 per person sharing (2 participants),
US$2,590 / £1,958 / €2,256 (1 participant)
Single Supplement: US$402 / £303 / €351
* Please note that currency conversion is calculated in real-time, therefore is subject to slight change. Please refer back to the base price when finalising payments.
---
Tour Details
Duration: 4 days
Group Size: 1 – 6
Tour Start: Lima
Tour End: Lima
---
Price includes:
Three nights' accommodation (two at rustic cabins in the Santa Eulalia Valley and the third night at the Casa Andina Select Miraflores)
Private birding guide
All meals
Bottled water
Private vehicle
Price excludes:
International flights
Any activities not described in the itinerary (city tours, museum fees, etc.)
Personal expenses (phone calls, internet access, laundry, souvenirs, etc.)
Tips
---
Featured Guide: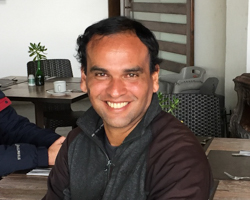 Eduardo Ormaeche
4-day Diademed Sandpiper-Plover and Lima Highlights tour
Day 1. Birding Pucusana
We leave Lima and drive south of the city along the coast to the fishing village of Pucusana. Here you will have the chance to see Humboldt Penguin, Inca Tern, Red-legged Cormorant, Guanay Cormorant, the endemic Peruvian Seaside Cinclodes, Peruvian Pelican, Peruvian Booby, and many others. Later you will be transferred to Santa Eulalia in the mountains above Lima for an overnight.
Overnight Santa Eulalia Valley
Day 2. Birding the Santa Eulalia Road
We will explore the Santa Eulalia road, reaching 3500 meters (11,500 feet) above sea level, looking for the endemics Great Inca Finch, Rufous-breasted Warbling Finch, Bronze-tailed Comet, Rusty-bellied Brush Finch, and Black-necked Woodpecker. Other possible species include Canyon Canastero, Rusty-crowned Tit-Spinetail, Pied-crested Tit-Tyrant, Pacific Pygmy Owl, Peruvian Sheartail, Blue-and-yellow Tanager, and, if we are lucky, Andean Condor.
Overnight Santa Eulalia Valley
Day 3. Search for the Diademed Sandpiper-Plover
Today we will drive up to 4500 meters (14,700 feet) elevation at the base of the snow-capped mountains, looking for the legendary Diademed Sandpiper-Plover. White-bellied Cinclodes, Olivaceous Thornbill, Black-breasted Hillstar, Giant Coot, Black Siskin, White-winged Diuca Finch, Streak-backed Canastero, and Dark-winged Miner are other species we hope to find. We will come back to Lima for an overnight.
Overnight: Casa Andina Select Miraflores 
Day 4. Birding the Lomas de Lachay National Reserve
Our final destination is the Lomas de Lachay National Reserve, located in the desert adjoining the Pacific. Here we will look for the elusive Cactus Canastero, Burrowing Owl, Oasis Hummingbird, Peruvian Thick-knee, Band-tailed Sierra Finch, Peruvian Meadowlark, Coastal Miner, Greyish Miner, Short-tailed Field Tyrant, and the endemic Thick-billed Miner.
After lunch we will come back to Lima, where the tour ends.
View Larger
Diademed Sandpiper-plover
View Larger
Many-coloured Rush Tyrant
View Larger
Great Inca Finch
Alejandro Tello
View Larger
Andean Condor
Alejandro Tello
View Larger
Peruvian Sheartail
Alejandro Tello
View Larger
Peruvian Booby
View Larger
Peruvian Pelican
View Larger
Peruvian Seaside Cinclodes
View Larger
Red-legged Cormorant
View Larger
White-bellied Cinclodes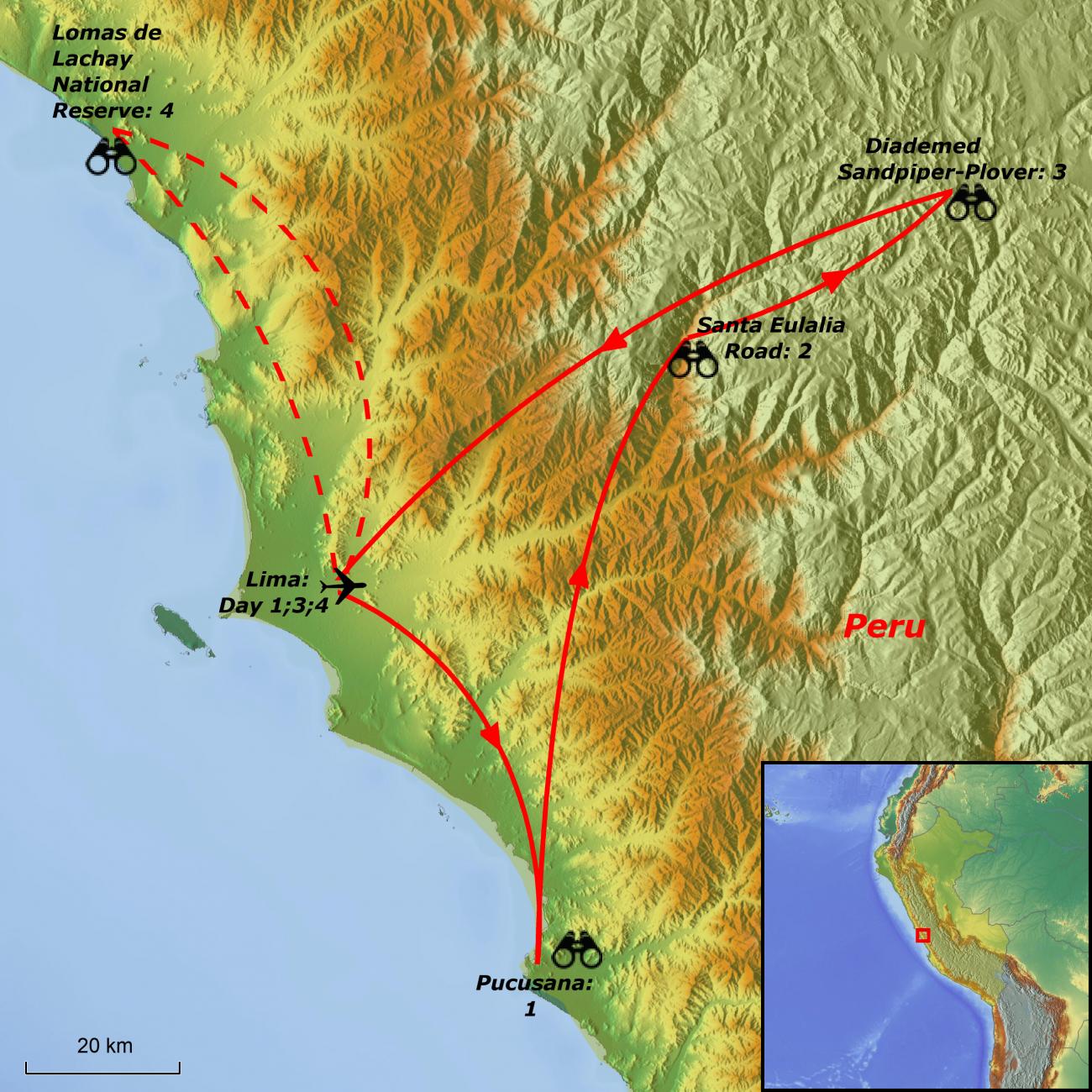 This was my first organised birding tour. Up to now I had always taken it upon myself to organise trips including local guides, accommodation, flights, transport etc.
The 4-day pre-tour excursion was the part of the trip I was most excited by, and I was not disappointed. The locations we visited ranged from coastal marshlands to mountains at 5000 metres above sea level. Every location was fascinating and engaging in equal measure.
What was most surprising was the variety and number of birds at 5000 metres altitude. Eduardo clearly knew the area well and we were quickly able to see the target species of Diademed Sandpiper-plover, Puna Snipe, Andean Goose and many others. The scenery was also some of the most spectacular I have ever witnessed.
I found all the accommodation to be excellent with the Casa Andina Select in Miraflores to be as good as any European hotel I have stayed in.
Overall I would say this pre-tour represents incredible value for money and was the highlight of my stay in Peru.
Oliver Reville – UK