27 SEPTEMBER – 05 OCTOBER 2023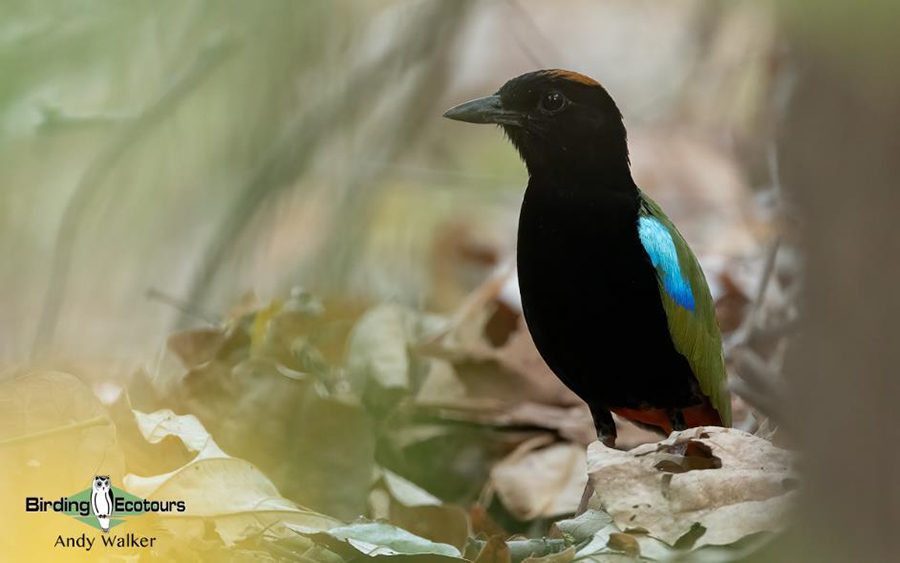 Rainbow Pitta gave excellent views during our Northern Territory birding tour of the Top End.­

Overview

This Australia birding tour started in Darwin, Northern Territory on the 27th of September 2023 and ended back there on the 5th of October 2023. This Northern Territory birding tour visited some of the best birding sites in the Top End region, and included birding at Lee Point, Buffalo Creek, George Brown Darwin Botanic Gardens, Mary River Wetlands, Kakadu National Park, Pine Creek, and Katherine.
Birding around the Top End of the Northern Territory resulted in many excellent birds, in fact we recorded 186 species during the tour (three of these were heard only).
Some of the highlight birds seen on this Top End bird tour included regional specials such as Rainbow Pitta (voted "bird of the trip"), Chestnut Rail, Radjah Shelduck, Orange-footed Scrubfowl, Rufous Owl, Black-banded Fruit Dove, Chestnut-quilled Rock Pigeon, Partridge Pigeon, Chestnut-backed Buttonquail, Brolga, Black-necked Stork, Pied Heron, Hooded Parrot, Northern Rosella, Red-collared Lorikeet, Varied Lorikeet, Cockatiel, Blue-winged Kingfisher, Red-backed Kingfisher, Black-tailed Treecreeper, Great Bowerbird, Bar-breasted Honeyeater, White-lined Honeyeater, Red-headed Myzomela, Arafura Fantail, Arafura Shrikethrush, Sandstone Shrikethrush, Silver-backed Butcherbird, Northern Shriketit, Mangrove Golden Whistler, Paperbark Flycatcher, Broad-billed Flycatcher, Buff-sided Robin, Canary White-eye, Green-backed Gerygone, Mangrove Gerygone, Crimson Finch, Masked Finch, Long-tailed Finch, and Gouldian Finch.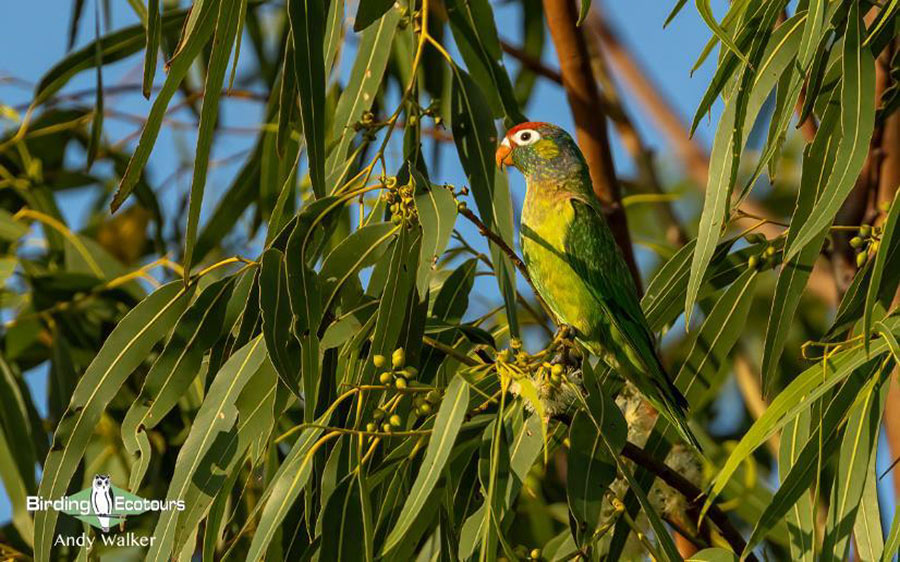 One of the special birds of the Top End, Varied Lorikeet, glowing in the early morning sunlight.
In addition to the great special birds of the Northern Territory Top End, we also recorded a long list of some exciting wide-ranging Australian birds, such as Emu, Magpie Goose, Plumed Whistling Duck, Channel-billed Cuckoo, Rose-crowned Fruit Dove, Royal Spoonbill, Black-breasted Buzzard, Pacific Baza, Wedge-tailed Eagle, Grey Goshawk, Forest Kingfisher, Torresian Kingfisher, Azure Kingfisher, Rainbow Bee-eater, Red-tailed Black Cockatoo, Red-winged Parrot, Rufous-banded Honeyeater, White-gaped Honeyeater, Yellow-tinted Honeyeater, Banded Honeyeater, Silver-crowned Friarbird, Blue-faced Honeyeater, Grey-crowned Babbler, Black Butcherbird, Varied Triller, Green Oriole, Northern Fantail, Apostlebird, Lemon-bellied Flyrobin, and Chestnut-breasted Mannikin.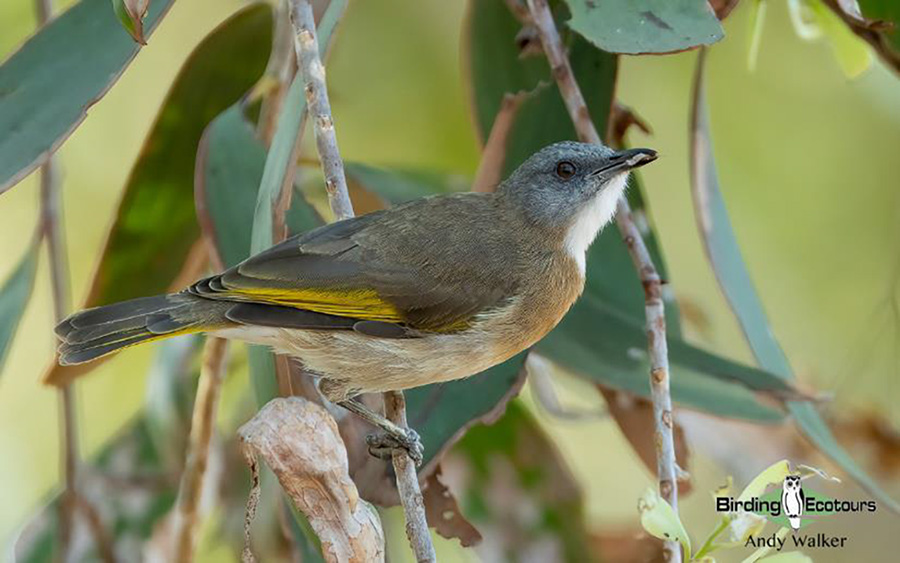 Rufous-banded Honeyeater was one of many species of honeyeater that gave us some great views during the tour.
In addition to the incredible birds, this Top End birding tour also proved great for crocodile sightings, with many huge Saltwater Crocodiles and several Freshwater Crocodiles seen from land and from our boat trip in the Mary River Wetlands. A few lizards were found too, with Gilbert's Dragon being rather attractive. Highlight mammals seen included Agile Wallaby and Short-eared Rock Wallaby, with thousands of flying foxes seen most days.
Species lists for birds, mammals, and reptiles recorded during this Australian bird tour follow the daily account, below.
Furthermore, this tour visited some of the most beautiful landscapes in the whole of Australia, with impressive sunrises and sunsets casting an incredible light over them twice a day. Add in the magical, ancient rock art dating back several thousands of years at several sites visited, and it all combined to make for a thoroughly enjoyable and interesting tour of the Northern Territory.

Detailed Report
Day 1, 27th September 2023. Arrival in Darwin and birding at Lee Point
An arrival day in Darwin, Northern Territory. We spent an enjoyable couple of hours birding around the Lee Point Dam area near our hotel, and it was an excellent introduction to the birds of the region. Our nice and relaxing bird walk gave us our first sightings of many great birds, such as Orange-footed Scrubfowl, Radjah Shelduck, Red-collared Lorikeet, Red-winged Parrot, Rainbow Bee-eater, Forest Kingfisher, Bar-breasted Honeyeater, Rufous-banded Honeyeater, White-gaped Honeyeater, Northern Fantail, Varied Triller, Paperbark Flycatcher, Leaden Flycatcher, Lemon-bellied Flyrobin, Masked Finch, and Long-tailed Finch.
After our birding session, we had a welcome dinner together, catching up and discussing what we were hoping to see on this Australian birding tour of the Top End, Northern Territory.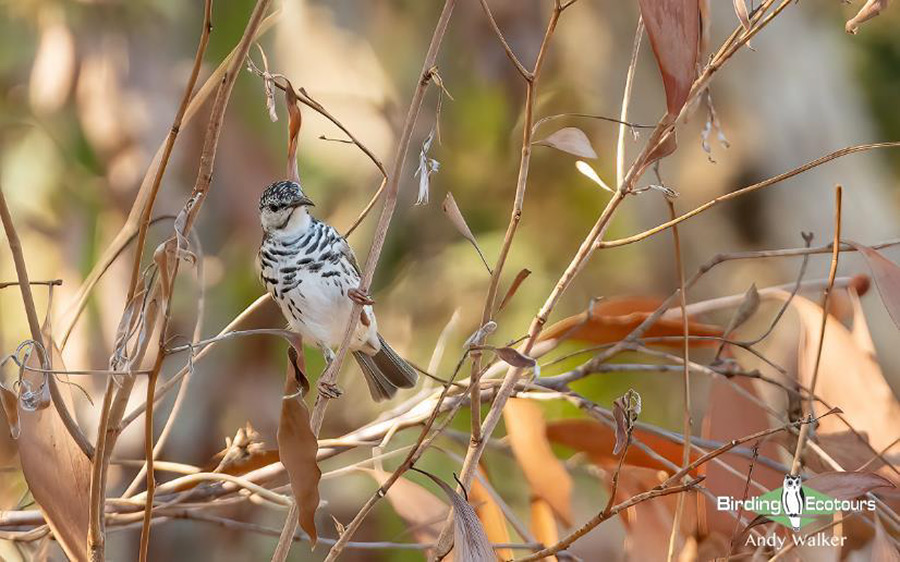 The attractive Bar-breasted Honeyeater was present in large numbers.
Day 2, 28th September 2023. Birding the Darwin area
We spent the day birding at various sites around Darwin, a wonderful city for birders to visit, with loads of great birds on offer. We started the day birding near our accommodation at Lee Point and during the day also birded at Buffalo Creek and a couple of other mangrove sites, George Brown Darwin Botanic Gardens, and the East Point area. The list of highlights was long, and we recorded a lot of birds across the day. Some of the best birds included Chestnut Rail, Arafura Fantail, Mangrove Golden Whistler, Grey (Brown) Whistler, Canary White-eye, Broad-billed Flycatcher, Shining Flycatcher, Mangrove Gerygone, Large-billed Gerygone, Red-headed Myzomela, Helmeted Friarbird, Blue-faced Honeyeater, Channel-billed Cuckoo, Azure Kingfisher, Blue-winged Kookaburra, Torresian Kingfisher, Pacific Reef Heron, almost 20 species of shorebirds roosting, including Great Knot, Terek Sandpiper, and Grey-tailed Tattler, Australian Tern, Magpie Goose, Red-tailed Black Cockatoo, Red-collared Lorikeet, Red-winged Parrot, and Osprey (catching a fish!).
Day 3, 29th September 2023. Darwin to Mary River area
We had a short pre-breakfast birding session near our accommodation in Darwin, where we picked up some more new species, as well as gaining more views of some we'd seen over the previous days. Some of these birds included Arafura Shrikethrush, Long-tailed Finch, Chestnut-breasted Mannikin, Forest Kingfisher, Green-backed Gerygone, Galah, Red-tailed Black Cockatoo, and Pacific Emerald Dove.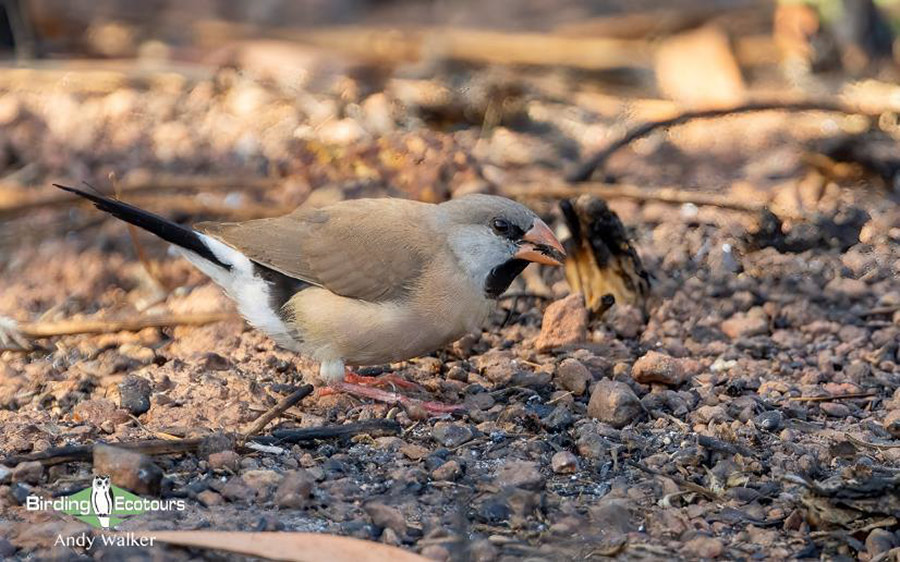 Long-tailed Finch gave us great close views.
After breakfast, we left Darwin behind until the end of the tour. We then drove east to Fogg Dam and along the way we found a pair of nest-building Pacific Baza. We spent the rest of the morning birding at Fogg Dam. Birding at Fogg Dam always turns up some interesting species. Today we found lots of birds in the wetland and forest, with some of the highlights including Brolga, Black-necked Stork, Little Curlew, Australian Pratincole, Plumed Whistling Duck, White-necked Heron, White-faced Heron, Pied Heron, Great Egret, Intermediate (Plumed) Egret, Little Egret, Eastern Cattle Egret, Royal Spoonbill, Glossy Ibis, Comb-crested Jacana, Magpie Goose, Radjah Shelduck, White-bellied Sea Eagle, Whistling Kite, Black Kite, Grey (Brown) Whistler, Lemon-bellied Flyrobin, Arafura Fantail, Golden-headed Cisticola, Zitting Cisticola, Crimson Finch, and Willie Wagtail.
After lunch with the temperature soaring, we continued our journey to Point Stuart Wilderness Lodge area. A fortuitous stop yielded a couple of Black-breasted Buzzards and a family group of Black-tailed Treecreepers along with Weebill, Australia's smallest bird, and a hunting Brown Falcon not far away. Once we'd checked into our accommodation, we had a short walk before dusk, where we found the stunning Rainbow Pitta. One individual was hopping along the trail as soon as we hit some monsoon forest, and thereafter, they took to the trees, where they gave some fleeting but repeated views. We also noted Little Bronze Cuckoo, Varied Triller, Black-faced Cuckooshrike, Spangled Drongo, and Mistletoebird during the walk.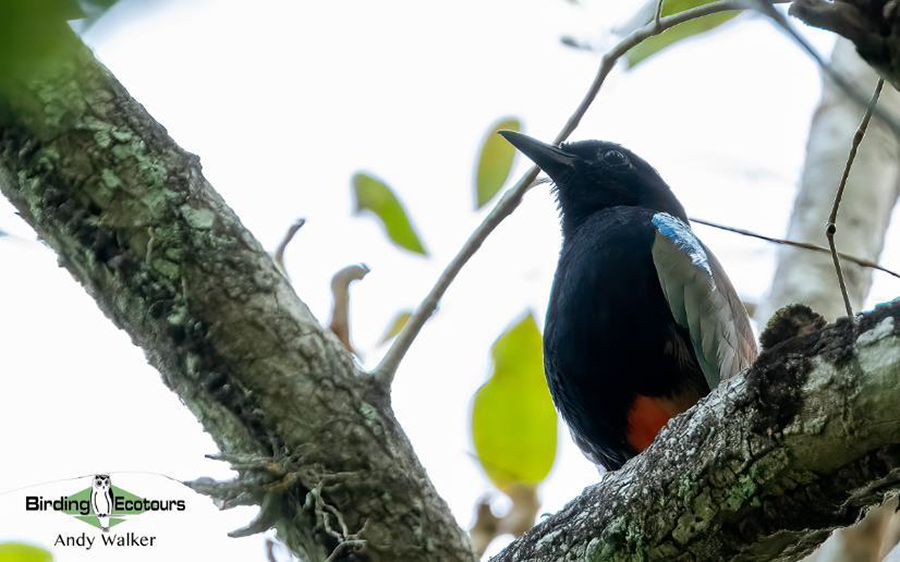 Rainbow Pitta teased us a little before giving some good views.
Day 4, 30th September 2023. Mary River to Kakadu National Park
We enjoyed an early morning boat trip in the Mary River Wetlands. The boat trip was an excellent way to observe a wide range of waterbirds and we also had close views of both Saltwater Crocodile and Freshwater Crocodile. During the boat trip, we saw the following birds: Radjah Shelduck, Plumed Whistling Duck, Magpie Goose, Pied Heron, Intermediate (Plumed) Egret, Comb-crested Jacana, Glossy Ibis, White-bellied Sea Eagle, Brown Goshawk, Collared Sparrowhawk, Blue-winged Kookaburra, Sacred Kingfisher, Azure Kingfisher, Greater Coucal, Paperbark Flycatcher, Shining Flycatcher, Rufous-banded Honeyeater, Little Bronze Cuckoo, and Brush Cuckoo.
After the Mary River birdwatching boat trip, we had a quick look in the rainforest near our accommodation, where we again saw Rainbow Pitta. We commenced our drive across to Kakadu National Park where we arrived for lunch and a siesta (the mercury was hitting 39oC). Along the way a quick stop at a billabong (waterbody) gave us the staggering sight of 173 Black-necked Storks.
In the late afternoon we visited the highly impressive Nourlangie Rock in Kakadu National Park. While we enjoyed looking at the ancient rock art, we also sought out a couple of the target birds of the region. After some effort, we located both Black-banded Fruit Dove and White-lined Honeyeater, and eventually we got great views of both.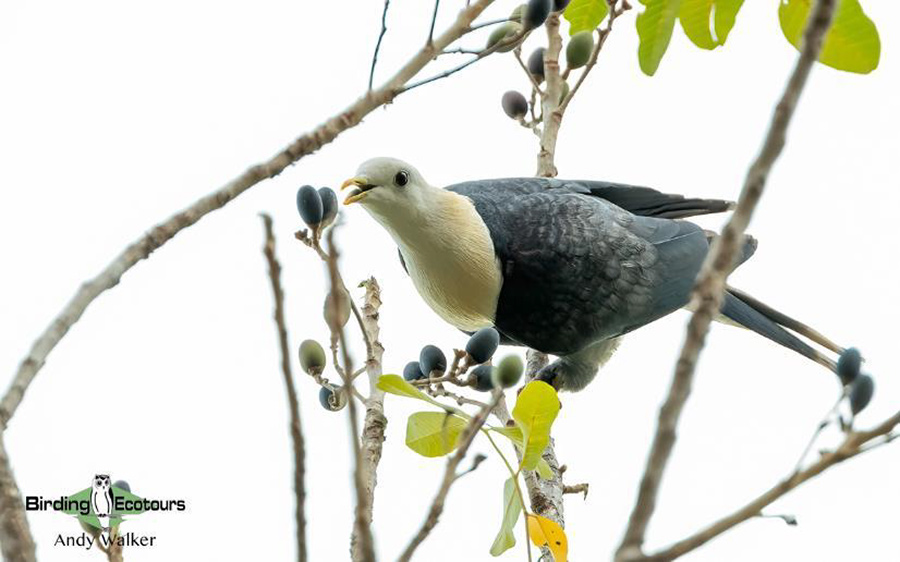 Black-banded Fruit Dove has a small global range and is restricted to the area around Kakadu National Park, and thus a top target. We got some good views of this one feeding.
Day 5, 1st October 2023. Birding Kakadu National Park
An early morning walk along a river in Kakadu National Park resulted in the sighting of almost 20 Saltwater Crocodiles lounging on the riverbanks, an impressive sight indeed. The avian highlight, however, was a pair of Rainbow Pittas that showed incredibly well (see trip report cover image!) and we watched this pair for quite a while, and it was evident they had a nest nearby. As we birded our way along the riverbank, we found a large flock of Varied Lorikeets that were feeding in a eucalyptus tree and nearby we also found Red-collared Lorikeet, Little Corella, Sulphur-crested Cockatoo, Red-tailed Black Cockatoo, Peregrine Falcon, White-bellied Sea Eagle, Brahminy Kite, Blue-winged Kookaburra, Forest Kingfisher, Azure Kingfisher, and some stunning Crimson Finches.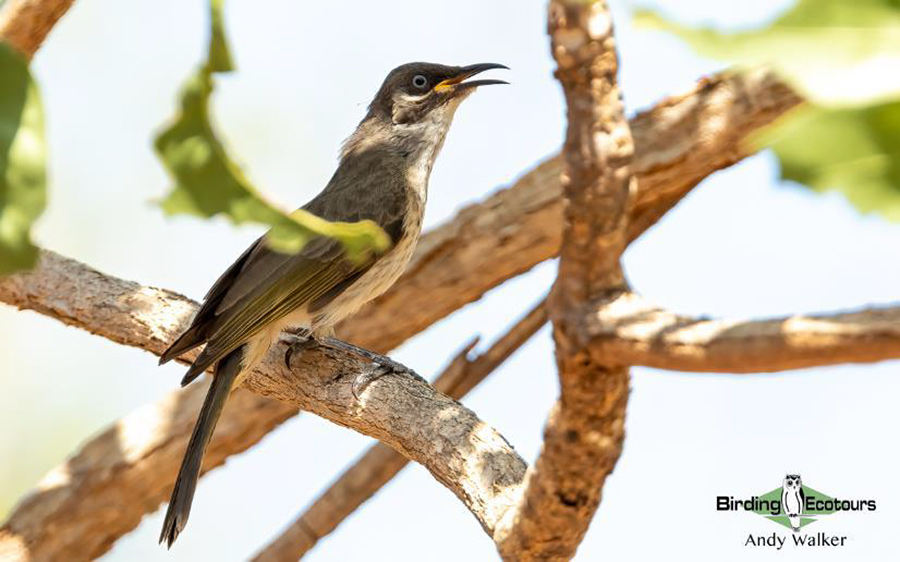 The localized White-lined Honeyeater showed well.
A change of location had us walking around some beautiful rock outcrops, where we had an excellent sighting of a pair of White-lined Honeyeaters that gave great, close, and prolonged views. After a bit of a search, we found our main target, the range-restricted Chestnut-quilled Rock Pigeon, and we saw five birds at very close range. When we arrived back at our accommodation, we were greeted by the sight of a flock of nine Partridge Pigeons that showed well.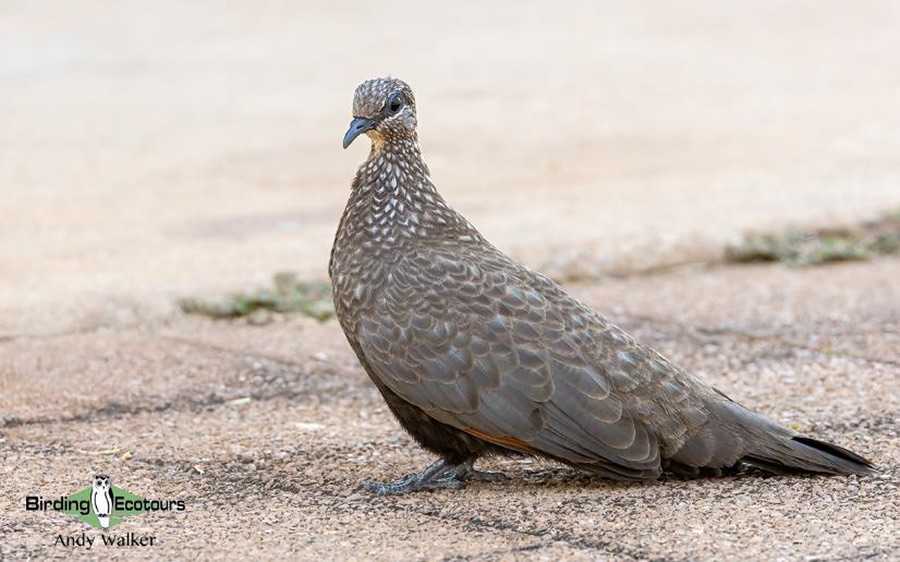 Chestnut-quilled Rock Pigeon gave us very good views as they came down to the ground to drink.
In the late afternoon, we went to a gorgeous lookout to admire the sunset and ancient rock art and saw a few more good birds too! It was a great way to end the day.
Day 6, 2nd October 2023. Birding Kakadu National Park
We spent the morning walking around some more rocky outcrops, eventually finding our main target of the morning. We started off with sightings of several Chestnut-quilled Rock Pigeons and several other birds we had seen the previous day, such as Rainbow Bee-eater, Green Oriole, and Blue-winged Kookaburra. Walking around the rocks (which looked stunning in the early morning light), we found Short-eared Rock Wallaby, but still no sign of what we were really looking for! Pretty distractions abounded, such as Red-backed Fairywren, Crimson Finch, Double-barred Finch, and Long-tailed Finch. Finally, we heard our main target – Sandstone Shrikethrush; however, there was no way to get to it, and it wouldn't come to us. Very frustrating. One final bit of excitement here involved a white bird sat in a bare tree along the trail, not the usual Little Corella, Sulphur-crested Cockatoo, or Torresian Imperial Pigeon that we had been seeing over the previous days, but rather a beautiful white-morph Grey Goshawk.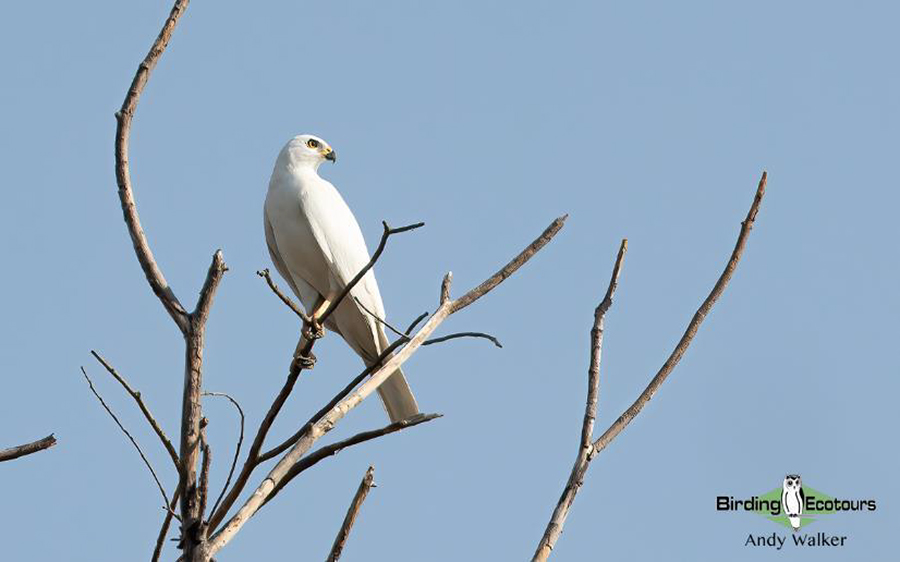 The striking white plumage of a white-morph Grey Goshawk.
As the heat started to build again, we decided to change locations. This brought about the sight of a flock of 19 Chestnut-quilled Rock Pigeons feeding out in the open on a lawn, an impressive sight indeed. As we commenced another walk around yet more beautiful landscapes, we again heard a Sandstone Shrikethrush; this time we were able to follow the sound and after a short look around some rocks, we were able to get some brief views. After a short wait, we gained several other gradually improving views of the bird as it came a bit closer, but it always remained a bit distant. Happy with our success, we made our way back to Jabiru to sit out the heat of the day (where Red-backed Fairywrens and Grey-crowned Babblers showed nicely).
In the afternoon, we explored a billabong (wetland) and got to watch an interesting mix of species. Little Corellas were numerous (and noisy), but we also had several majestic Red-tailed Black Cockatoos coming down to drink from various pools. Several species of ducks were present and included Plumed Whistling Duck, Radjah Shelduck, Pacific Black Duck, Grey Teal, and Green Pygmy Goose. Magpie Geese were also present in big numbers, always nice to see. Numerous herons, egrets, and ibis were present and showing well, and we found our first Black-fronted Dotterels of the trip. Some interesting behavior was noted too, with several of the Little Corellas acting very aggressively to the Agile Wallabies that wanted to come and get a drink!
Day 7, 3rd October 2023. Kakadu National Park to Katherine
We spent the day driving out of Kakadu National Park across to Pine Creek, then south to the town of Katherine. We made multiple short stops along the way and each of these yielded something different from new birds, better views of previously seen birds, or some beautiful scenic views.
Our breakfast spot gave some of the group a sighting of the spectacular Rose-crowned Fruit Dove, and this was followed up by a walk to a river where we saw another huge Saltwater Crocodile, along with Green Oriole, Rufous Whistler, and Leaden Flycatcher. Another roadside stop gave us some great looks at a pair of Emu, the first of our trip. We watched them feeding and going about their business for as long as they would allow. Moving further towards the edge of Kakadu National Park, we made a few more stops, where we found Buff-sided Robin, Silver-backed Butcherbird, Northern Fantail, Arafura Fantail, Yellow-throated Miner, Black-breasted Buzzard (on a nest), Oriental Dollarbird, Blue-winged Kookaburra, and plenty more.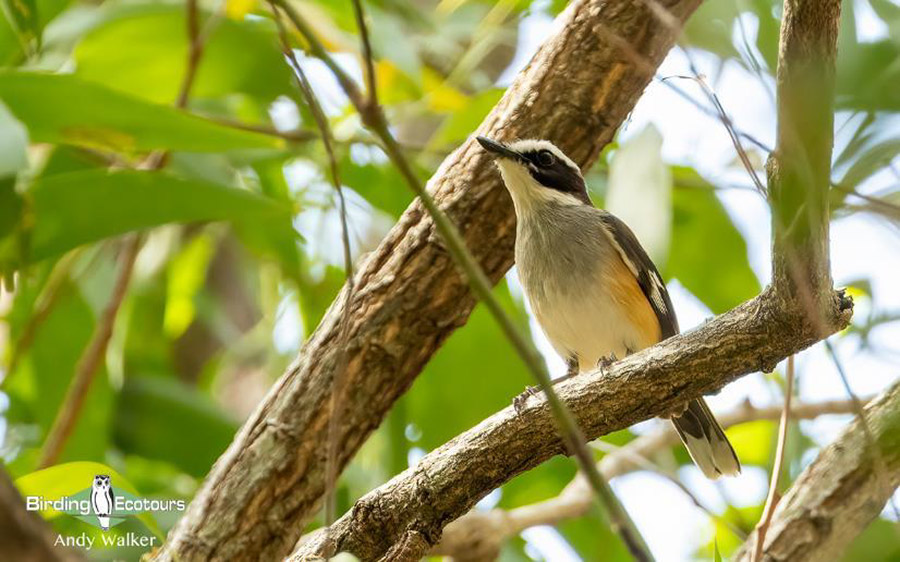 We found the secretive Buff-sided Robin along a densely vegetated stream.
We took a lunch break in Pine Creek, and a short while afterwards, we were getting super close views of several Hooded Parrots, including some gorgeous male birds. Here too we got to see an impressive Great Bowerbird bower, and even saw the male bird attend the bower – he also flashed his rather extravagant pink tuft of "hair"! A sprinkler in the police station garden was attracting all sorts of birds, including Silver-crowned Friarbird, Little Friarbird, and Blue-faced Honeyeater.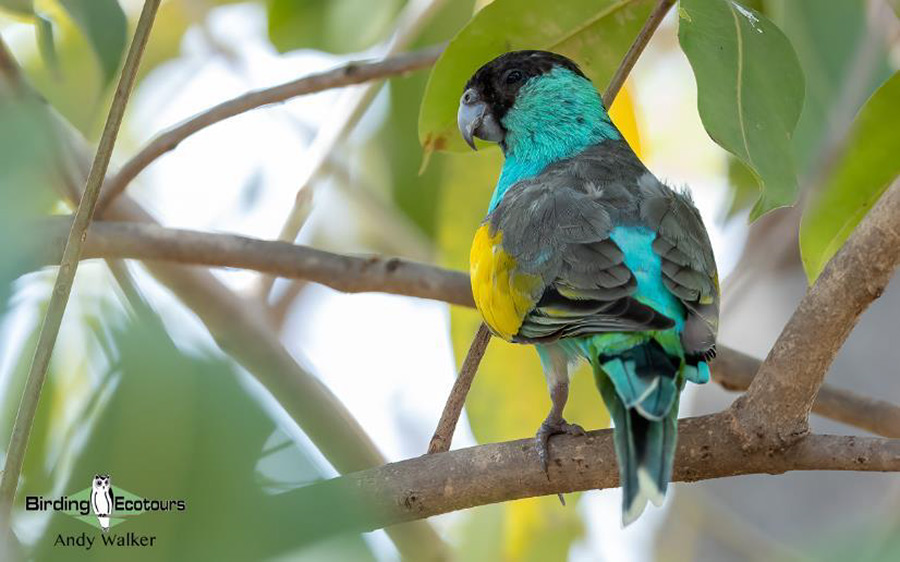 We had some good views of Hooded Parrots as they sought shelter in the heat of the day.
Continuing our journey south towards Katherine, we made a stop at some pools, where we sat and waited to see what would come in for a drink/wash. Finches were numerous and we saw Crimson Finch, Double-barred Finch, Long-tailed Finch, Masked Finch, and a single Gouldian Finch (a young bird). Several honeyeaters visited the pools too, and included Banded Honeyeater, Rufous-throated Honeyeater, and Bar-breasted Honeyeater, amongst the more common and widespread species. A Brown Goshawk was hanging around and the birds were a little skittish, so we left the site and arrived in Katherine in time for a quick shower before a wonderful dinner.
Day 8, 4th October 2023. Birding Katherine area
We spent the day birding around Katherine and found several new birds for the trip. As we were driving to our first spot, we had a stream of Red-tailed Black Cockatoos flying over as they left their roost site and found a few small flocks of Cockatiels and Galahs. A small group of Apostlebirds were noted foraging along the side of a road too.
Once we arrived at our birding site, we started our walk, noting Black-tailed Treecreeper, Pied Butcherbird, Black-faced Woodswallow, Yellow-tinted Honeyeater, Black-chinned Honeyeater, Banded Honeyeater, Jacky Winter, Cockatiel, Varied Lorikeet, Long-tailed Finch, Masked Finch, Australian Hobby, and finally our main target, Northern Shriketit, formerly part of the Crested Shiriketit complex. The shriketit took some locating in the vast area of suitable habitat, but when we heard it, we were able to locate a pair of birds, which then gave some good views. Driving around Katherine just before lunch, we picked up a pair of Red-backed Kingfishers.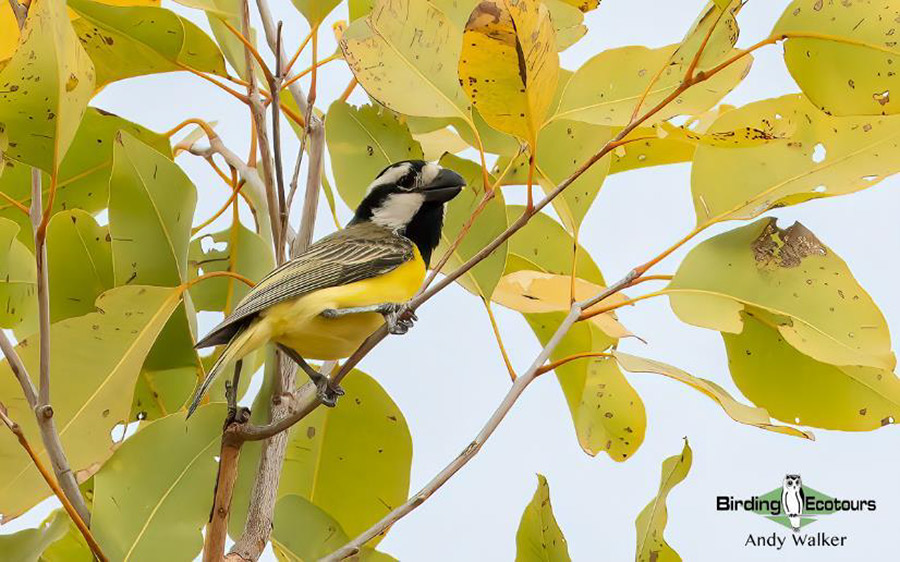 We enjoyed watching a pair of Northern Shriketits near Katherine.
In the afternoon, we kicked around in some bush near Katherine, where, after a fair bit of effort, we were successful in locating both of our target species; Northern Rosella and Chestnut-backed Buttonquail. Satisfied with finding these species, we made our way back to the hotel to freshen up after another hot day.
Day 9, 5th October 2023. Katherine to Darwin and tour conclusion
The final day of the tour didn't quite go as planned, as some very unseasonable heavy rain (probably the first rain in the area for many months) ruined our morning birding. We sat out the rain for a couple of hours, but there wasn't really much we could do. We gained further (and final) looks at several attractive species, such as Long-tailed Finch, Crimson Finch, Double-barred Finch, Masked Finch, Leaden Flycatcher, Paperbark Flycatcher, Rufous Whistler, Red-collared Lorikeet, Varied Lorikeet, Hooded Parrot, and Great Bowerbird.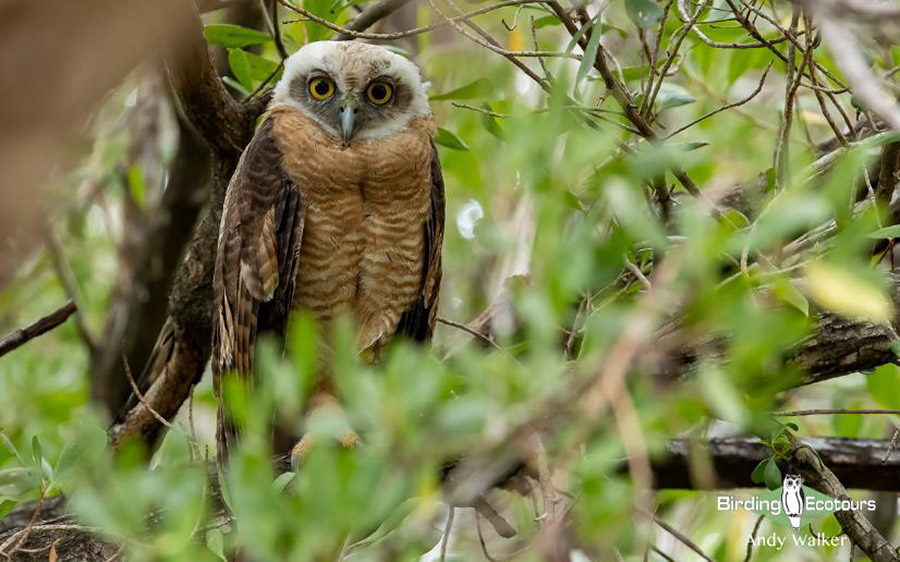 What a way to end the tour, with point-blank views of a young Rufous Owl in Darwin.
Driving back to Darwin, a quick stop at a wetland gave us Pied Stilt, Wood Sandpiper, Sharp-tailed Sandpiper, Australian Pratincole, Brolga, Australian Tern, and Whiskered Tern as well as many other waterbirds. Our final birding of this Top End birdwatching tour involved a sighting of a young Rufous Owl. It was a great way to end what had been a fabulous tour.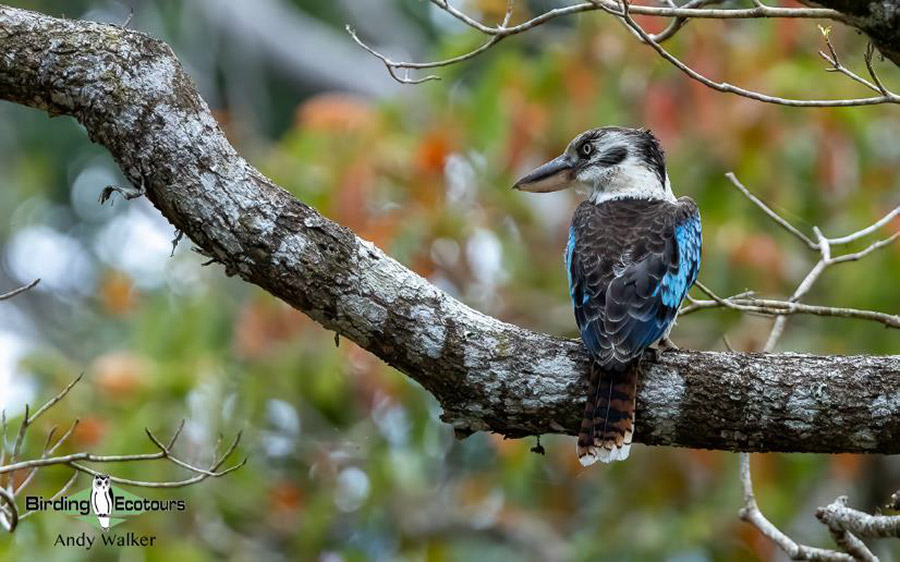 Kingfishers featured heavily on the tour, and the huge Blue-winged Kookaburra was recorded on most days, often given away by their raucous and far-carrying calls.

Bird List – Following IOC (13.2)
Birds 'heard only' are marked with (H) after the common name, all other species were seen. The following notation after species names is used to show conservation status following BirdLife International: EN = Endangered, VU = Vulnerable.
Common Name
Scientific Name
Cassowaries, Emu (Casuariidae)
Emu
Dromaius novaehollandiae
Magpie Goose (Anseranatidae)
Magpie Goose
Anseranas semipalmata
Ducks, Geese, Swans (Anatidae)
Plumed Whistling Duck
Dendrocygna eytoni
Wandering Whistling Duck
Dendrocygna arcuata
Radjah Shelduck
Radjah radjah
Green Pygmy Goose
Nettapus pulchellus
Pacific Black Duck
Anas superciliosa
Grey Teal
Anas gracilis
Megapodes (Megapodiidae)
Orange-footed Scrubfowl
Megapodius reinwardt
Pheasants & Allies (Phasianidae)
Brown Quail
Synoicus ypsilophorus
Cuckoos (Cuculidae)
Pheasant Coucal
Centropus phasianinus
Pacific Koel
Eudynamys orientalis
Channel-billed Cuckoo
Scythrops novaehollandiae
Little Bronze Cuckoo
Chrysococcyx minutillus
Brush Cuckoo
Cacomantis variolosus
Pigeons, Doves (Columbidae)
Pacific Emerald Dove
Chalcophaps longirostris
Common Bronzewing
Phaps chalcoptera
Crested Pigeon
Ocyphaps lophotes
Partridge Pigeon
Geophaps smithii
Chestnut-quilled Rock Pigeon
Petrophassa rufipennis
Peaceful Dove
Geopelia placida
Bar-shouldered Dove
Geopelia humeralis
Black-banded Fruit Dove
Ptilinopus alligator
Rose-crowned Fruit Dove
Ptilinopus regina
Torresian Imperial Pigeon
Ducula spilorrhoa
Rails, Crakes & Coots (Rallidae)
Chestnut Rail
Eulabeornis castaneoventris
Australasian Swamphen
Porphyrio melanotus
Cranes (Gruidae)
Brolga
Antigone rubicunda
Buttonquail (Turnicidae)
Chestnut-backed Buttonquail
Turnix castanotus
Stone-curlews, Thick-knees (Burhinidae)
Bush Stone-curlew
Burhinus grallarius
Oystercatchers (Haematopodidae)
Pied Oystercatcher
Haematopus longirostris
Stilts, Avocets (Recurvirostridae)
Pied Stilt
Himantopus leucocephalus
Plovers (Charadriidae)
Masked Lapwing
Vanellus miles
Pacific Golden Plover
Pluvialis fulva
Grey Plover
Pluvialis squatarola
Greater Sand Plover
Charadrius leschenaultii
Siberian Sand Plover
Charadrius mongolus
Black-fronted Dotterel
Elseyornis melanops
Jacanas (Jacanidae)
Comb-crested Jacana
Irediparra gallinacea
Sandpipers, Snipes (Scolopacidae)
Eurasian Whimbrel
Numenius phaeopus
Little Curlew
Numenius minutus
Far Eastern Curlew – EN
Numenius madagascariensis
Bar-tailed Godwit
Limosa lapponica
Ruddy Turnstone
Arenaria interpres
Great Knot – EN
Calidris tenuirostris
Red Knot
Calidris canutus
Sharp-tailed Sandpiper – VU
Calidris acuminata
Red-necked Stint
Calidris ruficollis
Terek Sandpiper
Xenus cinereus
Common Sandpiper
Actitis hypoleucos
Grey-tailed Tattler
Tringa brevipes
Wood Sandpiper
Tringa glareola
Common Greenshank
Tringa nebularia
Coursers, Pratincoles (Glareolidae)
Australian Pratincole
Stiltia isabella
Gulls, Terns, Skimmers (Laridae)
Silver Gull
Chroicocephalus novaehollandiae
Australian Tern
Gelochelidon macrotarsa
Caspian Tern
Hydroprogne caspia
Greater Crested Tern
Thalasseus bergii
Little Tern
Sternula albifrons
Whiskered Tern
Chlidonias hybrida
Storks (Ciconiidae)
Black-necked Stork
Ephippiorhynchus asiaticus
Anhingas, Darters (Anhingidae)
Australasian Darter
Anhinga novaehollandiae
Cormorants, Shags (Phalacrocoracidae)
Little Pied Cormorant
Microcarbo melanoleucos
Little Black Cormorant
Phalacrocorax sulcirostris
Ibises, Spoonbills (Threskiornithidae)
Australian White Ibis
Threskiornis molucca
Straw-necked Ibis
Threskiornis spinicollis
Glossy Ibis
Plegadis falcinellus
Royal Spoonbill
Platalea regia
Herons, Bitterns (Ardeidae)
Nankeen Night Heron
Nycticorax caledonicus
Striated Heron
Butorides striata
Eastern Cattle Egret
Bubulcus coromandus
White-necked Heron
Ardea pacifica
Great Egret
Ardea alba
Intermediate Egret
Ardea intermedia
Pied Heron
Egretta picata
White-faced Heron
Egretta novaehollandiae
Little Egret
Egretta garzetta
Pacific Reef Heron
Egretta sacra
Ospreys (Pandionidae)
Osprey
Pandion haliaetus
Kites, Hawks, Eagles (Accipitridae)
Black-breasted Buzzard
Hamirostra melanosternon
Pacific Baza
Aviceda subcristata
Wedge-tailed Eagle
Aquila audax
Grey Goshawk
Accipiter novaehollandiae
Brown Goshawk
Accipiter fasciatus
Collared Sparrowhawk
Accipiter cirrocephalus
Black Kite
Milvus migrans
Whistling Kite
Haliastur sphenurus
Brahminy Kite
Haliastur indus
White-bellied Sea Eagle
Icthyophaga leucogaster
Owls (Strigidae)
Rufous Owl
Ninox rufa
Rollers (Coraciidae)
Oriental Dollarbird
Eurystomus orientalis
Kingfishers (Alcedinidae)
Blue-winged Kookaburra
Dacelo leachii
Forest Kingfisher
Todiramphus macleayii
Torresian Kingfisher
Todiramphus sordidus
Sacred Kingfisher
Todiramphus sanctus
Red-backed Kingfisher
Todiramphus pyrrhopygius
Azure Kingfisher
Ceyx azureus
Bee-eaters (Meropidae)
Rainbow Bee-eater
Merops ornatus
Caracaras, Falcons (Falconidae)
Australian Hobby
Falco longipennis
Brown Falcon
Falco berigora
Peregrine Falcon
Falco peregrinus
Cockatoos (Cacatuidae)
Cockatiel
Nymphicus hollandicus
Red-tailed Black Cockatoo
Calyptorhynchus banksii
Galah
Eolophus roseicapilla
Little Corella
Cacatua sanguinea
Sulphur-crested Cockatoo
Cacatua galerita
Old World Parrots (Psittaculidae)
Red-winged Parrot
Aprosmictus erythropterus
Hooded Parrot
Psephotellus dissimilis
Northern Rosella
Platycercus venustus
Varied Lorikeet
Psitteuteles versicolor
Red-collared Lorikeet
Trichoglossus rubritorquis
Pittas (Pittidae)
Rainbow Pitta
Pitta iris
Bowerbirds (Ptilonorhynchidae)
Great Bowerbird
Chlamydera nuchalis
Australasian Treecreepers (Climacteridae)
Black-tailed Treecreeper
Climacteris melanurus
Australasian Wrens (Maluridae)
Red-backed Fairywren
Malurus melanocephalus
Honeyeaters (Meliphagidae)
Rufous-banded Honeyeater
Conopophila albogularis
Rufous-throated Honeyeater
Conopophila rufogularis
Bar-breasted Honeyeater
Ramsayornis fasciatus
Dusky Myzomela
Myzomela obscura
Red-headed Myzomela
Myzomela erythrocephala
Little Friarbird
Philemon citreogularis
Helmeted Friarbird
Philemon buceroides
Silver-crowned Friarbird
Philemon argenticeps
Brown Honeyeater
Lichmera indistincta
Banded Honeyeater
Cissomela pectoralis
Blue-faced Honeyeater
Entomyzon cyanotis
Black-chinned Honeyeater (H)
Melithreptus gularis
White-throated Honeyeater
Melithreptus albogularis
White-gaped Honeyeater
Stomiopera unicolor
White-lined Honeyeater
Territornis albilineata
Yellow-tinted Honeyeater
Ptilotula flavescens
Yellow-throated Miner
Manorina flavigula
Pardalotes (Pardalotidae)
Striated Pardalote
Pardalotus striatus
Australasian Warblers (Acanthizidae)
Weebill
Smicrornis brevirostris
Mangrove Gerygone
Gerygone levigaster
Large-billed Gerygone
Gerygone magnirostris
Green-backed Gerygone
Gerygone chloronota
White-throated Gerygone
Gerygone olivacea
Australasian Babblers (Pomatostomidae)
Grey-crowned Babbler
Pomatostomus temporalis
Woodswallows, Butcherbirds & Allies (Artamidae)
White-breasted Woodswallow
Artamus leucorynchus
Black-faced Woodswallow
Artamus cinereus
Little Woodswallow
Artamus minor
Black Butcherbird
Melloria quoyi
Silver-backed Butcherbird
Cracticus argenteus
Pied Butcherbird
Cracticus nigrogularis
Cuckooshrikes (Campephagidae)
Black-faced Cuckooshrike
Coracina novaehollandiae
White-bellied Cuckooshrike
Coracina papuensis
White-winged Triller
Lalage tricolor
Varied Triller
Lalage leucomela
Shriketits (Falcunculidae)
Northern Shriketit
Falcunculus whitei
Whistlers & Allies (Pachycephalidae)
Grey Whistler
Pachycephala simplex
Mangrove Golden Whistler
Pachycephala melanura
Rufous Whistler
Pachycephala rufiventris
White-breasted Whistler (H)
Pachycephala lanioides
Arafura Shrikethrush
Colluricincla megarhyncha
Grey Shrikethrush
Colluricincla harmonica
Sandstone Shrikethrush
Colluricincla woodwardi
Figbirds, Old World Orioles, Piopios (Oriolidae)
Australasian Figbird
Sphecotheres vieilloti
Olive-backed Oriole
Oriolus sagittatus
Green Oriole
Oriolus flavocinctus
Drongos (Dicruridae)
Spangled Drongo
Dicrurus bracteatus
Fantails (Rhipiduridae)
Willie Wagtail
Rhipidura leucophrys
Northern Fantail
Rhipidura rufiventris
Arafura Fantail
Rhipidura dryas
Monarchs (Monarchidae)
Magpie-lark
Grallina cyanoleuca
Leaden Flycatcher
Myiagra rubecula
Broad-billed Flycatcher
Myiagra ruficollis
Shining Flycatcher
Myiagra alecto
Paperbark Flycatcher
Myiagra nana
Crows, Jays (Corvidae)
Torresian Crow
Corvus orru
Australian Mudnesters (Corcoracidae)
Apostlebird
Struthidea cinerea
Australasian Robins (Petroicidae)
Mangrove Robin (H)
Peneothello pulverulenta
Buff-sided Robin
Poecilodryas cerviniventris
Lemon-bellied Flyrobin
Microeca flavigaster
Jacky Winter
Microeca fascinans
Swallows, Martins (Hirundinidae)
Tree Martin
Petrochelidon nigricans
Cisticolas & Allies (Cisticolidae)
Zitting Cisticola
Cisticola juncidis
Golden-headed Cisticola
Cisticola exilis
White-eyes (Zosteropidae)
Canary White-eye
Zosterops luteus
Flowerpeckers (Dicaeidae)
Mistletoebird
Dicaeum hirundinaceum
Waxbills, Munias & Allies (Estrildidae)
Crimson Finch
Neochmia phaeton
Double-barred Finch
Stizoptera bichenovii
Masked Finch
Poephila personata
Long-tailed Finch
Poephila acuticauda
Chestnut-breasted Mannikin
Lonchura castaneothorax
Gouldian Finch
Chloebia gouldiae
| | |
| --- | --- |
| Total seen | 183 |
| Total heard only | 3 |
| Total recorded | 186 |
Mammal List
Common Name
Scientific Name
Old World Fruit Bats (Pteropodidae)
Black Flying Fox
Pteropus alecto
Little Red Flying Fox
Pteropus scapulatus
Suids (Suidae)
Wild Boar
Sus scrofa
Kangaroos, Wallabies, and Allies (Macropodidae)
Agile Wallaby
Macropus agilis
Short-eared Rock Wallaby
Petrogale brachyotis
Equines (Equidae)
Domestic Horse
Equus caballus
Bovids (Bovidae)
Domestic Water Buffalo
Bubalus bubalis
Reptile List
Common Name
Scientific Name
Crocodiles (Crocodylidae)
Saltwater Crocodile
Crocodylus porosus
Australian Freshwater Crocodile
Crocodylus johnstoni
Skinks (Scincidae)
Lowlands Plain-backed Ctenotus
Ctenotus essingtonii
Bauxite Rainbow-skink
Carlia amax
Six-toothed Rainbow-skink
Carlia sexdenta
Swanson's Snake-eyed Skink
Cryptoblepharus cygnatus
Geckos (Gekkonidae)
Common House Gecko
Hemidactylus frenatus
Dragons (Agamidae)
Gilbert's Dragon
Lophognathus gilberti
Northern Two-line Dragon
Diporiphora bilineata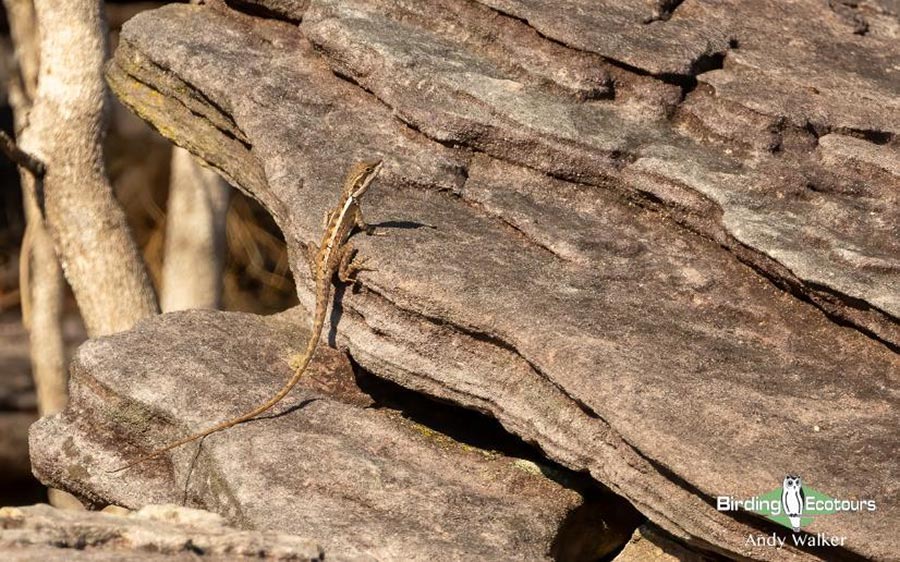 Gilbert's Dragon was seen frequently during the tour.
This is a sample trip report. Please email us ([email protected]) for more trip reports from this destination.