Go to Malawi Birding Adventure tour page | Malawi bird tours | African trip reports |  All our birding tours
DOWNLOAD TRIP REPORT
15 -29 November 2017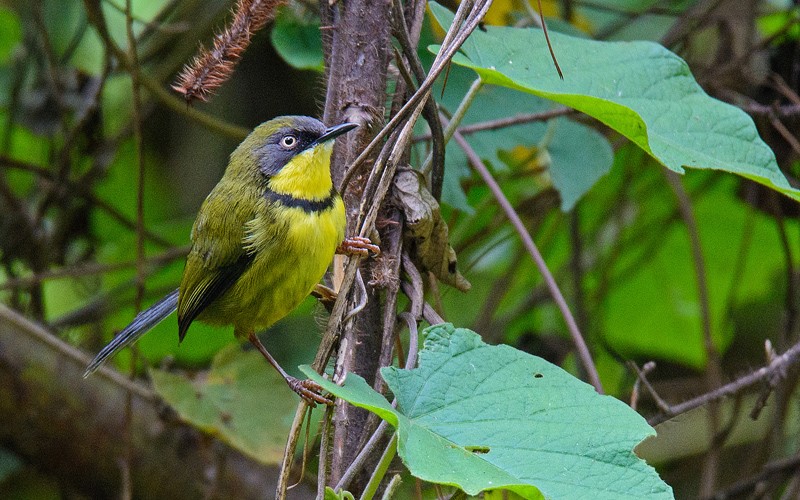 Malawi's only endemic, Yellow-throated Apalis, showed well.
Overview
Following the same route and itinerary as our set-departure Malawi tour, this tour was run specifically for our clients and saw us attempting to find as many new species as possible for them. This comprehensive tour takes in the best of Malawi. Beginning in the southern lowlands we explore a few national parks and the montane forests of the Zomba Plateau. We then move to the miombo-clad hills of the Dzalanyama Forest Reserve before continuing to the famous Nyika National Park in the north of the country. Our final destination is the Chintheche area on the shores of Lake Malawi before ending the tour in the capital, Lilongwe. Since the tour was run at the beginning of the austral summer, rain was expected during the tour and did hamper us somewhat, although it was a price that we paid happily in exchange for the excellent birding we enjoyed throughout the tour – a result of birding during the peak breeding season. A testament to the good birding saw us ending the tour on 380 species (plus 16 heard only) despite the rain challenges and the target-based nature of the trip, with us not focusing on widespread species.
Day 1, November 15. Arrival in Lilongwe
Art and Alicia landed in Lilongwe in the early afternoon, and after collecting them we made our way to our comfortable lodge on the outskirts of town, where we checked in, dropped our things, and prepared for a bit of afternoon birding.
A short ride later and we were at the Lilongwe Wildlife Centre, where we spent the remainder of the afternoon until closing. It was rather quiet, but as we progressed along the walk we made some headway. Some thickets early on held a pair of Black-throated Wattle-eyes that showed well, along with White-browed Robin-Chat and Olive Sunbird. Some scanning of the river produced a pair of African Black Ducks along with Hamerkop, Common and Green Sandpipers, and Pied Kingfisher. As we progressed we picked up on the raucous notes of Schalow's Turaco, and had the bird within view in no time. We enjoyed great scope views of it as it sat contently, calling occasionally. Other species seen here included Emerald-spotted Wood Dove, Black-backed Puffback, Tropical Boubou, Black Cuckooshrike, African Paradise Flycatcher, Yellow-breasted Apalis, and Kurrichane Thrush.
Day 2, November 16. Lilongwe to Lengwe National Park
With a long drive ahead of us today we had only a small bit of time in the morning to bird locally before having to set off. We concentrated our efforts in the gardens of our lodge and the surrounding woodlands. The birding was excellent to put it simply, and we never ran out of getting more species. The lush lodge gardens and thickets provided us with many species, including Speckled Mousebird, Willow Warbler, Grey-backed Camaroptera, Arrow-marked Babbler, African Yellow White-eye, Southern Black and Ashy Flycatchers, Collared, Olive, and Variable Sunbirds, Spectacled Weaver, Red-billed Firefinch, Bronze and Red-backed Mannikins, and a small group of the truly spectacular Red-throated Twinspots.
Moving into the surrounding mixed woodland the good birding continued, and here we added African Green Pigeon, Striped and Woodland Kingfishers, Yellow-fronted Tinkerbird, Black-collared Barbet, Cardinal Woodpecker, Chinspot Batis, Long-billed Crombec, Garden Warbler, an excited group of the prized Green-capped Eremomelas, Violet-backed Starling, Scarlet-chested Sunbird, Golden-breasted Bunting, and a mixed group of canaries made up of Southern Citril and Yellow-fronted and Brimstone Canaries.
With that excellent start behind us our breakfast went down well before we got onto the road for our long drive to Lengwe National Park in the lowlands of the southern part of the country. We made good progress and arrived at the entrance gate in the mid-afternoon. We made our way over to Nyala Lodge where we checked in and then headed out for an afternoon walk. The combination of thickets and open woodland here made for excellent birding, and we got a good taste of it this afternoon. A White-backed Vulture perched atop its nest got us off to a good start, while we added to our Kingfisher tally with finding Grey-headed. Little Bee-eaters hawked insects over an opening, while a noisy Broad-billed Roller kept watch over a small pond. The open woodlands held Red-faced Mousebird, Green Wood Hoopoe, Bearded Woodpecker, Orange-breasted Bushshrike, Brubru, Sombre Greenbul, and Greater Blue-eared Starling. Suddenly a large raptor flew in, and although it landed somewhat obscured, we were able to see enough of it to confirm that it was a magnificent Crowned Eagle. A final run-through of some thickets on the edge of the lodge produced Bearded Scrub Robin and Collared Palm Thrush. Some of the mammals encountered on our walk included Nyala (for which the lodge and reserve is perhaps best known), Impala, Smith's Bush Squirrel, and Vervet Monkey. We enjoyed the first of many sundowners as dusk came!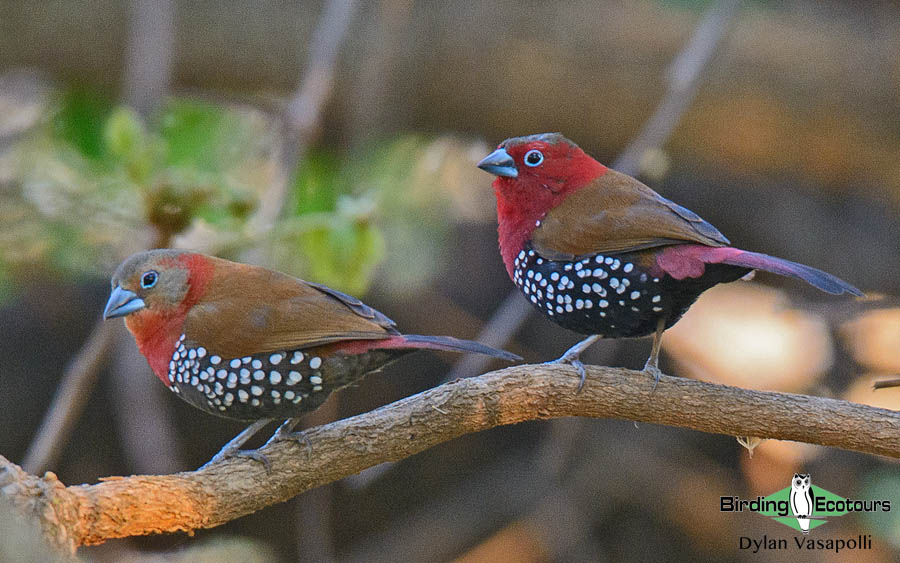 A pair of Red-throated Twinspots paused for a few seconds.
Day 3, November 17. Lengwe National Park
We had a full day to spend exploring the depths of this park and began with a morning walk, taking us into some of the proper 'lowland thickets', before returning back to the lodge for a much-needed and delicious breakfast. Before we actually got into the thickets we passed through some mature open woodland and enjoyed some more widespread species, including a surprise Namaqua Dove, Levaillant's and Jacobin Cuckoos, Common Scimitarbill, Greater Honeyguide, Eurasian Golden Oriole, Southern Black Tit, Yellow-bellied Greenbul, and Grey Tit-Flycatcher. The thickets were pretty quiet, but some persistence paid off with the sought-after Böhm's Bee-eater, Crowned Hornbill, Retz's Helmetshrike, African Golden Oriole, Terrestrial Brownbul, Square-tailed Drongo, and Dark-backed Weaver, while Eastern Nicator called at regular intervals but refused to show. En route back to camp the open woodland again held a few different species, with the best being Marabou Stork, African Harrier-Hawk, a regal Martial Eagle, Rattling Cisticola, and Pin-tailed Whydah.
Following a break over the midday period we resumed birding on an afternoon drive, exploring other areas. A small ephemeral pond on the edge of a large patch of thicket held numbers of Knob-billed Ducks, Egyptian and Spur-winged Geese, Yellow-billed and White Storks, African Openbill, Grey Heron, Hamerkop, and many Wood Sandpipers. Our stop here also provided the difficult Green Malkoha, and we enjoyed some good views of this skulker. African Emerald Cuckoo taunted us but refused to show. As we pressed onward we enjoyed a number of raptors, including White-backed Vulture, Black-chested and Brown Snake Eagles, Bateleur, and Wahlberg's Eagle, before the track began turning less and less drivable. We should have taken our cue at this point but continued onwards and soon found ourselves embedded in a mud patch, which was carefully hidden under a mat of grass. We spent a little while trying to dig ourselves out and eventually came free. With smiles all around we made our way back to camp, but not before picking up the stunning Livingstone's Flycatcher and Hildebrandt's Francolin as a bonus. We added a few more mammals during the course of the day, including Yellow Baboon, Samango Monkey, Common Warthog, Cape Buffalo, and Suni.
Day 4, November 18. Lengwe National Park to Zomba. 
With not too much ground to cover today we made the most of the morning in Lengwe with another morning walk. We focused on an area near to where we spent the previous afternoon and with overcast conditions enjoyed a productive walk. Highlights went to glorious views of a perched Crowned Eagle, Western Banded Snake Eagle, an African Goshawk displaying overhead, Black, Red-chested, African, and Common Cuckoos, Grey-headed Kingfisher, Blue-cheeked Bee-eater, African Grey Hornbill, Golden-tailed Woodpecker, Grey-headed Bushshrike, the localized Pale Batis, Lesser Masked and Village Weavers, and Jameson's Firefinch.
After breakfast we picked up a flock of Crested Guineafowls just outside the camp before gathering our things, packing, and beginning our journey to Zomba. On our way out of Lengwe the agricultural fields produced Variable Sunbird and Southern Brown-throated Weaver. We made good ground, and after a quick car-wash in Blantyre (to get rid of all the mud from yesterday) we arrived in Zomba and checked into our comfortable hotel on top of the plateau. We enjoyed a good lunch before beginning birding around the hotel gardens. Here we enjoyed our first montane forest specials, including Tambourine Dove, Livingstone's Turaco, White-eared Barbet, Yellow-rumped Tinkerbird, Olive-headed Greenbul, Black-headed Apalis, African Dusky Flycatcher, Cape Robin-Chat, and Forest Double-collared Sunbird.
With the hotel grounds exhausted we extended our search to a nearby tract of forest. We were off to a great start when we picked up a skittish White-starred Robin, and while we were trying to get some decent views of the robin a stunning Yellow-throated Apalis popped out of a bush and put on a great show for us. So Malawi's only endemic was out of the way! As we continued we added African Olive Pigeon, Little and Placid Greenbuls, and Evergreen Forest Warbler – with the latter only showing for the briefest period of time, leaving us wanting more, despite following up on many calling individuals. All too soon the heavens opened and promptly ended our birding for the day, and we made our way back to the hotel. The rain didn't relent until after dark, while we enjoyed a good, warm meal before retiring for the evening.
Day 5, November 19. Zomba Plateau
We woke to an overcast morning once again and set off to bird some of the remnant montane forest patches still remaining on the plateau. The weather held for the morning, and we enjoyed some truly excellent birding in a short span of time. Our main target was the rare and difficult Thyolo Alethe, and we began searching some prime tracts of forest. In no time, we were onto a calling bird, and time seemed to stop as I got onto it briefly before the bird moved off, with Art and Alicia having missed it. Fortunately, we were given a second chance as we picked it up again perched in the mid-strata, completely in the open. We enjoyed the bird and our great views for a time before it moved off, leaving us elated with our views! Then we focused our efforts on another highly-prized bird, White-winged Apalis, and while the apalis proved elusive, our efforts were rewarded with a number of other species. These included Long-crested Eagle, Livingstone's Turaco, Cape Batis, Square-tailed Drongo, White-tailed Crested Flycatcher, Olive-headed, Little, and Placid Greenbuls, Yellow-throated Woodland Warbler, Yellow-throated and Black-headed Apalises, Garden Warbler, African Yellow White-eye, a far more cooperative White-starred Robin, Collared Sunbird, Red-faced Crimsonwing, Yellow-bellied Waxbill, and Mountain Wagtail. Just as we were about to give up we struck gold and found a showy pair of White-winged Apalis that put on a great show for us.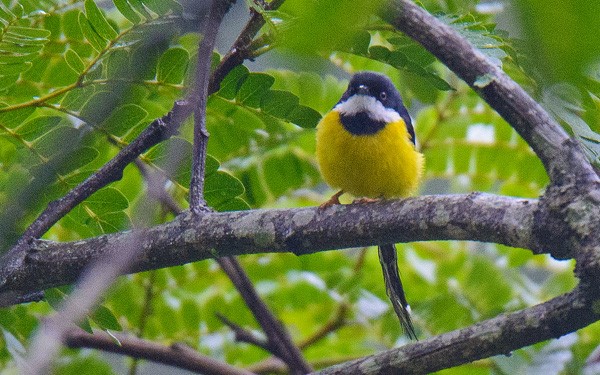 After some searching, we managed to locate the prized White-winged Apalis.
After our highly successful morning we headed back for breakfast and afterwards set off on a drive around the plateau. Augur and Common Buzzards were seen in flight, while birding in the rank grasslands gave us African Yellow Warbler, Singing and Wailing Cisticolas, African Stonechat, Yellow Bishop, a surprise group of Green Twinspots, many groups of Yellow-bellied Waxbills, Bronze and Red-backed Mannikins, and Southern Citril. As we ascended above a certain altitude, we were plunged into some of the densest fog I have ever been in, and we could scarcely see the road in front of us. We made our way back down to below the fog line and emerged into a world we could once again see. Right on the verge we decided to try our luck at yet another calling Evergreen Forest Warbler, and this proved to be a good move, as we had a pair showing very well almost immediately. While driving alongside a tract of forest I heard the distinctive song of Orange Ground Thrush, and we headed in search of it. It didn't take us too long before we found the bird, calling from high up in the canopy, as this species so often does. We enjoyed it for some time before it moved off, and we were amazed at how many great birds we had already seen today.
With rain predicted for the afternoon period, we set off to bird the southern slopes of the Zomba Massive, searching for primarily Bertram's Weaver, one of our last remaining targets here, but, sadly, without success. But as soon as we arrived on site we had time enough to enjoy Red-throated Twinspot before the rain started, well earlier than it had been predicted. Similar to yesterday the rain didn't relent and put an early end to our birding efforts. Mammals are scarce here, and species seen during the day were limited to Yellow Baboon, Samango Monkey, and Red Bush Squirrel.
Day 6, November 20. Zomba to Liwonde National Park
Owing to our immensely successful day yesterday we needed only the morning around the greater Zomba area before continuing to our next destination, Liwonde National Park. A morning walk, searching for our missing Bertram's Weaver, sadly failed, but we did enjoy a plethora of other great species, similar to what we managed yesterday. Standout sightings went to Black Sparrowhawk, Livingstone's Turaco, Black Saw-wing, Yellow-throated Apalis, and Red-faced Crimsonwing.
After enjoying a good breakfast, we packed and headed down the mountain to try another area for the weaver, enjoying a showy Striped Pipit en route. Not being rained out allowed us to properly work the area for a time, but we sadly had to leave without finding our target. However, we still had some great birding, with highlights being Augur Buzzard and White-necked Ravens regularly moving overhead, the difficult Pallid Honeyguide perched and calling from within a massive Eucalyptus tree, Singing and Red-faced Cisticolas, African Firefinch, and Red-throated Twinspot all present, while some of the larger trees held a gaudy pair of White-winged Apalis. Before long we were at the entrance to the famous Liwonde National Park, only to be told that after recent rains the roads within the reserve were closed, and we had to head to an alternate entrance, from where we had to take a boat to our lodge.
After arriving and meeting up with our local guide Duncan we settled for lunch and a slight rest before our drive later in the afternoon. A stroll around the grounds gave us some better views of species we had seen already, such as Woodland Kingfisher, Böhm's Bee-eater, Tropical Boubou, Spotted Flycatcher, White-browed Robin-Chat, Collared Palm Thrush, Scarlet-chested Sunbird, and Southern Brown-throated Weaver.
Our afternoon drive was incredibly productive as we worked the mosaic of open floodplains, thicket, and mopane edge together with the majestic Shire River. The thicket areas held Purple-crested Turaco, Trumpeter Hornbill, Dickinson's Kestrel, Brown-headed Parrot, the sought-after Lilian's Lovebird, and a pair of the unpredictable Orange-winged Pytilia. The woodland edges and the dry floodplain were very productive and provided Palm-nut Vulture, Western Banded Snake Eagle, Bateleur, Wahlberg's Eagle, Little Bee-eater, Meves's Starling, White-browed Sparrow-Weaver, and Yellow-throated Longclaw. The river was our last port of call, when we settled in and enjoyed a spectacular sundowner, with all the many waterbirds going about their business before the day ended. Species seen here included Yellow-billed and Saddle-billed Storks, Black-crowned Night and Squacco Herons, Great Egret, White-breasted Cormorant, African Darter, African Fish Eagle, Water Thick-knee, Spur-winged Lapwing, Common and Green Sandpipers, Common Greenshank, a small number of African Skimmers, and Pied and Malachite Kingfishers. A night drive back to the lodge saw us connecting with Large-spotted Genet along with White-tailed, Marsh, and Meller's Mongooses and Scrub Hare.
Day 7, November 21. Liwonde National Park
With a full day available for us to explore this great reserve, we began with a morning walk through some riverine frontage, searching for, among others, primarily Pel's Fishing Owl. It was a rather quiet morning with not much activity. Species we eked out included African Cuckoo-Hawk, Grey Go-away-bird, Green Malkoha, Klaas's Cuckoo, a family of African Wood Owls at their day roost, Giant Kingfisher, Southern Ground Hornbill, Livingstone's Flycatcher, and Bearded Scrub Robin. African Barred Owlet was heard only as we transferred to the other side of the river to resume our search, along with a try for the incredibly localized Brown-breasted Barbet. We enjoyed a roost of the prized White-backed Night Herons en route. We tried a few stakeouts for the barbet and were eventually rewarded when a Brown-breasted Barbet came to a fruiting tree. Although it moved around a lot and was pretty skittish, we enjoyed some excellent views of this sought-after species. Following our success here we resumed our search for the Pel's Fishing Owl, and, as if on cue, successfully managed to find one. Although the bird was mostly obscured, some careful positioning saw us enjoying some fine scope views of this glorious species before retiring for our (much needed) breakfast.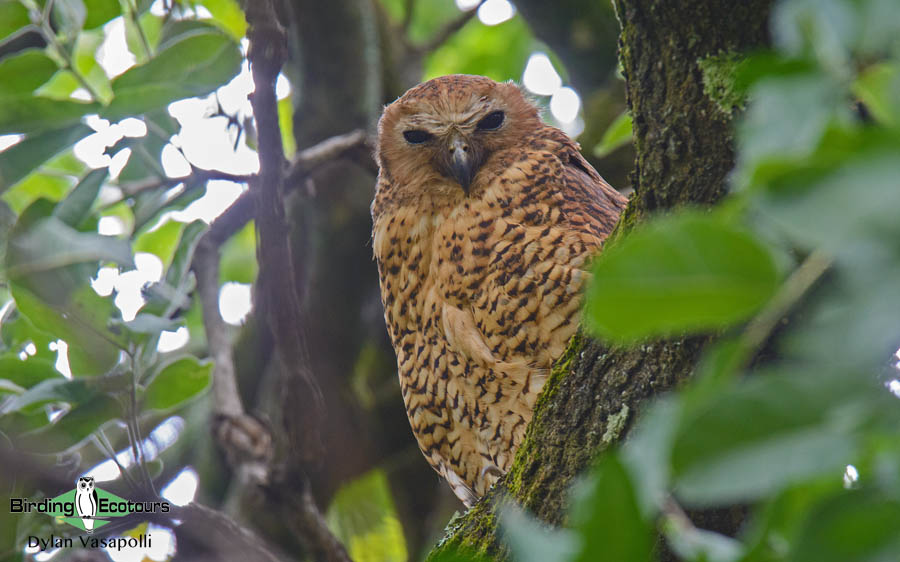 Pel's Fishing Owl was a bird high on our target list.
Following a midday break we regrouped for the afternoon stint and headed into the mature mopane woodland, searching for a few of our outstanding targets. The afternoon was excellent and saw us finding Brown Snake Eagle, Swallow-tailed Bee-eater, Southern Red-billed Hornbill, Speckle-throated Woodpecker (one of our primary targets), Lilian's Lovebird, Marsh Warbler, Violet-backed and Greater Blue-eared Starlings, and Arnott's Chat. We again settled in for our sundowners with a majestic view of the river and enjoyed among others a Eurasian Hobby hunting overhead.
We once again went on a night drive back to the lodge and enjoyed a stunning Verreaux's Eagle-Owl, while African Scops Owl was heard only. Today had also been a day for mammals, and species seen included the sought-after Sable Antelope along with African Elephant, Hippopotamus, Greater Kudu, Plains Zebra, Waterbuck, Bushbuck, and Short-snouted Sengi (Elephant-shrew), while our night drive added a calling Thick-tailed Greater Galago (Bushbaby) and excellent views of African Civet.
Day 8, November 22. Liwonde National Park to Dzalanyama Forest Reserve
We began the day with a morning boat cruise along the Shire River and enjoyed a wealth of life. Some of the birds seen included Yellow-billed Stork, African Openbill, African Spoonbill, Glossy Ibis, Squacco Heron, Western Osprey, Spur-winged Lapwing, Common Ringed Plover, a pair of Greater Painted-snipes feeding along the edges, African Jacana, Ruff, Gull-billed and Whiskered Terns, Giant Kingfisher, both Dickinson's Kestrel and Eurasian Hobby, a surprise Banded Martin, Lesser Masked Weaver, and African Pied Wagtail. Ever-present mammals were Hippopotamus and African Elephant.
We sadly had to gather our things, transfer back to our car, and continue onward, bringing our stay at this fantastic national park to an end. We made good ground as we transferred first back to Lilongwe and from there to the Dzalanyama Forest Reserve. We arrived in the mid-afternoon, and birded our way through the fantastic miombo woodland en route to the lodge. Our first stop for a party was a good one on the right on the woodland edge. We quickly acquainted ourselves with such specials as Pale-billed Hornbill, Yellow-fronted Tinkerbird, Green-capped Eremomela, Yellow-bellied Hyliota, Yellow-throated Petronia, and Reichard's and Black-eared Seedeaters among other more common party members.
After we had checked into the basic Dzalanyama Forest Lodge the heavens opened up, and we took it easy, waiting for the rain to stop. Eventually it did, and we headed off on a late-afternoon walk through some of the mature miombo close to the lodge. It was a slow walk, and we managed to eke out a calling African Barred Owlet that showed well, along with a showy pair of Miombo Rock Thrushes and a Cabanis's Bunting. We enjoyed an excellent home-cooked meal before retiring for the evening.
Day 9, November 23. Dzalanyama Forest Reserve
Dzalanyama is quite simply a magical place and an area I adore and love birding within. We had a full day to explore the reserve at our leisure, and with a number of target birds for the day we set off early and were off to a flying start. Birding in miombo woodland can be difficult at times, as one relies to be successful on finding bird parties that normally host the specials, and simply walking and spending as much time as possible in the woodland is the ultimate key to success. Very soon after leaving the lodge on our morning walk a few calls alerted us to a nearby party, and in no time we were surrounded by birds as the party moved through. It was an exceptionally exciting first party, as it contained species such as the highly-prized Stierling's Woodpecker, Miombo Tit, Red-capped Crombec, Stierling's Wren-Warbler, Yellow-bellied and Southern Hyliotas, and a group of African Spotted Creepers, among others. Having had our fill and enjoying the views of the various species we pressed onwards to our final point at a dambo (a grassy/wetland break in the woodland). Our main target at the dambo was the difficult Lesser Seedcracker, of which we only managed brief views after a lengthy search, leaving us wanting more. Our time around the dambo wasn't without reward, though, as we enjoyed the likes of Schalow's Turaco, Short-winged Cisticola, Red-winged Warbler, Black-winged Red Bishop, Yellow-mantled Widowbird, and another highly prized species, Anchieta's Sunbird.
We eventually began making our way back for breakfast but not before running into another party. Not as exciting as the first one, it still gave us a few new additions, namely White-breasted Cuckooshrike, Miombo Scrub Robin, and Wood Pipit.
Our midday period saw us tackling the many large rocky outcrops in the reserve, targeting a very unusual and highly-desired species, Boulder Chat. Our great day continued as we found and had great views of a small group of Boulder Chats at our first site. After having enjoyed them we came down from the hills and focused once again on the miombo. Approaching midday, activity was generally low, but we did quite well adding the difficult Böhm's Flycatcher and Western Violet-backed Sunbird to the list. We were also privy to finding a nest of the flycatcher and watched them at leisure around their nest.
We took a break over the lunch period and resumed birding in the afternoon, hoping to better our views of Lesser Seedcracker. After much effort we eventually tracked down a calling bird, but it was just hidden from sight, no matter where we positioned ourselves, and, frustratingly, went unseen. But after we had just about given up a last-ditch effort saw us find a stunning male Lesser Seedcracker, quietly perched in some nearby bushes, and fortunately it stuck around for us to enjoy it for a few moments before it disappeared into the vegetation once more. During our time here we added African Harrier-Hawk, Lizard Buzzard, Burchell's Coucal, Grey-olive Greenbul, Sand Martin, Holub's Golden Weaver, African Firefinch, and Brimstone Canary. On our walk back to the lodge we flushed a European Nightjar, and working a bird party further along we could add Souza's Shrike to the list, one of the last true miombo specials we had been missing so far. This brought an end to a truly fantastic day where everything seemed to go to plan!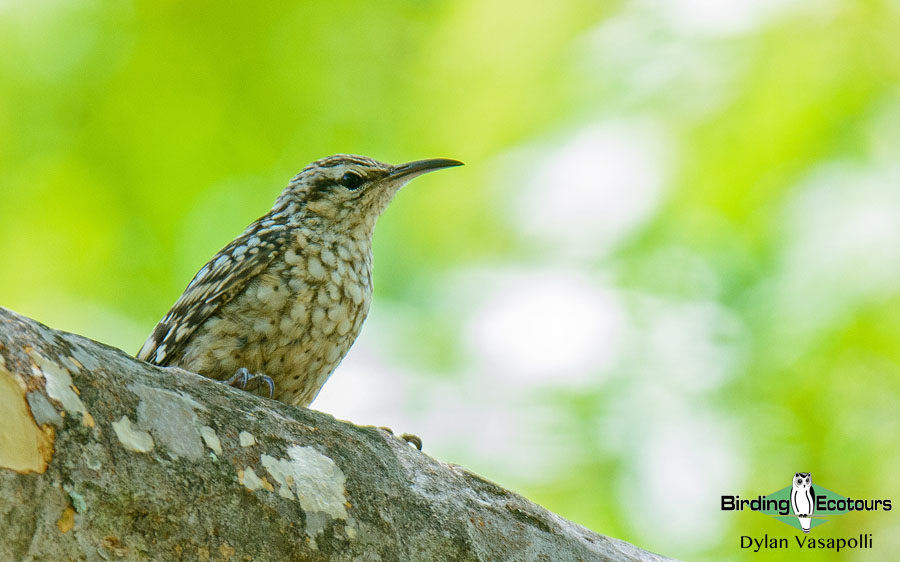 Miombo birding at its finest: African Spotted Creeper …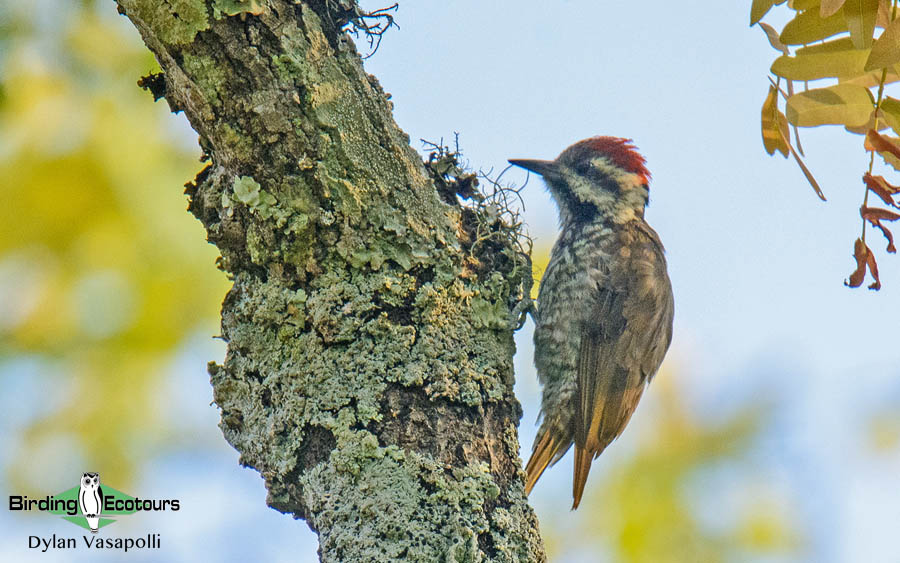 … and Stierling's Woodpecker
Day 10, November 24. Dzalanyama to Luwawa Forest Lodge
With our spectacular day of birding yesterday our list of targets was short, and we focused our efforts toward the edge of the miombo, where we'd be looking for chiefly Whyte's and Miombo Pied Barbets. We had a surprisingly slow morning and had to work hard for any birds, and our targets went wanting. Highlights of the morning were Western Banded Snake Eagle, Shikra, Bearded Woodpecker, Black-throated Wattle-eye, White-breasted Cuckooshrike, Red-winged Warbler, Miombo Scrub Robin, Wood Pipit, and great looks at Grey-olive Greenbul, while Rufous-bellied Tit eluded us and was heard only.
We bade Dzalanyama farewell and undertook our long drive northwards to Luwawa Forest Lodge, on the Viphya Plateau. A quick detour via Lifupa Dam in Kasungu National Park gave us a few common waterbirds such as Abdim's Stork, White-faced Whistling and Yellow-billed Ducks, Red-billed Teal, Red-knobbed Coot and our special target, Lesser Jacana.
In the mid-afternoon we arrived at the entrance track to Luwawa Forest Lodge and birded our way to the lodge. Some of the species seen included Blue-spotted Wood Dove, Singing Cisticola, Bertram's Weaver (which sadly didn't hang around very long), Orange-breasted Waxbill, and African Pipit.
After arriving at the lodge and checking in we joined one of the local birders who knew a spot for Whyte's Barbet. After being cooped up in the car for most of the day we opted to walk to/from the site. This proved a good move, as we were able to bird on the way and enjoyed both African Marsh Harrier and a few Pallid Harriers floating over the grasslands. We arrived in the stunted miombo and almost immediately got onto a bird perched atop some dead branches – Whyte's Barbet! Success, and we enjoyed some scope views before the bird disappeared. We headed up to a nesting spot to see if we could get better views, but alas, the bird wouldn't show again. Other species present here included Red-chested Cuckoo, Lesser Honeyguide, Northern Fiscal, Trilling Cisticola, Garden Warbler, and African Firefinch.
We made our way back to the lodge and investigated a grassy area near the lodge, which produced Moustached Grass and African Yellow Warblers along with Fan-tailed Grassbird and Croaking Cisticola. All too soon darkness came, and we settled in for a good meal.
 Day 11, November 25. Luwawa Forest Lodge to Nyika National Park
With today going to be a tight day time-wise, we had only a brief period of birding available around the lodge before we had to get going. We focused initially on the forested areas adjacent to the lodge, which was excellent, and here we recorded Schalow's Turaco, Fülleborn's Boubou, Black-browed Greenbul, Bar-throated and Chapin's Apalises, Green Twinspot, and Red-faced Crimsonwing before the mechanical purring of African Broadbill started. We aligned ourselves and managed to pick up an individual displaying, enjoying good scope views of this highly-desired species! We then birded through some scrub habitat and wetland fringes before making our way through another patch of forest. Species seen included Blue-spotted Wood Dove, African Pygmy Kingfisher, Scaly-throated Honeyguide, Olive Woodpecker, Evergreen Forest and Red-winged Warblers, White-starred Robin, Bronzy and Forest Double-collared Sunbirds, Bertram's, Spectacled, and Holub's Golden Weavers, Black-winged Red Bishop, Yellow-bellied Waxbill, and Southern Citril. The large dam held little besides Malachite Kingfisher, while an inlet had calling African Rail, Red-chested Flufftail and Little Rush Warblers, but, try as we might, we were unable to get views.
Before long we were on the road, heading for Nyika National Park. While the park wasn't too far away it took a good few hours to get to the camp after entering. This large park is one of the country's 'best-kept secrets' and one of my all-time favorite places to visit, harboring not only a wealth of biodiversity but also a great number of sought-after species and generally excellent birding – not to mention its unique setting.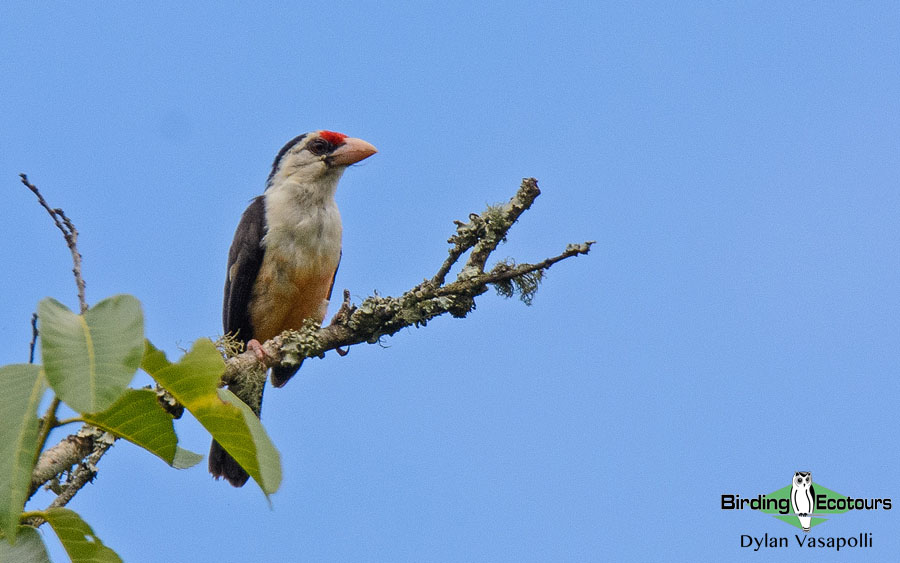 We eventually managed good views of the difficult Black-backed Barbet.
We arrived at the park around midday and immediately started looking for our first target, Black-backed Barbet, which eventually cooperated after giving us only brief views a number of times initially. Rain clouds had been building up throughout the morning, and they were now looking as though they would burst. Luckily we got back to the car just in time as the heavens opened up shortly after.
We continued the drive to Chelinda Camp, and as soon as the rain stopped a wealth of bird activity arose and we set out to investigate. We were in some stunted miombo, and one of our main targets on this stretch, Rufous-bellied Tit, began calling, and we enjoyed a few individuals a few moments later as they bounced around the trees. We also enjoyed other species such as Miombo Tit, Red-capped Crombec, Willow Warbler, Stierling's Wren-Warbler, Miombo Scrub Robin, and Tree Pipit, before forcing ourselves away.
We eventually exited the miombo and saw the rapid change in habitat as we neared the top of the plateau. Small forest patches surrounded by rolling grasslands were now the order of the day, and we stopped to investigate one of the first forest patches we found. We had quite a bit of excitement here, as both Olive-flanked Ground Robin and White-chested Alethe began calling not far away. Sadly, we were to only hear these two 'ghost' birds for now.
We continued our way to the lodge, stopping occasionally for a few more new birds, and arrived at our comfortable lodge shortly before sunset. Species seen along the way included Hildebrandt's Francolin, Lizard Buzzard, African Olive Pigeon, Moustached Tinkerbird, Olive Woodpecker, White-tailed Crested Flycatcher, Black-browed Greenbul, Grey-rumped and Red-rumped Swallows, Mountain Yellow and Cinnamon Bracken Warblers, Fan-tailed Grassbird, a plethora of Cisticolas including Singing, Trilling, Wailing, Croaking and Short-winged, Chapin's Apalis, Waller's Starling, Yellow-billed Oxpecker, White-eyed Slaty Flycatcher and Malachite and Whyte's Double-collared Sunbirds. We also enjoyed a large herd of Roan Antelope, Common Eland, and Plains Zebra, along with a lone Oribi.
Day 12, November 26. Full day at Nyika National Park
We had the day to spend within Nyika, and we headed off on a morning walk to start the day with local guide Alam. It didn't take us long before we had our first flyby of Blue Swallow, and it is encouraging to note how well this species seems to be doing here. We also managed to find the two localized Cisticolas of the area, Black-lored and Churring. Montane Widowbird was next before we found a large flock of Yellow-crowned Canaries and the difficult Yellow-browed Seedeater. White-necked Ravens were a regular sight overhead, and just as we started making our way back for breakfast we located a nearby covey of Red-winged Francolin before a mighty Denham's Bustard flew overhead and landed on the opposite hillside.
Following breakfast we joined up with Steven and headed to the Zovo Chipolo Forest, where we would try for Bar-tailed Trogon, among others. Upon arrival at the forest a vocal Olive-flanked Ground Robin was first to appear, giving us incredible views, before a Fülleborn's Boubou popped up, giving us better views than on the previous day. We enjoyed other forest species such as Schalow's Turaco, White-tailed Crested Flycatcher, Black-browed Greenbul, Chapin's and Brown-headed Apalises, White-starred Robin, and Moustached Tinkerbird before we found a calling Bar-tailed Trogon. We managed to track the bird down, but it was mostly obscured, but then we noticed another individual, much closer and completely in the open. We enjoyed breathtaking views of this prized species, as both birds went about their business, unperturbed by us, before we left them be. Abyssinian Thrush went by unseen. As we exited the forest we enjoyed a flyby European Honey Buzzard along with Rufous-breasted Sparrowhawk, before a glorious White-headed Saw-wing floated into view and stuck around at the forest edge.
Our afternoon saw us undertake a drive into the grasslands, bound for a rocky hill where we hoped to find Scarlet-tufted Sunbird. The regular Angolan Swallow showed well, and we encountered a number of coveys of Red-winged Francolin along with an unexpected group of Temminck's Coursers. The dam held little besides African Black Duck and Green Sandpiper, but then a Lanner Falcon graced the sky. Rufous-naped Larks and African Pipits showed at regular intervals, while I was the only one to get view of a flushed Common Quail that exploded off the road. Banded Martins were seen quartering the grass, but we were unable to see the small specks that were Wing-snapping Cisticolas, despite their call persisting throughout the afternoon. We arrived at the Scarlet-tufted Sunbird site just in time for the clouds and rain to move in. Only Steven and I caught a fleeting sight of a distant sunbird, which otherwise remained heard only, before we called it quits here and slowly made our way back to the lodge.
Mammals seen throughout the day included the same species as yesterday with the addition of Common Duiker.
We undertook a night drive coming back, and although it was slow going we did manage to find Spotted Eagle-Owl and a skittish Montane (Ruwenzori) Nightjar, while a Side-striped Jackal was the mammal highlight, rounding up another fantastic day.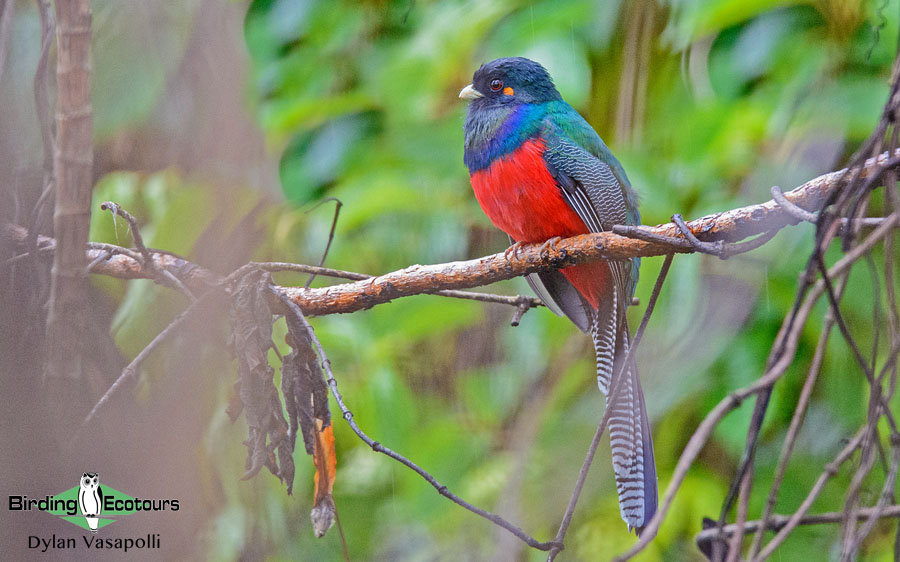 The exquisite Bar-tailed Trogon never fails to impress.
Day 13, November 27. Nyika National Park to Chintheche
With our main goal to get as soon as possible into the Vwaza Marsh Wildlife Reserve to search for some localized specials we started early from Chelinda Camp. Our trip out of the reserve was quick going for the most part, although we did have a few stops, where we were able to pick up species such as Dusky Turtle Dove, Lemon Dove, Moustached Tinkerbird, Olive Woodpecker, Cape Batis, Pearl-breasted and Mosque Swallows, Black-lored and Churring Cisticolas, Pale Flycatcher, White-chested Alethe (finally, some brief views obtained of this master skulker!), Whyte's Double-collared Sunbird, Yellow Bishop, Montane Widowbird, and Tree Pipit, among others. As we approached the exit gate the heaven opened up again and an absolute deluge came down.
We headed to the now reasonably close Vwaza Marsh Wildlife Reserve, within which the road deteriorated rapidly until we reached an impassable section now flooded from the recent rains. We decided to not head further and retraced our steps for a bit to bird a few of the remnant patches of miombo further up on the access road. As it turned out this proved to be a good move, as the rain stopped and the birds came alive. We began working the tall hillside miombo and encountered our first party consisting mainly of Rufous-bellied Tits, but we also noted Crowned Hornbill, Stierling's Wren-Warbler, Miombo Blue-eared Starling, Miombo and White-browed Scrub Robins, Collared Flycatcher, Miombo Rock Thrush, Scarlet-chested Sunbird, Yellow-throated Petronia, and Cinnamon-breasted Bunting. Try as we might, though, we could not find the two big Vwaza specials, Babbling Starling and Chestnut-backed Sparrow-Weaver. Broad-billed Rollers were in evidence, as was Meyer's Parrot, while a Narina Trogon called from a distant valley and both White-headed Saw-wings and Lesser Striped Swallows flitted about overhead.
We were trying for better views of the parrots when a distant, but very distinct African Pitta called. I couldn't believe it, as not only is this one of the most-wanted birds within Africa, but also a rare summer visitor to the region and here completely out of habitat — I fumbled at getting the words out. After composing myself we immediately set off after the bird, and fortunately for us it continued calling and displaying, leading us right to it. It was within a massive tree along a riverbed, and it took a little while to get some good views of the bird as it kept jumping around and displaying near the top of the tree, mostly obscured. But bit of patience ensured that we finally had excellent views of African Pitta. Eventually we had to pull ourselves out of the riverbed, after having our fill, with now two birds calling along this stretch of the dry riverbed.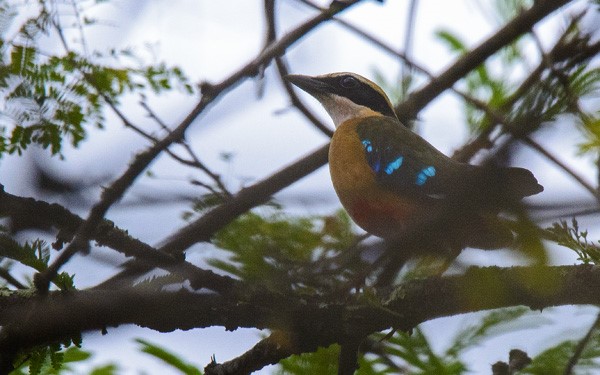 African Pitta just about to launch into its display – a truly unforgettable experience!
A Senegal Coucal was the last noteworthy bird before we called it quits here to continue onwards to Chintheche, where we would stay overnight. Following an uneventful drive we arrived in the late afternoon shortly before dusk, when we settled in and enjoyed sundowners, looking over the beautiful Lake Malawi from our comfortable lodge.
Mammal highlights for the day included Slender Mongoose and Southern Reedbuck, both in Nyika.
Day 14, November 28. Chintheche and surrounds
We woke to a thunderstorm and rain this morning, which put paid to our morning birding. We waited for it to clear and headed out on a walk of the lodge and surrounds. Although the weather was pretty awful we eked out Striated and Black Herons, White-breasted Cormorant, African Fish Eagle, Blue-spotted Wood Dove, African Green Pigeon, Purple-crested Turaco, African Black Swift, Giant and numerous Pied Kingfishers, Black-throated Wattle-eye, Terrestrial Brownbul, Red-faced Cisticola, Yellow-breasted Apalis, Garden Warbler, Ashy Flycatcher, Collared and Purple-banded Sunbirds, Eastern Golden Weaver, and African Pied Wagtail, among others.
It rained on and off through the morning, but the weather fortunately improved over the afternoon, which saw us heading to a forest patch to try for East Coast Akalat. Unfortunately, soon the road to our destination became impassable due to the recent rain. We were able to access the road from the other end and gave that a try. This proved to be successful, although the road was in bad shape, and it was very slow going. We were not able to reach the original forest we wanted to go to and instead investigated a few smaller forest patches we had passed en route, which looked excellent. Here we were able to enjoy virtually all of the other specials of the area, including Green Malkoha, Yellow-fronted Tinkerbird, Green-backed Woodpecker, Blue-mantled Crested Flycatcher, views of Eastern Nicator at long last, Yellow-bellied Greenbul, Red-capped Robin-Chat, and Collared Flycatcher, but, try as we might, no akalat. After trying for a quite some time we gave up and made our way slowly back to the lodge, where we settled in for our last sundowner of the trip.
Day 15, November 29. Chintheche to Lilongwe and departure
With a longish drive back to Lilongwe we started fairly early in the morning, noting a similar spectrum of birds to what we had found the previous day. We wanted to explore a nearby wetland, but just as we arrived the heavens opened up again, so we got back into the car and hit the road instead. Not far from the lodge we came across a young Bat Hawk flying parallel with the car; however, we lost the bird when we pulled off. The drive was relatively uneventful until we arrived at a dry dambo north of Lilongwe around midday.
The weather was still overcast, but the rain seemed to be holding. So we set off to look for a few additional species, chief among them being Locust Finch and Rosy-throated Longclaw. The area was pretty birdy, and we enjoyed many species, from raptors such as Pallid Harrier and Amur Falcon to ground-dwelling species such as Common Buttonquail, Fischer's Sparrow-Lark, and Red-capped Lark to rank-growth species such as Moustached Grass and African Yellow Warblers, and there were a number of Common House Martins overhead. Cisticolas were well represented with Red-faced, Singing, Croaking and Zitting, while also present were Yellow-throated Longclaw, Yellow-mantled Widowbird, Black-winged Red and Yellow Bishops, and many seedeaters, including Jameson's Firefinch, Common and Orange-breasted Waxbills, Village Indigobird, and Pin-tailed and Long-tailed Paradise Whydahs. We seemed to be unable to find the two chief targets, though, but just as we had practically given up we managed to flush a group of Locust Finches, but they disappeared as dark specs, as this species usually does. We headed to the area where they landed and searched for a while, sadly without luck.
Time had come to head to town to drop Art and Alicia off at their hotel, where they would spend the night and fly back home the following day, while I would begin the drive back to South Africa the following morning as well.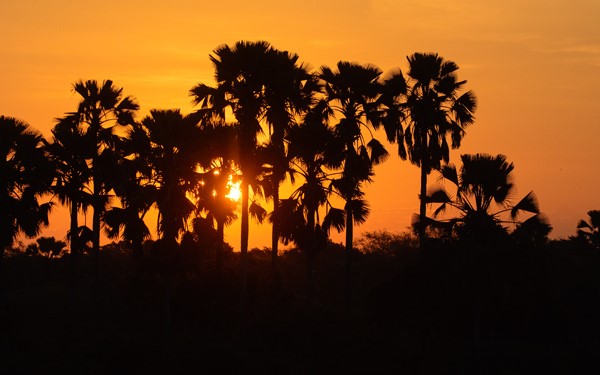 One of many sunsets gorgeous experienced on the tour
I would like to kindly thank Art and Alicia for the good times and especially the many exceptional sightings we had, including the vast majority of the region's specials. Although the rain hampered us somewhat, the excellent birding we continually had made up for this, and our African Pitta experience will no doubt remain with me for the rest of my life! Our trip was mightily successful, scoring just under 400 species in two weeks, especially considering the target-based nature of this trip!
Please see the downloadable PDF above with the full species lists included.