What time of the year is best for visiting Ecuador (both the mainland and the Galapagos Islands) to see and photograph birds and other wildlife? We honestly cannot count the number of times we've been asked this question but to this day we still cannot give a straight answer. Our best response is to ask, ¨When can you come and what do you want to see? ¨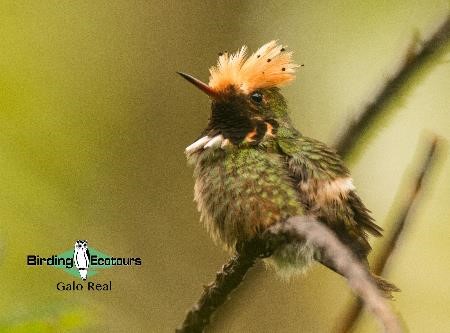 Spangled Coquette is one of the many hummers to enjoy in Ecuador.
Ecuador is truly a birder´s paradise. Fifteen percent of the world´s bird species live, at least some of the year, in Ecuador, although the country only comprises a tiny portion of the planet's land surface area. For such a small country (Ecuador is about the same size as New Mexico), its bird list of 1706 species is staggering (and that's an understatement!). Its positioning on the equator (after which it is named) means that Ecuador´s climate stays relatively constant all year round, with a few moderate changes during the course of the year. Then throw in the Andes mountain range that runs right through the middle from north to south, creating valleys with their own ecosystems and micro climates, the result in a truly fascinating, incredibly varied, part of the world.
With a multitude of habitats all packed into a tiny country, it is hard to get bored here, as a birder. Some of these highly varied habitats include:
The Pacific coastline, varying from rainforest to semi-desert!
Cloudforests on both the western and eastern slopes of the Andes, rich in birdlife as well as orchids, amphibians, mammals, and butterflies.
Highland paramos with Elfin forest and grassland which make you feel like you have stepped into another world!
The Amazon, which needs little introduction as the most biodiverse biome on the planet
The Galapagos Archipelago, often described as a ¨living laboratory¨
Northern Ecuador is interesting all year long, although June and July on the western slope are often a little drier than other months which often means around midday you may have some rare quiet moments. But that will not keep you from spotting Choco endemics on the western slope, such as Toucan Barbet, Plate-billed Mountain Toucan, Choco Toucan and Tanager Finch.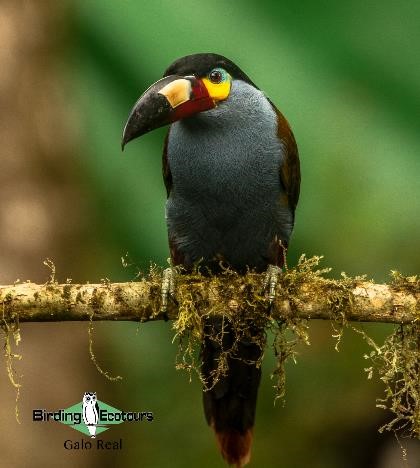 Coming to Ecuador simply to see Plate-billed Mountain Toucan would be worth it alone!
Don't forget the impressive array of hummingbirds including White-booted Racket-tail, Velvet-purple Coronet, Empress Brilliant, Gorgeted Woodstar and Gorgeted Sunangel, to name but a few of these energetic beauties that attract so many bird watchers and bird photographers to Ecuador.
Our set tours are usually run in October/November, when we expect great weather (but remember that cloudforest needs a little rain every day, so we're not promising no rain), and the northern migrants will still be around. The timing of our southern Ecuador birding tour is different, as you can see from the link above and also from our comments below. We of course try to time our tours when we think it's the best time for birding in the different parts of Ecuador, considering all the factors mentioned in this blog.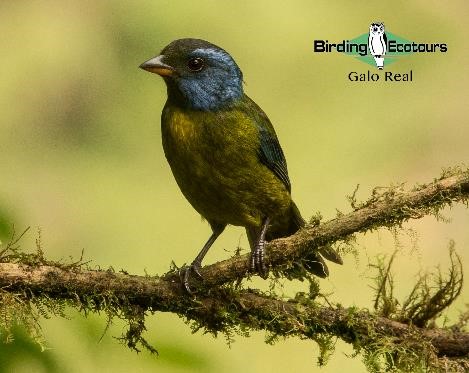 Moss-backed Tanager is one of a plethora of bird species that live on the western slope of the Andes in Ecuador.
And don´t forget about the antpittas that live here which are not too difficult to see! Some of our antpitta targets include Giant Antpitta, Yellow-breasted Antpitta, Moustached Antpitta, Chestnut-crowned Antpitta and Scaled Antpitta!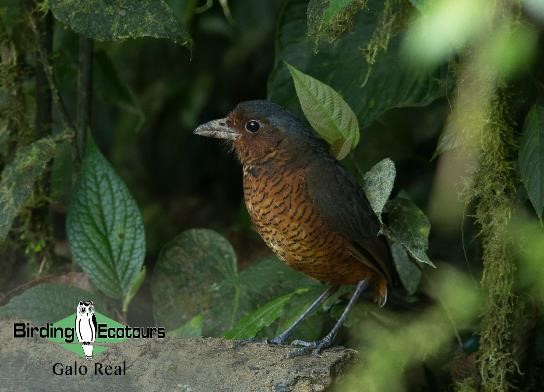 The Giant Antpitta may be photographed on the western slope.
From the paramos of the Pappallacta Pass to the cloudforests of the eastern slope, each turn seemingly brings about a change in topography and climate and a whole new set of birds for you to enjoy! On the eastern slope, the weather tends to be a bit wetter in July, but that should not hold you back from seeing the world-famous mixed-species-flocks, filled with colorful tanagers such as Blue-winged Mountain Tanager, Beryl-spangled Tanager and Golden-crowned Tanager.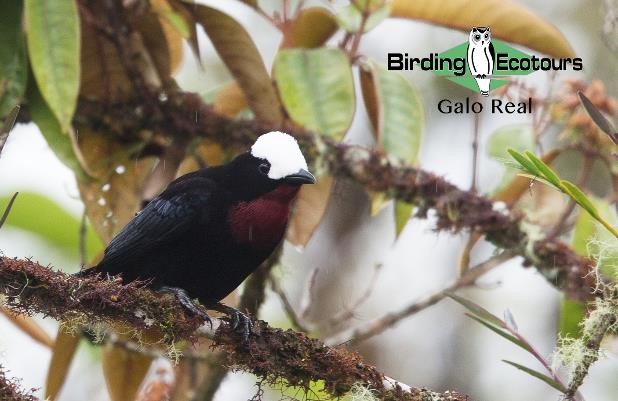 White-capped Tanager is a highlight of visiting the cloudforests of Ecuador's eastern slope of the Andes.
In birding circles, southern Ecuador is probably best known for the incomparable and highly sought-after Jocotoco Antpitta. Although you can enjoy multitudes of bird species year-round, we feel the weather is more enjoyable, with an even greater diversity of species to be seen, between August and March.  After March, the birding is still good, but many birds are nesting, and the rains can be quite intense in July which means we may find ourselves having to stay indoors more than we want to, although having said that, immediately after the rains, the bird activity is very exciting.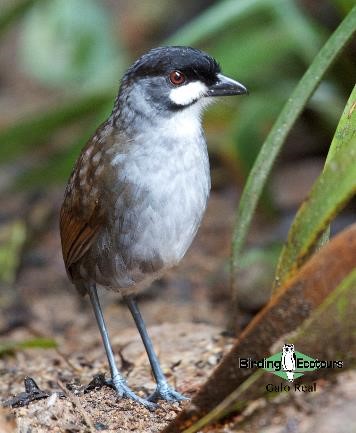 Jocotoco Antpitta is THE iconic bird of southern Ecuador.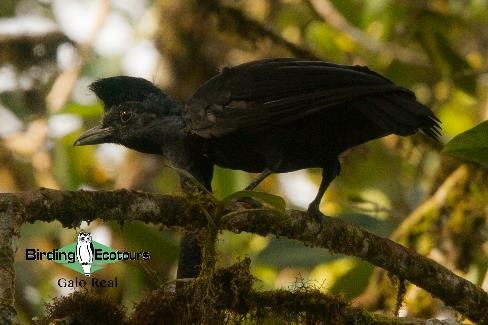 Long-wattled Umbrellabird is another must-see bird in the south!
What can we say about the Amazon? Just mentioning the name gets us excited! Year-round, the lowlands of the Amazon are lush and abundant with life and the diversity of flora and fauna is simply mind blowing. Every visit to the Amazon lowlands seems to always produce something new. Besides an array of parrots, nunbirds, tanagers, toucans, antbirds and hummers, it is not uncommon to see howler monkeys, capuchins, tamarins and even Giant (River) Otters.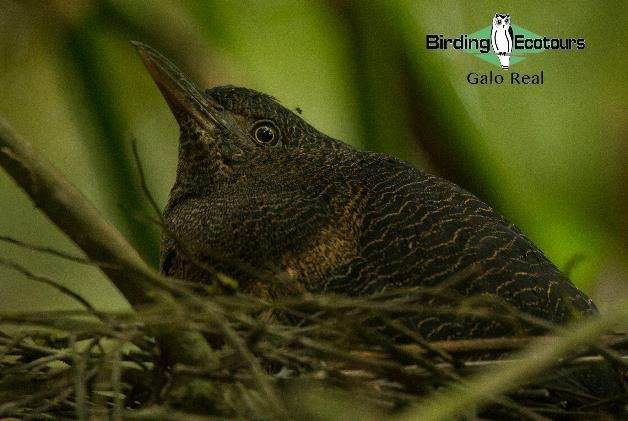 Spotting a Zigzag Heron is glorious in its own right, but seeing one on its nest is truly special! We were fortunate enough to witness this while visiting Yasuni National Park on one of our recent birding tours.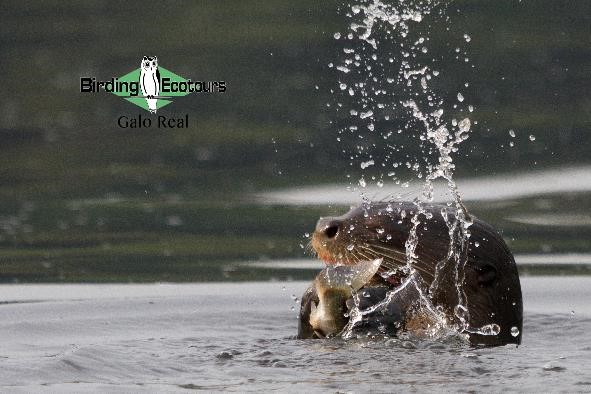 Giant (River) Otters thrive along the Napo River.
When is the best time to visit the Galapagos Islands for natural history, wildlife and photography?
For birding the Galapagos Islands, we do recommend coming between April and December if you would like to see Waved Albatross. In April and May, these majestic birds perform their courtship rituals, and by August most of their eggs have hatched. By the end of December or the beginning of January, these beautiful albatrosses of the Galapagos will be far out at sea. If you are not necessarily interested in the Waved Albatross, then really any time of the year is fine to bird the Galapagos. We time our Galapagos nature tours so we can enjoy the albatrosses on Española Island; their main breeding island.
There are many other Galapagos bird endemics that are a must to see, including Darwin's finches, Galapagos Hawk, Flightless Cormorant, Nazca Booby, Galapagos Penguin, Lava Gull, and Galapagos Rail.

Galapagos Hawk scans the beaches on Santiago Island and can be seen with ease.
And don´t forget the Marine Iguanas, various land iguanas, Galapagos Fur Seals and of course the legendary Galapagos giant tortoises!
Closing words
Besides the incredible birdlife in Ecuador, infrastructure is fantastic, food is outstanding and lodging is extremely comfortable. There really isn´t a good reason not to bird Ecuador, you just have to decide when you are coming!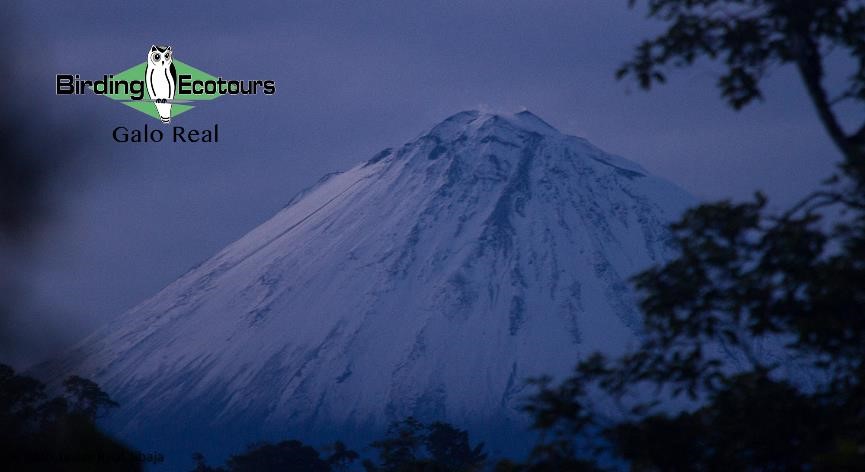 The Sangay Volcano located in the Sangay National Park.