All our birding tours | European Birding Tours | Norfolk Birding Day Tours | Suffolk Birding Day Tours
By Chris Lotz
Posted on 16 May 2022.
This blog was first posted on 16 May 2022, then updated on 6 June 2022, then with a brief update on 12 September 2022 (too much foreign birding!). Please scroll down for the June and September updates.
A "January 100" and an exciting spring
2022 has been my third year at the British office of Birding Ecotours in Norwich, Norfolk, and what a spectacular birding year it has been so far! It's been even better than the first two years. In January I birded hard, to try and see how many bird species it was possible to see in Norfolk in the calendar month of January – please read about this story here.
After seeing 168 bird species in Norfolk in January 2022 (plus two non-countable ones, a presumed escapee Eurasian Eagle-Owl and an Isle of Wight Reintroduction scheme White-tailed Eagle), I didn't think there would be a massive amount left for the rest of the winter. However, I was kept busier than expected. A Eurasian Bittern climbing to the top of a small reedbed across from the visitor centre at Whitlingham Country Park at dusk on 1 Feb was awesome, a great first new year bird for February. On 3 February, Jim Lawrence and I were enjoying our first Red-crested Pochard of the year when news broke of a Red-breasted Goose at Cley right in the other corner of Norfolk. A nervous drive across the county was thankfully richly rewarded with this spectacularly beautiful goose, a species we thought might not stay long but which is still in the area today as I write this, 3.5 months later. It moves between Cley and Blakeney Harbour and gets reported most days. One of the best places to see it is in the Eye Field at Cley when it can be close-up in good light.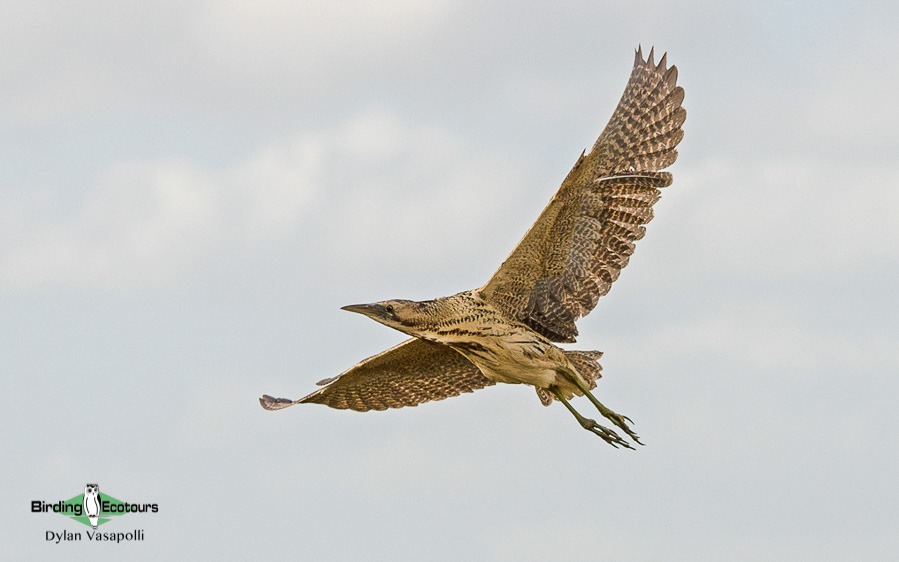 Eurasian Bittern is always great to see!
A Greater Short-toed Lark at West Runton on the north Norfolk coast was next on the birding menu, on 8 February, followed by a Glossy Ibis with my visiting American friend Stephen Revard, at Rockland Broad on 17 February. I dragged Stephen out birding, but he seemed to be happy about that. A Eurasian Spoonbill flying over at Thornham Harbour on 23 February was my last new year bird species for the second month of the year.
March was a superlative month, with more good birds than expected. There was a real influx of Garganey, and it was great to catch up with lots of these birds including many attractive drakes, this month. An eastern Stonechat, almost certainly Stejneger's Stonechat, showed well at Norfolk Wildlife Trust (NWR) Holme Dunes on 13 March. A beautiful fresh spring plumage Ring Ouzel then showed well at Holkham National Nature Reserve on 18 March. Like Garganey, Ring Ouzel would abound a bit later, what a spectacular year for them this spring! They were all over the place, and I also saw them at various other sites such as Burnham Overy Dunes and Winterton Dunes.
I was incredibly lucky to see the Hooded Crow that spent a couple of hours at Happisburgh on 19 March (thanks Jus for reporting this bird!). I really felt bad for Jim Lawrence who couldn't get there quite in time. Nearby (at Cart Gap) was my FOY (First of Year) Little Ringed Plover, right next to its larger cousin, Common Ringed Plover.
What happened next (on 21 March) was truly amazing. Not one, but two, Little Buntings got reported at Kelling Heath, and showed wonderfully. Eurasian Stone-curlew was next, on 25 March, at NWT Weeting Heath. More rarities followed, in the form of Bonaparte's Gull at the Cantley Sugar Factory on 26 March (an old friend from my years at the Ohio office of Birding Ecotours), and a Dusky Warbler along the Stiffkey River, near Stiffkey Fen on 28 March! What a month March was proving to be! The last bird for March, number 185 for the year, was a Great (in more ways than one) Grey Shrike near Sparham.
April (like January) turned out to be a very tiring (but in a good way!) month, remarkably rewarding from a birding point of view. A ton of rare birds put in appearances in Norfolk this April, and in addition to this, it is the month when many summer-breeders also return. Most of the warblers (and there are quite a number of them!) arrive back in April, as do the hirundines, so all of these were seen. More common passage migrants like Northern Wheatear and Whinchat showed well, as did a couple of scarcer ones like Common Redstart and European Pied Flycatcher. Northern Wheatear is a common but lovely passage migrant in Norfolk. In 2020 we had a rare Desert Wheatear and in 2021 we had a rare Isabelline Wheatear – see the 2020 and 2021 Norfolk birding blogs for more about those!
Along with all the "expected" birds for April mentioned in the previous paragraph, there were also some MEGAs. Presumably the same White-tailed Lapwing that I had seen twice in Yorkshire (see here for details), got reported quite late one evening at Snettisham Coastal Park and luckily this individual stayed long enough for me to see it the next day on 10 April. A bright summer plumaged male Kentish Plover on 12 April at NWT Cley Marshes was the next rare bird that pithed up. What a pleasure! 18 April brought a close-up Temminck's Stint, but later we would see that this was going to prove to be an amazing year for these too (in addition to the other species mentioned earlier, and also Arctic Tern which I saw a few of at a couple of sites on 24 April). On 21 April yet another great wader/shorebird appeared, this time one that is not actually water-associated, Eurasian Dotterel, near Thornham, a female (this is one of only a handful of bird species in which the female is more brightly marked and colorful than the male). Breydon Eater near Great Yarmouth then generated a really attractively plumaged Curlew Sandpiper molting into breeding plumage (along with lots of other waders such as a surprisingly large number of Eurasian Whimbrel and Bar-tailed Godwit). One shorebird species that gave me a huge run-around (and I'm glad it did, as it was fun, and I saw other great birds because of it) was Black-winged Stilt in the Denver Sluice and Welney area of western Norfolk close to the Cambridgeshire border. I missed the stilts three times, but thankfully an amazing FOUR of them started hanging around NWT Hickling Broad at the end of April and into May. Here, a huge dose of luck meant I was also able to see Purple Heron and Western Osprey. Returning to the Black-winged Stilt dips (initially, until I finally caught up with it!), I was trying for this species at the Welney Wetland Centre when an un-ringed (and therefore countable!) White Stork flew in and landed!
A surprise Eurasian Hoopoe caused quite a stir at NWT Weeting Heath on 24 April, showing well eventually. Just as wonderful was a close-up Eurasian Wryneck on 30 April, thanks to Dominic Mitchell who was wonderfully helpful showing Megan and I this bird. Species number 218 for Norfolk this year, a great total for the first third of the year.
May has slowed down a bit but has nevertheless still been wonderfully amazing. On 3 May, a couple of us enjoyed hearing not one but two Corn Crakes singing, and then actually saw one of them flying! A Savi's Warbler showed really nicely (although the reeling song is the best part of this great bird), on 5 May. A short-staying Pectoral Sandpiper at Wells-next-the-sea was next on the menu on 6 May. A huge miss on 11 May was a Tawny Pipit at West Runton that was chased away by a walker five minutes before our arrival, but this was partly compensated for by a low-flying and highly co-operative Red-rumped Swallow at North Point Pools, what a bird!
Apart from the rare birds mentioned above, the first half of May has also been great for other species such as Spotted Flycatcher, European Turtle Dove, many Eurasian Hobby and other great birds that arrived for the summer.
One really fun competition that Jim Lawrence and I started on 1 April, was to see how many birds we could self-find rather than chase/twitch. We made common birds such as Barn Swallow and Common Swift to be worth two points each, scarcer species such as Western Osprey and Spotted Flycatcher would be worth three, national rarities five, and so forth. I was  really pleased to tie with Jim for the month of April, each of us ending the month on 34 points. By 16 May, I am actually currently in the lead, with 14 points versus Jim's 11 (for May). Great fun. Let's see what the rest of the month, and year, bring.
My Norfolk year list is at 228 species now (16 May). I wonder what the coming months will hold. I plan to update this blog regularly (hopefully once a month), so watch this space!
6 June 2022 update – more amazing Norfolk birding. Not to mention an ELEONORA'S FALCON plus other goodies in Kent!
Thanks to Jim Lawrence for pinpointing the whereabout of where two Common Quail had been "singing" from near Holt, I managed to get this species onto my Norfolk year list during the morning of 16 May. Later that same day, a much rarer species (for Britain anyway…), American Wigeon, put on a good show at the Potter Heigham Marshes, part of the famous Norfolk Broads. A Great Reed Warbler was also then reported that evening, but unfortunately much too far away (at Snettisham Coastal Park, about as far from Norwich as it is possible to go and still be in Norfolk!) for me to chase until the next morning. I did make an early start the next day to see and hear this MASSIVE, gruff-voiced version of the much more abundant Eurasian Reed Warbler. Luckily it was still there. And, in fact, it (or "they" as there seem to be two!) has been a long-stayer and was still being reported into early June. It was great seeing both species sitting next to each other on nearby reeds. That same evening, I was able to connect with my first of year European Nightjar, it was good as usual birding with Sacha Barbato.
Caspian Tern gave me a drive around as it moved all over Norfolk on 19 May, but eventually gave great views as it settled at Brendan's Marsh at NWT Hickling Broad, where it roosted for a few hours after winging its way all around Norfolk judging from reports. What a beautiful bird, one of my favorite terns.
On 21 May, a couple of us had considered an extremely early morning start at West Runton to try and find migrating Eurasian Golden Oriole flying in off the sea or nearby roosts, but we opted not to as dawn is brutally early at this time of year in England (also noting the hour-long drive to get there). In retrospect, remarkably this "lazy" choice turned out to be a good judgement! We were unbelievably lucky that a couple of orioles actually got pinned down in the late morning at Muckleburgh Hill and then stayed the whole afternoon, so Megan and I were able to drive there after lunch, climb the hill to join a bunch of other birders and enjoy hearing the orioles singing and cat calling (simultaneously enjoying the breathtaking view across to the sea and all). These birds are rare and very difficult to see in Norfolk, but 2022 seems to have been an unusually good year for them here. What an unexpected surprise to actually have golden orioles pinned down for an afternoon and twitchable!
Then, Saturday 28 May was a particularly great day as I was able to see a beautiful Lesser Grey Shrike near the Norwich Airport perimeter fence in the morning, before Megan and I headed to Sandwich, Kent, for the rest of the weekend. The main target was ELEONORA'S FALCON that remarkably had been there for some days already, unprecedented in the UK to have a twitchable one. There were also other great birds around, for example a Red-footed Falcon right near the Eleonora's, and not far from the White Cliffs of Dover, a Sardinian Warbler. The sightseeing and birding in Kent this weekend was awesome, and it was definitely nice to explore some of the local birding sites and to meet some of the Kent birders there (as well as seeing a number of Norfolk birding friends – half of the Norfolk birding community seemed to be in Kent for the Eleonora's, not too surprisingly noting how rare this bird is in England).
Back to Norfolk on Sunday 29 May, it was for a very busy week with no time for birding, but on Sunday 5 June I did manage to get out to see four stunningly beautiful European Bee-eaters near Trimingham in north-east Norfolk.
My Norfolk e-bird list for 2022 is now (on 6 June) showing 239 species, including the two non-countable species mentioned previously so "corrected" to 237.
9 September 2022 update – a couple of amazing birding and some huge misses while I was away
On 8 June, Jim Lawrence very kindly took me to see a short-staying Marsh Warbler at Kelling Quags and luckily the much rarer (for England!) Spotted Sandpiper in beautiful full breeding plumage that then got reported at Titchwell stayed put until we'd seen the warbler. Luckily we saw both of them!
At the end of June, great news came in the form of European Honey Buzzards displaying and potentially breeding for the first time in years, at Swanton Novers Raptor Watchpoint and a number of us went there at the first available opportunity to enjoy an amazing show.
July and August meant back to back trips to Mongolia (Snow Leopard and lots more!) and South Africa (Aardvark, incredible plants and localized endemic birds) which meant that inevitably I missed lots of Norfolk birding excitement but I can't complain. The dark phase Eleonora's Falcon that stayed a few days in Norfolk, was the most painful miss, but there were plenty of other goodies I would have loved to have seen. I did manage to see a showy Spotted Crake at the Cantley Beet Factory, and an Icterine Warbler at Gramborough Hill, in early September, both new Norfolk birds for me.
I'm not sure when I'll update this blog again. I'll be heading for Borneo (Sarawak and Sabah including Mount Trusmadi) a week from now, and then I have three weeks back in Norfolk before heading to Paraguay/Bolivia. So much exciting birding but I also worry about what I'll miss in Norfolk while away!