By Chris Lotz
This blog was first posted on 3 May 2021, but with frequent updates planned.
What a privilege it is to be able to spend a second year based at the UK office of Birding Ecotours, right in the middle of one of Britain's best birding counties, amazing Norfolk! Norfolk has such a long stretch of coastline along the North Sea, both east and north coasts as the county bends around, including the huge bay/estuary called "The Wash" in the northwest near the Lincolnshire border. Many vagrants and rare migrants join the regularly occurring and common migrants as they first arrive on British shores here along the extensive Norfolk coastline, making it ever so exciting a place for a birder to be based. Norfolk also has a plethora of wetlands, the largest lowland pine forest in Britain, Thetford Forest, and so much more.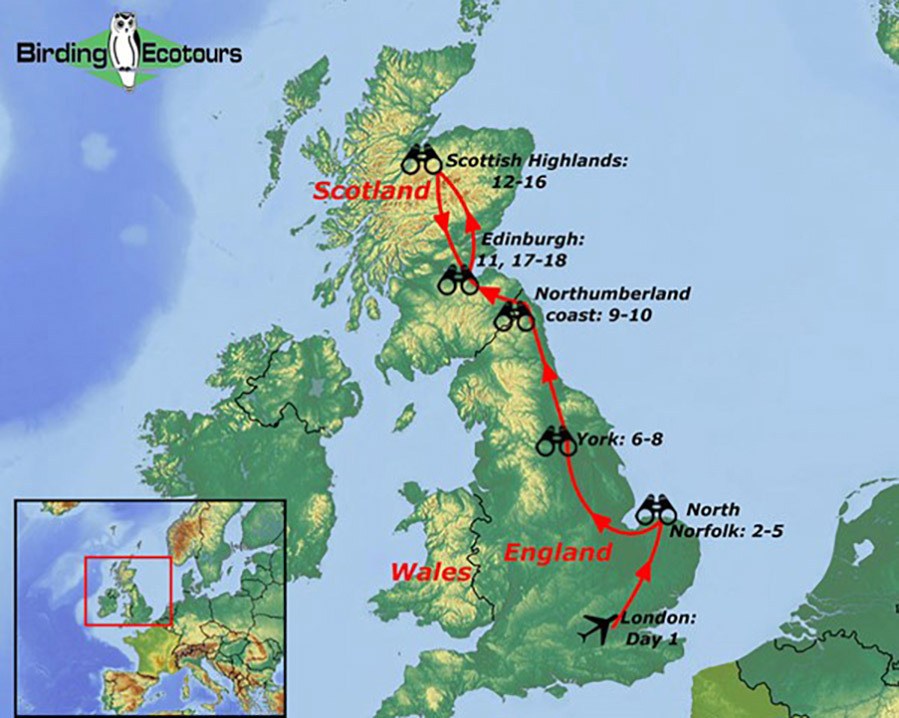 Our British birding tours such as the spring set departure shown by the above map, and our England in winter birding tour, practically always include time in Norfolk. Not surprisingly, we also run many Norfolk birdwatching and birding photo day tours, having our office and a couple of staff members here.
After learning most of the superb birding sites and how/in which months to see the scarcer birds that help make Norfolk famous among birders, in 2020 (see the stories about this first year, here), I was able to start 2021 with a better foundation, poising 2021 to hopefully be a truly great birding year. While I get great enjoyment from seeing the common species repeatedly, constantly learning more about them and watching different behaviors over the course of the year, I also enjoy the "excuse" that year listing gives me to get out birding more often, and to discover more places (rarities pitch up at the most unusual places sometimes, so birding gets one to places "normal" people never see).  So, in most years I make it my aim to try and accumulate a good year list within a manageable area, in this case within the county of Norfolk.
Waking up on New Year's Day is always exciting for a birding year lister, as even the most abundant species are new. First of Year (FOY) species in the garden this morning included Dunnock, Common Blackbird, Eurasian Blue Tit, European Robin, Common Wood Pigeon and many others, plus a couple of less ubiquitous species like Song Thrush (Megan and I are lucky enough to have a pair of these living in our garden here in Norwich). A later morning visit to Filby Broad and the Rollesby Bridge at Ormesby and Rollesby Broads, was hugely productive, generating further common birds along with some scarcer species such as a "redhead" Smew, my first for Norfolk (Megan and I had seen a couple of Smew including a drake, at Rutland Water near the British Birdfair site, in 2020), Common Goldeneye, Horned (Slavonian) Grebe and a close fly-by Eurasian (Great) Bittern! Marsh Tit and all the more common tit species, and Redwing (always a good winter thrush to see) were also welcome additions.
In the afternoon, Megan and I enjoyed a lovely walk at Strumpshaw Fen RSPB (Royal Society for the Protection of Birds) Reserve, with inevitable further FOY birds such as another winter thrush, Fieldfare, a magnificent Western Barn Owl hunting in broad daylight, as this species so commonly does here in England, Great Spotted Woodpecker, Stock Dove and our first raptors such as Western Marsh Harrier and Eurasian Kestrel.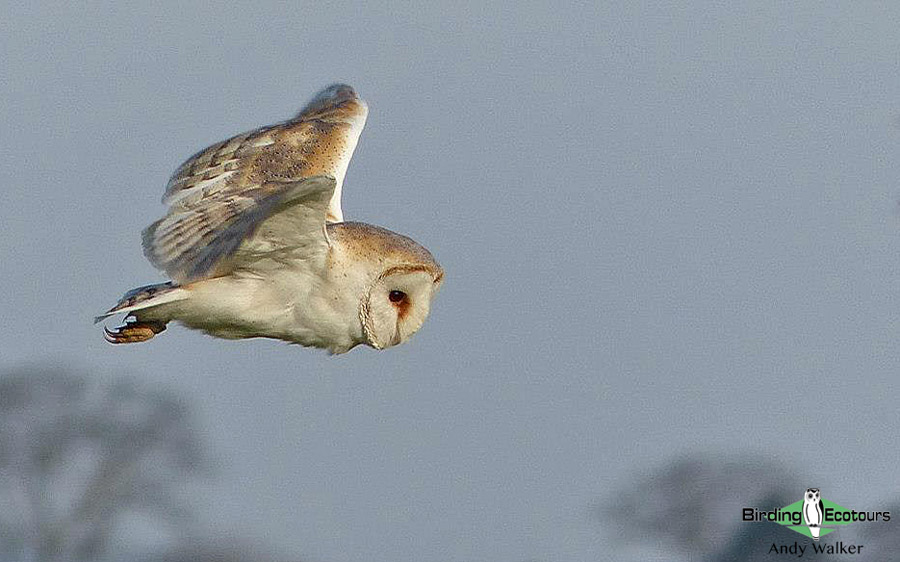 Western Barn Owl is commonly seen hunting in broad daylight during winter birding days in Norfolk.
On 2 January, a visit to the adjacent RSPB reserves, Cantley Marshes and Buckenham Marshes, hoping for Taiga Bean Goose for the year (this was one of the last additions to my 2020 list a few days ago in late December as per my 2020 birding year blog, but I had to get it for 2021 now!). The Taiga proved elusive, but not surprisingly I still managed to add lots of other quality species at these excellent birdwatching sites, including Greater White-fronted Goose, beautiful Eurasian Wigeon which overwinter at Buckenham in their hundreds, European Golden Plover, fabulous-looking Bearded Reedling and stacks more. Returning home and scoping the incredible Norwich Cathedral from our home allowed me to add Peregrine Falcon, which nests near the top of the steeple. Megan and I then went for a lovely afternoon walk at Sparham Pools NWT (Norfolk Wildlife Trust) Nature Reserve, one of our favorite places for a really pleasant walk through the woods looking down onto the lakes. Close-up Eurasian Treecreeper, European Green Woodpecker and Goldcrest were welcome additions, putting me well on the way (at 74 species by the end of 2 January) to an early "January 100", something I brought here to Norfolk from my Ohio birding years (it's so popular over there where I lived for three years before heading to the Birding Ecotours Norfolk office).
Unfortunately, my great start to this Norfolk birding year, was virtually brought to a halt by a nasty surprise stringent lockdown due to the third wave of Covid here in the UK. We had to stay at home for three months, except for outside exercise close to home and essential shopping. Of course, as always, I at least had my friends, the common birds in the garden and nearby sites such as Lionwood, Mousehold Heath, Whitlingham Country Park and Thorpe Marshes NWT (all in walking/running distance from our home). I did also manage to see some really great scarcer birds though, including Caspian Gull and Yellow-legged Gull (subadults in both cases) in the greater Norwich area. A small colony (six or seven) Rose-ringed Parakeets, also in Norwich, allowed me to reach 90 species by 17 January. A really close-up Water Rail at Whitlingham during a run, and some surprise scarce birds there in the form of Greater Scaup and Black-necked (Eared) Grebe on other visits there that Megan and I made for our daily walks, were also very welcome additions. Amazingly, during a day in which many Common Cranes were reported all over Norfolk including quite a few over Norwich, I had two flying over our home! Brilliant bird for the "yard" list! That was on 22 February, and my next FOY additions would be more than a month later just as lockdown was loosened a bit due to declining Covid cases (hooray!): a visit to Buckenham Marshes in late March allowed me to finally add Green-winged Teal (a common species that I usually would have seen good numbers of within the first week of January), Common Redshank (also common here in England!) and Ruff. Common Chiffchaff at Wheatfen Broad (Ted Ellis Reserve), another of our favorite places for Megan and I to do walks at, meant I reached 99 species by the end of March this year.
Despite a good start on 1 and 2 January, by the end of March with just 99 species, I had certainly failed in my "January 100" attempt, haha (I would likely have reached 100 species by 4 or 5 January if it weren't for the lockdown). By the end of March, I was still missing lots of really easy coastal species such as Eurasian Curlew and Eurasian Oystercatcher. Good news though was that April was going to be an incredible month, and I was going to greatly augment my list, to reach 165 bird species (which is fairly decent and respectable) by the end of April. I had to bird like crazy, trying my best to frantically find the "winter" species before they all left (partly to take pressure off December when most of the winter species should be back), but then also to chase all the spring rarities, and simply to see the host of "expected" migrants arriving in the UK over the course of April (Chiffchaffs are among the first to arrival, Willow Warblers arrive a bit later, Common Cuckoos a bit later, and so forth). Oh, and not to forget the species that are easiest to find when they start singing and breeding – e.g. Dartford Warbler, Common Firecrest and Lesser Spotted Woodpecker; these are present year-round in Norfolk but are easiest to see in late winter and early spring.
I don't have time to write about the extremely busy birding month of April right now, so it will have to wait for the next instalment of this blog. Watch this space!
A teaser for the next instalment of this article: a pair of Purple Sandpipers on the Sheringham Promenade; I managed to see these late-stayers – they're generally winter visitors to Norfolk – just before they apparently left as reports on Birdguides.com dried up shortly after I saw this pair on 13 April).