By Chris Lotz
This blog was first posted on 3 May 2021, and updated about once a month since then, with the latest update being on 20 December 2021. Please now watch for the "third year of birding in Norfolk" blog that I expect to post the first instalment of in January 2022!
What a privilege it is to be able to spend a second year based at the UK office of Birding Ecotours, right in the middle of one of Britain's best birding counties, amazing Norfolk! Norfolk has such a long stretch of coastline along the North Sea, both east and north coasts as the county bends around, including the huge bay/estuary called "The Wash" in the northwest near the Lincolnshire border. Many vagrants and rare migrants join the regularly occurring and common migrants as they first arrive on British shores here along the extensive Norfolk coastline, making it ever so exciting a place for a birder to be based. Norfolk also has a plethora of wetlands, the largest lowland pine forest in Britain, Thetford Forest, and so much more.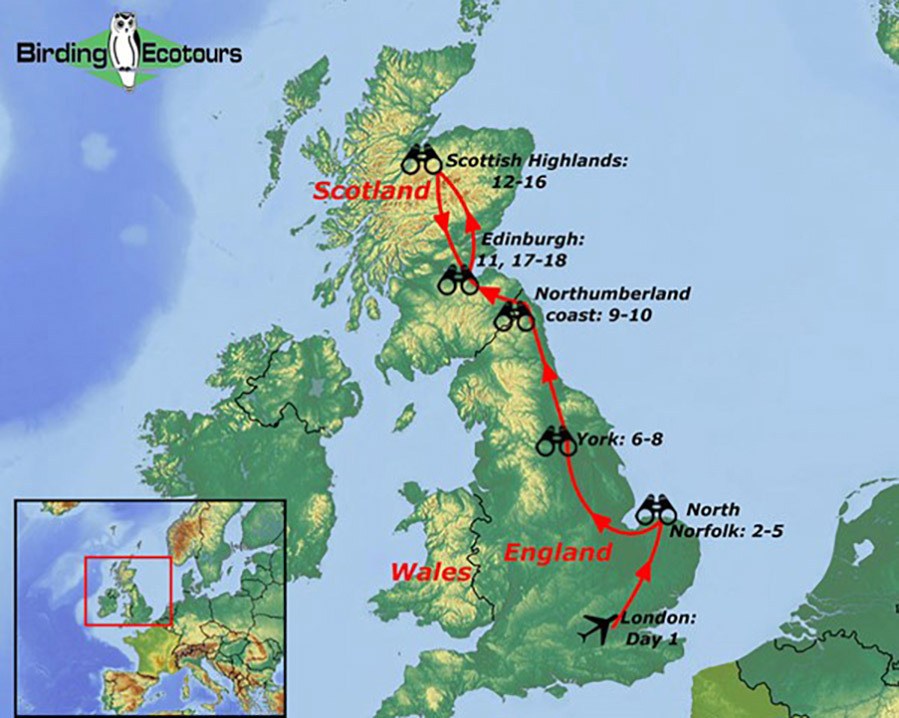 British birding tours such as the spring set departure shown by the above map, and our England in winter birding tour, practically always include time in Norfolk. Not surprisingly, we also run many Norfolk birdwatching and birding photo day tours, having our office and a couple of staff members here.
After learning most of the superb birding sites and how/in which months to see the scarcer birds that help make Norfolk famous among birders, in 2020 (see the stories about this first year, here), I was able to start 2021 with a better foundation, poising 2021 to hopefully be a truly great birding year. While I get great enjoyment from seeing the common species repeatedly, constantly learning more about them and watching different behaviors over the course of the year, I also enjoy the "excuse" that year listing gives me to get out birding more often, and to discover more places (rarities pitch up at the most unusual places sometimes, so birding gets one to places "normal" people never see).  So, in most years I make it my aim to try and accumulate a good year list within a manageable area, in this case within the county of Norfolk.
Waking up on New Year's Day is always exciting for a birding year lister, as even the most abundant species are new. First of Year (FOY) species in the garden this morning included Dunnock, Common Blackbird, Eurasian Blue Tit, European Robin, Common Wood Pigeon and many others, plus a couple of less ubiquitous species like Song Thrush (Megan and I are lucky enough to have a pair of these living in our garden here in Norwich). A later morning visit to Filby Broad and the Rollesby Bridge at Ormesby and Rollesby Broads, was hugely productive, generating further common birds along with some scarcer species such as a "redhead" Smew, my first for Norfolk (Megan and I had seen a couple of Smew including a drake, at Rutland Water near the British Birdfair site, in 2020), Common Goldeneye, Horned (Slavonian) Grebe and a close fly-by Eurasian (Great) Bittern! Marsh Tit and all the more common tit species, and Redwing (always a good winter thrush to see) were also welcome additions.
In the afternoon, Megan and I enjoyed a lovely walk at Strumpshaw Fen RSPB (Royal Society for the Protection of Birds) Reserve, with inevitable further FOY birds such as another winter thrush, Fieldfare, a magnificent Western Barn Owl hunting in broad daylight, as this species so commonly does here in England, Great Spotted Woodpecker, Stock Dove and our first raptors such as Western Marsh Harrier and Eurasian Kestrel.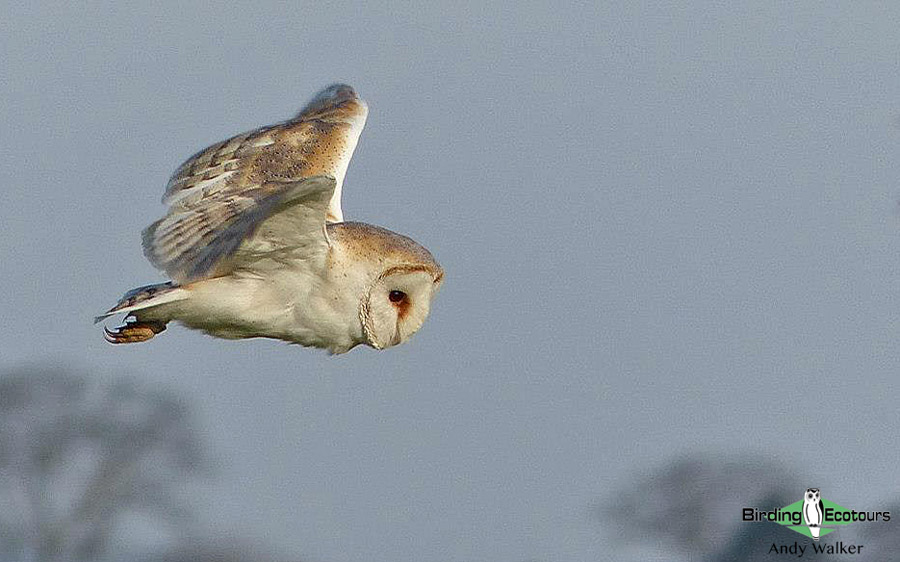 Western Barn Owl is commonly seen hunting in broad daylight during winter birding days in Norfolk.
On 2 January, a visit to the adjacent RSPB reserves, Cantley Marshes and Buckenham Marshes, hoping for Taiga Bean Goose for the year (this was one of the last additions to my 2020 list a few days ago in late December as per my 2020 birding year blog, but I had to get it for 2021 now!). The Taiga proved elusive, but not surprisingly I still managed to add lots of other quality species at these excellent birdwatching sites, including Greater White-fronted Goose, beautiful Eurasian Wigeon which overwinter at Buckenham in their hundreds, European Golden Plover, fabulous-looking Bearded Reedling and stacks more. Returning home and scoping the incredible Norwich Cathedral from our home allowed me to add Peregrine Falcon, which nests near the top of the steeple. Megan and I then went for a lovely afternoon walk at Sparham Pools NWT (Norfolk Wildlife Trust) Nature Reserve, one of our favorite places for a really pleasant walk through the woods looking down onto the lakes. Close-up Eurasian Treecreeper, European Green Woodpecker and Goldcrest were welcome additions, putting me well on the way (at 74 species by the end of 2 January) to an early "January 100", something I brought here to Norfolk from my Ohio birding years (it's so popular over there where I lived for three years before heading to the Birding Ecotours Norfolk office).
Unfortunately, my great start to this Norfolk birding year, was virtually brought to a halt by a nasty surprise stringent lockdown due to the third wave of Covid here in the UK. We had to stay at home for three months, except for outside exercise close to home and essential shopping. Of course, as always, I at least had my friends, the common birds in the garden and nearby sites such as Lionwood, Mousehold Heath, Whitlingham Country Park and Thorpe Marshes NWT (all in walking/running distance from our home). I did also manage to see some really great scarcer birds though, including Caspian Gull and Yellow-legged Gull (subadults in both cases) in the greater Norwich area. A small colony (six or seven) Rose-ringed Parakeets, also in Norwich, allowed me to reach 90 species by 17 January. A really close-up Water Rail at Whitlingham during a run, and some surprise scarce birds there in the form of Greater Scaup and Black-necked (Eared) Grebe on other visits there that Megan and I made for our daily walks, were also very welcome additions. Amazingly, during a day in which many Common Cranes were reported all over Norfolk including quite a few over Norwich, I had two flying over our home! Brilliant bird for the "yard" list! That was on 22 February, and my next FOY additions would be more than a month later just as lockdown was loosened a bit due to declining Covid cases (hooray!): a visit to Buckenham Marshes in late March allowed me to finally add Green-winged Teal (a common species that I usually would have seen good numbers of within the first week of January), Common Redshank (also common here in England!) and Ruff. Common Chiffchaff at Wheatfen Broad (Ted Ellis Reserve), another of our favorite places for Megan and I to do walks at, meant I reached 99 species by the end of March this year.
Despite a good start on 1 and 2 January, by the end of March with just 99 species, I had certainly failed in my "January 100" attempt, haha (I would likely have reached 100 species by 4 or 5 January if it weren't for the lockdown). By the end of March, I was still missing lots of really easy coastal species such as Eurasian Curlew and Eurasian Oystercatcher. Good news though was that April was going to be an incredible month, and I was going to greatly augment my list, to reach 165 bird species (which is fairly decent and respectable) by the end of April. I had to bird like crazy, trying my best to frantically find the "winter" species before they all left (partly to take pressure off December when most of the winter species should be back), but then also to chase all the spring rarities, and simply to see the host of "expected" migrants arriving in the UK over the course of April (Chiffchaffs are among the first to arrival, Willow Warblers arrive a bit later, Common Cuckoos a bit later, and so forth). Oh, and not to forget the species that are easiest to find when they start singing and breeding – e.g. Dartford Warbler, Common Firecrest and Lesser Spotted Woodpecker; these are present year-round in Norfolk but are easiest to see in late winter and early spring.
I don't have time to write about the extremely busy birding month of April right now, so it will have to wait for the next instalment of this blog. Watch this space!
A teaser for the next instalment of this article: a pair of Purple Sandpipers on the Sheringham Promenade; I managed to see these late-stayers – they're generally winter visitors to Norfolk – just before they apparently left as reports on Birdguides.com dried up shortly after I saw this pair on 13 April).

24 May 2021 update: April birding in Norfolk
This year it was great to experience a "proper" April/early spring birding session in Norfolk, as last year's was cancelled due to the lockdown. And it did not disappoint! But it was hectically busy as I had to catch up on a bunch of really common species missed during the winter lockdown, while at the same time find all the spring birds and also chase rarities. And I'm not retired, so this has to fit around my work!
Things like Eurasian Oystercatcher, Eurasian Curlew and a bunch of other species that I usually would have easily seen at coastal sites around Norfolk within the first few days of January, could only now be added in early April! A good number of scarce species like a beautiful adult Little Gull at Thorpe Marshes NWT Reserve and a Black-legged Kittiwake and later in April three Arctic Terns at Whitlingham Country Park, Eurasian Spoonbills at Cley Marshes NWT, Black Redstarts at Titchwell RSPB Reserve, etc., all vied for attention. Then I was late for sessions I would usually have done in February or March but this year had to fit into April because travel around the county was finally permitted, post-lockdown. These included:

A visit to Sandon Downham on the Norfolk/Suffolk county line for Lesser Spotted Woodpecker and other superb goodies:
It's best to do this once Lesser Spotted Woodpeckers have started displaying, but before the trees have leaves on so that one can actually see these tiny woodpeckers, not just hear them. Last year a few of us paid this beautiful site a visit a couple of times in late February, but this year I barely managed to pay a visit in time before the trees had leafed out. I did make it just in time though, now in early April, and I certainly wasn't disappointed; I got great, rather close-up, views of a calling female Lesser Spotted Woodpecker! It was also a true delight to see hundreds of Red Crossbills, Lesser Redpolls, Eurasian Siskins and other finches that had irrupted into this area this winter/early spring. There were also a few Bramblings around, in dazzling plumage. Yellowhammers were also in luminous yellow plumage and were in fact FOY (First of Year) birds for me; this common species had also eluded me until April as I was all but stuck at home and until early April hadn't been able to get out into the farmland around Norwich or other open country areas frequented by this great, bright yellow bunting.
The highlight of the walk along the river that forms the border between Suffolk and Norfolk here at Sandon Downham, was a couple of amazingly close-up, confiding Eurasian Otters; this must be one of the easiest places to get good views of this animal!

Kelling Heath for Dartford Warblers and the nearby Pretty Corner near Sheringham for Common Firecrest
Both these scarce, localized birds are easy to see in spring if one visits the correct sites, and indeed I managed to lay eyes on both species as they sang and made themselves more obvious than at other times of the year.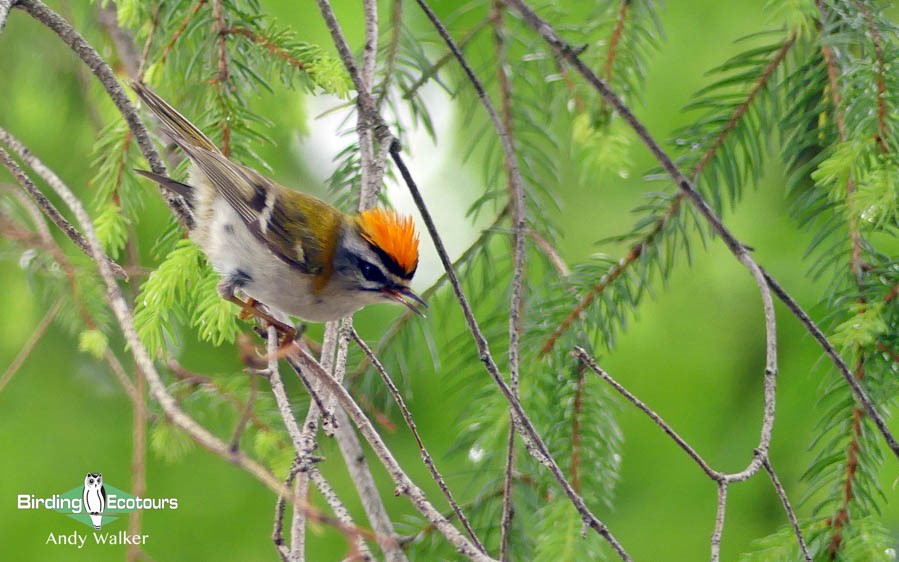 Common Firecrest: despite the name, this stunning species is not common!

Finding some late winter birds in Norfolk this year
Conveniently, some winter birds actually lingered into April (and even May in the case of Iceland Gull, more about that in next month's update). Arguably the highlight was a small flock of Lapland Longspurs (Buntings) at Happisburgh on the north-east coast of Norfolk. The brilliant thing about these buntings, which I was rather familiar with (but only in non-breeding plumage) from my Wyoming and Ohio birding days, was that a couple of them had molted into breeding plumage, a "lifer" plumage for me! One particular individual had an obvious yellow bill and stunning black and white on its front half. What a win!
I also saw the two late-staying Purple Sandpipers along the Sheringham Promenade at high tide (when this species is usually easier to see and closer-up than at low tide) one morning and I got some video footage as shown above (earlier in this blog). These birds were actually not reported again, so basically I saw them just in time before they vanished for the season! They'd stayed the whole winter, into early spring, but left soon after I saw them, again another win!
Probably the best of the "winter" birds was a Dusky Warbler on 26 April at the pleasant Nunnery Lakes BTO (British Trust for Ornithology) Reserve (just watch out for the aggressive Canada Geese here; my colleague Dylan would not be amused as he has a love-hate relationship with this species). An individual of this rare species for Norfolk (Dusky Warbler, not Canada Goose!) had been around for much of the winter, and again I was lucky enough to see it just before it stopped getting reported on Birdguides and the Rare Bird Alert. I was particularly ecstatic because for the first time ever I heard this species' song a couple of times, along with its call (numerous times), in addition to getting great views.
The Welney Wetland Centre near the Cambridgeshire border had good numbers of Whooper Swans, also more of a winter species in Norfolk, and this site also generated a few other "FOY" birds including a Eurasian Tree Sparrow at the feeders. I was also really pleased to see a Western Cattle Egret nearby, but was disappointed to find out after e-birding it that it wouldn't count for my Norfolk year list as it was just across in Cambridgeshire! A good species for my neighboring county's list, though, although probably also easier there than in Norfolk (at least this year as Cattle Egrets have been thin on the ground this year in Norfolk). Sadly, I missed the Cattle Egret at Limpenhoe Marshes, but did manage to see a stunning male Ring Ouzel there (one of the April 2021 birding highlights, in fact!).

Good quality "odds and ends" for April 2021
April also allowed me to add lots of other good birds, in addition to those mentioned above, allowing me to end the month on 165 species for Norfolk so far for the year up until 30 April. Highlights included a Northern Goshawk displaying, close-up Woodlarks with their wonderful songs at Buxton Heath, Common Grasshopper Warblers (groppers!) going crazy with their reeling songs at various sites especially Thorpe Marshes NWT Reserve at Thorpe Saint Andrew, all sorts of other warbler species that arrived back in England one by one, and an amazing number of Garganeys (including several beautiful drakes at Strumpshaw Fen RSPB Reserve from near the Tower Hide). While out birding around Norfolk I also had Grey Partridge (along with its much more abundant cousin, Red-legged Partridge), fabulously white wing-tipped Mediterranean Gulls at Titchwell RSPB Reserve, Eurasian Bullfinch (Sculthorpe Moor Hawk and Owl Trust Reserve), a displaying Tree Pipit in the Brecks, and last but certainly not least, Eurasian Stone-curlew at Weeting Heath National Nature Reserve.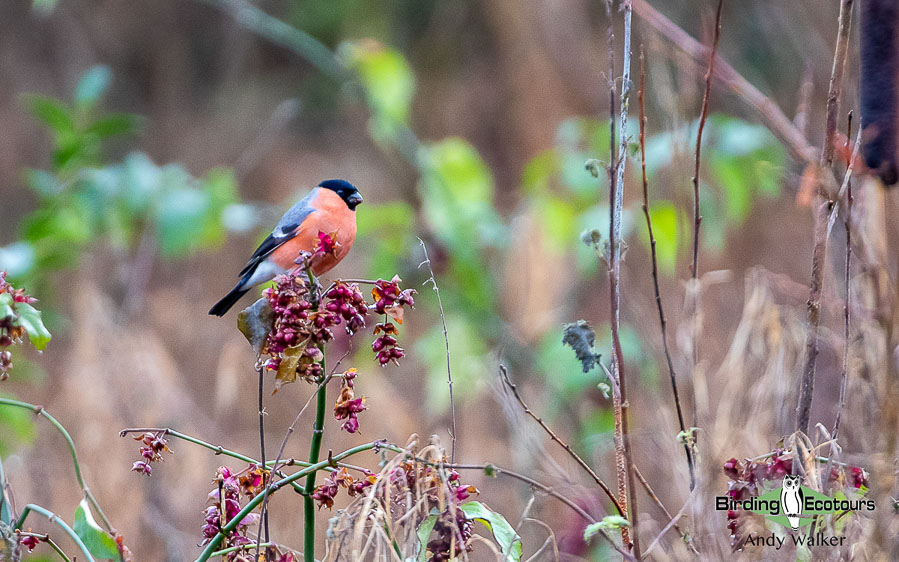 Eurasian Bullfinch: Sculthorpe Moor is a reliable site for this beaut.
The last couple of days of April were particularly exciting. At the Choseley Drying Barns, I missed the female (unusually for birds, more brightly colored than the male, in this species) Eurasian Dotterels (but see the next instalment of this blog…!), but I did catch up with Corn Bunting which has become rare in Norfolk although with a few still lingering at this classic site. A few Jack Snipes were around, notably at Warham Freshmarsh near Wells-next-the-Sea and at Titchwell, the one at Titchwell being remarkably close-up and allowing "up-close and personal views"; we named it Bob as the species does bob all the time! The month ended with me being able to join a fun twitch for Temminck's Stint showing really well (right in the open on a small sandbar) at Stiffkey Fen.
The next instalment (focusing on May) of this birding year in Norfolk article, should be out soon! Until then, cheers and good birding!

8 June 2021 update – superb May birding in Norfolk
On 1 May, Megan and I decided to do a nice Saturday drive to north-western Norfolk. We stopped by Snettisham RSPB Reserve, famed for its tens of thousands of waders (or as American birders say, "shorebirds") and (in winter though) geese that use "The Wash" for foraging. We saw a good number of nice birds, but the only new year bird for me was a spectacularly fast-flying Eurasian Hobby that winged its way right past us. We then drove along the coast, stopping briefly at Hunstanton's sea cliff to see my FOY (First of Year) Northern Fulmars.
A couple of days later I heard news that a male Eurasian Dotterel had pitched up at Choseley Drying Barns. This is one of the few bird species in which the male is duller than the female; phalaropes and painted-snipes are other examples of this reversal of the norm. Megan and I decided to drive up to north-western Norfolk again to see this fine bird (it was close to where we'd been on 1 May!), and we were rewarded with great views of this bird coursing across an open, ploughed field. It was great to meet up with a bunch of other birders at the site, all so eager to see this charismatic species which is rare in England. Since we were again near the Norfolk coast, we then decided to do a beautiful drive eastward, all along the north coast through to Weybourne Camp. We did this drive in the hopes of finding the remarkably late-staying Iceland Gull that others had been reporting, and we were delighted that it was indeed present, just standing there as if waiting for us. This individual had been moving east and west along the coast between Cley and Weybourne throughout the winter and spring. This was my first sighting of this bird since December (so it did feature in last year's blog here), but I actually then proceeded to see it twice more in the next few days, but soon after that it stopped getting reported so presumably it must have moved on to colder climes where it belongs at this time of the year.
I was pleased to add a few more common migrants that were arriving, over the next few days of early May. The next three species on the list were the nondescript Garden Warbler, Common Swift and (finally; everyone else had been reporting them for a while already!) Common Cuckoo.
A trip to the Cley/Salthouse/Kelling area on 10 May allowed me to see a Common Guillemot (Murre) on the beach near Gramborough Hill, but I did worry about this bird as it may not have been in a good way to have been on the beach rather than out at sea or on rocky cliffs. Incidentally, Grambourough Hill is a well-known migrant trap that hopefully I'll mention again in the autumn when birds are arriving in England after breeding in Scandinavia and other parts.
A visit to Titchwell on 13 May was highly productive as I managed to see one individual of the increasingly rare European Turtle Dove, along with a beautiful, dainty, Little Tern, both new additions, bringing my Norfolk year list to 175 species. And, while I was on the north coast again, a quick drive eastwards generated my FOY Northern Pintail at North Point Pools/Warham Freshmarsh, near Wells-next-the-Sea.
I had to wait until 19 May to see a brilliant bird, rare here in England, and something I dipped on last year, Caspian Tern. It was great to belatedly catch up with this excellent species with its bright red bill.
On another drive with Megan, this time to north-eastern Norfolk, we dropped by Salthouse where a couple of Short-eared Owls had been pretty reliable according to the rare bird sites, and we were not disappointed, yay! Owls are always so special and it was great to see one of these flying around in broad daylight.
I was very pleased to add Common Nightingale to my Norfolk list towards the end of May, at a site that I have to keep secret to protect this increasingly rare bird.
I guided a wonderful Norfolk birding day tour on 27 May for a great couple from Lincolnshire, and the detailed trip report is shown here. The only FOY bird for me was Spotted Flycatcher, always a good species to catch up with!

12 July 2021 update – Norfolk (and Suffolk!) birding madness continues through the whole of June
Fellow South African birder (now also living in Norfolk) Andrew de Klerk and I met after dinner one evening in early June at Dersingham Bog, a nature reserve on the Sandringham Estate, to witness tens of Eurasian Nightjars and Eurasian Woodcocks displaying over the forest, heath and bog habitats at dusk. It really is quite an experience; this reserve is largely deserted and one can completely forget the usual hustle and bustle of the rest of England out there.
Next on the agenda was to go and hear a Common Quail that had been reported "singing" west of Norwich. With some patience, I eventually heard the unmistakeable vocalization of this species hidden in a barley field.
Megan and I happened to be in Salthouse on the North Norfolk coast one Sunday when we heard there was a Marsh Warbler at the nearby Kelling Quags, so we went for it and after patiently waiting for over half an hour it suddenly started singing and came into the open, giving close views for a short period of time. Hooray! My 184th Norfolk bird species for the year.
Hickling Broad Nature Reserve was soon to become the hotspot as it must have generated more June rarities than any other Norfolk reserve! I had to visit there several times over the next three or four weeks and in fact then also made it the focus of a Norfolk birding day trip I guided in early July for a super couple, originally also from South Africa. On the menu here at Hickling was not only Britain's largest butterfly species, Swallowtail Butterfly (the British subspecies being endemic to the broads of Norfolk), but also two Glossy Ibises (or Ibi?), a Collared Pratincole (!), a pair of Black-winged Stilts, a breeding plumage Curlew Sandpiper, Spotted Redshank (in awesome breeding plumage, mainly black), Wood Sandpiper and many other goodies! The next instalment of this blog (watch this space!) should mention July's first rarity, a stunning breeding plumage Pacific Golden Plover which dropped in here at Hickling for 24 hours before heading north to Cley for a further 24 hours before vanishing – how's this for a teaser?
A flock of nine European Bee-eaters also pitched up in late June at Great Yarmouth on Norfolk's east coast and I immediately dropped everything and went to see these beautiful birds. These nine birds keep pitching up all over Norfolk but they stayed long enough in Great Yarmouth for many birders to catch up with them; at other sites they are often just seen briefly flying over.
Half a day at the famous Cley Marshes was hugely productive, with many good birds including a Western Cattle Egret (along with a Great Egret and stacks of Little Egrets; these are no longer rare in England!) and a breeding plumage Red-necked Phalarope, bringing my June list for Norfolk to 193 bird species. I enjoyed what was likely the same individual Red-necked Phalarope the next day at RSPB Minsmere in Suffolk, along with two beautiful adult Roseate Terns, after enjoying a European Roller on a wire and a Eurasian Stone-curlew in the field below it, near Icklingham further west in Suffolk.
A bit more birding in Suffolk
I did enjoy a couple of other birding stints in Suffolk this June with some birding friends Paul and Bob. RSPB Lakenheath Fen did not disappoint, and as is often the case, this excellent reserve provided us with close views of Bearded Reedling and Eurasian Bittern, along with more distant views of Eurasian Hobby, Common Kingfisher, Common Crane and other star birds. Common Cuckoos were all over, and were very vocal. A visit to the nearby Cavenham Heath, an excellent National Nature Reserve in Suffolk, was great as Eurasian Stone-curlew, Tree Pipit and Wood Lark were all present.
Another visit to Minsmere this June was also rewarding, with superb views of Dartford Warbler, an Arctic Tern, good numbers of Little Terns, tons of Common Terns and Sandwich Terns, a couple of Little Gulls, breeding plumage Spotted Redshanks, Black-tailed Godwits and Ruffs.
By the end of June, I was sitting on 89 species for Suffolk, no competition for my 193 for Norfolk!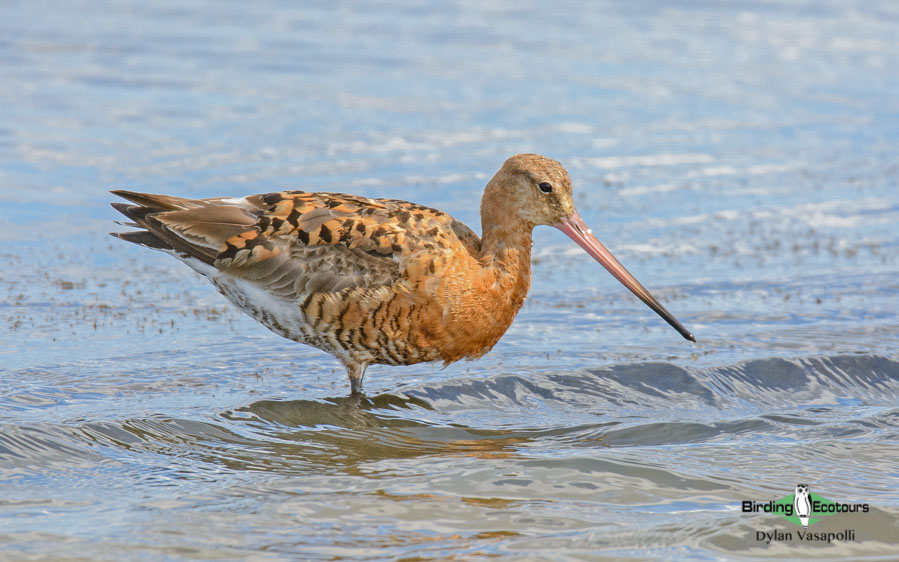 Black-tailed Godwits in their breeding plumage are always a highlight. 

2 August 2021 update – American shorebirds arrive in Norfolk through the month of July!
Quite a number of fellow Norfolk birdwatchers reminded me that July would be quiet from a bird point of view but actually it turned out to be as exciting as ever!
On 3 July, a dapper, breeding plumage Pacific Golden Plover pitched up and showed extremely well at Hickling Broad Nature Reserve. In retrospect, my decision to go and take a look at this bird immediately, the day it was first reported, was good. The alternative was to risk leaving it to the next day when I was scheduled to guide a Norfolk birdwatching day tour starting at the exact same site (trip report here). My decision to go immediately was shown to be the right call, as the plover was only seen briefly very early the next morning before my day trip started, and was then seen flying north! Although, that would not necessarily have been the end of the world as the bird did pitch up in famous (among birdwatchers) Cley, where it spent a day or two. I guess it's the same individual that then turned up – and is apparently still there now, as I write this almost a month later – at Frampton Marsh RSPB Reserve in Lincolnshire. So, I could have still caught up with this bird. But, Frampton Marsh reserve is almost two hours' drive from Norwich. And, perhaps more importantly, it's not in Norfolk! (this is just a light-hearted comment as I simply enjoy seeing these beautiful birds, although listing them is fun too, secondarily).
On 16 July, a Pectoral Sandpiper pitched up at exactly the same place as the golden plover, and showed extremely well the next day. This time I did risk it, as I did not have time to head to Hickling again the same day this species was first reported, and it's not as rare, for example I did also see one during my 2020 Norfolk birding year.
Next was a breeding plumage Long-billed Dowitcher half an hour from my home, at Dickleburgh Moor Nature Reserve – another great US bird to see here in the UK!
A UK MEGA was next on the birding menu, when Norfolk's second ever Western Sandpiper got reported at Snettisham RSPB reserve. This reserve is as far as I can travel from Norwich and still be in Norfolk (not to mention the long walk from the parking to the mudflats). And Snettisham is a tricky place to get the timing right at, as one ideally has to see the birds during short windows just before or just after high tide as the birds either finish up their foraging, or just get started at it. At high tide, most of the waders are roosting and asleep, hunkered down with their bills tucked in. This is a challenge, even though they can be nice and close-up. At low tide, the shorebirds are spread out into the far distance across the vast mudflats of "the Wash", so that even with a scope the majority of the birds are too far away. The good thing is that even if one gets the tides wrong, the sheer number of birds is awe-inspiring and it's a great place to be, but the experience is even more impressive when huge flocks of wheeling waders start flying around (and eventually roosting) as the high tide starts to cover the mudflats. Anyway, it was only on my second visit that I got good view of the MEGA celebrity Western Sandpiper, but it was nice to have more than one trip as I did love seeing a Roseate Tern among many other terns (mainly Common, with smaller numbers of Sandwich and Little, along with one or two possible Arctic). Probably even more of a highlight during these Snettisham visits was not the rare (for England) birds, but seeing thousands of Dunlin, hundreds of Sanderling and Common Redshank, ten Spotted Redshank, a bunch of breeding plumage Red Knot and Black-tailed Godwit and a breeding plumage Little Stint or two. And, seeing and hearing European Turtle Dove close-up, is always such a delight.
Just after one of our visits to Snettisham, we enjoyed seeing a White Stork not far from King's Lynn, perhaps an escaped bird though; it did have a metal ring! That was my 200th bird species for Norfolk this year so far (if countable)!
Watch this space for what happens in August. In late August/early September, Megan and I are taking a big risk (since this is prime time for rarities to pitch up in Norfolk) and planning a birding trip to Yorkshire and Northumberland – let's hope the Black-browed Albatross at Bempton Cliffs sticks around a bit longer, but I'm not too hopeful! I plan to write about this trip here on this blog, too, in the early October instalment.
9 September 2021 update – Norfolk seawatching, and a foray into Nottinghamshire, Yorkshire and Northumberland!
Early August continued with great shorebirds and other species. It was excellent birding with Jim Lawrence of BirdLife International for another session at RSPB Snettisham, where we enjoyed the incoming high tide as waders get pushed closer and closer to us, then the outgoing tide when these birds start dispersing onto the vast mudflats of "The Wash" again to forage. New Norfolk year birds during this birding session, were another American vagrant, White-rumped Sandpiper, and Black Tern.
In mid-August, a smart-looking, black-headed adult Sabine's Gull pitched up at Cley, giving excellent views, better than the more distant views I got of one on a Sheringham seawatch later in the month.
A seal boat trip to Blakeney Point from Morston Quay was more productive for birding than expected, generating two new Norfolk year birds, both close-up. These came in the form of Common Merganser (Goosander) and two Common Eiders.
A seawatching session at Sheringham with Nik Borrow and others was particularly rewarding, the highlight being the Critically Endangered Balearic Shearwater, accompanied by several other FOY (First of Year) species: Sooty Shearwater, Parasitic Jaeger, Great Skua (Bonxie) and Common Scoter. Moving to the Burnham Overy Dunes to try and find terrestrial/passerine migrants did not disappoint, with species like Whinchat, Common Redstart and European Pied Flycatcher all showing well.
The month of August ended well with quite a number of Manx Shearwaters and finally my first Long-tailed Jaeger for Norfolk (and the UK!) – hooray!
Nottinghamshire, Yorkshire, Northumberland birding in early September
Megan and I decided to visit these beautifully scenic parts of England, enjoying seeing incredible towns and cities such as Nottingham, Newcastle, York, Scarborough and Alnwick, along with many other incredible sights such as Holy Island and the rest of the amazing Yorkshire and Northumberland coastlines. Not to mention all the impressive castles. Avian highlights during this trip away from our Norfolk home included White-tailed Lapwing at RSPB Blacktoft Sands, Black-browed Albatross and thousands of Northern Gannets at the impressive RSPB Bempton Cliffs, lots of Willow Ptarmigan (Red Grouse), a field full of Black Grouse (17 of them), close-up seabirds like Sooty Shearwaters at some famous seawatching sites, and so many others. A visit to the Spurn Bird Observatory and nearby sites was a real highlight, and there were so many excellent migrants and other birds around, the scarcest ones arguably being Ruddy Shelduck and Eurasian Dotterel (one individual among a few hundred beautiful European Golden Plovers).
Watch this space for news of September Norfolk birding, this is prime migrant season so it should be good. As I write this on 9 September, I am filled with excitement about what birds the next few weeks is going to bring. Gotta love living in Norfolk!
10 October 2021 update: is September the best month for birding Norfolk?
September can indeed be one of the most exciting months for birding in the east of England for a number of reasons:
This is prime migration season, with many passage species such as Northern Wheatear, European Pied Flycatcher and numerous others pitching up in Norfolk in good numbers.
The more common migrants, such as those mentioned above, are often joined by rarer visitors and vagrants such as Yellow-browed Warbler, perhaps the odd Radde's Warbler, Richard's Pipit and many others.
It's the month when the huge flocks of geese that spend the winter in Norfolk and other parts of the country, start arriving; the first flocks of Pink-footed and Brant Geese can be enjoyed as they arrive in V formation.
This particular September was, relatively speaking, a dud though, as we hardly had any days with onshore winds to bring the birds across from the continent. Apparently, I didn't miss much during the first few days of September when I was away in Yorkshire and other parts to the north of Britain's best birding county (Norfolk of course, , even though my colleague Andy seems to disagree, I wonder if that has anything to do with the fact he is from Yorkshire and might be biased!). Well, having said all the above, September was nevertheless incredibly pleasant even though in the first half of it I did manage to catch up with all my computer work without being distracted by too much birding.
I had to wait until 16 September before seeing my first new year bird, a subtly beautiful Common Rosefinch immature feasting on blackberries among the beautiful Winterton Dunes on Norfolk's picturesque east coast. After enjoying watching this bird for a bit, a scan of the sea from atop a nearby dune also generated my first Red-throated Loons (Divers); at this time of the year beautiful breeding plumage ones can often be seen close inshore, what a treat! Later this month, I also managed to show quite a number of clients close-up views of these great birds during Norfolk birding day trips. Including at Weybourne Camp where a scarce, Eurasian Wyneck (what a beautifully odd bird!) was the center of attention, a bird that was new to my year list on 21 September when I first saw it.
Birding with American friends Barbara and Stephen on 22 September was not only great fun, but also generated my first Western Osprey for England, from the famous Stubb Mill raptor roost, part of Hickling Broad Nature Reserve. On 23 September, birding with some other visiting friends (Maria and Mark, from Coventry), I saw my first of year Razorbill from the Sheringham seawatching shelter. Indeed, another nice thing about this time of year in Norfolk is that Razorbill and the more abundant Common Murre (Guillemot) can often be spotted close inshore floating on the water anywhere along the extensive Norfolk coastline. After Sheringham and a couple of other stops (e.g. swinging by the Weybourne Wryneck again), Mark, Maria and I decided to drive the 45 minutes all along the stunning north Norfolk coastline from east to west, to RSPB Titchwell Marsh, to enjoy the spectacle of birds coming in to roost on the freshmarsh there. A single, immature Rosy (Rose-colored) Starling was the star of the show, easy to pick out (by its pale brown color) amid the massive wheeling murmurations of Common Starlings. Hundreds of European Golden Plovers were my personal favorite. The gull roost here at Titchwell is also really rewarding, and in late September/early October this year, the scarcer species I enjoyed on several occasions were Caspian Gull (an immature), Yellow-legged Gull (good numbers of adults) and Meditterranean Gull (the latter now breeds here and at various sites along Norfolk's north coast, but becomes more difficult to find in the autumn, post-breeding, in winter the classic roost site is at Great Yarmouth beach on the east coast of Norfolk).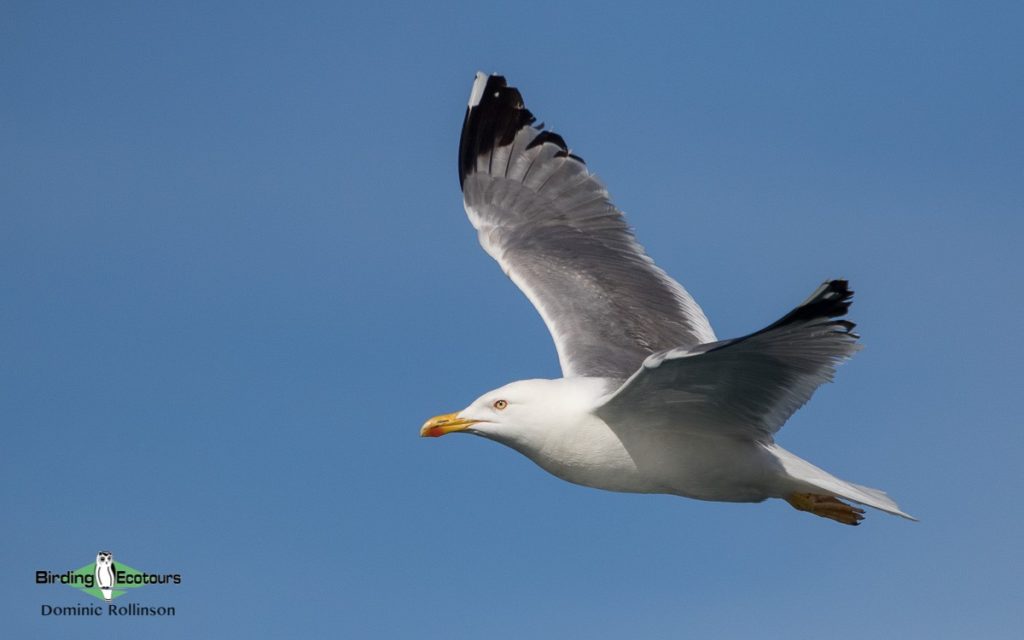 RSPB Titchwell Marsh is a reliable spot for adult Yellow-legged Gulls.
All in all, September did prove to be a very pleasant and productive month for birding in Norfolk, although not as manic as usual. As I write this, October has already been more productive with scarce birds, so watch this space a month from now for the October instalment!
1 November 2021 update: autumn migration continues, some rarities, and winter birds arrive en masse!
I'm not sure where October went. I guess it went by in a blur because it was a busy month during which I guided some more really productive Norfolk birdwatching day tours. And when I was not out birding/guiding, I was kept out of mischief by large volumes of office work; with the world opening up to travel again (e.g. the UK government green-listing all countries) and full length Birding Ecotours' tours being booked like crazy again, there has been even more than usual to keep me busy, along with the rest of the team.
Back to the October Norfolk birding…at the start of the month, I finally managed to catch up with a Yellow-browed Warbler for the year, near Waxham. This is a species I thought I was going to miss for the year, as not many of them were around, probably because of the marked paucity of onshore northerly and easterly winds in Norfolk this fall to bring migrants in.
I was very pleased to catch up with a Great Grey Shrike at the same site (Waxham) later in the month.
As October progressed, I managed to see a few European Rock Pipits as they arrived in the UK for the winter, at coastal sites such as Snettisham RSPB Reserve. Famous Cley NWT Reserve allowed me to see my first Red-breasted Mergansers for the year. Titchwell RSPB Reserve yet again proved its worth, with birds such as Purple Sandpiper, Snow Bunting and a Long-tailed Duck all putting in appearances on the beach (the first two) and out at sea (the last one).
Holkham Gap/Holkham NNR proved great, with sightings of three Horned (Shore) Larks, a Horned (Slavonian) Grebe and a couple of Snow Buntings arriving in off the sea.
The highlight of the month was right at the end of October, when a co-operative Greater Short-toed Lark was found in a field above the sea cliffs at West Runton between Sheringham and Cromer – a nice way to end the month's birding with the addition of a new UK bird for me! It showed well among a large number of Eurasian Skylarks and Common Linnets.
On 31 October as I write this, my Norfolk year list for 2021 so far stands at 232 species, and my total Norfolk list for both years I have lived here, at 261 species.
Next month I will be guiding a private version of our England in winter birding tour which also includes Northumberland and Yorkshire along with Norfolk. I should be able to mention highlights of that trip in the early December instalment of this blog, so watch this space! Exciting days ahead!
8 December 2021 update: a couple of November rarities including a FIRST for Norfolk!
I spent a good chunk of November guiding an awesome British birding tour with some great folks, the trip report for this eastern England tour is shown here.  The first few days of this birdwatching tour was in Norfolk and I did manage to add some new year birds during this time. The first came in the form of Hawfinch at Lynford Arboretum during the first full day of the tour. What a remarkable bird with its humongous bill, this is definitely the "grosbeak" of England. We then saw the scarce Water Pipit , both at RSPB Titchwell and later at North Point Pools near Wells, over the course of the next couple of days. We were also lucky to encounter Common Raven at the magnificent Holkham Estate. I did miss a Melodious Warbler while guiding this eastern England birding tour, as we opted to stay at Titchwell and enjoy a larger number of species there, rather than to chase this rare UK bird. Full details of that "incident", and more details about the other species mentioned above, are in the trip report linked to above, along with tales of great birds we found in Yorkshire and Northumberland. What a super birding tour that was, with great friends.
Shortly after returning home to Norwich, after my 2-week UK birding tour, news of an Isabelline Wheatear at Cley arrived and I dropped everything to go and see this beautiful bird, which showed very well. It is always great to be able to link up with other birders, during these "twitching" events, what fun! Great news is that, as a bonus, a Black Guillemot was close inshore sitting on the sea near the wheatear spot! So, I finally managed to catch up with this individual that, indeed, had been lingering around this part of Norfolk for a while. Many other birders had been reporting this Black Guillemot  between Weybourne and Cley over the last couple of weeks and it was great to finally lay eyes on it.
A couple of days later, something really remarkable happened. I was just pulling in to Wells Harbour car park to try and find a Black-throated Loon (Diver) when Norfolk's first Thick-billed Murre (Brunnich's Guillemot) got reported only a mile away! Needless to say, I joined a lot of fellow birders, many of them literally running to get there in time so as not to risk missing this mega! As luck would have it, a recently released White-tailed Eagle then got reported at the nearby Holkham Park, and I enjoyed seeing it with a couple of excellent folks who had the same idea in mind, we definitely enjoyed the sunset with the eagle at this idyllic spot.
As I write this on 8 December, the first few days of December have already proved good with some really exciting new year birds. Watch this space for the last (January) instalment of this blog!
20 December 2021 update: final year birds, a comparison with 2020, and a list of the birds I missed in 2021 (unless I can still somehow see them within the next ten days!)
On 4 December, Megan and I decided to visit the north Norfolk coast, something we like to do as often as possible. I was absolutely delighted to find a great new year bird, Black-throated Loon (Diver) waiting for me, sitting on the sea off Cley Coastguards pretty close inshore when we first arrived. Just inland from here at Wiveton, we were then able to connect with a late Barred Warbler, a species I really thought I had missed for the year. We got close-up views of this large warbler as it moved around on either side of the lane, feasting on bright red berries.
The next day, a visit to the Broads National Park generated a nice herd of three swan species, the first one being a new year bird for me, Tundra (Bewick's), Trumpeter and the ubiquitous Mute Swan.
I had tried for Taiga Bean Goose a couple of times in early January before the lockdown, without success, but good news is that a flock of five of them got reported at the usual site, Buckenham Marshes RSPB Reserve just outside of Norwich, in early December. These birds are usually only present for part of December and January each year, and there used to be a much larger flock, now down to a meagre five. On my third attempt this month of December, I did find them, hooray! They tend to hide behind long grass and are (for a goose) surprisingly elusive.
European Shag was another species I was missing until now, so when one got reported inland, on the River Ouse near Cambridgeshire, I drove there to take a look, and after 45 minutes of searching the general area, was eventually rewarded with close views of the bird fishing. This was not far from the interesting Denver Sluice area.
The only realistic birds for me still to potentially find this year, were Common Loon (Great Northern Diver) and Merlin, both species that somehow I had just missed previously. Indeed, neither of them are common, but both of them should nevertheless have been stumbled across by now. I had to put in a bit of effort, first for the loon, which I went to the beautiful NWT Holme Dunes for, then for Merlin at the Warham Greens Saltmarsh, thanks very much to my birding friend Graeme who helped me find it.
My e-Bird list for Norfolk for 2021 is now sitting at 247 species and is unlikely to increase unless something rare pitches up in the next ten days. Last year my list stood at 234 by 20 December, and I did manage to get one more in the final days of the month, ending on 235 for 2020, so this year I have managed 12 more bird species than last year (and who knows perhaps I'll still get another one or two). It's not about numbers for me, but rather about having an excuse and motivation to travel around the county of Norfolk and get to know corners of it that non-birders never get to. And also to get to know the UK bird species better.
As of today, 20 December, my England bird list for 2021 now stands on 255 species, compared to 238 for the whole of 2020. My 2021 list for Suffolk stands at 106 so far this year, and it is tempting to increase that before the end of the year, noting that its extremely unlikely for me to be able to increase my Norfolk year list as mentioned above, but there is lots that I could still find in Suffolk!
What species did I miss in 2021 that other birders did see here in Norfolk? These are listed below, with some brief notes:
Little Auk (Dovekie) – many were reported by other birders this fall and early winter, but I was never at the right place at the right time. It's still possible for me to see one in the next ten days, but not likely!
Atlantic Puffin – a few were reported in Norfolk but the only ones I saw this year were in Northumberland.
Glaucous Gull – I missed one roosting in a scrape near one of the hides at Cley, by half an hour, but saw the Black-throated Loon and Barred Warbler as consolations. There was apparently a different individual also hanging around this autumn, but I missed that too.
Leach's and European Storm Petrels and Cory's Shearwater  –  rare in Norfolk!
Pomarine Jaeger – I didn't manage to catch up with any of the ones reported.
Yellow-billed Loon (White-billed Diver) – tantalizingly, this was reported several times this autumn, often from Winterton Dunes, but I hardly had time to try apart from one brief visit.
Tundra Bean Goose – this is more numerous in Norfolk than Taiga Bean Goose but I did not have time to chase any of the reported ones, nor scan through flocks of hundreds of Pink-footed Goose in the hopes of finding one or two of these.
Twite – the ones that usually visit Thornham Harbour don't seem to have pitched up this year!
Long-eared Owl – there was at least one day when a few of them flew in off the sea on migration, but I was sitting behind my computer working!
While others reported them, I also missed some other rare birds in the form of Buff-breasted Sandpiper (one was e-Birded at East Hills near Wells), Golden Pheasant (a rare feral species), Willow Tit (now particularly rare in Norfolk), Great Reed Warbler, Melodious Warbler, Sykes's Warbler, Pallas's Leaf Warbler, Wood Warbler, Greenish Warbler, Icterine Warbler, Savi's Warbler, Bluethroat, Red-flanked Bluetail, Red-breasted Flycatcher, Richard's Pipit, Red-throated Pipit, Eye-browed Thrush,  Red-backed Shrike, Red-footed Falcon, Pallid Harrier, Montagu's Harrier, Purple Heron, European Serin, Hooded Crow, Eurasian Hoopoe, Little Bunting, Bohemian Waxwing and Corn Crake.
Watch this space for my 2022 Norfolk birding year, although if all goes well I'll be out of the country guiding birding tours in Asia, Africa, etc. in the second half of next year. I'll aim for 250 Norfolk bird species next year, but may not manage if all my overseas trips happen.