Posted on 3 February 2021
Birding Ecotours was originally founded in South Africa (in 2002) by Chris (with Dylan now heading up the South African office and Dom and Nadia also playing key roles). A satellite office in South America (Peru), headed up by Eduardo, came two years after that. The company's American (Ohio) office was established in 2016 and has been headed up by Jacob since January 2020.
Something we probably should have written about earlier (as it's exciting!), was the opening of our UK office in February 2019, with the aim of better serving our awesome European clients. I guess we all just got so busy traveling the world showing people birds, that we neglected to inform everyone properly about this at the time!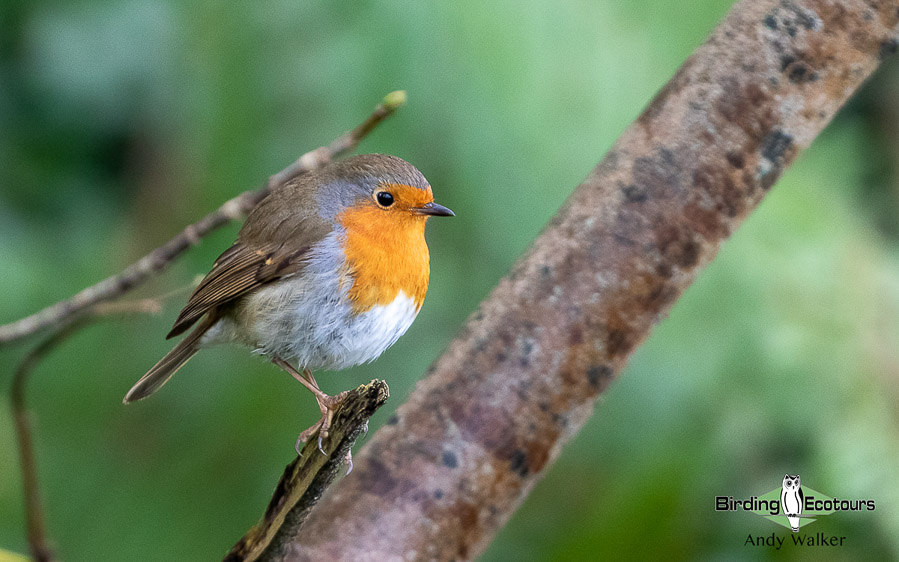 An abundant species in the UK and a familiar garden visitor for many (including at our UK office), yet for visiting birders the European Robin is often one of the most-wanted species!
While Andy, who has played a senior role in the company for years, is supposedly from England, in reality he's actually never at "home" in Yorkshire, spending the majority of the last five years in Asia and Australasia and has been running our satellite office in Indonesia for the last year. So, eventually, Chris went ahead and established a formal office in the UK so we could remain compliant with changing European and UK laws. This in turn allows us to provide an ABTA/ATOL equivalent insurance through Towergate Travel Insurance. This "ABTA-type" insurance is legally required for any European/UK clients joining birdwatching holidays, not only in Norfolk, the UK or elsewhere in Europe, but worldwide. This protects your tour financially (and is required by law) so we urge you to check any company you consider booking with as to whether they are compliant, similar to what we recommend checking before booking a tour to Namibia, South Africa or elsewhere.
After already setting up the British office to a large extent, a year later in January 2020, Chris and his wonderful wife Megan actually then moved to Norwich (Norfolk), one of Britain's best birding counties, to further help develop the Birding Ecotours UK office.
Some fun stories of Chris' first year birding and living in Norfolk are detailed in his blogpost at this link, for example a story about a Desert Wheatear on a Norfolk beach right at the start of the year with Taiga Bean Goose near his home at the end of the year, and a whole host of other really exciting birds in between. Norfolk really is better than Yorkshire, isn't it? Andy still seems to disagree, haha, and is looking forward to proving Chris wrong when he eventually gets back to the UK! It's no coincidence that both of our UK bird tours heavily feature time birding in Yorkshire and birding in Norfolk.
Saving the best for last, is Oli, the most important person in the Birding Ecotours UK office. Residing in Fakenham in north Norfolk and linking The One Stop Nature Shop in nearby Burnham Deepdale in a partnership with Birding Ecotours (this is another exciting development that began in 2020), Oli now heads up our Norfolk birding day tours, our longer/full length British birdwatching tours, and most of our Western Palearctic/European bird holidays. Apart from the bird-focused trips, he's also busy developing some birding (and wildlife) photography tours in Europe for us that will be going live during 2021, so look out for those new tours as we start to advertise them. Oli has lived in Spain, too, and has birded extensively throughout the Western Palearctic as well as in North and South America. He will also be guiding some of our Africa trips that are literally closer to the Birding Ecotours UK office than to the South African office! These include Morocco, Senegal and the Gambia (see all our African birding tours here).
With lots of hard work in 2020 and early 2021, Oli and Andy have totally revamped all of our Western Palearctic/European bird tours over recent months, with fresh new itineraries, new photo galleries, and lots more, so please take a look here for an outline of each tour we are currently offering, or explore the individual tour pages for destinations ranging from Iceland in the northwest, Morocco in the southwest, Poland in the northeast, and Georgia in the southeast of the region, as well as many countries in between! Our brand-new Azerbaijan bird tour will also be online in a matter of days. We are thoroughly excited to bring you these new and fully updated tours; please do contact us if you have any queries. As usual, our focus is on small-group birding tours as we feel these give you a far better-quality experience in terms of enjoying the birdwatching than in a crowded larger group as so many other companies offer. We can also offer custom tours if you'd prefer that.
Just for fun, below, Oli and Chris have provided their top five birding sites in Norfolk, along with their top five species, or groups of species (try getting birders to stick to a number when they have to pick favorites… impossible!) and we've also provided a little something to whet your appetite for our new fall (autumn) Norfolk day tours that will also be coming online very soon…
A list of Oli's top five birding sites in Norfolk:
Burnham Overy Dunes
North Point pools, Wells-next-the-Sea
Warham Greens
Gramborough Hill, Salthouse
Kelling Water Meadows
Oli's top five birds in Norfolk and why:
Western Marsh Harrier – I've seen these beautiful birds of prey steadily become more commonplace in the county in my 25 years of living here, and they often accompany my drive to work at The One Stop Nature Shop. I especially look out for the stunning males with their beautiful tricolored upperparts.
Blyth's Pipit – This was one of the first really rare birds I saw in Norfolk. I was only around eight years old at the time but even at that age I was a very keen birder. I don't think the true rarity value of this bird really dawned on me until much later though, but I remember the twitch well and am very glad to have seen this interesting and rare bird.
Pink-footed Goose – One of Norfolk's treasures is seeing the skeins containing thousands of these iconic geese over the vast landscapes of the county. In winter you can find them pretty much anywhere along the coast and in the Norfolk Broads and they always have other interesting geese species in with them such as Greater White-fronted Goose and Tundra Bean Goose.
Shorebirds (waders) – Not one individual species but the collective sight of the tens of thousands of shorebirds that gather in Norfolk each winter, especially on The Wash mudflats. A visit to RSPB Snettisham is essential at this time of year, to witness the incredible sight and sound of these birds. You may even get lucky and see a Peregrine Falcon or Merlin hunting the flocks, which just adds to the spectacle.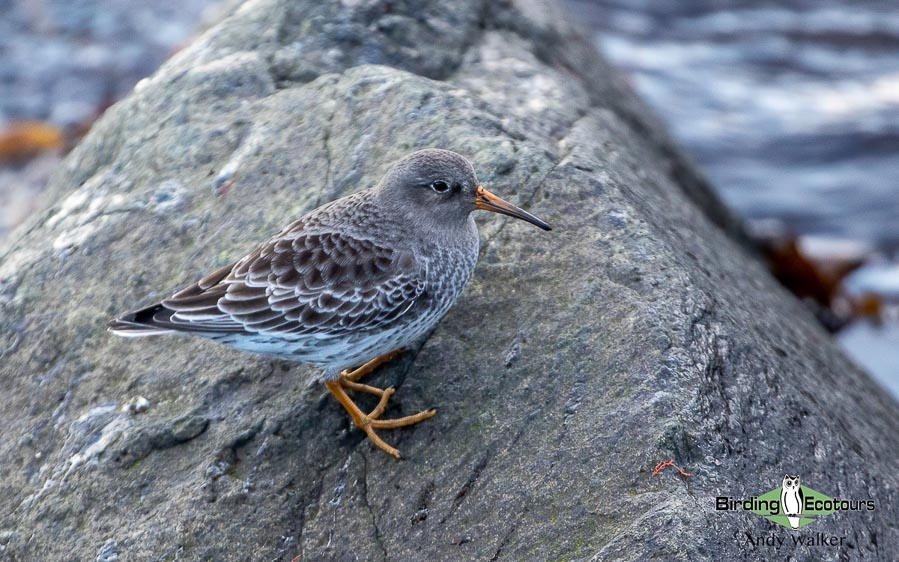 Purple Sandpiper is one of many shorebird species that can be found along the north Norfolk coast during the non-breeding season.
Lesser Whitethroat – I've always loved "Sylvia" warblers. Having spent a lot of time birding across Europe I've managed to get to grips with this stunning family, which includes beautiful species like Western Orphean Warbler, Western Subalpine Warbler, and Dartford Warbler, but in the UK the standout bird of the family for me is Lesser Whitethroat. They are dainty and subtly plumaged warblers, but their soft grey and pastel colors make them an absolute stunner in my mind.
A list of Chris' top four Norfolk (and a Suffolk!) birding locations:
Strumpshaw Fen RSPB Reserve
Cley Marshes NWT Reserve
Holme Bird Observatory
Titchwell RSPB Reserve
Minsmere RSPB Reserve (in neighboring Suffolk), an hour's drive from the Birding Ecotours Norfolk office
Chris' top five birds in Norfolk and why:
Bearded Reedling (Bearded Tit) – such a beautiful bird. Quite common in fens/reedbeds all over Norfolk but extremely skulking and so tough to actually get visuals (or photos!) of. I often eBird them based on call, but when I have time, patience, and a bit of luck, I occasionally do also get great visuals of this gorgeous species, which is also actually a highly sought-after monotypic family for world birders/family listers!
Eurasian Blue Tit and Long-tailed Tit (tough to choose between these two species!). These are two of the most common avian sights across England, and that's good since they're really beautiful, full of personality and have great songs.
Eurasian (Great) Bittern – I really enjoy herons, even more so the strange ones called bitterns, and what's not to love about a giant bittern that usually remains well hidden, but which can, reasonably often, be seen flying low over the reeds here in Norfolk? This is actually the only regularly occurring (i.e. non vagrant) that I haven't seen in my home country, South Africa (it's very rare there!), although I've heard it's deep, resonating booming there. Norfolk is excellent for them, so I do see and hear them rather often here.
Great Skua (Bonxie) – I like these mainly because of what the birders in Norfolk (and the UK in general) call them – Bonxies! It's always funny to be seawatching at Cley or elsewhere along the north Norfolk coast and hear someone say "there's yet another bonxie".
"Common" Firecrest – not actually common at all, this is the rarer relative of the frequently encountered Goldcrest (the smallest bird in Europe). There are some great sites for this attractively-plumaged, tiny bird in Norfolk. Pretty Corner near Sheringham (also a great seabirding site in Norfolk!) was where I saw my first Norfolk one.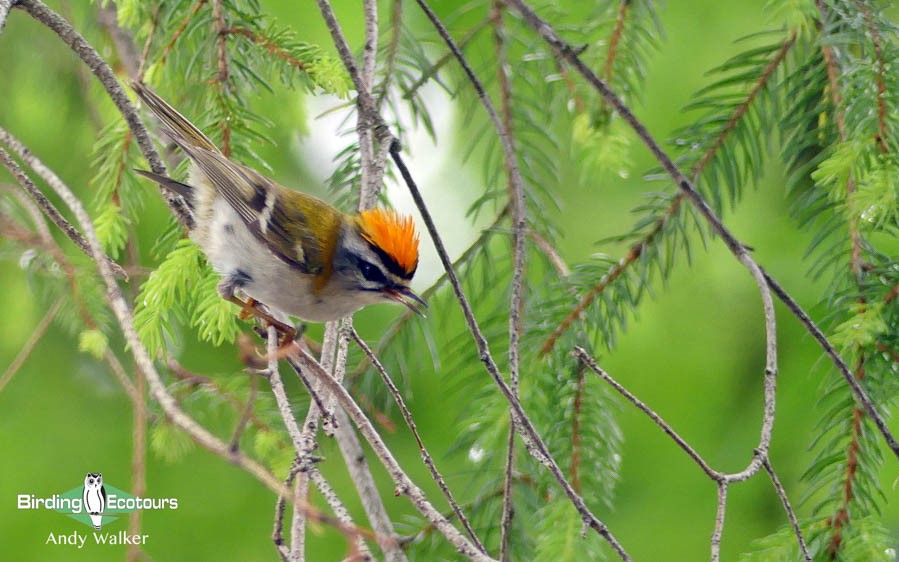 Common Firecrest is one spectacular bird!
Norfolk is a great place to find and see UK rarities, rare birds that have flown (or been blown in many cases) off-course during their spring or fall (autumn) migration movements. Our Norfolk day tours offer the chance of birding in some of the less crowded parts of the county and there is always the possibility of something interesting turning up, particularly in the fall, as evidenced in 2020, with birds from the scarce (Pallas's Leaf Warbler), rare (Red-flanked Bluetail), to MEGA (Rufous-tailed Scrub Robin – first UK record for over 40 years) all being enjoyed by both Chris and Oli, Oli managing to photograph them all! Our Norfolk birding day tours in other seasons are likely to be just as rewarding, so please take a look and see what grabs your fancy!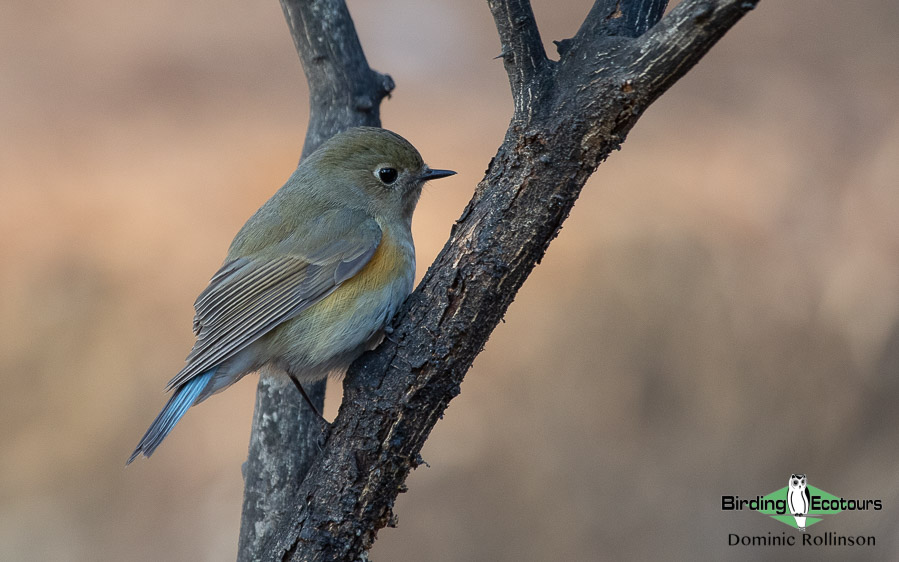 A rarity in the form of Red-flanked Bluetail lurking in the undergrowth.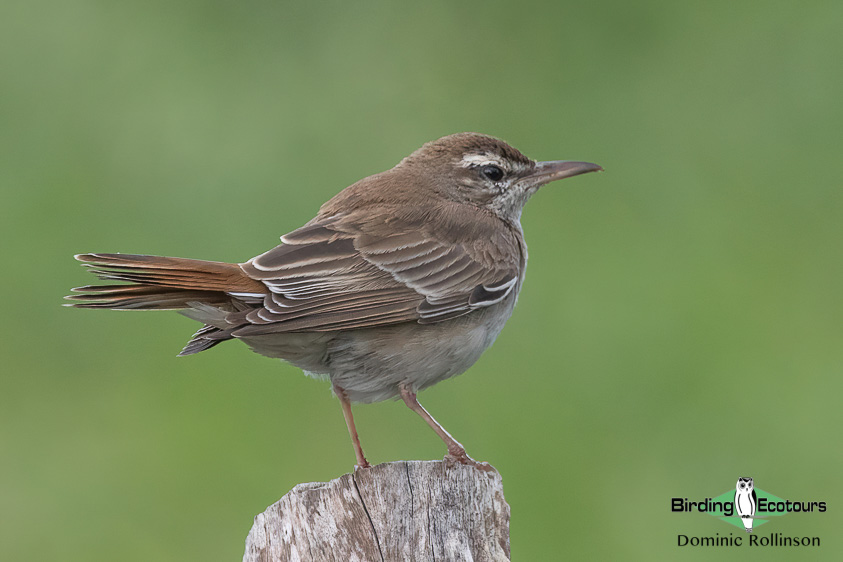 An absolute MEGA of a national rarity – Rufous-tailed Scrub Robin. Probably the best bird in Norfolk and arguably the whole of the UK in 2020 (though it did get some tough competition from a wide-ranging and incredibly popular Bearded Vulture!).