United Kingdom Birding Tour: England Fall Migration Special
Go to: Norfolk Birding Day Trips | Suffolk Day Tours | United Kingdom Birding Tours | Birding Tours in Europe | All our birding tours
Download Itinerary
United Kingdom Birding Tour: England Fall Migration Special
October 2024/2025/2026
Situated on the northwestern edge of Europe and the Western Palearctic biogeographical zone, the United Kingdom (UK) is blessed (as a result of the Gulf Stream) with an exciting fall season as common migrant species are occasionally joined by much rarer and more exotic vagrants. As such, we have designed this tour to focus not only on the spectacle of migration of common species but also as a tour where we can look for our own rare vagrants along the east coast of England.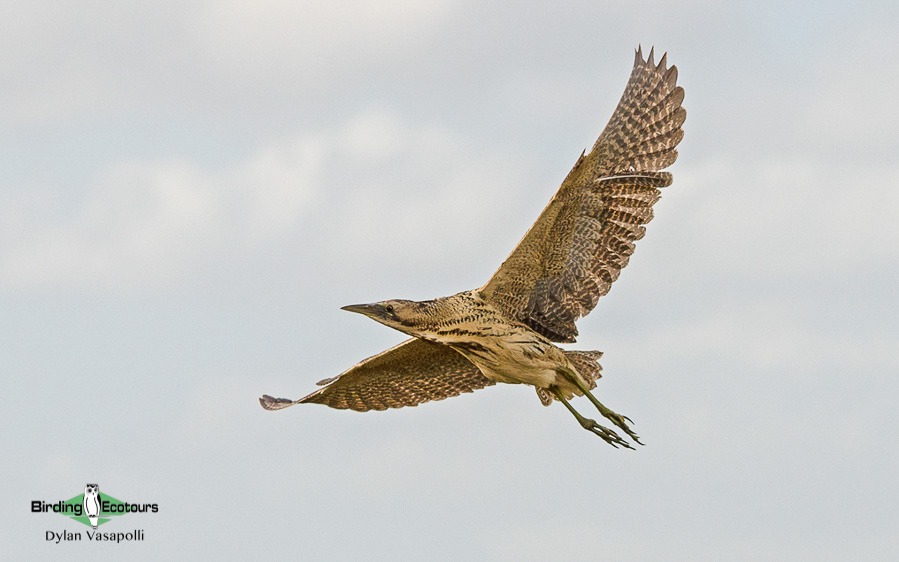 Eurasian Bittern is one of our secretive targets on this trip.
This tour of the eastern side of England will occur during the mid-fall period and will focus on finding a wide range of resident species and numerous fall migrants. Overwintering wildfowl, shorebirds (called waders in these parts), gulls, thrushes, finches, tits, buntings, and other passerines from northern and eastern Europe and further east into Asia will swell the number of birds usually present in the country and provide an interesting suite of species to chase after.
Some of our targets will include Whooper Swan, Tundra (Bewick's) Swan, Pink-footed Goose, Tundra Bean Goose, Greater White-fronted Goose, Greater Scaup, Smew, Long-tailed Duck, Common Scoter, Velvet Scoter, Caspian Gull, Yellow-legged Gull, Iceland Gull, Glaucous Gull, Mediterranean Gull, Purple Sandpiper, European Golden Plover, Fieldfare, Redwing, Black Redstart, Horned (Shore) Lark, Snow Bunting, Lapland Longspur (Lapland Bunting), Twite, Brambling, Hawfinch, and with luck, as it is an irruptive species, Bohemian Waxwing, one of the best-looking birds in Europe.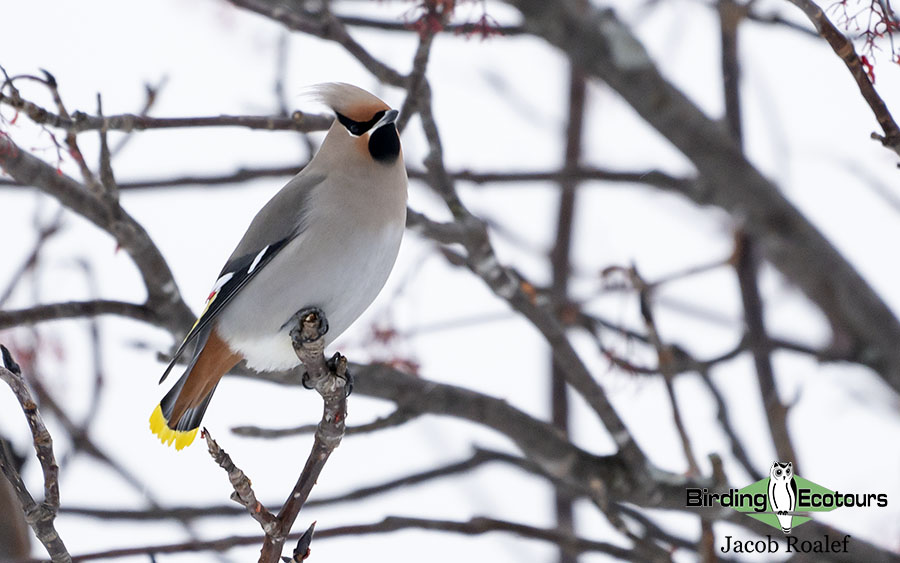 Bohemian Waxwing is a striking species which arrives from Scandinavia to spend the winter in England.
There are many rare, scarce, very localized, or just plain secretive species in England, and we will target lots of these during the tour, including Bearded Reedling (Bearded Tit), Eurasian Bittern, Hen Harrier, Ruff, Eurasian Spoonbill, Willow Ptarmigan (Red Grouse), Black Grouse, Jack Snipe, Water Rail, Eurasian Woodcock, Short-eared Owl, Long-eared Owl, Common Kingfisher, and Common Crane.
For a visiting birder, or anyone interested in bird photography, this tour will offer great views of some of the common and gorgeous resident birds present in the United Kingdom, such as European Robin, Eurasian Bullfinch, Eurasian Blue Tit, Great Tit, European Nuthatch, European Greenfinch, European Goldfinch, Common Blackbird, Song Thrush, Northern Lapwing, Western Marsh Harrier (at impressive roost sites), Red Kite, and many more. Our "Common Birds of the UK" blog series provides an illustrated look at the common garden, farmland and woodland, and wetland and coastal birds of the UK. These birds will also form an exciting part of this tour for anyone not familiar with the birds of the region.
Finally, we will also search for rare vagrants. Species we could bump into include Yellow-browed Warbler, Pallas's Leaf Warbler, Dusky Warbler, Radde's Warbler, Red-flanked Bluetail, Pectoral Sandpiper, Lesser Yellowlegs, Black Scoter, and Olive-backed Pipit.
After a hard day's birding, we will get to enjoy the fabulous hospitality of traditional hotels throughout our stay. At this time of year we can expect hearty food and roaring log fires, just the tonic after the brisk weather that the east coast of the UK can offer up during fall.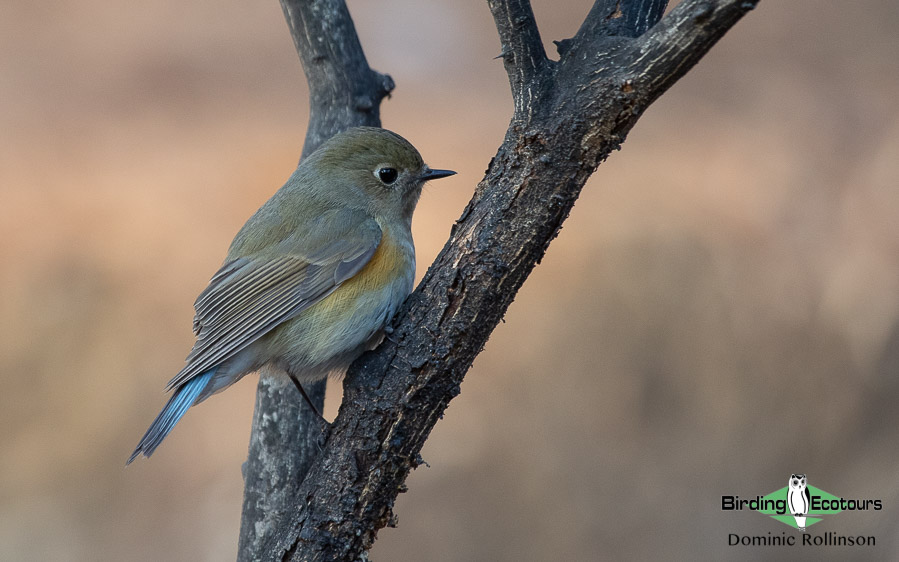 Finding a beautiful Red-flanked Bluetail would surely be the highlight of our tour. We will
search the best coastal areas in Norfolk and Suffolk for this stunning vagrant species.
Itinerary (12 days/11 nights)
Day 1. Arrival in London and transfer to a hotel near Heathrow Airport
After your arrival in London (Heathrow) during the day, you will transfer to our hotel with time at your leisure. In the evening, we will gather for our group welcome meal. If you wish to explore the many tourist attractions that London has to offer (such as Big Ben and the Palace of Westminster, Buckingham Palace, St Paul's Cathedral, Tower Bridge, The Natural History Museum, and many more), please organize an early arrival or late departure. We can assist in arranging your plans for these activities should you need any help.
Overnight: Heathrow Airport area, London
Days 2 – 4. Birding Norfolk and Suffolk
We will leave London and travel to our base in the county of Norfolk for the next three nights. Our base will be great for exploring Norfolk and neighboring Suffolk over the coming days. Our journey from London will get our birding underway immediately as we drive northeast, with a few strategic stops planned along the way!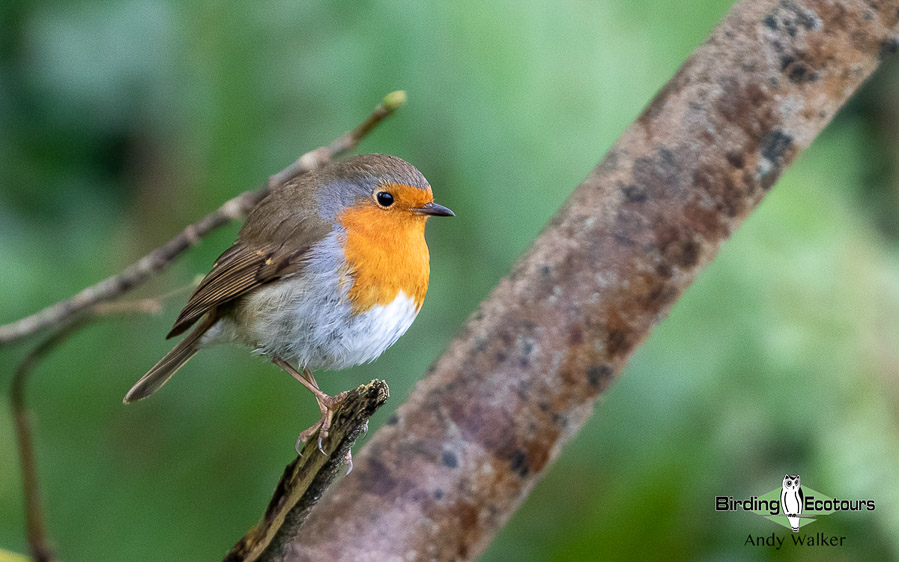 European Robin, a beautiful and widespread species.
The region is rightly considered one of the best birding areas in the whole of the United Kingdom and great for a varied selection of birds. Some of the coastal and inland reserves we will likely visit during our time in the area include Royal Society for the Protection of Birds (RSPB) Titchwell Marsh reserve, RSPB Lakenheath Fen reserve, RSPB Snettisham reserve, RSPB Minsmere reserve, Norfolk Wildlife Trust (NWT) Cley and Salthouse Marshes, NWT Hickling Broad and Marshes, Wildfowl and Wetland Trust (WWT) Welney Wetland Centre, Thetford Forest, and Holkham Hall and Estate, among many others.
Early in our tour we will likely see a range of common species that will become very familiar, such as Eurasian Blue Tit, Great Tit, European Goldfinch, Eurasian Bullfinch, Common Wood Pigeon, and Eurasian Magpie. We will also find our first overwintering Fieldfare and Redwing. At this time of the year many of the Common Blackbirds, Song Thrushes, and European Robins present in the UK will be of continental European origin.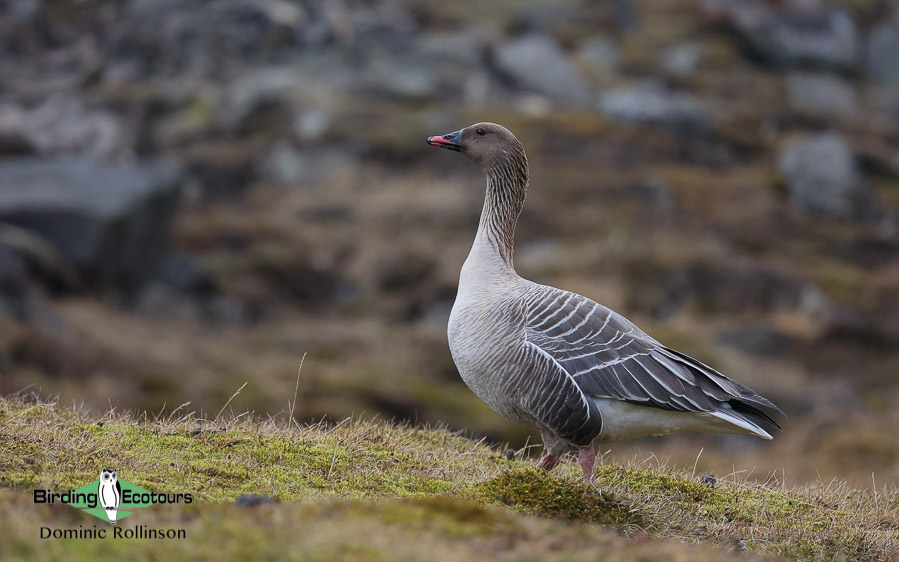 Large flocks of Pink-footed Geese may be seen in Norfolk and Suffolk.
While birding in Norfolkand Suffolk we will seek out the vast array of wildfowl on offer. This should include flocks of Pink-footed Geese and Greylag Geese (the former forming flocks in the thousands) as well as scarcer species such as Brant Goose (the dark-bellied form known as Dark-bellied Brent Goose), Barnacle Goose, Tundra Bean Goose, and Greater White-fronted Goose. Sometimes the geese flocks in Norfolk (and further north when birding later in the tour) can contain a scarcity or rarity and we will keep our eyes firmly peeled for anything unusual.
Other wildfowl we are likely to see include Whooper Swan, Tundra (Bewick's) Swan, Mute Swan, Common Shelduck, Common Scoter, Velvet Scoter, Common Eider, Long-tailed Duck, Tufted Duck, Greater Scaup, and Common Pochard. With luck we might even find Smew, a scarce winter visitor to the UK.
The shorebird spectacle along the coasts of Norfolk and Suffolk at this time of year can be remarkable, particularly at high tide, and we will make sure to check out some roost sites. Impressive numbers of Red Knot, Bar-tailed Godwit, Eurasian Oystercatcher, Eurasian Curlew, Sanderling, Dunlin, and other species such as Common Ringed Plover, European Golden Plover, Northern Lapwing, and Grey Plover will be likely. Nearby marsh habitat could hold the locally scarce Spotted Redshank with abundant Common Redshank and Common Snipe easily found. We may even spot an overwintering Green Sandpiper.
Raptors feature heavily during this period, with several species forming communal roosts. While most of the species mentioned could be bumped into during the course of regular birding, we will look at roost sites for Western Marsh Harrier (pleasingly common these days), Hen Harrier, Peregrine Falcon, Merlin, Common Kestrel, Eurasian Sparrowhawk, and sometimes Rough-legged Buzzard (an irruptive winter visitor) or White-tailed Eagle (a species that is expanding its range in the country due to recent national reintroduction programs and an increasing, and thus wandering, population in Europe). We will also have no problem finding the spectacular Red Kite, a species that is bouncing back tremendously after years of persecution, probably one of the best-looking birds of prey in the UK. While we wait at the roost sites, we may also find some of the secretive species of the area like Short-eared Owl, Western Barn Owl, Common Crane, Eurasian Spoonbill, and Eurasian Bittern.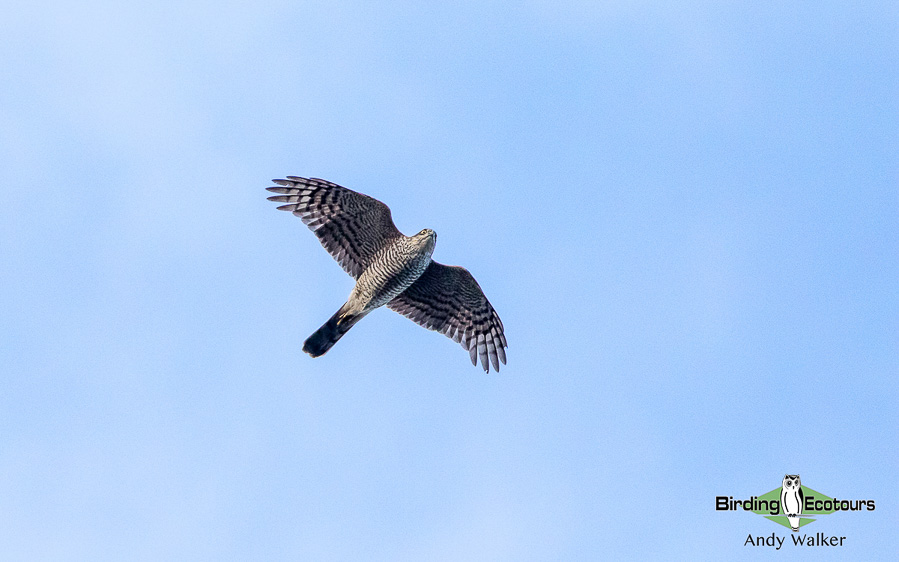 A close-quartering Eurasian Sparrowhawk, a spectacular sight!
Several of the beaches and surrounding marshlands support some interesting passerines such as Snow Bunting, Twite, Horned (Shore) Lark, European Rock Pipit, Water Pipit, and Meadow Pipit, while the local farmland may hold Eurasian Skylark, Common Reed Bunting, Yellowhammer, Corn Bunting, and mixed finch flocks. The woodland may support Tawny Owl, Eurasian Jay, European Green Woodpecker, and Great Spotted Woodpecker. Woodland slightly inland from the coast along the Norfolk and Suffolk border, such as the Thetford Forest area, offers some birds more difficult elsewhere, such as Red (Common) Crossbill, Lesser Spotted Woodpecker, Hawfinch, Common Firecrest, Eurasian Nuthatch, Eurasian Siskin, Lesser Redpoll, Marsh Tit, and maybe even overwintering Great Grey Shrike.
There are so many more birds to consider in this part of the UK, ranging from the localized Dartford Warbler, present in a few coastal heathland areas, to an interesting mix of naturalized species such as Rose-ringed Parakeet, Mandarin Duck, and Egyptian Goose. We will search for as many species as possible during our time in this excellent birding area.
Finally, we will be on the lookout for rare fall vagrants from North America and from Asia. While these are not guaranteed, we will be sure to visit the best areas where we might find these highly prized species, with highlights including Yellow-browed Warbler, Pallas's Leaf Warbler, Red-flanked Bluetail, and Dusky Warbler.
Overnight (three nights): Norfolk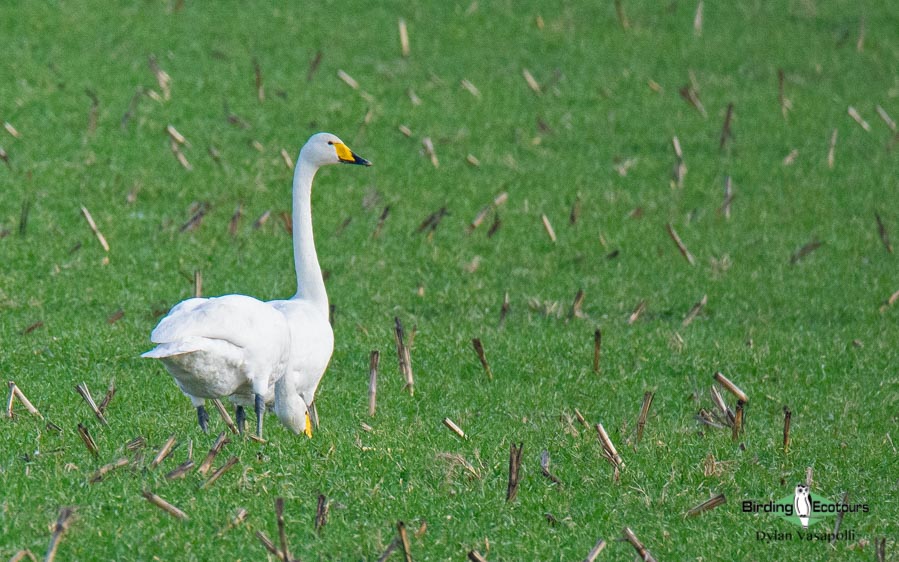 Whooper Swans are elegant winter visitors to the United Kingdom.
Day 5. Transfer between Norwich and the city of York
We will travel between Norfolk and York after a final morning birding in East Anglia. We will likely stop at one or two locations on the way which may yield specific target species, and we will select these at the time, based on up-to-date local information. We might take a coastal route or a more inland route, depending on what is around and what we "need". There are several waterbodies along the route that sometimes hold interesting species, and we may be able to find something along the lines of Whooper Swan, Smew, Black-throated Loon (Black-throated Diver), Common Loon (Great Northern Diver), Red-throated Loon (Red-throated Diver), Horned (Slavonian) Grebe, or Black-necked (Eared) Grebe.
In the afternoon we will arrive in York, a fascinating and beautiful ancient-walled city packed full of historical and cultural features (York Minster, Clifford's Tower, Jorvik Viking Center, York Dungeons, The Shambles, The National Railway Museum, churches, and so much more) and we will be sure to fit in some time to explore this, one of Britain's greatest and oldest cities. We will be based here for the next three nights while we spend time birding in wonderful Yorkshire, another of the UK's great birding counties.
Overnight: York
Days 6 – 7. Yorkshire birding
We will spend two full days exploring some of the many birding hotspots of North Yorkshire and East Yorkshire from our base in York (as well as around the excellent York area). Some of the usually exceptional sites for winter birding that we might visit include Yorkshire Wildlife Trust (YWT) Askham Bog, YWT Wheldrake Ings, North York Moors National Park, RSPB Blacktoft Sands reserve, RSPB Fairburn Ings reserve, and RSPB Bempton Cliffs reserve.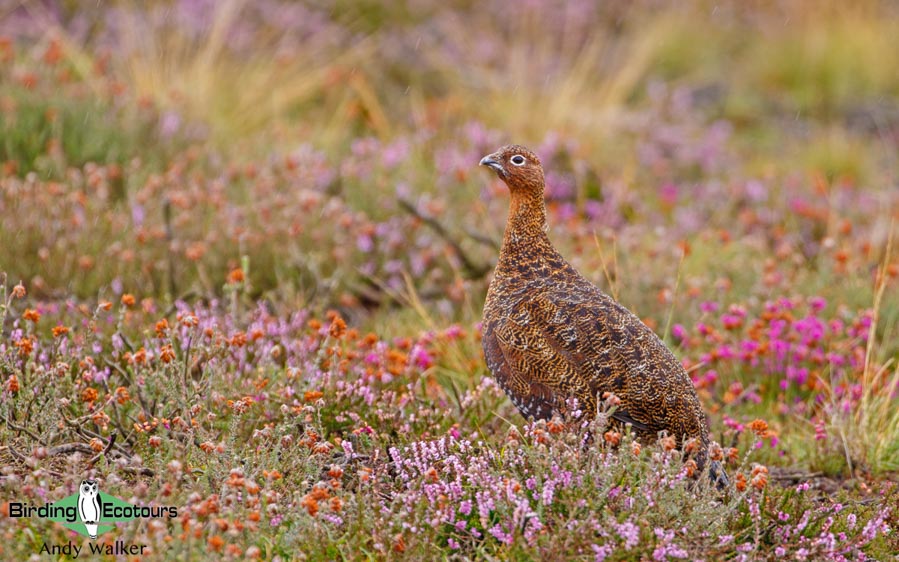 Willow Ptarmigan, or Red Grouse as it is known in the United Kingdom, is an attractive endemic subspecies or species, depending on your taxonomic standpoint.
We will concentrate our efforts on some of the species unlikely to have been seen earlier in the tour with the York area being good for the rapidly declining trio of Willow Tit, Eurasian Tree Sparrow, and Corn Bunting. We might even find those three species close to our accommodation, along with a great assortment of other farmland and woodland birds. The area around our accommodation is also excellent for a wide range of shorebirds (waders) and waterfowl. A large flock of Whooper Swans overwinter in the area (and occasionally attracts the rarer Tundra (Bewick's) Swan). Pink-footed Goose is frequent, as too is Greater White-fronted Goose, and occasionally scarcer species too. The York area is usually excellent for Jack Snipe and Ruff so we will look for those too.
We will drive through the beautiful North York Moors National Park, which offers the chance to find the scotica subspecies of Willow Ptarmigan, considered a full species by Avibase Taxonomic Concepts and known as Red Grouse, which would make it an endemic to the United Kingdom. The upland rivers here also hold White-throated Dipper, always a highlight.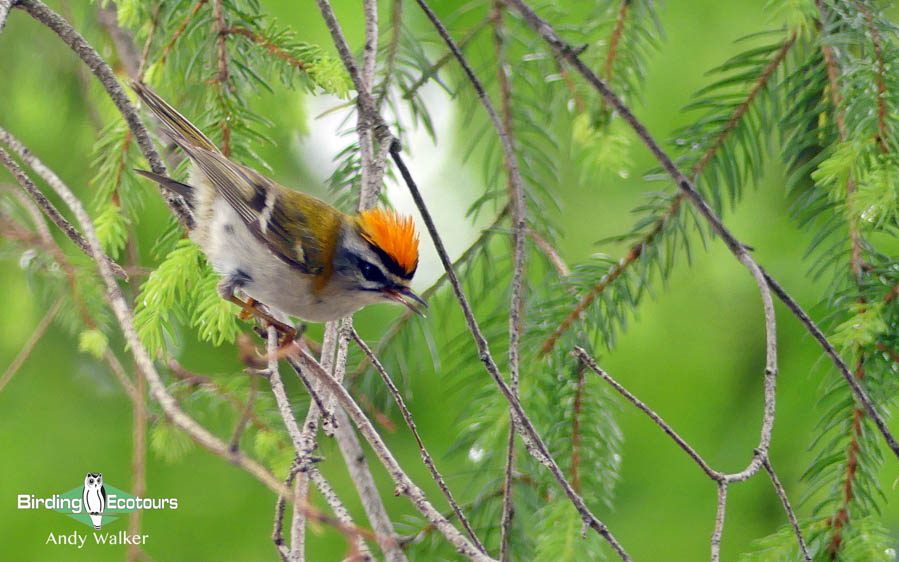 We hope to find Common Firecrest during the tour. It has a shocking flash of color on its head!
From the moors we will traverse our way down to the coast, where at this time of the year we might find Iceland Gull or Glaucous Gull hiding in amongst hundreds of European Herring Gulls (of which we should see two subspecies). We could also see species such as Purple Sandpiper, Ruddy Turnstone, and European Shag which might be more difficult further south – these species are likely to be easier the further north we go, depending on how the weather has been ahead of the tour. We will also look for seaducks, grebes, loons (divers), and auks that may still be offshore, such as Common Murre (Common Guillemot) and Razorbill. We should also find Northern Gannet, Northern Fulmar, and Black-legged Kittiwake along the coast. As we are exploring the seashore, we will also look out for European Rock Pipit, Lapland Longspur (Lapland Bunting), Snow Bunting, and Horned (Shore) Lark.
It will be highly likely that we will have seen a huge range of interesting passerines (and other birds) whilst birding in Norfolk, and Suffolk, and Yorkshire will give further opportunities for a range of scarce species. Depending on what we still "need" (or would like to try and see again), we could also look for Bearded Reedling (Bearded Tit), Lesser Spotted Woodpecker, European Stonechat, Water Pipit, Red (Common) Crossbill, Common Redpoll, Eurasian Bittern, Spotted Redshank, Little Egret, Great Egret, Little Gull, Mediterranean Gull, and Common Kingfisher.
Gull roosts around the York area may enable us to see, amongst others, Common Gull (split from Mew Gull of North America, which is also now renamed to Short-billed Gull, following the IOC 11.2 update), Yellow-legged Gull, Caspian Gull, Iceland Gull, and Glaucous Gull.
Overnight (two nights): York
Day 8. Transfer between Yorkshire and Northumberland
This will be a travel day as we move between York and our base near Alnwick, Northumberland (another impressive place – Alnwick Castle and Alnwick Gardens are definitely worth exploring). Our journey will take us cross-country, and we will keep our eyes peeled for the stunning Black Grouse, a rare, localized, and highly protected species in England.
Overnight: Alnwick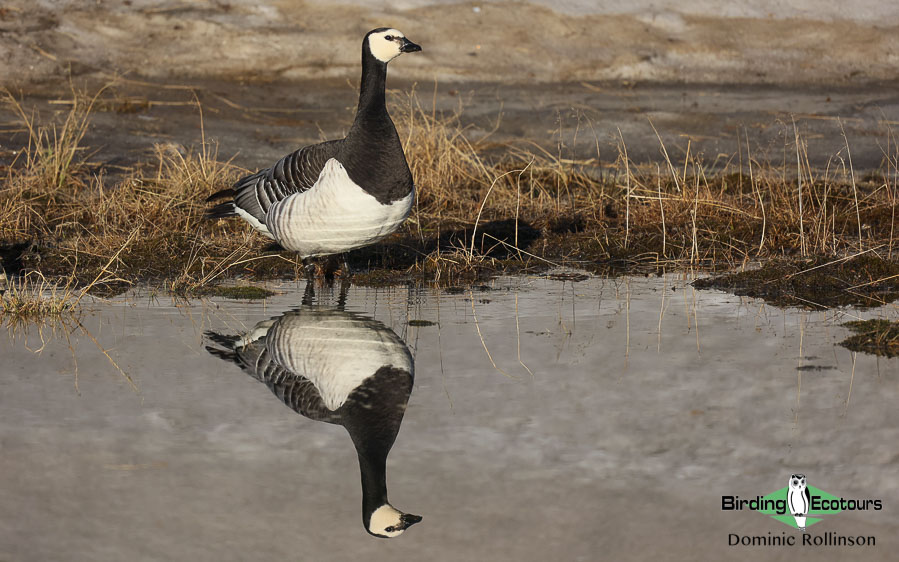 We will look for Barnacle Goose along the Northumberland Coast.
Days 9 – 10. Northumberland Coast
We will have two full days birding in Northumberland. We can expect similar species to those listed above, but some coastal birding here should give us different geese, such as Brant Goose (Pale-bellied Brent Goose here rather than the Dark-bellied Brent Goose seen further south) and Barnacle Goose on the mudflats, along with Common Shelduck and a wide range of shorebirds, such as Bar-tailed Godwit, Eurasian Curlew, Eurasian Oystercatcher, Grey Plover, and others. We should also get further chances for Horned (Slavonian) Grebe, Common Loon (Great Northern Diver), Red-throated Loon (Red-throated Diver), Black-throated Loon (Black-throated Diver), Purple Sandpiper, Ruddy Turnstone, Sanderling, and maybe a lingering European Shag, Great Skua, Black-legged Kittiwake, or Northern Gannet. Alcids, including Atlantic Puffin, will also hopefully be around. Red Kite and recently arrived Rough-legged Buzzard from Europe are also possible.
Interesting passerines possible here could include Snow Bunting, Lapland Longspur (Lapland Bunting), Bohemian Waxwing, Horned (Shore) Lark, European Rock Pipit, and Twite among the more common and widespread resident, and aforementioned, winter migrant species.
Large flocks of Common Scoter overwintering along the coast of Northumberland should have arrived by now, and these often include other common species, such as Red-breasted Merganser, Velvet Scoter, Long-tailed Duck, and Common Eider, but may also contain the odd surprise of something much rarer, like King Eider, Black Scoter, or White-winged Scoter. We will be sure to keep a careful eye on that possibility over the course of our stay.
While in Northumberland, we will bird at some spectacular sites, none more so than the Holy Island of Lindisfarne. This island is reached via a drivable causeway, the mudflats packed with birds, the sea often swarming, and the island itself a bit of a fall rarity magnet. We will be keeping our eyes peeled for a wide range of birds whilst here. Other sites we will check out (that are no less impressive really), include Beadnell Bay, Bamburgh Castle, and Northumberland Wildlife Trust (NWT) East Chevington reserve.
Overnight (two nights): Alnwick
Day 11. Northumberland to London
We will have a final morning birding session in Northumberland before we drive south towards London where the tour will conclude. We will pay careful attention to the local rare-bird news (such as Birdguides, Surfbirds, and Rare Bird Alert) and see if we can add something interesting along the route, maybe some newly arrived Bohemian Waxwing or something else exciting.
Overnight: Heathrow Airport area, London
Day 12. International departure
This is a non-birding day with international departures from Heathrow.
Please note that the itinerary cannot be guaranteed as it is only a rough guide and can be changed (usually slightly) due to factors such as availability of accommodation, updated information on the state of accommodation, roads, or birding sites, the discretion of the guides and other factors. In addition, we sometimes have to use a different international guide from the one advertised due to tour scheduling.
Download Itinerary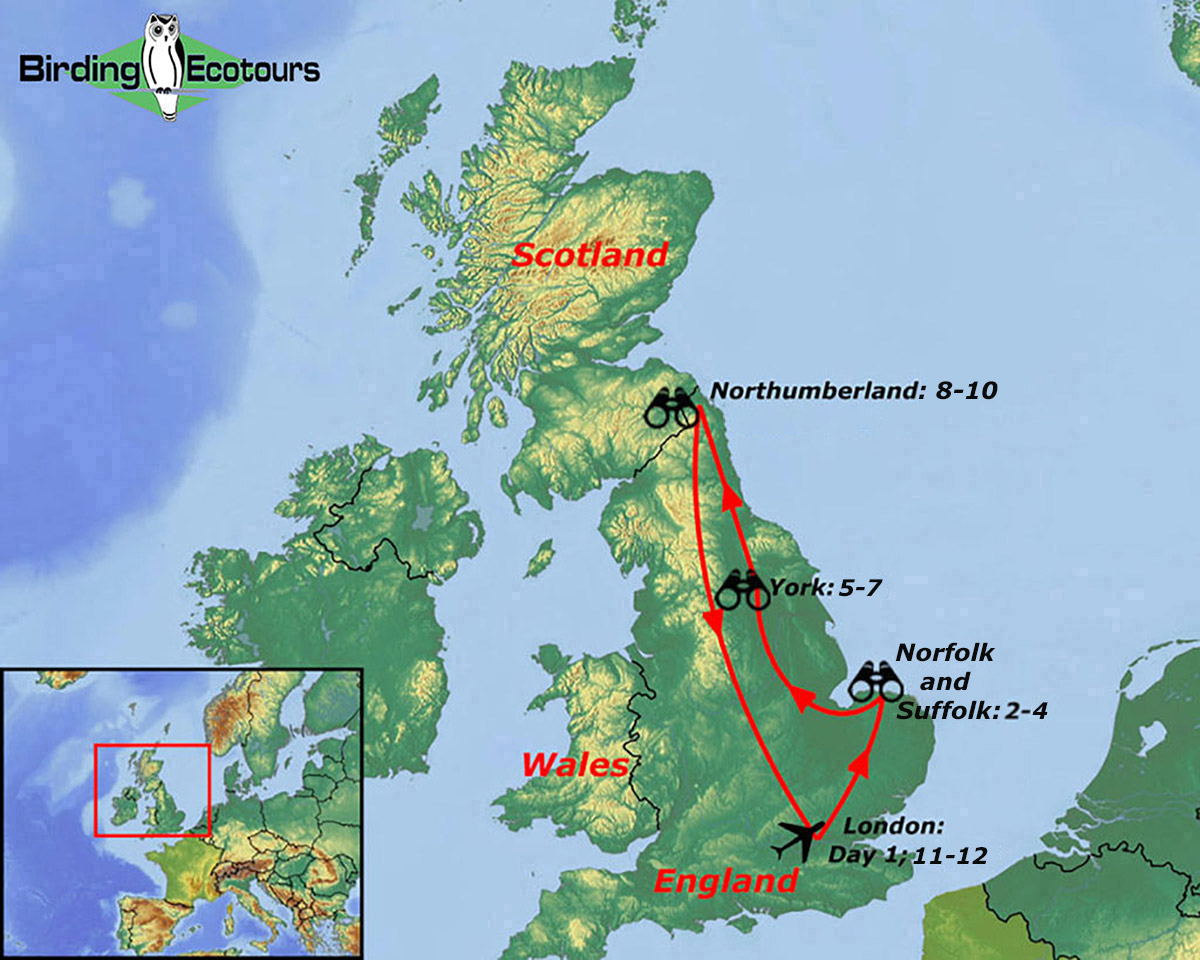 United Kingdom: England in Winter Tour
Birding Tour Report
7 – 20 NOVEMBER 2021
DOWNLOAD TRIP REPORT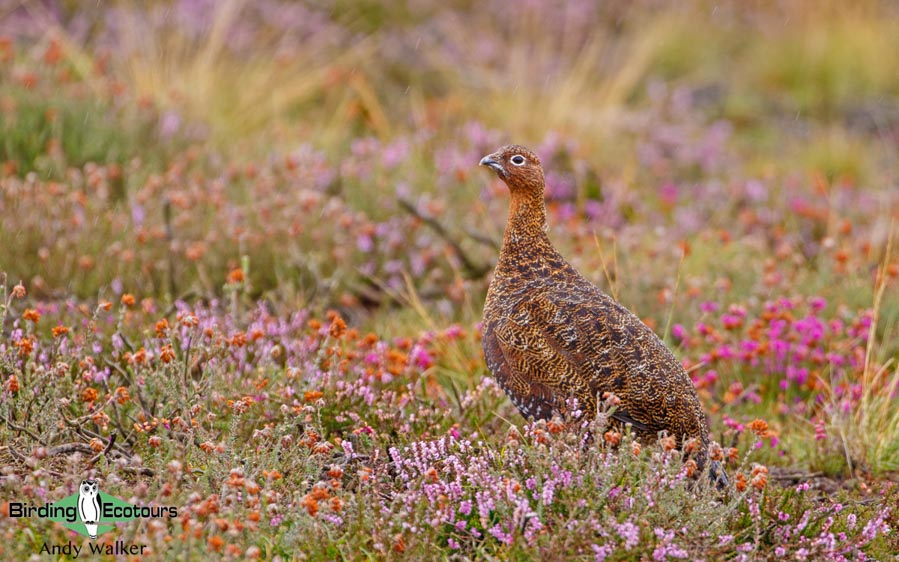 The scotia subspecies of Willow Ptarmigan (known locally as Red Grouse).
Overview
This was a birding tour encompassing a large chunk of eastern England during an exciting time of the year when late autumn migrants are passing through and winter species are arriving en masse. We birded some of the best counties in Britain, such as Suffolk, Norfolk, Yorkshire, and Northumberland. This was a private tour for just three guests, Peter, Molly, and June and was a slight adaptation and relaxed pace version of our that we usually run in January each year.
It was an awesome trip with great company and many star birds seen, including White-throated Dipper, Hawfinch, Bullfinch, many Bramblings, Black Grouse, Willow Ptarmigan (Red Grouse), Bearded Reedling (Bearded Tit), a great many wintering Pink-footed Geese, Eurasian Wigeon, and other wildfowl, Common Crane, a rare vagrant White-tailed Lapwing, and many others.
We spent time birding diverse habitats including the beautiful North Sea coastline, extensive marshes, woodlands, moors/heathland, along with some artificial but productive landscapes such as the extensive grounds of Holkham Estate and farmlands with Corn Bunting, Eurasian Tree Sparrow, and other desirables.
In England, it is of course impossible to ignore the incredible history, so we punctuated the birding with time to enjoy some of Britain's most historic towns, including York, Cambridge, Norwich, and Alnwick.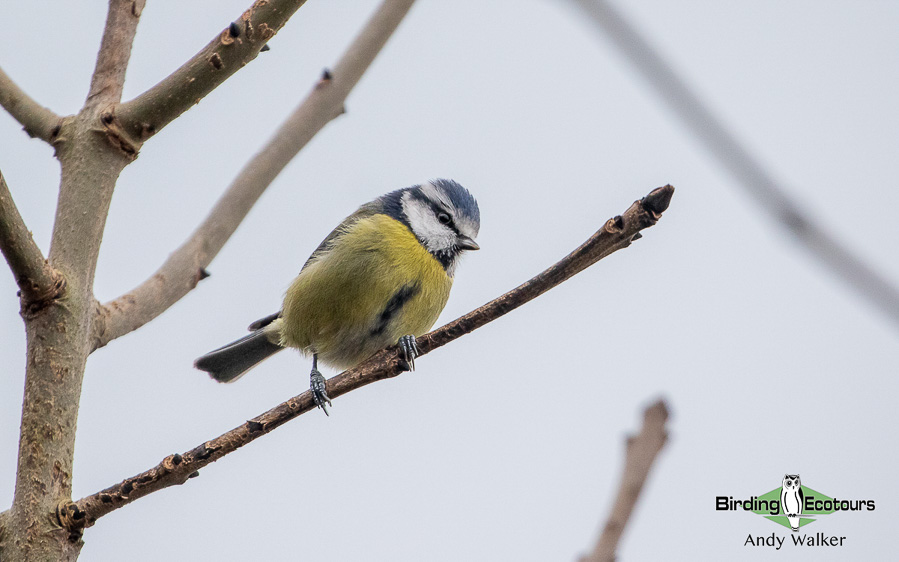 Eurasian Blue Tit was an attractive bird we saw and heard daily during this tour.
Detailed Report
Day 1, 7th November 2021. Pickup in central London and transfer to Norwich via Cambridge and the Lynford Arboretum
I fetched June, Molly, and Peter in central London after breakfast and we started heading northwards. , we enjoyed a quick drive around the amazing university town of Cambridge. We then proceeded through to Norfolk where we enjoyed our first birding session of the trip at the . This proved to be a brilliant introduction to British woodland birding, with a good number of species coming to the feeders. These included some usually relatively tricky species that typically take some searching, either because they're deep in the woodland or because they're simply "thin on the ground", such as Eurasian Nuthatch and Brambling. We saw both these species, and many others, close-up and in the open here at the feeders. The UK has an amazing suite of strikingly colorful tits, and right at the start of the trip here at the Lynford Arboretum feeders we were able to get close-up views of most of them. The common Eurasian Blue Tit and Great Tit along with the less common Coal Tit and Marsh Tit all showed well. A fair number of Goldcrest were vocal but only provided a few brief views, near the feeders.
Beyond the feeders, the foot bridge area (always productive) did not disappoint, with large numbers of Eurasian Siskin around, along with some beautiful winter thrushes such as Redwing and a couple of nicely spotty Mistle Thrush. The paddock beyond that, famous for the grosbeak-billed Hawfinch, also did not disappoint and we saw this great and localized UK bird very well. Here we also scoped Stock Dove and our first of a great many Common Wood Pigeon.
On the lake, we got acquainted with some of England's common waterbirds, including Mute Swan, Gadwall, Little Grebe, Common Moorhen, and others.
During the drive today, we also saw good birds along the roadside. Raptors abound along the road verges in England, and we saw our first Red Kite (what a beautiful bird), Common Buzzard, and Common Kestrel which often hovers right over the highways. Not everyone enjoys gulls, but we stopped for each species, which today included Common Gull and the abundant Black-headed Gull.
We eventually arrived in the city of Norwich where the guests checked in for a five night stay at the amazing Maids Head Hotel, which gives excellent access to the most historic parts of the old city, including the 900 year old cathedral, the castle, Tombland, the Wensum River and all the other sights.
Day 2, 8th November 2021. Royal Society for the Protection of Birds (RSPB) Titchwell
Today we headed to north-western Norfolk to bird famous Titchwell, one of Britain's very best bird reserves. On the way, we pulled in at Monks Close to observe an amazing spectacle of hundreds of Pink-footed Geese in a field. Scanning the same field also allowed us to get familiar with the various corvids – for example we got a Rook and a Western Jackdaw in the same scope view so that the tour participants could learn the differences between these two species. Other corvids that we started getting acquainted with today were the ever-common (but personality-filled and striking) Eurasian Magpie and the far scarcer Eurasian Jay, a beautiful bird that we repeatedly saw flying away from us until a few days into the tour when we finally obtained proper views of one! Red-legged Partridge and our first of many Common Pheasant were also in this field. We were also rewarded with flocks of Fieldfare on "VisMig" (Visible Migration); this is one of a good number of species that moves into England in winter and thus a target of our British winter birding tours.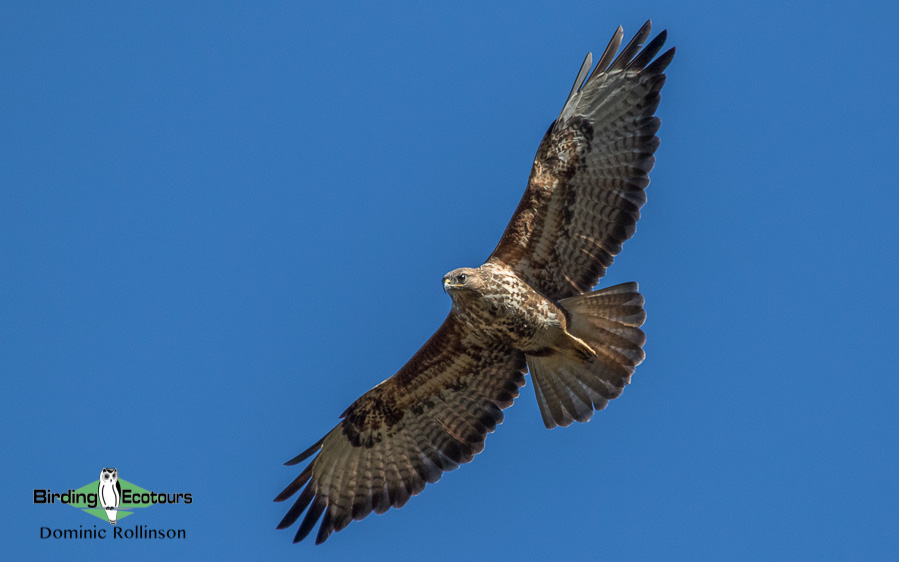 Common Buzzard was one of several bird of prey species seen on this tour.
The Choseley Drying Barns (an unassuming name for an interesting birding hotspot just inland from Titchwell) was next on our agenda. Here we heard and saw (high in the sky) our first Eurasian Skylark (singing and displaying even though it was winter. Here at Choseley, we were also pleased to see a large flock of seed-eating birds moving between the road and seeding sunflower plants, which included our first Yellowhammer and welcome further views of Brambling, Common Chaffinch, and European Goldfinch.
We only arrived at Royal Society for the Protection of Birds (RSPB) Titchwell Marsh Nature Reserve in the late morning as there were so many distractions to keep us busy until then. That's how birding goes! This remarkable reserve, with its very varied habitats did not disappoint. One of the star birds of the trip, Bearded Reedling (known as Bearded Tit in the UK), performed better than usual for us: a group of four of them (seemingly two pairs), perched up on reeds close to us (we'd heard their distinctive piecing call notes and then Molly spotted them). Meadow Pipit and the scarce Water Pipit both showed well on the famous "West Bank", with the fresh marsh on the eastern side and the vast reedbeds and marshes stretching from here to Thornham Harbour and beyond to Holme Bird Observatory on the western side. Western Marsh Harrier was much in evidence, with numerous light grey males and dark brown, pale-crowned females quartering low over the marshes. Huge flocks of Brant (Dark-bellied Brent) and Pink-footed Geese flew over in "V-formation" and we were able to compare these with a Greylag Goose on the ground. On the fresh marsh were literally hundreds of Eurasian Wigeon and Eurasian Teal. There were also large numbers of close-up Northern Lapwing, quite a few European Golden Plover and a lot of other shorebird (wader) species, including Eurasian Oystercatcher, Pied Avocet, Eurasian Curlew, Black-tailed Godwit, Ruff, and Dunlin. Further along, Common Redshank abounded in the brackish and tidal marshes, and once we reached the beautiful Titchwell/Brancaster Beach, another, different, suite of waders was there waiting for us, and included Grey (Black-bellied) Plover, Bar-tailed Godwit, Sanderling, Ruddy Turnstone, Red Knot, and (as always) more.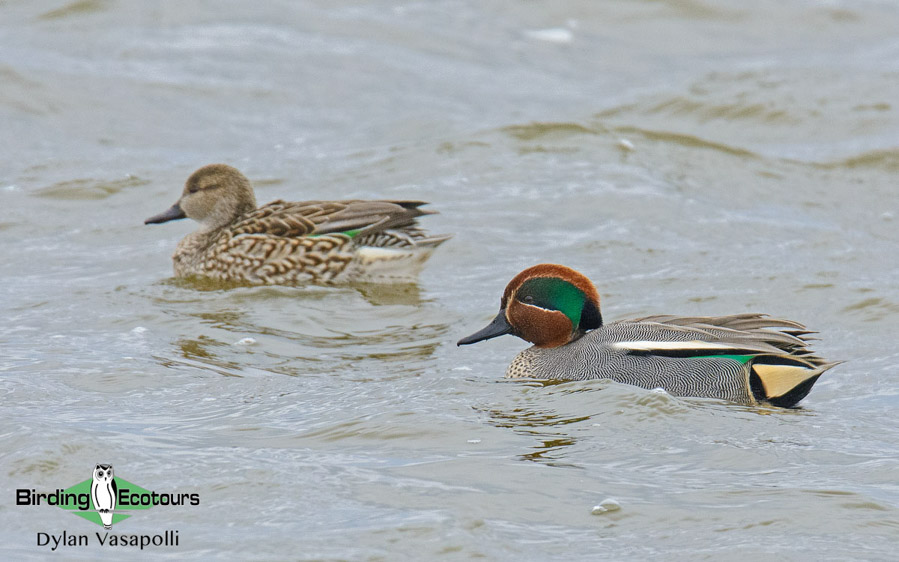 The spectacular Eurasian Teal is always a pleasure to see!
Here at Titchwell, we also enjoyed seeing Great Egret, Little Egret, and Grey Heron. The two egrets used to be very rare in England but have been increasing in numbers over the last 20 years and are now regularly seen, especially Little Egret. The four of us talked about the Little Egret that we've been seeing on our Maine birding tours (see the 2021 trip reports at that link) this last summer, a rarity in the United States of course, and of interest for Peter, Molly, and June because all three of them spend a lot of time in Maine.
We considered cutting our visit to Titchwell short to go and experience a British "twitch" when a Melodious Warbler suddenly got reported at Holkham while we were enjoying lunch. Holkham is half an hour's drive to the east along the stunning north coast of Norfolk, but we were unable to drag ourselves away from the spectacle, which is Titchwell, and we're glad we made the decision to stay, as the birds were good as was the light for viewing them.
We added more birds to our growing list during the afternoon, such as Common Shelduck, Northern Shoveler, and Common Goldeneye in addition to the wildfowl mentioned previously. Staying until just before dark allowed us to see a couple of adult Yellow-legged Gulls roosting with a bunch of Great Black-backed, European Herring, and Black-headed Gulls.
We also caught up with some nice passerines here at Titchwell, including Common Reed Bunting, Common Linnet, the ubiquitous British White (Pied) Wagtail, and European Stonechat.
Day 3, 9th November 2021. North Norfolk coastal sites
We left Norwich after another great breakfast at the Maids Head Hotel and headed for our first stop, Sculthorpe Moor Hawk and Owl Trust Nature Reserve near Fakenham. The main target here was the scarce and sometimes secretive Eurasian Bullfinch which comes to the feeders here. We were not disappointed and got great views of a beautiful male and female at the entrance feeders.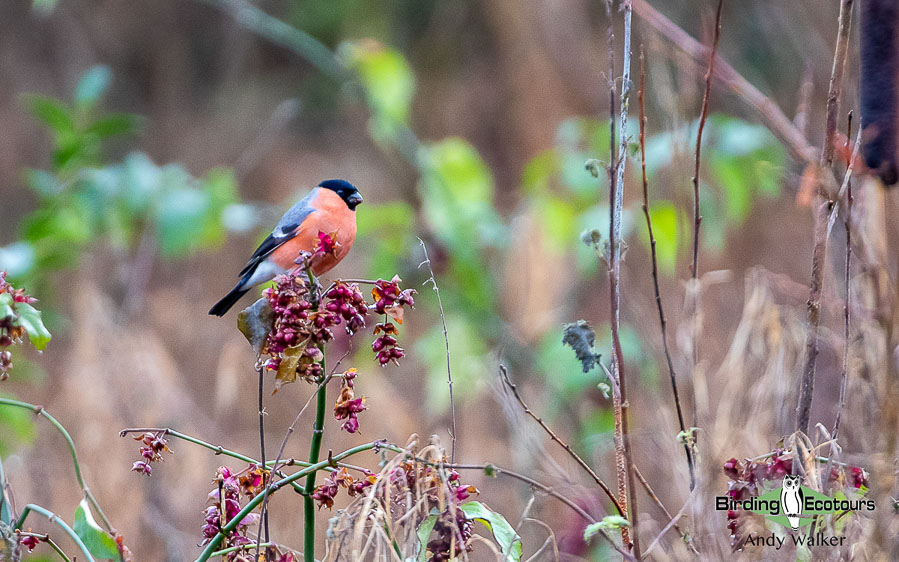 Eurasian Bullfinch was our main target at Sculthorpe Moor this morning.
We then headed to Holkham Hall Estate, with its magnificent hall and vast grounds, just inland from Holkham National Nature Reserve. Here, we were pleased to hear Common Raven as we walked around the beautiful lake, where we also caught up with some new (for the trip) water associated birds. Flocks of Pink-footed Geese flew overhead while feral, but established Canada, Egyptian, and Greylag Geese looked at home on the extensive lawns, where we also got close views of numerous Common Gulls. Common Pochard, Tufted Duck, Eurasian Coot, Great Crested Grebe, and Little Grebe showed well on the water.
A brief stop at the North Point Pools near Wells-next-the-Sea as we headed eastwards, allowed us to scope a couple more of the scarce Water Pipits along with a lot of birds we'd seen the day before at Titchwell. We then continued eastwards to the famous Norfolk Wildlife Trust (NWT) Cley Marshes Nature Reserve. Here, we headed straight to the beach at the legendary Cley Coastguards, one of Norfolk's best seawatching locations. The wind direction today (and throughout our tour) was not ideal for pelagic species as we did not have onshore winds from the north or east which bring birds close in, but nevertheless there were still some excellent goodies quite close inshore. These included a handful of Razorbill, several Red-throated Loon (Diver) and a Long-tailed Duck floating on the calm water, as well as a few Northern Gannet and Great Cormorant flying past.
In the field behind us we managed to pick out a Pale-bellied Brent Goose (hrota/Atlantic) subspecies of Brant Goose among the far more numerous Dark-bellied Brent Geese (bernicla/Russian) subspecies. The Pale-bellied Brent Goose subspecies of Brant Goose is actually a "special" of Holy Island in Northumberland, where we indeed found more of them, but in Norfolk almost all the birds belong to the Dark-bellied Brent Goose subspecies, so we were pleasantly surprised to find one here today.
We then ran out of light and headed back to Norwich for another wonderful dinner.
Day 4, 10th November 2021. Great Yarmouth, Norwich City Walk, and Hickling Broad NWT Reserve
After breakfast, June opted to walk around Norwich while Peter, Molly and I went to Great Yarmouth on Norfolk's east coast (this county has an amazingly long coastline which includes the Norfolk east coast, the north coast and a large chunk of "The Wash"). Here at Great Yarmouth beach, we hoped to find Mediterranean Gull but failed; this species proved more tricky to find than usual during this trip but we did manage to see it very well near the end of the tour on our third try, much further north in the country.
In the late morning we reunited with June and all of us embarked on a walk to the main historic buildings and sights in old Norwich. We had already seen parts of the now ruined ancient city wall, but this morning we headed to the Norwich Cathedral (where we were pleased to catch up with the Peregrine Falcon, which has a nesting platform near the top of the spire). Peter enjoyed an informative tour of the cathedral while the rest of us opted to cover more ground. The three of us (sadly this time without Peter), proceeded with our walk, visiting the "other" major cathedral in Norwich (St. John the Baptist's Catholic Cathedral) and the nearby Norwich Synagogue and Plantation Garden, the Norwich Castle, the Halls with their impressive monastic buildings, the Wensum River and the historic, huge open air Norwich Market where we enjoyed a fish and chips lunch.
In the afternoon, we drove to north-eastern Norfolk to bird the beautiful Hickling Broad NWT Reserve, seeing other scenic parts of the Broads National Park en route. We focused most of our time here at the winter raptor and crane roost at the Stubb's Mill section of the reserve, and were richly rewarded. We enjoyed tens of Common Crane as they came in to roost, and we loved hearing Tawny Owl as it got dark. Many Water Rail also called. A Hen Harrier had been coming in to roost here each evening lately, joined by large numbers of Western Marsh Harriers. We also enjoyed scope views of today's second Peregrine Falcon, this one in a completely wild setting unlike the one on the Norwich Cathedral earlier.
Day 5, 11th November 2021. RSPB Minsmere and Sizewell Beach, Suffolk coast
Today we decided to head to the beautiful Suffolk coast to bird at another of Britain's best birding reserves, Minsmere. From here, looking to the north one gets good views of Dunwich Heath, just inland from where Britain's Atlantis now lies, the sunken Dunwich Village. And to the south one can see the immense Sizewell Nuclear Power Plant across vast marshes.
On our arrival at RSPB Minsmere Nature Reserve, we spent almost an hour enjoying close-up views of many bird species visiting the bird feeders. Underneath the feeders was a female Common Pheasant and a huge Common Wood Pigeon, plus a Dunnock (an accentor but locally known as Hedge Sparrow) flitted into and out of view. We also enjoyed getting close-up views of the various tit species again, as a reminder from our first day at the Lynford Arboretum.
We eventually pulled ourselves away from the feeders at the entrance, and started the woodland walk towards the Bittern Hide. At the start of the walk, we located a Eurasian Treecreeper which gave us great views. At the Bittern Hide we enjoyed a vista over the whole reserve and we saw good numbers of Western Marsh Harrier and a lot of other birds we'd seen on prior days. Unfortunately, Eurasian Bittern did not show for us here, but Peter saw one later when the rest of us walked to Minsmere beach and Peter decided to sit down on a bench and wait!
On our walk towards the beach, we heard our first Cetti's Warbler, a resident species that sings extremely loudly but usually remains well-hidden! Minsmere (and the adjacent Dunwich Heath) is a classic place for observing the highly localized Dartford Warbler, another resident warbler, but we only briefly heard/glimpsed it, despite being much more colorful than the aforementioned Cetti's Warbler they can be just as furtive!
After an excellent lunch among many Common Chaffinch, a couple of European Robin, and other English birds that we were starting to get to know very well, we decided to go to Sizewell Beach, above which the truly humongous Sizewell Nuclear Power Plant looms, to try and find the Black Redstarts that had been reported there the previous day. Sadly, we didn't find them, but we did enjoy getting better acquainted with many species we'd seen previously.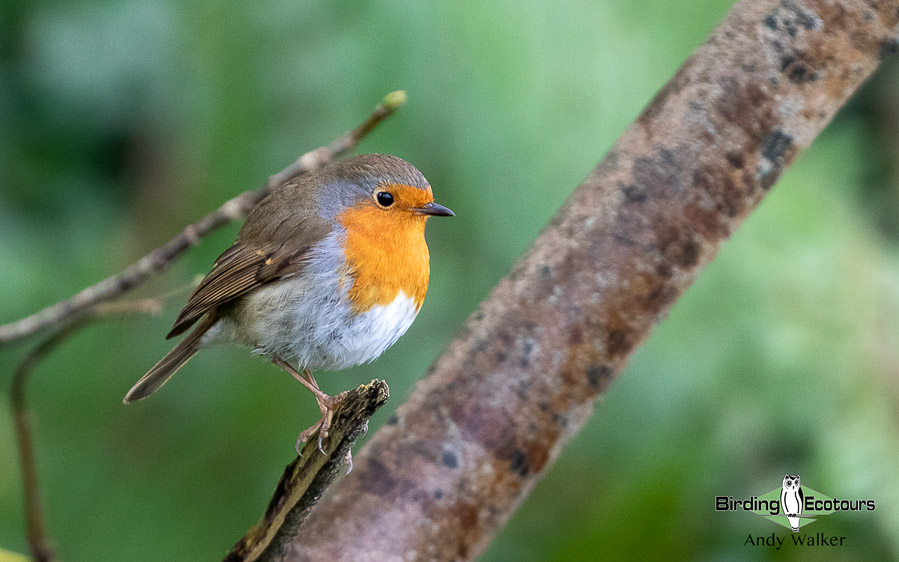 European Robin treated us with great views almost every day during the tour and its cheerful song was also a delight.
Day 6, 12th November 2021. Drive to the York area via RSPB Blacktoft Sands
Today was largely a travel day but we did break the journey down with an amazing visit to another fine RSPB Nature Reserve, Blacktoft Sands, where we spent an enjoyable couple of hours. What a wonderful session we had here, trying to locate the very rare vagrant to Britain that had been present for the last few months here, the very long yellow-legged White-tailed Lapwing. We eventually did catch up with this lovely-looking bird just before giving up. We thought we were going to "dip" as it was not at any of the hides (blinds) it was "meant" to be at, and was instead at the furthest hide, Ousefleet Hide. This is only the 8th record ever of this species in the UK and the first "twitchable" one for over a decade!
As always, we enjoyed lots of other good birds here at Blacktoft Sands, and we enjoyed a picnic lunch, before heading to the lovely Westergate House (highly recommended, like the other places we stayed at during this tour) just south of the historic City of York, where we would spend the next four nights trying to see if Yorkshire was really better than Norfolk for birding as my colleague Andy says it is!
Day 7, 13th November 2021. North Yorkshire Moors National Park and the picturesque Yorkshire coast
After breakfast we headed north to the fabulous North York Moors National Park, firstly to the heaths to look for Red Grouse, a UK-endemic subspecies of Willow Ptarmigan that does not molt into a white plumage in winter but stays a reddish coloration year-round. As usual this bird was easy to find, the call giving its location away. We then went to the lovely Grosmont Village where we found our main target without too much trouble, White-throated Dipper. We did not find our secondary target, Grey Wagtail, here, but see the account for the next day!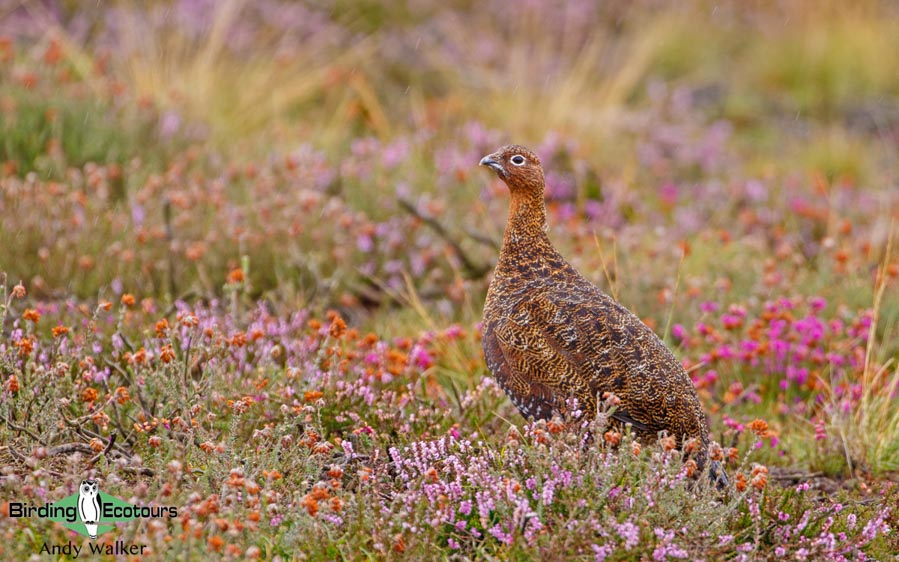 The scotia subspecies of Willow Ptarmigan (known locally as Red Grouse).
We then headed to Whitby, a remarkable coastal village with a spectacular abbey and harbor and had a picnic lunch with a grand view. Heading southwards from here after lunch via beautiful Robin Hood's Bay, we eventually made it to the town of Scarborough, where we enjoyed some new birds for the trip but again could not find Mediterranean Gull which is usually not difficult to find here. The best bird around Scarborough was a jewel-like Common Kingfisher, and we also caught up with many old friends we'd seen earlier like Eurasian Wigeon (this time on the sea) along with some new species such as Common Scoter (brief views though, but we got better views later, in Northumberland). A Eurasian Sparrowhawk flew over the road at one point here.
Day 8, 14th November 2021. York History Tour and Wheldrake Ings Yorkshire Wildlife Trust Nature Reserve
We occupied the morning with a brilliant walking history tour of York, including famous sights such as the imposing, spectacular York Minster (where we saw another Peregrine Falcon), the Shambles, and many other famous places of this incredible city. We had to interrupt the city tour to look at a vocal Grey Wagtail sitting on top of a roof, a bird we'd missed at the dipper site up in the hills yesterday. What a pleasure to see (and hear!) this bird well, after initially missing it! We had to interrupt our history guide and explain to him why we were distracted. He sort of understood, but didn't seem too impressed!
After lunch, we visited Wheldrake Ings and Bank Island, an extensive area of "ings", an old Norse word for marshes and water meadows, especially those on the Humber Floodplain. Here, one of our main targets was Willow Tit, the characteristic nasal call of which we heard very well although we failed to lay eyes on the bird! I think Peter spoke for all of us that it wasn't the end of the world and we did not need to try a second time for this species, as we'd already had awesome views of its practically identical cousin, Marsh Tit, earlier during the tour and it's the vocalizations that set these two species apart. We also saw numerous bird species we'd seen on earlier days of the tour, including some more migrating Fieldfares, one of the fine winter thrushes we expect at this time of the year (although all the ones we saw during this tour were in flight and clearly on migration in flocks!). At dusk, we loved seeing a Western Barn Owl emerge from its roost cavity in the fork of a large tree, hearing its youngers screeching from within (this species can breed year-round in the UK).
We ended the day with an awesome traditional Yorkshire meal at our B&B, Westergate House.
Day 9, 15th November 2021. Farmlands south of York and St. Aidan's RSPB Reserve
The morning was awesomely successful as we drove only ten minutes from our B&B, then took a short walk along a lane for some important targets of our tour, which all co-operated very well. One huge bare tree near a corn field was particularly fruitful, as many good birds sat at the top of this, allowing good scope views, one species being replaced by the next in turn so all we had to do was wait. One of the main target birds that did this was Corn Bunting, joined by some really bright lemon-colored Yellowhammer, more Brambling for the trip, the ever-prevalent Common Chaffinch, and many others. Some of these birds also sat in the hedge right next to us, including some Corn Buntings and a great many of our other main target species for the morning, Eurasian Tree Sparrow. We were glad to hear Northern Raven again, the second time for the tour.
In the afternoon, we headed to RSPB St. Aidan's near Leeds. This was once an opencast coal mine but has now been transformed into an amazing wetland. From the visitor center, one gets a marvelous vista down into what is now a vast bird sanctuary of pools and extensive reedbeds. It didn't take us long before the loud song of a Cetti's Warbler lured us down into the marshes, but once again the best we managed were glimpses. We did see some Lesser Redpoll nearby though, far quieter than the demonstrative but elusive Cetti's Warbler! We then walked up the hill again and were rewarded with great views of the exquisite Long-tailed Tit, a very gregarious species.
Day 10, 16th November 2021. Drive to Northumberland via the North Pennines for Black Grouse
This was yet another day in which we enjoyed beautiful scenery as we headed northwards to our next B&B, not far from the Scottish border in the north-eastern corner of England, specifically the beautiful Farmhouse Guest House in Belford, Northumberland. Our lunch stop was at an idyllic woodland picnic area near a beautiful stream in the North Pennines AONB (Area of Outstanding Natural Beauty), a UNESCO World Heritage site. After the pleasant picnic lunch, we went to Langdon Beck where we scanned the field in which I'd seen a flock of Black Grouse a few weeks earlier, but nothing…until suddenly here they came flying in, a flock of about twenty of them! We stopped the van and scoped them nicely before continuing our scenic drive to magical and wild Northumberland.
We enjoyed an early finish today, checking into the hotel soon after 3.30 pm and having a bit of "regrouping" time before a pleasant dinner at the nearby White Swan Inn pub. We did as usual see some good birds along our route today, such as another Eurasian Sparrowhawk, and many other species that we really felt were becoming friends of ours by now.
Day 11, 17th November 2021. Holy Island of Lindisfarne and Bamburgh area
What a superb day, yet again. After breakfast, we excitedly made our way to the causeway that goes to the beautiful, historic, Holy Island. We wanted to get there immediately after breakfast during the safe crossing time at low tide; at high tide the road gets flooded and it becomes a true island. We knew we had to be off the island by 11.30 am when the incoming tide would start covering the causeway.
Holy Island is an incredibly historic – and birdy – island. So, there was lots for us to see, including the imposing priory and castle. The causeway itself was wonderful for a rich assemblage of close-up shorebirds including Eurasian Oystercatcher, Eurasian Curlew, Bar-tailed Godwit, Ruddy Turnstone, Red Knot, Dunlin, Common Redshank, and on our way off the island a couple of late, much scarcer, Common Greenshank. A Red-breasted Merganser flew low over the causeway in front of us giving great but short views and there were also a lot of other excellent wildfowl, albeit ones we'd seen earlier during the trip. At the end of the causeway as we got to the "island" itself, we stopped for a little while to look for Lapland Longspur (Bunting) that had been reported. We couldn't find this species, but enjoyed a bunch of singing, displaying Eurasian Skylark.
Besides the sea, near the town and priory of Lindisfarne on the island, we saw a flock of one of the "specials" in this area, (Pale-bellied Brent) Brant Goose, although as it turns out we'd seen one of this scarce subspecies for England away from its normal haunts in Norfolk earlier during the trip.
After getting off the island at 11.30 am, just within the safe crossing time (otherwise we would have been stuck on the island for the rest of the day until after dark), we enjoyed a wide variety of bird species in and around nearby Budle Bay, part of Lindisfarne National Nature Reserve (NNR). These included some passerines and for example we enjoyed great views of Dunnock, beautiful spotted Mistle Thrush, Common Blackbird (a beautiful bird, so of course well worth mentioning here although abundant), Eurasian Wren, and others. When we reached the water's edge, we enjoyed scoping many shorebirds, gulls and wildfowl, quite a spectacle as is often the case in Britain at this time of the year, with large numbers of Eurasian Wigeon and other species.
We then drove past (stopping for photos), the towering, hugely impressive Bamburgh Castle, to Stag Rocks where a little white stag has been painted on the rocks. This is a famous seabirding site. One thing I should mention now is that we were unlucky during this tour not to have much in the way of easterly or northerly winds which brings in seabirds as well as passerine migrants. So, we didn't see as many scarce migrants and seabirds as we usually would have at this time of the year. But the weather was wonderful for us, rain not once interrupting our birding, and with more than our fair share of sunny, blue-sky days. Despite winds not bringing the birds in, we were nevertheless able to savor views of Atlantic Puffin, Razorbill, Common Eider, Common Scoter, and other great birds sitting out on the sea. We also enjoyed the biggest flock of Purple Sandpiper sitting on a rock, that I have ever seen. This was a great place to have lunch overlooking these birds and the lovely Farne Islands.
In the afternoon, we decided to explore and do some shopping in yet another incredible historic town, Alnwick, where we also stopped to photograph yet another spectacular castle.
Day 12, 18th November 2021. Newcastle and Newbiggin-by-the-Sea
Peter, Molly and June had to get Covid tests in preparation for their flights back to the USA, so we went to Newcastle upon Tyne, another great English city to see. Pleased to have all tested negative (as expected though, but one always has a niggle!), we started working our way northwards along the coast from the mouth of the River Tyne (in the tiny county of Tyne and Wear) to Newbiggin-by-the-Sea, back in Northumberland. We ended up spending the rest of the day at the latter site, focusing mainly in and around Church Point, another of Northumberland's best seawatching sites. We'd missed Mediterranean Gull up until now, but over lunch in the car park, we finally managed to catch up with this beautiful, "ghostlike" (being very white) gull, seeing it close-up and very well both in flight and at rest. We also enjoyed seeing a close-up European Rock Pipit, Red-throated Loon (Diver), more Purple Sandpiper, European Golden Plover, Grey (Black-bellied) Plover, Common Ringed Plover, Bar-tailed Godwit, Sanderling, Ruddy Turnstone, Red Knot and various other good birds. We also really enjoyed seeing Harbor (Common) Seal and a pod of Common (Atlantic) Bottlenose Dolphin just off Church Point.
As we walked back to the car, we were surprised to see a late Barn Swallow.
Day 13, 19th November 2021. Northumberland to London
This was a non-birding day as we drove back to London and spent a night there in preparation for morning flights back to the USA the following day.
Day 14, 20th November 2021. International Departure
Peter, Molly, and June all departed on their international flights back home after what had been a wonderful trip shared with great friends and excellent birds. The bird and animal lists follow.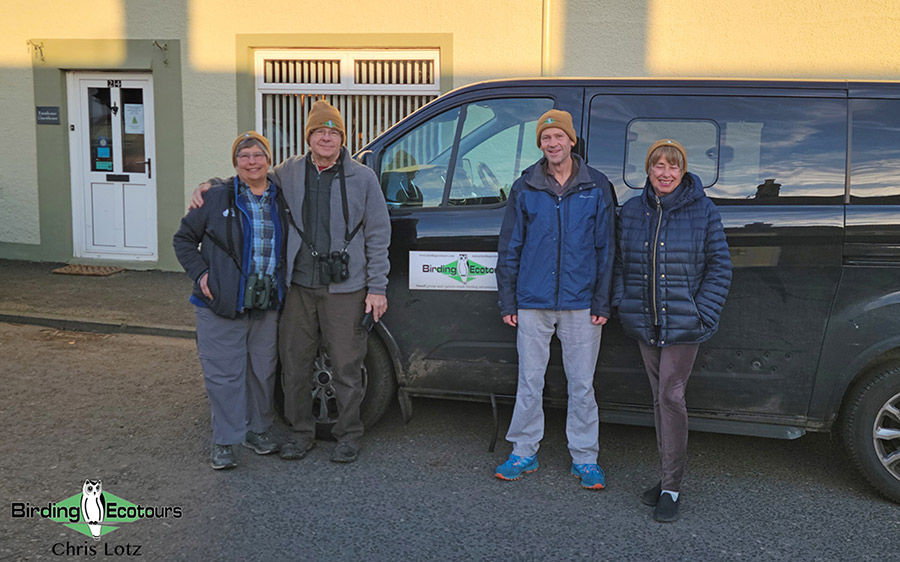 Us outside the Farmhouse Guesthouse in Northumberland just before driving back to
DOWNLOAD TRIP REPORT
Please see the downloadable PDF with the full species lists included. This is a sample trip report. Please email us ([email protected]) for more trip reports from this destination.
UNITED KINGDOM: ENGLAND IN WINTER TOUR
 TOUR-SPECIFIC INFORMATION
GENERAL INFORMATION ABOUT THE UNITED KINGDOM CAN BE READ HERE
TOUR OUTLINE
This set departure United Kingdom (UK) winter tour will start and end in London. The tour will enjoy excellent winter birding, featuring a wide range of resident species and numerous winter visitors. Wildfowl, shorebirds, gulls, and numerous exciting passerines from northern and eastern Europe and further east into Asia provide an interesting list of birds to look for on this bird-filled yet also relaxed-pace tour.
As we travel through the east of England, birding in Norfolk, Suffolk, Lincolnshire, Yorkshire, Durham, and Northumberland, we will also find an impressive array of sites of important cultural heritage, such as churches, cathedrals, and castles, as well as visit historic cities such as Norwich, York, and Alnwick.
WEATHER/CLIMATE   
Winter in the UK is generally cool, wet, windy, and cloudy. Temperatures at night rarely drop below 14 °F (-10 °C) and in the day rarely rise above 59 °F (15 °C). Precipitation can be plentiful throughout the season, though snow is relatively infrequent despite the country's high latitude.
DAILY ACTIVITIES, PHYSICAL REQUIREMENTS, AND TOUR PACE
This is a relaxed pace tour though we do cover the whole of the east coast of England north of London, up to almost to the Scottish Borders. During the tour, sunrise will be around 08:00hrs and sunset around 16:30hrs. This will mean particularly early starts and late finishes to the day's birding will not be necessary for the most part. Most of the tour is spent in the lowlands and at sea-level, though we will spend time in higher elevations, but these are still rather low and are unlikely to provide any constraints to anyone. Our United Kingdom: Ultimate Spring Tour is a faster-paced more intensive birdwatching tour, with a different set of birds possible.
A great deal of our birding will be undertaken at established nature reserves, such as those managed and operated by the Royal Society for the Protection of Birds (RSPB) and regional wildlife trusts and organizations, such as Norfolk Wildlife Trust, Yorkshire Wildlife Trust, and Northumberland Wildlife Trust, among others. Most of the reserves we visit have good facilities, such as trail networks, viewing blinds (hides), and visitor centers often (including gift shops and cafes). These reserves often allow great views of many species and can also offer good photographic opportunities. It is however important to note that this set departure tour is not designed as a photographic tour, if you would like a custom photography tour for you or a group of friends, please let us know as we can put together something specific for you.
DOMESTIC FLIGHTS
There are no domestic flights included in this tour.
ACCOMMODATION
We will be staying in comfortable bed-and-breakfast (B&B) accommodation for most of the tour, with the exception of the beginning/end of the tour when we overnight in a hotel near Heathrow airport in London. All accommodation on this tour has private rooms and bathroom facilities.
WHAT TO BRING: CLOTHING
In addition to the clothing mentioned in the general information document, please make sure you bring clothing suitable for cold, wind, and rainy weather. This would include suitable waterproof clothing (e.g. jacket and trousers) and layers to provide extra heat, such as thermal trousers and shirt, and sweaters (jumpers), fleece, and over-jacket. A woolly (beanie) hat, scarf/snood, and gloves will be extremely useful and probably essential.
WHAT TO BRING: OTHER ITEMS
In addition to the items listed in the general information document, a thermos flask for keeping hot water/hot drinks is recommended for maintaining heat throughout the day. Hand warmer packets can be useful if the conditions are particularly cold.

United Kingdom General Information