By Chris Lotz
Posted on 15 February 2022.
On 1 January 2022 I set out to try and answer this question by embarking on a 31-day birding marathon with the aim of trying to set a record. I have no idea though what the Norfolk January birding record is. Do e-mail me ([email protected]) if you hold the record or if you know what the highest Norfolk January birding count is. While I realize that my number might not be the highest, I would nevertheless like to challenge you to see more species in January 2023 in Norfolk than what I saw this January here. Alternatively, if you reckon you have a birdier county (within the UK though, just to make the rules clear!), why not try to see more there than what I saw in Norfolk last month. My colleague Andy always says Yorkshire is the best birding county in England, so someone from there may wish to take up this challenge (unfortunately Andy is living in Asia now so can't do this personally)?
It was an amazingly rewarding, but I must say tiring, marathon. I got to know Norfolk better, and I got to know the birds better, and I enjoyed both immensely. I was forced to learn more about certain bird species that are easier to find in spring and summer because they're singing or displaying, but which I had to try and figure out how to see in mid-winter.
I actually thought that by birding hard for the first 15 days of January, I would be able to see almost all the possible bird species in Norfolk in January. But what I found in reality was that there were just too many species here to see and by 15 January it just wasn't slowing down at all. Even on 31 January, I saw five new year birds, followed by three more in the next couple of days just within February (these of course did not make it onto my Big January list!).
I am definitely one of those birders who enjoys seeing (and hearing) the birds over and over again, but secondarily I also like listing. Keeping year lists and county lists motivates me to get out birding more than I would otherwise, which means I get to know the different species better than I would if I didn't have a reason to get out there birding (sad but true).
I learned the "January 100" fun from my American birding friends from living in Ohio for three years. While in theory this means trying to see 100 bird species in January, in reality it means trying to see 100 species in the first couple of days of January, and then pushing to see how many more birds one can see by the end of the month. I should mention that in my home country of South Africa, one can see 100 bird species in a morning, also noting that it's not mid-winter there in January like it is here and in the USA! So, this fun January 100 thing applies more to the temperate Northern Hemisphere.
Trying to push the boundaries with an experiment to answer the question "how many bird species is it possible to see in Norfolk during the month of January?" meant that I had to be strategic, focusing first on the toughest species, and not getting too distracted by the easy species which one will see anyway during the course of the month. I did miss Eurasian Spoonbill for January though as I didn't realize it would be so tricky, and did not prioritize going to look at the ones that were at Burgh Castle near Great Yarmouth for a few days right at the start of the month. I did also miss a couple of other possible species, but I am thankful to say not many.
The first 2022 bird that I did target, was Taiga Bean Goose, because this species usually only arrives some time in December and then departs quite early in January. One of the classic places for it is just down the road from our Norwich home, the Royal Society for the Protection of Birds (RSPB) Buckenham Marshes Reserve. So, I headed off to Buckenham Marshes first thing on 1 January this year and thankfully managed to locate this rare British bird quickly, picking up Greater White-fronted Goose as well, along with a bunch of far easier species (and enjoying birding with a couple of others who were also starting their year lists).
Ormesby Little Broad was next on my birding agenda on 1 January to try and find a Smew someone had reported. No one was able to relocate this bird, but a close-up Red-necked Grebe rewarded everyone with great views and provided an excellent consolation prize. Inconveniently, Tundra Bean Goose got reported back near where I had seen the Taiga Bean Goose, and since this can be a tough bird to find in Norfolk, I went back to see this rather than to the place I had planned on going to try and see two winter swan species.
After going home for lunch and fetching Megan, we headed to Cley Coastguards, a legendary birding site, in the hope of seeing the Iceland Gull that is often there. Good news was that this beautiful, ghostly pale bird was right there waiting for us when we arrived, sitting near the pillbox on the shingle beach.
On 2 January, the Pentney Gravel Pits proved productive for some common year birds, as well as for two tricky ones (and the reason I opted to head out that way), Common Loon (Great Northern Diver) and Black-necked (Eared) Grebe. The Common Merganser (Goosander) that had also been reported there, was missing in action, so I had to make a separate trip to look for this species (successfully, hooray) a few days later, at a bridge near the fascinating Denver Sluice area.
On the afternoon of 2 January, Megan and I made a brief late afternoon visit to RSPB Titchwell, one of our favorite reserves. Although a short visit, it was wonderfully productive for a great many wildfowl, waders, seabirds and others in the diverse habitats of this famous (for good reason…) reserve. The highlight was a Hen Harrier, a good species to see on the second day of the year to save time later.
I knew that the Lynford Arboretum in "The Brecks" would provide many new species, quite a number of them difficult elsewhere, so that was on the agenda for 3 January. One major aim is actually to try and stop being swamped by eBird "year needs alerts" by seeing as many of the species around as fast as possible, which may actually have been the main reason for heading here today. A handful of massive-billed Hawfinch (the grosbeak of Britain!) was the star bird of the morning, but many other awesome species also played ball, including Brambling, European Siskin, Yellowhammer, Mistle Thrush, Song Thrush, Marsh Tit, Coal Tit, Eurasian Nuthatch, Stock Dove and so forth.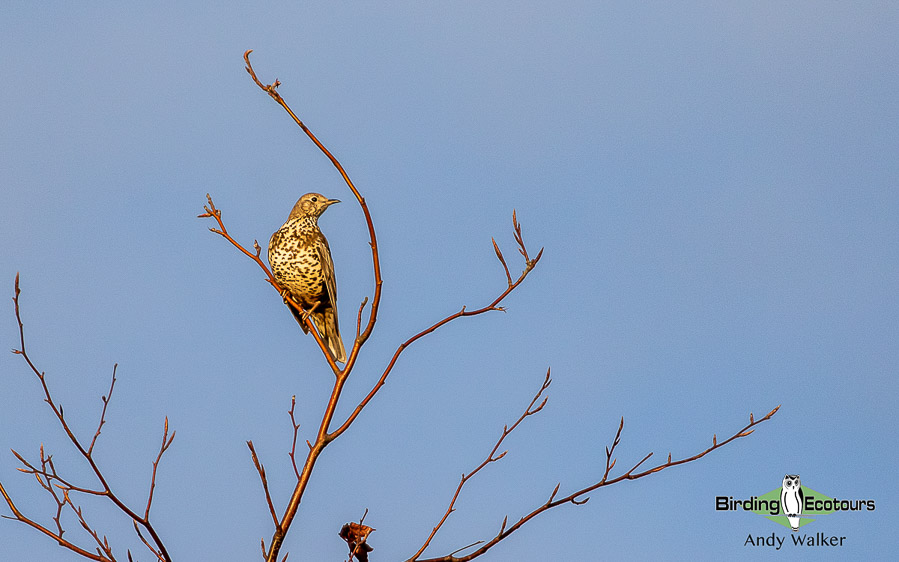 The Brecks produced Mistle Thrush along with a number of other great birds.
Now that I was in western Norfolk, the Welney Wetland Centre was not too far, so featured next on the birding agenda, generating further great birds such as close flyby Short-eared Owl, Eurasian Tree Sparrow at the feeders, Whooper Swan, Tundra (Bewick's) Swan and many others. While there at Welney near the Cambridgeshire border, I heard news of a European Shag (scarce in Norfolk!) back in my home town of Norwich, at Whittlingham Country Park, so opted to head back to see this close relative of the abundant Great Cormorant. Peregrine Falcon at the spectacular Norwich Cathedral ended off a great day nicely.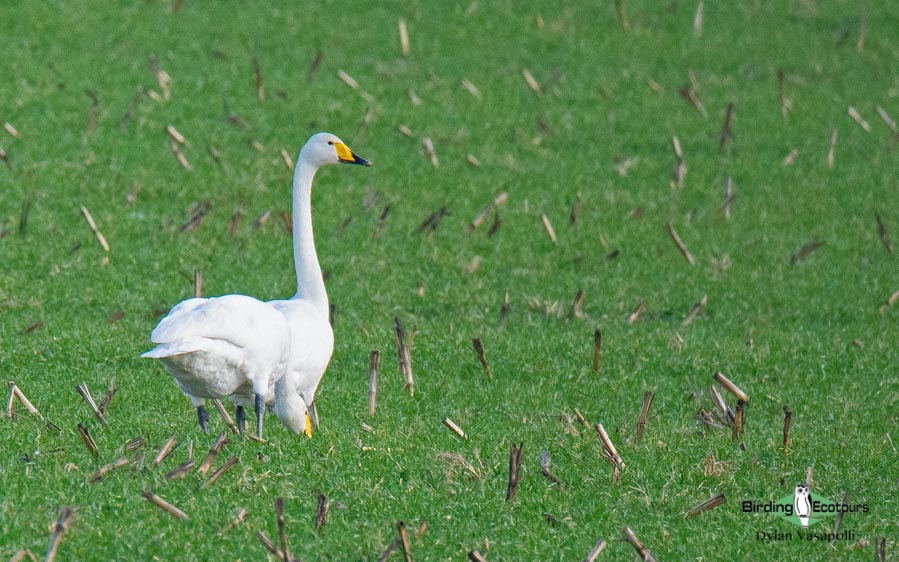 Whooper Swan was seen in western Norfolk.
By the end of 3 January, I was on 114 bird species for January, and thought things would slow down, but they certainly didn't. In fact, it didn't slow down at all until the whole month of January was over. I really did want to do a proper experiment to establish how many species are possible to see in Norfolk if one tries one's best. It was a tiring month, more of a marathon than I ever could have anticipated.
Sculthorpe Moor Nature Reserve near Fakenham was the first stop on 4 January, always a reliable site for the truly beautiful Eurasian Bullfinch, and a great big Tawny Owl sitting inside its nest box was another real highlight. Next on the agenda was Holkham National Nature Reserve where Horned (Shore) Lark had been reliable throughout the winter so far, up until today! This was my first big miss and it took two more attempts and trying to figure out where the four individuals of this species had gone, now that they were not usually in the roped off area east of Holkham Gap, before this species could be added to my January 2022 Norfolk list. On my final, successful attempt later in the month, I walked for well over five miles, getting blisters that didn't make the next few days of birding easy, but what a super day, also with close-up Velvet Scoter (among many Common Scoter), and a pair of Long-tailed Duck all the way over at Burnham Overy in the channel across from where Scolt Head Island lies. What a mega walk along a very long beach! By the way, in the roped off area where the Horned Lark were meant to be, there were, reliably on all visits, 50-100 really beautiful Snow Bunting, and a few European Rock Pipit, among larger numbers of Meadow Pipit and Common Linnet.
During the next couple of days, I only had time to bird a couple of sites around Norwich during "lunch" on 5, 6 and 7 January, getting Rose-ringed Parakeet and Caspian Gull onto my Big January list. There are two small colonies of the parakeet in Norfolk that I am aware of, both of them on the outskirts of Norwich. This is of course an abundant feral species in London, but is still rare in Norfolk, I guess though in the coming years it will become common here. Little Owl was also one of my targets on these couple of "stick close to Norwich" days.
Excitingly, what happened next was that a handful of Bohemian Waxwing suddenly got reported at various sites in north Norfolk, and on 8 January I managed to lay eyes on one of these gorgeous birds. Later that day, Megan and I went to Winterton Dunes and saw the Black Redstart that had been reported on the beach there, with a bonus Purple Sandpiper on one of the nearby concrete blocks on the beach.
Bohemian Waxwings are always a delight to see!
I found only one Western Barn Owl in the whole of January, which is worrying as two years ago when Megan and I first arrived in Norfolk there were lots of them around. Anyway, the bird I did see was on 10 January, hunting low over a field near Fakenham, well worth stopping for en route to the north coast again. The north coast (as usual) did not disappoint, some of the highlights being Merlin and the scarce Black-throated Loon (Diver) at the Norfolk Wildlife Trust (NWT) Holme Dunes. A third of the way through January and my list was now on 140 species. I set my sights on 150, thinking that would be a good total to end January on, but I did quite a bit better than that!
Farmland in western Norfolk proved great for a couple of Common Crane and a large number of Corn Bunting that had been e-birded in the area. Then I heard about a Greater Scaup at Hollkham Lake on the magnificent grounds of the majestic Holkham Estate, so that was the obvious next place to go. Thanks to tips from birding friends (like Jim Lawrence and Sue Bryan) I decided to head to Titchwell to see a Spotted Redshank, also obtaining great views of another Purple Sandpiper and lots of other super birds (albeit ones I'd already seen), while there.
NWT Hickling Broad Nature Reserve was productive for European Stonechat (thin on the ground in winter), European Green Woodpecker (a usually common bird I struggled to find this January, like Western Barn Owl, recording my first one today, 13 January). Eurasian Woodcock also put in an appearance today. Finally, Mediterranean Gull (at least six of them) showed well on Great Yarmouth Beach.
By 17 January I had reached 154 species and was feeling tired although my blisters from my long "Horned (Shore) Lark and Long-tailed Duck" walk were healing. A beautiful little Jack Snipe was species number 158 and then a released Isle of Wight reintroduction program White-tailed Eagle would have been species number 159 if countable. These eagles have not yet established properly, so are not considered countable by many local birders. A bonus Common Greenshank trying in vain to steal the show from the magnificent eagle sitting on the sand at Thornham Harbour, was the "real" 159, making Green Sandpiper (thanks to Sacha Barbato for the information on where to see this bird in winter) on 24 January number 160.
I am grateful to Jim Lawrence for giving more than his fair share of birding tips for my "Big January", and he was now the person who quickly alerted me to the Glaucous Gull that had just been reported following a plough (along with a lot of other gulls) in a field near Waxham in eastern Norfolk. What a bird, like a giant Iceland Gull, rather similar-looking (just far bigger) to the Iceland Gull Megan and I had gone to Cley for on 1 January. What a beaut!
It didn't stop yet! A redhead Smew got reported at Tavernham Mill Nature Reserve and Fisheries not far from Norwich on 27 January, sadly too late in the day for me to chase it (no daylight left!), but guess where I went on the 28th? You guessed right, what a solid, tricky bird for Norfolk to catch up with, and yet another stunning-looking bird.
Megan and I birded a lot the last weekend of January, but I found no new year birds the whole weekend, but on Monday 31 January I managed to find five new ones despite bad weather which almost meant cancellation of birding plans for the last day of the month (which would have meant ending the month with five fewer species!). A HUMONGOUS Eurasian Eagle-Owl in a churchyard in eastern Norfolk was the first bird of the day, but (like the White-tailed Eagle, is likely not countable as it's probably an escaped bird, although who knows, it's possible that it's a vagrant from the continent). Either way, this was nevertheless one of my biggest birding highlights of the whole month of January, to me it's primarily about the beauty of the birds, and only secondarily about the fun of listing, and this owl was superb! Little Gull at Northrepps was next on the agenda, as an adult bird seemed to have returned to this site for a second winter. Then to Cley Coastguards again, where at least eight Northern Gannets and three Black-legged Kittiwakes flew past, these are both relatively common seabirds I really thought I was going to miss this month as I failed to see any until the final afternoon of January despite trying. I then decided to go to Sculthorpe Moor again, albeit quite a drive, as I knew that Lesser Redpoll had been seen there by other birders, and hooray, I found at least three of them in a siskin flock. This was species number 168 for Norfolk in January, or 170 if I count the eagle and the eagle-owl!
I think it would have been possible to have reached 175 if I had pushed even harder and if a couple more scarce species had been around this January. In fact, I did find three new birds during the first three days of February which I could (with better luck) have seen in January. One of these was Eurasian Bittern that I had in fact put a good number of hours of trying for in January but which only materialized on the first day of February. Then on 3 February, I managed to catch up with Red-crested Pochard and a MEGA, Red-breasted Goose, which pitched up at Cley and has been there for the last ten days so far as I write this on 13 February. My biggest miss for January was Eurasian Spoonbill, tricky in January but now quite easy to find in Norfolk in spring and summer! I did not have time to look for the overwintering Lesser Whitethroat at Winterton Dunes. I also missed Glossy Ibis (birds were reported from the Cley area as well as from Welney, last month). I didn't have time to try for Willow Tit, now a very rare bird in Norfolk, until 11 February (and I missed it anyway). Red (Common) Crossbill, Lapland Bunting (Longspur) and Twite have been incredibly thin on the ground (or completely absent) this whole winter, although I did spend a bit of time trying for them. I did also miss a female Ring-necked Duck that was reported at Welney Wetland Centre after dark the night after it was seen, and which no one could re-find the next day (or since!). And, I also could not find the Greater Short-toed Lark that has been seen in flight several times by other observers over a stubble field at West Runton, until my second attempt, which was only in February and thus too late! Apart from the handful of species mentioned in this last paragraph, I can't think of any other Norfolk birds I actually missed in January. So, the result of my experiment/test to see how many species it is possible to observe in this amazing county during the month of January, is that I reckon it would be possible to see between 170 and 180 species, but I actually managed to see 168 (or 170 if one includes the eagle-owl and the eagle).
I would love to hear from you if you:
have seen more than my 168 (or 170 if the two possibly non-countable species are in fact included) in Norfolk (or another British county!) in January
are interested in challenging my 168/170. If yes to this, then I will probably sit back and watch you try, hoping you succeed!
February has quietened down quite a bit, and I am now largely waiting until spring (next month!) to start adding new birds to my Norfolk year list. In the meantime, I wonder when I can reach 200 by? I plan to write a separate blog about my third year of birding in Norfolk, to go along with my first and second years of birding in Norfolk. Since I have had a bit of a breather in the last ten days as there are not many new Norfolk year birds to find any more, Megan and I have done some Suffolk birding and my Suffolk year list now stands on 75 species, including some scarce ones such as Lesser Yellowlegs, Twite and Glossy Ibis, all of which I would still like to see in Norfolk this year!