This blog was last updated on 12 December 2019
Every birder dreams of seeing the world's most beautiful birds, the incomparable birds-of-paradise! This dream is only made more intense after viewing documentaries such as "Attenborough in Paradise" or the Cornell Laboratory of Ornithology footage of these truly magnificent birds. However, the prices of birding tours to Papua New Guinea (PNG) are notorious and make a lot of folks give up on their dream of seeing the world's most magnificent birds.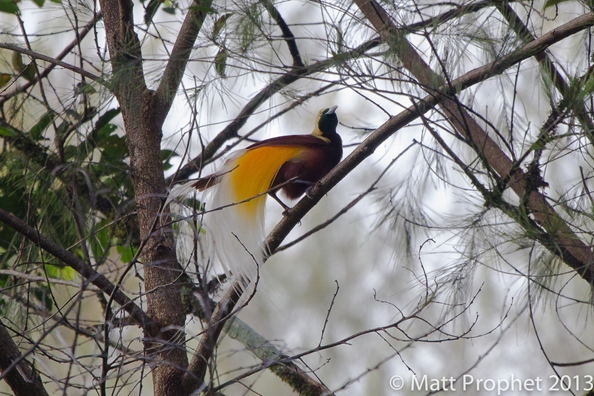 Lesser Bird-of-paradise is one of 11 bird-of-paradise species we saw on the 2015 tour.
It is for this reason that we developed a way of seeing over ten species of birds-of-paradise, along with paradise kingfishers, humungous crowned pigeons, and jewel-babblers, without completely breaking the bank. We visit the western side of the island of New Guinea (rather than the usual eastern side, or PNG), where we are able to price the trips better (than doing PNG). We also keep the trip quite short (just 12 days) to keep the cost low. Yet tour participants still see a great many of these spectacular birds. To me, the very height of my birding career was to finally do this trip and to actually lay eyes on these legendary birds. Please read the latest trip report and West Papua tour itineraries here.
The first part of the trip, which focuses on the Arfak Mountains, is rough and requires a high level of fitness. If that is not for you, it is still possible to join the second part of the trip, which involves easy birding for two of the most spectacular of all, Wilson's Bird of Paradise and Red Bird of Paradise, along with Western Crowned Pigeon, Common Paradise Kingfisher, Rufous-bellied Kookaburra, Papuan Pitta, and other gorgeous birds. This leg of the tour concentrates on Waigeo, the largest island of the idyllic Raja Ampat archipelago, but we also take boat trips to tiny islets nearby for massive parrot roosts, islet endemics, optional snorkelling, and more. Wilson's Bird-of-paradise and other specials of Waigeo can be seen at blinds (hides) close to the road, so almost no fitness is needed to join this leg of the trip.
Don't miss out on seeing the birds-of-paradise completely – it's a must for any birder! See here for full details of our 12-day trip".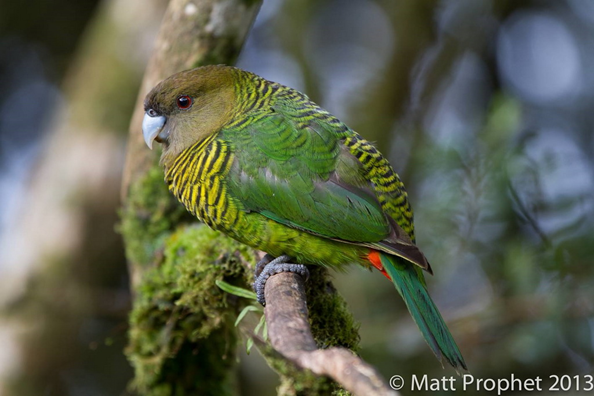 Brehm's Tiger Parrot can be seen on this Irian Jaya (West Papua) birding tour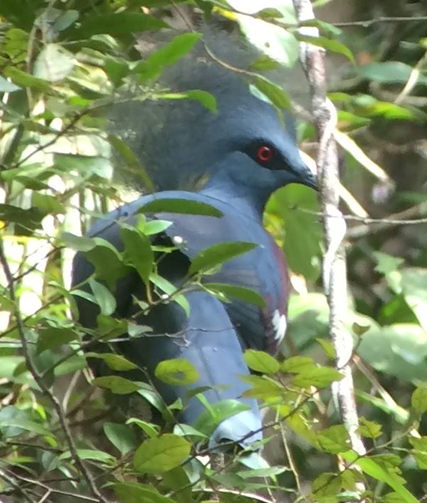 We digiscoped this Western Crowned Pigeon on the 2015 tour, on Waigeo Island