Back to Asian Trip Reports
DOWNLOAD TRIP REPORT
27 JANUARY – 18 FEBRUARY 2019
By Andy Walker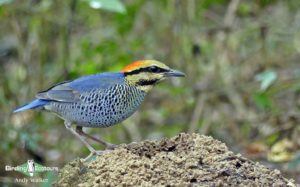 We had the best views imaginable of Blue Pitta during the tour.
Overview
This three-week set departure Thailand tour started in Bangkok on the 27th of January 2019 for a circuit of central Thailand. We then flew north to Chiang Mai for some mountain birding before returning to Bangkok, where the tour concluded on the 18th of February 2019.
A total of 445 bird species were seen (plus 10 species heard only). Full species lists are provided at the end of this report. Highlight birds seen were many and included Spoon-billed Sandpiper, Nordmann's Greenshank, Kentish ("White-faced") Plover, Malaysian Plover, Asian Dowitcher, Chinese Egret, Rusty-naped Pitta, Blue Pitta, Common Green Magpie, Long-tailed, Banded, and Black-and-Red Broadbills, Great Hornbill, Kalij and Silver Pheasants, Limestone Wren-babbler, Ultramarine Flycatcher, Spot-breasted Parrotbill, Spectacled Barwing, Slaty-bellied Tesia, Silver-eared Mesia, White-bellied Redstart, and Pied Harrier. We even found several Thai rarities, including Falcated Duck, Western Marsh Harrier, Great Crested Grebe, Spot-winged, Rosy, and Chestnut-cheeked Starlings, Blunt-winged Warbler, and Tristram's Bunting.
Detailed Report 
Day 1, 27th January 2019. Arrival in Bangkok
After arrival in Bangkok the group met for our first meal of the tour and discussed plans for the next few weeks of exciting birding. 
Day 2, 28th January 2019. Bangkok to Kaeng Krachan via Phetchaburi Rice Fields
We left Bangkok after breakfast and headed into the Phetchaburi Rice Fields, where we started looking for Greater Spotted Eagles, with which we were almost immediately successful. We saw a few birds, one bird repeatedly flying overhead and giving great views. An impressive number of Asian Openbills were recorded, both feeding in the rice fields and overflying. Black and Brahminy Kites were also noted, as was a huge female Peregrine Falcon.
Several smaller birds were seen here, such as Asian Golden Weaver, Stejneger's Stonechat, Chestnut, Scaly-breasted, and White-rumped Munias, Zitting Cisticola, Plain Prinia, and Oriental Reed Warbler. The wetlands were also very busy with thousands of storks, herons, and egrets, with Bronze-winged Jacana, Grey-headed Lapwing, Red-wattled Lapwing, and Ruddy-breasted Crake also seen.
After lunch we continued to our accommodation in the forest at Baan Maka near Kaeng Krachan National Park. We visited the nearby startling roost, where we enjoyed rarer birds such as Chestnut-cheeked Starling, Spot-winged Starling, and Vinous-breasted Starling among the commoner Chestnut-tailed Starling and Pied, Common, and Great Mynas.
Day 3, 29th January 2019. Baan Maka area
The majority of the day (both the morning and afternoon birding sessions) was spent in a nearby hide (blind), which gave us some excellent views of a variety of often-secretive forest dwellers. Top birds seen across the day included Bar-backed Partridge, Common Green Magpie, White-crested, Greater Necklaced, and Lesser Necklaced Laughingthrushes, Hainan Blue, Chinese Blue, Hill Blue, and Tickell's Blue Flycatchers, Siberian Blue Robin, Common Emerald Dove, Racket-tailed Treepie, Puff-throated Babbler, Pin-striped Tit-Babbler, Brown-cheeked Fulvetta, White-rumped Shama, and Black-naped Monarch.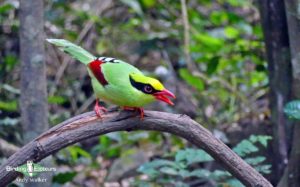 Common Green Magpie showed remarkably well.
Day 4, 30th January 2019. Kaeng Krachan National Park and Baan Maka area
Our morning was spent in the lower elevations of Kaeng Krachan National Park (due to road improvement works the park was unfortunately closed to all visitors for the middle and high elevations for the duration of our tour this year). The lower areas offer lots of birds, though, and we found some really nice ones, such as Black-and-red Broadbill, Asian Emerald Cuckoo, Black-thighed Falconet, Heart-spotted Woodpecker, Greater Flameback, Chestnut-headed Bee-eater, Indian Roller, Vernal Hanging Parrot, Wreathed Hornbill, Oriental Pied Hornbill, Square-tailed Drongo-Cuckoo, Asian Fairy-bluebird, Sultan Tit, Thick-billed Green Pigeon, Green-eared, Blue-eared, Blue-throated, and Coppersmith Barbets, Crested Honey Buzzard, Black-winged Cuckooshrike, Greater Racket-tailed, Bronzed, Ashy, and Hair-crested Drongos, Green-billed Malkoha, Golden-crested Myna, Great Iora, Grey Wagtail, Scarlet-backed Flowerpecker, and Eyebrowed Thrush.
The afternoon involved a recent stakeout for a very special bird. We would need some luck, and as we entered the forest we were all wondering whether today would be our lucky day, or not…. As we sat in our makeshift hide suddenly we were watching a gorgeous male White-rumped Shama – great views of a beautiful bird, but not our target. Next was a very pretty male Chinese Blue Flycatcher (great to see after watching females yesterday), nice to observe but again not our 'most wanted'. Forty-five minutes later a shape hopped across our viewing area, and suddenly we were eyeballing the simply magnificent Blue Pitta! Now that was definitely THE target bird! The pitta showed extremely well for the next five or so minutes, giving us all dream views in perfect light.
Happy with the pitta view we made a quick trip across to the starling roost area, where we found mostly the same species as on the previous visit (good numbers of Spot-winged Starlings still present), with a couple of White-shouldered Starlings also seen well.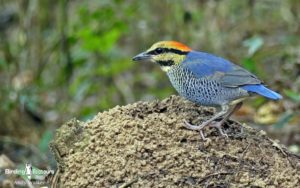 It's always great to get a look at a pitta, and this Blue Pitta gave us excellent views.
Day 5, 31st January 2019. Kaeng Krachan National Park and Baan Maka area
We had a really enjoyable morning birding along the Kaeng Krachan National Park road and lower areas and found a selection of birds we hadn't seen the previous days, such as Blue-bearded Bee-eater, Great Hornbill, Laced Woodpecker, Grey-headed (Black-naped) Woodpecker, Greater Yellownape, Common Hill Myna, Banded Bay Cuckoo, Grey-rumped Treeswift, Oriental Dollarbird, Ochraceous Bulbul, Ruby-cheeked Sunbird, and Blue-throated Blue Flycatcher. We also improved our views of (multiple) Common and Greater Flamebacks, Green-eared Barbet, Sultan Tit, Black-winged Cuckooshrike, Dark-necked Tailorbird, Verditer Flycatcher, and Eyebrowed Thrush.
Our afternoon was spent in a bird hide, where we waited for birds to come and take a dip in the pool that we were looking at. Some great birds showed up, including several we hadn't seen before. Some of the highlights included Large Scimitar Babbler, Orange-headed Thrush, Abbott's Babbler, Blyth's Paradise Flycatcher, Olive (Baker's) Bulbul, Common Green Magpie, Racket-tailed Treepie, Red Junglefowl, Chinese Blue Flycatcher, and Siberian Blue Robin.
Day 6, 1st February 2019. Baan Maka area to Laem Pak Bia area
Our day started back in a hide, where we were treated of a Red Junglefowl feeding frenzy as over 30 birds came and gave great, close views. We also enjoyed the common, but often tricky-to-see (away from the hide setup) Green-legged Partridge, in fact three of them came and showed well. A few other highlights on our morning here included stunning males of both Hainan Blue Flycatcher and Blue-throated Blue Flycatcher, along with the usual Tickell's Blue and Chinese Blue Flycatchers. One really beautiful adult male Common Emerald Dove gave some really nice views in a patch of sunlight. Other visitors included Racket-tailed Treepie, Bronzed Drongo, and Siberian Blue Robin.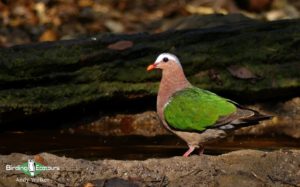 Common Emerald Dove is an often-shy species and most sightings are of birds flying through
the forest. This bird however gave an excellent show as it came to a waterhole to drink.
After lunch we said goodbye to the friendly staff at Baan Maka and made our way east to the coast of the Bay of Bangkok. We checked into our new hotel and then headed to the Laem Pak Bia salt pans, where we started our shorebird list in earnest. A wide range of species were observed across a range of sizes, such as Long-toed, Temminck's, and Red-necked Stints, Broad-billed, Curlew, Wood, Common, and Marsh Sandpipers, Red Knot, Sanderling, Red-necked Phalarope, Common and Spotted Redshanks, Common Greenshank, Pied Avocet, Black-winged Stilt, Black-tailed Godwit, and best of all forty Asian Dowitchers. Plovers too were well represented with Greater and Lesser Sand Plovers, Little Ringed Plover, Kentish Plover, Grey Plover, and Pacific Golden Plover. Not a bad start! Other birds noted on our quick visit included Painted Stork, Little, Gull-billed, Common, and Whiskered Terns, Purple Heron, and Collared Kingfisher. This certainly got us all very excited in anticipation of the following few days in this habitat.
Day 7, 2nd February 2019. Pak Thale and Laem Pak Bia
An early start was the order of the day so that we could try and beat the sun, heat, and other birders, and we were successful in all of this. Even more importantly we were also extremely successful in our pursuit of one of the rarest (and most unique) shorebirds in the world, Spoon-billed Sandpiper. Not long after arriving at the site we quickly were on to one of them, but the birds in the general area were all rather flighty. After a quick change of position we were having very nice scope views of one. Shortly afterwards we found a second bird (the first one was not banded, but the second bird was). Again, very satisfactory views were obtained, and we all enjoyed watching them feed – definitely one of the most highly-sought species in the world right before our eyes. We started scanning around the numerous saltpans, where we again ticked off many of the birds already listed for Day 6 above and were able to improve our views of most (e.g. Broad-billed Sandpiper and Greater Sand Plover) but also managed to find several different species, including some notable local/national records such as Sharp-tailed Sandpiper, Dunlin, a flock of at least 250 Terek Sandpipers, Ruddy Turnstone, Eurasian Curlew, and Great Knot. One of the other impressive sights of the morning was a full-breeding-plumage Curlew Sandpiper! Who knows what's going on there!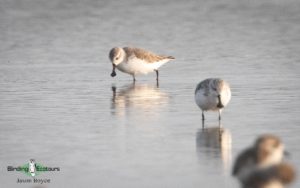 Spoon-billed Sandpiper is one of the most highly-sought species in the world, and we enjoyed
watching several birds during the tour.
Other birds noted around this site included Chinese Egret (along with hundreds of Great, Little, and Intermediate Egrets), several species of terns (Caspian Tern was new for the trip), Painted Stork, Brahminy Kite, and Richard's Pipit.
Our afternoon birding excursion took us by boat to the Laem Pak Bia sandspit, a very famous stop on the Thai birding circuit. Here, courtesy of Mr. Deang's boat, we reached the site very easily, and in no time at all we were watching all four of our main target birds for the site: Malaysian and Kentish ("White-faced") Plovers, Chinese Egret, and Pacific Reef Heron. We also saw White-winged, Caspian, and Greater Crested Terns along with more numerous Little, Common, and Whiskered Terns. Brown-headed Gulls were present, but there were no large gulls this time, unfortunately.
Back on the mainland we birded around some more saltpans, getting further views of many shorebirds we were now much more familiar with, along with our first looks at Nordmann's Greenshank. A quick trip to the local dump near dusk gave us a bonus sighting of three Rosy Starlings, a rare bird in Thailand and another nice starling to add to our growing list!
The taxonomy of White-faced Plover is rather up in the air; the bird is currently considered a
sub-species of Kentish Plover; however, it should more suitably be treated as a full species.
Day 8, 3rd February 2019. Laem Pak Bia and Phetchaburi Rice Fields
During the morning we visited a couple of sites around the Laem Pak Bia area and got further views of many of the shorebirds seen over the last couple of days, e.g. Nordmann's Greenshank, Great Knot, etc. Site workers were moving water around, so some of the saltpans were absolutely teeming with hundreds of egrets of several species, along with hundreds of Painted Storks, a really stunning bird.
We took another walk around the local dump, and this morning we increased our previous day's tally of three to four Rosy Starlings, a very good Thai record. We also had really good views of a perched and singing Indochinese Bush Lark, Paddyfield Pipit, Common Iora, and plenty of Brown Shrikes. Nearby we also saw Eastern Marsh Harrier and several Zitting Cisticolas.
The afternoon's birding was at the Phetchaburi Rice Fields again, where we found a number of good birds. We had excellent, prolonged views of Plaintive Cuckoo, Blue-tailed and Green Bee-eaters, Common Kingfisher, Asian Golden and Baya Weavers, Plain-backed Sparrow, Pin-tailed Snipe, and plenty more. One of the best birds from a conservation-status point of view was a flock of almost 30 Black-headed Ibis feeding in the paddies. Interestingly there was also one African Sacred Ibis with them, an introduced species to Thailand.
Day 9, 4th February 2019. The coast to Khao Yai
This was essentially a travel day as we moved from the coast south of Bangkok and around the city, ending up to the northeast at Khao Yai. We stopped at a lake along the way and were handsomely rewarded with finding a Thai rarity, a stunning male Falcated Duck, a very rare winter visitor to Thailand and much further south than other records from the country. The lake was full of other scarce ducks too, such as Northern Shoveler, Gadwall, and Eurasian Teal, along with the more abundant Northern Pintail and Garganey. We also saw several distant Lesser Whistling Ducks, Oriental Darter, Western Osprey, and a number of Black-headed Ibis.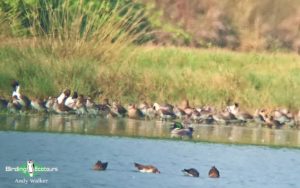 Only a phone-scoped record shot, but this Falcated Duck we found was a national rarity, and
we were rather happy to find it!
Day 10, 5th February 2019. Khao Yai National Park
An early start had us leaving the hotel and heading into the national park before it was light. The roads were quiet and no animals were noted except for a few Sambar near the visitor center. We went straight to a mountain viewpoint in the hope of finding some pheasants but were unsuccessful in our pursuit. We did, however, find Alström's Warbler, Sulphur-breasted Warbler, Claudia's Leaf Warbler, Mountain Imperial Pigeon, and Grey-headed Canary-flycatcher. As we drove down from the mountain during the morning we made a couple of birding stops. One such stop yielded our hoped-for Silver Pheasant, a stunning ghostly male with a few females in tow. These stops also gave us several other species such as Orange-breasted Trogon, Heart-spotted Woodpecker, Blue-bearded Bee-eater, Black-winged Cuckooshrike, Ashy, Black-crested, and Puff-throated Bulbuls, Blue-eared Barbet, Arctic, Eastern Crowned, Two-barred, and Yellow-browed Warblers, Asian Stubtail, Swinhoe's Minivet, Eyebrowed Thrush, Red Junglefowl, and Green-billed Malkoha. Banded Broadbill was heard but didn't show.
After a break over lunch we headed back into the forest, but it was extremely quiet (apart from a flew claps of thunder). Great Hornbill and Oriental Pied Hornbill were both seen, with Blue Pitta, Banded Kingfisher, and Long-tailed Broadbill heard but not seen this time. A few new mammals included Southern Red Muntjac, Northern Pig-tailed Macaque, and Variable Squirrel.    
Day 11, 6th February 2019. Khao Yai National Park
Again we had a couple of birding sessions in the national park, and again the morning was better than the afternoon, which was very quiet again, presumably due to the unusually hot weather killing bird activity. The morning gave us some very nice birds, including really great views of both Long-tailed Broadbills (numerous individuals) and a close-up Banded Broadbill. A fruiting tree also held several bulbuls, barbets, and Asian Fairy-bluebird. A roving flock of Scarlet Minivets caused some excitement and also contained Black-winged Cuckooshrike and Swinhoe's Minivet. We took a walk through the forest, picking up Hainan Blue Flycatcher, Pale-legged Leaf Warbler, and White-rumped Shama. We heard Eared Pitta, but just when we were starting to work the area a group of tourists came loudly along the trail and our chance for this bird was lost. Very disappointing.
Afternoon birding was again quiet, but we did get a pair of Red-headed Trogons, White-crested Laughingthrush, Red Junglefowl, Grey-eyed Bulbul, and Puff-throated Bulbul. Banded Kingfisher was again heard but was too distant to get a sighting.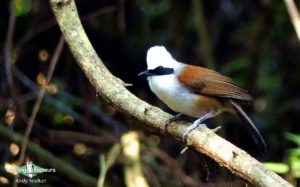 White-crested Laughingthrush is a really cool bird full of character, and we enjoyed multiple
sightings throughout the tour.
Day 12, 7th February 2019. Khao Yai to Chiang Mai (via Bangkok)
Today was essentially a travel day as we left Khao Yai and drove back to Bangkok. We visited a temple along the way, where we had spectacular views of the local form of Limestone Wren-babbler, along with Spotted Owlet, Shikra, White-rumped Shama, and Eurasian Hoopoe. After lunch in Bangkok we boarded our flight to Chiang Mai, where we arrived in the late afternoon for our overnight stay in the city.
Day 13, 8th February 2019. Doi Inthanon National Park
After breakfast we started our birding route of northern Thailand. The first stop was Doi Inthanon National Park, where we would spend the next few days exploring a range of altitudes. Our first stop was the summit boardwalk, and here we found Yellow-bellied Flowerpecker, Dark-sided Thrush, White-browed Shortwing, Snowy-browed Flycatcher, Yellow-bellied Fantail, Mrs. Gould's Sunbird, Green-tailed Sunbird, Rufous-winged Fulvetta, Silver-eared Laughingthrush, Dark-backed Sibia, and Bar-throated Minla, along with several species of Phylloscopus warblers, including Blyth's Leaf Warbler and Ashy-throated Warbler.
After lunch we spent the afternoon walking a very peaceful trail (especially nice after being on the busy boardwalk) in a beautiful forest, and here we had excellent views of some really great birds such as Spectacled Barwing, Slaty-bellied Tesia, Yellow-cheeked Tit, Little Pied Flycatcher, Blyth's Shrike-babbler, Clicking Shrike-babbler, Chestnut-crowned Warbler, Chestnut-vented Nuthatch, Silver-eared Mesia, Grey-throated Babbler, Yunnan Fulvetta, Black-throated Sunbird, and Lesser Racket-tailed Drongo.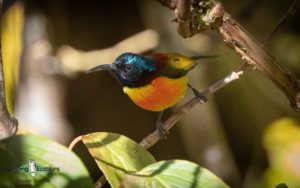 Green-tailed Sunbird is a really great-looking bird, and we got great and prolonged close views.
Day 14, 9th February 2019. Doi Inthanon National Park
We had the full day in Do Inthanon National Park and found a great many birds, numerous repeats from the previous day (better views of some of them) at the middle elevations but also lots of other birds to keep us busy. Our pre-breakfast stops were along the river, but it was fairly quiet with no forktails, unfortunately. We did find Plumbeous Water Redstart, Blue Whistling Thrush, and Grey Wagtail, though. A fruiting tree held White-headed, Sooty-headed, Flavescent, and Black-crested Bulbuls and Golden-fronted Leafbird, while Blue Rock Thrush flew over.
After breakfast (watching Lesser Shortwing, Japanese Tit, House Swift, and Asian House Martin) we spent the morning on the same trail that we had birded the previous afternoon. Interesting/different species included Golden-throated Barbet (finally seen well), Grey-chinned Minivet, White-bellied Erpornis, Velvet-fronted Nuthatch, Black Bulbul, Hume's Warbler, Martens's Warbler, Sulphur-breasted Warbler, Large Niltava, Streaked Spiderhunter, and Olive-backed Pipit. We also improved our views of Grey-throated Babbler, Spectacled Barwing, Black-throated Sunbird, and Blyth's Shrike-babbler.
After lunch we ventured into some really beautiful forest. It was fairly quiet (apart from the constant sound of Golden-throated Barbets), but we had further looks at several species such as Mountain Bulbul, Scarlet Minivet, and Slaty-bellied Tesia, as well as our first Grey-backed Shrike, Hume's Treecreeper, and Grey-crowned Warbler of the tour.
Day 15, 10th February 2019. Doi Inthanon to Mae Ping
Our morning was spent birding the dry forest near our accommodation, and we found a few great birds such as Blossom-headed Parakeet, which was the pick of the birds seen, and seen very well, too. Other highlights of the morning included Greater Painted-snipe, Pin-tailed Snipe, Chinese Pond Heron, Crested Honey Buzzard, Shikra, Japanese Buzzard, Black-hooded Oriole, Striated Swallow, Purple Sunbird, Red-whiskered Bulbul, Pied Bush Chat, Stejneger's Stonechat, Golden-fronted Leafbird, and Long-tailed Minivet.
After lunch we drove south to the Mae Ping area. A short walk before dinner gave us our first views of the simply stunning Black-headed Woodpecker, along with Grey-headed Parakeet, Large Cuckooshrike, and Ultramarine Flycatcher.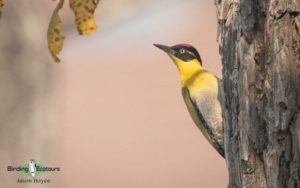 We had some simply excellent views of Black-headed Woodpecker at Mae Ping – one of the
best-looking woodpeckers on the planet.
Day 16, 11th February 2019. Mae Ping National Park to Chiang Dao
We started our morning birding in Mae Ping National Park with a Large-tailed Nightjar flying around the ticket booth! As dawn broke we started picking up some activity with Greater Flameback, Black-headed Woodpecker, Grey-headed Parakeet, Eurasian Jay, Velvet-fronted Nuthatch, and Rufous Treepie.
As we moved around our birding route we found several other species, such as Large and Indochinese Cuckooshrikes, Red-billed Blue Magpie, Burmese Shrike, Large Woodshrike, Greenish Warbler, Rufescent Prinia, and Collared Falconet. Other more widespread species enjoyed included Black-hooded Oriole, Green-billed Malkoha, Black-naped Monarch, and Golden-fronted Leafbird. After lunch we headed north beyond Chiang Mai to our base for the next two nights, Chiang Dao. 
Day 17, 12th February 2019. Doi Chiang Dao and Chiang Dao paddies
We left our accommodation in the dark with the aim of being near the top of Doi Chiang Dao for dawn. The first birds seen were three Blue Whistling Thrushes along the road in near darkness. As it got light we picked up Black Bulbul, Blue-throated Barbet, Eurasian (White-faced) Jay, Japanese Tit, Long-tailed and Short-billed Minivet, and Sapphire Flycatcher.
Further along the road we found a hunting pair of Peregrine Falcons, possibly targeting Mrs. Hume's Pheasant, along with Slender-billed and Maroon Orioles (great views of a pair of each), Stripe-breasted Woodpecker, Grey-capped Pygmy Woodpecker, and White-headed, Flavescent, Mountain, Grey-eyed, Black, Red-whiskered, and Sooty-headed Bulbuls (all feeding in the same fruiting tree), along with Blue-eared Barbet. Several Chestnut Buntings flew through, one briefly giving views. Olive-backed Pipits were everywhere for a short while before they quickly dispersed. Numerous Common Rosefinches were flying around, as too were Large Woodshrike, Cook's Swift, and Himalayan Swiftlet. Cuckoos were also well represented, with Asian Emerald Cuckoo, Large Hawk Cuckoo, Banded Bay Cuckoo, and Plaintive Cuckoo all seen.
We spend the majority of the morning picking up the above birds (and far too many more to list here), and just before we left a couple of us had a real treat. As we were watching Grey Bush Chat, Slaty-backed Flycatcher, and Hill Prinia we were suddenly face-to-face with another Thai rarity, Tristram's Bunting. Luckily is paused long enough to get a record shot. This bird is considered a very rare winter visitor to Thailand.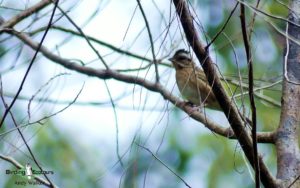 A record shot of another Thai rarity we found during the tour – Tristram's Bunting
As we drove off the mountain we found a tree full of at least 50 Chestnut-tailed Starlings, along with at least one Grey-headed Parakeet busily feeding. It was a fortuitous stop because here we also found Blue-bearded Bee-eater and Chestnut-headed Bee-eater. A couple of folks also glimpsed Black-backed Forktail, but we all had very nice perched views of a pair of Rufous-winged Buzzards.
A late-afternoon trip to the nearby paddies gave us several interesting species, such as Eurasian Wryneck, Grey-headed Lapwing, Black-collared Starling, Eastern Marsh Harrier, Pied Harrier, and a rather amorous pair of Little Ringed Plovers!
Day 18, 13th February 2019. Chiang Dao and Thaton rice paddies
A morning walk near our accommodation allowed us to find so many new birds, and very good ones at that. Pin-tailed Green Pigeon sat in a dead tree for ages, as too did Asian Fairy-bluebird, Scarlet Minivet, Blue-throated Barbet, Black-hooded Oriole, and Banded Bay Cuckoo. We had a flock of 30 House Swifts wheeling and screaming overhead constantly as we enjoyed all of the above. The forest here gave us Streaked Wren-Babbler, Buff-breasted Babbler, Yellow-bellied Warbler, Brown-cheeked Fulvetta, Grey-headed Canary-flycatcher, Hill Blue Flycatcher, and Little Spiderhunter. Sunbirds were well represented also, and we found Purple-naped, Crimson, Black-throated, and Olive-backed Sunbirds. Even Asian Barred Owlet showed itself.
After driving north during lunchtime we ventured into the rice paddies at Thaton. Here we continued with great birding; we saw not fewer than 79 Small Pratincoles, Chestnut-eared Bunting, Rosy, Richard's, Paddyfield, and Red-throated Pipits, Citrine Wagtail, Pallas's Grasshopper Warbler, Oriental Skylark, Siberian and Stejneger's Stonechats, Pied Bush Chat, and Bluethroat. Interestingly we found another rarity, Blunt-winged Warbler. This bird we had actually found also three weeks previously on a private tour. 
Day 19, 14th February 2019. Doi Lang
We had a really enjoyable day as we spent the whole day birding on the exciting Doi Lang. Here anything can, and occasionally does, show up. During the course of the day we found many quality birds, and one of the first was Mountain Bamboo Partridge, quickly followed by a stunning male Ultramarine Flycatcher (one of two seen during the day) and a pair of nesting Spot-breasted Parrotbills.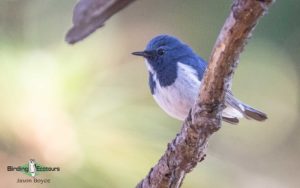 Male Ultramarine Flycatcher is hard to beat!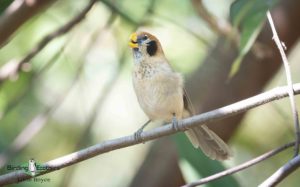 Spot-breasted Parrotbill gave some fantastic views.
The list of other highlights was long and included White-bellied Redstart, Himalayan Cutia, Spectacled Barwing, Dark-backed, Rufous-backed, and Long-tailed Sibias, White-gorgeted Flycatcher, Rufous-gorgeted Flycatcher, White-necked, White-browed, and Silver-eared Laughingthrushes, Rusty-cheeked Scimitar Babbler, Mountain Bamboo Partridge, Pale Blue Flycatcher, Golden Babbler, Short-billed Minivet, Black-throated Bushtit, Stripe-breasted Woodpecker, Mountain Imperial Pigeon (also nest building), Rufous Turtle Dove, Mountain Hawk-Eagle, and Siberian Rubythroat. Most of them gave really great views too, which was really appreciated!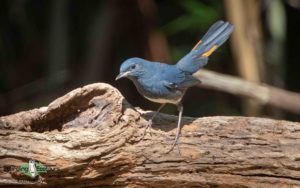 White-bellied Redstart can be a super-skulking bird, so it was fantastic to get such great views
of this male sat out in the open.
Day 20, 15th February 2019. Doi Lang and Thaton rice paddies
A slightly earlier start than usual saw us heading back up Doi Lang, where we reached the furthest point permissible in a vehicle on the west side and were duly rewarded with some cracking birds. Crested Finchbills were plentiful and showed well. We also enjoyed great views of Crimson-breasted Woodpecker, Stripe-breasted Woodpecker, and Greater Yellownape. Several other exciting species were noted, such as Dark-backed Sibia, Rufous-backed Sibia, Mrs. Gould's Sunbird, Black-throated Sunbird, Maroon and Slender-billed Orioles, Common Rosefinch, Grey Treepie, Sultan Tit, Grey-backed and Long-tailed Shrikes, and Streaked Spiderhunter.
A short walk here gave us views of the rare Scarlet-faced Liocichla, a brief Black-faced Bunting, Yellow-cheeked Tit, and frustratingly a Rusty-naped Pitta that called and then hopped into a ditch and out of sight! As we walked along the Burma border we spotted a Burmese Shrike (rather fittingly) and two Eurasian Hoopoes.
In the late morning we descended the mountain, stopping a few times along the way and adding Striated Yuhina, Black Bulbul, Mountain Hawk-Eagle, Crested Honey Buzzard, Crested Treeswift, Blue-winged Minla, Chestnut-flanked White-eye, and Chestnut Bunting.
After a break during the middle of the day we headed in the late afternoon to the Thaton rice paddies once more and again found some very nice birds. Some of the more exciting ones included an adult male Pied Harrier, Pallas's Grasshopper Warbler, Chestnut-eared Bunting, Bluethroat, Citrine Wagtail, Pin-tailed Snipe, and Brown-cheeked Rail.
Day 21, 16th February 2019. Fang to Chiang Saen
Today we left Fang and drove into the mountains on the Thai-Myanmar border, where we visited a small but pretty arboretum. Here we had only one bird on our minds, and after a short wait we were rewarded by incredibly close views of the highly-sought Rusty-naped Pitta. What a bird! Here we also saw Black-breasted Thrush, Silver Pheasant, Eyebrowed Thrush, and Grey-backed Shrike.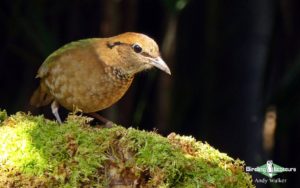 To get any view of Rusty-naped Pitta is good, but to get views out in the open, like we had, was
incredible, and a definite tour highlight.
After this final stint in the mountains we drove down to Chiang Saen and spent an enjoyable final afternoon birding around the lake. Here we enjoyed several species of waterfowl, including Indian Spot-billed Duck, Ruddy Shelduck, Garganey, Eurasian Wigeon, Ferruginous Duck, Tufted Duck, Little and Great Crested Grebes, Grey-headed Swamphen, Eurasian Coot, and Pheasant-tailed Jacana. Several other birds were seen around the edge of the lake, such as Striated Grassbird, Freckle-breasted Woodpecker, Lesser Coucal, and Burmese Shrike.
And then we ended the tour in style by sitting in a hide and watching hundreds of Pied Harriers and Eastern Marsh Harriers coming into a marsh to roost. Many of the former chose to land right in front of the hide, affording some incredible views of what many consider the best-looking harrier in the world. This was one fabulous avian treat and one that will not be forgotten anytime soon. For good measure we even also spotted a couple of Western Marsh Harriers, a rarity in Thailand.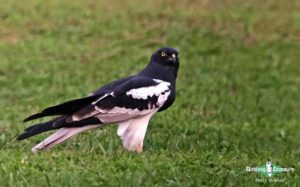 One of the best-looking raptors on the planet, and we had incredibly close, perched views of over
25 Pied Harriers while plenty more (around 100) flew around overhead. An amazing spectacle
to end the tour!
Day 22, 17th February 2019. Travel from Chiang Saen to Chiang Mai, then flight to Bangkok
On our last full day we drove from Chiang Saen to Chiang Mai and then boarded our afternoon flight back to Bangkok. Here we had our final meal of the tour and discussed potential 'Bird of the Trip' species, of which there was a large number of possibilities. Several species were mentioned as personal favorites, including Long-tailed Broadbill, Blue Pitta, Rusty-naped Pitta, Black-headed Woodpecker, Limestone Wren-babbler, Greater Spotted Eagle, Silver Pheasant, Slaty-bellied Tesia, and Common Green Magpie. 
Day 23, 18th February 2019. Tour concluded with international departures
The group departed at various times during the day as this set-departure tour ended.
Please see the downloadable PDF above with the full species lists included.