01 – 12 AUGUST 2023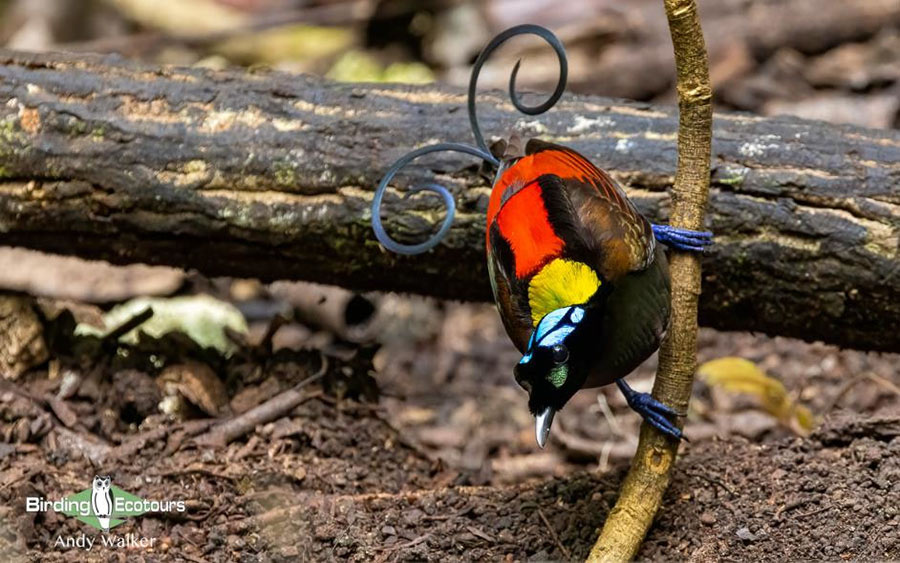 The spectacular Wilson's Bird-of-paradise put on an incredible show for us.
Overview

This Indonesian bird tour visited the West Papua and Southwest Papua provinces and started in Manokwari on the 1st of August 2023 and ended in Sorong on the 12th of August 2023. During the tour, our birding was focused on the Arfak Mountains and the island of Waigeo. Both areas are rightly world-renowned for their spectacular birds-of-paradise and endemic birds, and our attention was firmly set on finding as many of these jewels as possible. We recorded 211 species on the tour (16 of these heard only – most of these while in birds-of-paradise blinds). Trip lists follow the report. The list of highlights was very long and included 13 birds-of-paradise seen, these were: Wilson's Bird-of-paradise, Magnificent Bird-of-paradise, Red Bird-of-paradise, King Bird-of-paradise, Western Parotia, Crescent-caped Lophorina, Black Sicklebill, Black-billed Sicklebill, Magnificent Riflebird, Long-tailed Paradigalla, Arfak Astrapia, Trumpet Manucode, and Glossy-mantled Manucode.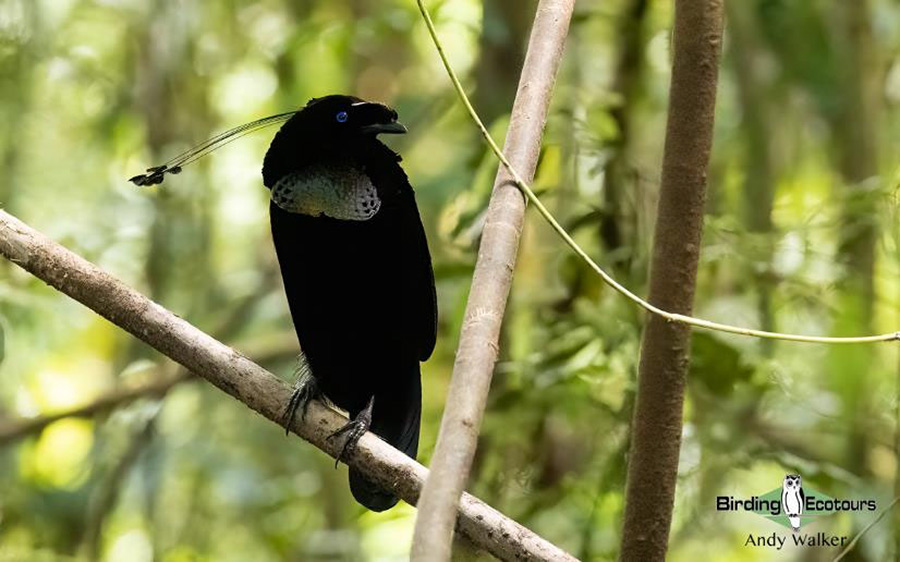 Western Parotia gave us some excellent views.
Other exciting highlights included Vogelkop Owlet-nightjar, Mountain Owlet-nightjar, Papuan Frogmouth, Gurney's Eagle, Swamp Harrier (possibly a first for West Papua!), Blyth's Hornbill, (Western) Ornate Fruit Dove, White-bibbed (Mountain) Fruit Dove, Pesquet's Parrot (New Guinea Vulturine Parrot), Palm Cockatoo, Papuan Eclectus, Moluccan King Parrot, Papuan Lorikeet, Black Lory, Common Paradise Kingfisher, Rufous-bellied Kookaburra, Beach Kingfisher, Papuan Dwarf Kingfisher, Hooded Pitta, Papuan Pitta, Masked Bowerbird, Vogelkop Bowerbird, Arfak Catbird, Emperor Fairywren, Papuan Treecreeper, Spotted Jewel-babbler, Raja Ampat Pitohui, Mottled Berryhunter, Tit Berrypecker, Papuan Grassbird, Vogelkop Melidectes, Arfak Honeyeater, Grey Crow, Brown-headed Crow, Vogelkop Scrubwren, and Grey-banded Mannikin.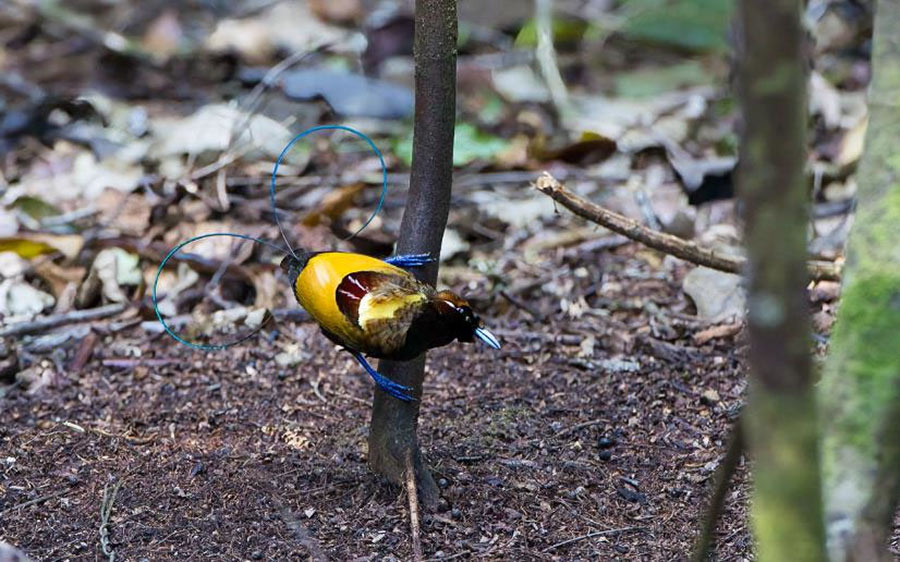 Magnificent Bird-of-paradise put on an amazing show for us and was voted one of the top birds on the tour (photo by tour participant, Chris Hill).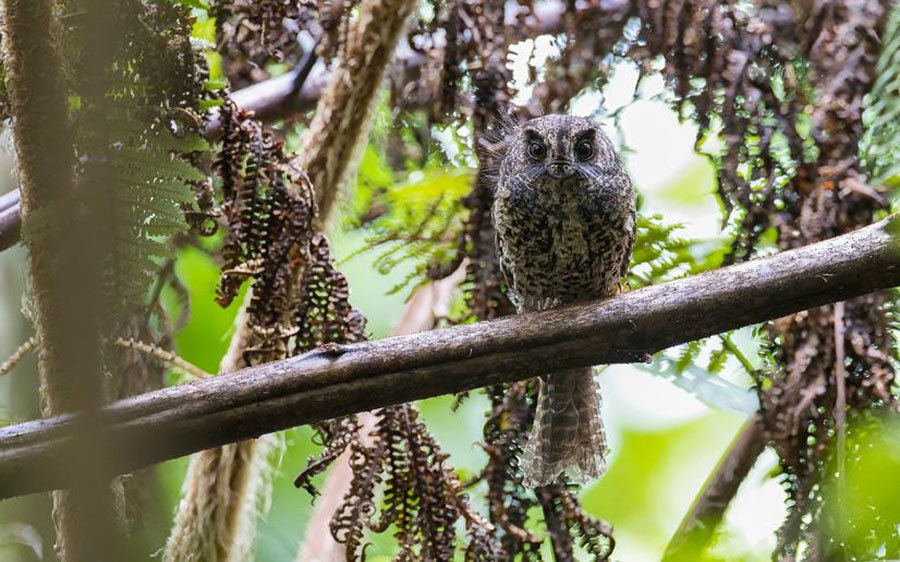 Mountain Owlet-nightjar in the Arfak Mountains (photo by tour participant, Chris Hill).
Detailed Report
Day 1, 1st August 2023. Arrival in Manokwari, West Papua, Indonesia
An arrival day in Manokwari, West Papua. We enjoyed our welcome dinner together and discussed what we were hoping to see on this West Papua bird tour.
Day 2, 2nd August 2023. Birding Manokwari and travel to the Arfak Mountains
We started the tour with some birding near Manokwari in an area of degraded forest. Several doves and pigeons were noted, including Pink-spotted Fruit Dove, Papuan Mountain Pigeon, Sultan's Cuckoo-Dove, and Great Cuckoo-Dove, with several other fleetingly glimpsed birds getting away from us. Northern Variable Pitohui were vocal but, typically, did not show well. Some of us had brief views of Black Sunbird and Olive-backed Sunbird and several kingfishers were heard distantly (Hook-billed Kingfisher, Rufous-bellied Kookaburra, and Yellow-billed Kingfisher). A couple of male Blyth's Hornbills flew over, their heavy wingbeats giving their presence away. We also saw New Guinea Friarbird, Spangled Drongo, Northern Fantail, Tawny-breasted Honeyeater, Streak-headed Mannikin, and a perched Sulphur-crested Cockatoo. A few heard only species included Lesser Bird-of-paradise and Black Butcherbird. In terms of raptors, a Brahminy Kite soared along the road, we had a close hunting Oriental Hobby zoom through carrying some food, and Grey-headed Goshawk shot through at eye-level, it was so close that some of us could see the red bare parts! Not a bad effort in tough conditions and all before breakfast.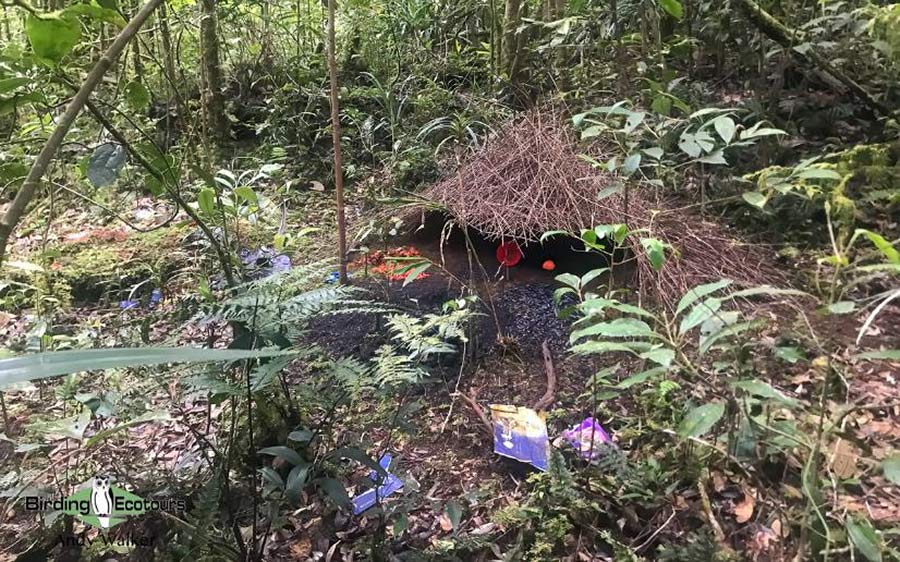 The Vogelkop Bowerbird's bower is a seriously impressive sight!
After breakfast and a bit of a break in the late morning to sort our gear out for our mountain expedition, we headed up into the Arfak Mountains, where we arrived, set up our rooms and then had lunch. The afternoon was spent birding near our accommodation in the birder-friendly village of Mingre. We kicked our list off here with some great birds, including roosting Vogelkop Owlet-nightjar and Mountain Owlet-nightjar, along with Black Sicklebill (female), and the extraordinary Vogelkop Bowerbird at its incredible bower.
Day 3, 3rd August 2023. Birding the Arfak Mountains
We took a long hike down through the forest from our village base in the dark (with Greater Sooty Owl calling a few times) and got ourselves into position in a bird hide (bird blind) and sat and waited. A Western Parotia was calling hidden above us, and a Green-backed Robin hopped briefly into view. We were there primarily for the parotia, and after a bit of a wait the male bird dropped down into view and after a little while longer came down onto the ground and displayed for us – what an amazing sight. See the image in the trip report summary above for a shot of the bird just after he'd finished displaying. As we were sat in the hide we also had Arfak Catbird, Spotted Jewel-babbler, Black-breasted Boatbill, Goldenface, Vogelkop Scrubwren, and Large Scrubwren make brief appearances, while Black-billed Sicklebill and Crescent-caped Lophorina were calling overhead.
As we walked back to our village after enjoying the displaying Western Parotia, we found several other species, including White-bibbed (Mountain) Fruit Dove, Papuan Lorikeet, Vogelkop Bowerbird, Arfak Honeyeater, Vogelkop Melidectes, Papuan Treecreeper, Friendly Fantail, Black Fantail, Goldenface, and Slaty Robin.
Unfortunately, most of the afternoon was rained off. A Magnificent Bird-of-paradise was glimpsed by some but then the heavens opened and that was the end of that. A few other species, such as White-faced Robin, Green-backed Robin, Black Fantail, and Papuan Mountain Pigeon were noted, but conditions continued to deteriorate until nightfall.
Day 4, 4th August 2023. Birding the Arfak Mountains
We had an extremely thrilling morning in the Arfak Mountains near our village. We entered the forest in the dark after an early breakfast and made our way down a gentle slope to a bird blind. We based ourselves in the blind for most of the morning and the list of highlights was long and included great and very close views of four species of birds-of-paradise: Crescent-caped Lophorina, Black-billed Sicklebill, Black Sicklebill, and Western Parotia. While waiting for the birds-of-paradise to come into our viewpoint we spotted several other exciting birds, these included Arfak Catbird, Vogelkop Bowerbird, Moluccan King Parrot, Papuan Lorikeet, Vogelkop Melidectes, Ornate Melidectes, Mountain Myzomela, Red-collared Myzomela, Papuan Monarch, and Green-backed Robin. On the edge of the forest over a snack and drink break we found Vogelkop Whistler, Black-throated Robin, and the attractive Canary Flyrobin.
Moving on to a roadside viewpoint we waited around for a short while to see what we could find, with highlights including the huge Blyth's Hornbill, stunning Masked Bowerbird, and a flock of Papuan Mountain Pigeons, while Trumpet Manucode, Lesser Bird-of-paradise, and Magnificent Bird-of-paradise were all calling way down below us but not possible to see. Unfortunately, just after our morning birding session, the rain started and persisted all afternoon.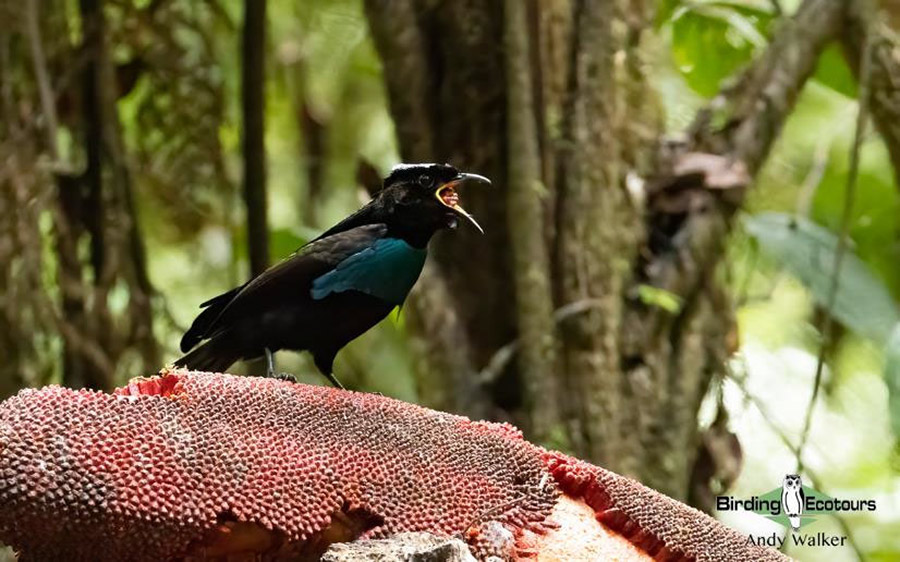 A male Crescent-caped Lophorina came down and fed on some fruit right in front of us. It was very shy, but what a spectacular bird.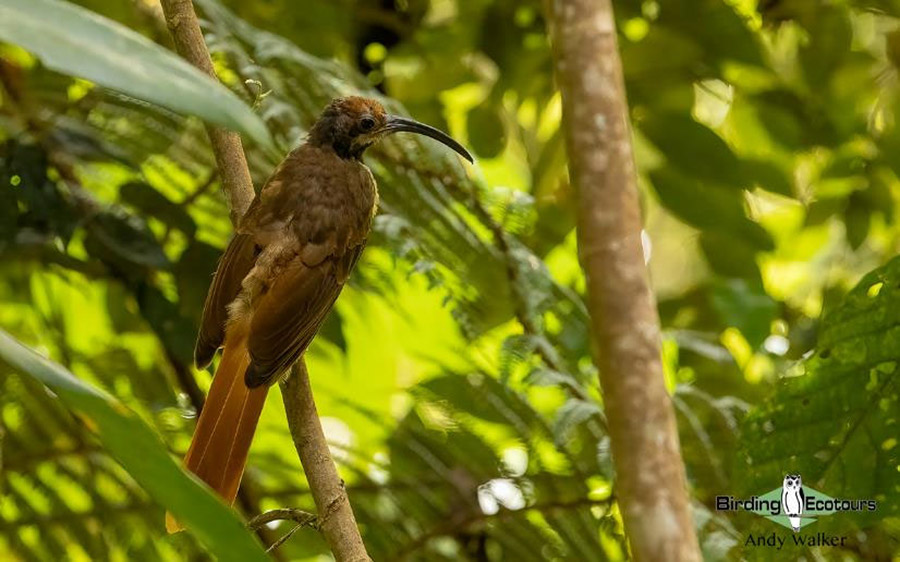 We enjoyed some amazing views of Black-billed Sicklebill, a species usually high in the canopy, this one dropped nice and low to give some eye-level views.
Day 5, 5th August 2023. Birding the Arfak Mountains
Some of the group commenced the long hike up into the higher zone of the Arfak Mountains. We took the full morning to get to our very basic overnight campsite, birding along the way, with some of the top targets seen including Long-tailed Paradigalla, Mottled Berryhunter, Vogelkop Melidectes, Cinnamon-browed Melidectes, Spotted Honeyeater, Arfak Honeyeater, Rufous-sided Honeyeater, Marbled Honeyeater, Crimson-collared Myzomela, Mountain Myzomela, Tit Berrypecker, Pygmy Lorikeet, Yellow-billed Lorikeet, White-shouldered Fairywren, Rufous-naped Bellbird, Black-breasted Boatbill, Friendly Fantail, Island Leaf Warbler, and Black-fronted White-eye. Unfortunately, continuing the recent trend, the afternoon was a total washout, but we were satisfied with our great morning's bird sightings and had an early night.
Those staying at the middle elevations enjoyed plenty of good birds too, with their highlights from the morning watching an incredible display between five Magnificent Birds-of-paradise. These birds put on quite the show. They visited Anggi Lakes in the late morning where they found the top target, the highly range-restricted Grey-banded Mannikin, along with a great record of Swamp Harrier – potentially the first record for New Guinea's "Bird's Head Peninsula" and West Papua! Other good birds included Papuan Grassbird and Tricolored Grebe.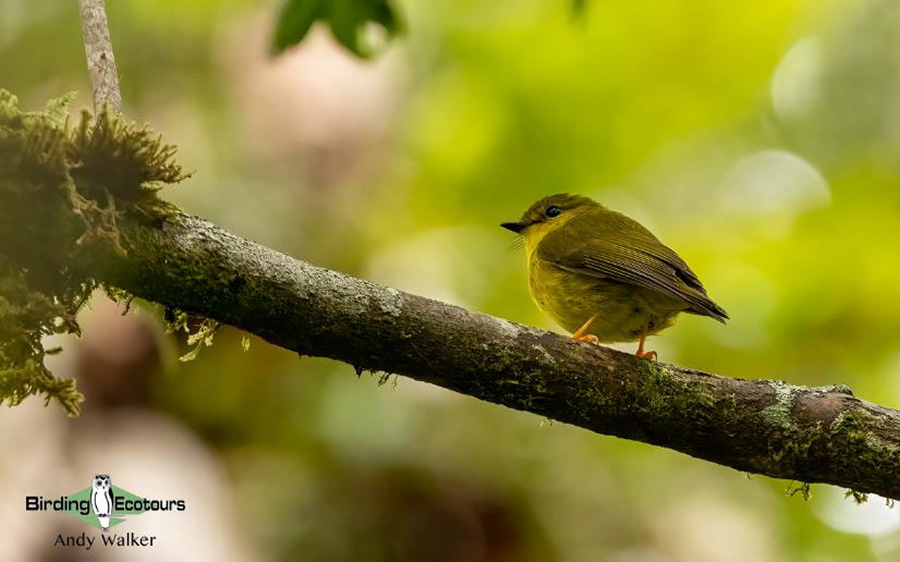 The rather cute and tiny Canary Flyrobin was seen well on many occasions in the Arfaks.
Day 6, 6th August 2023. Birding the Arfak Mountains and travel to Manokwari
The group birding in the middle elevations of the Arfak Mountains headed to a couple of different spots and racked up some more great birds, including Pesquet's Parrot (New Guinea Vulturine Parrot), Grey Crow, Long-tailed Honey Buzzard, Golden Monarch, Crescent-caped Lophorina, Magnificent Bird-of-paradise, Black-billed Sicklebill, and much more.
Those of us camping in the high elevation zone thankfully woke up to a dry, yet windy, morning (it had rained heavily for most of the night) and headed out early into the beautiful mossy forest. While birding in the forest we searched for, then found an Arfak Astrapia adult feeding a young bird. This large bird-of-paradise gave some good views and was the last of our major bird-of-paradise targets in the region. The immediate area also gave us Black Sicklebill (female), (Western) Ornate Fruit Dove, White-bibbed (Mountain) Fruit Dove, Yellow-billed Lorikeet, Vogelkop Bowerbird, Dimorphic Fantail, Friendly Fantail, Regent Whistler, Canary Flyrobin, and Black-breasted Boatbill.
A short while later, as we were admiring the view over the forest, we had an incredible flyover from a male Black Sicklebill that passed low over our heads. We had been listening to the birds' impressive far-carrying calls for the previous couple of hours and so it was a great ending to our time on the higher reaches of the mountain. We then made the walk off the mountain, which was rather slippery and slow-going after all the rain over the previous night. It was a pleasure to be back up the mountain and birding in a truly beautiful forest with some of the best birds of West Papua all around us.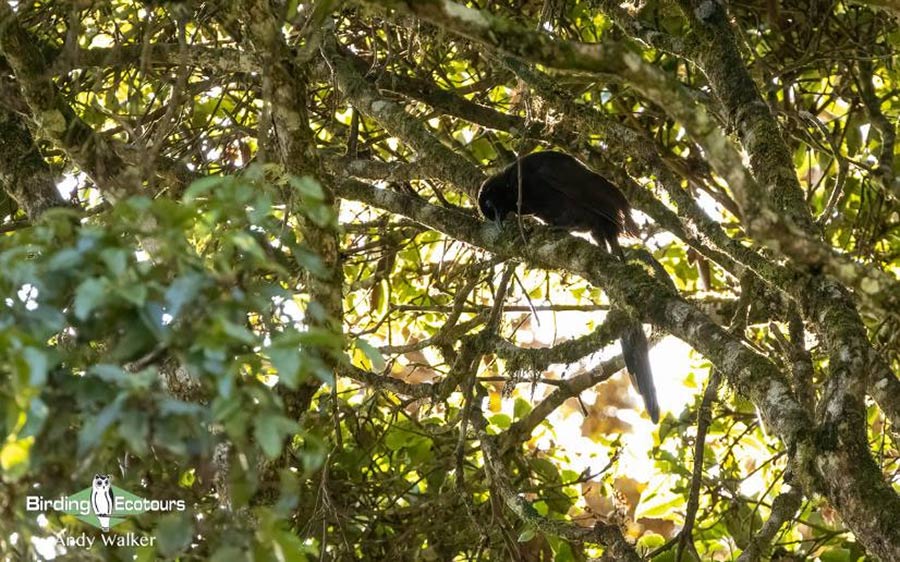 The range-restricted Arfak Astrapia was the highlight from the high elevation zone.
Reluctantly, after a final lunch, we said goodbye to our village team after another enjoyable stay. The villagers really went out of their way to help us, as always, by building trails and blinds, cooking good food, helping carry gear, guide us through the forest, help us on the tougher trails, and generally look after us throughout our stay and we were all truly grateful for everything they had done for us. We spent the night back in Manokwari and enjoyed a nice warm shower and prepared for the next leg of our Papuan birding tour.
Day 7, 7th August 2023. Manokwari to Sorong, birding the mangroves near Sorong
In the morning we took the short flight from Manokwari to Sorong and had some free time to rest during the hot part of the day.
In the afternoon we visited some nearby mangroves where we found a few new birds, including Emperor Fairywren, Orange-fronted Fruit Dove, Intermediate Egret, Striated Heron, Sacred Kingfisher, Oriental Dollarbird, Rainbow Bee-eater, Brown-backed Honeyeater, Willie Wagtail, Torresian Crow, Singing Starling, and Scaly-breasted Munia, along with several other species we had seen before, such as Glossy Swiftlet, Uniform Swiftlet, Pacific Swallow, and Olive-backed Sunbird.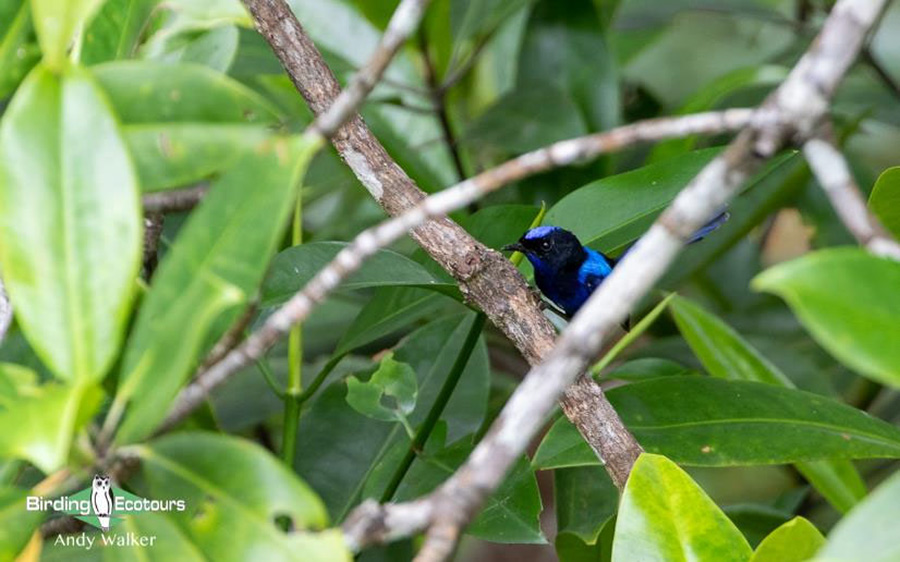 Emperor Fairywren gave fleeting views as it remained deep in the mangroves.
Day 8, 8th August 2023. Birding near Malagufuk (Klasow Valley) and travel to Waigeo
An exciting morning was spent birding in the Malagufuk area and was definitely worth the early start from Sorong, as we enjoyed one of the best morning's birding of the tour. We spent time around the car park first thing, and feasted on many new and exciting species, with top highlights including Pesquet's Parrot (New Guinea Vulturine Parrot), Palm Cockatoo, Black Lory, Black-capped Lory, Papuan Eclectus, Large Fig Parrot, Orange-crowned Hanging Parrot, Papuan Spine-tailed Swift, Orange-bellied Fruit Dove, Pinon's Imperial Pigeon, Zoe's Imperial Pigeon, Oriental Dollarbird, Yellow-faced Myna, Metallic Starling, and Rufous-bellied Kookaburra. Several huge Blyth's Hornbills flew overhead too – what a bird!
We then shifted focus to the birds-of-paradise and over the course of the next few hours enjoyed excellent views of King Bird-of-paradise, Trumpet Manucode, and Magnificent Riflebird. What a joy to hear them calling and watch them displaying – such incredible birds.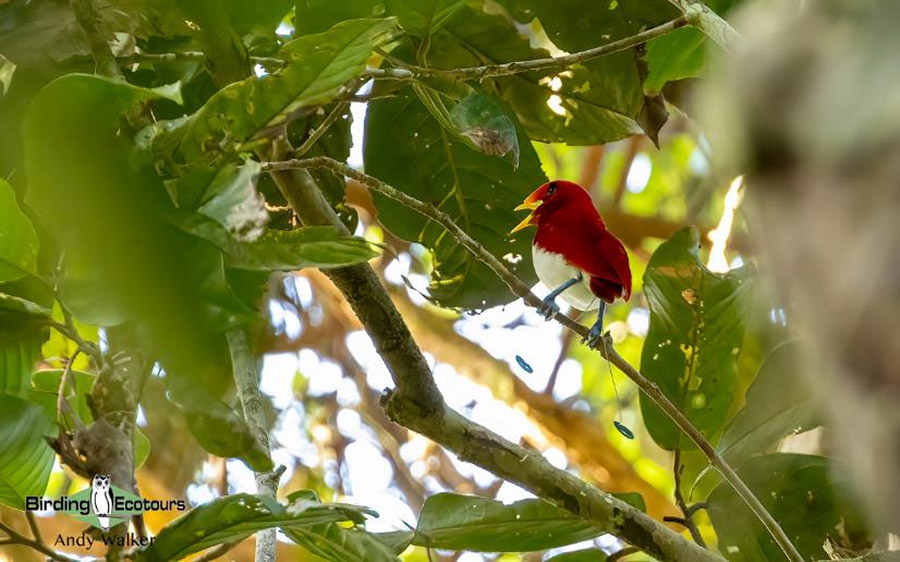 King Bird-of-paradise showed well in the mid-canopy. What a striking bird.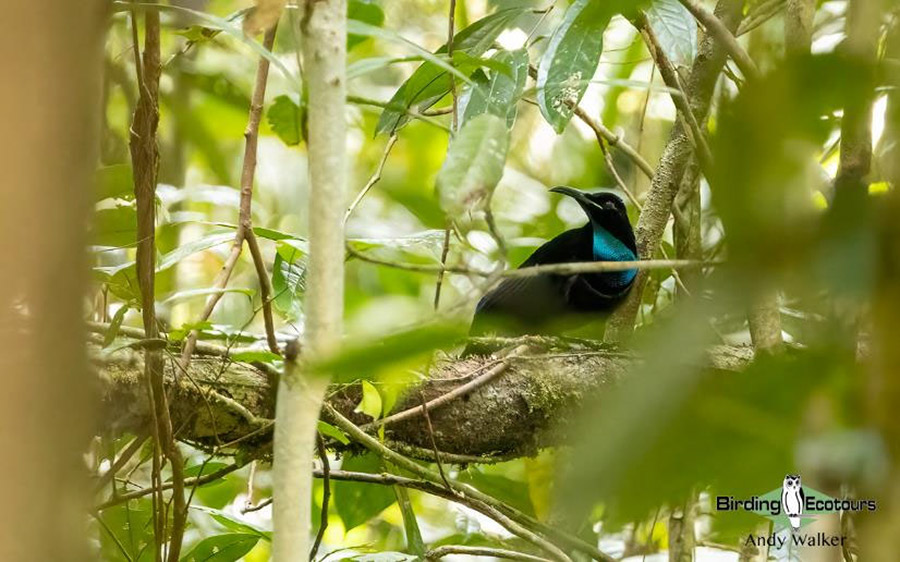 We enjoyed watching the gorgeous Magnificent Riflebird on a display perch deep in the forest.
As we entered the forest, we found plenty more birds, including Hooded Pitta, Sooty Thicket Fantail, Chestnut-bellied Fantail, Northern Fantail, Frilled Monarch, Yellow-breasted Boatbill, Olive Flyrobin, Black-sided Robin, Arafura Shrikethrush, Puff-backed Honeyeater, Papuan Dwarf Kingfisher, Yellow-capped Pygmy Parrot, Moluccan King Parrot, Red-flanked Lorikeet, Pacific Baza, Long-tailed Honey Buzzard, and Golden Myna.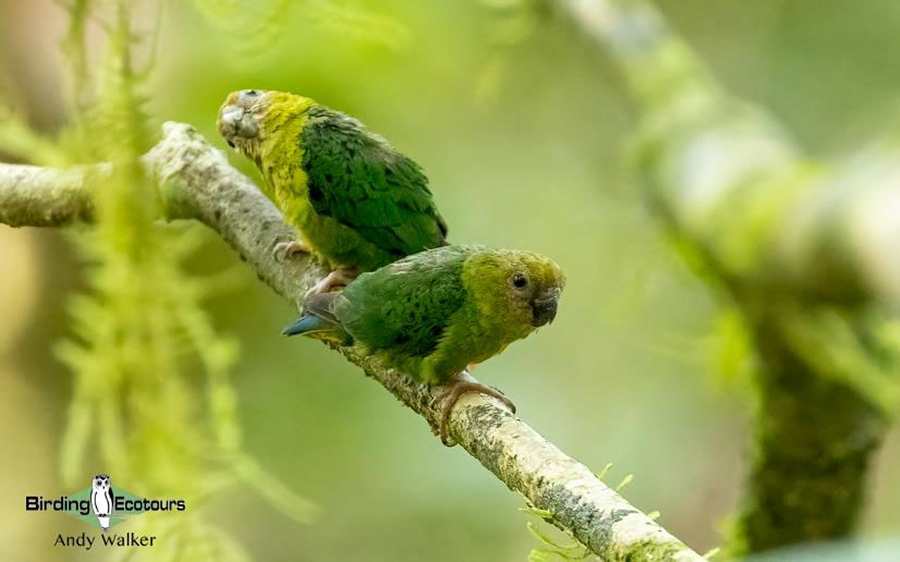 This pair of miniscule Yellow-capped Pygmy Parrots showed well.
After a great morning we very reluctantly left the site to get back to Sorong in time for lunch in the city and to then catch the afternoon ferry to Waigeo, part of the Raja Ampat Islands. On arrival in Waigeo, we headed straight to our accommodation, noting a few interesting birds along the way, such as Grey-headed Goshawk, Hooded Butcherbird, Spice Imperial Pigeon, Pied Imperial Pigeon, Pinon's Imperial Pigeon, and Moustached Treeswift.
Day 9, 9th August 2023. Birding on Waigeo Island
We had another early start and hiked deep into some forest to try and see Red Bird-of-paradise. It was a tough hike and, unfortunately, the wind was a little high when we got to the spot. Although birds were heard, they were not seen. We would have to hope for our luck to improve during our stay on the island. We descended the hill and got into some blinds in a gully where in no time at all our spirits were lifted as we found ourselves eyeball-to-eyeball with Wilson's Bird-of-Paradise, one of the best-looking birds in the world (and a rather unique one at that). We spent a good amount of time with this most sought-after of birds-of-paradise. A remarkable bird, see the trip report cover photo.
After our bird-of-paradise session we continued picking up different species in the forest in the morning and early afternoon, with species including Raja Ampat Pitohui, Rusty Pitohui, Rufous-bellied Kookaburra, Golden Monarch, Frilled Monarch, Black-sided Robin, Hooded Butcherbird, Black Butcherbird, Tawny-breasted Honeyeater, Puff-backed Honeyeater, Papuan Pitta, Yellow-bellied Longbill, Rusty Mouse-warbler, and Green-backed Gerygone. We also saw a couple of female Red Birds-of-paradise briefly as they were foraging (with more males heard distantly).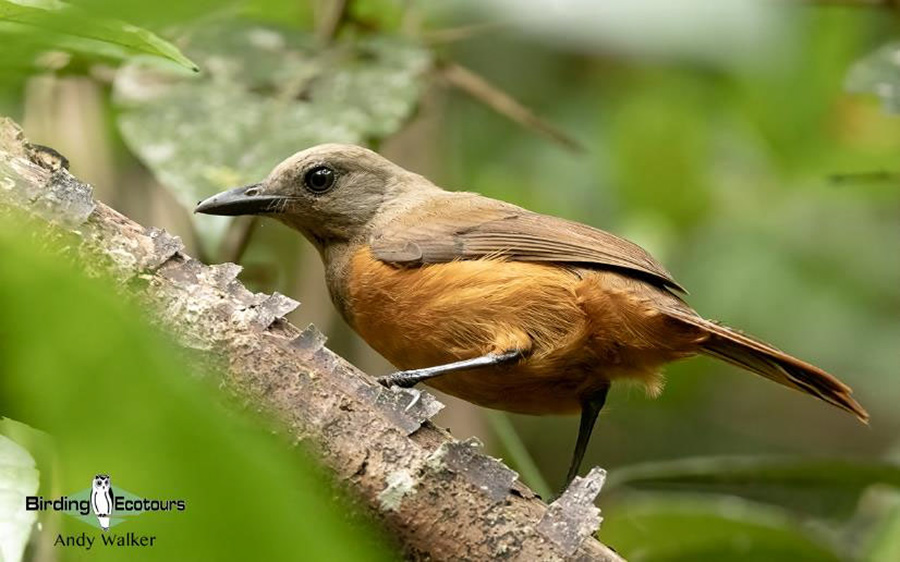 We had great looks at localized Raja Ampat Pitohui while birding on Waigeo.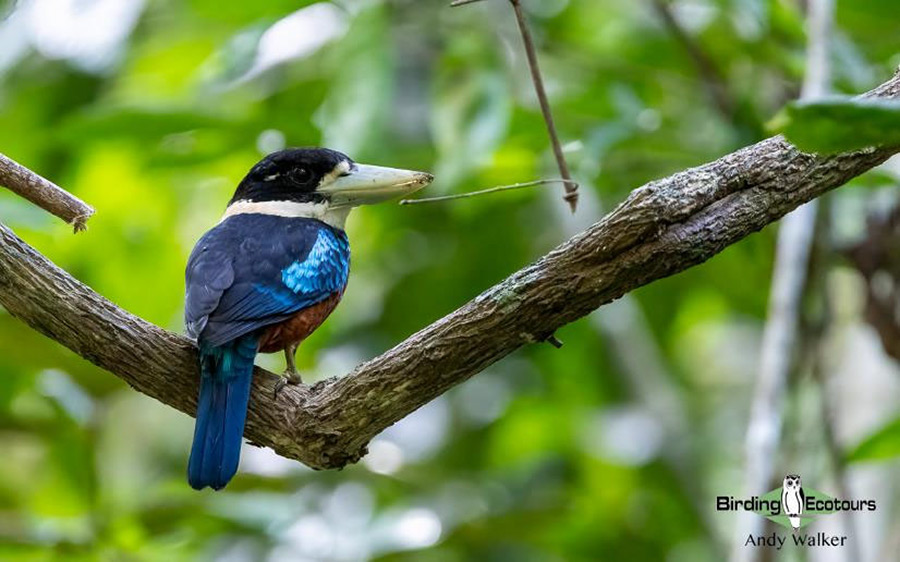 Rufous-bellied Kookaburra was a popular large kingfisher that showed nicely.
In the afternoon we spent some time around our dive resort and some more open areas (mudflats with forest views). Here we added lots of interesting birds, such as Papuan Eclectus (nesting), Red-cheeked Parrot, Sulphur-crested Cockatoo, Great-billed Parrot, Gurney's Eagle, White-bellied Sea Eagle, Pink-spotted Fruit Dove, Claret-breasted Fruit Dove, Pinon's Imperial Pigeon, Spice Imperial Pigeon, Pied Imperial Pigeon, Oriental Dollarbird, Moustached Treeswift, Lesser Frigatebird, Beach Kingfisher, and Sacred Kingfisher. It was nice to see some shorebirds (waders) and other waterbirds too, and we found Pacific Golden Plover, Eurasian Whimbrel, Grey-tailed Tattler, Common Sandpiper, Little Egret, Striated Heron, and Pacific Reef Heron.
Day 10, 10th August 2023. Birding on Waigeo Island and Kri Island
We had another early start (with Papuan Frogmouth in the car park) to get to a different Red Bird-of-paradise lek site and again it was a little too windy for the birds to display. One sat out of sight behind us calling but just would not come out into view. We then spent some time at a bird blind where some of the group were lucky enough to glimpse a Papuan Pitta that came through a couple of times. A Black-sided Robin showed well here, while a pair of Brown-headed Crows and several Blyth's Hornbills flew over and a few Red-cheeked Parrots gave good views.
Late in the morning we took a speedboat over some rather lumpy water to nearby Kri Island. We arrived a little wetter than when we set off but soon dried off given the heat! We took a walk around the dive resort grounds and found several exciting birds, such as Common Paradise Kingfisher, Dusky Megapode, Violet-necked Lory, Claret-breasted Fruit Dove, Shining Flycatcher, Singing Starling, Moluccan Starling, Mimic Honeyeater, and had great views of Glossy-mantled Manucode, a rather distinctive bird-of-paradise.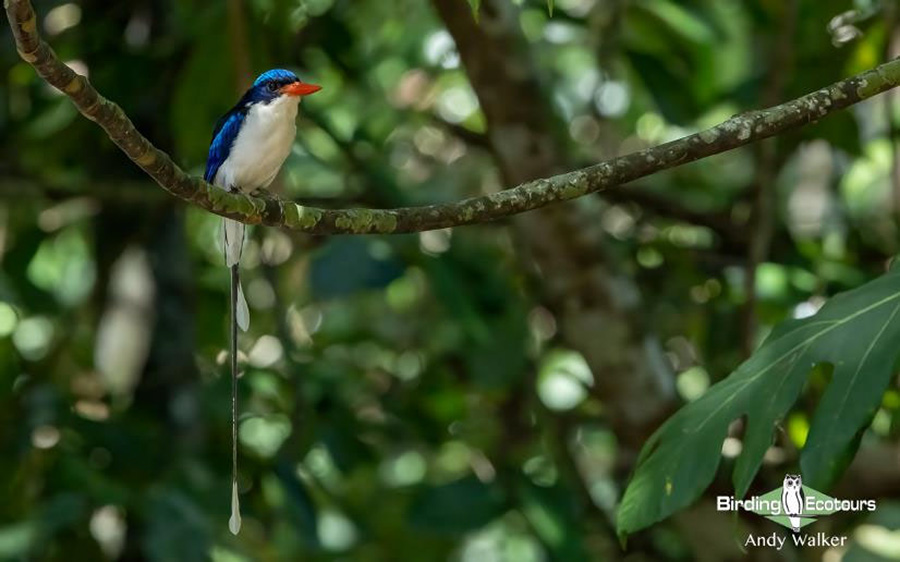 This gorgeous Common Paradise Kingfisher gave excellent close and unconcerned views.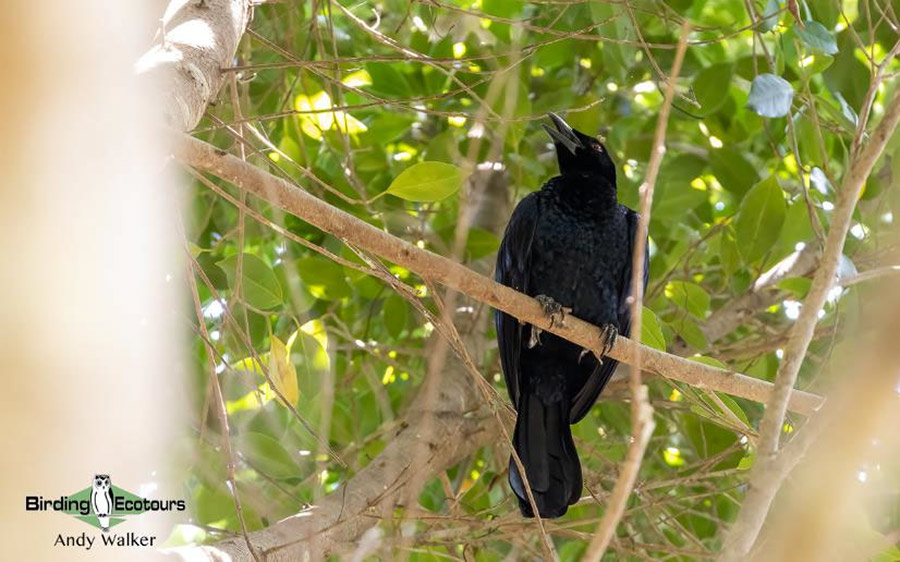 This Glossy-mantled Manucode was quietly resting in the canopy during the middle of the day.
Before a delicious lunch, several of the group went for a snorkeling session on the impressive reef and on the way back to Waigeo we found a feeding group of seabirds which included Black-naped Tern, Common Tern, Bridled Tern, Lesser Frigatebird, and Bulwer's Petrel.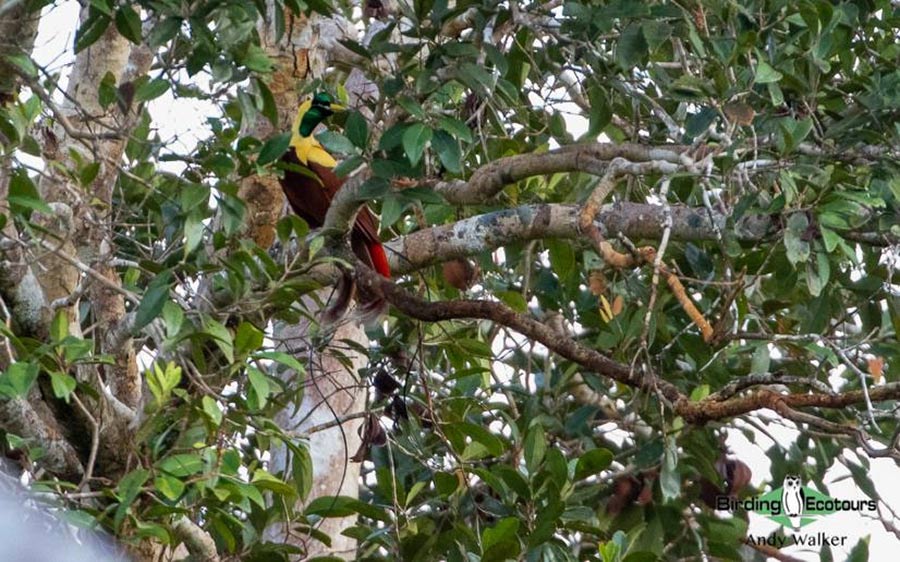 A stunning male Red Bird-of-paradise showed briefly, but mainly remained hidden.
In the afternoon we walked back to the Red Bird-of-paradise lek site, it was a little less windy than the morning birding session and after a short wait a stunning adult male flew in and gave a brief showing. A short while later three female/young male birds flew in and showed for a bit more of a prolonged view. Satisfied with the views we headed back to our dive resort for dinner.
Day 11, 11th August 2023. Birding on Waigeo Island and travel to Sorong
We had a final morning birding on Waigeo before catching the ferry back to Sorong. Some of the group went back to the bird hides to watch Wilson's Bird-of-paradise. One group saw a pair of birds mating and another group had a super close and showy male. A wonderful way to end the tour. Some of the group did some roadside birding near the dive resort, getting some great looks at Coconut Lorikeet, Papuan Eclectus, Red-cheeked Parrot, Sulphur-crested Cockatoo, Grey-headed Goshawk, Pinion's Imperial Pigeon, Claret-breasted Fruit Dove, Rufous-bellied Kookaburra, Moustached Treeswift, Spangled Drongo, Hooded Butcherbird, Brown-headed Crow, Torresian Crow, Yellow-faced Myna, Singing Starling, Oriental Dollarbird, Black Sunbird, Olive-crowned Flowerpecker, a flock of Glossy-mantled Manucodes, including several birds displaying, and a female Red Bird-of-paradise high in a tree.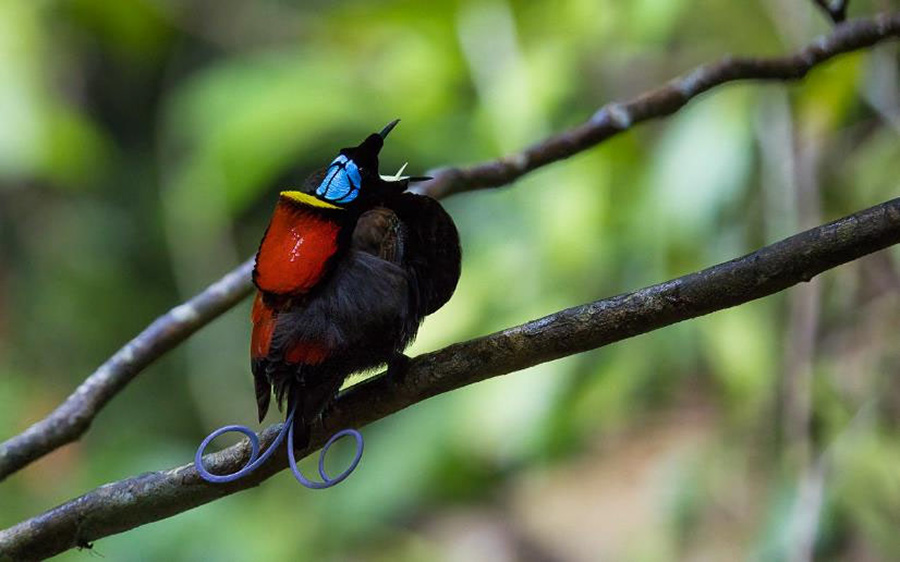 Wilson's Bird-of-paradise gave excellent close views (photo by tour participant, Chris Hill).
We enjoyed a wonderfully joyous final group dinner together in Sorong, reliving the many highlights from this exciting tour. The birds were the main feature on the tour, but the people we met along the way made a lasting impression on us all and will live just as long in our memories as the stunning birds we had seen. We had fun running through possible "bird of the trip" contenders, not an easy task given what had unfolded over the previous days, but several birds-of-paradise (unsurprisingly) came out on top and included Magnificent Bird-of-paradise, Wilson's Bird-of-paradise, Western Parotia, and Arfak Astrapia. The first three on the list had put on remarkable displays for us to watch and the fourth species a fine result after some tough physical exertion to get up the mountain to look for it.
Day 12, 12th August 2023. Tour concluded with departure from Sorong
A non-birding day with everyone departing for onward travel in the morning. A huge thank you must go out to our excellent local team of guides, porters, cooks, drivers, etc., for helping make the tour run so smoothly, we are already excited to return next year. Another huge thank you to all the tour participants for making this such an enjoyable trip!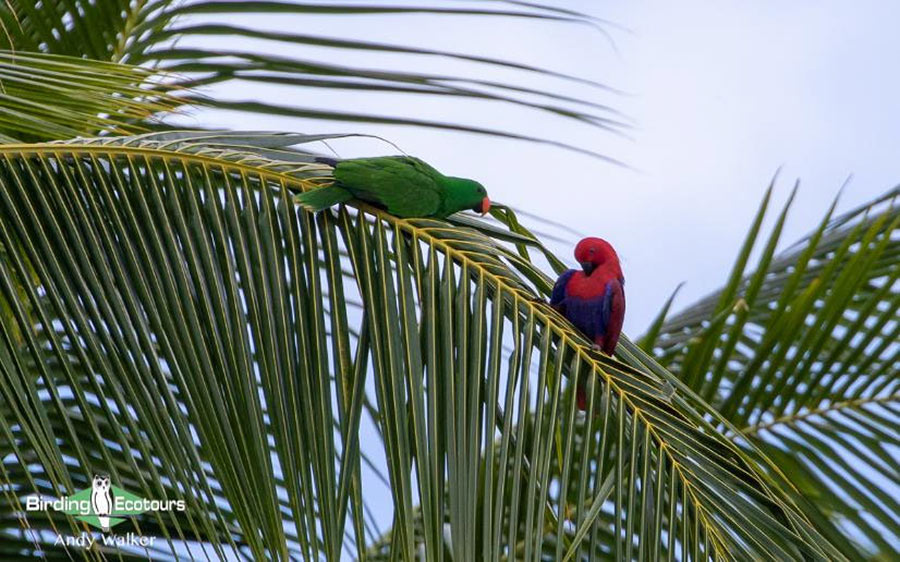 Papuan Eclectus was a popular parrot which was enjoyed daily on Waigeo.
Bird List – Following IOC (13.2)
Birds 'heard only' are marked with (H) after the common name, all other species were seen. The following notation after species names is used to show conservation status following BirdLife International: VU = Vulnerable.
Common Name
Scientific Name
Megapodes (Megapodiidae)
Red-billed Brushturkey (H)
Talegalla cuvieri
Dusky Megapode
Megapodius freycinet
Frogmouths (Podargidae)
Marbled Frogmouth (H)
Podargus ocellatus
Papuan Frogmouth
Podargus papuensis
Owlet-nightjars (Aegothelidae)
Mountain Owlet-nightjar
Aegotheles albertisi
Vogelkop Owlet-nightjar
Aegotheles affinis
Treeswifts (Hemiprocnidae)
Moustached Treeswift
Hemiprocne mystacea
Swifts (Apodidae)
Glossy Swiftlet
Collocalia esculenta
Mountain Swiftlet
Aerodramus hirundinaceus
Uniform Swiftlet
Aerodramus vanikorensis
Papuan Spine-tailed Swift
Mearnsia novaeguineae
Cuckoos (Cuculidae)
Ivory-billed Coucal (H)
Centropus menbeki
Pacific Koel (H)
Eudynamys orientalis
Channel-billed Cuckoo
Scythrops novaehollandiae
Shining Bronze Cuckoo (H)
Chrysococcyx lucidus
Chestnut-breasted Cuckoo
Cacomantis castaneiventris
Brush Cuckoo
Cacomantis variolosus
Pigeons, Doves (Columbidae)
Rock Dove (Feral Pigeon)
Columba livia [dom]
Spotted Dove
Spilopelia chinensis
Sultan's Cuckoo-Dove
Macropygia doreya
Bar-tailed Cuckoo-Dove
Macropygia nigrirostris
Great Cuckoo-Dove
Reinwardtoena reinwardti
Wompoo Fruit Dove (H)
Ptilinopus magnificus
Pink-spotted Fruit Dove
Ptilinopus perlatus
Ornate Fruit Dove
Ptilinopus ornatus
Orange-fronted Fruit Dove
Ptilinopus aurantiifrons
White-bibbed Fruit Dove
Ptilinopus rivoli
Claret-breasted Fruit Dove
Ptilinopus viridis
Orange-bellied Fruit Dove
Ptilinopus iozonus
Spice Imperial Pigeon
Ducula myristicivora
Purple-tailed Imperial Pigeon (H)
Ducula rufigaster
Rufescent Imperial Pigeon (H)
Ducula chalconota
Pinon's Imperial Pigeon
Ducula pinon
Zoe's Imperial Pigeon
Ducula zoeae
Pied Imperial Pigeon
Ducula bicolor
Papuan Mountain Pigeon
Gymnophaps albertisii
Flufftails (Sarothruridae)
White-striped Forest Rail
Rallicula leucospila
Rails, Crakes & Coots (Rallidae)
Barred Rail
Hypotaenidia torquata
Pale-vented Bush-hen
Amaurornis moluccana
Grebes (Podicipedidae)
Tricolored Grebe
Tachybaptus tricolor
Plovers (Charadriidae)
Pacific Golden Plover
Pluvialis fulva
Sandpipers, Snipes (Scolopacidae)
Eurasian Whimbrel
Numenius phaeopus
Common Sandpiper
Actitis hypoleucos
Grey-tailed Tattler
Tringa brevipes
Gulls, Terns, Skimmers (Laridae)
Greater Crested Tern
Thalasseus bergii
Bridled Tern
Onychoprion anaethetus
Black-naped Tern
Sterna sumatrana
Common Tern
Sterna hirundo
Whiskered Tern
Chlidonias hybrida
Petrels, Shearwaters, Diving Petrels (Procellariidae)
Bulwer's Petrel
Bulweria bulwerii
Frigatebirds (Fregatidae)
Lesser Frigatebird
Fregata ariel
Herons, Bitterns (Ardeidae)
Yellow Bittern
Ixobrychus sinensis
Striated Heron
Butorides striata
Intermediate Egret
Ardea intermedia
Little Egret
Egretta garzetta
Pacific Reef Heron
Egretta sacra
Ospreys (Pandionidae)
Osprey
Pandion haliaetus
Kites, Hawks, Eagles (Accipitridae)
Pacific Baza
Aviceda subcristata
Long-tailed Honey Buzzard
Henicopernis longicauda
Gurney's Eagle
Aquila gurneyi
Variable Goshawk
Accipiter hiogaster
Black-mantled Goshawk
Accipiter melanochlamys
Grey-headed Goshawk
Accipiter poliocephalus
Swamp Harrier
Circus approximans
Brahminy Kite
Haliastur indus
White-bellied Sea Eagle
Haliaeetus leucogaster
Barn Owls (Tytonidae)
Greater Sooty Owl (H)
Tyto tenebricosa
Owls (Strigidae)
Papuan Boobook (H)
Ninox theomacha
Hornbills (Bucerotidae)
Blyth's Hornbill
Rhyticeros plicatus
Rollers (Coraciidae)
Oriental Dollarbird
Eurystomus orientalis
Kingfishers (Alcedinidae)
Hook-billed Kingfisher (H)
Melidora macrorrhina
Common Paradise Kingfisher
Tanysiptera galatea
Rufous-bellied Kookaburra
Dacelo gaudichaud
Beach Kingfisher
Todiramphus saurophagus
Sacred Kingfisher
Todiramphus sanctus
Yellow-billed Kingfisher (H)
Syma torotoro
Papuan Dwarf Kingfisher
Ceyx solitarius
Bee-eaters (Meropidae)
Rainbow Bee-eater
Merops ornatus
Caracaras, Falcons (Falconidae)
Oriental Hobby
Falco severus
Cockatoos (Cacatuidae)
Palm Cockatoo
Probosciger aterrimus
Sulphur-crested Cockatoo
Cacatua galerita
Old World Parrots (Psittaculidae)
Pesquet's Parrot – VU
Psittrichas fulgidus
Yellow-capped Pygmy Parrot
Micropsitta keiensis
Moluccan King Parrot
Alisterus amboinensis
Papuan Eclectus
Eclectus polychloros
Red-cheeked Parrot
Geoffroyus geoffroyi
Blue-collared Parrot
Geoffroyus simplex
Great-billed Parrot
Tanygnathus megalorynchos
Plum-faced Lorikeet
Oreopsittacus arfaki
Pygmy Lorikeet
Charminetta wilhelminae
Red-flanked Lorikeet
Hypocharmosyna placentis
Papuan Lorikeet
Charmosyna papou
Yellow-billed Lorikeet
Neopsittacus musschenbroekii
Black-capped Lory
Lorius lory
Black Lory
Chalcopsitta atra
Violet-necked Lory
Eos squamata
Coconut Lorikeet
Trichoglossus haematodus
Large Fig Parrot
Psittaculirostris desmarestii
Blue-fronted Fig Parrot
Cyclopsitta gulielmitertii
Double-eyed Fig Parrot
Cyclopsitta diophthalma
Orange-fronted Hanging Parrot
Loriculus aurantiifrons
Pittas (Pittidae)
Papuan Pitta
Erythropitta macklotii
Hooded Pitta
Pitta sordida
Bowerbirds (Ptilonorhynchidae)
Arfak Catbird
Ailuroedus arfakianus
Vogelkop Bowerbird
Amblyornis inornata
Masked Bowerbird
Sericulus aureus
Australasian Treecreepers (Climacteridae)
Papuan Treecreeper
Cormobates placens
Australasian Wrens (Maluridae)
Emperor Fairywren
Malurus cyanocephalus
White-shouldered Fairywren
Malurus alboscapulatus
Honeyeaters (Meliphagidae)
Rufous-sided Honeyeater
Ptiloprora erythropleura
Brown-backed Honeyeater
Ramsayornis modestus
Arfak Honeyeater
Melipotes gymnops
Marbled Honeyeater
Pycnopygius cinereus
Mountain Myzomela
Myzomela adolphinae
Red-collared Myzomela
Myzomela rosenbergii
New Guinea Friarbird
Philemon novaeguineae
Spotted Honeyeater
Xanthotis polygrammus
Tawny-breasted Honeyeater
Xanthotis flaviventer
Puff-backed Honeyeater
Meliphaga aruensis
Scrub Honeyeater
Microptilotis albonotatus
Mimic Honeyeater
Microptilotis analogus
Cinnamon-browed Melidectes
Melidectes ochromelas
Vogelkop Melidectes
Melidectes leucostephes
Ornate Melidectes
Melidectes torquatus
Australasian Warblers (Acanthizidae)
Goldenface
Pachycare flavogriseum
Rusty Mouse-warbler
Origma murina
Mountain Mouse-warbler (H)
Origma robusta
Pale-billed Scrubwren
Aethomyias spilodera
Vogelkop Scrubwren
Aethomyias rufescens
Large Scrubwren
Sericornis nouhuysi
Brown-breasted Gerygone
Gerygone ruficollis
Green-backed Gerygone
Gerygone chloronota
Berrypeckers, Longbills (Melanocharitidae)
Yellow-bellied Longbill
Toxorhamphus novaeguineae
Painted Berrypeckers (Paramythiidae)
Tit Berrypecker
Oreocharis arfaki
Jewel-babblers, Quail-thrushes (Cinclosomatidae)
Spotted Jewel-babbler
Ptilorrhoa leucosticta
Blue Jewel-babbler (H)
Ptilorrhoa caerulescens
Boatbills (Machaerirhynchidae)
Yellow-breasted Boatbill
Machaerirhynchus flaviventer
Black-breasted Boatbill
Machaerirhynchus nigripectus
Woodswallows, Butcherbirds & Allies (Artamidae)
White-breasted Woodswallow
Artamus leucorynchus
Mountain Peltops
Peltops montanus
Black Butcherbird
Melloria quoyi
Hooded Butcherbird
Cracticus cassicus
Mottled Berryhunter (Rhagologidae)
Mottled Berryhunter
Rhagologus leucostigma
Cuckooshrikes (Campephagidae)
Boyer's Cuckooshrike
Coracina boyeri
Black-bellied Cuckooshrike
Edolisoma montanum
Black-browed Triller
Lalage atrovirens
Australo-Papuan Bellbirds (Oreoicidae)
Rufous-naped Bellbird
Aleadryas rufinucha
Whistlers & Allies (Pachycephalidae)
Vogelkop Whistler
Pachycephala meyeri
Grey Whistler
Pachycephala simplex
Regent Whistler
Pachycephala schlegelii
Rusty Pitohui
Pseudorectes ferrugineus
Arafura Shrikethrush
Colluricincla megarhyncha
Figbirds, Old World Orioles, Piopios (Oriolidae)
Northern Variable Pitohui
Pitohui kirhocephalus
Raja Ampat Pitohui
Pitohui cerviniventris
Hooded Pitohui
Pitohui dichrous
Brown Oriole
Oriolus szalayi
Drongos (Dicruridae)
Spangled Drongo
Dicrurus bracteatus
Fantails (Rhipiduridae)
Willie Wagtail
Rhipidura leucophrys
Northern Fantail
Rhipidura rufiventris
Sooty Thicket Fantail
Rhipidura threnothorax
Black Fantail
Rhipidura atra
Chestnut-bellied Fantail
Rhipidura hyperythra
Friendly Fantail
Rhipidura albolimbata
Dimorphic Fantail
Rhipidura brachyrhyncha
Monarchs (Monarchidae)
Black Monarch
Symposiachrus axillaris
Golden Monarch
Carterornis chrysomela
Frilled Monarch
Arses telescopthalmus
Shining Flycatcher
Myiagra alecto
Crows, Jays (Corvidae)
Brown-headed Crow
Corvus fuscicapillus
Grey Crow
Corvus tristis
Torresian Crow
Corvus orru
Birds-of-paradise (Paradisaeidae)
Glossy-mantled Manucode
Manucodia ater
Trumpet Manucode
Phonygammus keraudrenii
Long-tailed Paradigalla
Paradigalla carunculata
Arfak Astrapia
Astrapia nigra
Western Parotia
Parotia sefilata
Crescent-caped Lophorina
Lophorina niedda
Magnificent Riflebird
Ptiloris magnificus
Black Sicklebill
Epimachus fastosus
Black-billed Sicklebill
Drepanornis albertisi
Magnificent Bird-of-paradise
Diphyllodes magnificus
Wilson's Bird-of-paradise
Diphyllodes respublica
King Bird-of-paradise
Cicinnurus regius
Lesser Bird-of-paradise (H)
Paradisaea minor
Red Bird-of-paradise
Paradisaea rubra
Australasian Robins (Petroicidae)
White-faced Robin
Tregellasia leucops
Slaty Robin
Peneothello cyanus
Black-sided Robin
Poecilodryas hypoleuca
Black-throated Robin
Plesiodryas albonotata
Ashy Robin
Heteromyias albispecularis
Olive Flyrobin
Kempiella flavovirescens
Canary Flyrobin
Devioeca papuana
Green-backed Robin
Pachycephalopsis hattamensis
Lesser Ground Robin (H)
Amalocichla incerta
Swallows, Martins (Hirundinidae)
Pacific Swallow
Hirundo tahitica
Leaf Warblers (Phylloscopidae)
Island Leaf Warbler
Phylloscopus poliocephalus
Grassbirds & Allies (Locustellidae)
Papuan Grassbird
Cincloramphus macrurus
White-eyes (Zosteropidae)
Black-fronted White-eye
Zosterops chrysolaemus
Capped White-eye
Zosterops fuscicapilla
Starlings, Rhabdornises (Sturnidae)
Metallic Starling
Aplonis metallica
Singing Starling
Aplonis cantoroides
Moluccan Starling
Aplonis mysolensis
Yellow-faced Myna
Mino dumontii
Golden Myna
Mino anais
Flowerpeckers (Dicaeidae)
Olive-crowned Flowerpecker
Dicaeum pectorale
Sunbirds (Nectariniidae)
Black Sunbird
Leptocoma aspasia
Olive-backed Sunbird
Cinnyris jugularis
Old World Sparrows, Snowfinches (Passeridae)
Eurasian Tree Sparrow
Passer montanus
Waxbills, Munias & Allies (Estrildidae)
Streak-headed Mannikin
Mayrimunia tristissima
Scaly-breasted Munia
Lonchura punctulata
Grey-banded Mannikin
Lonchura vana
| | |
| --- | --- |
| Total seen | 195 |
| Total heard only | 16 |
| Total recorded | 211 |
Mammal List
Common Name
Scientific Name
Cuscuses and Brushtail Possums (Phalangeridae)
Northern Common Cuscus
Phalanger orientalis
Bandicoots (Peramelidae)
Common Echymipera
Echymipera kalubu
Old World Mice and Rats (Muridae)
Brown Rat
Rattus norvegicus
Reptile List
Common Name
Scientific Name
Geckos (Gekkonidae)
Common House Gecko
Hemidactylus frenatus
Skinks (Scincidae)
Pacific Bluetail Skink
Emoia caeruleocauda
Azure-tailed Skink
Emoia impar
Littoral Whiptail Skink
Emoia atrocostata
Indonesian Brown Rainbow Skink
Carlia fusca
This is a sample trip report. Please email us ([email protected]) for more trip reports from this destination.