2-day Agulhas Plains (Overberg) Birding Trip
Go to: South Africa Day Tours | Full length South Africa birding tours | Birding Tours in Africa | All our birding tours
2-day Agulhas Plains (Overberg) Birding Trip
This is a trip in which a disproportionate number of large and spectacular birds are encountered. We bird the stronghold of the world's population of Blue Crane (South Africa's national bird) and should see many hundred individuals of this species (sometimes with youngsters in early summer).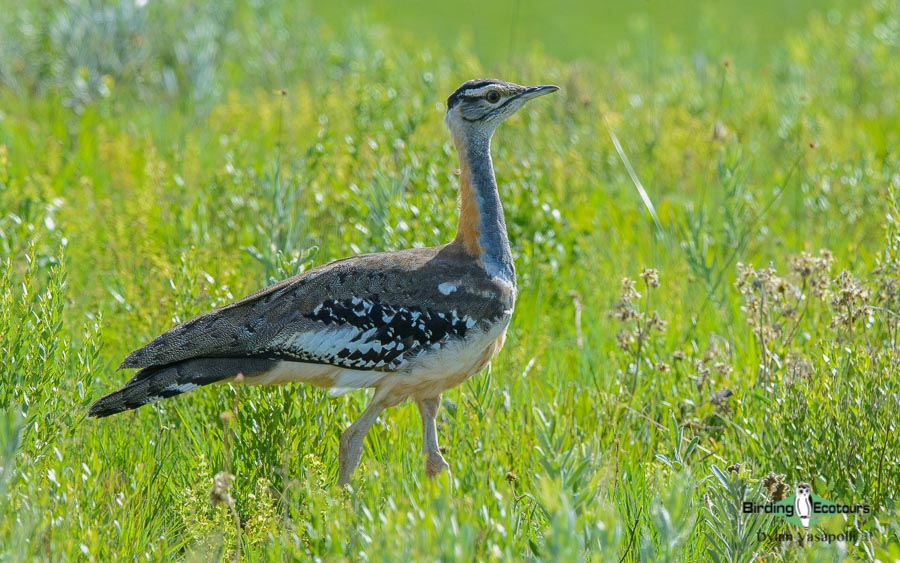 Denham's Bustards are regularly encountered in the farmlands of the Agulhas Plains.
The Agulhas Plains are one of the few areas where Denham's Bustard and Secretarybird are still common. Hundreds of White Storks visit in summer. The stunning, endangered, endemic Black Harrier quarters low over the plains. Jackal Buzzard is common, along with many other raptors that sometimes include Lanner Falcon. The rolling hills and flat plains are also home to two extremely localized lark species, Cape Clapper Lark (with its bizarre breeding display) and Agulhas Long-billed Lark. Other slightly more widespread larks  (but still endemic to southern Africa) such as Large-billed Lark, also abound. We will bird the De Hoop Nature Reserve for Cape Vulture, the uncommon Knysna Woodpecker, Southern Tchagra, a host of waterbirds (including Maccoa Duck and other difficult species) and shorebirds, Grey-winged Francolin, Cape Spurfowl, African Hoopoe, and a host of others.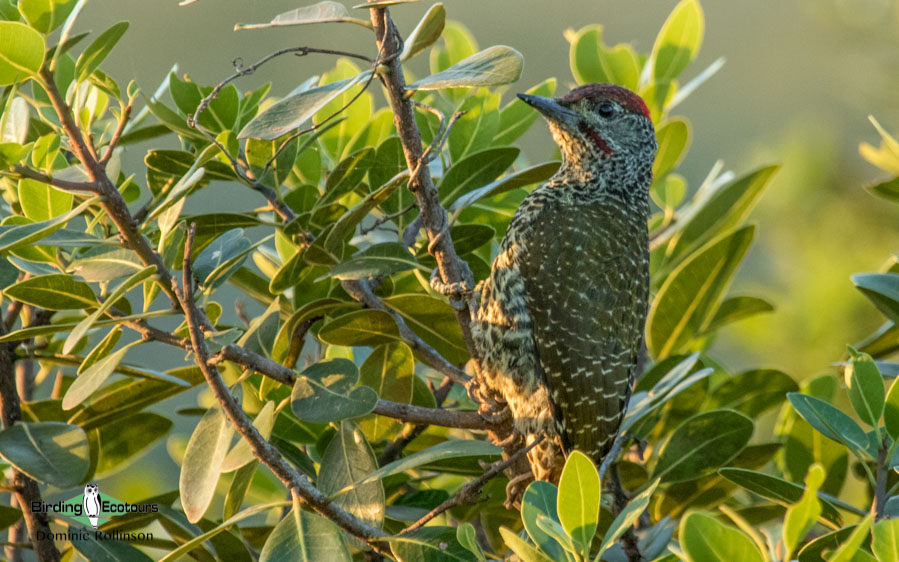 We'll look out for the endemic Knysna Woodpecker in De Hoop Nature Reserve.
Big mammals such as Bontebok, Springbok, the neat Cape Mountain Zebra, and close inshore Southern Right Whale (seasonal) also occur. Our accommodation often hosts resident Western Barn Owl and Spotted Eagle-Owl and Secretarybird in the nearby plains.
For those who are keen to see Fynbos Buttonquail, we can visit a nearby fynbos reserve which hosts this rarely-seen endemic, however please not this involves long walks (often a few hours long) through tough terrain!
Time permitting we can also visit De Mond Nature Reserve for the endangered endemic Damara Tern, a tiny and beautiful species. At this pleasant site we should also find several other species not yet encountered.
We can add a third day to this trip, which will allow us to spend a night at Grootvadersbosch Nature Reserve at the base of the Langeberg Mountains, which form the inland backdrop to the Agulhas Plains. Here we can find good numbers of forest and forest-edge endemics and other desirable species. The exciting list includes Forest Canary, Swee Waxbill, Cape Siskin, Victorin's Warbler, Olive Woodpecker (also Knysna Woodpecker, but we may have already found this on the Agulhas Plains), Narina Trogon, up to three different honeyguide species, Olive Bushshrike, Yellow-fronted Woodland Warbler, the endemic Knysna Warbler, and many others. We would spend the night at the beautiful Honeywood Farm cottages.
The guide for day trips is allocated only after you have booked, as all of them are run as private trips. But we always use the country's top birding guides.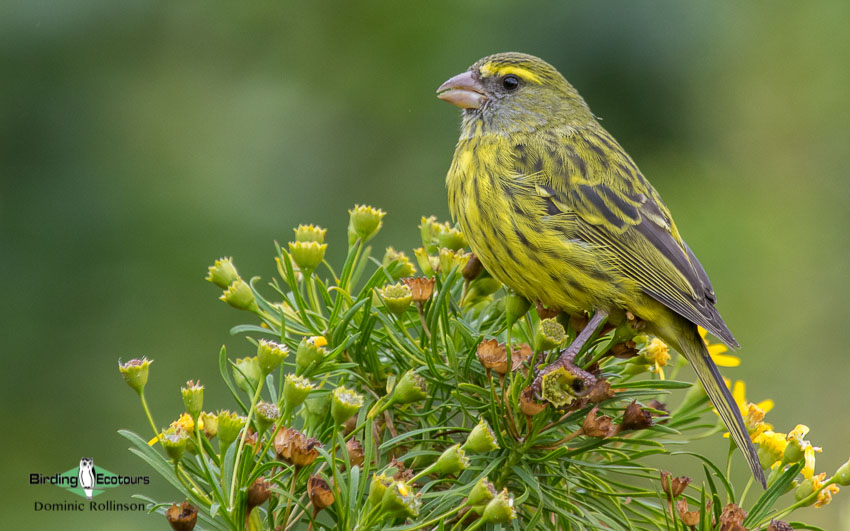 Forest Canary are common in Grootvadersbosch Forest.
Download Summary
South Africa: 2-Day Agulhas Plains Birding Tour Report, March 2022
26 – 27 MARCH 2022
DOWNLOAD TRIP REPORT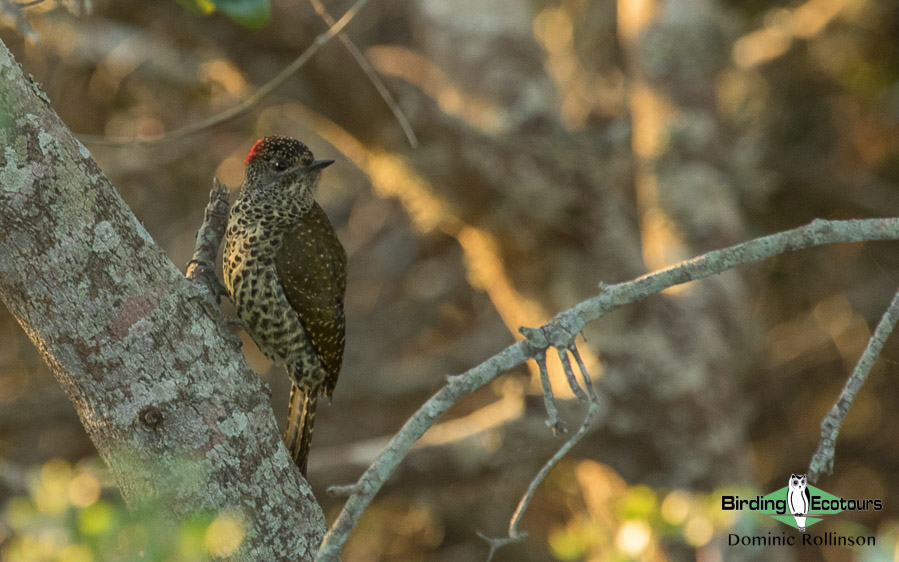 Knysna Woodpecker can be seen with some effort in De Hoop Nature Reserve.
Overview
This short two-day birding trip into the Agulhas Plains (Overberg region) was put together to target a number of specials which are best found in this region, a few of which are endemics or near-endemics to South Africa. Some of these species occur here at their most westerly extent and thus this is the closest they can be seen to Cape Town. This trip was highly successful, with some of the highlights including Horus Swift, Namaqua Sandgrouse, Blue Crane, Denham's Bustard, Karoo Korhaan, Cape Gannet, African Penguin, Cape, Crowned and Bank Cormorants, Secretarybird, Cape Vulture, Knysna Woodpecker, Southern Tchagra, Cape Rockjumper, Agulhas Long-billed, Cape Clapper and Large-billed Larks, Victorin's Warbler, Cape Sugarbird, Orange-breasted Sunbird and Swee Waxbill.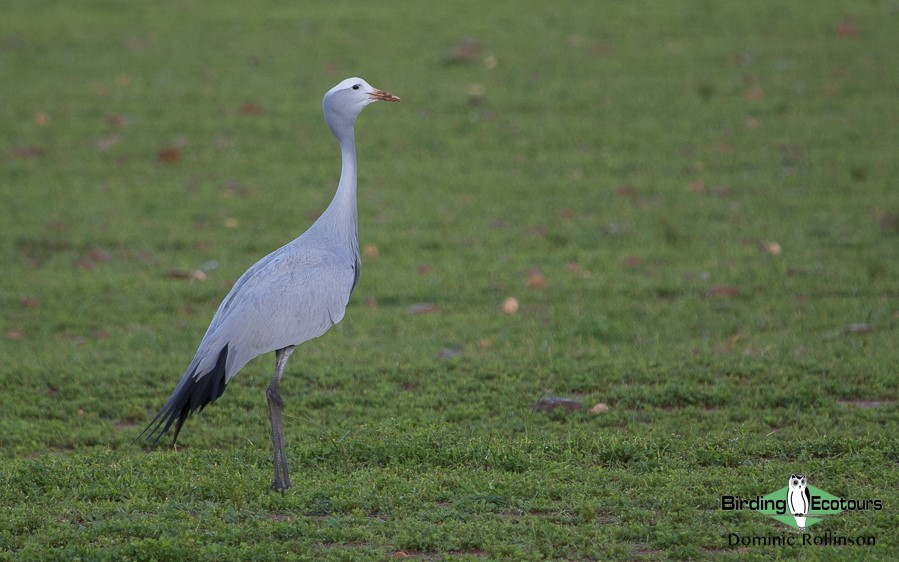 The Agulhas Plains host large numbers of the majestic Blue Crane.
Detailed Report
Day 1, 16th March 2022. Cape Town to De Hoop Nature Reserve
We left Cape Town early and headed east, with our first birding stop being near Sir Lowry's Pass where we hoped to catch up with a certain skulking warbler. Soon after getting out the car, we heard our quarry calling nearby and after much effort we eventually got views of a Victorin's Warbler. We had a few other nice birds in the area including small group of Cape Siskins and a number of Orange-breasted Sunbirds. Our next birding site was a small, quiet farm road near Swellendam. The birding here was excellent and we soon notched up many of our target birds for the area. Standout birds included Blue Crane, Denham's Bustard, Karoo Korhaan, Agulhas Long-billed and Cape Clapper Larks, Capped Wheatear, Pearl-breasted Swallow and a small group of Quailfinches, although these were only heard as they flew high overhead. A few widespread raptors were also seen in the area, such as Black-winged Kite, Common and Jackal Buzzards and Rock Kestrel.
After cleaning up on most of our open-country targets, we carried onto De Hoop Nature Reserve where we would spend the rest of the afternoon. On the outskirts of the nature reserve, we found a few distant Cape Vultures which breed at the nearby Potberg colony. After checking into our accommodation, we immediately headed out and made our way to Koppie Alleen, a large dune which overlooks the Indian Ocean. In early summer this is one of the best places around to look for Southern Right Whales however unfortunately they are not around in late summer. A quick scan out to sea did however produce a few Cape Gannets and many Greater Crested Terns. The drive to and from Koppie Alleen gave us some nice birds such as Long-billed Crombec, Yellow and White-throated Canaries, Cape Bunting, Kittlitz's and White-fronted Plovers, Crowned Lapwing, Bokmakierie and many Common Ostriches. There were of course large numbers of animals around including the likes of the Cape subspecies of Blesbok, known as Bontebok, (Cape) Mountain Zebra, Common Eland, Grey Rhebok, Steenbok and large troops of Chacma Baboons.
We finished off the day with a walk around the campsite, which was relatively quiet although we did find Cape Spurfowl, calling Grey-winged Francolins, African Hoopoe, Fiscal Flycatcher, Great Crested Grebes in the nearby wetland, and great visuals of Fiery-necked Nightjar as it got dark. We enjoyed a tasty South African braai (barbecue) with the nightjars calling in the background, before heading to bed for the night.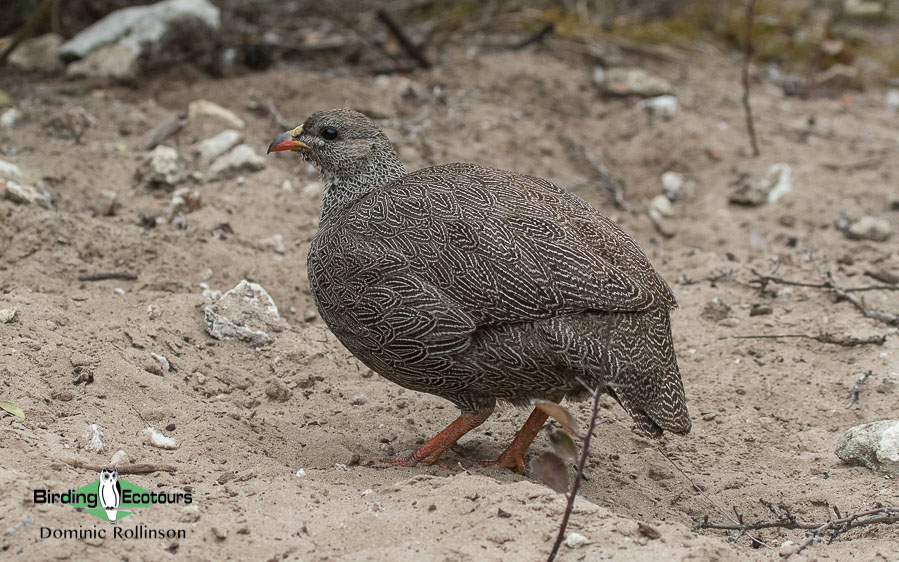 Cape Spurfowl were very common and quite cheeky at times.
Day 2, 27th March. De Hoop Nature Reserve to Cape Town
We awoke just before sunrise and spent the next few hours wandering around the campsite which was incredibly productive. It didn't take long to locate one of our major targets Southern Tchagra, and they actually proved quite numerous in the campsite over the morning. Our next target Knysna Woodpecker took a lot more effort but eventually we were rewarded with point-blank views of a bird as it went about feeding, completely oblivious to our presence. Other good birds here included the likes of Horus, Alpine, White-rumped and African Black Swifts, Willow Warbler, Spotted Eagle-Owl, Speckled and Red-faced Mousebirds, Bar-throated Apalis, Southern Double-collared Sunbird, Pied Starling and Water Thick-knees along the shoreline. A small flock of Namaqua Sandgrouse were seen as we departed the campsite.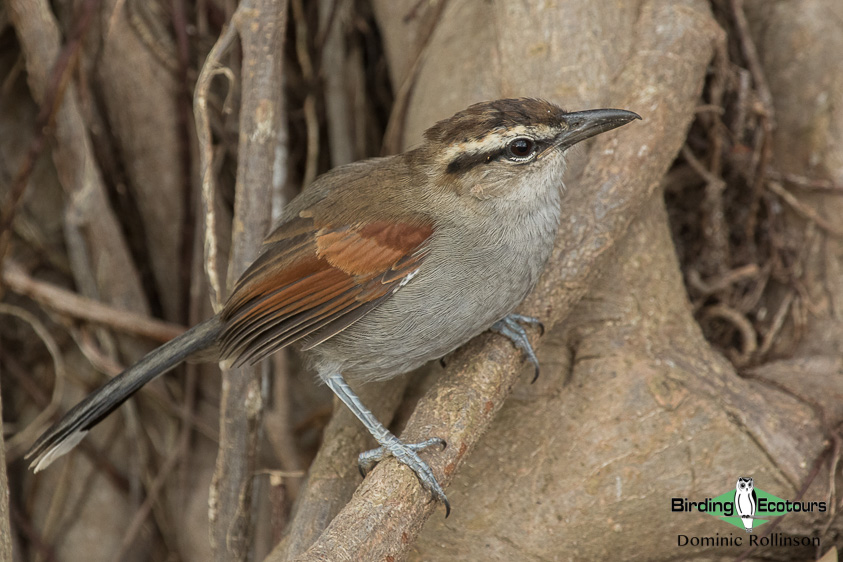 Southern Tchagra was an important target which was rather numerous in De Hoop Nature Reserve.
After having spent most of the morning in the nature reserve we started to make our way back to Cape Town with a number of important birding stops planned en route. Just outside the reserve we had nice views of a circling Secretarybird and a couple of distant Cape Vultures. After a decent drive through the Agulhas Plains, our next stop was near Betty's Bay where we had some very obliging Cape Rockjumpers. We then enjoyed a late lunch in Harold Porter Botanical Garden which gave us nice views of Brimstone Canary, Swee Waxbill and Cape Sugarbird. Next was a brief stop at Stony Point for African Penguin and Bank, Cape, Crowned and White-breasted Cormorants before we pressed onto our final stop at Rooi Els which delivered a cooperative Cape Rock Thrush. From here we headed back to Cape Town and finished the day in the late afternoon after what had been a very pleasant and productive couple days of birding.
DOWNLOAD TRIP REPORT
Please see the downloadable PDF above with the full species lists included. This is a sample trip report. Please email us ([email protected]) for more trip reports from this destination.