1-day Dinokeng / Zaagkuilsdrift Birding Tour
Go to: South Africa Day Tours | Full length South Africa birding tours | Birding Tours in Africa | All our birding tours
1-day Dinokeng / Zaagkuilsdrift Birding Tour
After an early collection at your hotel in Johannesburg or Pretoria, we'll head north into prime "bushveld" habitat north of Pretoria. A summer outing here offers over 100 species in a few hours in a morning.
Birds include greater Kalahari specials such as Southern Pied Babbler, Ashy Tit, Chestnut-vented Warbler, White-throated Robin-Chat, Kalahari Scrub Robin, Crimson-breasted Shrike, Shaft-tailed Whydah, Violet-eared Waxbill, and Barred Wren-Warbler. Other common birds we'll probably find are White-browed Sparrow-Weaver, Southern Yellow-billed Hornbill and two other hornbill species, Burchell's Starling, and several beautiful bee-eater and roller species. In summer we may find a number of migrants including Abdim's Stork, Montagu's and Pallid Harriers, Amur Falcon, Lesser Kestrel, African Pygmy Kingfisher, Blue-cheeked and Southern Carmine Bee-eaters and Eurasian Golden Oriole. Towards the end of summer the place comes alive with calling warblers such as River, Icterine, Marsh and Olive-tree as well as Thrush Nightingale and Common Whitethroat.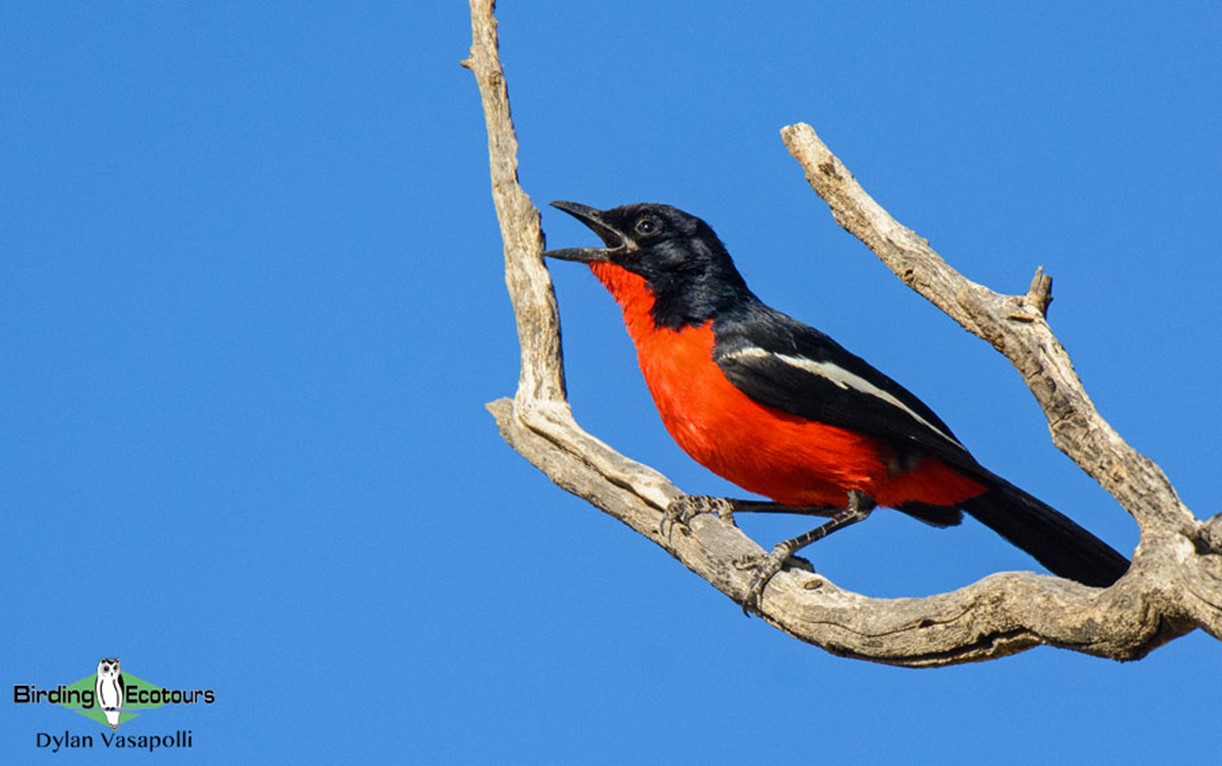 We have good chances of finding the stunning Crimson-breasted Shrike on this day tour.
After heavy rains the floodplain and adjoining grassland harbours large numbers of birds move into the area including Black Heron, Dwarf Bittern, Lesser Moorhen, Allen's Gallinule, Striped, African, Baillon's and Corn Crake, Harlequin Quail, Greater Painted-snipe, Caspian Plover, Black-winged Pratincole and Temminck's Courser. In the adjoining scrub and grasslands we are also likely to find Chestnut-backed Sparrow-Lark, Western Yellow Wagtail, Great Sparrow, Scaly-feathered Weaver, Red-headed Finch, Yellow-crowned Bishop and Red-breasted Swallow.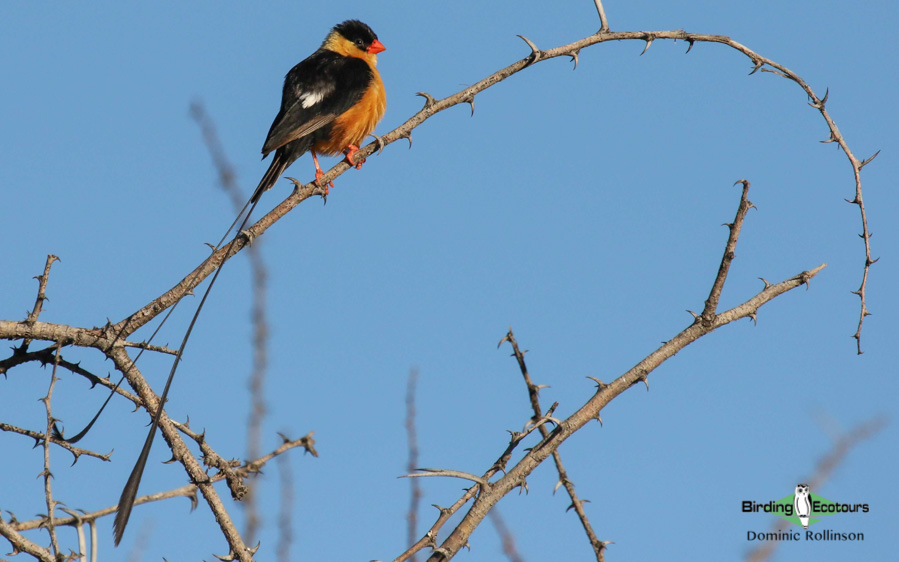 The beautiful Shaft-tailed Whydah can be seen in breeding plumage in the summer months.
After lunch (unless you only want to do a half-day trip), we can travel southwards to visit diverse areas of woodland, wetland, and rocky outcrop. We can visit the Seringveld Conservancy, where Kurrichane Thrush, Striped Kingfisher, and Southern Black Flycatcher are likely. Local specials here include Yellow-fronted Tinkerbird, Bushveld Pipit, Pale Flycatcher, White-throated Robin-Chat, Green-capped Eremomela, and Tinkling Cisticola.
The guide for day trips is allocated only after you have booked, as all of them are run as private trips. But we always use the country's top birding guides.
Download Summary
South Africa: 1-Day Zaagkuilsdrift Birding Tour Report
06 MARCH 2021
DOWNLOAD TRIP REPORT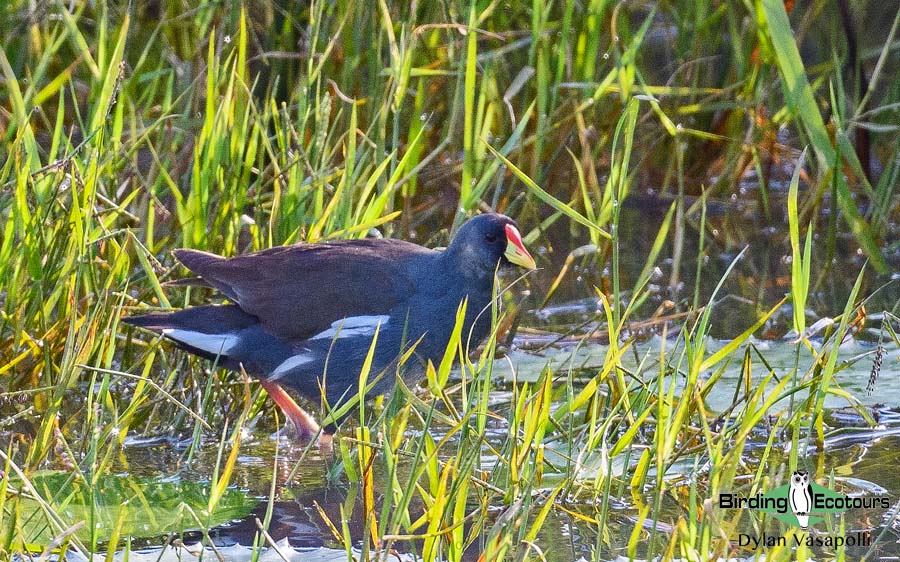 Lesser Moorhen is a special that moves into the area following good rains, and showed well to us on this day tour.
Overview
This Johannesburg/Pretoria, South Africa, birding day tour visits one of the premier South African birding sites, in arguably the best season for this site. While the many dry-land specials can be sought throughout the year, such as Crimson-breasted Shrike, Southern Pied Babbler and Cape Penduline Tit, it is the subtropical and palearctic migrants that visit this area in the summer months that make this area truly exciting. Indeed, these birds would take up most of our focus during this day trip. This site is characterized by acacia woodlands and thickets, along with a vast seasonally inundated floodplain. This season has been a particular wet one, and meant the floodplain was totally inundated, bringing with it a vast number of birds.
This trip was carried out for a large group of seven clients.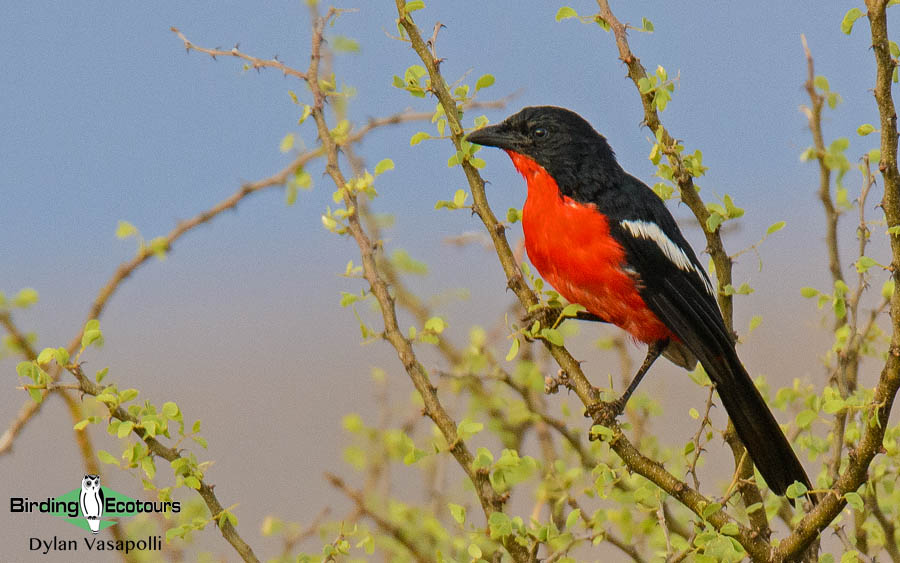 The bright Crimson-breasted Shrike can be found throughout the year.
Detailed Report
We departed Johannesburg early in the morning, and found ourselves on the Zaagkuilsdrift Road at sunrise, where we immediately set out birding. The many palearctic warblers would be our primary focal point, before turning our attention to some of the floodplain specials, and then the resident thornveld species. Our first stop saw us birding the edge of a flooded dam, with a stream of various waterbirds flying overhead. Red-billed Teal, African Darter, Glossy Ibis, Black-crowned Night Heron, Striated Heron, Hamerkop and Pied Kingfisher were all evident. A calling Marsh Warbler refused to show, before we turned our attention to Great Reed Warbler, which gave us brief views. We also managed to get some brief views of a Marsh Warbler, while a calling Common Whitethroat remained unseen. A bout of acacia birding followed, and yielded lively groups of Cape Penduline Tits and Burnt-necked Eremomelas, with more common species such as Marico Flycatcher, Magpie Shrike, White-browed Sparrow-Weaver, Red-billed Buffalo Weaver and Blue Waxbill all seen well.
An extended search for the ever-difficult River Warbler ensued shortly after this. This species is one of the most sought-after specials occurring here, with birds in varying numbers present almost annually. As we set about birding and exploring, we heard no less than four birds calling at various places. However, try as we might, we simply couldn't obtain any views of these master skulkers, despite the birds calling from almost arms-length away at times. Our time here however added other birds such as Levaillant's Cuckoo, Chinspot Batis, Willow Warbler, Grey-backed Camaroptera, White-throated Robin-Chat, Brown-crowned Tchagra, Violet-eared Waxbill, Village Indigobird and Shaft-tailed Whydah. A jaunt down 'crake road' was surprisingly quiet, though we did add Southern Pied Babbler, Crimson-breasted Shrike, Southern White-crowned Shrike and Red-billed Oxpecker, before we heard another River Warbler calling. We tried once more to pry this bird out from its thickets, but were unrewarded with our efforts.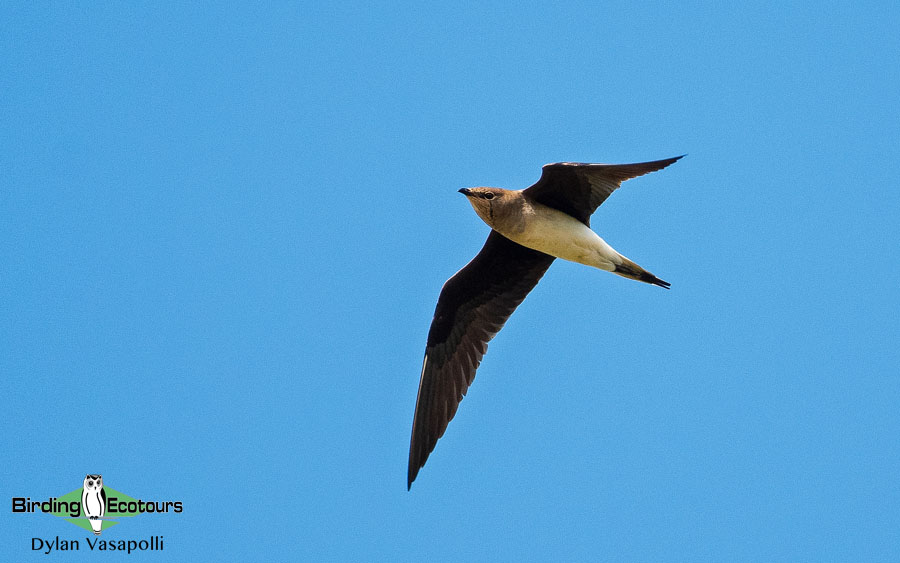 Black-winged Pratincoles were active around the Kgomo Kgomo floodplains.
With the temperature warming up as we approached midday, and bird activity tailing off we stopped for our lunch break in the shade of some trees on the edge of the Kgomo Kgomo floodplain. Groups of Black-winged Pratincoles flying by overhead kept us company during our interlude. We resumed our birding, with our attention turning to the floodplains and surrounding areas. We were finally able to pry a Common Whitethroat out in the open for some good views, before the water birding took over. A group of extremely confiding Lesser Moorhens gave us wonderful views at length, while some of the group latched onto the rare Striped Crake. Try as we might, we weren't able to relocate this bird however. The floodplain proper also gave up a brief Allen's Gallinule sitting atop the vegetation as arguably the most exciting find, but also produced the regionally scarce Marabou Stork, the secretive Sedge Warbler and a shy Little Bittern. More widespread species such as Fulvous and White-faced Whistling Ducks, African Swamphen, Black Crake, African Jacana, Yellow-billed Stork, African Spoonbill, Purple and Black Herons and Malachite Kingfisher, amongst others. The dry plains on the edge of the water added Kittlitz's Plover, Red-capped Lark, African Pipit and Long-tailed Paradise Whydah. Venturing into the acacia woodland we also finally notched up the sought-after Olive-tree Warbler before trying once more to see a River Warbler. Sadly, it just wasn't to be, as we had to be content with hearing the birds only, before calling it a day and making our way back to Johannesburg in the late afternoon.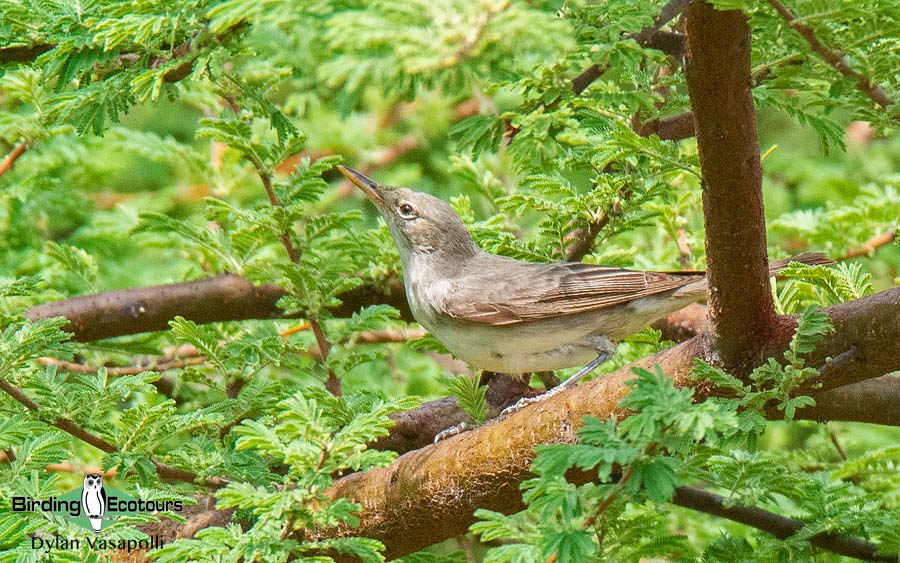 After a concerted effort, we finally located an Olive-tree Warbler.
Despite not seeing any River Warblers, we enjoyed an otherwise successful day out, that produced nearly 150 species of birds – a true testament to the immense birding potential of this area!
DOWNLOAD TRIP REPORT
This is a sample trip report. Please email us ([email protected]) for more trip reports from this destination.
'I did 2 day trips, to Suikerbosrand and Zaagkuilsdrift Road, with Dylan Vasapolli as my guide. I booked this trip at the last minute but Chris Lotz and his team made it possible for me to get the most out of the day trips. I am extremely appreciative of their professionalism with the booking, yet at the same time, very friendly and willing to assist me with my requests.'
Alma