03 – 14 AUGUST 2022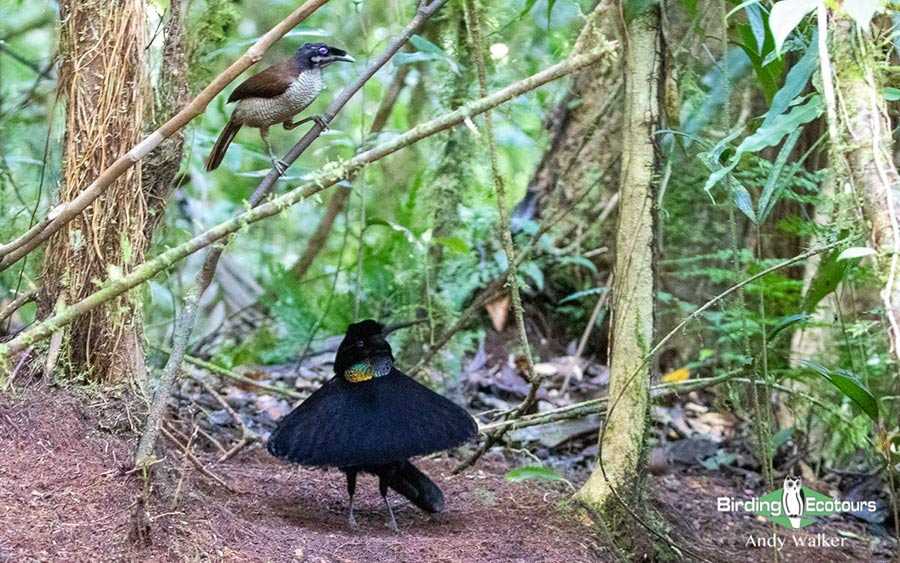 Overview
This Indonesian bird tour visited the West Papua province and started in Manokwari on the 3rd of August 2022 and finished in Sorong on the 14th of August 2022. Our birding was focused on the Arfak Mountains and the island of Waigeo, both areas are world renowned for their spectacular birds-of-paradise and endemic birds, and our attention was firmly set on finding as many of these jewels as possible. Weather conditions throughout the tour (unseasonal rain, the result of La Niña) made going tough and a bit muddy at times, but we still had a good haul of quality birds.
We recorded 235 species on the tour (seven of these heard only), trip lists follow the report. The list of highlights was very long and included 14 birds-of-paradise seen, these were: Wilson's Bird-of-paradise, Magnificent Bird-of-paradise, Red Bird-of-paradise, King Bird-of-paradise, Twelve-wired Bird-of-paradise, Western Parotia, Crescent-caped Lophorina, Black Sicklebill, Black-billed Sicklebill, Magnificent Riflebird, Long-tailed Paradigalla, Arfak Astrapia, Crinkle-collared Manucode, and Glossy-mantled Manucode.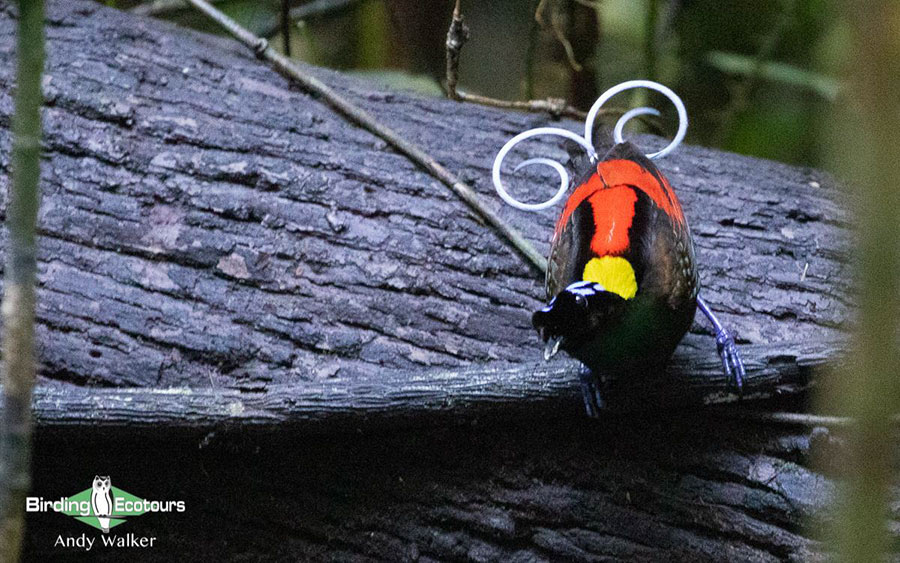 Other exciting highlights included Feline Owlet-nightjar, Mountain Owlet-nightjar, Dusky Megapode, Western Crowned Pigeon, Pheasant Pigeon, Spice Imperial Pigeon, Ornate Fruit Dove, Great Cuckoo-Dove, Blyth's Hornbill, Vogelkop Bowerbird, Masked Bowerbird, Spotted Jewel-babbler, Palm Cockatoo, Eclectus Parrot, Papuan Lorikeet, Pygmy Lorikeet, Moluccan King Parrot, Red-breasted Pygmy Parrot, Modest Tiger Parrot, Red-breasted Paradise Kingfisher, Common Paradise Kingfisher, Rufous-bellied Kookaburra, Beach Kingfisher, Papuan Dwarf Kingfisher, Papuan Pitta, Rufous-naped Bellbird, Mottled Berryhunter (monotypic family), Arfak Catbird, Raja Ampat Pitohui, Vogelkop Melidectes, Papuan Sittella, Moustached Treeswift, Golden Myna, and Brown-headed Crow.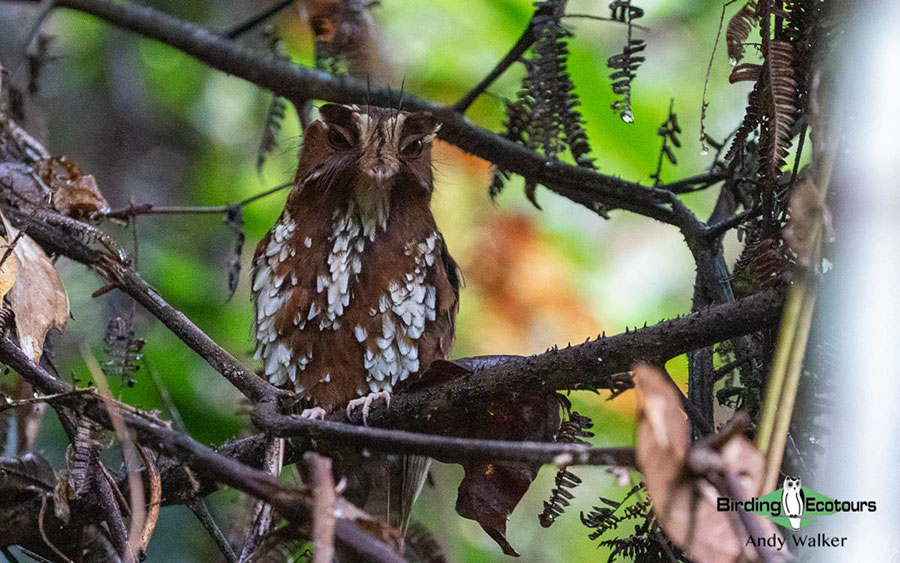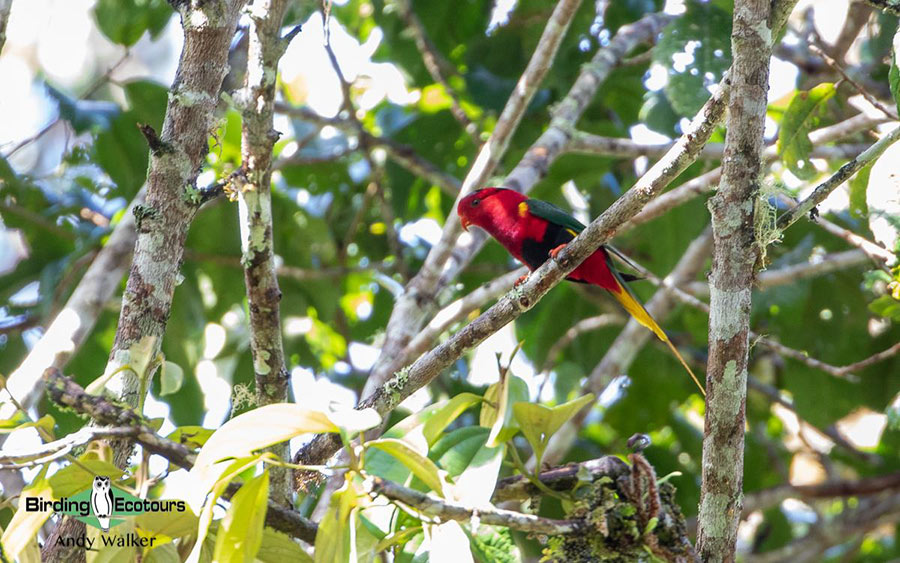 Detailed Report
Day 1, 3rd August 2022. Arrival in Manokwari, West Papua, Indonesia
An arrival day in Manokwari, West Papua. By late afternoon the whole group had arrived. We enjoyed our welcome dinner together, full of excitement at what was waiting for us.
Day 2, 4th August 2022. Birding Manokwari and travel to the Arfak Mountains
We started the tour off with some birding near Manokwari, but had to deal with some pretty poor weather. Rain and fog made the going rather tough, which was frustrating. We did catch a couple of short breaks in the weather, and this resulted in a few good birds, such as (Western) Ornate Fruit Dove, Claret-breasted Fruit Dove, Pinon's Imperial Pigeon, Sulphur-crested Cockatoo, Blyth's Hornbill, Boyer's Cuckooshrike, Black-browed Triller, New Guinea Friarbird, Black Sunbird, Olive-crowned Flowerpecker, and Northern Variable Pitohui (these were mainly calling from dense thickets but with a couple of brief views for some).
After a bit of a break in the late morning with some really heavy rain, we headed up into the Arfak Mountains. Further rain showers were the order of the afternoon, but we did fit in a short birding session near to our overnight destination, with Magnificent Bird-of-paradise, Crinkle-collared Manucode, and Feline Owlet-nightjar being the pick of the sightings (and not a bad selection to boot!). After our birding we settled into our mountainside accommodation for the next few nights.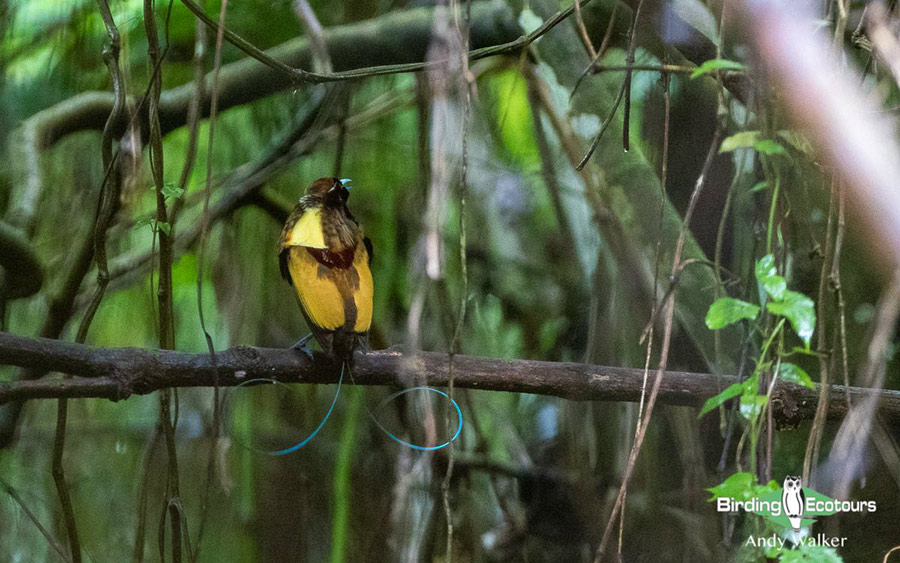 Day 3, 5th August 2022. Birding the Arfak Mountains
Our first full day of birding in the Arfak Mountains started out with beautiful blue skies and we were very grateful for that after the previous day (even more so after the afternoon birding session today too!). Our first stakeout was that of Western Parotia, and after a short wait a male bird dropped in and checked out his display area, demonstrating his amazing "antenna"! After a quick inspection of his arena, he jumped into the trees where he sat preening for a while, a gorgeous bird. Satisfied with our views, we continued to a different stakeout where we waited for a while before first a female, then a male Crescent-caped Lophorina (formerly called Superb Bird-of-paradise and also known as Vogelkop Lophorina) came in to view, another spectacular bird that showed nicely. Here too we had further views of feeding female and young male Western Parotias.
After enjoying the birds-of-paradise we commenced our walk out of the forest, noting Sclater's Whislter, Vogelkop Whistler, Capped White-eye, Arfak Honeyeater, Friendly Fantail, Black Fantail, Slaty Robin, Rusty Mouse-warbler, Large Scrubwren, and Vogelkop Scrubwren. As we reached the road the clouds descended and stayed like that (with some rain) for most of the rest of the day.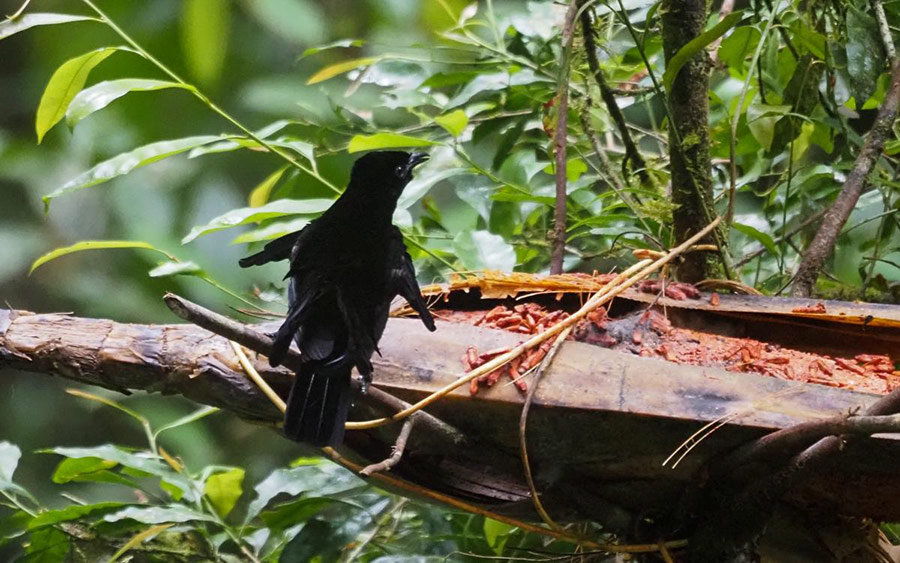 In the afternoon we split the group into those who wanted further/better views of Magnificent Bird-of-paradise (which showed very well during a dry spell judging by the photos) and the rest of the group who took a walk through the cloud seeing the architectural genius of the incredible Vogelkop Bowerbird, along with sightings of Mountain Owlet-nightjar, Papuan Lorikeet, and Moluccan King Parrot. Unfortunately, Spotted Jewel-babbler, like several other species, remained heard only as visibility was pretty terrible. One of the final highlights of the afternoon was watching a pair of the impossibly small, Red-breasted Pygmy Parrots at their nest.
Day 4, 6th August 2022. Birding the Arfak Mountains
Some of the group commenced the big hike up into the higher zone of the Arfak Mountains. We took the morning to get to our very basic overnight campsite, birding along the way, with some of the top targets seen including Long-tailed Paradigalla (a somewhat mysterious bird-of-paradise), a pair of Mottled Berryhunters (a monotypic family), Modest Tiger Parrot, Plum-faced Lorikeet, Yellow-billed Lorikeet, Fairy Lorikeet, Papuan Lorikeet, White-bibbed (Mountain) Fruit Dove, Crimson-collared Myzomela (in abundance), Mountain Myzomela, and a cute roosting Mountain Owlet-nightjar, many of these at or around a couple of action-packed heavily flowering and fruiting trees.
In the afternoon, high up on the mountain above "Camp David", the group spent some time looking for, then finding, a stunning and vocal male Black Sicklebill – what a seriously impressive sight (and sound!). We also found multiple pretty Tit Berrypeckers, along with Fan-tailed Berrypecker, Regent Whistler, Vogelkop Whistler, Smoky Robin, Ashy Robin, Dimorphic Fantail, Papuan Sittella, Rufous-sided Honeyeater, Marbled Honeyeater, and Rufous-naped Bellbird. The hike was definitely worth the effort, with a lot of quality birds in a gorgeous setting.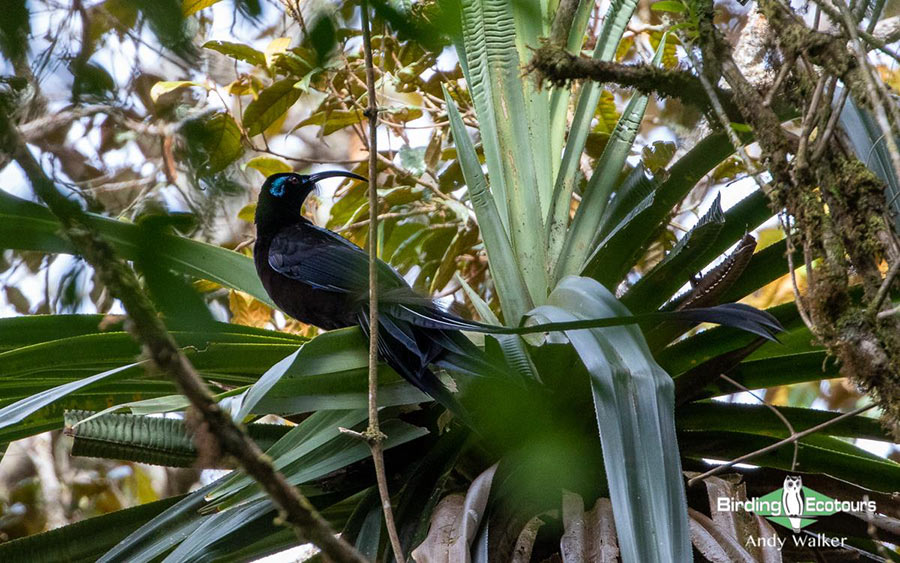 Those staying at the middle elevations enjoyed plenty of good birds too, with their highlights including Masked Bowerbird, Red Myzomela, Crescent-caped Lophorina, Magnificent Bird-of-paradise, Pesquet's Parrot, Moluccan King Parrot, Eclectus Parrot, Blue-collared Parrot, Black-capped Lory, Drongo Fantail, Arfak Catbird, Wallace's Fairywren, and nesting Mountain Peltops. They also heard two new birds-of-paradise too, Magnificent Riflebird and Lesser Bird-of-paradise, but these were too far away for them to attempt to see at this time.
Day 5, 7th August 2022. Birding the Arfak Mountains
The group birding in the middle elevations headed into a blind (hide) and got to spend some time in the morning watching a displaying male Western Parotia – an amazing sight judging by their videos of this. In the afternoon, they visited a different blind and saw a female Black Scythebill.
Those of us camping in the high elevation zone headed out early into the beautiful mossy forest, where we searched for, then found a feeding male Arfak Astrapia. This large bird-of-paradise gave some good views and was the last of our major bird-of-paradise targets for this overnight trip. Other good birds seen on the mountain and on the trek down, included (Western) Ornate Fruit Dove, White-bibbed (Mountain) Fruit Dove, Papuan Mountain Pigeon, Modest Tiger Parrot, Pygmy Lorikeet, Papuan Lorikeet, Vogelkop Bowerbird, Cinnamon-browed Melidectes, Vogelkop Melidectes, Long-tailed Paradigalla, and Crescent-caped Lophorina.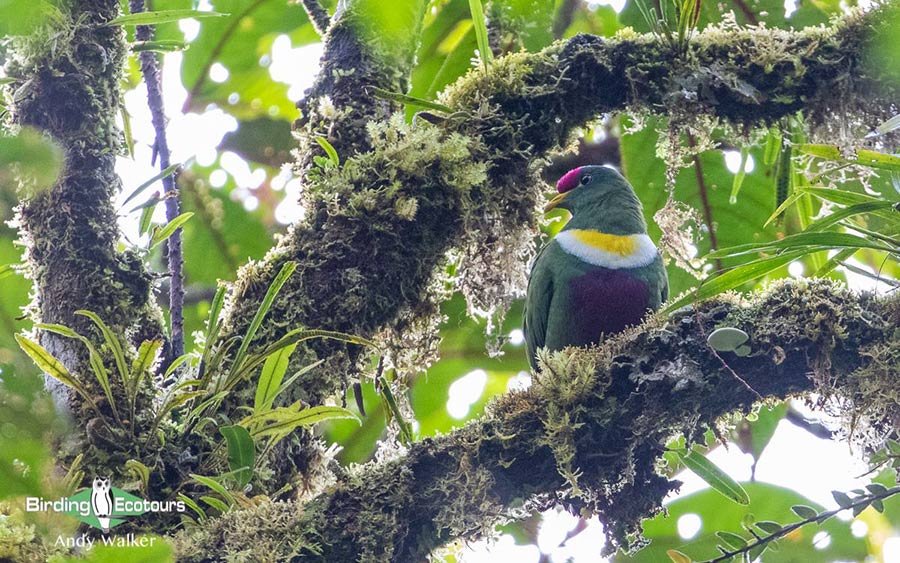 Day 6, 8th August 2022. Birding the Arfak Mountains and travel to Manokwari
During our final morning in the Arfak Mountains, we visited a couple of blinds to enjoy, for one last time, a selection of birds-of-paradise and other goodies.
Some of the group headed down to the Western Parotia blind and, after seeing a couple of Spotted Jewel-babblers and Green-backed Robin, enjoyed watching the extraordinary display from the parotia (see trip report front cover photo). The parotia was amazingly flushed from his dancing by a Pheasant Pigeon that walked straight through the display area! A visit to the Vogelkop Bowerbird bower was also rewarding, with further good looks at this architectural marvel. Around the accommodation, Black-billed Sicklebill and Crescent-caped Lophorina were also noted, as was a low-flying Long-tailed Honey Buzzard that set pulses racing.
Reluctantly, we said goodbye to our village team after a truly enjoyable stay. They really went out of their way to help us, as usual, by building trails and blinds (hides), cooking good food, helping carry gear, guide us through the forest, help us on the tougher trails, and generally look after us throughout our stay.
Driving down the mountain back to Manokwari a couple of stops yielded Masked Bowerbird, Red Myzomela, White-shouldered Fairywren, Mountain Peltops, and several other birds. Both Magnificent Riflebird and Lesser Bird-of-paradise were heard, but the cloud dropped in, and rain shortly thereafter followed, so we were not able to see them.
Day 7, 9th August 2022. Manokwari to Sorong, birding the mangroves near Sorong
In the morning we took the short flight from Manokwari to Sorong and had some free time to rest during the hot part of the day. In the afternoon we visited some nearby mangroves where we found some gorgeous birds, including Emperor Fairywren, Orange-fronted Fruit Dove, Collared Imperial Pigeon, Pied Imperial Pigeon, Rufous-bellied Kookaburra, Oriental Dollarbird, Variable Goshawk, Rainbow Bee-eater, and Orange-breasted Fig Parrot. Unfortunately, Blue-black Kingfisher remained a "heard only" bird. Several other less colorful birds were also seen, but also appreciated, such as White-bellied Cuckooshrike, Brown-backed Honeyeater, Large-billed Gerygone, and our first Willie Wagtails of the trip. In the damp areas we found Intermediate Egret, Eastern Cattle Egret, Cinnamon Bittern, and Barred Rail.
Day 8, 10th August 2022. Birding near Malagufuk (Klassow Valley) and travel to Waigeo
A really enjoyable morning was spent birding in the Malagufuk area and was definitely worth the early start from Sorong. As dawn approached, we had Papuan Hawk-Owl near our picnic breakfast site and then followed up with a range of parrots as they woke up, and these included Moluccan King Parrot, Black Lory, Black-capped Lory, Orange-crowned Hanging Parrot, Coconut Lorikeet, Large Fig Parrot, Sulphur-crested Cockatoo, and the spectacular (and huge) Palm Cockatoo. We headed inside the forest and over the course of a few hours found several amazing birds, including King Bird-of-paradise, Twelve-wired Bird-of-paradise, Magnificent Riflebird, Red-breasted Paradise Kingfisher, Papuan Dwarf Kingfisher, Yellow-capped Pygmy Parrot, Golden Myna, Wompoo Fruit Dove, (Eastern) Superb Fruit Dove, Pink-spotted Fruit Dove, Dwarf Fruit Dove, Orange-bellied Fruit Dove, Black-sided Robin, (Papuan) Spangled Drongo, Dwarf Koel, Brown Oriole, Yellow-bellied Longbill, and Grey-headed Goshawk. We spent quite a bit of time watching a fruiting tree which was really rewarding, with many of the above species (and lots more) visiting it.
After a great morning we very reluctantly left the site to get back to Sorong in time to catch the boat to Waigeo, part of the Raja Ampat Islands. The short drive to our dive resort on Waigeo took longer than usual because we stopped for some good birds, these included yet another bird-of-paradise (our fourth species for the day), Glossy-mantled Manucode, along with Moustached Treeswift (very popular), Eclectus Parrot, Red-cheeked Parrot, Hooded Butcherbird, Brown-headed Crow, White-bellied Sea Eagle, Pacific Golden Plover, and Grey-tailed Tattler. The end of the day saw us watching a pair of Papuan Frogmouths outside our dive resort villas!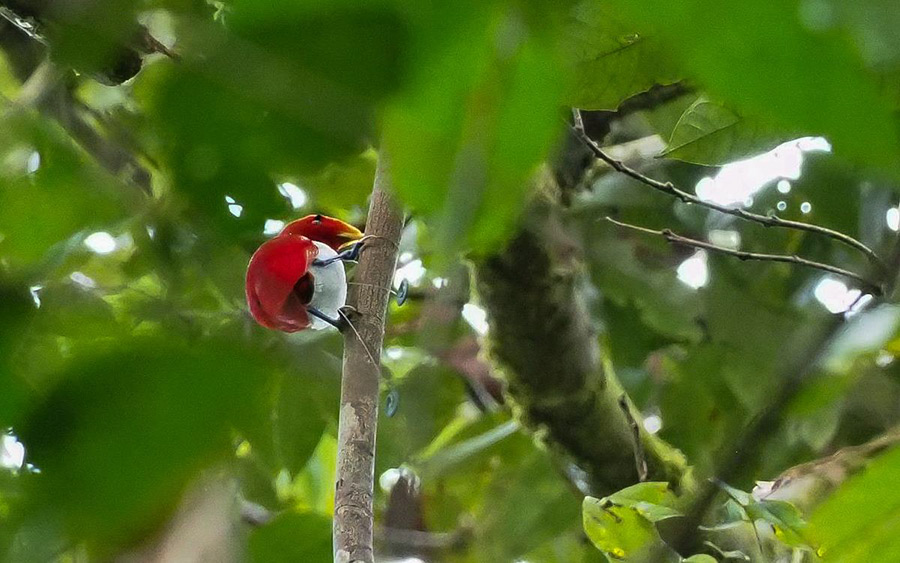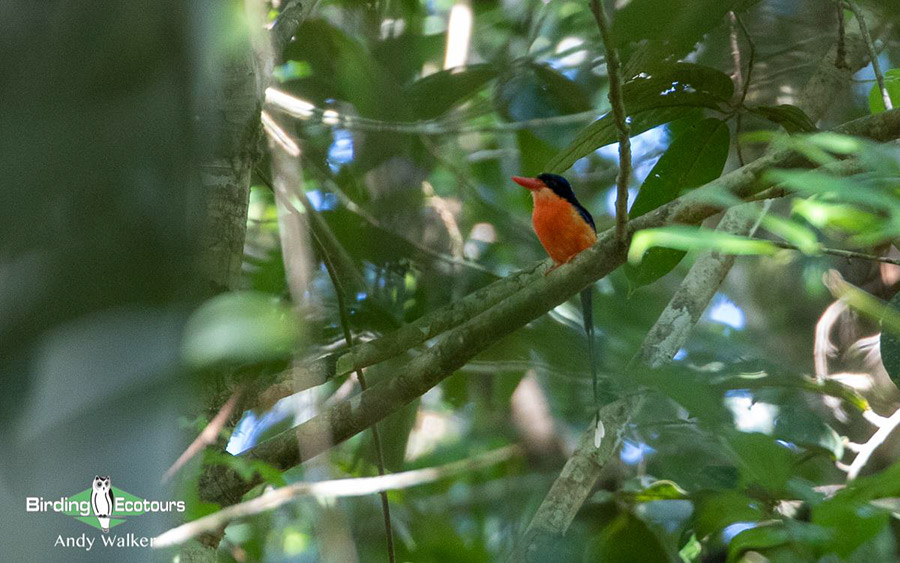 Day 9, 11th August 2022. Birding on Waigeo Island
Our first target for the morning was a bird often touted as one of the best-looking birds in the world. We got into position in a blind (hide) in the forest and waited…. After about half an hour a stunning male Wilson's Bird-of-paradise flew in and started tidying up his lek site. The visit was brief but memorable. We continued to wait to see what would happen, and over the next hour a female came in and the male returned several times, allowing excellent close views (see photo in trip report introduction). There was also plenty of activity from other birds during the morning, including Western Crowned Pigeon seen by some of the group, along with Glossy-mantled Manucode, Common Paradise Kingfisher, Yellow-billed Kingfisher, Dusky Megapode, Blyth's Hornbill, Raja Ampat Pitohui, Spot-winged Monarch, Frilled Monarch, Long-tailed Honey Buzzard, Brown-headed Crow, and Hooded Butcherbird.
After our enjoyable morning birding session, we took a speedboat to a nearby smaller island, where we had lunch, a swim in a beautiful reef (one with the highest diversity on the planet), and some excellent birds. Here, Glossy-mantled Manucode and Common Paradise Kingfisher gave excellent views, our best yet. We also saw Spice Imperial Pigeon, Pied Imperial Pigeon, Violet-necked Lory, Shining Flycatcher, and Moluccan Starling. The boat ride to and from the island gave us views of Greater Crested Tern, Common Tern, Bridled Tern, Lesser Frigatebird, White-bellied Sea Eagle, Eastern Osprey, Pacific Reef Heron, and Great-billed Heron.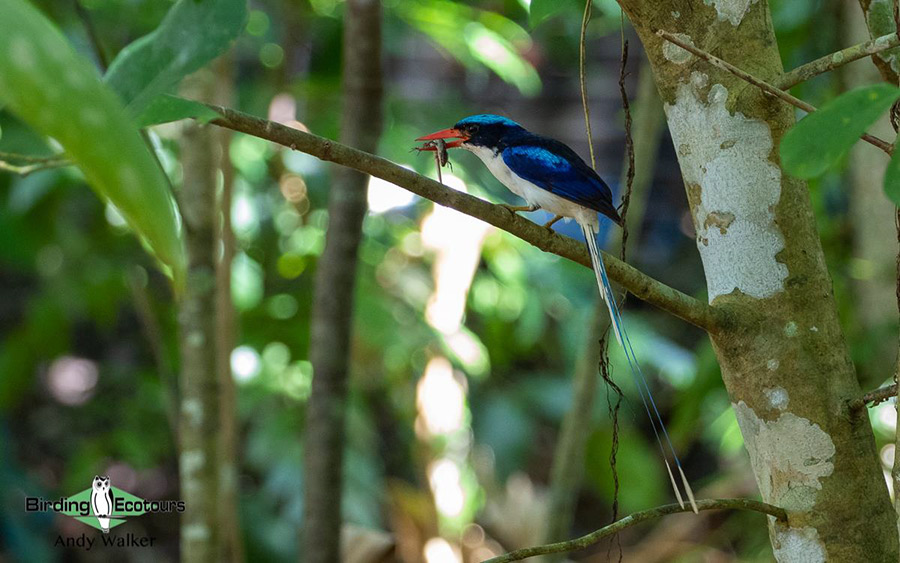 We spent some time in the late afternoon with some relaxed birding at our dive resort, noting Beach Kingfisher, Glossy-mantled Manucode, Palm Cockatoo, Great-billed Parrot, Eclectus Parrot, Spice Imperial Pigeon, Pinon's Imperial Pigeon, Pied Imperial Pigeon, New Guinea Friarbird, Brown Oriole, and Lesser Frigatebird, as well as a glorious rainbow and sunset.
Day 10, 12th August 2022. Birding on Waigeo Island
The main target of the day was our fourteenth and final possible bird-of-paradise for the trip. We set off from our accommodation in the dark and hiked up a nearby hill and got into position and waited for the stunning Red Bird-of-paradise to come and visit their lek. We didn't have to wait long, and they didn't disappoint, as we enjoyed watching several birds attending the lek, including an adult male with long plumes.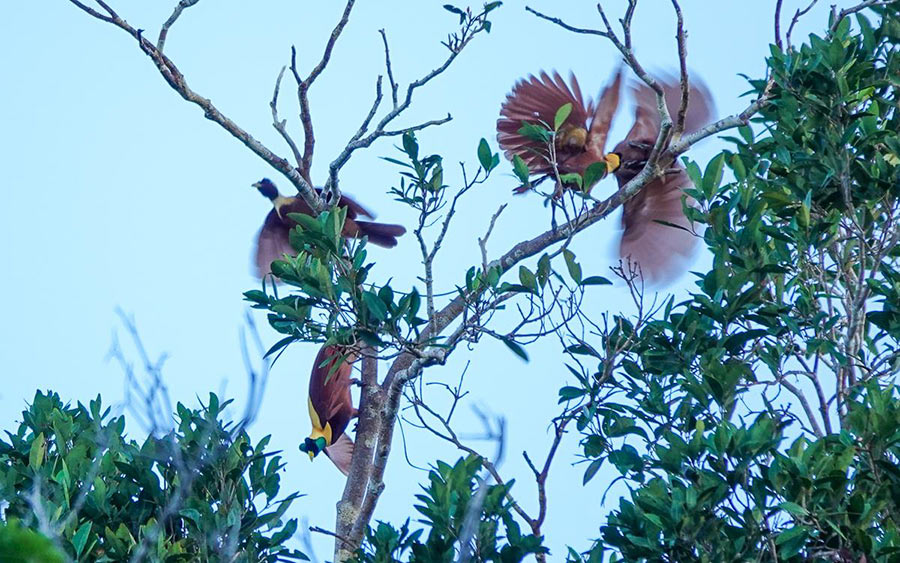 While waiting for, and while watching the Red Bird-of-paradise, we also saw Great Cuckoo-Dove, Sultan's Cuckoo-Dove, Raja Ampat Pitohui, Tawny-breasted Honeyeater, (Papuan) Spangled Drongo, and the humongous Blyth's Hornbill. As we walked off the hill we noted Yellow-faced Myna, Rufous-bellied Kookaburra (giving an impressive duet), Shining Flycatcher, and Glossy-mantled Manucode.
For the rest of the morning we birded in some nearby forest, seeing Waigeo Cuscus, Papuan Pitta, Spot-winged Monarch, Northern Fantail, Dusky Megapode, Stephan's Emerald Dove, Yellow-breasted Boatbill, Ruby-throated Myzomela, (Papuan) Spangled Drongo, Yellow-bellied Longbill, and Wilson's Bird-of-paradise. Lunch relaxing around the resort resulted in further great looks at Palm Cockatoo, Papuan Frogmouth, and Brown Oriole.
During the afternoon we went birding along the roads and coast near our accommodation, getting repeat views of some of the gorgeous birds we'd already seen, but were happy to look at again, such as Eclectus Parrot, Claret-breasted Fruit Dove, Moustached Treeswift, Rainbow Bee-eater, Rufous-bellied Kookaburra, and Oriental Dollarbird. We also stopped at a small mudflat, finding Little Black Cormorant, Eurasian Whimbrel, Common Greenshank, Grey-tailed Tattler, Sacred Kingfisher, and Greater Crested Tern.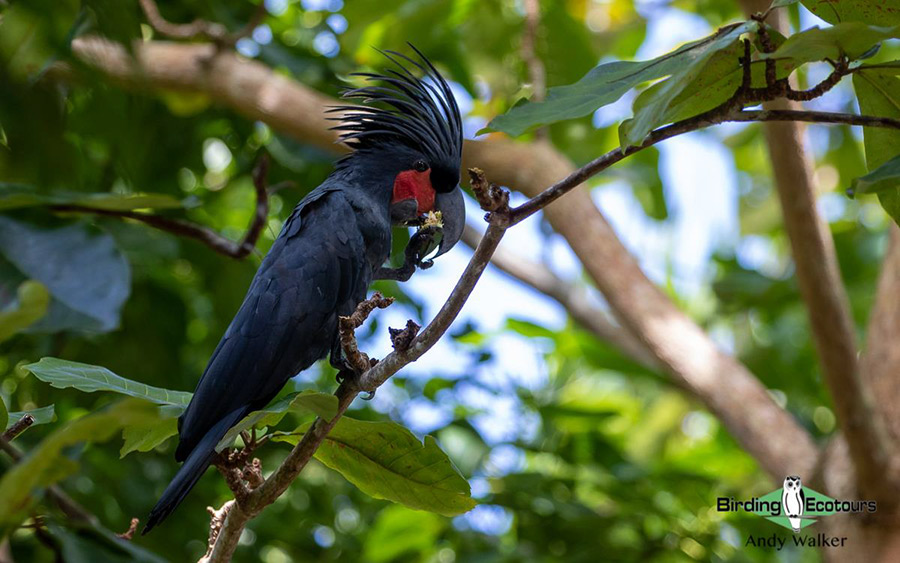 Day 11, 13th August 2022. Birding on Waigeo Island and travel to Sorong
Our final birding session of the tour saw us heading back out into the forest of west Waigeo. There had been a lot of rain in the night and it was overcast when we awoke. Driving through the forest it was clear that it was much quieter than previous mornings. We walked the road for a long stretch and heard several species (lots of Common Paradise Kingfishers, Black-sided Robins, Blyth's Hornbills, Zoe's Imperial Pigeon, Pinon's Imperial Pigeon, Glossy-mantled Manucode, etc.), but seeing anything was proving tricky, the best (possibly only) bird we saw for quite a long time was a Papuan Dwarf Kingfisher that sat in the open for all to see, so that was something good.
A bit later, while photographing a huge Giant Orb Spider, a Western Crowned Pigeon flew off the trail nearby. We spent some time looking for the bird, to no avail. However, the delay caused by this coincided with the sun finally coming out and almost immediately thereafter a flock of birds formed and were all around us! Within the flock we noted Raja Ampat Pitohui, Rusty Pitohui, Waigeo Shrikethrush, Golden Monarch, Spot-winged Monarch, Northern Fantail, Tawny-breasted Honeyeater, Green-backed Gerygone, Fairy Gerygone, Yellow-bellied Gerygone, Yellow-breasted Boatbill, Yellow-bellied Longbill, Pygmy Longbill, Pale-billed Scrubwren, Grey Whistler, Ruby-throated Myzomela, and Red Bird-of-paradise. It was a hectic but enjoyable end to our final proper birding session on the island, and for the tour.
After lunch we took a quick ride to the harbor where we got on the fast ferry back to Sorong, arriving late in the afternoon. We had a final group evening meal together and discussed the possibilities for "bird of the trip", which threw up lots of different choices for a huge variety of reasons! Coming out on top was probably Red Bird-of-paradise, just, with Western Parotia, Black Sicklebill, and Wilson's Bird-of-paradise all coming close. We saw a great deal of high-quality birds that weren't part of the birds-of-paradise family, and some of the top picks of "other birds" included Moustached Treeswift, Feline Owlet-nightjar, Blyth's Hornbill, Rainbow Bee-eater, Common Paradise Kingfisher, and Spotted Jewel-babbler.
Day 12, 14th August 2022. Tour concludes with departure from Sorong
A non-birding day with everyone departing throughout the day.
A huge thank you must go out to our excellent local team of guides, porters, cooks, drivers, etc., for helping make the tour run so smoothly, particularly given the unseasonal poor weather we encountered at times. We're already excited to return! Another huge thank you to everyone on the tour for making this such an enjoyable trip!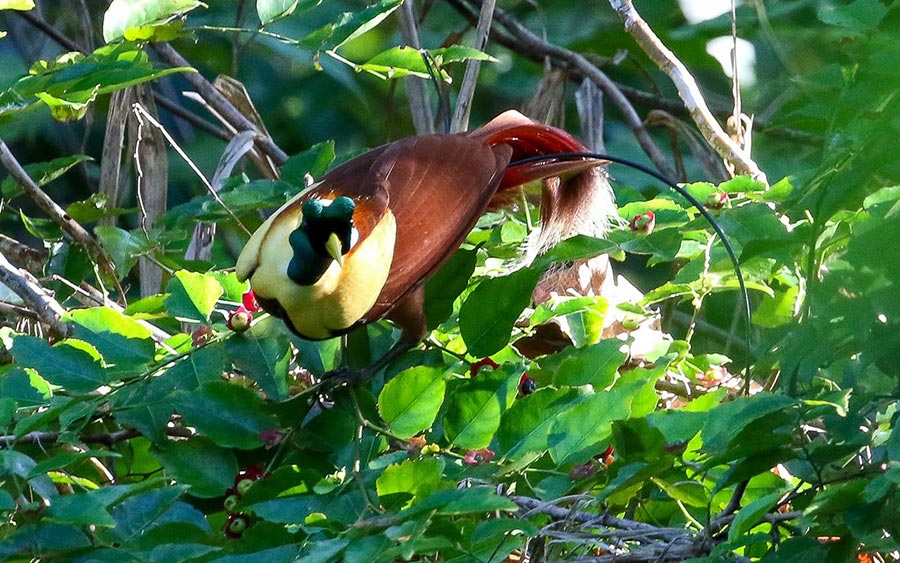 Bird List – Following IOC (12.1)
Birds 'heard only' are marked with (H) after the common name, all other species were seen. The following notation after species names is used to show conservation status following BirdLife International: VU = Vulnerable.
Common Name
Scientific Name
Megapodes (Megapodiidae)
Red-billed Brushturkey (H)
Talegalla cuvieri
Dusky Megapode
Megapodius freycinet
Frogmouths (Podargidae)
Marbled Frogmouth
Podargus ocellatus
Papuan Frogmouth
Podargus papuensis
Owlet-nightjars (Aegothelidae)
Feline Owlet-nightjar
Aegotheles insignis
Mountain Owlet-nightjar
Aegotheles albertisi
Treeswifts (Hemiprocnidae)
Moustached Treeswift
Hemiprocne mystacea
Swifts (Apodidae)
Glossy Swiftlet
Collocalia esculenta
Mountain Swiftlet
Aerodramus hirundinaceus
Uniform Swiftlet
Aerodramus vanikorensis
Papuan Spine-tailed Swift
Mearnsia novaeguineae
Cuckoos (Cuculidae)
Black-billed Coucal
Centropus bernsteini
Dwarf Koel
Microdynamis parva
Pacific Koel
Eudynamys orientalis
Channel-billed Cuckoo
Scythrops novaehollandiae
Shining Bronze Cuckoo
Chrysococcyx lucidus
Little Bronze Cuckoo
Chrysococcyx minutillus
White-crowned Cuckoo (H)
Cacomantis leucolophus
Chestnut-breasted Cuckoo
Cacomantis castaneiventris
Brush Cuckoo
Cacomantis variolosus
Pigeons, Doves (Columbidae)
Rock Dove
Columba livia
Sultan's Cuckoo-Dove
Macropygia doreya
Bar-tailed Cuckoo-Dove
Macropygia nigrirostris
Great Cuckoo-Dove
Reinwardtoena reinwardti
Stephan's Emerald Dove
Chalcophaps stephani
Bronze Ground Dove (H)
Pampusana beccarii
Pheasant Pigeon
Otidiphaps nobilis
Western Crowned Pigeon – VU
Goura cristata
Wompoo Fruit Dove
Ptilinopus magnificus
Pink-spotted Fruit Dove
Ptilinopus perlatus
Ornate Fruit Dove
Ptilinopus ornatus
Orange-fronted Fruit Dove
Ptilinopus aurantiifrons
Superb Fruit Dove
Ptilinopus superbus
White-bibbed Fruit Dove
Ptilinopus rivoli
Claret-breasted Fruit Dove
Ptilinopus viridis
Orange-bellied Fruit Dove
Ptilinopus iozonus
Dwarf Fruit Dove
Ptilinopus nainus
Spice Imperial Pigeon
Ducula myristicivora
Purple-tailed Imperial Pigeon
Ducula rufigaster
Pinon's Imperial Pigeon
Ducula pinon
Collared Imperial Pigeon
Ducula mullerii
Zoe's Imperial Pigeon
Ducula zoeae
Pied Imperial Pigeon
Ducula bicolor
Papuan Mountain Pigeon
Gymnophaps albertisii
Rails, Crakes & Coots (Rallidae)
Barred Rail
Hypotaenidia torquata
Pale-vented Bush-hen
Amaurornis moluccana
Plovers (Charadriidae)
Pacific Golden Plover
Pluvialis fulva
Sandpipers, Snipes (Scolopacidae)
Eurasian Whimbrel
Numenius phaeopus
Common Sandpiper
Actitis hypoleucos
Grey-tailed Tattler
Tringa brevipes
Greenshank
Tringa nebularia
Gulls, Terns, Skimmers (Laridae)
Greater Crested Tern
Thalasseus bergii
Bridled Tern
Onychoprion anaethetus
Common Tern
Sterna hirundo
Frigatebirds (Fregatidae)
Lesser Frigatebird
Fregata ariel
Cormorants, Shags (Phalacrocoracidae)
Little Black Cormorant
Phalacrocorax sulcirostris
Herons, Bitterns (Ardeidae)
Cinnamon Bittern
Ixobrychus cinnamomeus
Striated Heron
Butorides striata
Eastern Cattle Egret
Bubulcus coromandus
Great-billed Heron
Ardea sumatrana
Intermediate Egret
Ardea intermedia
Pacific Reef Heron
Egretta sacra
Ospreys (Pandionidae)
Eastern Osprey
Pandion cristatus
Kites, Hawks, Eagles (Accipitridae)
Pacific Baza
Aviceda subcristata
Long-tailed Honey Buzzard
Henicopernis longicauda
Pygmy Eagle
Hieraaetus weiskei
Variable Goshawk
Accipiter hiogaster
Black-mantled Goshawk
Accipiter melanochlamys
Grey-headed Goshawk
Accipiter poliocephalus
Brahminy Kite
Haliastur indus
White-bellied Sea Eagle
Haliaeetus leucogaster
Owls (Strigidae)
Papuan Hawk-Owl
Uroglaux dimorpha
Hornbills (Bucerotidae)
Blyth's Hornbill
Rhyticeros plicatus
Rollers (Coraciidae)
Oriental Dollarbird
Eurystomus orientalis
Kingfishers (Alcedinidae)
Hook-billed Kingfisher
Melidora macrorrhina
Common Paradise Kingfisher
Tanysiptera galatea
Red-breasted Paradise Kingfisher
Tanysiptera nympha
Rufous-bellied Kookaburra
Dacelo gaudichaud
Blue-black Kingfisher (H)
Todiramphus nigrocyaneus
Beach Kingfisher
Todiramphus saurophagus
Sacred Kingfisher
Todiramphus sanctus
Yellow-billed Kingfisher
Syma torotoro
Papuan Dwarf Kingfisher
Ceyx solitarius
Azure Kingfisher
Ceyx azureus
Bee-eaters (Meropidae)
Rainbow Bee-eater
Merops ornatus
Cockatoos (Cacatuidae)
Palm Cockatoo
Probosciger aterrimus
Sulphur-crested Cockatoo
Cacatua galerita
Old World Parrots (Psittaculidae)
Pesquet's Parrot – VU
Psittrichas fulgidus
Yellow-capped Pygmy Parrot
Micropsitta keiensis
Red-breasted Pygmy Parrot
Micropsitta bruijnii
Moluccan King Parrot
Alisterus amboinensis
Eclectus Parrot
Eclectus roratus
Red-cheeked Parrot
Geoffroyus geoffroyi
Blue-collared Parrot
Geoffroyus simplex
Great-billed Parrot
Tanygnathus megalorynchos
Modest Tiger Parrot
Psittacella modesta
Plum-faced Lorikeet
Oreopsittacus arfaki
Pygmy Lorikeet
Charminetta wilhelminae
Red-flanked Lorikeet
Hypocharmosyna placentis
Fairy Lorikeet
Charmosynopsis pulchella
Papuan Lorikeet
Charmosyna papou
Yellow-billed Lorikeet
Neopsittacus musschenbroekii
Black-capped Lory
Lorius lory
Black Lory
Chalcopsitta atra
Violet-necked Lory
Eos squamata
Coconut Lorikeet
Trichoglossus haematodus
Large Fig Parrot
Psittaculirostris desmarestii
Orange-breasted Fig Parrot
Cyclopsitta gulielmitertii
Orange-fronted Hanging Parrot
Loriculus aurantiifrons
Pittas (Pittidae)
Papuan Pitta
Erythropitta macklotii
Hooded Pitta (H)
Pitta sordida
Bowerbirds (Ptilonorhynchidae)
Arfak Catbird
Ailuroedus arfakianus
Vogelkop Bowerbird
Amblyornis inornata
Masked Bowerbird
Sericulus aureus
Australasian Treecreepers (Climacteridae)
Papuan Treecreeper
Cormobates placens
Australasian Wrens (Maluridae)
Wallace's Fairywren
Sipodotus wallacii
Emperor Fairywren
Malurus cyanocephalus
White-shouldered Fairywren
Malurus alboscapulatus
Honeyeaters (Meliphagidae)
Green-backed Honeyeater
Glycichaera fallax
Rufous-sided Honeyeater
Ptiloprora erythropleura
Brown-backed Honeyeater
Ramsayornis modestus
Long-billed Honeyeater
Melilestes megarhynchus
Tawny Straightbill
Timeliopsis griseigula
Arfak Honeyeater
Melipotes gymnops
Plain Honeyeater
Pycnopygius ixoides
Marbled Honeyeater
Pycnopygius cinereus
Ruby-throated Myzomela
Myzomela eques
Dusky Myzomela
Myzomela obscura
Red Myzomela
Myzomela cruentata
Mountain Myzomela
Myzomela adolphinae
Red-collared Myzomela
Myzomela rosenbergii
New Guinea Friarbird
Philemon novaeguineae
Tawny-breasted Honeyeater
Xanthotis flaviventer
Olive Honeyeater
Lichmera argentauris
Puff-backed Honeyeater
Meliphaga aruensis
Mountain Honeyeater
Microptilotis orientalis
Scrub Honeyeater
Microptilotis albonotatus
Mimic Honeyeater
Microptilotis analogus
Varied Honeyeater
Gavicalis versicolor
Cinnamon-browed Melidectes
Melidectes ochromelas
Vogelkop Melidectes
Melidectes leucostephes
Ornate Melidectes
Melidectes torquatus
Australasian Warblers (Acanthizidae)
Rusty Mouse-warbler
Origma murina
Mountain Mouse-warbler
Origma robusta
Pale-billed Scrubwren
Aethomyias spilodera
Vogelkop Scrubwren
Aethomyias rufescens
Grey-green Scrubwren
Aethomyias arfakianus
Large Scrubwren
Sericornis nouhuysi
Perplexing Scrubwren
Sericornis virgatus
Brown-breasted Gerygone
Gerygone ruficollis
Large-billed Gerygone
Gerygone magnirostris
Yellow-bellied Gerygone
Gerygone chrysogaster
Green-backed Gerygone
Gerygone chloronota
Fairy Gerygone
Gerygone palpebrosa
Logrunners (Orthonychidae)
Papuan Logrunner (H)
Orthonyx novaeguineae
Berrypeckers, Longbills (Melanocharitidae)
Black Berrypecker
Melanocharis nigra
Fan-tailed Berrypecker
Melanocharis versteri
Spectacled Longbill
Oedistoma iliolophus
Pygmy Longbill
Oedistoma pygmaeum
Yellow-bellied Longbill
Toxorhamphus novaeguineae
Painted Berrypeckers (Paramythiidae)
Tit Berrypecker
Oreocharis arfaki
Jewel-babblers, Quail-thrushes (Cinclosomatidae)
Spotted Jewel-babbler
Ptilorrhoa leucosticta
Boatbills (Machaerirhynchidae)
Yellow-breasted Boatbill
Machaerirhynchus flaviventer
Black-breasted Boatbill
Machaerirhynchus nigripectus
Woodswallows, Butcherbirds & Allies (Artamidae)
White-breasted Woodswallow
Artamus leucorynchus
Mountain Peltops
Peltops montanus
Black Butcherbird
Melloria quoyi
Hooded Butcherbird
Cracticus cassicus
Mottled Berryhunter (Rhagologidae)
Mottled Berryhunter
Rhagologus leucostigma
Cuckooshrikes (Campephagidae)
Boyer's Cuckooshrike
Coracina boyeri
White-bellied Cuckooshrike
Coracina papuensis
Black-bellied Cuckooshrike
Edolisoma montanum
Black-browed Triller
Lalage atrovirens
Sittellas (Neosittidae)
Papuan Sittella
Daphoenositta papuensis
Australo-Papuan Bellbirds (Oreoicidae)
Rufous-naped Bellbird
Aleadryas rufinucha
Whistlers & Allies (Pachycephalidae)
Vogelkop Whistler
Pachycephala meyeri
Grey Whistler
Pachycephala simplex
Sclater's Whistler
Pachycephala soror
Regent Whistler
Pachycephala schlegelii
Rusty Pitohui
Pseudorectes ferrugineus
Waigeo Shrikethrush
Colluricincla affinis
Figbirds, Orioles, Turnagra (Oriolidae)
Northern Variable Pitohui
Pitohui kirhocephalus
Raja Ampat Pitohui
Pitohui cerviniventris
Brown Oriole
Oriolus szalayi
Drongos (Dicruridae)
Spangled Drongo
Dicrurus bracteatus
Fantails (Rhipiduridae)
Willie Wagtail
Rhipidura leucophrys
Northern Fantail
Rhipidura rufiventris
Black Fantail
Rhipidura atra
Friendly Fantail
Rhipidura albolimbata
Dimorphic Fantail
Rhipidura brachyrhyncha
Drongo Fantail
Chaetorhynchus papuensis
Monarchs (Monarchidae)
Black Monarch
Symposiachrus axillaris
Spot-winged Monarch
Symposiachrus guttula
Golden Monarch
Carterornis chrysomela
Frilled Monarch
Arses telescopthalmus
Shining Flycatcher
Myiagra alecto
Crows, Jays (Corvidae)
Brown-headed Crow
Corvus fuscicapillus
Grey Crow
Corvus tristis
Torresian Crow
Corvus orru
Birds-of-paradise (Paradisaeidae)
Glossy-mantled Manucode
Manucodia ater
Crinkle-collared Manucode
Manucodia chalybatus
Long-tailed Paradigalla
Paradigalla carunculata
Arfak Astrapia
Astrapia nigra
Western Parotia
Parotia sefilata
Crescent-caped Lophorina
Lophorina niedda
Magnificent Riflebird
Ptiloris magnificus
Black Sicklebill
Epimachus fastosus
Black-billed Sicklebill
Drepanornis albertisi
Magnificent Bird-of-paradise
Diphyllodes magnificus
Wilson's Bird-of-paradise
Diphyllodes respublica
King Bird-of-paradise
Cicinnurus regius
Twelve-wired Bird-of-paradise
Seleucidis melanoleucus
Lesser Bird-of-paradise (H)
Paradisaea minor
Red Bird-of-paradise
Paradisaea rubra
Australasian Robins (Petroicidae)
Smoky Robin
Peneothello cryptoleuca
Slaty Robin
Peneothello cyanus
Black-sided Robin
Poecilodryas hypoleuca
Black-throated Robin
Plesiodryas albonotata
Ashy Robin
Heteromyias albispecularis
Green-backed Robin
Pachycephalopsis hattamensis
Lesser Ground Robin
Amalocichla incerta
Swallows, Martins (Hirundinidae)
Pacific Swallow
Hirundo tahitica
Leaf Warblers & Allies (Phylloscopidae)
Island Leaf Warbler
Phylloscopus poliocephalus
White-eyes (Zosteropidae)
Black-fronted White-eye
Zosterops chrysolaemus
Capped White-eye
Zosterops fuscicapilla
Starlings, Rhabdornis (Sturnidae)
Metallic Starling
Aplonis metallica
Singing Starling
Aplonis cantoroides
Moluccan Starling
Aplonis mysolensis
Yellow-faced Myna
Mino dumontii
Golden Myna
Mino anais
Flowerpeckers (Dicaeidae)
Olive-crowned Flowerpecker
Dicaeum pectorale
Sunbirds (Nectariniidae)
Black Sunbird
Leptocoma aspasia
Olive-backed Sunbird
Cinnyris jugularis
Old World Sparrows, Snowfinches (Passeridae)
Tree Sparrow
Passer montanus
Waxbills, Munias & Allies (Estrildidae)
Streak-headed Mannikin
Mayrimunia tristissima
| | |
| --- | --- |
| Total seen | 228 |
| Total heard only | 7 |
| Total recorded | 235 |
Mammal List
Common Name
Scientific Name
Old World Fruit Bats (Pteropodidae)
Spectacled Flying Fox
Pteropus conspicillatus chrysauchen
Cuscuses and Brushtail Possums (Phalangeridae)
Waigeo Cuscus
Spilocuscus papuensis
Bandicoots (Peramelidae)
Common Echymipera
Echymipera kalubu
Old World Mice and Rats (Muridae)
Brown Rat
Rattus norvegicus
Vogelkop Mountain Rat
Rattus arfakiensis
Reptile List
Common Name
Scientific Name
Colubrid Snakes (Colubridae)
Coconut Tree Snake
Dendelaphis calligaster
Pythons (Pythonidae)
D'Albertis' Python
Leiopython albertisii
Geckos (Gekkonidae)
Common House Gecko
Hemidactylus frenatus
Common Four-clawed Gecko
Gehyra mutilata
Lined Gecko
Gekko vittatus
Monitors (Varanidae)
Mangrove Monitor
Varanus indicus
Peach-throated Monitor
Varanus jobiensis
Skinks (Scincidae)
Pacific Bluetail Skink
Emoia caeruleocauda
Azure-tailed Skink
Emoia impar
Littoral Whiptail Skink
Emoia atrocostata
Indonesian Brown Rainbow Skink
Carlia fusca
Notable Other Taxa List
Note that those who went snorkeling saw a fantastic array of fish and reef life, the many species seen are not included within this list (with the exception of Blacktip Reef Shark, seen from land). Several invertebrates were seen but not identified to species level and so are also not included in this list.
Common Name
Scientific Name
Requiem Sharks (Carcharhinidae)
Blacktip Reef Shark
Carcharhinus melanopterus
Cuttlefishes (Sepiidae)
Broadclub Cuttlefish
Sepia latimanus
Seastars (Ophidiasteridae)
Blue Linckia
Linckia laevigata
Orbweavers (Araneidae)
Giant Golden Orbweaver
Nephila pilipes
Ground Beetles (Carabidae)
Tiger Beetle sp.
Therates labiatus
Tiger Beetle sp.
Tricondyla aptera
Swallowtails and Parnassians (Papilionidae)
Orchard Swallowtail
Papilio aegeus
Sea Green Swallowtail
Papilio lorquinianus
Ulysses Butterfly
Papilio ulysses
Tithonus Birdwing
Ornithoptera tithonus
Brush-footed Butterflies (Nymphalidae)
Brown Pansy
Junonia hedeonia
Bordered Rustic
Cupha prosope
Taenaris sp.
Taenaris urania
Large Crow Butterfly
Euploea phaenareta
Turquoise Emperor
Apaturina erminea
Whites, Yellows, and Sulphurs (Pieridae)
Three-spotted Grass Yellow
Eurema blanda
Great Orange Tip
Hebomoia glaucippe
Gossamer-winged Butterflies (Lycaenidae)
Blue sp.
Caleta mindarus
Skippers (Hesperiidae)
Wide-brand Grass Dart
Suniana sunias
Underwing, Tiger, Tussock, and Allied Moths (Erebidae)
Lichen Moth sp.
Oeonistis bicolora
Lacera Moth sp.
Lacera asinuosa
Lymantria Moth sp.
Lymantria novaguineensis
Crambid Snout Moths (Crambidae)
Snout Moth sp.
Hyalobathra illectalis
Geometer Moths (Geometridae)
Amblychia sp.
Amblychia angeronaria
This is a sample trip report. Please email us ([email protected]) for more trip reports from this destination.