08 – 24 FEBRUARY 2023
DOWNLOAD TRIP REPORT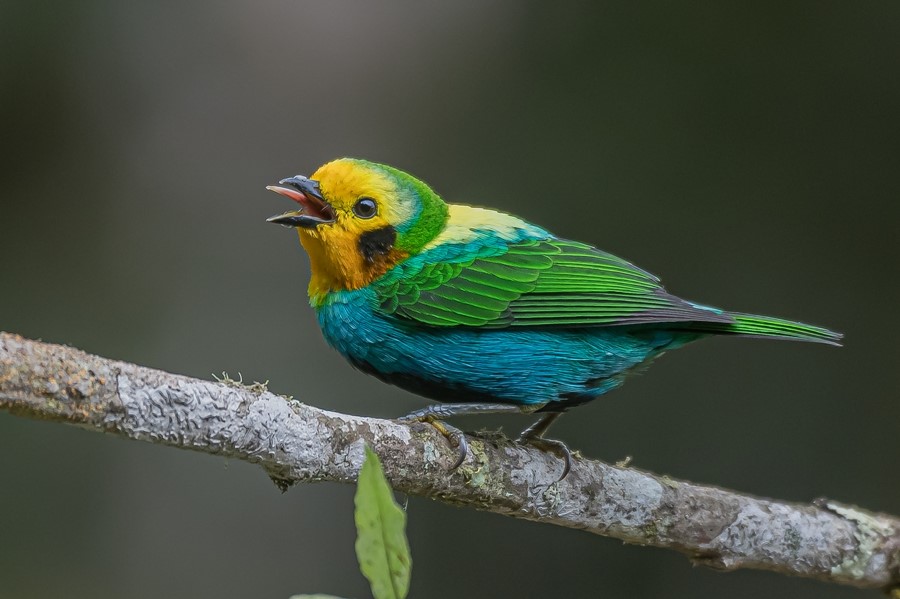 The endemic Multicolored Tanager is one of the most spectacular tanagers in the world (photo Alejandro Grajales).
Overview
After some years of waiting, I had the privilege of returning to Colombia to lead this tour, which we had planned before the COVID pandemic hit. This was a special tour offering our clients and friends an opportunity to see different parts of Colombia compared to the traditional birding routes. We decided to be adventurous and explore the possibility of a birding route through the southern Andes, from Cali, across the Paramo de Bordoncillo, and the Trampolin Road to the Amazonian foothills around the Putumayo River. In addition to this, a second leg focused on the eastern region of Casanare, in the Colombian Llanos. We called this tour Colombia Uncovered. I was delighted to return to this incredible country after stopping guiding here in favor of my very good friend and colleague, Giancarlo Ventolini. I had also been very busy giving other South American countries my personal attention, but this was a new tour we were developing, and what better opportunity to visit this amazing country again.
Planning and preparations had proceeded well and were at an advanced stage, with the Birding Ecotours team and our excellent ground partners finalizing all minor details to start the trip. Unexpectedly, on January 10, 2023 – less than two months before the start of the tour – a colossal landslide destroyed an important section of the Pan-American Highway and adjacent villages, with 64 houses destroyed and 700 people displaced. The part of the highway that was destroyed formed part of our planned route, from Popayán to Mocoa. Alternative driving routes near the main highway were not a viable option, as they would be heavily congested with traffic. After studying various possible options, we decided to travel by vehicle from Popayán through Purace National Park, to Pitalito, and the across Huila State to Mocoa. This route had incredible birding opportunities, but unfortunately missed Paramo de Bordoncillo and Trampolin, which meant no chances for Chestnut-bellied Cotinga and White-rimmed Brushfinch. At the end of the trip, I felt a great personal satisfaction when the participants agreed that they had thoroughly enjoyed the modified tour and thought that it worked better than the originally planned tour. They asked me if we would advertise this tour, rather than the original plan, just to point out how much they enjoyed it.
Needless to say, this trip provided some of the classic, most-wanted and iconic birds of the neotropics, as well as a nice set of endemics and range-restricted specials, including Andean Condor, Andean Cock-of-the Rock, Torrent Duck, Sword-billed Hummingbird, Grey-breasted Mountain Toucan, Orinoco Goose, Jabiru, Roseate Spoonbill, Horned Screamer, Band-bellied Owl, Tolima Blossomcrown, Tolima Dove, Hooded and White-bellied Antpittas, Amazonian Umbrellabird, Golden-winged Tody-Flycatcher, Lemon-throated Barbet, Sapphire-rumped Parrotlet, Long-billed Woodcreeper, Rufous-headed Woodpecker, Coopery-chested and Pale-headed Jacamars, White-bearded Flycatcher, Sharp-tailed Ibis, Hoatzin, Sunbittern, Bicolored Hawk and Crestless Curassow. Endless numbers of Scarlet Ibises roosting before sunset in the ponds of water in Los Llanos was a magical experience. Wildlife was not ignored on this trip – our first Colombia tour with a significant amount of wildlife – including, unexpectedly, Amazon (Pink) River Dolphins only a few meters from the boat, Giant Anteater, Southern Tamandua, the endemic Colombian Black-handed (Medem's) Titi, Humboldt Squirrel Monkey, Red (-crowned) Titi Monkey, Orinoco Crocodile, Capybaras, and the impressive Green Anaconda.