Complete Namibia: From Coast to Caprivi Birding Tour
Go to: Namibia Birding Tours | Birding Tours in Africa | All our birding tours
Dates and Costs
30 October – 17 November 2021
Spaces available: 6
Price: R115,000  / $8,357 / £6,015 / € 7,039 per person sharing.
Single Supplement: R12,100 / $879 / £633 / €740
* Please note that currency conversion is calculated in real-time, therefore is subject to slight change. Please refer back to base price when making final payments.
---
Tour Details
Duration: 19 days
Group Size: 4 – 8
Tour Start: Windhoek, Namibia
Tour End: Windhoek, Namibia
---
Price includes:
All accommodation
Meals (from lunch on day 1 until breakfast on day 19)
Unlimited bottled water
Expert tour leader
All entrance & conservation fees
All ground transport, including airport pick-up and drop-off
Boat ride on the Okavango River
Boat trip along the Zambezi River
Boat trip from Walvis Bay
Game drive in Etosha National Park (open-top safari vehicle)
Leopard and pangolin tracking at Okonjima Nature Reserve
Price excludes:
International/domestic flights (to/from Windhoek)
Visas
Items of a personal nature, e.g. gifts, laundry, internet access, phone calls, etc.
Any pre- or post-tour accommodation, meals, or birding excursions
Soft/alcoholic drinks
Personal travel insurance
Gratuities (please see our tipping guidelines blog)
Covid test (we facilitate this test at the end of the tour, but the cost is excluded – we anticipate it being roughly R2000 per person)
---
Featured Guide:
Dominic Rollinson
Complete Namibia: From Coast to Caprivi Birding Tour
 October/November  2021
This tour is being run in place of our popular Namibia, Okavango and Victoria Falls tour, for 2021. This is to allow for an easier and safer tour, with the current Covid-19 pandemic in mind. This new and exciting Complete Namibia Birding Tour has everything available that the Namibia, Okavango and Victoria Falls tour has, from birds and mammals to scenery and so much more.

Please enjoy our Complete Namibia tour summary video above.
All the many Namibian specials and near-endemics, as well as its only country endemic, will still be sought, and are indeed all likely on this tour. These range from desert specials such as Rüppell's Korhaan and Dune and Gray's Larks, to coastal specials such as Damara Tern and Chestnut-banded Plover. Sossusvlei offers the best landscapes and vistas of the Namib Desert, and we will indeed make the worthwhile journey into the heart of the Namib for this magical experience! The Namib Escarpment will be thoroughly explored as we search for the likes of Herero Chat, Rockrunner, White-tailed Shrike, Monteiro's Hornbill, Hartlaub's Spurfowl, and many more.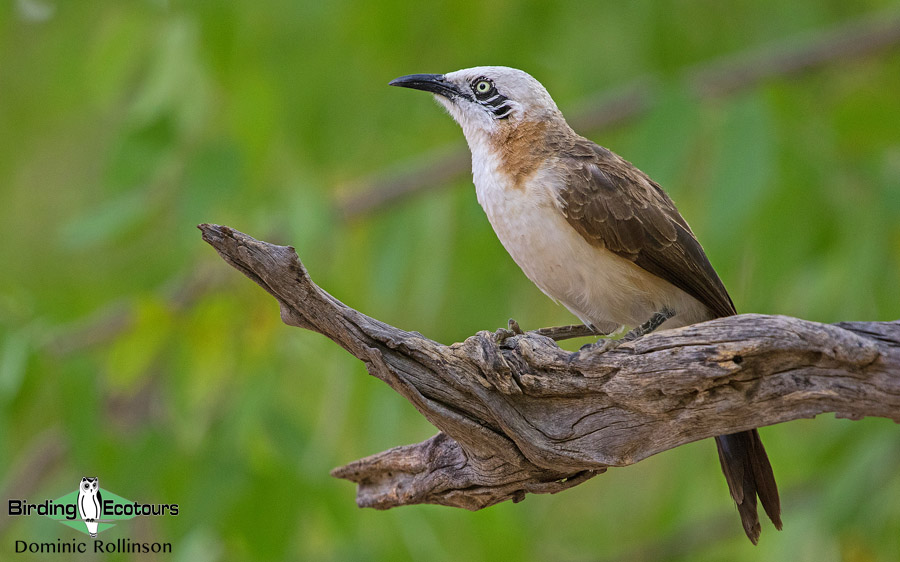 Bare-cheeked Babbler is one of the many sought-after Namibian near-endemics this tour targets.
One of Africa's greatest game parks, Etosha National Park, is also a strong feature. This must surely rank as one of the world's best places for seeing Black Rhinoceros and big cats, along with most of the other African megafauna. It is also excellent for a good range of very special birds, such as Namibia's dazzling national bird, Crimson-breasted Shrike, the world's heaviest flying bird, Kori Bustard, the diminutive Pygmy Falcon, and stacks more.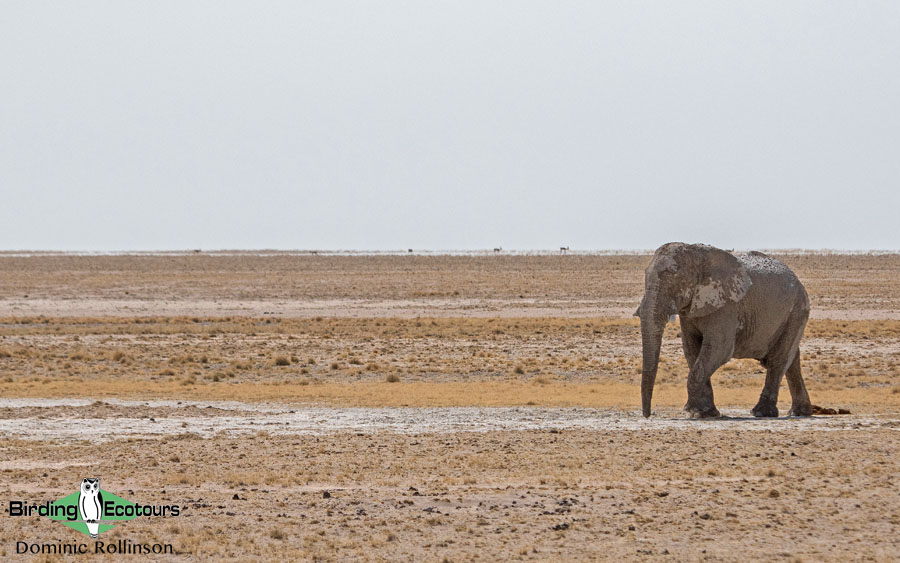 A typical scene in the world-renowned Etosha National Park – a 'white' African Elephant.
After Etosha we head into an incredibly bird-diverse tropical corner of Namibia, the Caprivi Strip, and the adjacent Namibian side of the panhandle of the Okavango Delta. The magnificent wetlands and woodlands in these parts support Pel's Fishing Owl, White-backed Night Heron, Slaty Egret, African Skimmer, Southern Carmine Bee-eater, and literally hundreds of other species, a rather large proportion of them spectacularly colored.
Journeying back towards our starting point, Windhoek – Namibia's capital city, our final port of call, is the incomparable Okonjima Nature Reserve. Home to the AfriCat Foundation, this reserve offers us one of the ultimate wildlife experiences out there – as we attempt to track Leopard and Temminck's Ground Pangolin, with the use of radio telemetry. There is no better way to end this tour than with these thrilling wildlife activities!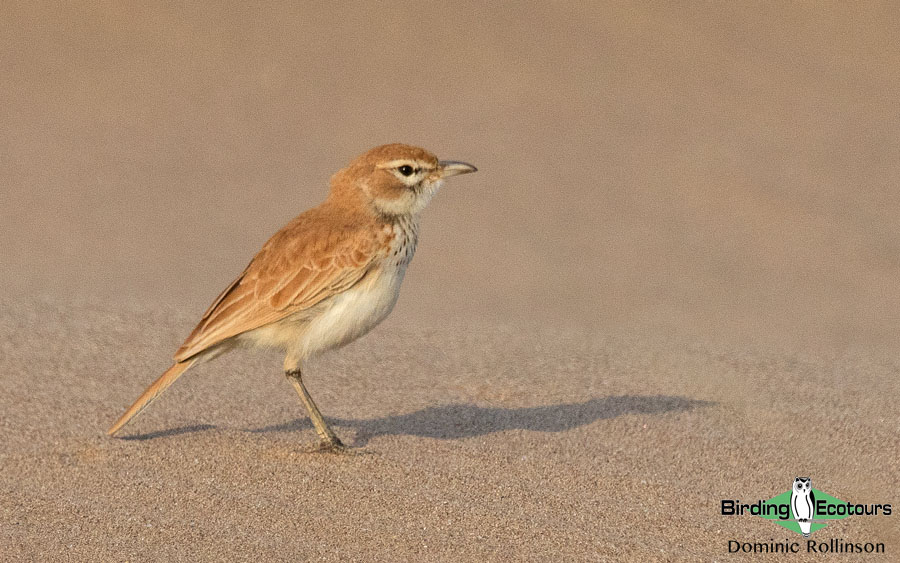 This is an excellent tour for localized species – here, Dune Lark, Namibia's only endemic bird, will be targeted.
This birding tour covers a vast area and a huge range of habitats, from the coastal deserts to the land of big rivers, and is sure to produce a long list of desirable species and sought-after mammals!
This tour can be combined with our Mozambique – African Pitta special tour, which follows directly after this tour. This is another 2021 special tour, designed with the Covid-19 pandemic in mind, allowing for easier and safer travel!
 Itinerary (19 days, 18 nights)
Day 1.  Arrival in Windhoek
Today is your arrival day, and following your arrival into Windhoek, the capital city of Namibia, you will be transferred to our comfortable lodge on the outskirts of the city. Should there be time available in the afternoon, we will likely head out for a birding walk, familiarizing ourselves with some of the local species occurring here, and trying to get a head start on some of the species listed under Day 2 below.
Overnight: Windhoek
Days 2 – 3.  Windhoek to Sossusvlei
We will begin the morning of Day 2 birding in the acacia-dominated rolling hills on the eastern edge of Windhoek, around Avis Dam. This is an incredibly rewarding birding site playing host to a number of the country's near-endemic specials. Some of these top birds include the prized Rockrunner along with Monteiro's Hornbill and White-tailed Shrike. Other characteristic acacia-loving species to be found include the likes of White-backed Mousebird, Common Scimitarbill, Swallow-tailed Bee-eater, Acacia Pied Barbet, Pririt Batis, Crimson-breasted Shrike, Cape Penduline Tit, Barred Wren-Warbler, Yellow-bellied Eremomela, Marico Flycatcher, Kalahari Scrub Robin, Marico Sunbird and a plethora of colorful seedeaters, namely; Black-faced and Violet-eared Waxbills, Green-winged Pytilia, Shaft-tailed Whydah and Yellow Canary.
We should also have time to visit some nearby wetlands and dams where we often come across the likes of Southern Pochard, Maccoa Duck, Blue-billed Teal, African Swamphen and other water-associated bird species.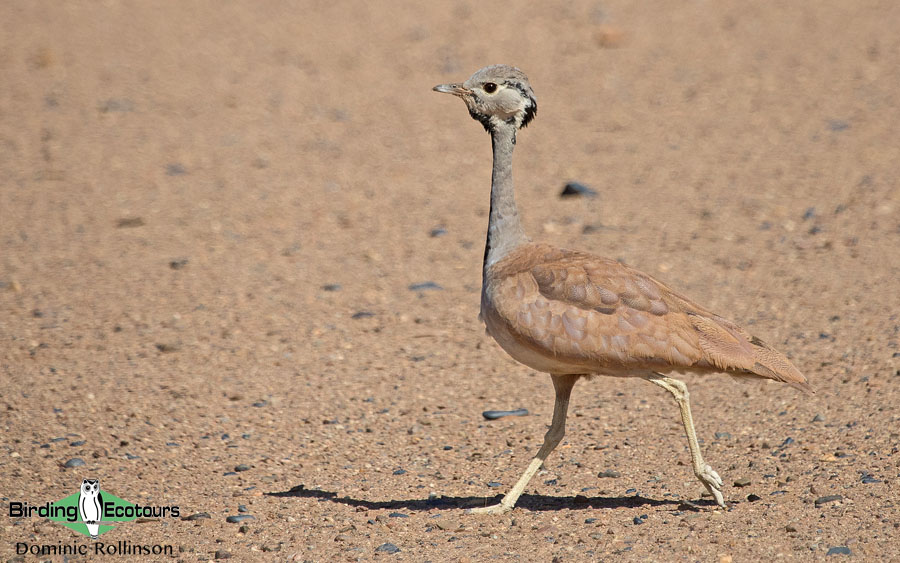 Rüppell's Korhaan is a target in the Namib Desert.
Following our morning birding around Windhoek, we will transfer into the heart of the Namib Desert, to Sossusvlei, where we will be based for two nights. Not only is this area home to some of the country's mightiest dunes, but it is also home to a wide range of desert specials. We will have one full day, and possibly some time on the afternoon of Day 2, to explore this area. Open areas will be scanned for species such as Rüppell's Korhaan and Burchell's Courser while species such as Namaqua Sandgrouse, Common Ostrich and Greater Kestrel are more regularly seen. Dune Lark, Namibia's only endemic bird, can also be seen here, and as its name suggests, occurs amongst the vegetated dunes, as opposed to the rocky plains. Patches of acacia trees host a different suite of species, such as Brubru, Pririt Batis, White-backed Mousebird and Dusky Sunbird. Although generally scarce, we're likely to see some of our first mammals here – and may include the desert adapted Gemsbok (Southern Oryx) – which is Namibia's national mammal, along with others such as Hartmann's Mountain Zebra and even such sought-after mammals as Brown Hyena (rare).
Overnight: Desert Quiver Camp, Sossusvlei
Days 4 – 5.  Sossusvlei to Walvis Bay
We will have the morning of Day 4 available to do any further birding and general exploring of the Sossusvlei area and surrounds, before we transit up to the coast at Walvis Bay, where we will base ourselves for two nights.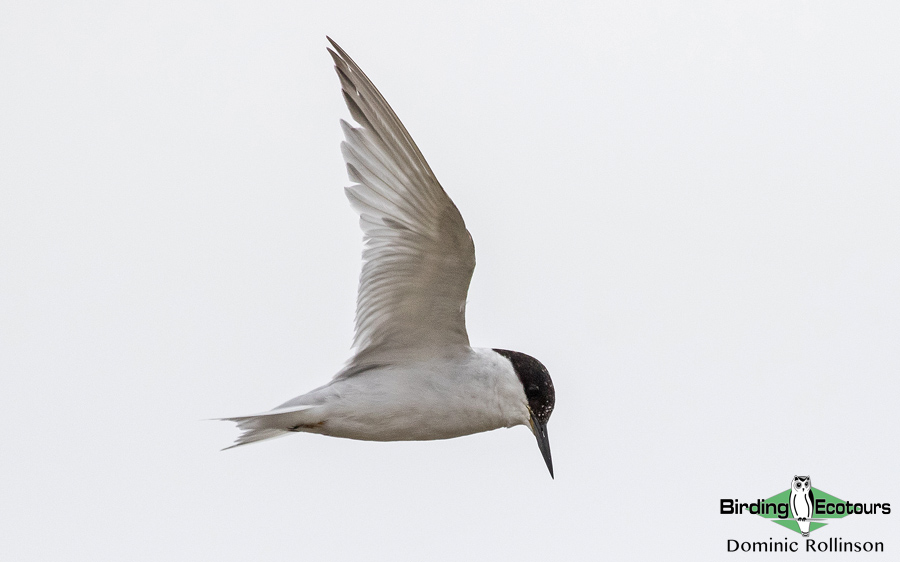 Damara Tern will be looked for along the coast at Walvis Bay.
The first site we usually visit is the picturesque red sand dune habitat across a (usually) dry riverbed around the village of Rooibank, right in the middle of the Namib Desert. This is another excellent site for the endemic Dune Lark, should we have missed it earlier, but we often also find the almost pure-white desert form of Tractrac Chat, amongst others. Our accommodation, for two nights, is at a place from where one can literally see thousands of flamingos (usually about half-half Greater and Lesser), migratory shorebirds from Eurasia, Great White Pelicans, and all the rest, right from our doorstep.  We will also take a boat trip on Walvis Bay Lagoon that is focused mainly on marine mammals, such as Cape Fur Seal, Common Bottlenose Dolphin, the localized Heaviside's Dolphin, and sometimes Humpback Whale. But one also often sees some good birds from the boat, not the least of which is Damara Tern and occasional pelagic species such as White-chinned Petrel and Sooty Shearwater. But there is also an incredible drive we do later in the day that usually gives us close-up views of all the target birds of the lagoon – including Damara Tern as well as Chestnut-banded Plover, Black-necked Grebe (often in large rafts), and tens of thousands of migrant waders. Today we also look for Gray's Lark, a very pale Namib Desert near-endemic. We should also get to observe the bizarre Welwitschia mirabilis, commonly referred to as a 'living fossil'.
Overnight: Lagoon Loge, Walvis Bay
Day 6. The Namib Escarpment via the Spitzkoppe (the "Matterhorn of Namibia")
Heading inland and northward we start encountering some spectacular mountains. The Spitzkoppe in particular, is a huge inselberg that rises abruptly from the desert plain. The flat surrounding areas are good for Burchell's Courser, Rüppell's Korhaan, Ludwig's Bustard, a number of localized lark species such as Karoo Long-billed Lark (replaced by Benguela Long-billed Lark slightly farther north), etc. The mountains themselves are where we search for the enigmatic and bizarre Herero Chat, noisy little flocks of Rosy-faced Lovebirds, a couple of hornbill species (Damara Red-billed and Monteiro's Hornbills) basically restricted to the Namib and adjacent arid habitats, Bradfield's Swift, and many others. The rocky areas near Omaruru offer some great habitat for watching hunting raptors, including Verreaux's Eagle and African Hawk-Eagle as well as Augur Buzzard. A diminutive antelope, Kirk's Dik-dik, is often encountered in the area.
Overnight: Ai-Aiba – The Rock Painting Lodge, Omaruru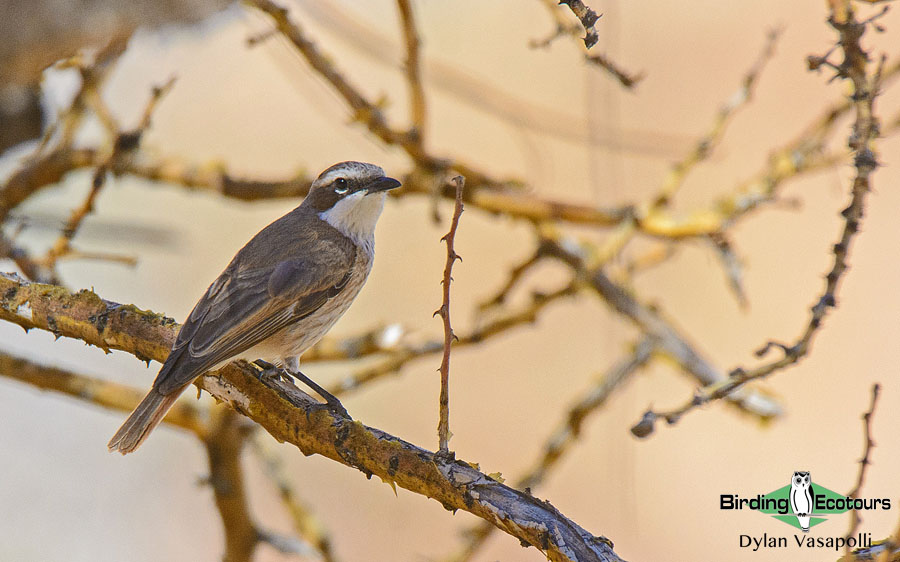 Herero Chat is a special of the Namib Escarpment, and a highly sought-after bird!
Day 7. Birding the Namib Escarpment
Today we have the full day to continue birding the mountains of central Namibia. White-tailed Shrike, Hartlaub's Spurfowl, Rüppell's Parrot, and Rockrunner are four of the superstars of the show – all of them are very localized (occurring only in Namibia and a small part of Angola) and full of personality, not to mention striking-looking. Quite a number of brightly-colored seedeaters also vie for attention around the lodge.
We will also head slightly farther west, targeting another Namibian near-endemic, Benguela Long-billed Lark, and may also have another shot at Herero Chat, if need be. We might, if we're lucky, see Kaokoveld Slender Mongoose, Greater Kudu, Hartmann's Mountain Zebra, or another mammal or two.
Overnight: Ai-Aiba – The Rock Painting Lodge, Omaruru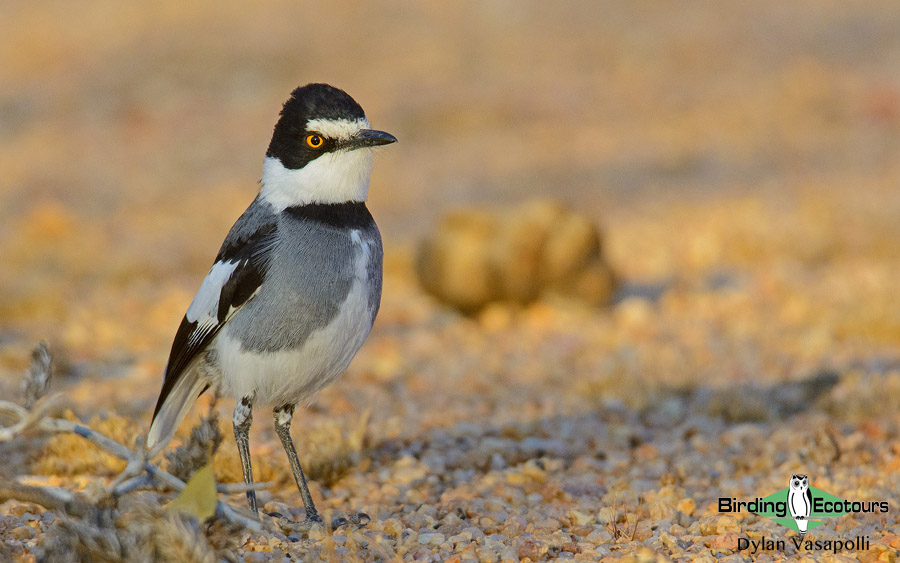 The charismatic White-tailed Shrike is always a highlight with its captivating persona.
Day 8. Etosha National Park: birds and mammals
Etosha justifiably is rated as one of the best game parks in Africa. The floodlit waterholes at the lodges ("camps") within the park must provide one of the greatest wildlife shows on earth. This is big (and small) mammal country, where African Elephant, Black Rhinoceros, large herds of Springbok, Gemsbok, Plains Zebra, Blue Wildebeest, and many other herbivores lurk, meaning (excitingly) that there are also relatively high densities of predators and scavengers, such as Cheetah, Lion, Leopard, African Wildcat, Spotted Hyena, Black-backed Jackal, etc.
Although we stop to look at all the mammal species, birding is still the main focus. An isolated population of South Africa's national bird, the beautiful Blue Crane, inhabits Etosha while Kori Bustard and its smaller relative, Northern Black Korhaan, are both common. Secretarybird and an absolute stack of raptors and vultures are always much in evidence. This is one of the best places in southern Africa for owls, and we often find the tiny African Scops Owl, the giant Verreaux's Eagle-Owl, and sometimes others such as the beautiful Southern White-faced Owl at their daytime roosts. Excitingly, Etosha's open plains must have some of the highest densities of Double-banded Courser in southern Africa. The unbelievably huge nests of Sociable Weaver are features of some areas, sometimes with Pygmy Falcon taking up residence in the same nests.
Overnight: Okaukuejo Camp, central Etosha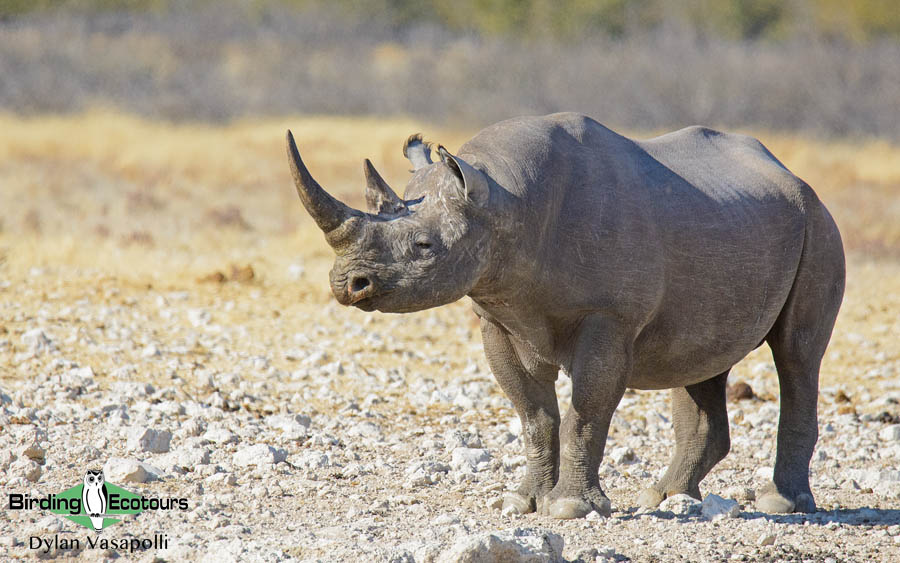 Etosha National Park is one of the best sites in the world to find the scarce Black Rhino!
Day 9. Bird and wildlife viewing in Etosha National Park
We will have the full day in this impressive park birding the open plains and various waterholes from an open-top game-viewing vehicle. We hope to find a multitude of lark species, including Eastern Clapper, Stark's, Sabota, Pink-billed, Fawn-colored, and Rufous-naped, as well as larger and more brightly colored species such as Crimson-breasted Shrike, Gabar Goshawk, Greater Kestrel, Lappet-faced Vulture, and Namaqua Sandgrouse.
Overnight: Okaukuejo Camp, central Etosha
Day 10. Central to eastern Etosha National Park
Today we make our way from the central section of the park to the eastern edge. As we head farther east the bird species change gradually, and we hope to find Blue Crane, Secretarybird, Red-necked Falcon, Burchell's Courser, Caspian Plover, and Eastern Clapper Lark, among the usual suspects. Around Mokuti Lodge we should see Black-faced Babbler, Crimson-breasted Shrike, White-browed Scrub Robin, Black-faced Waxbill, Bearded Woodpecker, Pearl-spotted Owlet, and other woodland species.
Overnight: Mokuti Etosha Lodge, eastern Etosha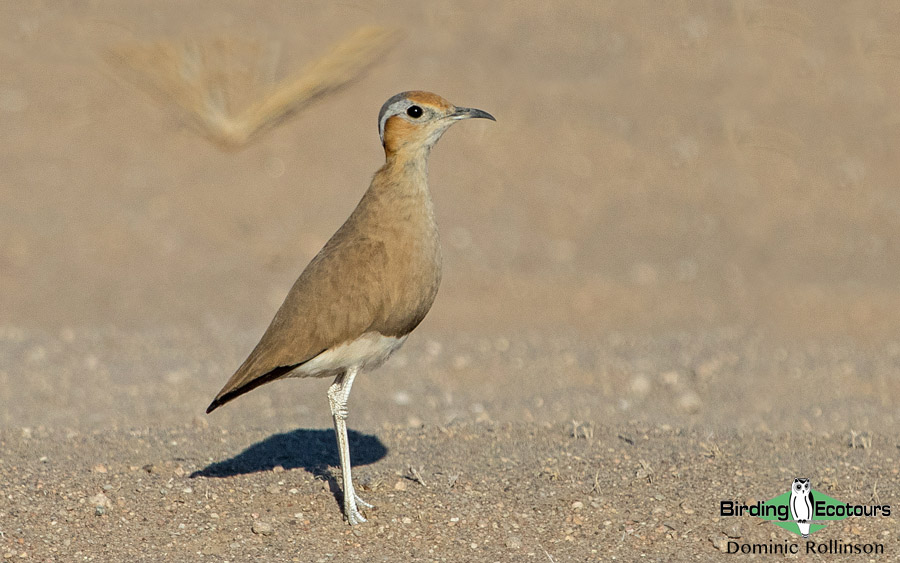 The uncommon Burchell's Courser is sometimes seen in Etosha National Park.
Day 11. Transfer to and birding around Rundu
We will have the morning to continue birding the productive grounds of our comfortable lodge. After our morning's birding, we will continue eastward, with the landscape becoming lusher, and we should start seeing well-developed woodlands for the first time of the tour. The tall woodlands east of Rundu are home to some tricky birds, such as Rufous-bellied Tit (which can be very thin on the ground and tough to find). Sharp-tailed Starling (along with the more common but also more spectacularly plumaged Greater Blue-eared Starling) and Souza's Shrike are two tough birds of human-modified woodland. There is a plethora of other great birds to be found here, both woodland birds and waterbirds, such as cuckooshrikes, orioles, Green-capped Eremomela, Tinkling Cisticola, Swamp Boubou, Dwarf Bittern, Rufous-bellied Heron, and a rich assemblage of others.
We may also bird the wetlands around Rundu (this afternoon or tomorrow morning) for Collared Pratincole, White-backed Duck, Baillon's Crake, Greater Painted-snipe, and perhaps even Allen's Gallinule, Lesser Moorhen or Lesser Jacana. The lodge we stay at near Rundu has hosted a Ross's Turaco for the last year or so (the only place it reliably occurs in southern Africa), and we hope to find this rare beauty!
Overnight: Taranga Safari Lodge or similar, Rundu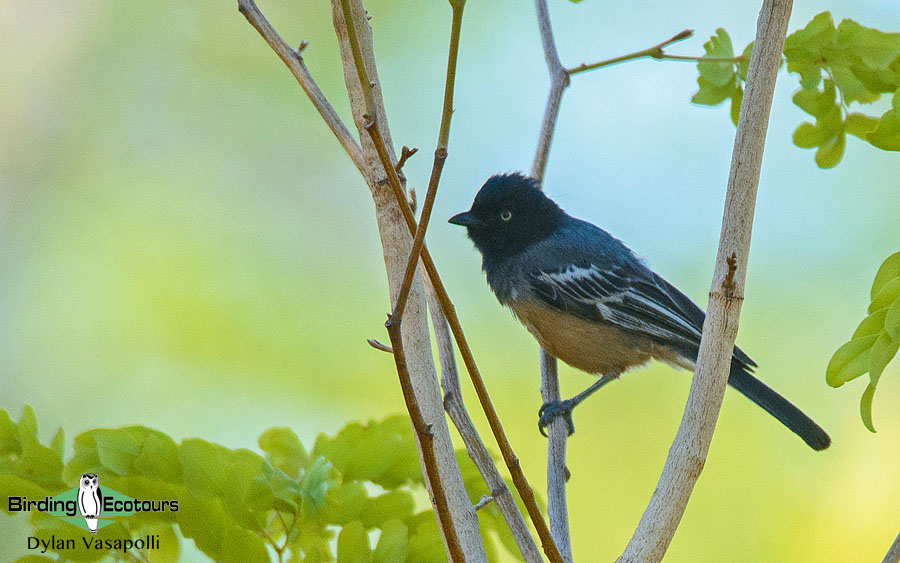 We hope to find the rare Rufous-bellied Tit in the woodlands of the Caprivi Strip.
Days 12 – 13. Into the Caprivi Strip, and birding Katima Mulilo
We continue birding the wetlands and woodlands of this bird-rich corner of Namibia. We spend two nights on the banks of the Zambezi River, from where we can do boat trips and birding/game drives. We will undertake late-afternoon boat trips along the Zambezi – which are extremely productive and usually produce great sightings of African Finfoot, White-backed Night Heron, Half-collared Kingfisher, White-crowned Lapwing, African Skimmer, and Rock Pratincole. Additionally, we will also put in a special effort to track down the magnificent Pel's Fishing Owl, which occurs on the river here.
Moving onto dry-land, Yellow-throated Leaflove was discovered as a breeding bird on the Namibia/Zambia border (the Namibian side) in 2015, hundreds of kilometers south of its previously known range, and is one of today's targets. Olive Woodpecker, Schalow's Turaco, and Western Banded Snake Eagle all occur in the riparian vegetation along the banks of the Zambezi River. In the surrounding woodlands we search for Racket-tailed Roller, Arnot's Chat, Copper Sunbird, Striped Kingfisher, Grey-headed Bushshrike, Grey Penduline Tit, Wood Pipit, and Lizard Buzzard. Seasonal pans in the area are explored for Blue-billed Teal, Rosy-throated Longclaw, White-backed Duck, Lesser Jacana, Rufous-bellied Heron, Luapula Cisticola, and perhaps even Black Coucal.
A range of nocturnal birds occur in the area, and we will search for species such as African Wood and Western Barn Owls and a host of nightjars including Fiery-necked, Square-tailed, and the spectacular Pennant-winged!
Overnight: Caprivi Houseboat Safari Lodge or similar, Katima Mulilo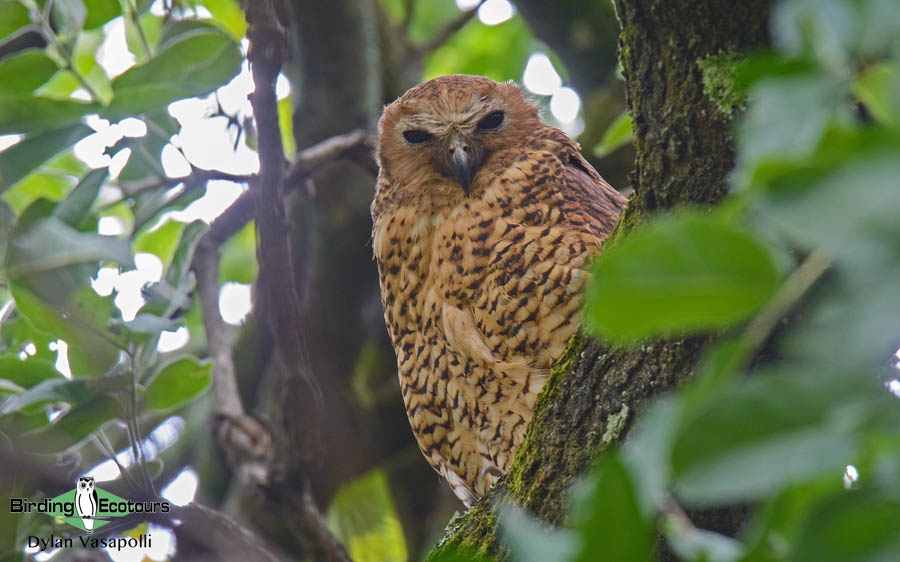 A great number of birds can be found around Katima Mulilo such as the rare and elusive Pel's Fishing Owl.
Days 14 – 15. Mahango birding
Katima Mulilo marks our furtherest point from the capital city, Windhoek, and today we will slowly start making our way back towards the capital – although stopping off on the Namibian side of the Okavango Delta panhandle, in the hugely productive Mahango area. This is one of the country's top birding sites, with a wide diversity of habitats and the incredibly rich panhandle area of the Okavango Delta both contributing to the large number of birds residing here.
The bulk of our time will be spent in the Mahango Game Reserve, a protected area within Bwabwata National Park. Here we will search for the likes of Rock Pratincole, African Skimmer, Wattled Crane, Slaty Egret, Western Banded Snake Eagle, Long-toed Lapwing, African Pygmy Goose, Bradfield's Hornbill, Greater Swamp Warbler, Luapula, Chirping and Tinkling Cisticolas, the oversized Coppery-tailed Coucal, several spectacular weavers with their bright yellow plumage and amazing nests, Greater Painted-snipe, and Grey-rumped Swallow and so many more! African Buffalo occurs here but not in Etosha, and this is also one of the best places in the world to find the rare Roan Antelope and Sable Antelope.
The lodge grounds are a haven for birdlife, and we can expect to find Hartlaub's Babbler, White-browed Coucal, and Meves's Starling, with African Barred Owlet in the nearby woodlands. Brown Firefinch and its more common cousins, Red-billed Firefinch and Blue Waxbill, often feed on the lawns. The liquid calls of Swamp Boubou and coucals add greatly to the atmosphere. Other species we'll keep an eye open for are Meyer's Parrot, White-breasted Cuckooshrike, African Golden Oriole and White-browed Robin-Chat.
We will undertake a boat cruise along the Kavango River here, searching for any of the scarcer and more difficult-to-find species such as Pel's Fishing Owl, White-backed Night Heron and African Pygmy Goose, that we may have missed on the boat trips around Katima Mulilo.
Overnight: Mahangu Safari Lodge or Ndhovu Safari Lodge, Divundu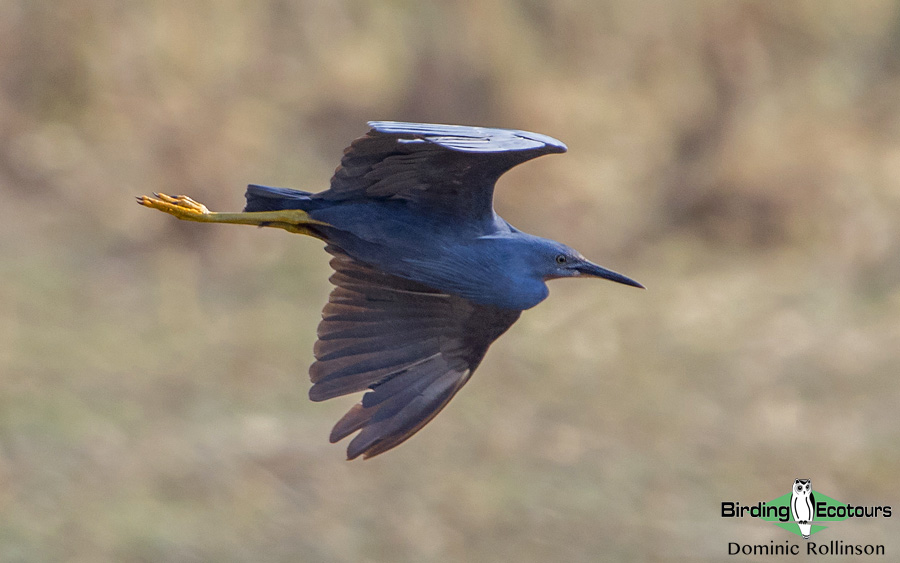 Mahango is another birding gem, with the Slaty Egret being one of our main targets!
Day 16. Leaving the Caprivi Strip
After some final early-morning birding in the Mahango area, we will make the relatively short transfer to the Katere area (east of Rundu), where we will spend some more time birding in the mixed woodlands. Here we will have another shot at the highly sought-after Souza's Shrike, Sharp-tailed Starling, and Rufous-bellied Tit. Following our birding here, we will continue onwards, exiting the Caprivi Strip, back towards the central Namib Escarpment, arriving at our comfortable lodge in the afternoon.
Overnight: Roy's Rest Camp, Grootfontein
Days 17 – 18. Birds and mammals of Okonjima Nature Reserve
We will be able to spend the morning of Day 17 birding the mixed acacia thornveld around our lodge. The lodge is another excellent site for the restricted Black-faced Babbler, should we have missed this species in eastern Etosha. Other species usually evident include the likes of Red-billed Spurfowl, Pearl-spotted Owlet, Bradfield's Hornbill, Rosy-faced Lovebird, Crimson-breasted Shrike and a plethora of colorful seedeaters, such as Black-faced and Violet-eared Waxbills, Red-headed Finch and Shaft-tailed Whydah.
Following our transfer to the exclusive Okonjima Nature Reserve, which is also home to the AfriCat Foundation, we will likely begin our exploration of this stunning reserve. We will undertake two activities at Okonjima, which will likely be Leopard tracking and Temminck's Ground Pangolin tracking – both through the use of radio telemetry. Although there are no guarantees of successfully finding these highly prized mammals, these are thrilling activities and are sure to be a highlight for all in the group! Birding is still high on our priority list however, and Okonjima is an excellent area for us to 'clean-up' on a number of the core Namibia species that we may have missed on the tour. These include the likes of Monteiro's and Damara Red-billed Hornbills, White-tailed Shrike, Violet Wood Hoopoe, Bare-cheeked Babbler, Carp's Tit and Rüppell's Parrot. Rockrunner and Hartlaub's Spurfowl do occur, but both require much searching and a good dose of luck to see. A range of other species are also to be sought including, Red-crested Korhaan, Double-banded and Burchell's Sandgrouse, Swallow-tailed Bee-eater and Southern Pied Babbler. Freckled Nightjar is regularly present after dark. We will settle in for our final tour dinner, following a wonderous and bird-filled journey through the most-productive regions of Namibia!
Overnight: Okonjima Nature Reserve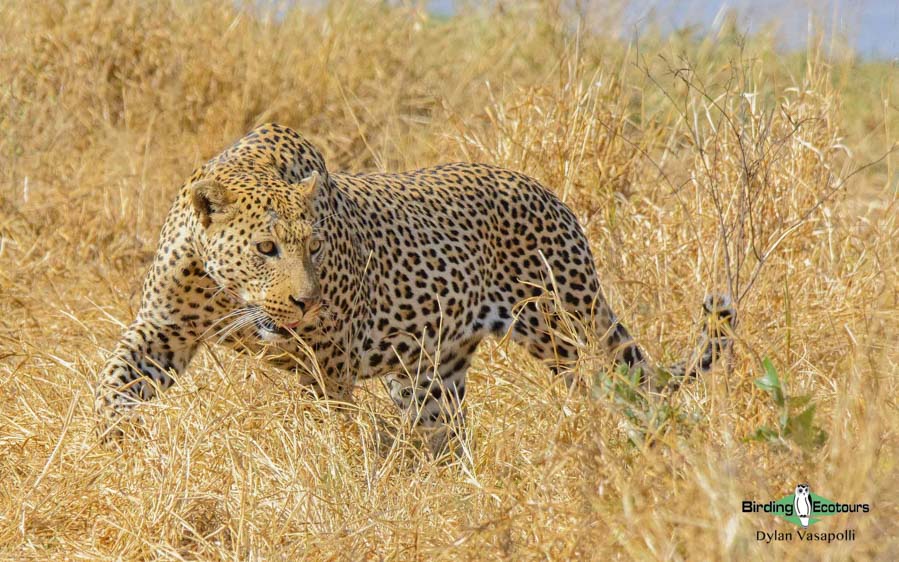 Tracking Leopards in the wild is a thrilling experience, and is sure to be a fantastic end to the tour!
Day 19. Departure
After breakfast, we will transfer to Windhoek, Namibia, where this tour will conclude around midday. As this is a drive of a few hours, we ask participants to please book their departure flights from the mid-afternoon onwards.
We look forward to welcoming you again on future tours!
Please note that the itinerary above cannot be guaranteed as it is only a rough guide and can be changed (usually slightly) due to factors such as availability of accommodation, updated information on the state of accommodation, roads, or birding sites, the discretion of the guides and other factors. In addition, we sometimes have to use a different international guide from the one advertised due to tour scheduling.
Download Itinerary
DOWNLOAD TRIP REPORT
This is a sample trip report from our regular Namibia, Okavango and Victoria Falls tour which our Complete Namibia tour has replaced (during COVID times) on which we should find a similar suite of birds and wildlife. Please email us ([email protected]) for more trip reports from this destination.