Posted on 11 June 2021
Andy Walker provides some highlights from his 2019 northern Ecuador birding trip.
I have been lucky to live and bird (and lead birdwatching tours and guide at lodges) in several countries in the Neotropics, such as in Costa Rica, Peru, Panama, Brazil, and Colombia, but for one reason or another (too busy guiding in Europe, Asia, and Australasia mainly!), I had never made it to Ecuador. That was until I had a gap in my schedule after taking part in the 2019 Biggest Week in American Birding (BWIAB), in Ohio, USA. I had a few weeks to play with so I got in touch with our South American experts Eduardo Ormaeche and Galo Real to start planning something special. We decided the best course of action would be to split the time up to cover the north and south of the country, targeting a few key sites and birding areas as well as dropping into the famed Ecuadorian Amazon. Unfortunately, I did not have time to include a trip across to the Galapagos Islands, but plan to do that when I am able to return. I had just purchased a new camera at the BWIAB, so I was looking forward to learning how to use it in Ecuador – it was a steep learning curve but the photo opportunities I had on this trip were amazing, particularly in the north!
This blog post will highlight some of the areas I birded in northern Ecuador and show some of the amazing birds I was able to observe. I will put together some other blog posts on the south and Amazon birding adventures soon too.
Northern Ecuador offers the chance to see some spectacular and highly sought-after species such as Andean Cock-of-the-rock, Andean Condor, Sword-billed Hummingbird, Giant Hummingbird, Torrent Duck, Dark-backed Wood Quail, Toucan Barbet, Plate-billed Mountain Toucan, Golden-headed Quetzal, Crested Quetzal, Giant Antpitta, Rufous-crowned Antpitta (the famous Pittasoma!), Scarlet-breasted Fruiteater, Ocellated Tapaculo, Tanager Finch, and Oilbird. Additionally the numbers of tanagers, hummingbirds, toucans, trogons, and other spectacular birds in this area is crazy, the density of birds really is something to behold. The area is excellent if you are looking for Ecuadorian specials and great if you are looking for awesome views of amazing birds.
I spent my time birding in northern Ecuador based out of Mindo, and birded the famous Tandayapa Valley, Bellavista Cloud Forest Reserve, Amagusa Reserve (Mashpi), Milpe Bird Sanctuary, and Refugio Paz de las Aves. Mindo is great place to be based, only a couple of hours from Ecuador's capital city of Quito, where I also enjoyed exploring, some wonderful museums and restaurants.
The route from Quito to Mindo passes through some amazing birding areas and so journeys were broken up to allow for a bit of extra birding (e.g. the famous Yanacocha Reserve). I cannot emphasis enough just how birdy this area is. Over the course of a week around the Mindo area – mainly sat enjoying the hummingbird and fruit-feeder set up, and some very gentle hikes in neighboring forests, I found around 200 species (including many Chocó endemics) and managed to get some nice photos of so many quality birds.
Below are some photographs of some of the interesting birds that I managed to find.
Andean Cock-of-the-rock, Rupicola peruvianus – One of the most spectacular birds in the world and one of the most iconic birds of the Andes where it is found in cloudforest at middle elevations. I was thrilled to get to watch these noisy members of the Cotinga family displaying on their lek near Mindo in the early mornings. The males are brilliant crimson or orange with black wings, obvious silver tertials and a short, rounded crest. For many this is a "bucket-list" bird and it is easy to see why.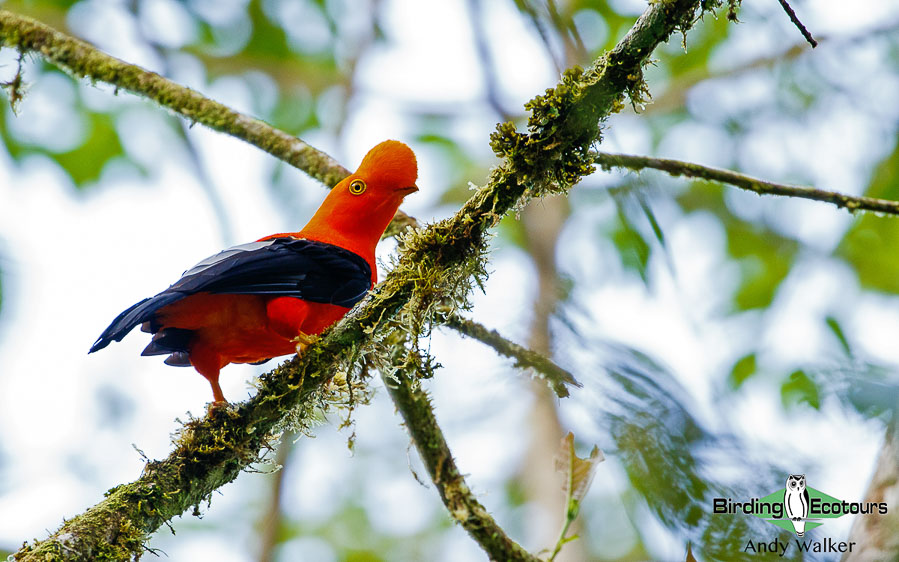 Male Andean Cock-of-the-rock at a lek in northern Ecuador.
Rufous-crowned Antpitta, Pittasoma rufopileatum – One of two members of the highly sought-after, rare and secretive Pittasoma genus of antpittas. I was so thrilled to get this bird to complete my Pittasoma list after seeing Black-crowned Antpitta in Costa Rica previously. This chunky, nearly tailless bird, is found in lowland and foothill rainforest. I enjoyed several other antpittas while around Mindo, including Yellow-breasted Antpitta, Ochre-breasted Antpitta, Chestnut-crowned Antpitta, and Tawny Antpitta. Unfortunately, I missed out on seeing Giant Antpitta and Moustached Antpitta, but it gives me a great reason to go back!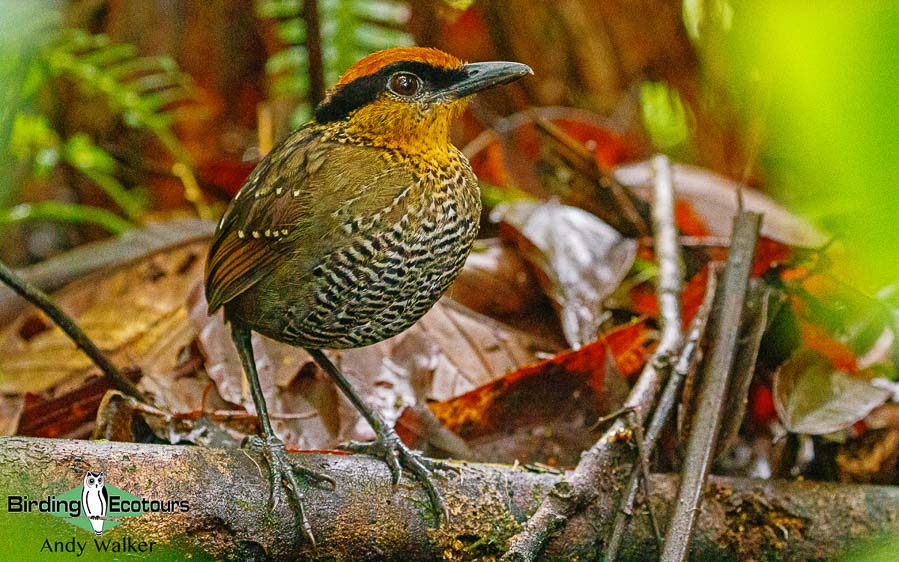 The stunning Rufous-crowned Antpitta, one of the main targets of my Ecuador trip and a Chocó endemic.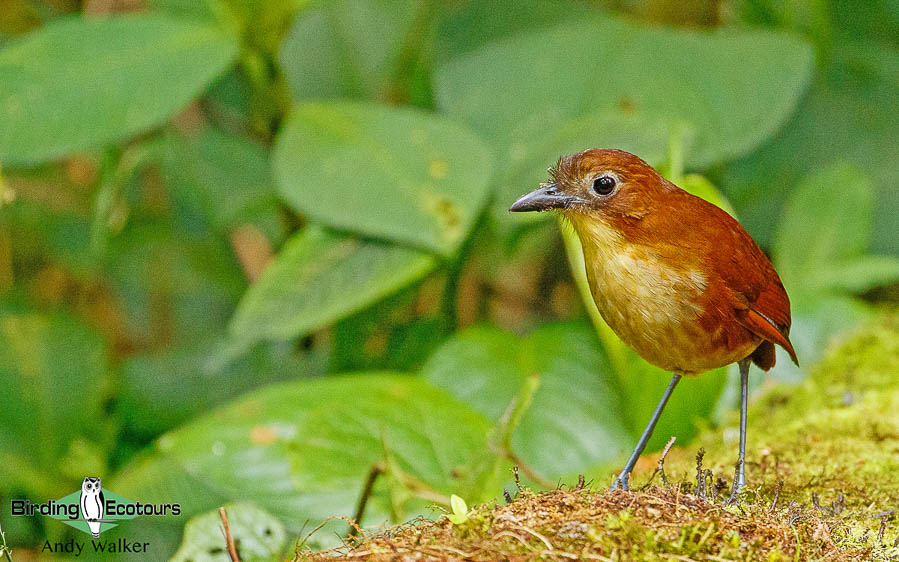 Yellow-breasted Antpitta giving gave great views at a couple of locations around the Mindo area and yet another Chocó endemic.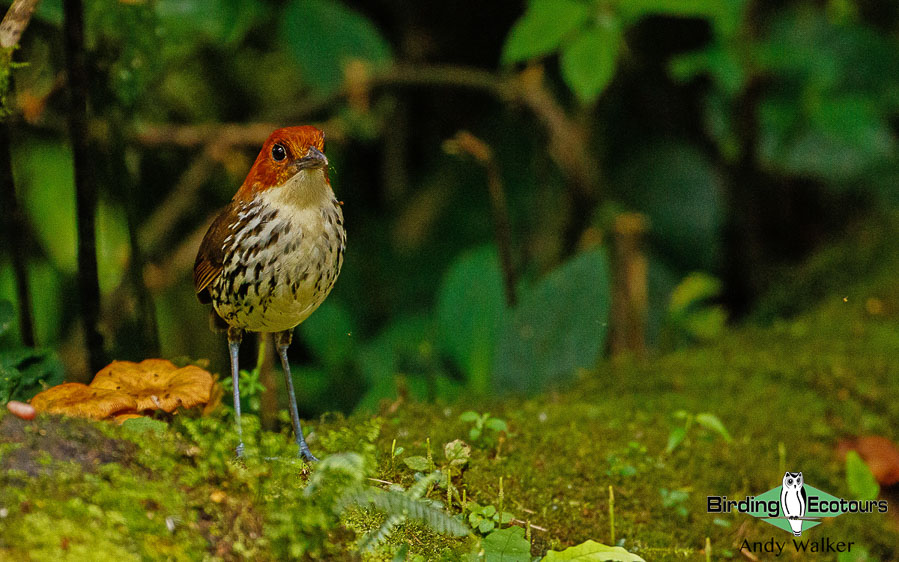 The gorgeous Chestnut-crowned Antpitta from northern Ecuador. There are several distinctive subspecies in this species complex and a high likelihood of potential future splits.
Plate-billed Mountain Toucan, Andigena laminirostris – An iconic and colorful toucan of the Andean cloudforest in Ecuador and southern Colombia (it is a Chocó endemic). They are usually encountered in pairs or small groups that move through the forest canopy. Around Mindo there are a few sites where these spectacular birds come to feeders, allowing for fantastic close views. Several other toucans were also found in the area and all gave great views too, like Crimson-rumped Toucanet and Yellow-throated Toucan.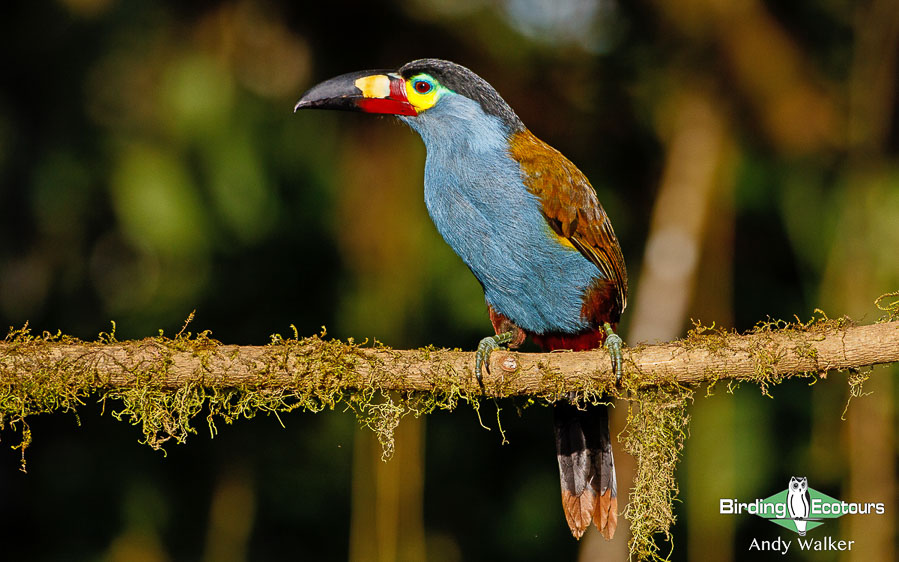 It was amazing to get such close views of Plate-billed Mountain Toucan.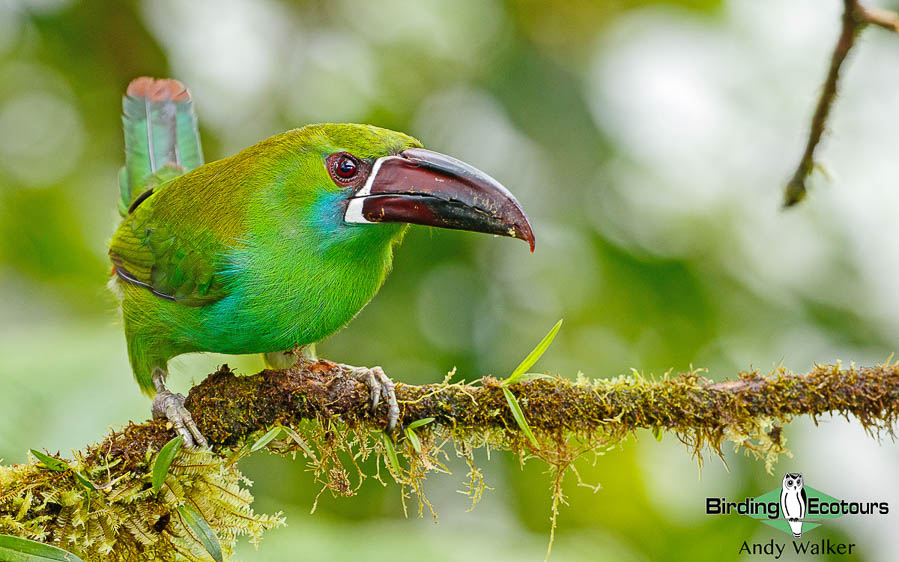 Crimson-rumped Toucanet gave some fantastic close views at the feeding stations around Mindo.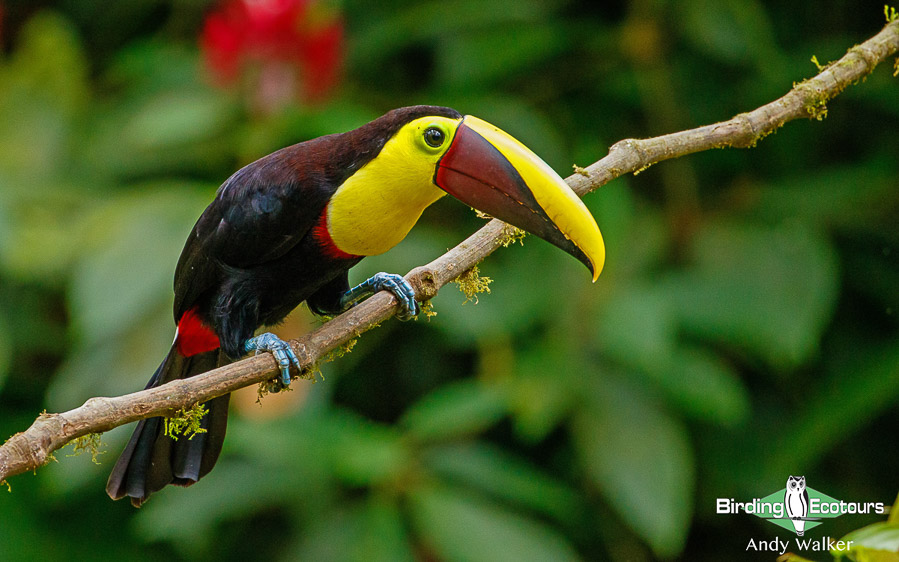 To have the often-shy Yellow-throated Toucan dropping down so close was a thrilling experience. What a bird!
Toucan Barbet, Semnornis ramphastinus – One of two members of the Toucan Barbets family (the other being Prong-billed Barbet, a Chiriqui endemic found in Costa Rica and Panama). This is always one of those iconic birds that people want to see, and I was pleased to get some excellent views of several of them during my trip. It is found in northwest Ecuador and western Colombia and is a Chocó endemic.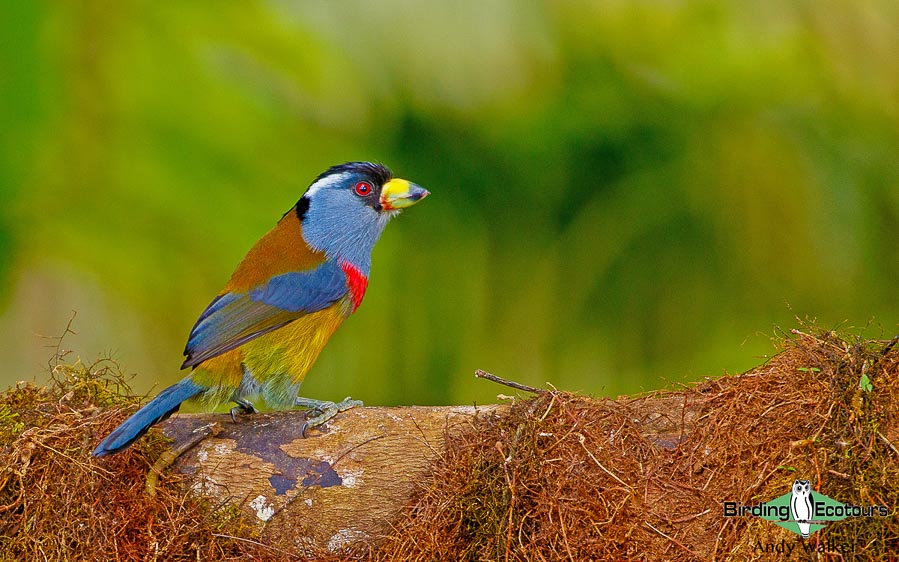 A beautiful Toucan Barbet, a large bird with a huge, thick bill.
Orange-breasted Fruiteater, Pipreola jucunda – A personal milestone bird for me as it was my 5,000th world bird. A pleasing bird for this personal landmark as it has a relatively restricted range in western Ecuador and Colombia (another Chocó endemic) where it is found in the cloudforest in the western Andes, and it is a stunning bird visually too!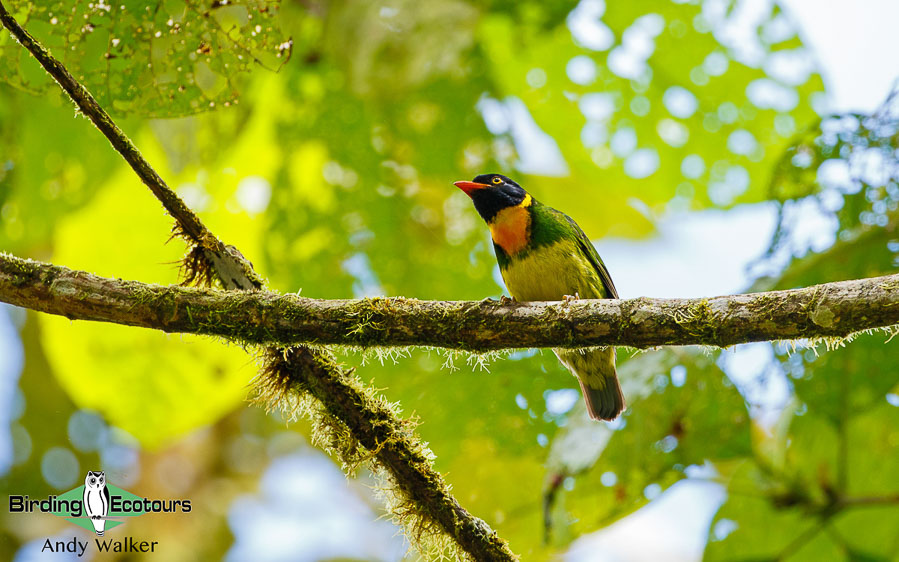 Male Orange-breasted Fruiteater – such a spectacular bird!
Sword-billed Hummingbird, Ensifera ensifera – One of the craziest birds in the world, I'd enjoyed seeing this species in Peru and Colombia but was very happy to see it again in northern Ecuador. This bird is unmistakable, it has the longest bill in relation to its body size of any bird in the world. It occurs in montane forest and forest edges, where it feeds from long, tubular flowers. It also visits feeders, which is an interesting sight! Ecuador is fantastic for hummingbirds, there are so many feeders all over the place (and lots of gardens for a more natural look) and great views of many species are guaranteed including Violet-tailed Sylph, Velvet-purple Coronet, White-booted Racket-tail, Buff-winged Starfrontlet, Crowned Woodnymph, Great Sapphirewing, Lesser Violetear, Purple-throated Woodstar, Sapphire-vented Puffleg, Shining Sunbeam, Tyrian Metaltail, and Purple-bibbed Whitetip.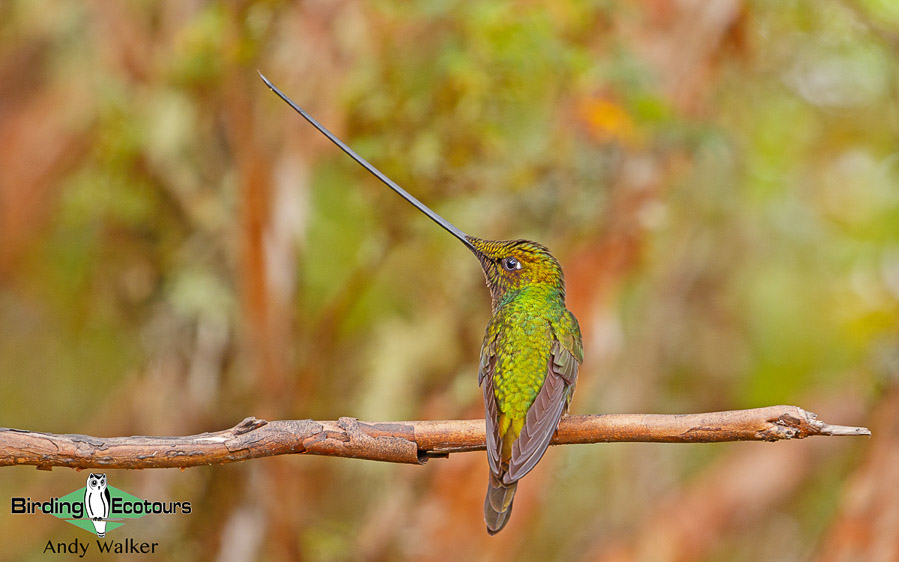 The staggering Sword-billed Hummingbird is one of those must-see hummingbirds.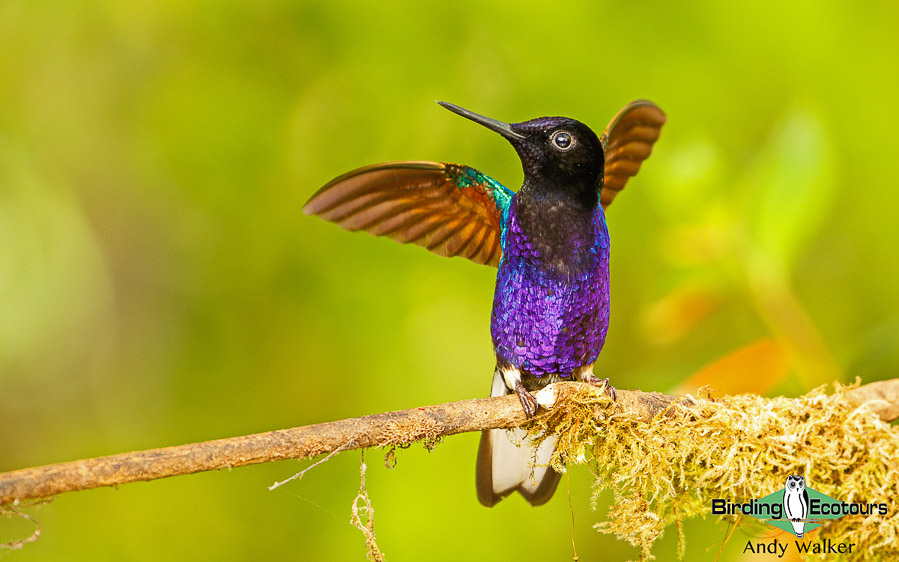 Velvet-purple Coronets have a habit of flicking their wings out when they perch.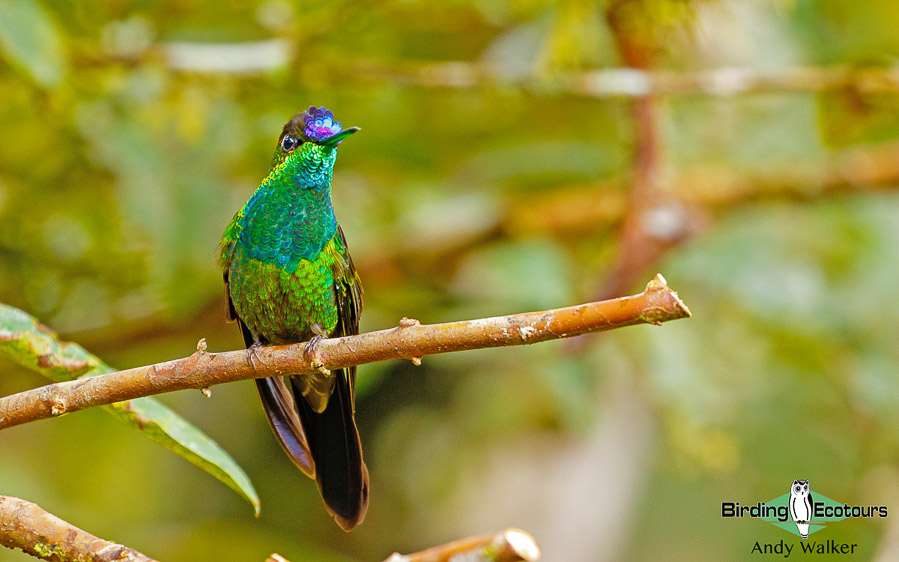 Violet-tailed Sylph has a glorious and long, purple tail.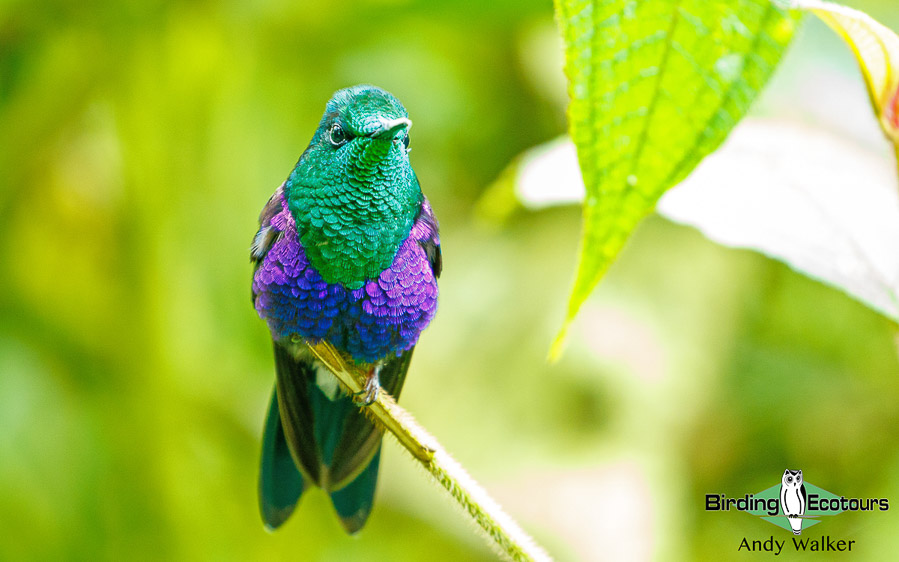 Crowned Woodnymph is one spectacular common hummingbird.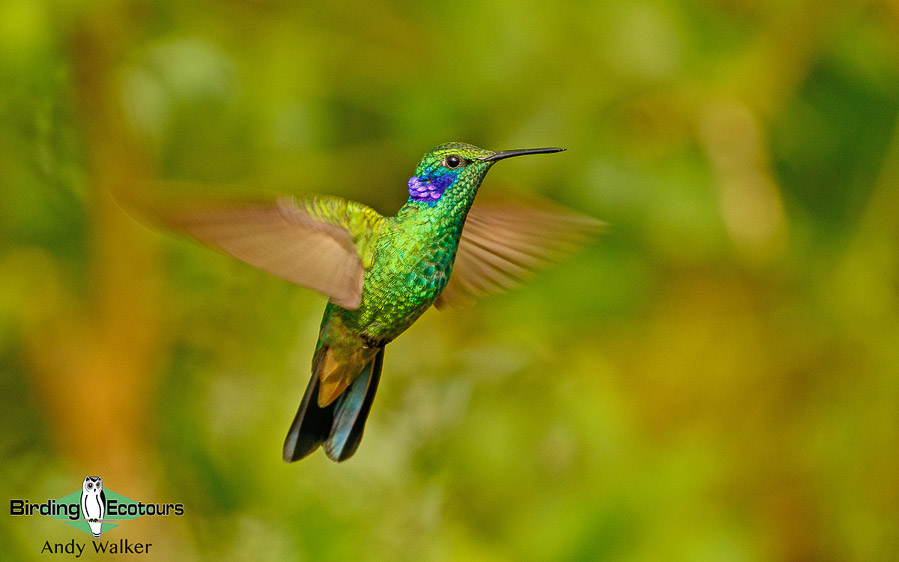 Lesser Violetear flashing its ear-covers.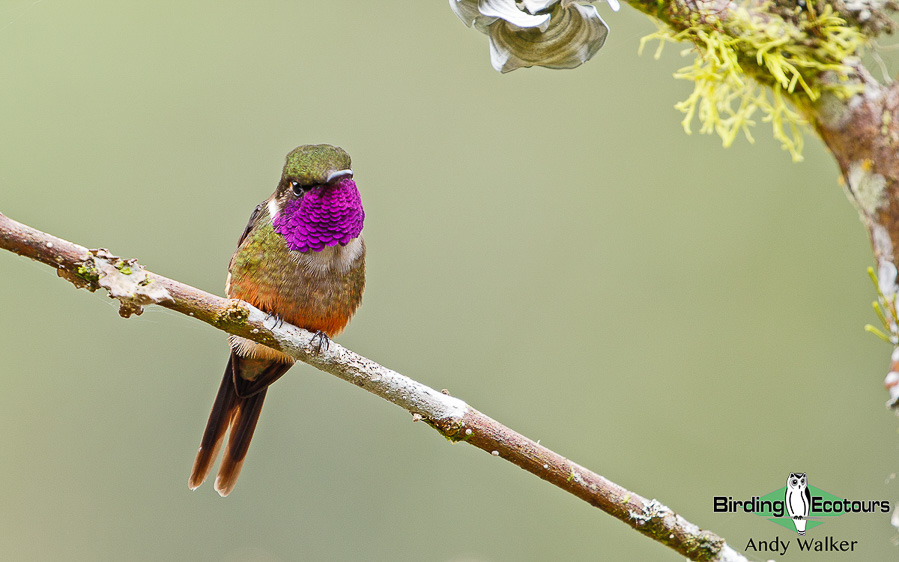 Purple-throated Woodstar is a tiny little hummingbird with an elongated tail and a gorgeous purple throat.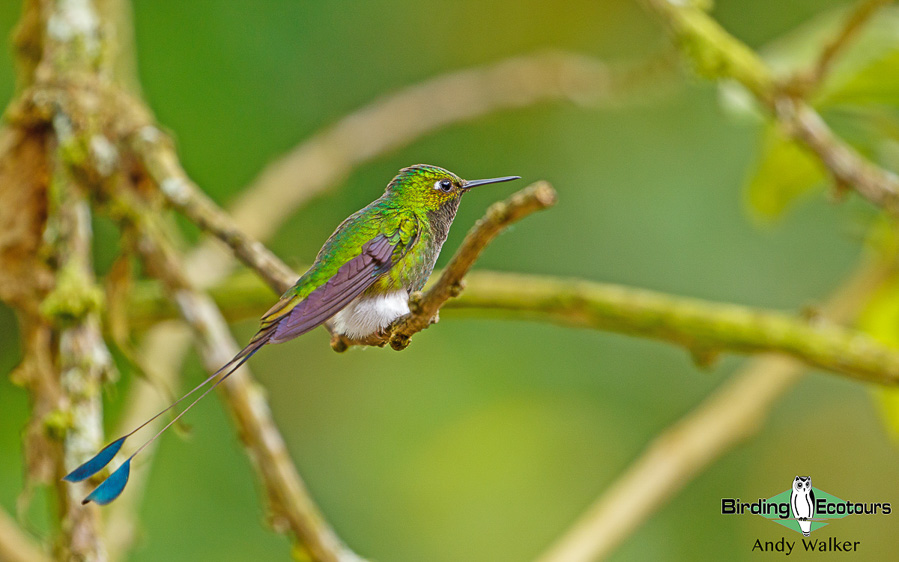 White-booted Racket-tail showing the key naming feature of this hummingbird.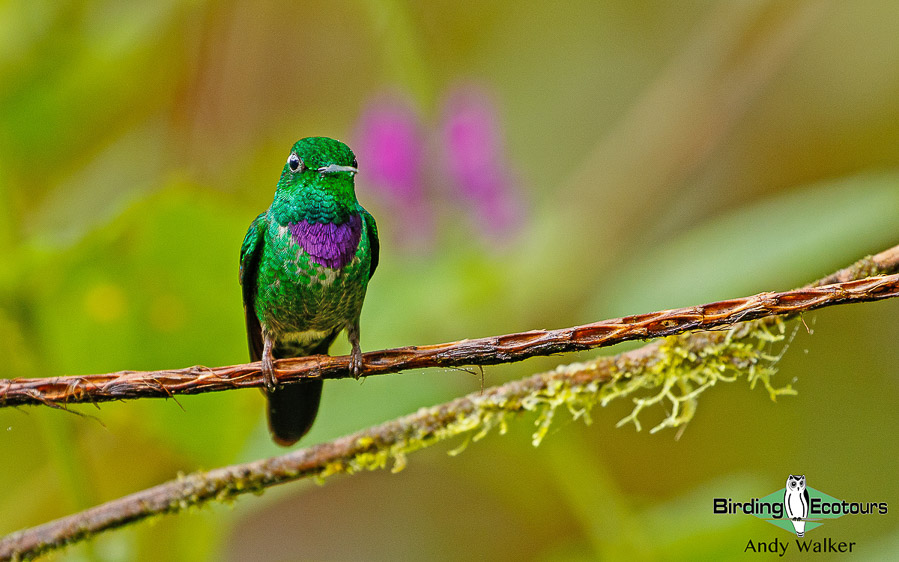 Purple-bibbed Whitetip is one rather cute hummingbird.
Blue-winged Mountain Tanager, Anisognathus somptuosus – A giant of a tanager and one of so many different tanagers that gave such fantastic and prolonged close-up views during my time in northern Ecuador. The tanager experience in this part of South America is one that really needs to be seen to be believed. Everywhere you go there are seemingly endless flocks of colorful tanagers, they love the feeding stations. It is a veritable riot of color! Some of the other tanager species I enjoyed here included Golden Tanager, Flame-faced Tanager, Glistening-green Tanager, Moss-backed Tanager, Black-chested Mountain Tanager, Black-capped Tanager, Golden-naped Tanager, Rufous-throated Tanager, Silver-throated Tanager, Green Honeycreeper, and Golden-collared Honeycreeper.
Blue-winged Mountain Tanager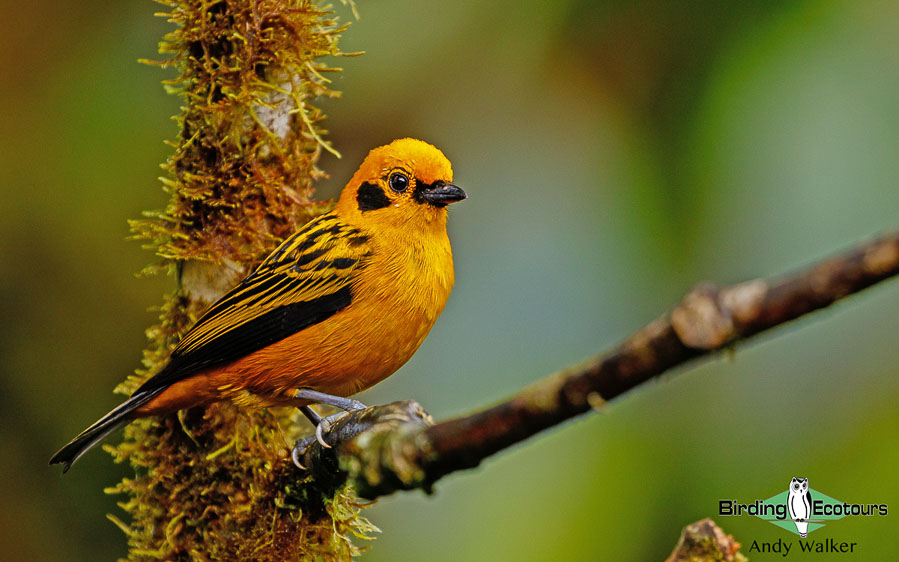 Golden Tanager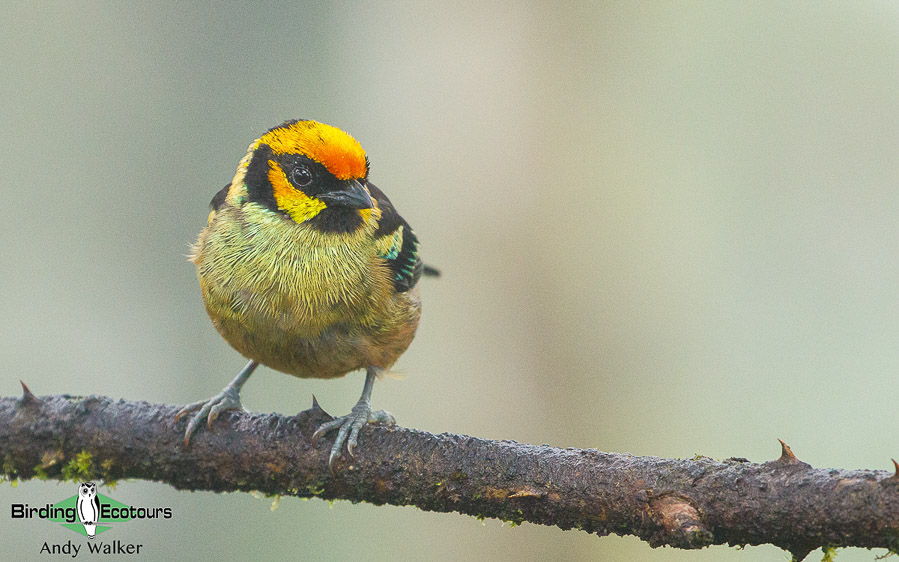 Flame-faced Tanager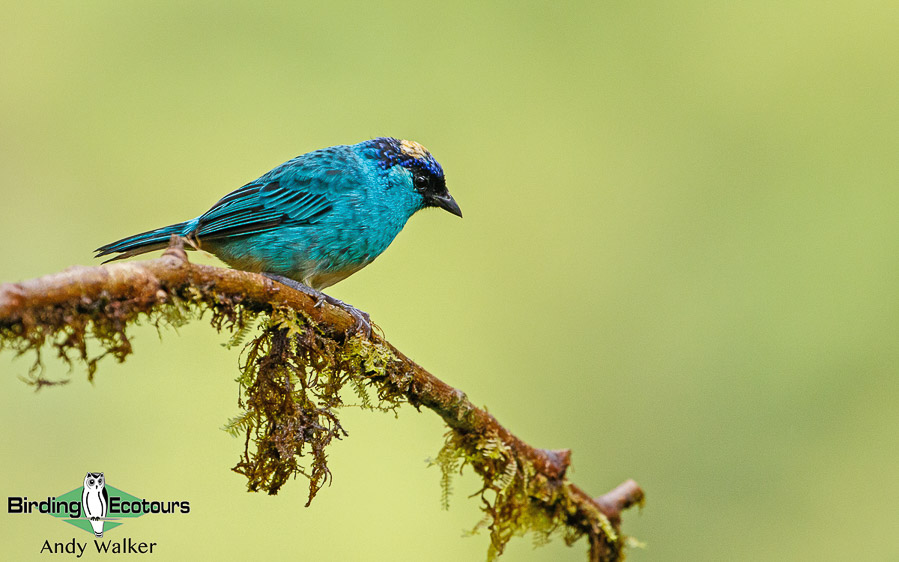 Golden-naped Tanager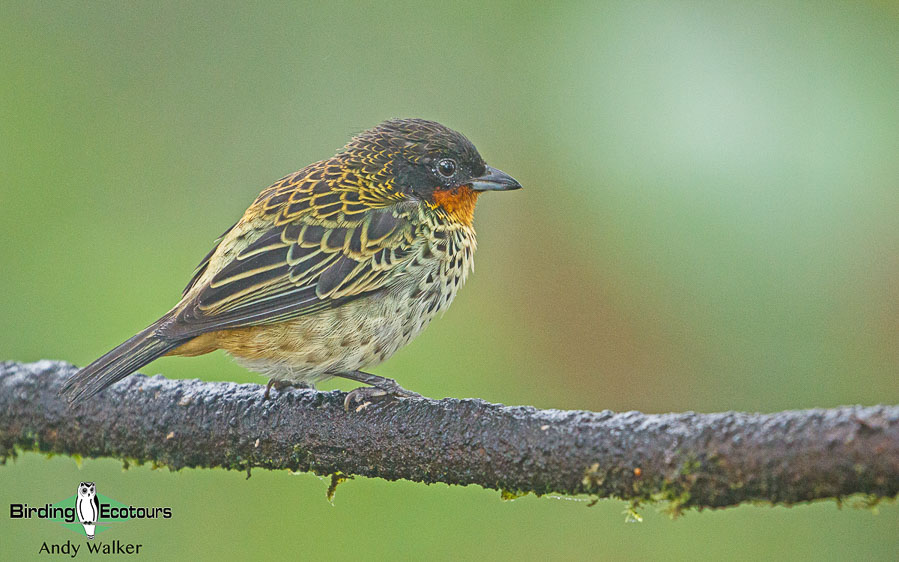 Rufous-throated Tanager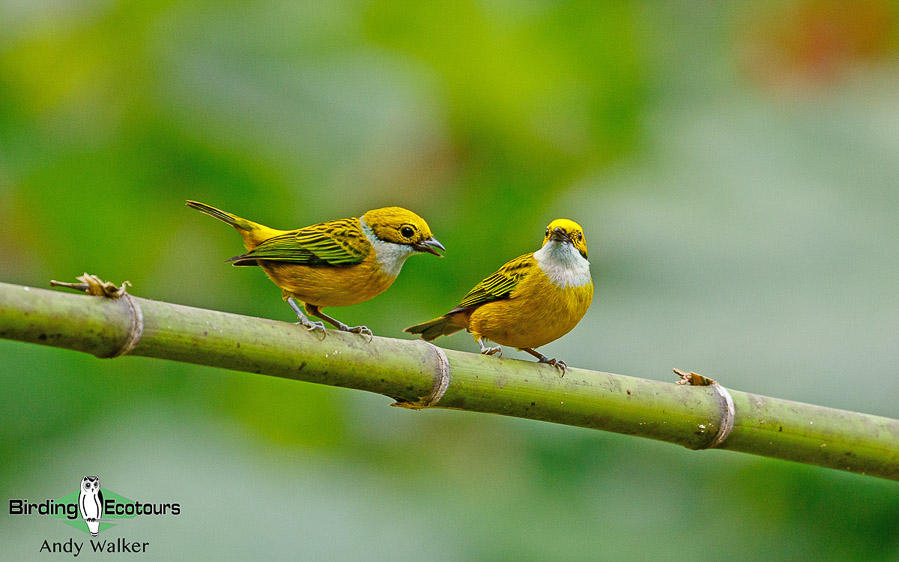 Silver-throated Tanager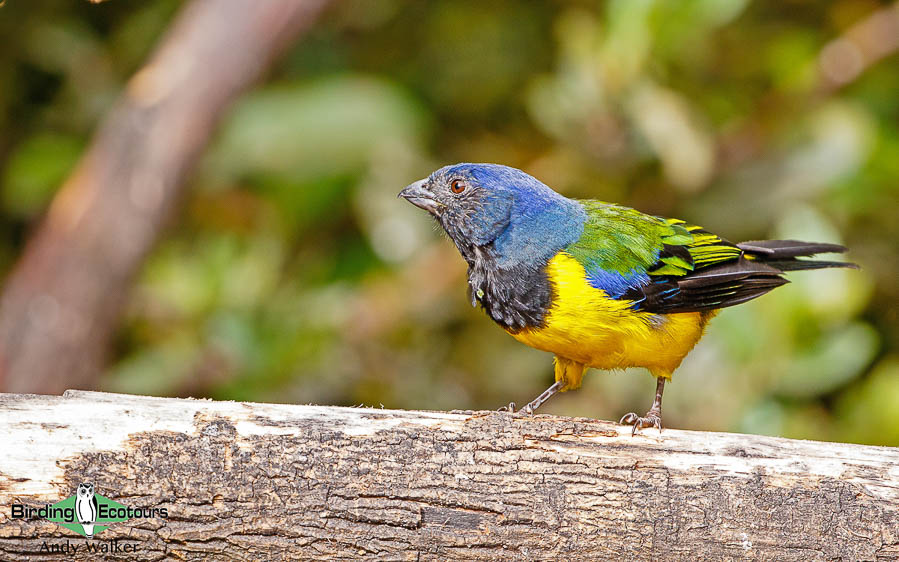 Black-chested Mountain Tanager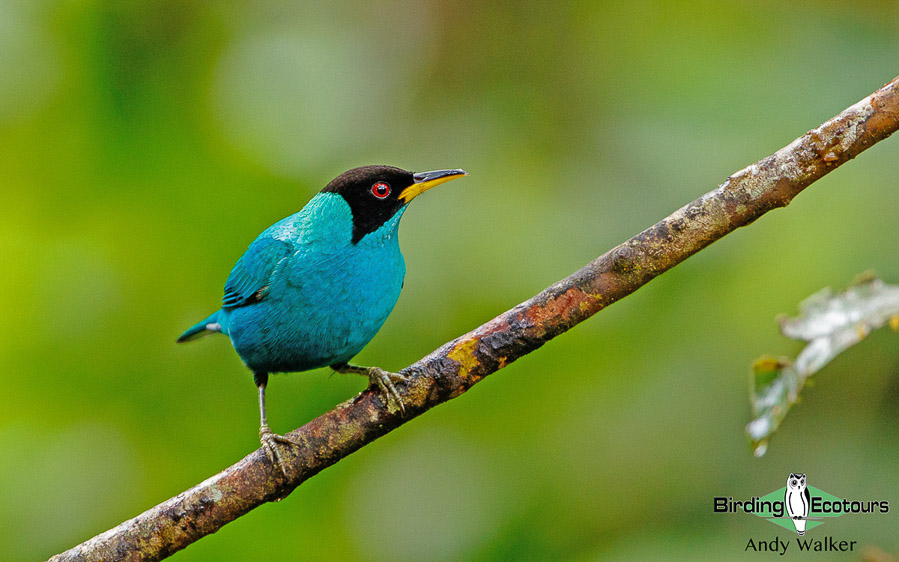 Green Honeycreeper
Golden-collared Honeycreeper
Ornate Flycatcher, Myiotriccus ornatus – A gorgeous, plump, small flycatcher that can be rather conspicuous perched low down in forest clearings and along the roadside. It is fairly common in the foothills and subtropical zone from Colombia south to Bolivia. I was really pleased to get such nice views of this bird as they had eluded my camera when I had seen them before! The while lores (or "headlights") really stand out.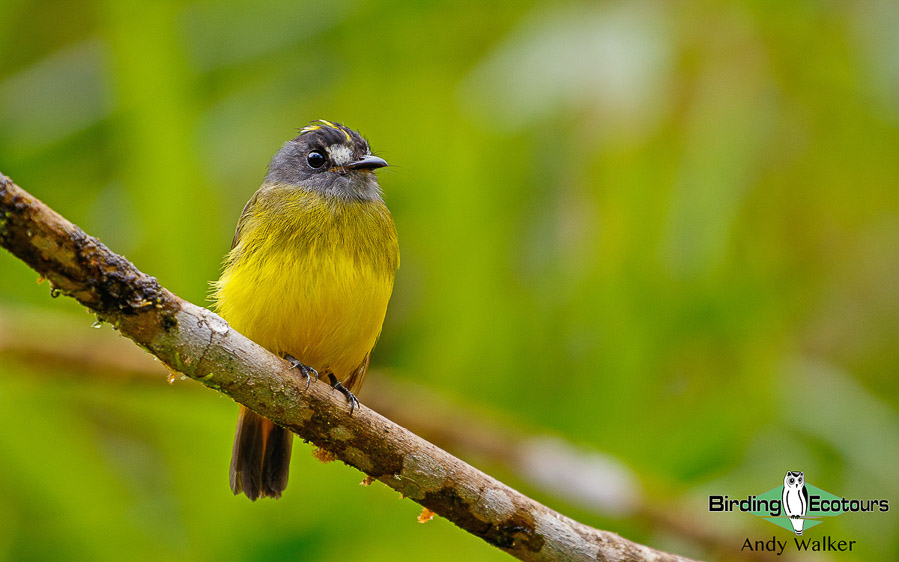 Ornate Flycatcher – an attractive small bird.
Dark-backed Wood Quail, Odontophorus melanonotus – Found only in northwest Ecuador and the extreme southwest of Colombia (a Chocó endemic). Usually a difficult species to observe but at Refugio de las Aves near Mindo a small covey come to feeders, allowing a wonderful opportunity to get to grips with this rare species. A really nice bonus bird on my trip.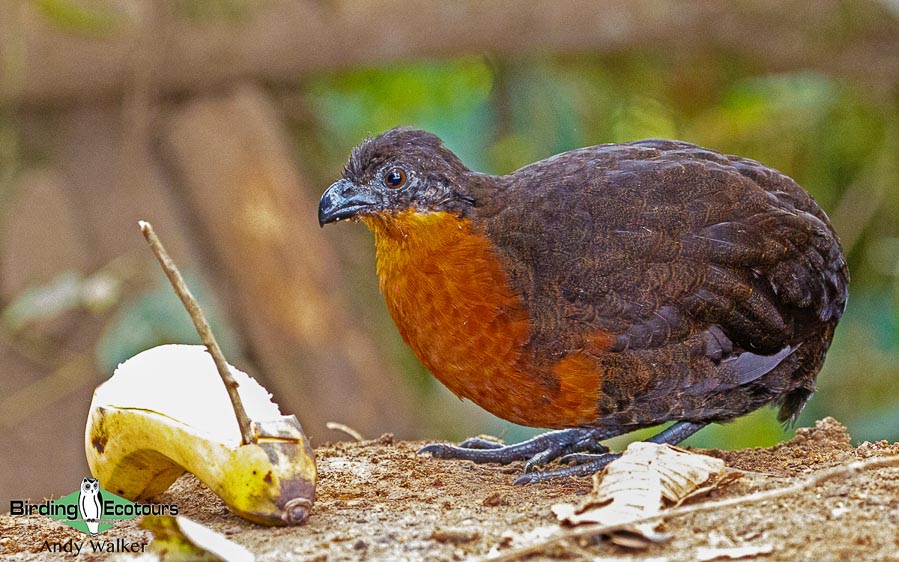 Getting a Dark-backed Wood Quail out in the open near Mindo was a thrilling distraction.
Masked Flowerpiercer, Diglossa cyanea – A common and widespread bird found above 6,500 feet (c.2,000 meters) in the Andes from Venezuela to Bolivia where it feeds on fruit, nectar, and insects. Occasionally dropping down to hummingbird feeders. A really attractive blue bird with black mask and striking red eye and typical flowerpiercer bill (upturned with a hook at the tip).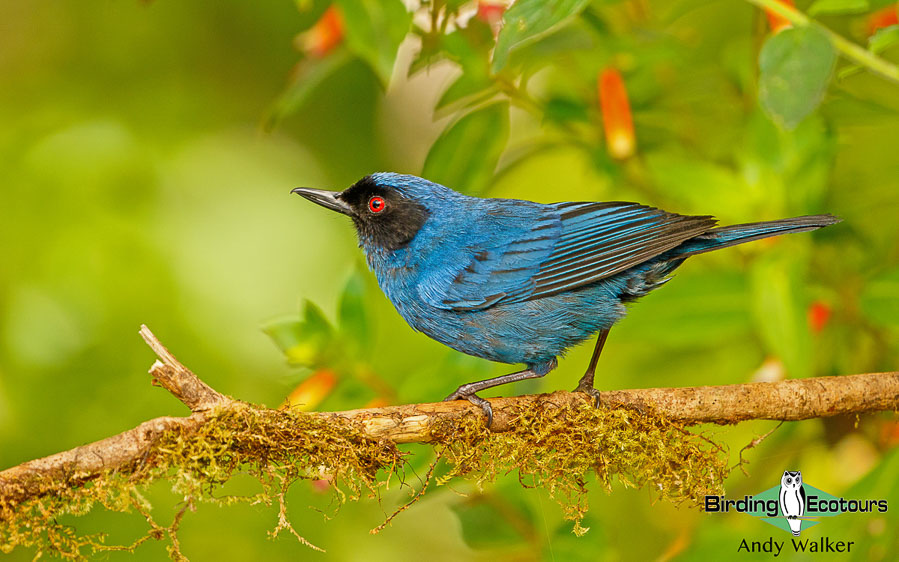 A gorgeous Masked Flowerpiecer giving great views in Mindo.
The above is really just a small sample of some of the great birds that I saw and managed to get photos of, there were so many more too! Northern Ecuador really is one of the best birding destinations I've visited in the Neotropics. The ease of the birding at times was really refreshing, the views of the birds was at times mind-boggling, and the whole feel of the places was wonderful and really birdy. To have so many hummingbirds and tanagers repeatedly within arm's reach was a magical experience. Ecuador does ecotourism and avian tourism the right way and it is paradise if you like these amazing birds.
Galo and Eduardo have put together a fantastic tour of northern Ecuador, I thoroughly enjoyed the part of it I covered and cannot wait to get back out there for some more birding. I would highly recommend this bird tour in Ecuador; a fun and bird-filled time is guaranteed.
For Part 2 of this blog series (Birding Southern Ecuador) please click here.
For Part 3 of this blog series (Ecuadorian Amazon Birding) please click here.