Birding Tour Ecuador: The Amazon – Clay Lick and Giant Otters
Go to: Ecuador Birding Tours | Birding Tours in the Neotropics | All our birding tours
Important Information
This is a premium tour using what we believe to be the best Amazon lodge in Ecuador
---
Dates and Costs
30 October – 05 November 2021
Price (includes domestic flights): US$4,975/ £3,762 / €4,335 per person sharing
Single Supplement: US$1,420 / £1,074 / €1,237
* Please note that currency conversion is calculated in real-time, therefore is subject to slight change. Please refer back to the base price when finalising payments.
29 October – 04 November 2022
Price (includes domestic flights): US$5,220/ £3,947 / €4,549 per person sharing
Single Supplement: US$1,485 / £1,122 / €1,294
28 October – 03 November 2023
Price (includes domestic flights): US$5,480/ £4,143 / €4,775 per person sharing
Single Supplement: US$1,560 / £1,179 / €1,360
---
Tour Details
Duration: 6 days
Group Size: 4 – 8
Tour Start: Quito
Tour End: Quito
---
Price includes
Accommodation (hotels and lodges)
Private guide
Private vehicle
Admission fees
All meals (except where indicated)
Water during the tour
Transfer to and from the airport
Price excludes
Any activity or service on day 1 (if arriving in the morning)
Dinner on day 1 in Quito and Dinner on day 16 in Quito
Personal health and trip cancellation insurance
Drinks and alcoholic drinks
Personal expenses such as laundry, minibar expenses, internet access, phone calls, etc.
Gratuities (please see our tipping guidelines blog)
Any expenses on day 17 except breakfast and transfer to the airport
---
Featured Guide: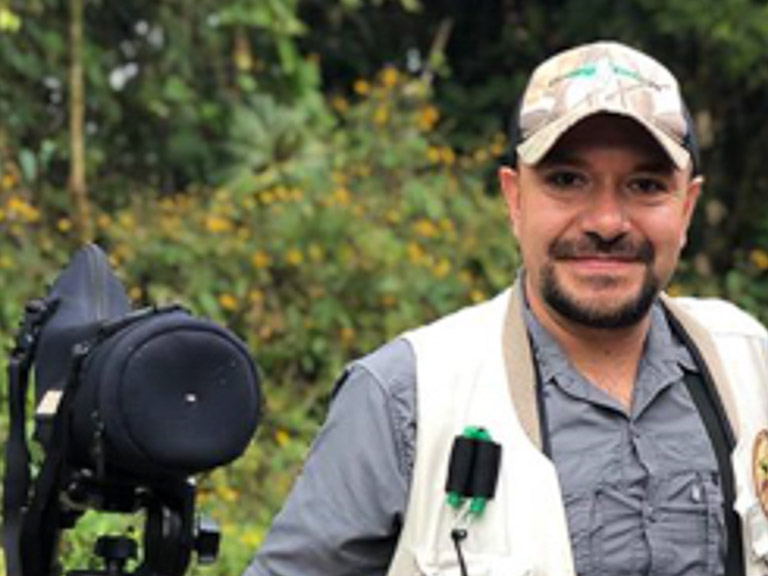 Galo Real
Birding Tour Ecuador: The Amazon – Clay Lick and Giant Otters
October 2021/2022/2023
Ecuador's Yasuní National Park is one of the most diverse places on earth, spanning nearly 2.5 million acres (2.09 square kilometers) of lush rainforest. The Ecuadorian Amazon is home to more than 600 bird species. We have developed this seven-day itinerary to provide you with the best birding experience in the Amazon. The comfortable Napo Wildlife Center will be our base for a week of birding and adventure in the heart of the Amazon rainforest. Some of the key species in the forest around the Napo Wildlife Center are Black-necked Red Cotinga, Plum-throated Cotinga, Hoatzin, Sungrebe, Agami Heron, Zigzag Heron, White-throated Toucan, Golden-collared Toucanet, Grey-winged Trumpeter, Crested Owl, White-plumed Antbird, Bicolored Antbird, Lunulated Antbird, and Pavonine Quetzal. In addition the number of parrots on the clay lick such as Scarlet Macaw, Orange-cheeked Parrot, Dusky-headed Parakeet, Southern Mealy Amazon, Yellow-crowned Amazon, and White-eyed Parakeet will be a treat.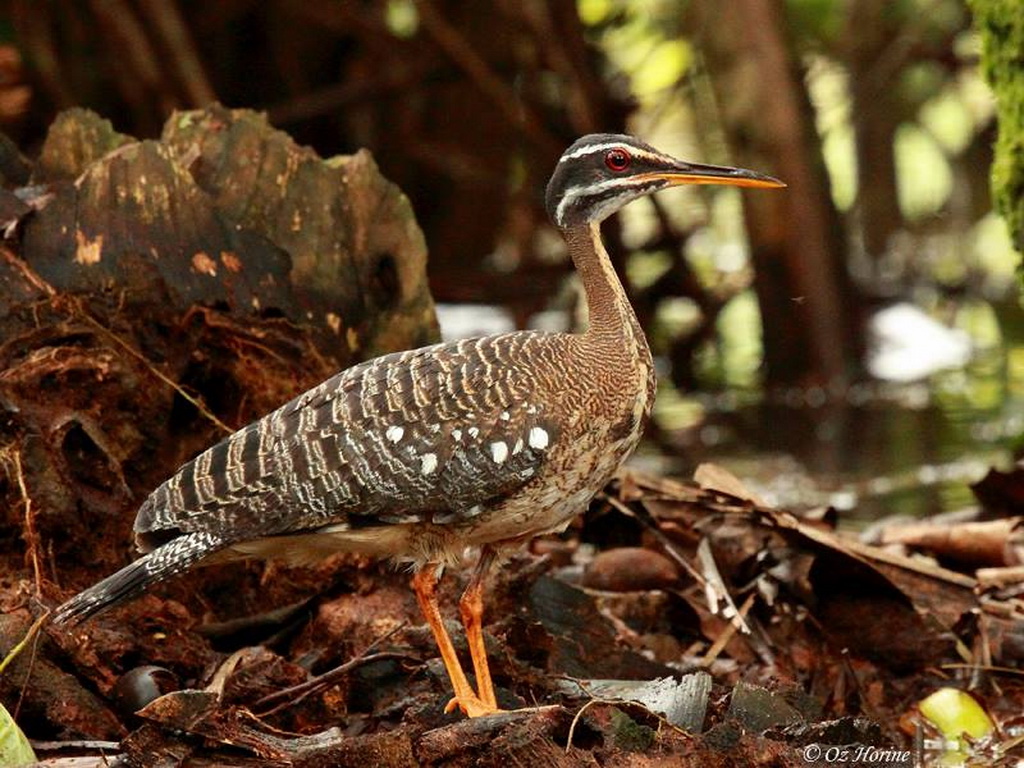 The highly sought-after Sunbittern should be encountered on this Amazon tour.
The Napo Wildlife Center offers also good opportunities to see wildlife such as Giant Otter, Black Caiman, and Napo Saki monkey.
This trip can be combined with our following Northern Ecuador: Birding Paradise tour, which is followed by our Galápagos: Natural History Extravaganza tour.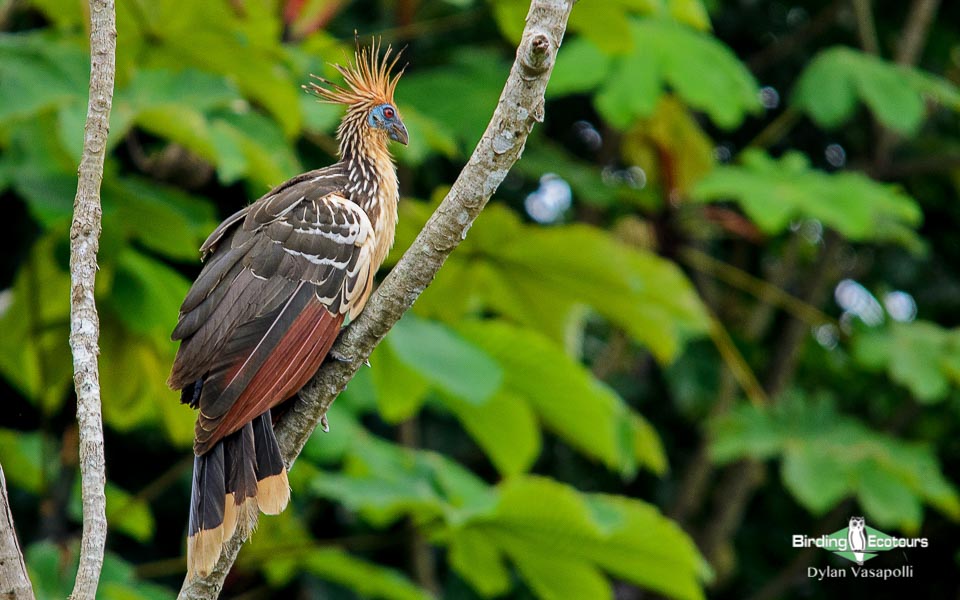 Hoatzin can be seen at the Napo Wildlife Center.
Itinerary (6 days/6 nights) 
Day 1. Arrival in Quito
After arriving at Mariscal Sucre International Airport in Quito you will be met by your guide and transferred to your hotel.
Overnight: San Jose de Puembo, Quito 
Day 2. Flight to Coca and transfer to Napo Cultural Center
We will transfer to the airport for a domestic flight to Coca (officially known as Puerto Francisco de Orellana), and after arrival we'll transfer by motorized canoe for two hours on the Napo River to the entrance of the Añangu River, where we will bird for about two hours before getting to our lodge. We expect to see here several aquatic species, such as Rufescent Tiger Heron, Sungrebe, Wattled Jacana, Limpkin, Hoatzin, Collared Plover, Red-bellied Macaw, Capped Heron, Anhinga, Snail Kite, Grey-necked Wood Rail, Amazon Kingfisher, Green Kingfisher, Ringed Kingfisher, Yellow-headed Caracara, Swallow-winged Puffbird, Lineated Woodpecker, and Crested Oropendola. Before we continue our trip to the Napo Wildlife Center we will look for one of the main targets of this trip, the handsome Black-necked Red Cotinga. We will stay the first night at Napo Cultural Center to have a good opportunity to be at the parrot clay lick at first light.
Overnight: Napo Cultural Center, Coca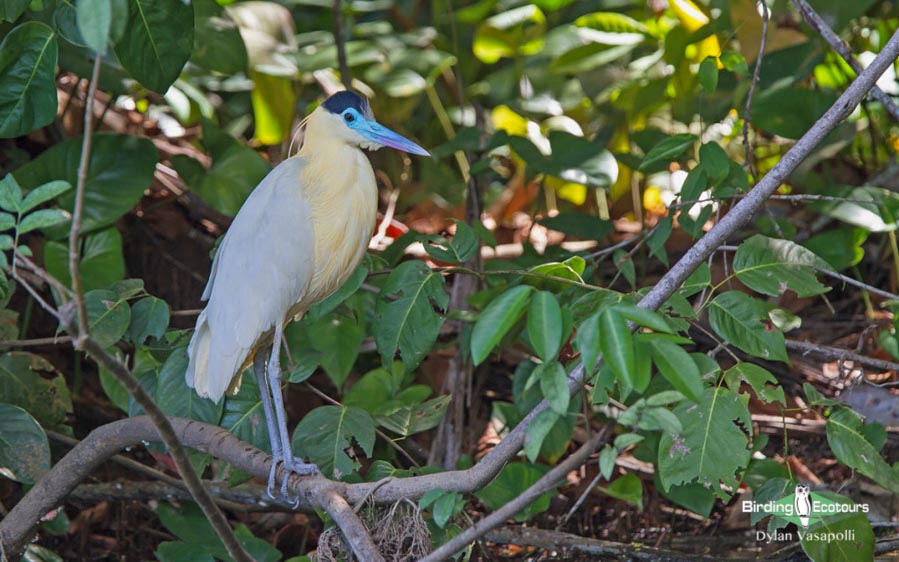 Capped Heron is one of the many aquatic species we hope to find.
Day 3. Parrot clay lick and transfer to the Napo Wildlife Center
Today we will have an early start to visit the parrot clay lick, where we can watch several species of parrots coming every day. Usually we can observe here Southern Mealy Amazon, Yellow-crowned Amazon, Dusky-headed Parakeet, Blue-headed Parrot, Orange-cheeked Parrot, Scarlet-shouldered Parrotlet, Cobalt-winged Parakeet, Chestnut-fronted Macaw, and the impressive Scarlet Macaw. In addition to the parrots we can find other attractive species, such as Spangled Cotinga and Plum-throated Cotinga. Then we will transfer to the Yasuní National Park, looking for Greater Ani, Orange-backed Troupial, Black-capped Donacobius, Turquoise Tanager, Paradise Tanager, White-throated Toucan, Yellow-billed Jacamar, Bat Falcon, Red-throated Caracara, Southern Lapwing, King Vulture, Plumbeous Pigeon, and Blue-throated Piping Guan.
Then we will arrive at the comfortable Napo Wildlife Center. In the evening we will try to find some night birds, including Common Potoo, Great Potoo, Ferruginous Pygmy Owl, Spectacled Owl, and Crested Owl.
Overnight: Napo Wildlife Center 
Days 4 – 5. Napo Wildlife Center
We will have two full days to explore the lush Amazon rainforest and the diverse habitats that it holds. During these two days we will have pleasant boat rides along the river and oxbow lakes, use a canopy tower, and do selective walks along the Amazon trails. We will focus on several species such as Undulated Tinamou, Great Jacamar, Brown Nunlet, White-chested Puffbird, Spotted Puffbird, Collared Puffbird, Pavonine Quetzal, Amazonian Trogon, Bare-necked Fruitcrow, Wire-tailed Manakin, Crimson-crested Woodpecker, Ringed Woodpecker, Scaly-breasted Woodpecker, Orange-crested Manakin, Slate-colored Hawk, Duida Woodcreeper, Lemon-throated Barbet, Many-banded Aracari, and Purplish Jacamar. In addition we hope to see Bicolored Antbird, Sooty Antbird, Lunulated Antbird, White-plumed Antbird, Silvered Antbird, White-shouldered Antbird, and Dot-backed Antbird.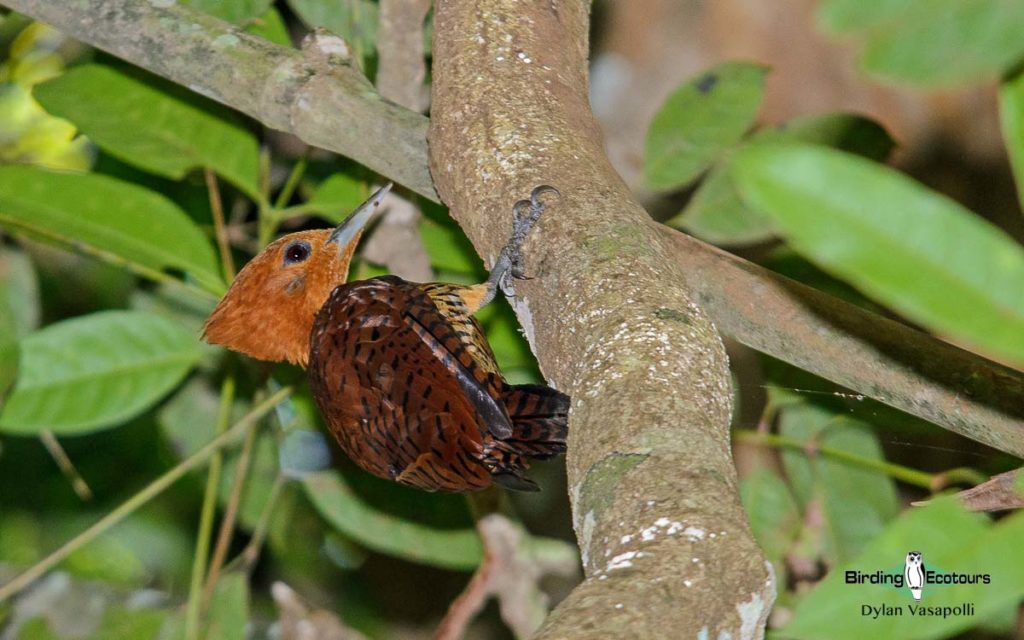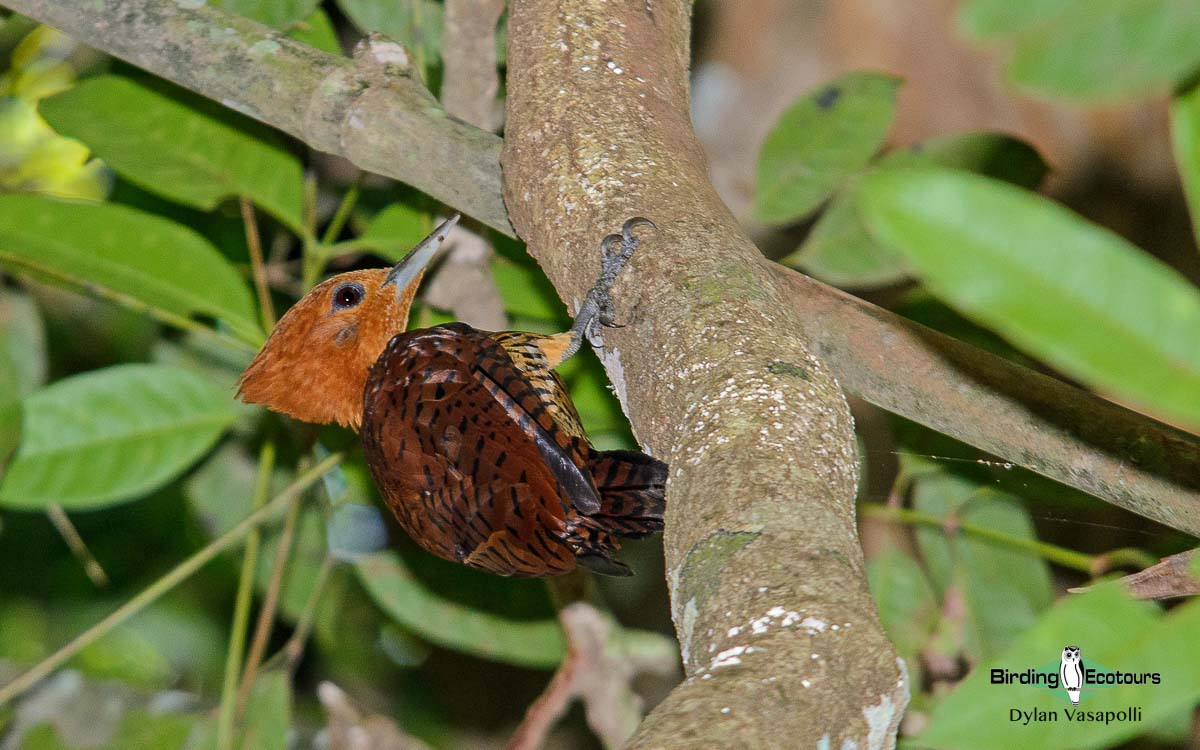 Ringed Kingfisher is another special we will search for at Napo Wildlife Center.
Some hard-to-find species such as Buckley's Forest Falcon, Grey-winged Trumpeter, Grey-bellied Hawk, Zigzag Heron, and the rare Harpy Eagle are only occasionally seen around Napo Wildlife Center. However, we might still have a chance with a bit of luck. Other common exciting wildlife sightings include the most wanted Giant Otter, Golden-mantle Saddleback Tamarin, Common Woolly Monkey, Napo Saki, Ecuadorian White-fronted Capuchin, and Ecuadorian Squirrel Monkey.
Overnight: Napo Wildlife Center 
Day 6. Transfer to the Coca airport and flight to Quito
After a final couple of hours birding the lodge grounds we will transfer to Coca to connect with our domestic flight back to Quito, where hotel accommodation for the night and transfer to the airport are included, as most international flights from Quito leave in the early hours of the morning. This allows you to get some rest and a shower before catching your next flight. Our Northern Ecuador: Birding Paradise – Antpitta and Hummingbird Extravaganza starts this afternoon from Quito, so you can easily combine these two tours.
Overnight: San Jose de Puembo, Quito
Please note that the itinerary cannot be guaranteed as it is only a rough guide and can be changed (usually slightly) due to factors such as availability of accommodation, updated information on the state of accommodation, roads, or birding sites, the discretion of the guides and other factors.
Download Itinerary
View Larger
Red-bellied Macaw
View Larger
Paradise Tanager
View Larger
Southern Mealy Amazon
View Larger
Ringed Woodpecker
View Larger
Cream-colored Woodpecker
View Larger
Crested Oropendola
View Larger
Turquoise Tanager
Greg Smith
View Larger
Sungrebe
Alan van Norman
View Larger
Giant Otter
Eric Schroeder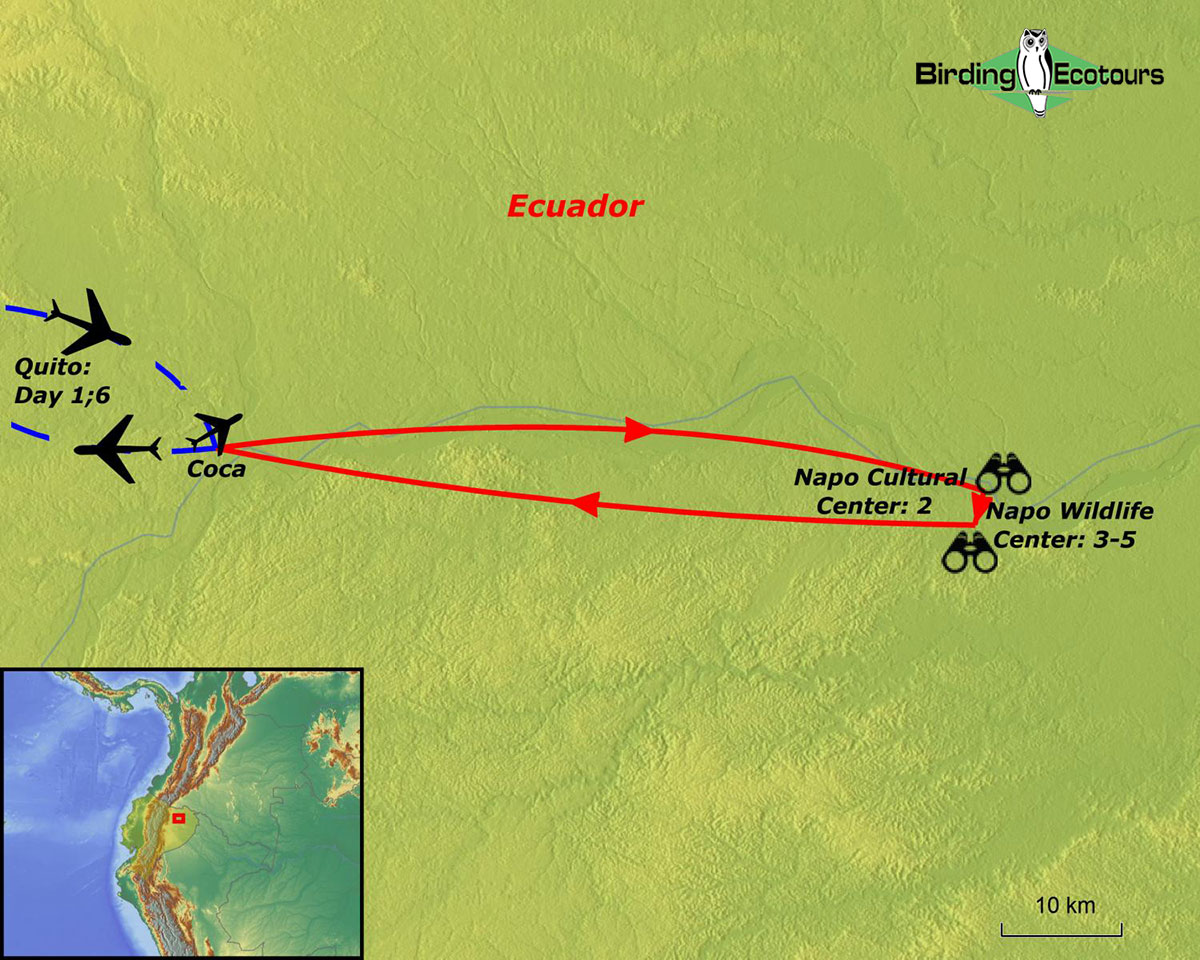 We have travelled with Galo twice and had planned a third trip with him until world problems interfered. We have greatly enjoyed his company and good nature. He has been a tremendous guide with great ear for the bird calls and knowledge of all sites. He is very helpful and patient with us. He seems to anticipate our needs without our asking and adapts to our capabilities and interests.  We look forward to travelling with him again.
Jim and Barbara Leupold — USA