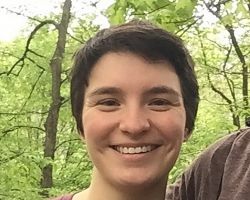 Read the blog article 'Know our Guides - Anna Wittmer'
Anna Wittmer is a birder and all-around nature enthusiast from Ohio. She has been fascinated by most types of living creatures since childhood and grew up exploring the wilderness surrounding her home. This grew into a lifelong passion for wildlife, and during college Anna discovered birding through her classwork.
Anna really began to focus on studying the behavior and ecology of birds in 2008. She started her birding career on the shores and islands of Lake Erie, while studying Ecology and Conservation Biology.
Four years later, Anna became a definite "lister" and now focuses much of her time on building her life list in addition to her ABA, state, and county lists. Anna has traveled expansively across the continent of North America and greatly looks forward to expanding her travels globally. When not birding, Anna has worked at the Ohio Bird Sanctuary, Rock Point Banding Station, Prairie Winds Nature Farm. She currently works at Wild Birds Unlimited in addition to working full-time with Birding Ecotours.
She has also enjoyed volunteering with organizations such as Black Swamp Bird Observatory, Columbus Audubon, South Bend-Elkhart Audubon Society, and Greater Mohican Audubon Society. Furthermore, Anna holds the position of Field Trip Committee Chair for Columbus Audubon.
Anna lives in Columbus, Ohio with her cats and husband, Ben Warner. She met Ben at a birding festival in northern Ohio. After years of birding together, they were married by Kenn Kaufman, the renowned author of Kaufman Field Guides.
Join Anna on the following upcoming tours:
Read Anna's feedback from clients: