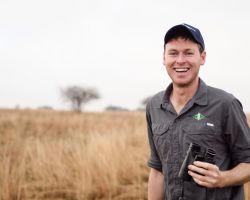 Read the blog article 'Getting to Know our Guides - Jason Boyce'
Senior Tour Leader and South African Office Manager
Passionate, positive, and caring are three words describing Jason's incredible character, which go hand-in-hand with his fantastic people skills, friendly nature, and superb knowledge when it comes to all aspects of biodiversity. Having been introduced to birding at a young age by his grandfather, it has become almost second nature to him, spending most of his earlier years exploring South Africa and recently having traveled as far abroad as Tanzania, Uganda, Gabon, Hungary, Israel, Greece, the United States, Madagascar, and India to name but a few. His energy is infectious, and his over twenty years' worth of birding experience is unparalleled.
Jason has spent most of his life in Pretoria, South Africa, with a two-year stint in the Western Cape. He has an incredible passion for leading outings and teaching others about the wonders of the birding world, nature, and all aspects of the environment – from the "Grasslands of the Lark" to the "Mountains of the Eagle". Throughout Jason's time growing up in his home country he has been involved a great deal with young birders groups, citizen science, birding big days, and local birding challenges in which he has always fared well on an annual basis. Jason is also actively involved in conservation and for two years in a row has been a key member of the 'Birding Ecotours Bandits' Champions of the Flyway team, who have raised in excess of eight thousand euros toward the event's dedicated conservation cause in both the years that they competed.
Jason has completed a BSc in Environmental Science through the University of South Africa (UNISA) and is also a qualified Terrestrial Level 1 nature guide through the Field Guides Association of South Africa (FGASA). His passion for our world's birds sees him guiding many of our African-based tours as well as tours into Asia and the Indian Ocean Islands. When not guiding Jason is helping to run the South African office for Birding Ecotours and assists with office work, making sure our clients get the best tours possible and that everything runs smoothly. Diligence and a great sense of organizational skills come into play, both in and out of the office, and this can be seen in the way he guides our tours and both his willingness and drive to make sure our clients are comfortable, happy, and, most importantly, enjoying themselves at all times.
Together, Jason and Dylan form the managerial powerhouse that runs our South African office out of Johannesburg/Pretoria.
Join Jason on the following upcoming tours:
Read Jason's feedback from clients:
I just wanted to send a quick note from the airport letting you know what an incredible day I had with Jason. He is an outstanding guy and a great birder. Our list for the day exceeded my wildest expectations. My head is still buzzing! I will connect with Jason so that we can compare lists once I have my details sorted out. In the meantime, please let him know today was one of the best days I have ever had in the field. Please also tell him I asked for a refund for lack of raptors…kind of an ongoing joke throughout the day.
Thanks for coordinating all of this, Chris. Yours is an outstanding outfit. If I ever travel to one of the countries you cover or if I return to SA, I will only use Birding Ecotours.


Jonathan Bowser
One of the best birding tours that I have taken and I have taken many over 50 years. Jason has outstanding knowledge of Southern African birds, recognition of of bird calls even very faint ones and matching habitat with expected species that occur in these habitat types. Jason is enthusiastic and has good group management skills to assist clients from beginners to world listers to maximize their tour enjoyment. And to add to that Jason is an excellent driver, always felt safe.

John Drummond – Colorado, USA
Hi Chris,
Thank you so much for arranging the tour yesterday. I would just like to say that Jason was amazing, my father and myself were blown away by his knowledge, patience and true passion, a true gentleman and a credit to your operation. I would please like to be added to your newsletter and in the future we will be looking to do a birding tour.
Many thanks.
Katharine

Katharine – South Africa
Had a great time with Jason birding around Johannesburg – Pretoria – Dullstrom area countryside. Jason's easy-going and patient style made for a comfortable four days. His amazing ability to spot well-hidden birds and to identify in a flash, along with his expert knowledge of numerous local habitats allowed us to see 85 species the first day! Would love to come back and do another tour.

Sandy Campbell – Edmonton, Canada