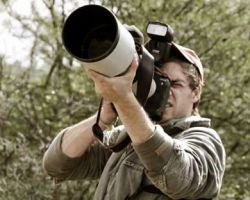 Justin Nicolau
Justin Nicolau is a South Africa-born birder and wildlife enthusiast, whose interest in his natural surroundings were sparked at a very young age. He holds an undergraduate BSc degree in Zoology and Botany and a BSc Honours in Biodiversity and Conservation.
Justin was born and raised within the city limits of Johannesburg, and it was the hustle and bustle of his surroundings which sent him venturing further afield to look for tranquility. It was in nature he felt most at home, and sharing this passion with others is his only goal.
His interest in birds started while still a toddler, when he got his hands on an old photographic guide to the Birds of Southern Africa. Barely able to speak at that age, he spent hours a day paging through it and any other field guides he could access, and it wasn't long before he set out to find them all himself – a quest he still actively pursues two decades later.
An interest in birds led to one in reptiles, which in turn proceeded to mammals, butterflies, and arachnids, and it was not long before Justin set himself a goal to find and photograph as much of South Africa's biodiversity as possible. He is an avid photographer and has traveled in the Southern Africa subregion extensively a number of times.
After school he decided to take his interest one step further by completing his BSc Honours in Conservation and Biodiversity at Rhodes University in the Eastern Cape province of South Africa, where he focused on effects of deforestation on bird and butterfly densities along forest edges as well as on the genetic variation within and between rodent populations in isolated forest patches.
Justin has worked on a number of conservation projects throughout the country as well as numerous biodiversity studies for various organizations. He regularly helps at the Animal Demography Unit (ADU) to identify citizen science records, which aid in plotting distributions maps for the country's fauna and flora. All of his free time is spent studying, collecting, photographing, and admiring wildlife wherever he sets foot.