Go to Southwest Australia bird tour page | Australian bird tours | Australasian trip reports | All our birding tours
DOWNLOAD TRIP REPORT
8 – 16 DECEMBER 2019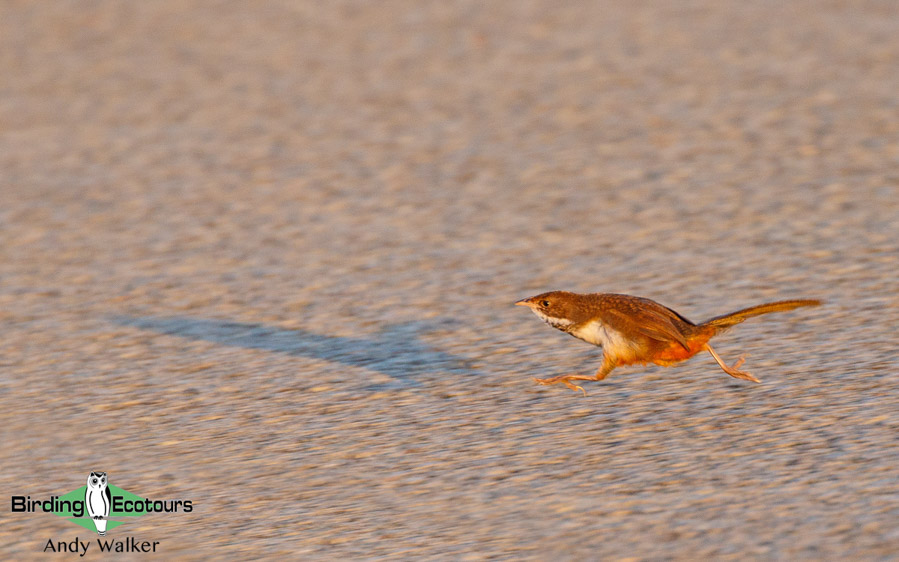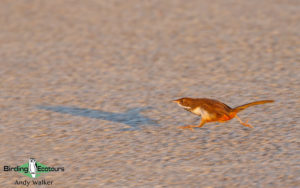 Noisy Scrubbird is one of the toughest birds in Australia to see, but we had great views of this bird and even managed to capture the memorable moment it ran toward us.
Overview
This scheduled tour of the southwest of Western Australia commenced in Perth on the 8th December 2019 and ended back there on the 16th December 2019. The tour visited several main birding locations, these being Dryandra Woodland, Stirling Range, Cheynes Beach, Cape Leeuwin, and Busselton, as well as plenty of other stops along the way.
A total of 164 bird species were seen (plus one species heard only), including many Australian endemics and numerous very localized southwest Australian endemics. The highlight sighting of the tour was the exceptional views we had of the notoriously shy Noisy Scrubbird, a real skulker, but which on this occasion showed really well for us all, even allowing the rare opportunity of a photograph (see trip report cover photo). We also had very nice looks at the other two tough birds of the region, Western Bristlebird and Black-throated (formerly Western) Whipbird.
The regional endemics were major targets on this trip, and we saw all we looked for, including Baudin's Black Cockatoo, Carnaby's Black Cockatoo, Western Corella, Red-capped Parrot, Western Rosella, Red-eared Firetail, White-breasted Robin, Western Wattlebird, Red-winged Fairywren, Western Whistler, Western Spinebill, Gilbert's Honeyeater, etc. Several near-endemics to southwestern Australia were also found, such as Blue-breasted Fairywren, Western Yellow Robin, Spotted Scrubwren (a recent split from White-browed Scrubwren), and Rufous Treecreeper, along with a few potential future splits, such as the western subspecies of Crested Shriketit, Varied Sittella, and Scarlet Robin.
Plenty of other great Australian endemics and target birds were found, with some of the highlights being nesting Square-tailed Kite and Little Eagle, a Tawny Frogmouth family, several Emus, Rock Parrot, Elegant Parrot, Spotless Crake, Fairy Tern, Red-capped Robin, Splendid Fairywren, and Hooded Dotterel. An unexpected bonus was Eurasian Hobby, a rare vagrant to Australia and the first raptor we saw on the tour!
We also enjoyed an interesting range of mammals and reptiles (such as Numbat, Honey Possum, Western Gray Kangaroo, Southern Brown Bandicoot, and Dugite). Full species lists for all birds and other animals identified are provided at the end of this report.
Detailed Report
Day 1, 8th December 2019. Arrival in Perth and city birding
Arrival in Perth, Western Australia. We had an afternoon birding session at a lake in the southern city suburbs not far from our accommodation, and the first raptor we saw of the entire trip was a vagrant Eurasian Hobby! This species was first recorded on mainland Australia in 2016 and was possibly even the same bird that has been returning to the area each winter. It is incredibly elusive at times, and seeing it was a nice piece of luck to start our tour! More typical, but no less exciting birds included Blue-billed Duck, Musk Duck, Hoary-headed Grebe, Australasian Shoveler, Little Corella, Rainbow Lorikeet, Swamp Harrier, Whistling Kite, Grey Butcherbird, and Splendid Fairywren.
Day 2, 9th December 2019. Perth to Narrogin
We spent the morning birding at a lake and wetland in Perth, not far from the CBD. Numerous birds were encountered, including many seen the previous afternoon but also plenty of new ones and improved looks of others. Some of the highlights seen included Spotless Crake, Buff-banded Rail, Australasian Darter, Pink-eared Duck, Great Crested and Australasian Grebes, Brown Goshawk, Nankeen Night Heron, Purple-backed Fairywren, Western Gerygone, and Black-faced Cuckooshrike, to name a few.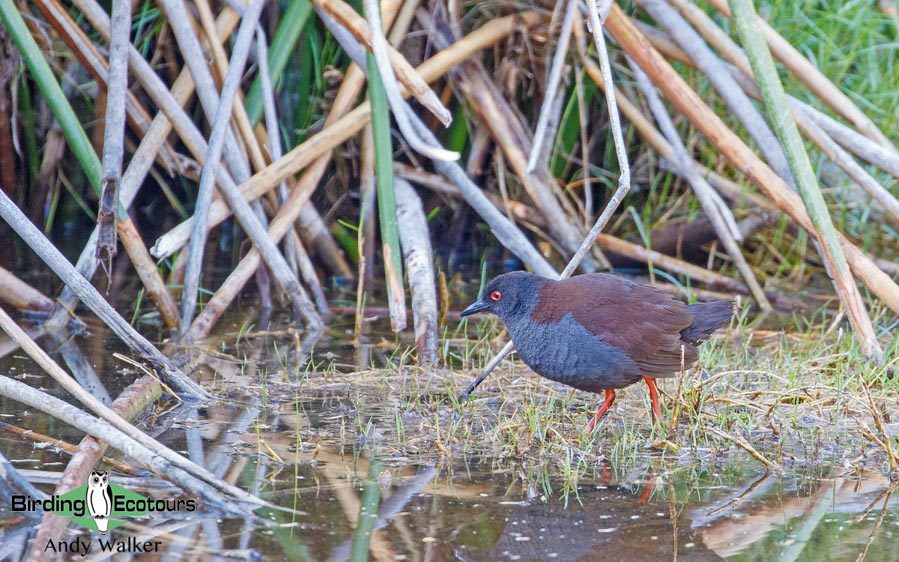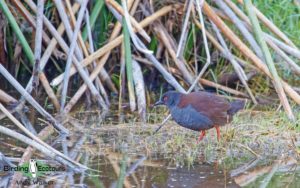 We had some excellent looks at the secretive Spotless Crake right out in the open.
After checking out of our hotel in Perth we drove for a couple of hours to the rural town of Narrogin, arriving for a late lunch and check-in to our delightful B&B. We were slightly delayed by a flock of Carnaby's Black Cockatoos along the way – a welcome distraction!
Our afternoon birding took us to a small patch of woodland near the town, and we found lots of small birds foraging, with a good breeding season in evidence judging by the number of fledglings present. Some of these included Weebill, Scarlet Robin, Red-capped Robin, Western Yellow Robin, Western Thornbill, Inland Thornbill, Rufous Whistler, Striated Pardalote, and Grey Shrikethrush. A pair of Yellow-rumped Thornbills were busily trying to satisfy 'their' baby Horsfield's Bronze Cuckoo, Red-capped Parrots (a stunning endemic) were fighting among themselves, and, best of all, we found a Square-tailed Kite sitting in its nest! It's always such a joy to see this rare bird of prey.
Day 3, 10th December 2019. Dryandra Woodland
We took a morning drive around Dryandra Woodland, where we found several species we had seen the previous afternoon (such as Western Thornbill, Western Gerygone, and Weebill) but also several new ones that included the brightly plumaged Western Whistler along with Spotted Scrubwren, White-eared Honeyeater, Gilbert's Honeyeater, Yellow-plumed Honeyeater, Restless Flycatcher, Purple-crowned Lorikeet, Australian Ringneck, Rufous Whistler, and Rufous Treecreeper. The woodland edge held Sand Monitor, Elegant Parrot, Grey Currawong, Western Spinebill, New Holland Honeyeater, Australian Pipit, and Rufous Songlark.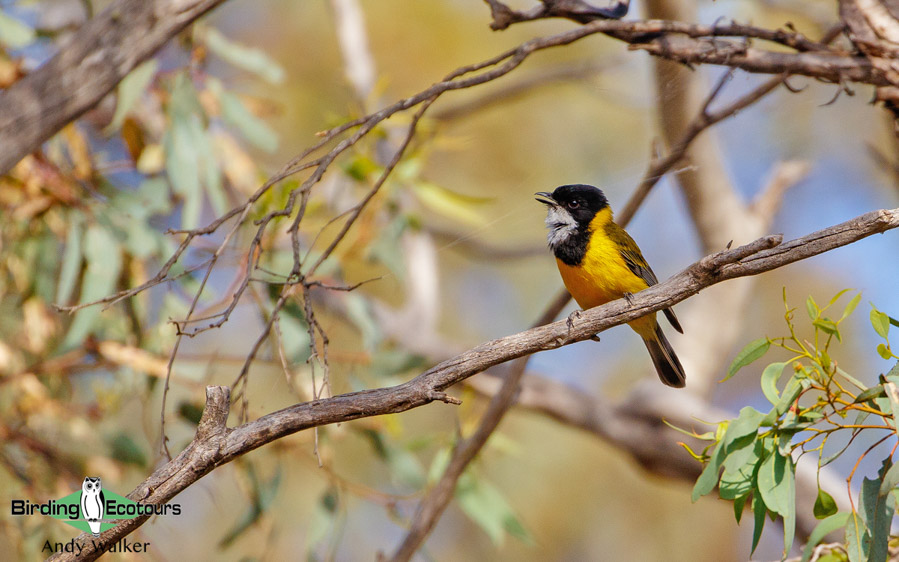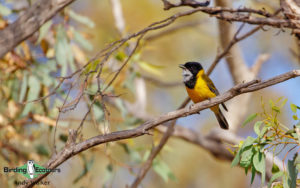 Western Whistler is a really pretty bird, and we saw them at several locations throughout the tour, always a welcome distraction!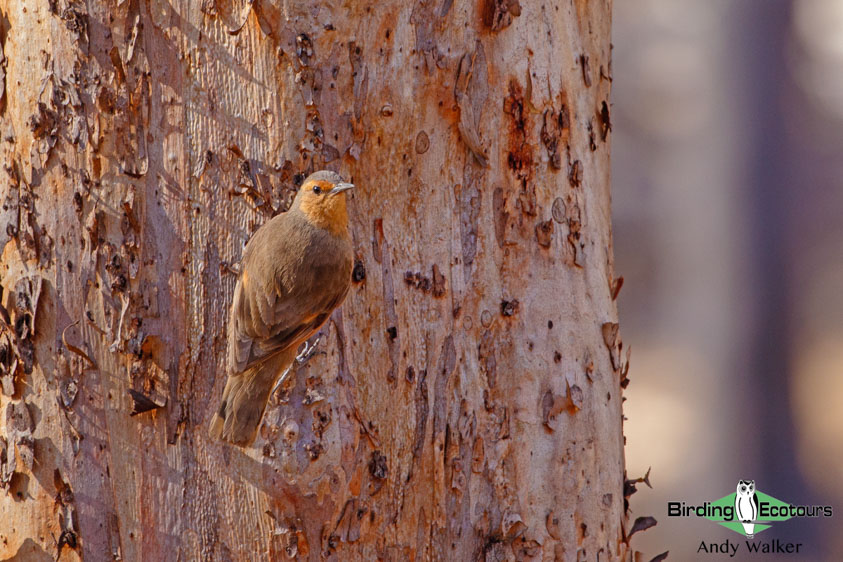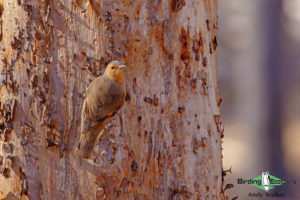 Found through southern Western Australia and just into South Australia, Rufous Treecreeper is always a big target bird, and luckily it was common at a few locations we visited.
After a break during the heat of the middle of the day we again ventured out for an evening birding session at Dryandra Woodland. During the last few hours of light we added Varied Sittella (pileata subspecies), Western Rosella, Red-capped Parrot, Common Bronzewing, Blue-breasted Fairywren, and Western Gray Kangaroo (great views of an adult male and a female (with joey in pouch) drinking at a waterhole. As soon as it got dark we took a drive around the woodland and found an adult Tawny Frogmouth with two rather cute recent fledglings, although the only other sighting of note was of a Common Brushtail Possum.
Day 4, 11th December 2019. Narrogin to Stirling Range
We spent the morning birding at Dryandra Woodland again, where we found many of the same birds as on the previous day, but it was nice to get further good views of many of the regional endemics and near-endemics such as Western Whistler (including a pair with a nest), Western Yellow Robin, Red-capped Parrot, Western Spinebill, Western Thornbill, Western Gerygone, Spotted Scrubwren, Gilbert's Honeyeater, Blue-breasted Fairywren, and Rufous Treecreeper. Further looks at Scarlet Robin, Rainbow Bee-eater, Purple-crowned Lorikeet, and Varied Sittella were also welcome. The highlight, though, was a brief sighting of the rare Numbat, a termite-eating, carnivorous marsupial restricted in the wild to only the southwestern corner of Western Australia.
It was then time to leave the Dryandra area for our next stop, Stirling Range. Along the way we found Black-faced Woodswallow, Crested Pigeon, Collared Sparrowhawk, Nankeen Kestrel, Wedge-tailed Eagle, and Brown Falcon. Nearing our accommodation we found a flock of around 40 Carnaby's Black Cockatoos foraging on the ground, presumably on some spilled grain.
An evening birding session at our accommodation gave us more looks at Purple-crowned Lorikeet, Red-capped Parrot, and Gilbert's Honeyeater, fleeting views of a rapidly hunting Australian Hobby, and our first Grey Fantail of the trip, but most impressive of all was the pair of pale-phase Little Eagles soaring overhead.
Day 5, 12th December 2019. Stirling Range to Cheynes Beach
We spent the majority of the morning birding around the grounds of our accommodation, where we found several really great birds, the best being the (Western) Crested Shriketit, a potential future split from the birds found in the north and east of this huge country. We enjoyed prolonged views of a pair of adults with their two recent fledglings. Other birds found as we walked around included Splendid Fairywren, Blue-breasted Fairywren, Gilbert's Honeyeater, Western Spinebill, Brown-headed Honeyeater, Restless Flycatcher, Elegant Parrot, Purple-crowned Lorikeet, Little Eagle, Wedge-tailed Eagle, and Sacred Kingfisher. A Shingleback Lizard was sitting in the driveway as we left the site.
After an early lunch we commenced our journey to Cheynes Beach. Usually we'd stop for some birding in the Stirling Range National Park; however, a lightning strike had started a fire a few days before our visit, and as a result the park was, unfortunately and understandably, closed. We saw a small group of Emus in a stubble field, so we stopped to take a look at them and as a result found White-fronted Chat, White-winged Triller, Black-faced Woodswallow, and yet more Elegant Parrots. Farther along the way we found some water containing a flock of Pied Stilts and Grey Teal, and a Dugite (a large, venomous, brown snake) almost crossed the road right in front of us! Nearing our accommodation a quick stop produced Purple-gaped Honeyeater, Tawny-crowned Honeyeater, and White-cheeked Honeyeater, all of which were new species for the trip.
An afternoon walk near our gorgeous beachside accommodation provided some new birds and excitement in the form of two new southwestern Australia endemics, White-breasted Robin and Red-winged Fairywren as well as Brown Quail, Common Bronzewing, Brush Bronzewing, Sooty Oystercatcher, and White-bellied Sea Eagle. Just as the sun was going down we spotted a new mammal, the tiny and incredibly cute Honey Possum feeding in some flowers. Amazing just how small this little thing is! We also saw a Heath Monitor.
Day 6, 13th December 2019. Cheynes Beach
We spent the day birding within the vicinity of our accommodation at Cheynes Beach, home to three incredibly tough and highly sought southwest Australian endemic birds (Western Bristlebird, Black-throated Whipbird, and Noisy Scrubbird), as well as several other key regional species. As we entered the heathland the first species we got eyes on was Southern Emu-wren. We had good views of a pair of birds with a couple of young, and almost immediately afterwards we found the first of the three big targets, Western Bristlebird. After a short chase we had some great views as one sang from the top of the bushes. Both Black-throated Whipbird and Noisy Scrubbird were also heard singing distantly, but views of these would need to wait. Honeyeaters were also in evidence, with Western Spinebill, Red Wattlebird, White-cheeked Honeyeater, Tawny-crowned Honeyeater, and New Holland Honeyeater all abundant.
After a break for breakfast we checked out a different area of heathland, where after a short walk we found and saw Black-throated Whipbird, a skulking species and another one of the "Big 3", which showed really well in the end. Until recently this was known as Western Whipbird, but the east-west split means this bird in Western Australia has had a name change. Walking around the area we found more local endemic species in form of Red-eared Firetail and a brief Western Wattlebird, both new for the trip, with further views of White-breasted Robin, Red-winged Fairywren, and Western Spinebill, plus Pacific Gull, Greater Crested Tern, Sooty Oystercatcher, and Rock Parrot along the beach.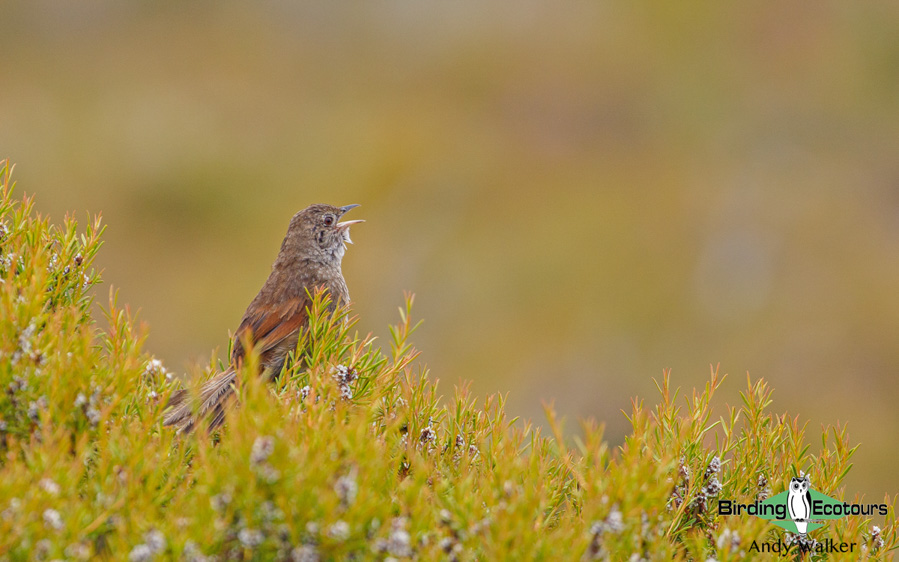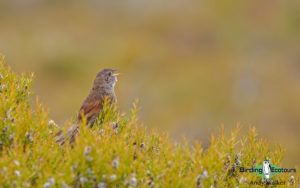 Western Bristlebird is one of the tougher and key-target birds in the southwest of Western Australia, where it is endemic. We had great views of this one first thing in the morning.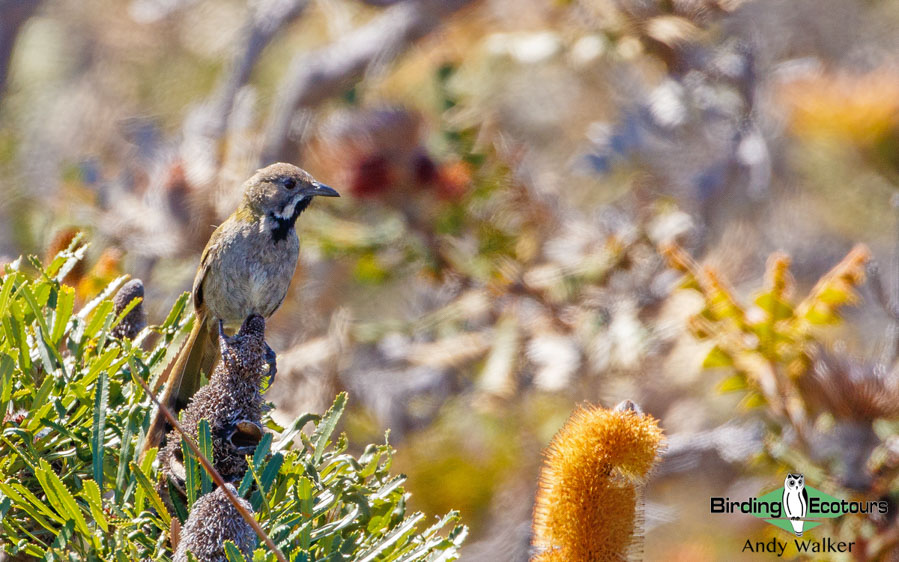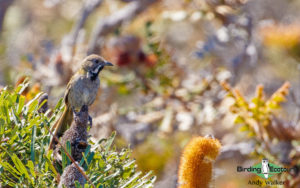 Black-throated Whipbird (formerly Western Whipbird) gave some good looks as it foraged and then sang for a bit. This is another one of the tougher Western Australian endemic targets.
The main target of the afternoon was seeing Noisy Scrubbird, which is rightfully considered the toughest of the "Big 3" to actually see. Hearing the ear-piercingly loud call of this bird is easy, though seeing it is not. We sat and waited for a couple of hours, and just when we were about to call it a night we got the showing of our lives of this southwest Australian endemic. We could watch it sitting in a bush, singing its head off, before it ran across a road right past us, giving great views. Totally blown away by this excellent sighting (see photo on trip report front cover) we returned to our accommodation for dinner and a celebratory drink! While waiting for the scrubbird we had good looks at Southern Brown Bandicoot, King's Skink, and Brush Bronzewing. A really wonderful day with some very high-quality birds in the bag!
Day 7, 14th December 2019. Cheynes Beach to Augusta
The morning was spent re-looking at a few of the area's specials around our accommodation, such as Western Whistler, Red-winged Fairywren, and White-breasted Robin, with addition of Fan-tailed Cuckoo, Shining Bronze Cuckoo, Spotted Pardalote, and Spotted Harrier. We had a long travel day ahead of us, and it was forecast to be a scorcher, so we commenced our journey after breakfast. A few stops along the way added a few species for the day/trip list, the main one being Western Corella, a very local endemic, which showed nicely in the 40 oC heat. Other birds of note included Red-capped Parrot, Elegant Parrot, Western Corella, a brief pair of Baudin's Black Cockatoos, Wedge-tailed Eagle, Splendid Fairywren, and White-necked Heron.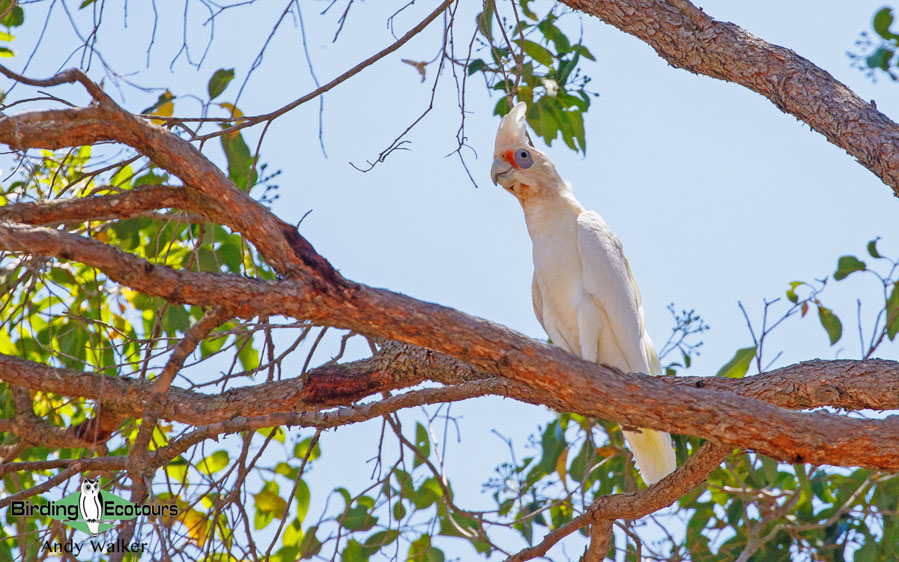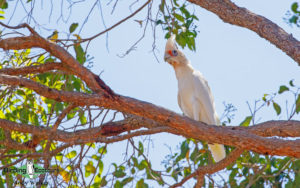 Western Corella is another southwest Western Australian endemic. Despite the incredibly hot conditions we found a flock sheltering in the shade near Lake Muir.
Day 8, 15th December 2019. Cape Leeuwin to Busselton
We spent the early-morning period near the Cape Leeuwin Lighthouse, the meeting place of the Southern and Indian Oceans. The conditions were calm, though a little breezy, and not great for seabirds, but we did see Shy Albatross, Australasian Gannet, Hutton's Shearwater, and Greater Crested Tern. One of our main targets on land was Rock Parrot, and we enjoyed watching a flock of four birds in the glorious morning sunlight, and later a couple of birds flew nice and close, giving excellent views as they then fed at our feet! Other birds noted around the headland included Grey Butcherbird, Southern Emu-wren, Silvereye, Sooty Oystercatcher, and Whimbrel.
After breakfast we started our journey north toward Busselton, where we would spend the night. We first stopped at some beautiful karri forest, where we found Baudin's Black Cockatoo, (Western) Crested Shriketit, Western Rosella, Gilbert's Honeyeater, Red-winged Fairywren, Western Gerygone, Fan-tailed Cuckoo, and more.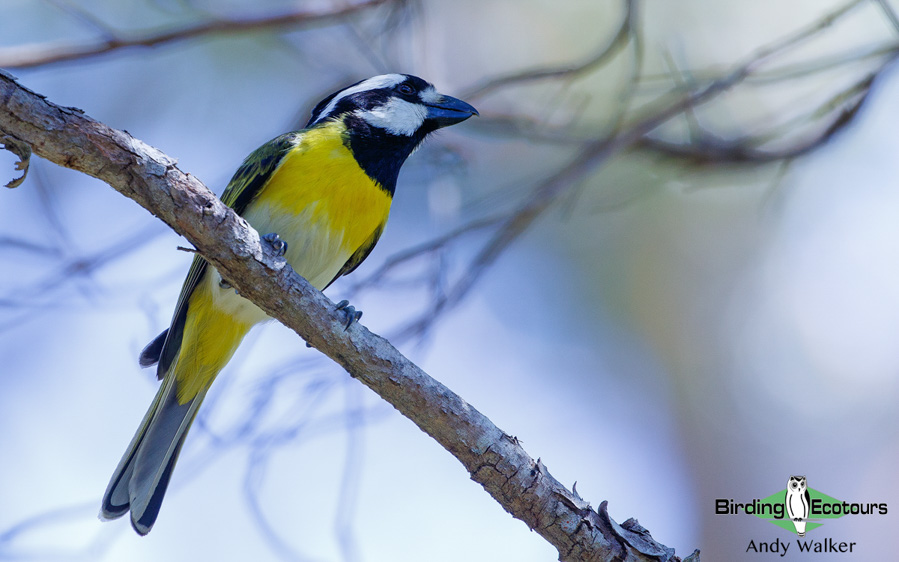 The western subspecies of Crested Shriketit (male pictured) is a stunning bird, but also a potential future split of the two subspecies found in northern and southern/eastern Australia, so it's always good to put in the extra effort to connect with it.
A stop at a beautiful beach yielded Hooded Dotterel, Red-capped Plover, Pied Oystercatcher, and Pacific Gull. A stop at some wetlands near our hotel in the afternoon gave us some gorgeously golden-plumed nesting Straw-necked Ibis and a mix of wildfowl. Black-fronted Dotterel was another new trip bird too.
Day 9, 16th December 2019. Busselton to Perth and tour concludes
We spent the final morning of the tour birding at some wetland areas around Busselton, where we had close-up views of many species of waterfowl and had excellent views of Yellow-billed Spoonbill, Nankeen Night Heron, Pink-eared Duck, Common Greenshank, Caspian Tern, Banded Lapwing, and Grey-tailed Tattler.
As we headed back into Perth for the conclusion of the tour we stopped at a couple more sites, a coastal sandbar, where we added Bar-tailed Godwit, Red-necked Stint, Grey Plover, and Fairy Tern, and finally a coastal wetland, where we found Pectoral Sandpiper, Sharp-tailed Sandpiper, and Red-necked Avocet among many thousands of other birds, a seriously impressive sight.
Please see the downloadable PDF above with the full species lists included.